Co-owner Of Durian Plantation Opens Dessert Stall In Newton Selling MSW Durian Tau Huay & Mousse
The new hawker stall at Newton Food Centre is called Durian Desserts By Tiong Bahru Durian (yes, it's quite confusing). Besides Mao Shan Wang treats, it also offers D24 durian sweets from $4.50.
Most folks who visit Newton Food Centre usually have ice kacang or cheng tng for dessert — but now there's a more atas option via the literally named Durian Desserts by Tiong Bahru Durian, which opened its stall at the hawker centre two months ago. It serves only two items: Mao Shan Wang or D24 durian mousse topped with fresh puree, and sweet soya beancurd laden with a scoop of durian flesh.
Co-owner Long Soon Wai, 51, says the stall's selling point is an assurance of quality, as it uses durians from a farm which he owns a stake in, from the Raub district of Pahang, Malaysia.
The fruit is exported to Singapore, where it is processed and deseeded in Soon Wai's central kitchen. The resulting pulp is supplied to bakeries, hotels and dessert shops, including cheesecake chain Cat & The Fiddle, The St. Regis Singapore hotel and of course, his own hawker stall at Newton.
No part of this story or photos can be reproduced without permission from 8days.sg.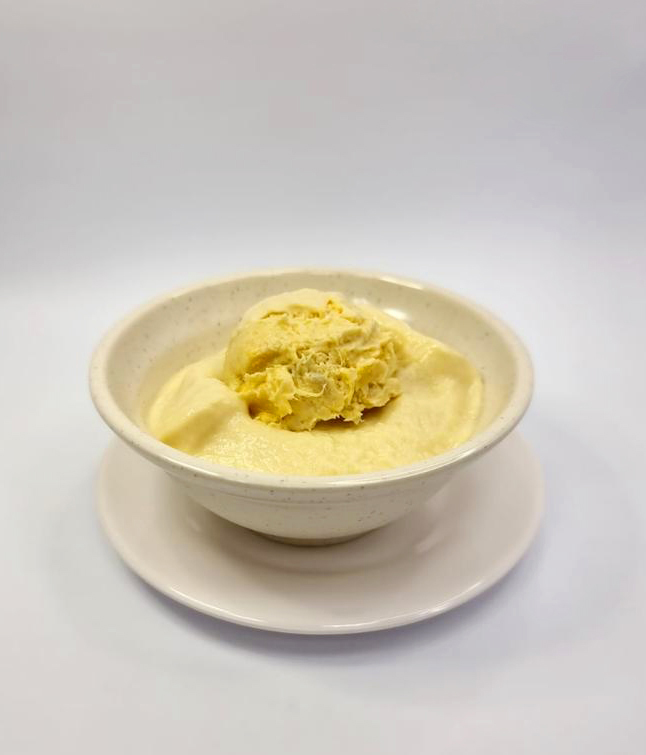 Bounced back from first F&B loss of "almost $400K"
Soon Wai spent 20 years in the corporate world (his last job was at a German MNC as a regional director) before starting several businesses, including a car dealership.
He ventured into F&B in 2010 with a ramen restaurant called Ramen Culture in Tanjong Pagar. "Back then, we were one of the first ramen stalls in the area. Business was extremely profitable in that first year." He soon opened an outlet in Katong.
"But more ramen eateries popped up," he says. After "two very tough years", he decided to close both outlets, with losses of "almost $400K". "The loss was manageable," he says, explaining that though the sum was large, it wasn't enough to push him into debt. "It was more of a big blow to my self-confidence, because that was my first loss-making business venture."
The towkay turned to his other businesses to recoup his losses. He only ventured back into F&B in 2018 after meeting the Malaysian owner of the durian farm (below), still optimistic despite his ramen restaurants' failure: "I always feel that business is about the right time, right people and right place. I happened to meet this guy, and he needed an investment in order to grow this business. As durian prices have gone up quite a lot over the years, I decided to give it a shot."
From durian seller to dessert stall owner
Thereafter, he and another local business partner opened Tiong Bahru Durian (below) selling whole durians in a shophouse on Seng Poh Road in 2019. The durian stall saw "pretty good business" until Covid-19 hit and they had to cease retail operations. Though they converted the biz to a delivery model, what really brought in the big bucks was supplying processed durian pulp to other businesses wholesale.
"Luckily, we saw growing demand for durian-based cakes and desserts, so we set up a central kitchen with cold-chain storage and transportation facilities at the start of 2020," he says. "During Covid, it turned out that the demand for all these durian desserts was high, so we did well too." They also supply unopened durians wholesale to these establishments. Soon Wai says the investment into the farm and central kitchen (below) is in the "six-figure region".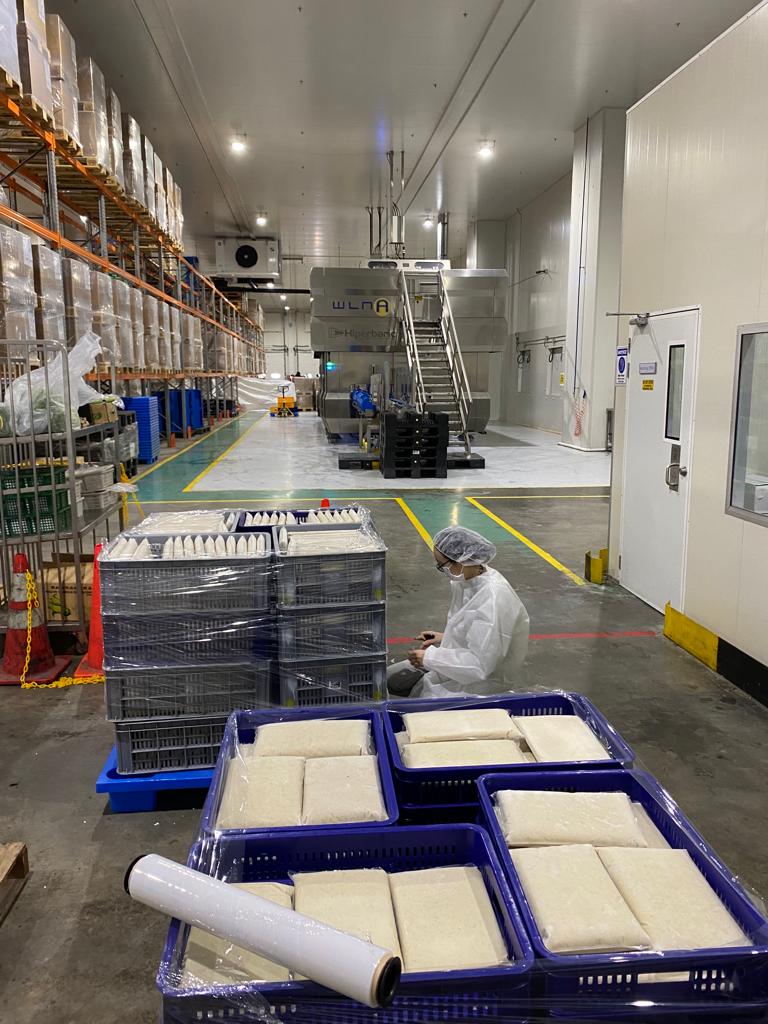 Soon Wai invested $20K into their current hawker stall, which he says is a "pilot project to test if they have the right menu and location". Should it prove successful, he hopes to open around five outlets around the island.
Newton Food Centre closing for renovations soon
Soon Wai chose Newton Food Centre for its "high tourist footfall". "Our hope is to introduce our 'created-in-Singapore' durian desserts to the widest possible international audience and possibly open up foreign markets," he declares.
Business has been "promising" in the couple of months since they've opened. "We're able to make a profit for now. From speaking to other stallholders, I understand that the crowd is only about 70 percent of what it was before the pandemic, so we're still hoping there's room to grow," he says.
The towkay takes turns with his business partner to man the stall currently, both in a bid to "better understand our business by spending time on the ground to establish SOPs (standard operating procedures) moving forward" and in anticipation of the upcoming renovation for the food centre from November 1 to January 31 next year. "How can we hire a staff [member] then tell him he has to take a break for two months?" he says. 
The menu
There are only a couple of items on the menu for now – durian mousse and tau huay (with an optional scoop of durian pulp). Soon Wai tells us that he's planning to add more "mango-based desserts" to the menu soon, though that will only be finalised in the following weeks before their hiatus.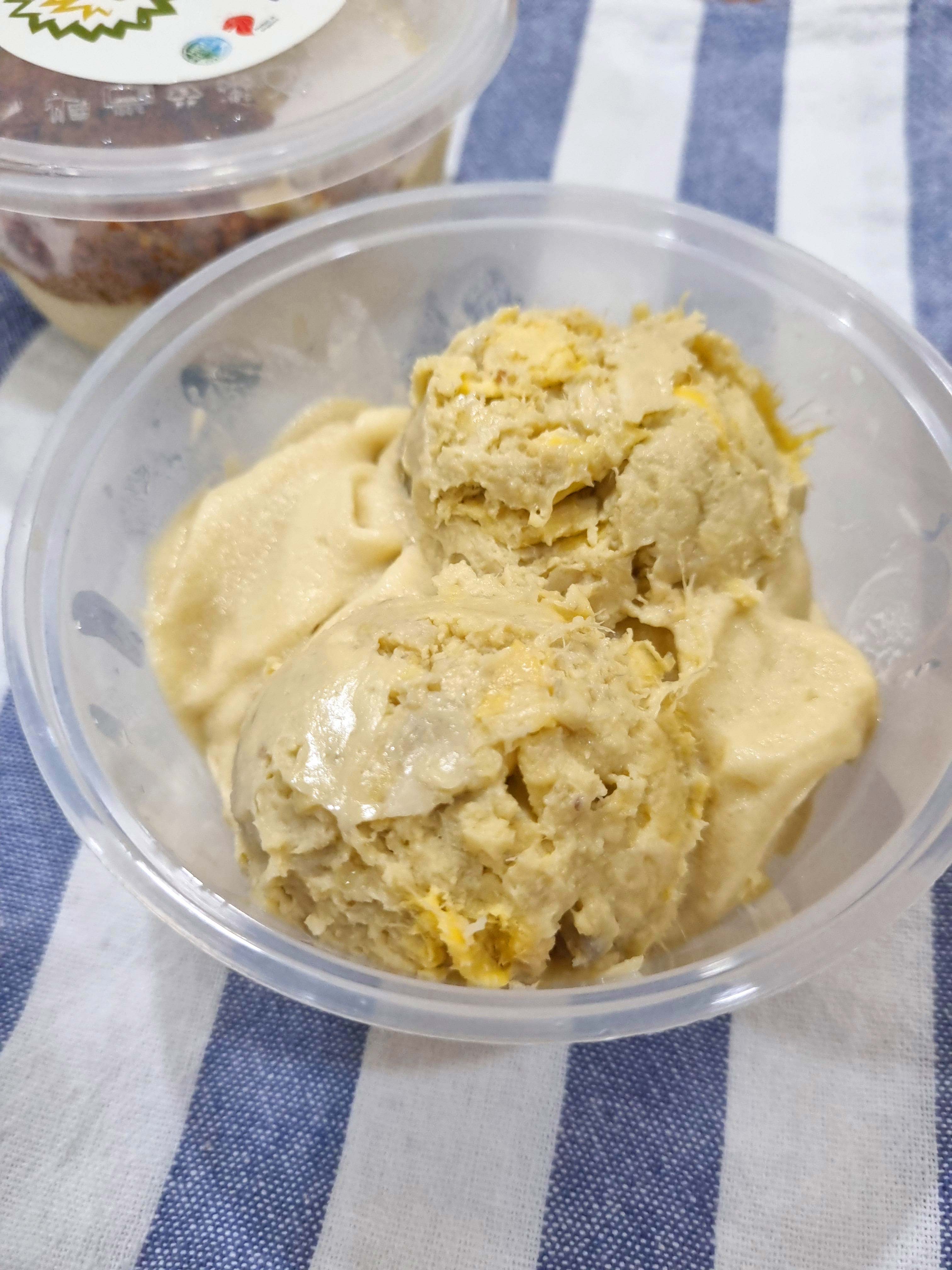 D24 Sultan King Mousse, $5 single; $7 double 
Both durian desserts feature ice cream scoop-sized mounds of pure durian flesh, plopped on a bed of durian mousse (made from the puree of both varietals in different proportions depending on what you order). The mousse is mixed with a "secret non-dairy ingredient" which Soon Wai won't confirm, except to say that it is not coconut milk. 
We find the durian mousse nicely creamy and on the thicker side compared to bowls we've had at some other dessert joints. The D24 durian pulp is pleasantly sweet, with only a faint bitterness to it.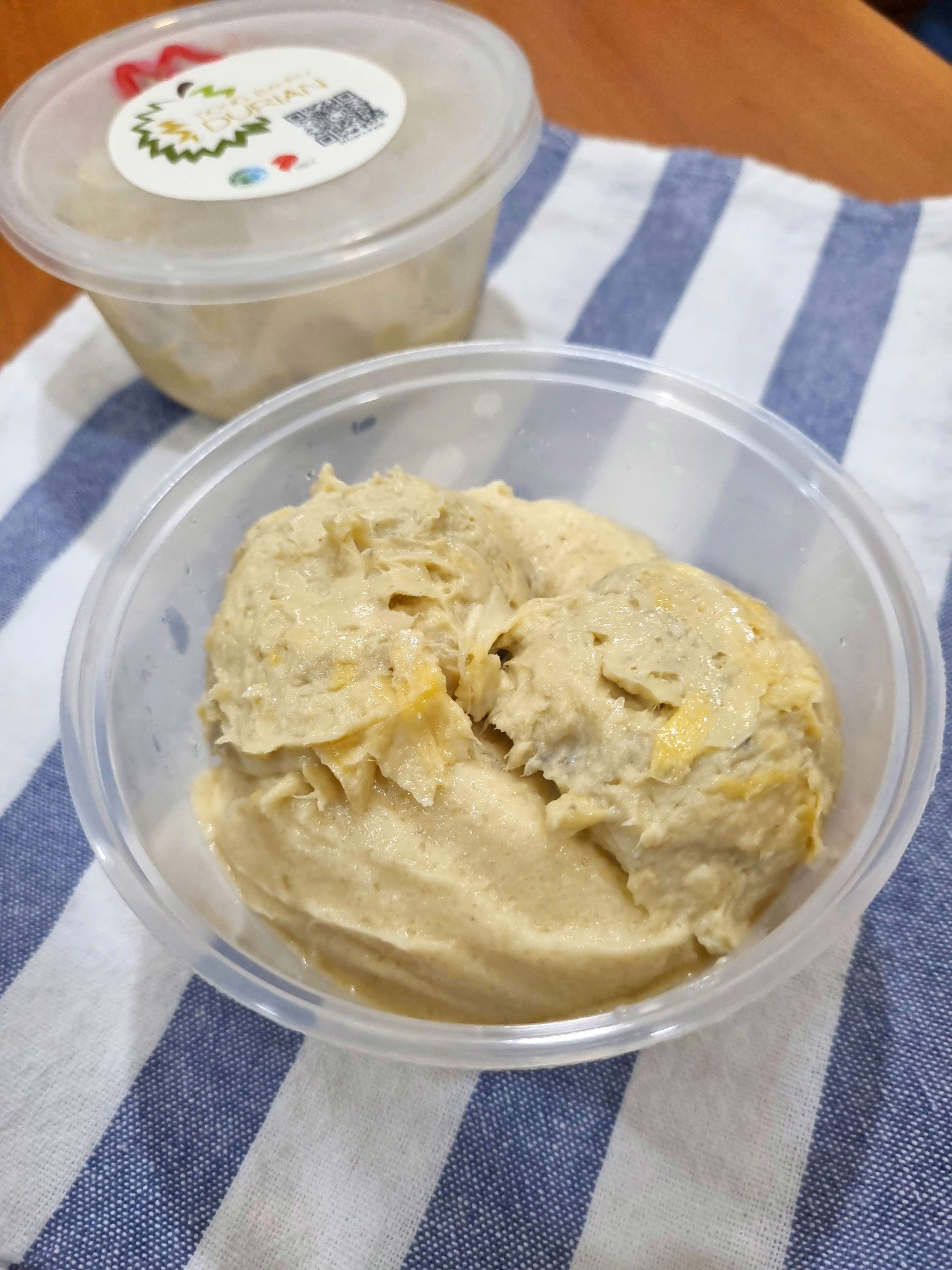 Musang King Mousse, $7.50 single; $10 double
We enjoy the premium Mao Shan Wang pulp atop this mousse more for the thorny fruit's bittersweet complexity – very addictive. As for the mousse itself? There isn't much difference between this MSW-spiked version vs the D24 one. 
Optional toppings include Nata De Coco, a drizzle of Pure New Zealand Honey and Lotus Biscoff Crumbs (all $0.50 each). Soon Wai lets us try a bowl of Musang King durian mousse with the biscuit topping: we're not big fans of the flavour combo, as its caramelly notes clash with the durian's strong flavours.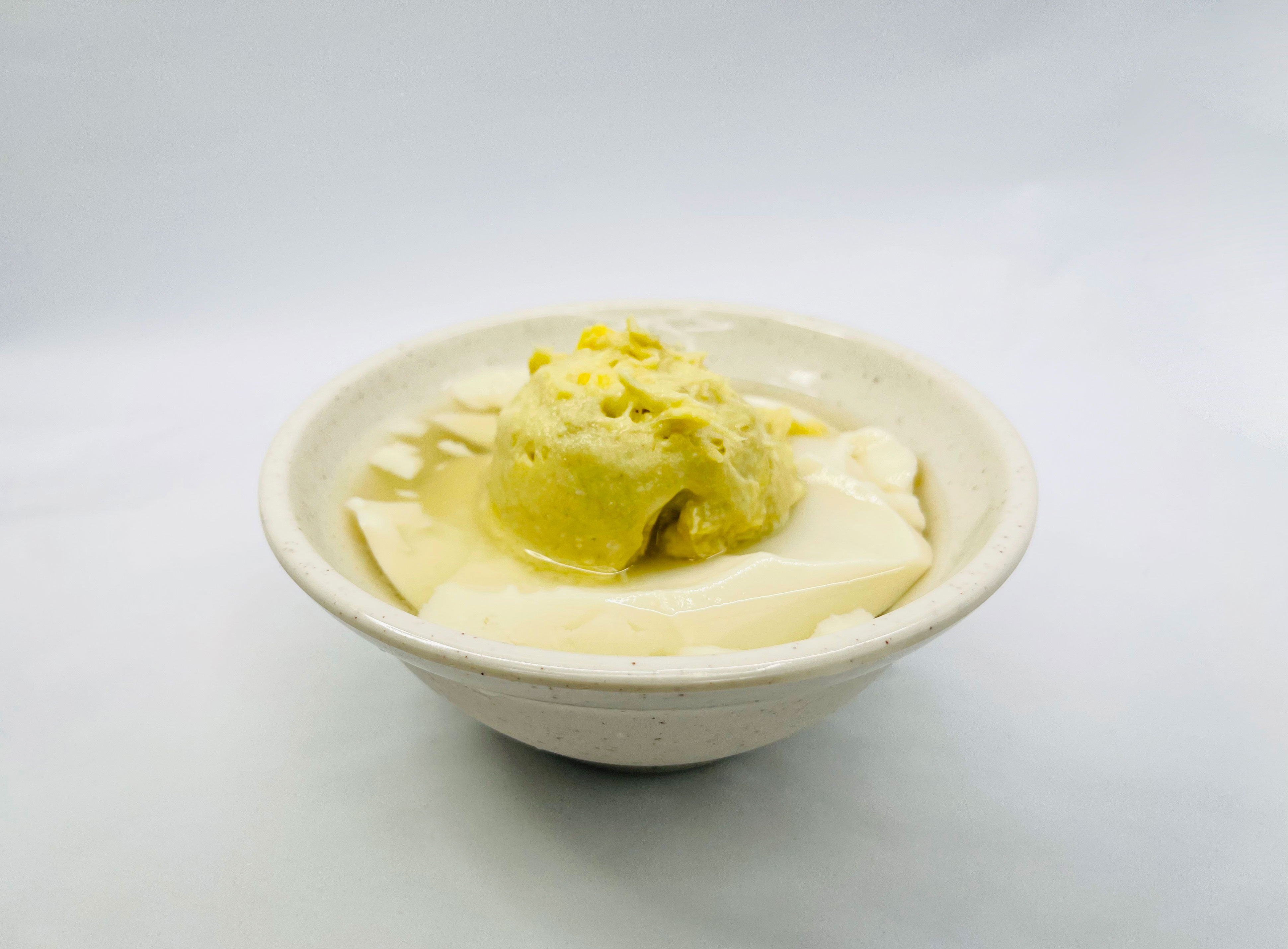 Soya Beancurd with Durian, from $4.50 
$4.50 buys you a scoop of D24 durian pulp on plain tau hway ($5.50 for Musang King). Both hot and cold variations of the supplier-bought dessert are available at the stall. Unfortunately, we weren't able to get a taste of this at press time, but we were told that "feedback has been very good" from customers who tried it. The jury's out on that. 
Durian Desserts by Tiong Bahru Durian is at #01-52, Newton Food Centre, 500 Clemenceau Ave North, S229495. Tel: 9732-1860. Open daily except Mon 6pm - 11pm. More info via Facebook & Instagram.
Photos: Durian Desserts by Tiong Bahru Durian, Alvin Lim
No part of this story or photos can be reproduced without permission from 8days.sg.