Cool American Barbecue Joint In Upp Thomson Serves Good Brisket & Smoked Banana Tart
Two of the chefs here used to work at three Michelin-starred mod European restaurant Zen.
In late April, three chefs joined forces to open an American-style barbecue restaurant named Social Smoker in the quiet residential estate of Sembawang Hills in Upper Thomson – the outlet used to be occupied by Sin Ming Roti Prata. Neo Chee Yong (who goes by Neo, middle in pic), 35, first picked up smoking skills from a pitmaster in San Francisco about eight years ago. His chef pals and partners, Emil Ess (left in pic), 33, and Kevin Tan (right), 28, worked at some of the best restaurants in Singapore, including three Michelin-starred Nordic restaurant Zen. At their new smokehouse, the trio dish out a robust menu of starters, sandwiches and tacos on top of the usual suspects – beef brisket, pork ribs and pulled pork, as well as classic cocktails, craft beers and desserts.

All photos cannot be reproduced without permission from 8days.sg.

No part of this story or photos can be reproduced without permission from 8days.sg.
Learned to smoke meats while on holiday
After quitting his sales job in 2014, Neo chanced upon Texas-style barbecue at a pop-up while travelling in San Francisco. "I've never tried anything like it so I asked the pitmaster if he could teach me," he says. The San Franciscan pitmaster, who ran weekend BBQ pop-ups at local breweries, agreed to teach Neo the basics. The informal apprenticeship lasted for about two months.
Back in Singapore, Neo continued to pursue his newfound passion while working full-time at a music instruments company. He started smoking meats along the corridor of his HDB home, using a small Weber kettle grill and charcoal. "Friends would come over to my place and I would just pull out a table along the corridor and serve them smoked meats right outside my house. That's when some people started to call me the HDB smoker."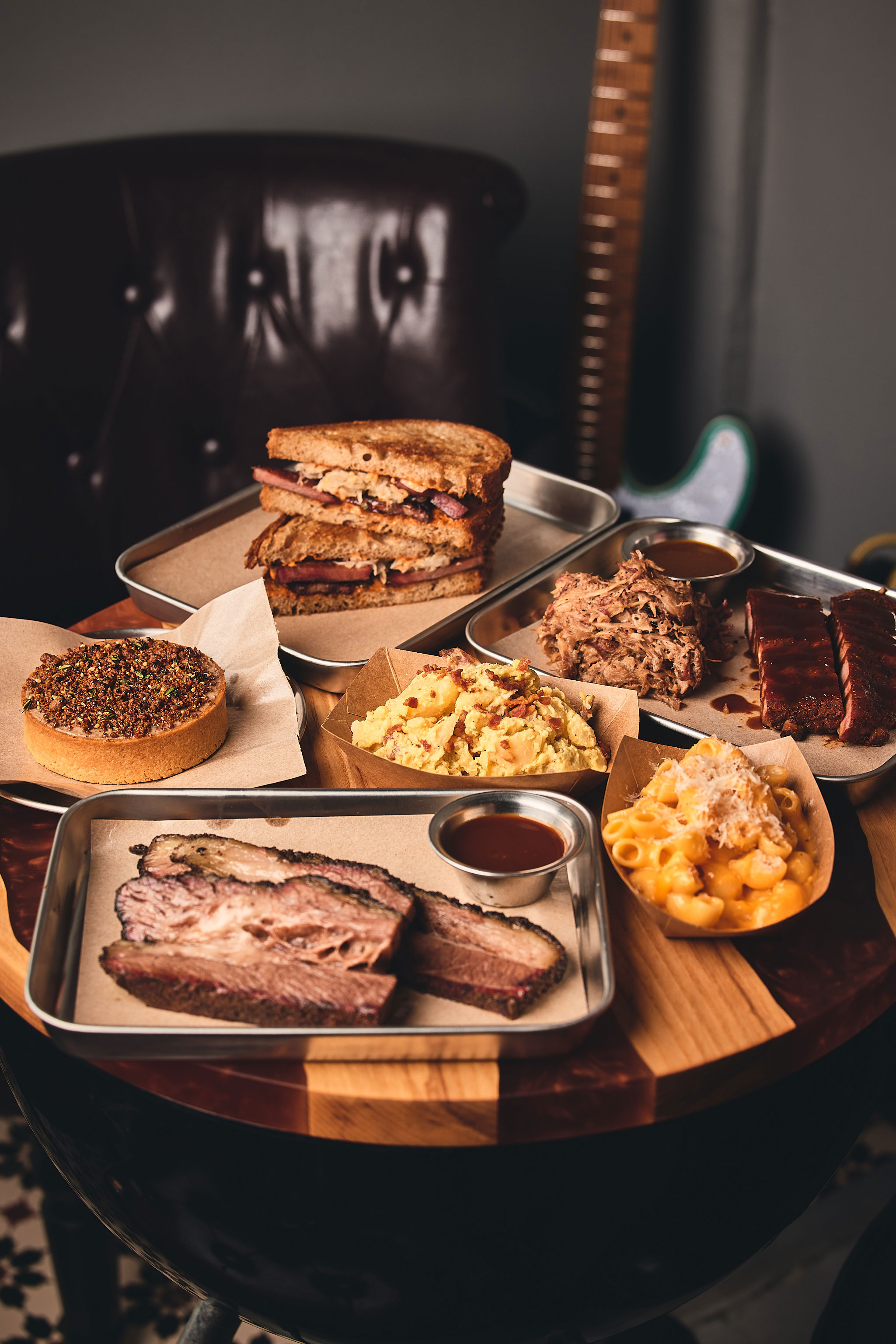 Everyone's a chef here
Social Smoker head chef Emil and general manager Kevin were working as chefs de partie (line cooks) at fine-dining restaurant Zen since its opening in 2018. In 2020, both of them left the restaurant – Emil went to work as a chef de partie at In Situ, a restaurant at the San Francisco Museum of Modern Art that was awarded a Michelin star in 2019, while Kevin helped out with his family's entertainment business, which had been affected by Covid. 
The pandemic disrupted Emil's stint – he returned to Singapore after just two months at In Situ following its temporary closure (the restaurant officially shut down last year). "It was a shame, but there's nothing to be done about it. I'm glad to have had the experience as the restaurant has closed for good now," he says.
Emil and Neo met in 2020 when they were cooking at Thus Cafe, a casual Western joint owned by the brother of Emil's friend, also in the Sembawang Hills estate. "The owner knew that I'd been doing smoked meats for a while and asked me to do some for the cafe too," recalls Neo. He started serving items like smoked pulled pork croissant and smoked brisket burger at the cafe while discussing plans to open a smokehouse with Emil, who later roped in longtime friend Kevin to join the venture. The cafe owner, who prefers not to be named, is one of two investors of the restaurant. They declined to share details of the investment. The three owners decided to open the smokehouse in the same Sembawang Hills area as they like its "neighbourhood vibe".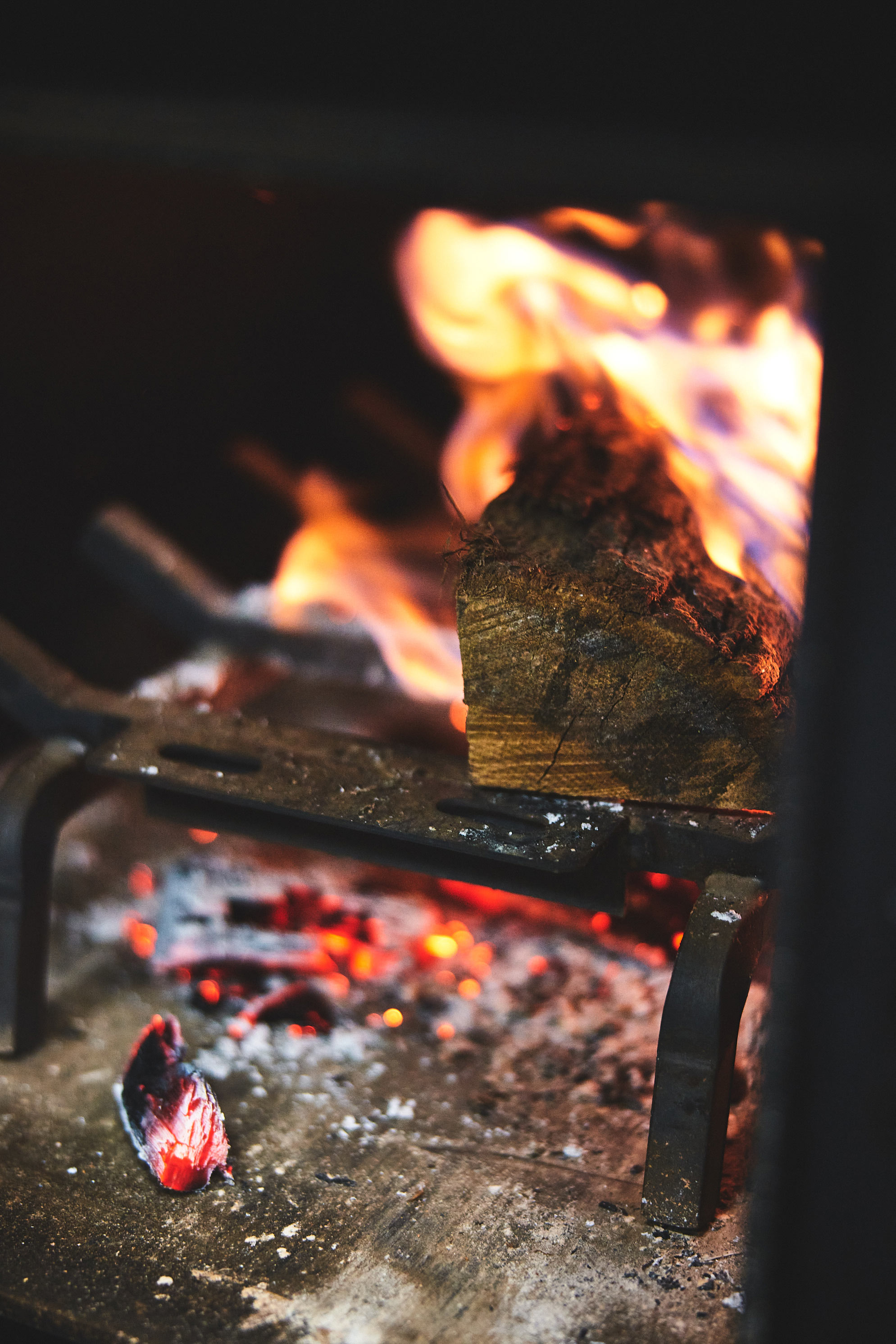 This team's on fire 
Together with hired chefs Yeow Jingyi, 22 and Eric Tan, 33, the industrious five-person team tackles "everything" at the smokehouse. "From serving food, making cocktails, cleaning toilets to talking to babies", adds Kevin. Neo is also teaching the team the basics of smoking American meats.
The chefs are often spotted bantering (good-naturedly) – resident joker Kevin insisted on holding a tip jar hilariously labelled "Donations to Emil's Hair Loss Fund" for the group photo. "There's no hierarchy here, it's based on mutual respect. We were all friends before we started this place. [Head chef] is a throwaway title. [Our hiring process is based on] people who can get drunk with us," says Emil.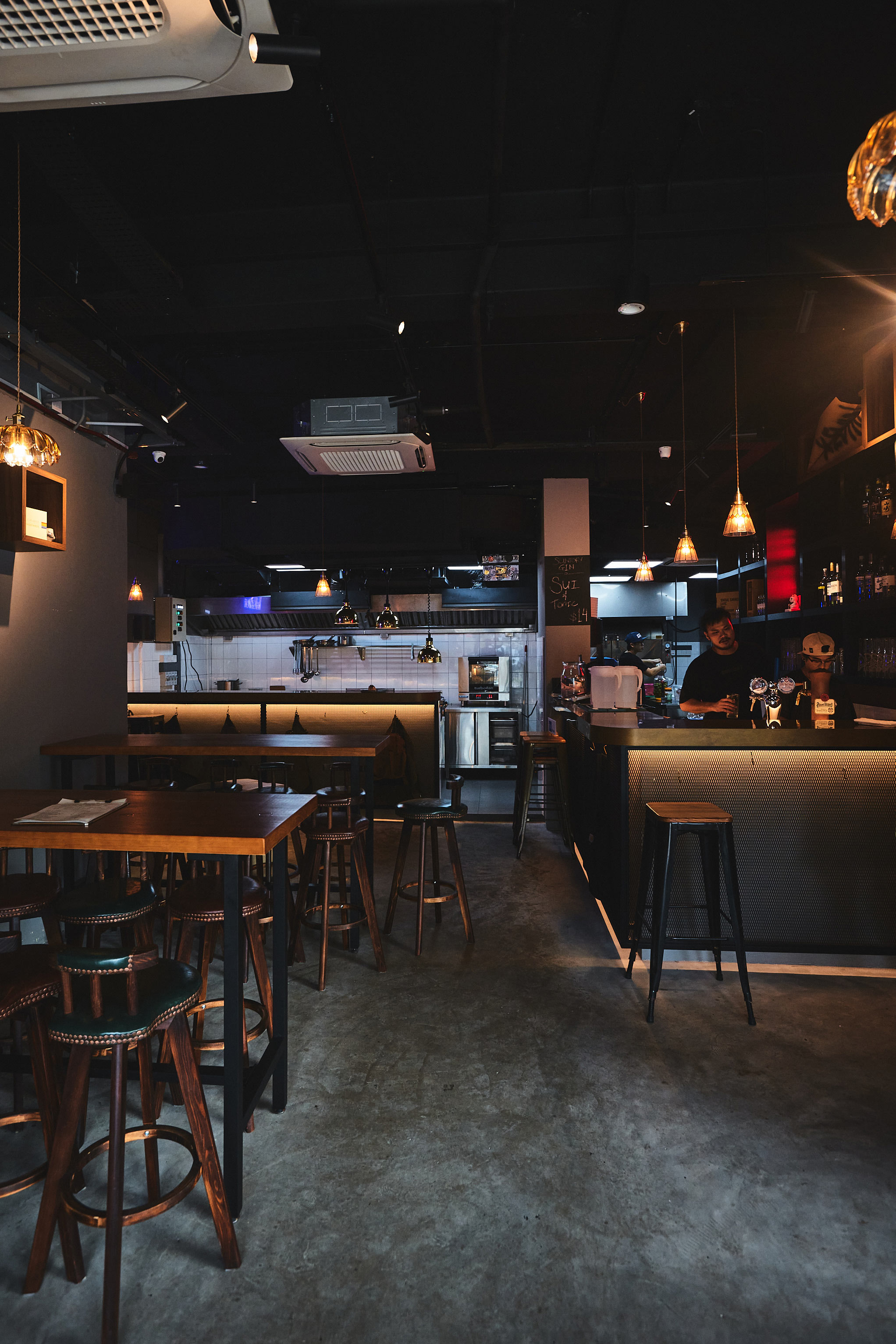 The look
Industrial decor and a pop-rock playlist provide a modern, casual backdrop for the 70-seater, while irreverent details like a unicorn poster and messily-scribbled menus add to the casually hip atmosphere here. The restaurant's $20K custom-built, gas-assisted indoor (which still also uses wood for flavour) Ole Hickory Pits smoker from Missouri is hidden from view, but you can spot Neo's first two smokers – a Weber kettle grill and a small standing box smoker – in the main dining area.
The menu
A platter of three meats, three sides and house pickles (good for two) starts from $68, while a la carte meats range from $9 (pork ribs) to $14 (brisket) per 100g. Sausages, though listed on the menu, are not available for now as the team is still tweaking the recipe. The team is also working on adding fried chicken to the mix soon.
There are five sides to go with your meats – including classics like potato salad and mac and cheese or a Filipino-inspired cornbread. For drinks, there's a small selection of craft beers from Niang Brewery, a local label. Cocktails, beer on tap, iced tea and lemonade are available as well.
USDA Beef Brisket, $14 per 100g (8 DAYS Pick!)
Bathed in post oak smoke for at least 12 hours, the brisket is perfectly rendered with a salt-and-pepper crust (the Texan way). The smoke ring (a pink layer directly below the bark of smoked meats), an oft-debated trait among barbecue enthusiasts, is not as pronounced as what we've seen at some other 'cue joints. Nonetheless, Social Smoker's USDA brisket is juicy enough for our liking – the glossy, luscious fat is divine and brings out the best of the smoke-tinged beefy flavour. The meat is good enough to go sauce-free here, though the tangy, house-made tomato-based BBQ sauce does help to cut through some of the richness.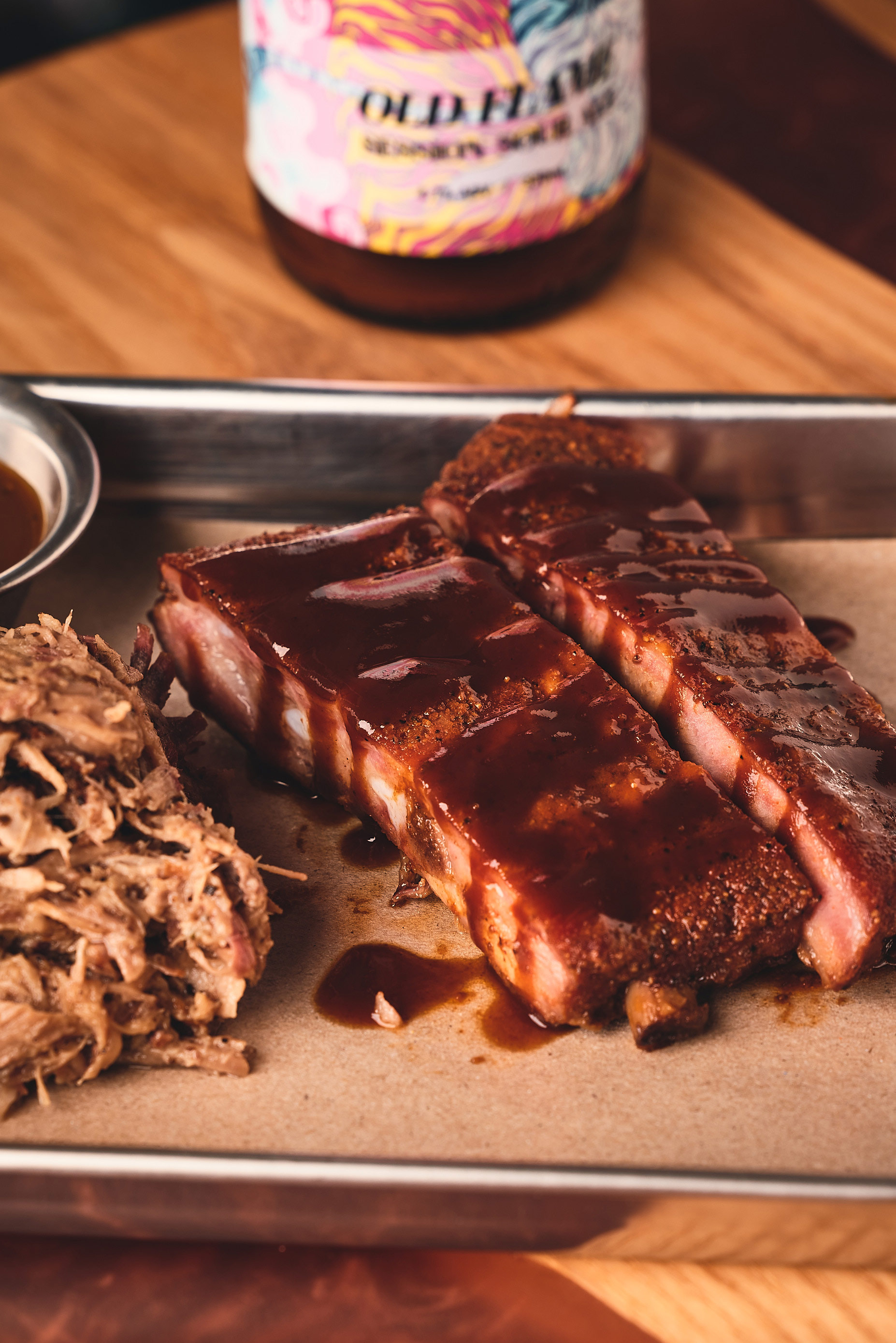 St. Louis Pork Ribs, $9 per 100g (8 DAYS Pick!)
This flavour of rub is more assertive compared to the brisket, thanks to the use of paprika, which accentuates the woodsy aroma of the meat. The substantial St. Louis-cut ribs (spare ribs that have been trimmed to yield a more uniform shape) were satisfyingly succulent and slightly sweetened with a barbecue sauce glaze. Get this if you like smoked meat with punchier seasoning.
Pulled Pork, $9 per 100g (8 DAYS Pick!)
We like that the juicy strands of US pork shoulder aren't drenched in sauce here. Inspired by the Cuban pork sandwich recipe created by celebrity chef Roy Choi for the 2014 film Chef, Neo uses a citrusy spice rub, which includes coriander and cumin, to lend a bolder flavour to the dish. Interspersed with a good amount of fat, the texture is velvety and the meat exudes bright, warm notes from the spices and has a pleasant smoky aroma throughout.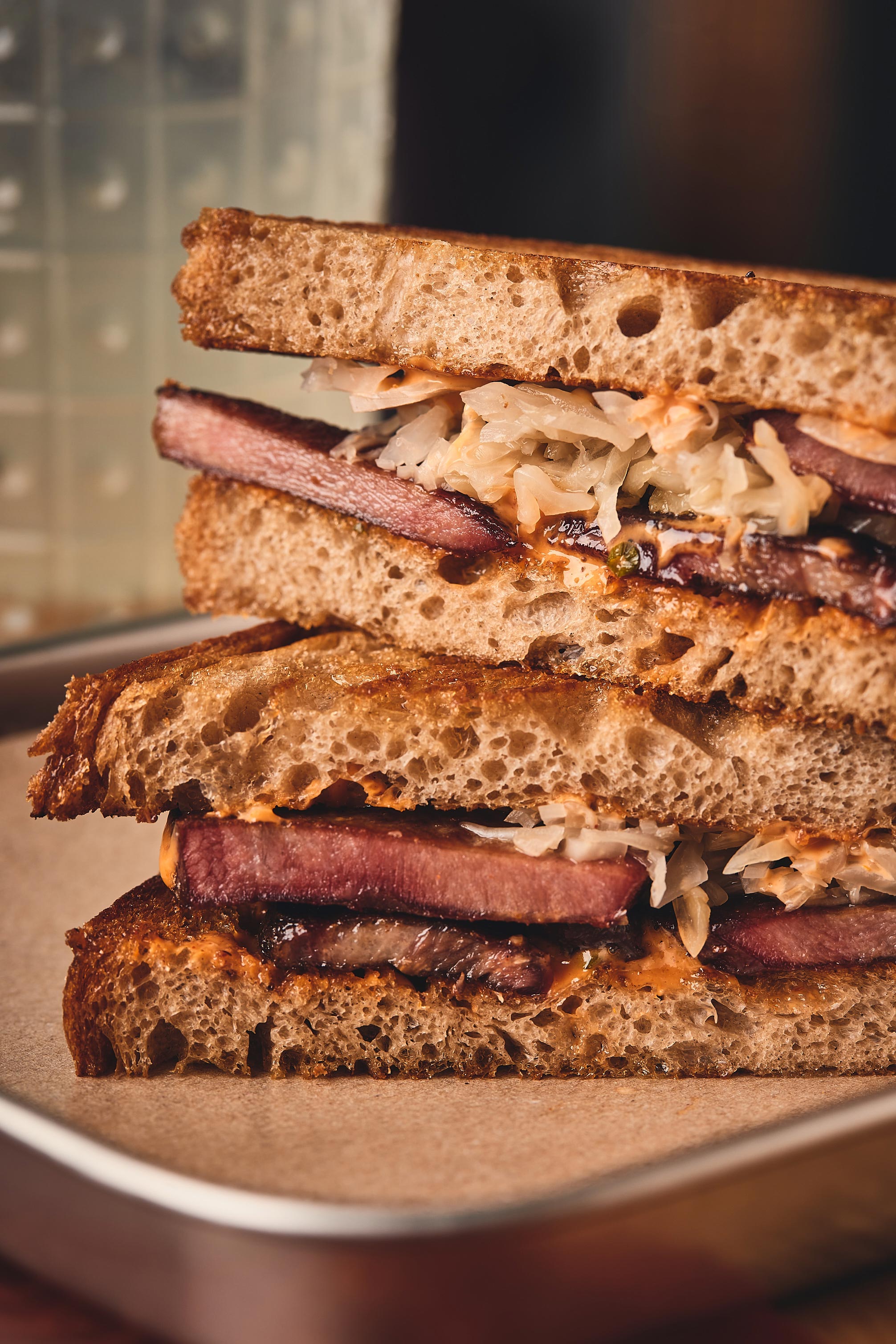 Beef Tongue Sandwich, $19
A hearty sandwich featuring smoked beef tongue, finely sliced sauerkraut and a ketchup-and-mayo dressing between crusty rye sourdough bread. Not bad, though the smoked beef tongue could be more tender and sliced a little thicker for a better bite.
Starters, from $5
Pair your smoked meats with classics like Potato Salad ($4), which has a nice tang from mustard and apple cider vinegar, or the creamy Mac & Cheese (from $5). Emil's House Pickles ($4), featuring mildly spicy dill pickles, citrusy and crunchy jalapeno, and sharp red onion, showcase the chef's understanding of flavours and textures, and are a must-try.
Corn Bread Bibingka, $5 (8 DAYS Pick!)
Neo created this Asian twist on cornbread (popularised in the South of the United States) after a Filipino friend made him a baked glutinous rice cake known as bibingka. His version uses cornmeal, rice flour and coconut milk to create a moist, fluffy kueh-like texture with a strong corn flavour, finished with a crackly sugared topping. A yummy alternative to traditional cornbread, which can sometimes be too dense and dry.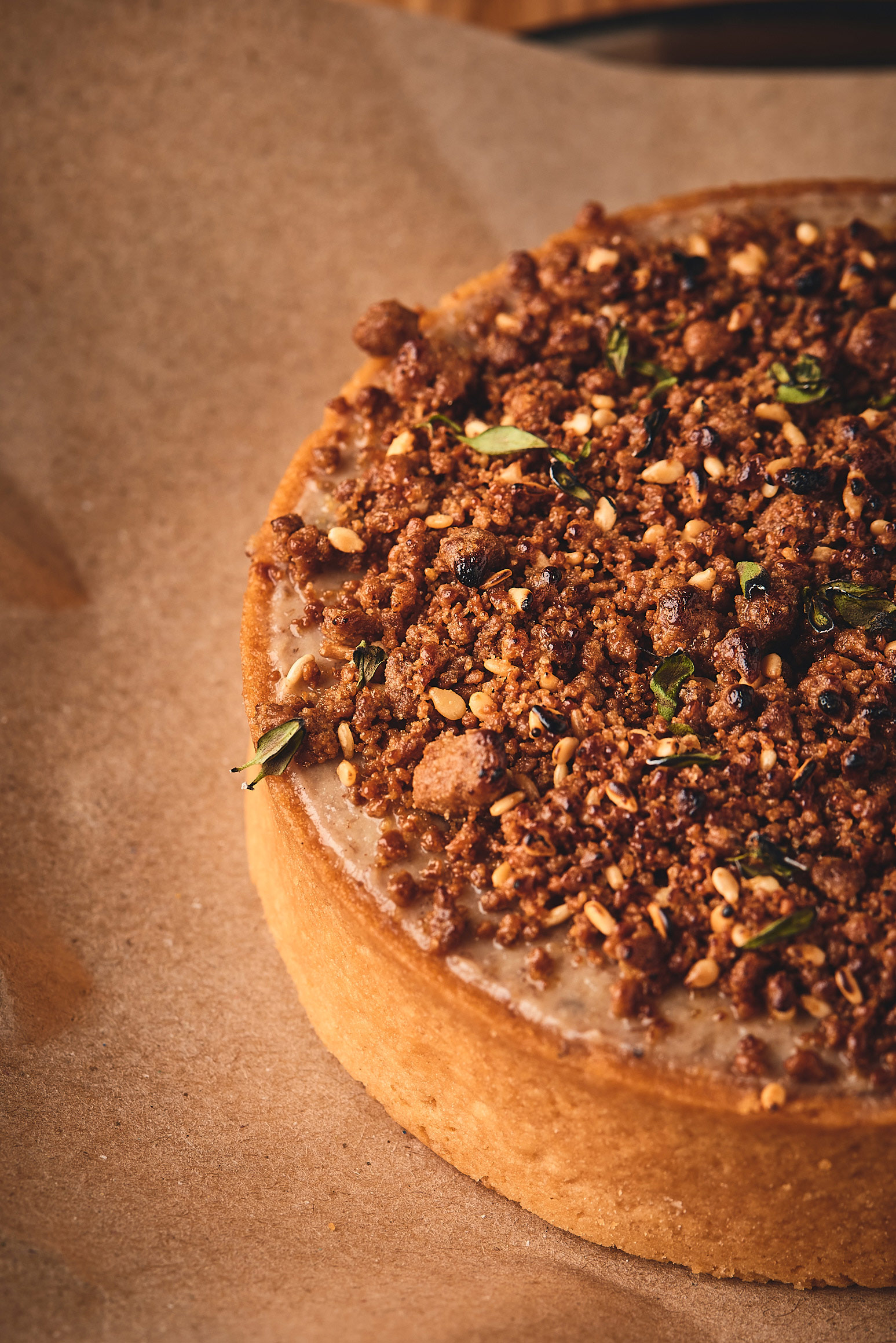 Smoked Banana Tart, $10 (8 DAYS Pick!) 
A superb tart filled with smoked overripe bananas and mascarpone cheese, and sprinkled with toasted sesame, roasted white chocolate and malt. The creamy banana pairs well with nutty whispers of its crunchy crumble topping. An elegant, texturally nuanced dessert that showcases Emil's fine-dining background.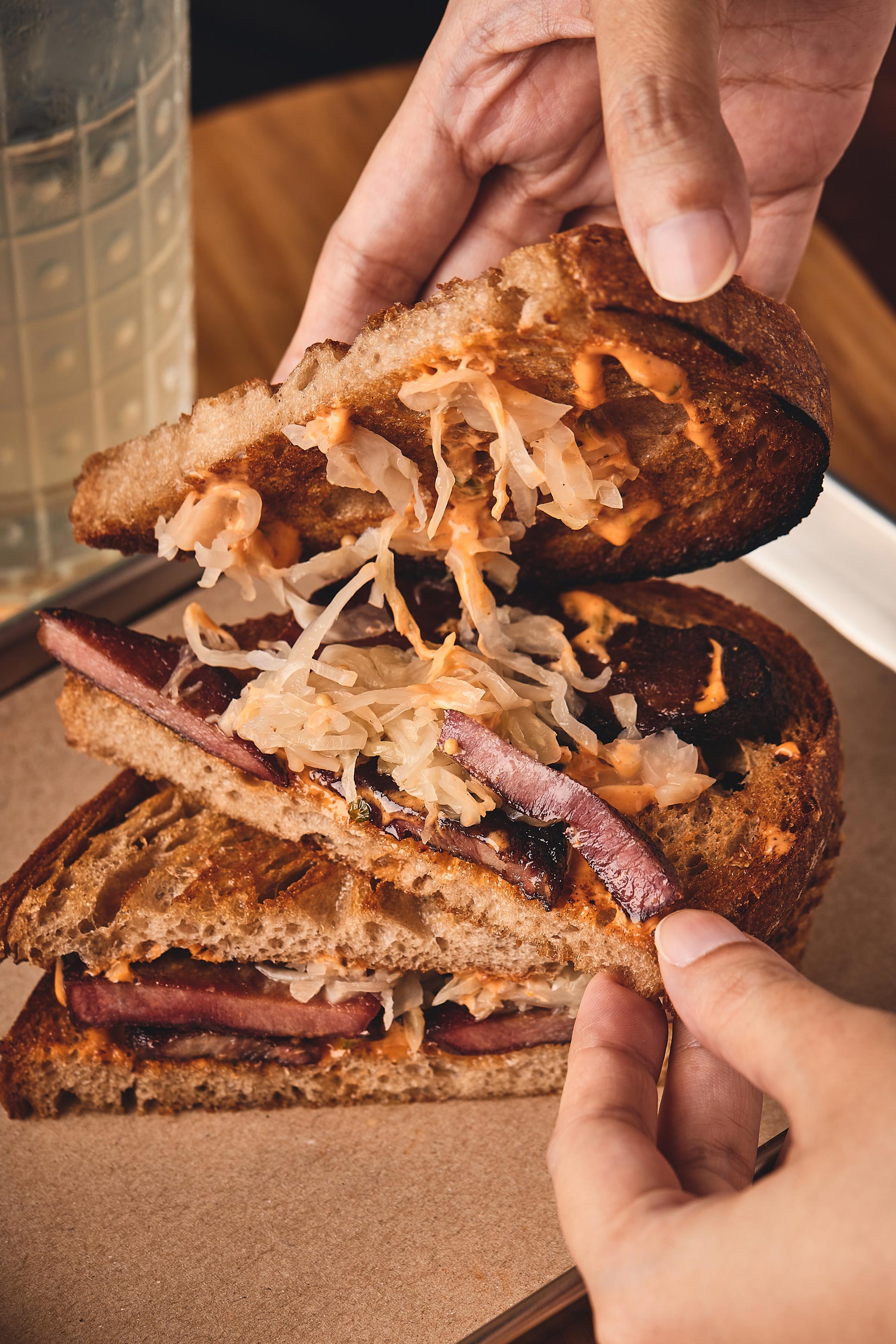 Bottom line 
Great American smoked meats at a decent price ($1-2 cheaper per 100g than the Robertson Quay-based Decker's, for example) from this casual eatery with a "cool kids" vibe that stands out among its neighbours, which includes old-school Chinese restaurants and 'ah pek' pubs. You can't go wrong with the Texan-style brisket and stellar side dishes here. Moreover, that smoked banana tart is so sophisticated it almost belongs on a fine-dining restaurant's menu. Gather a group of pals to enjoy the platters. Seats fill up quickly, so do call ahead to secure your table.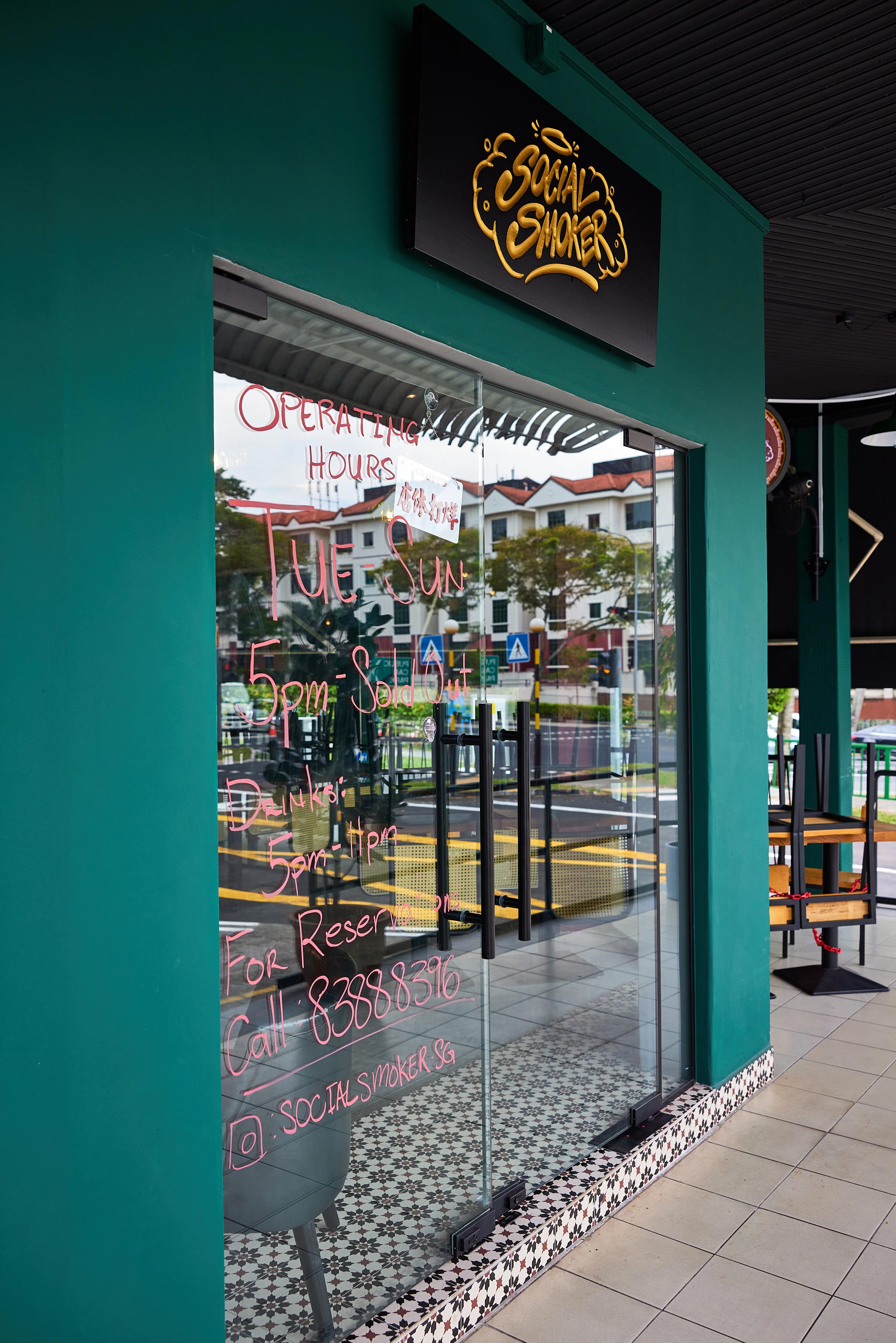 The details
Social Smoker is at 2 Jln Leban, S577547. Open daily except Mon 5pm-10pm. Tel: 8388 8396. Facebook Instagram 
Photos: Alvin Teo

All photos cannot be reproduced without permission from 8days.sg.

No part of this story or photos can be reproduced without permission from 8days.sg.