Dumpling Darlings Owners Open Hip Orchard Rd Spin-Off Brand With Cheaper Dumplings & Noodles
The new takeaway concept is called Lucky Dumplings and doesn't feature any pork or lard.
Two-month-old takeaway joint Lucky Dumplings at Ion Orchard's food basement is irrepressibly cheery. The pan-fried dumpling shop is splashed with red and orange decor and smiley-faced dumpling mascots. In the small kitchen, cooks press rows of meaty parcels to order on a griddle machine.
It's a new brand opened by the Kiosks Collective, a group which also owns Crave, Ministry of Rojak, A Noodle Story, and other takeaway joints, in conjunction with the folks behind Dumpling Darlings, who are co-owners. Dumpling Darlings, of course, is the popular hipster dumpling and noodle restaurant with outlets at Amoy Street and Circular Road, owned by husband-and-wife duo Foo Choo Kiat, 35, and June Tan, 33 (though present at our shoot, both declined to be photographed). The duo developed the branding and the menu here, but are not involved in the day-to-day operations.
All photos cannot be reproduced without permission from 8days.sg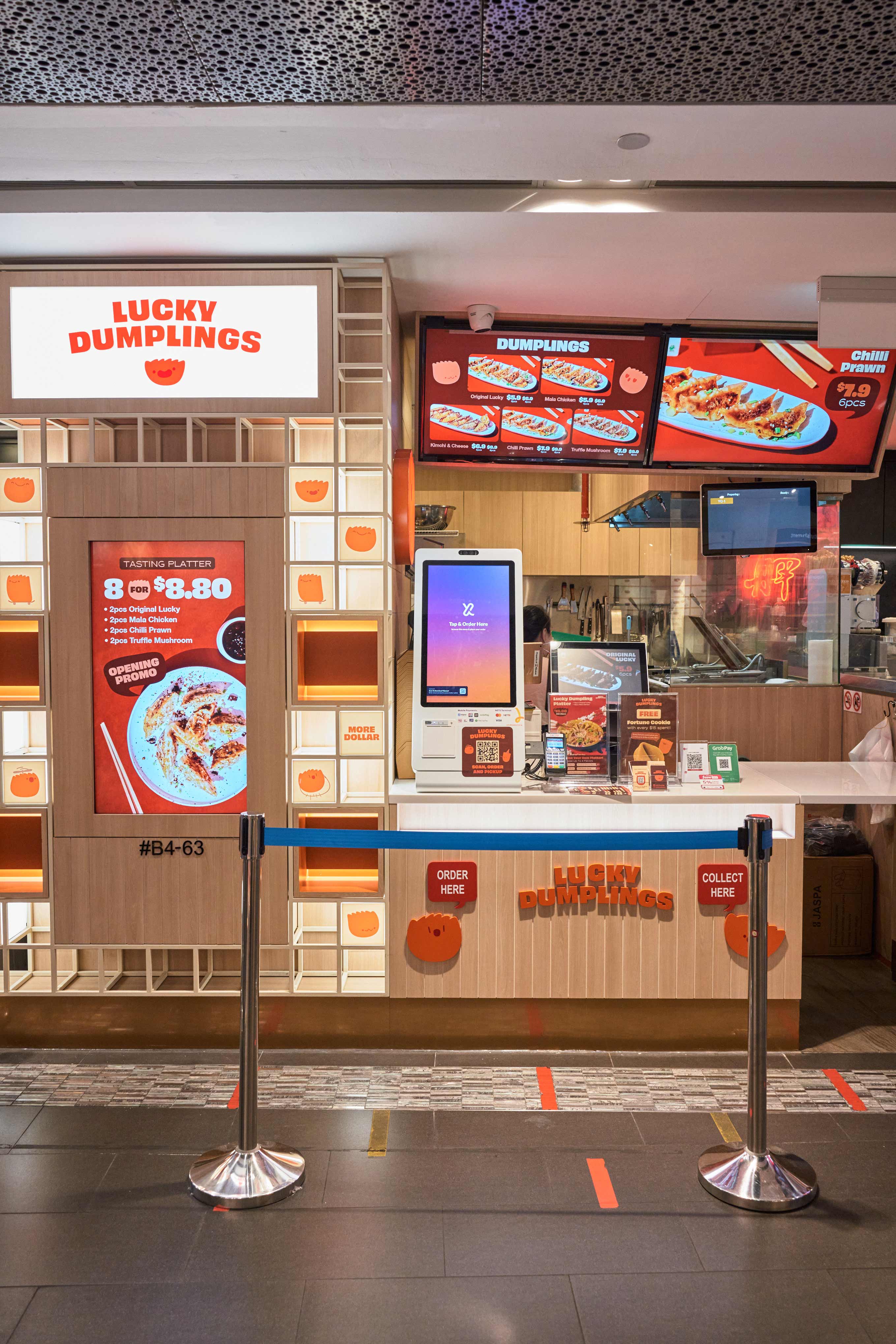 Pork-free hipster dumplings for the masses
June is quite clear that this is a totally different brand and business from Dumpling Darlings. For one, the price point is lower, starting from $5.90 for six dumplings, while the offerings at Dumpling Darlings start at $8 for five pieces. The menu at Ion is also less diverse than Dumpling Darlings, which apart from the standard gyoza-style dumplings featured here, includes specialty dumplings like pierogis, mandus, and momos. And perhaps most significantly, unlike at Dumpling Darlings, the menu at Lucky Dumplings contains no pork or lard — June says they're working towards halal certification. This is the only outlet at the moment, but there are hopes to open more in the future.
"It's a passion project for us," says June, "and it's been quite fun to think of new iterations of the [Dumpling Darlings] brand that could work as well." Here, you order using a touch-screen, or submit an order online by scanning a QR code, and wait to collect your order, which arrives in Chinese takeout-style boxes printed with grinning cartoon dumplings. Because the food is made to order, the average wait is about seven minutes.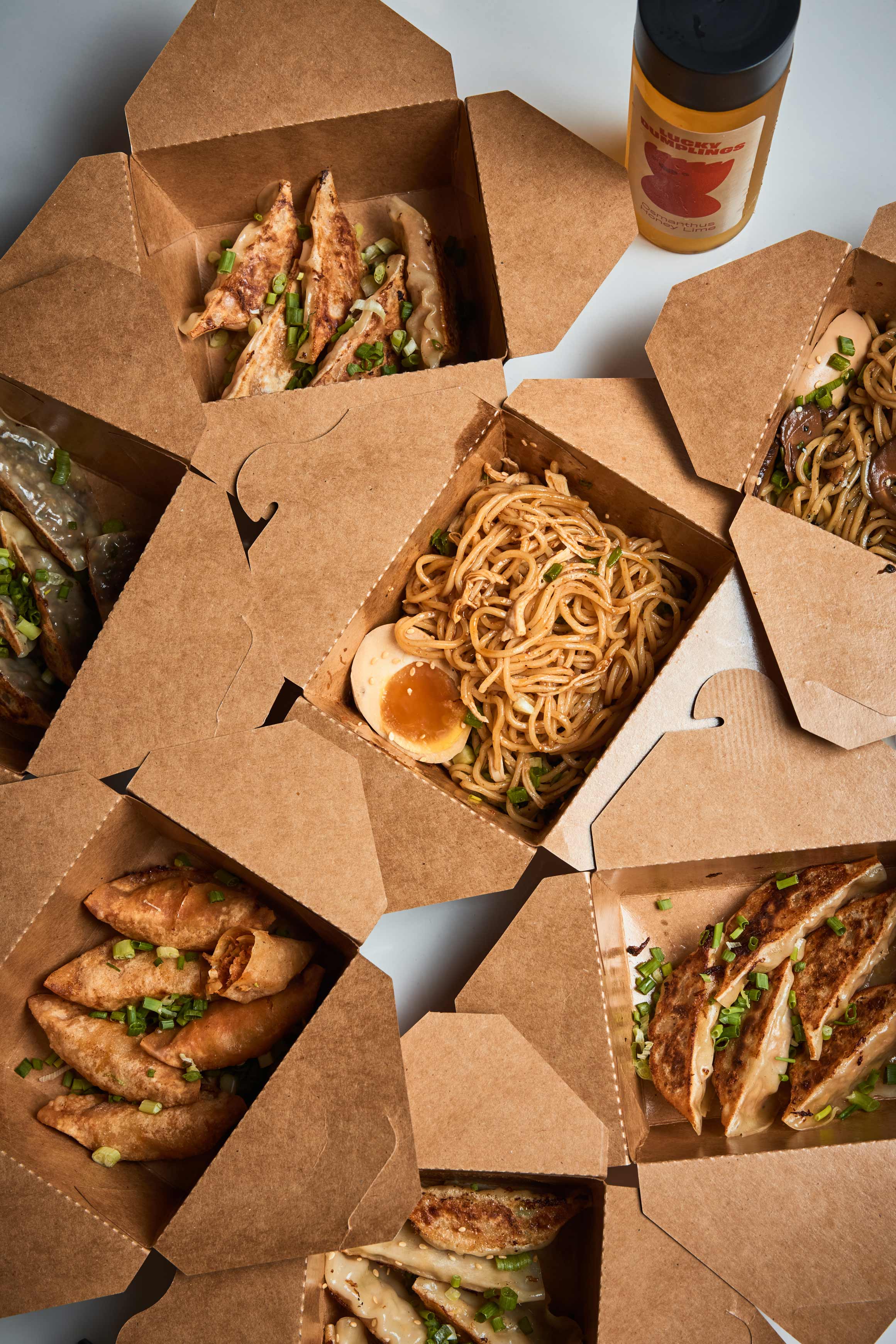 On the menu
Choo Kiat, who developed the recipes here, is not a trained chef but has worked in the kitchens of the couple's other F&B joints which apart from Dumpling Darlings includes Lola's Cafe at Kovan Road, opened in 2013. He walks us through the dumpling menu here, which features five flavours of mostly minced chicken fillings, including trendy ones like Kimchi, Mala, and a Singapore Chilli Crab inspired number (these three flavours aren't offered at Dumpling Darlings). There are also two noodle options – Sichuan Chicken and Truffle Mushroom, which echo the noodle bowls offered at Dumpling Darlings. These are jazzed up with flourishes to make them more foodie-appropriate: think chicken collagen worked into the dumplings for added moisture and flavour, a homemade Sichuan spice paste, freshly made rempah, and noodles kissed with garlic chips pulverised into a powder. All the dumplings are cooked pot-sticker style, except the kimchi one, which is deep-fried.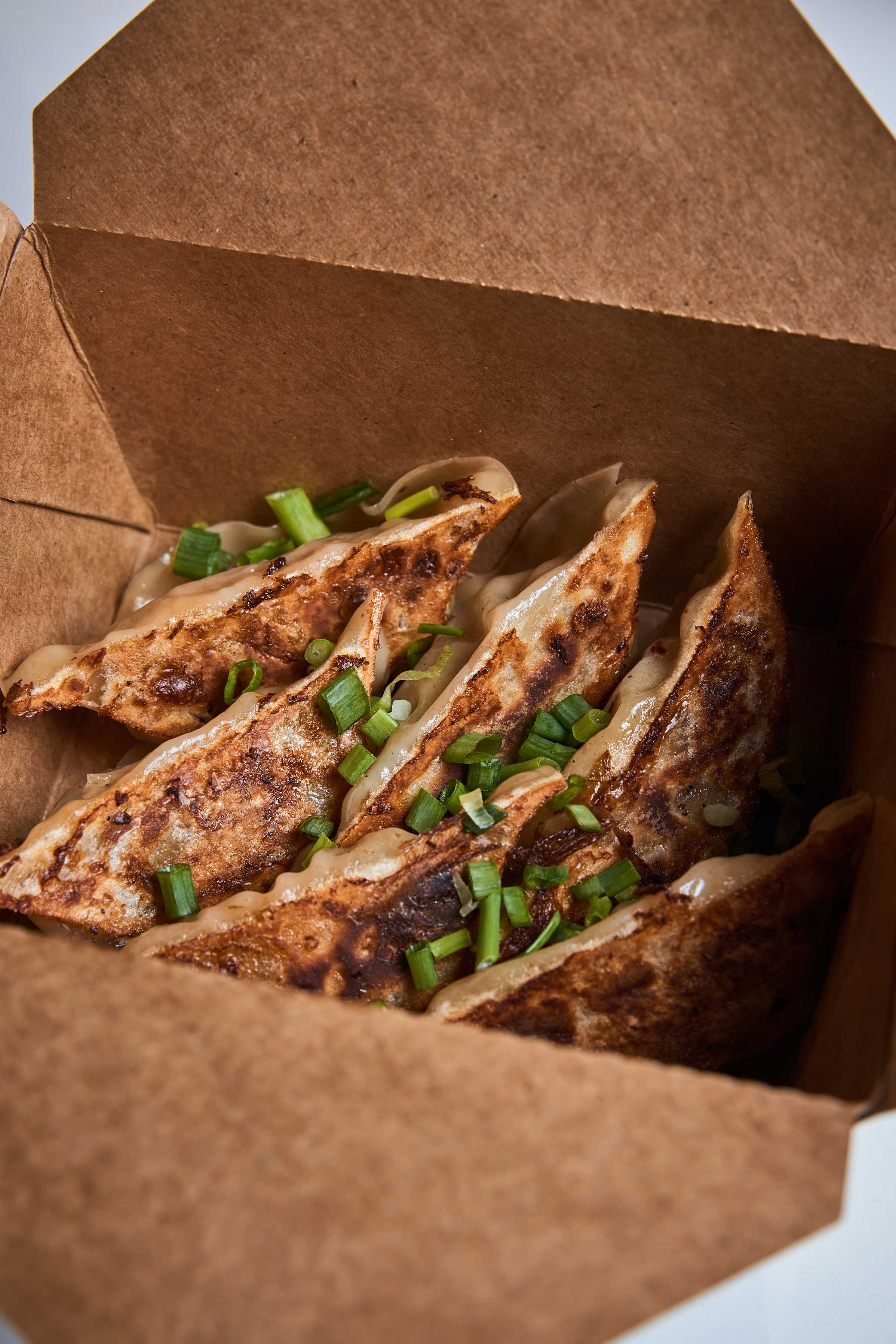 The Original Lucky, from $5.90 for six pcs
A plain chicken dumpling, given more depth with Chinese cabbage. The chicken is flavoured with a "tare" (a blend of umami-rich sauces used to flavour ramen) made of soy, halal mirin, sesame oil, and gelatinous chicken stock reduction. We're not initially excited by the idea of a chicken dumpling, which often tends to be dryer. However, this version is good – the filling is juicy, meaty and savoury, while the skin is pleasantly tender, with a crispy pan-fried base. Comes with a ginger and black vinegar dip.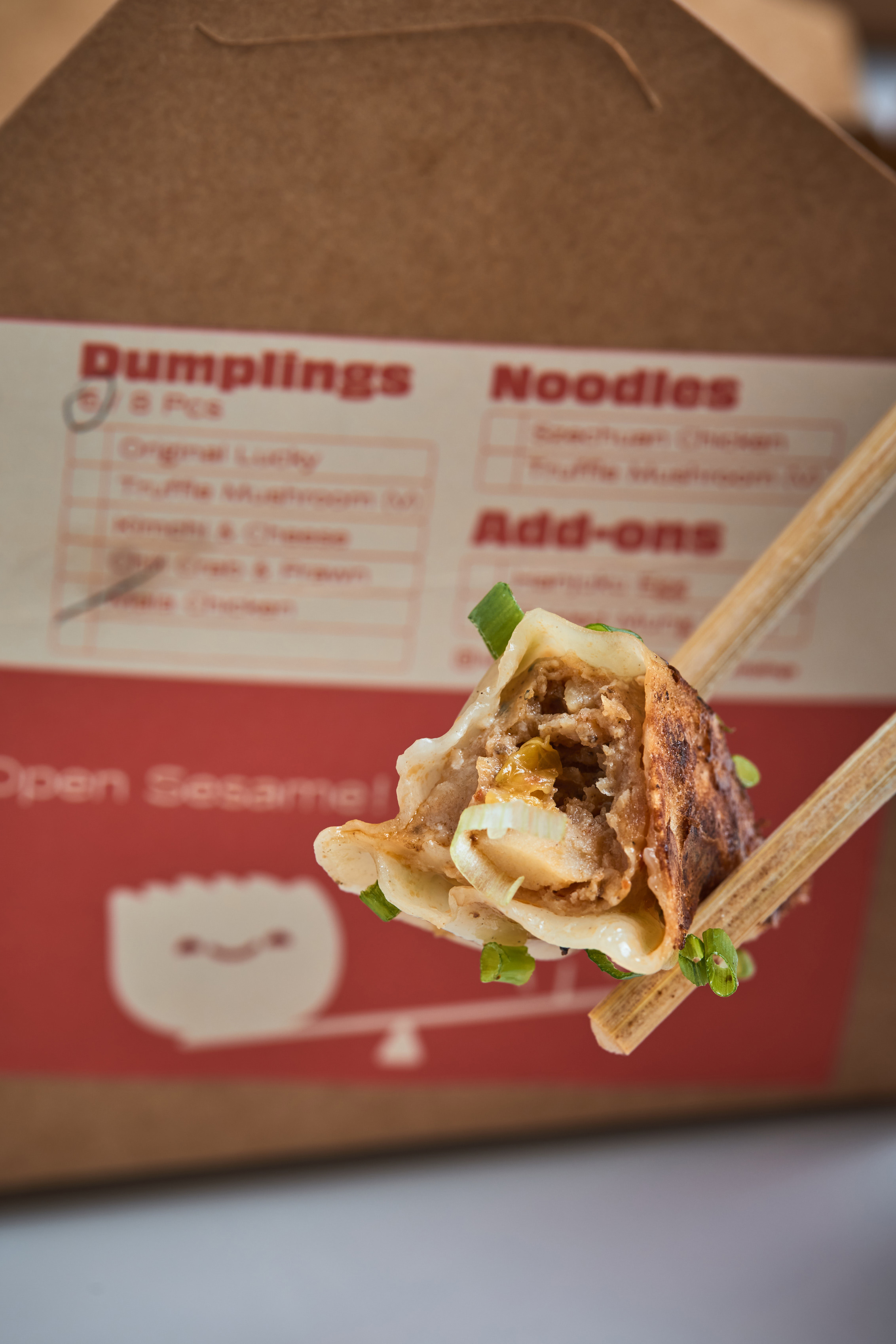 The Mala Chicken Dumplings, from $5.90 for six pcs (8 DAYS Pick!)
The first thing that hits us upon biting into this parcel is a floral and tongue-numbing note of Sichuan peppercorn. The Sichuan spice paste that flavours this includes chilli oil, bay leaves, and coriander, and uses both red and green Sichuan peppercorn. The latter has a more citrusy aroma and stronger tongue-numbing "ma" than the red version. This adds a touch of sophistication to the succulent chicken dumplings, which have a good amount of chilli and numbing heat. Yummy.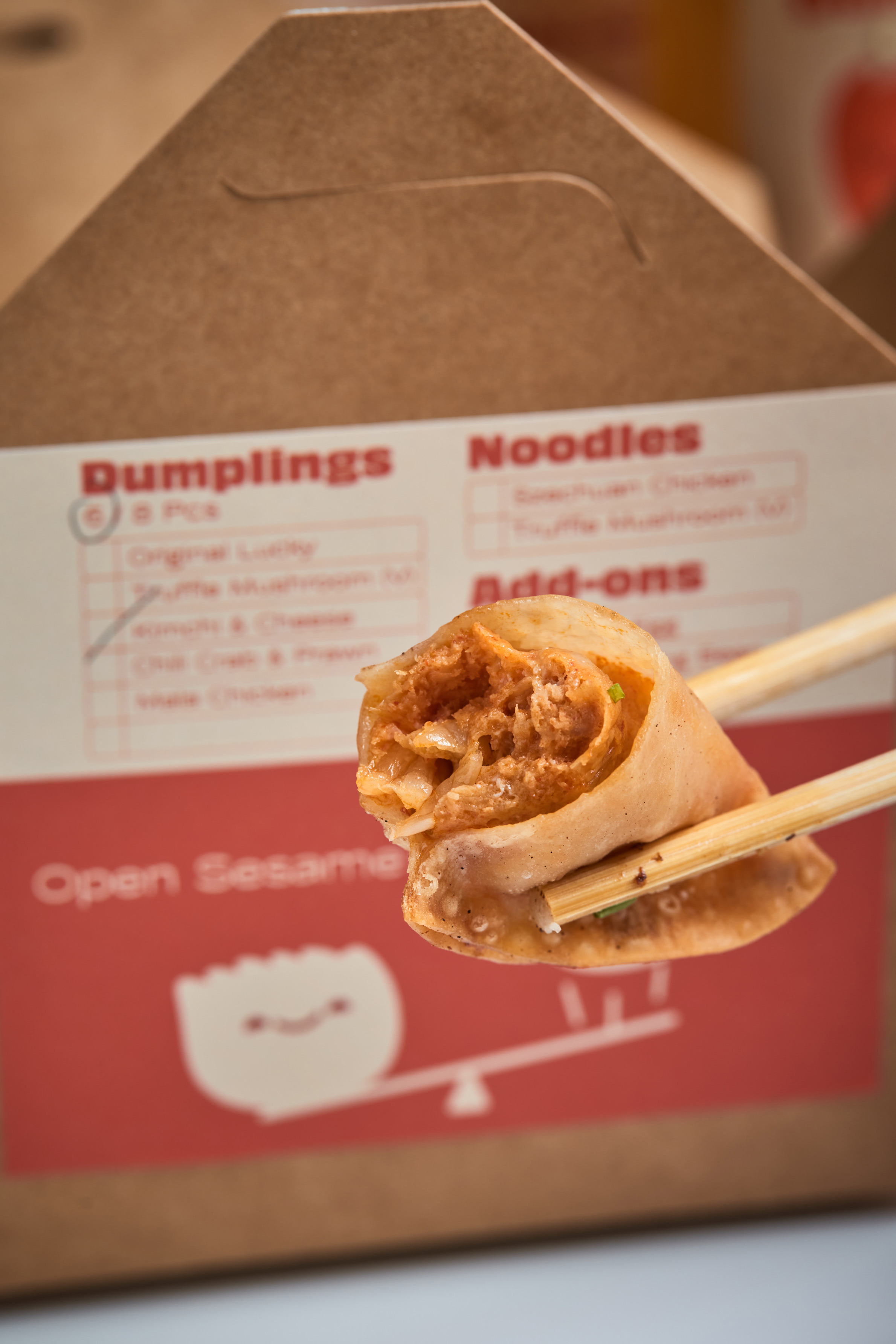 The Kimchi and Cheese Dumplings, from $6.90 for six pcs
More chicken dumplings, studded with chopped kimchi and cheddar cheese, mixed with gochujang and sesame oil. They're deep-fried till golden brown and slightly puffy. We enjoy the crunchy texture, and the spicy filling has a nice complexity from the spicy Korean bean paste.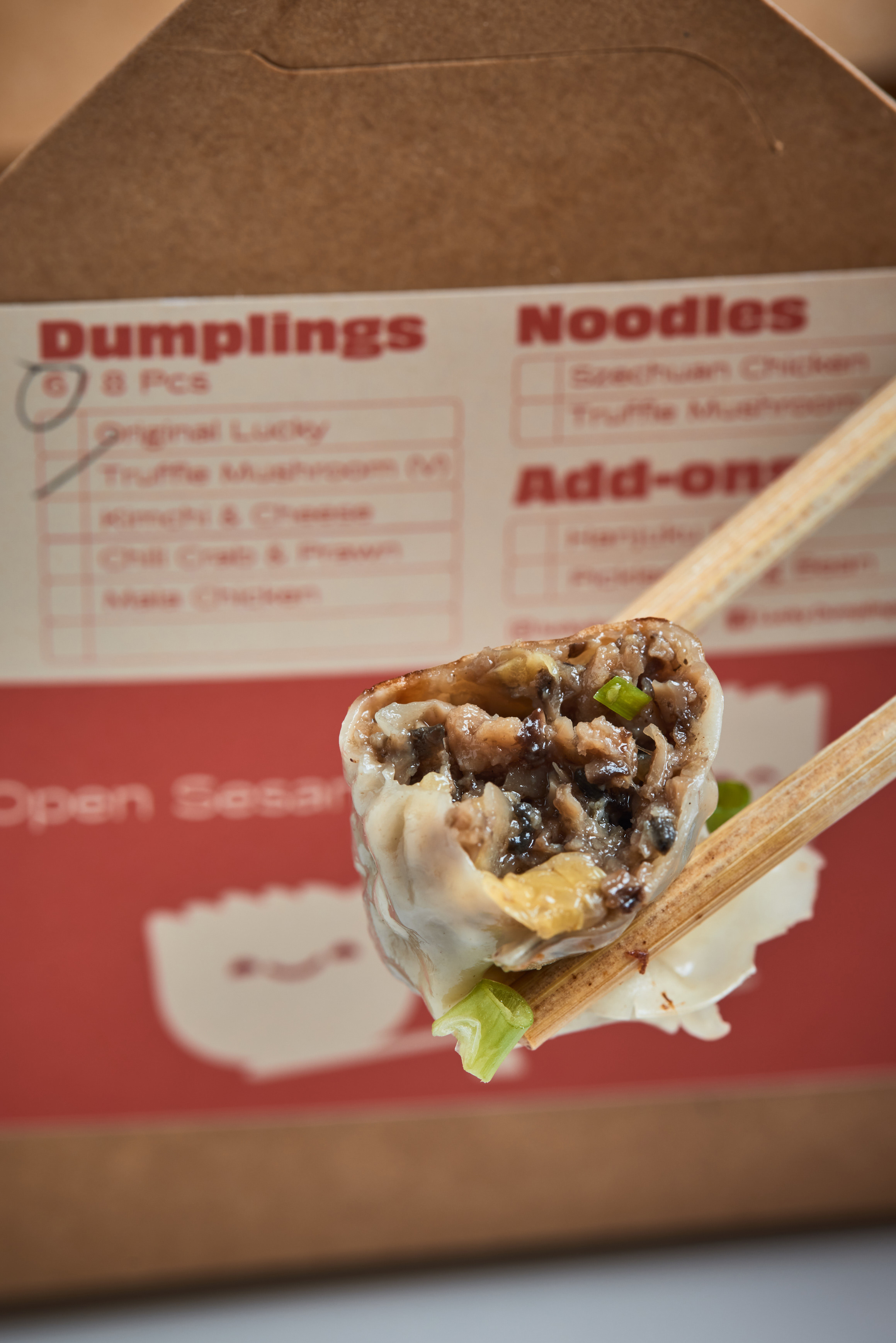 The Truffle Mushroom Dumplings, from $7.90 for six pcs
Vegan dumplings crafted with Impossible Meat, shiitake mushrooms, cabbage, and an Italian truffle paste. The truffle hit from this is pretty strong – it's a bit much for us, but thankfully there's lots of umami mushroom flavour to round it off. The slightly chewy texture of the filling comes together quite well with the tender-crispy dumpling skin – like a fusion ravioli.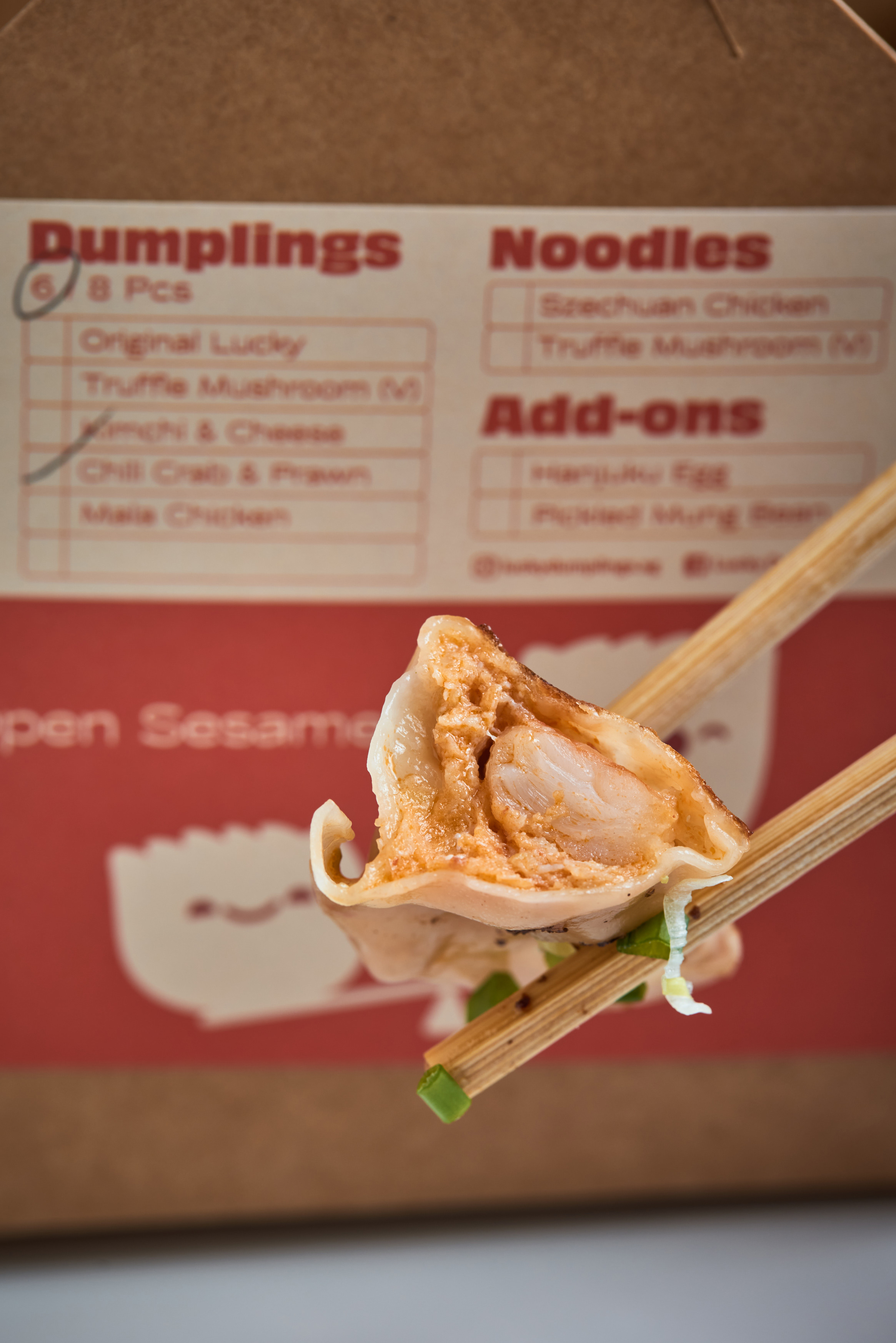 The Chilli Prawn Dumplings, $7.90 for six pcs (8 Days Pick!)
The stuffing here is made with a spicy rempah that contains lemongrass, galangal, candlenut, and hae bee, and is given heft with shredded chicken, shredded crab, and a nice chunk of fresh prawn. Our favourite dumpling here, as it boasts lots of robust southeast asian spices, umami seafood sweetness, and a nice bite from the prawn.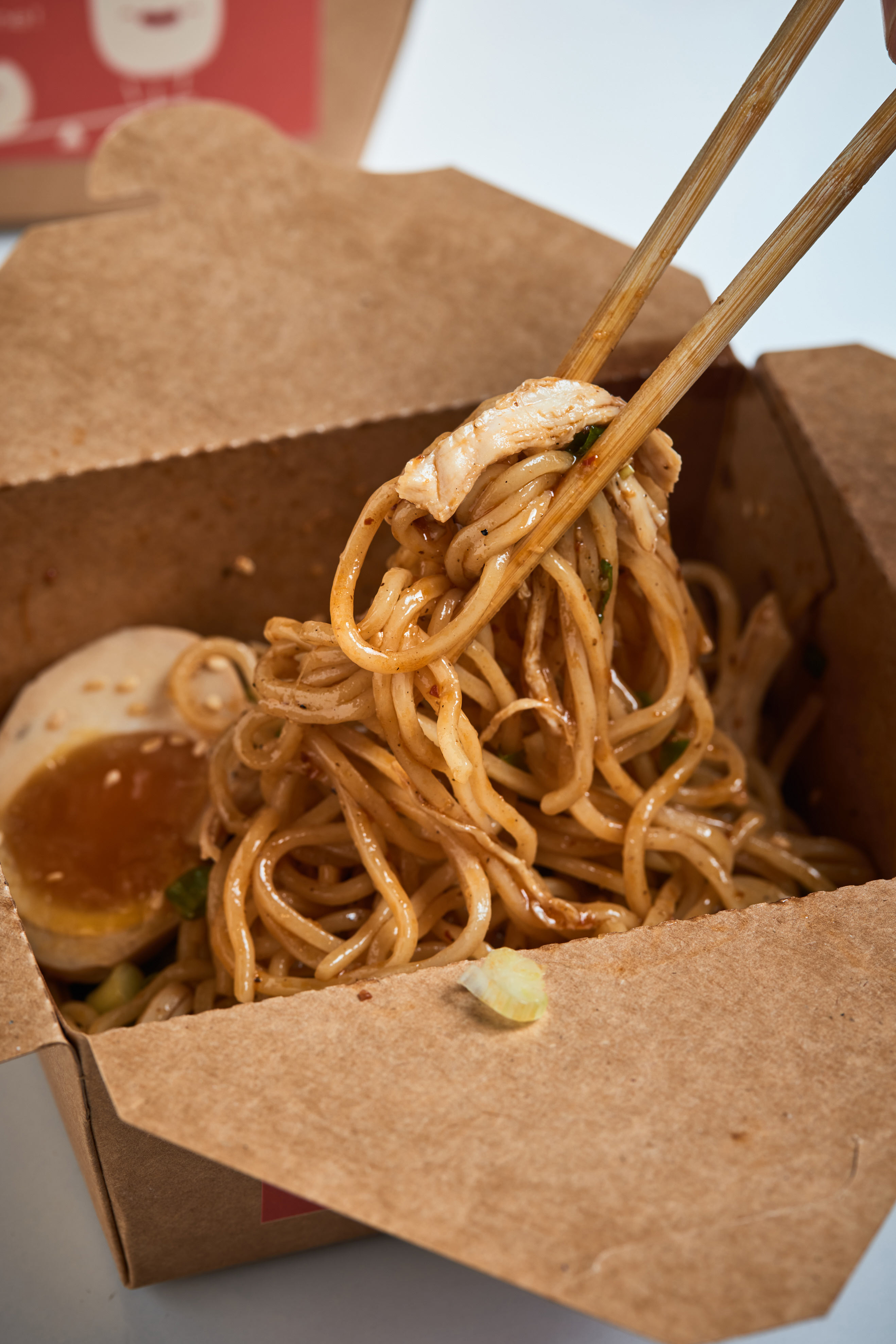 The Sichuan Chicken Noodles, $7.90 (8 DAYS Pick!)
Chewy wheat noodles tossed in the same Sichuan chilli oil and spice paste as the dumplings, and studded throughout with shredded chicken. We think this goes a lot further in filling your stomach and delivering bang for your buck than the dumplings, delivering a bigger payload of that spicy, fragrant kick between mouthfuls. Add a soft-boiled egg for $1.90.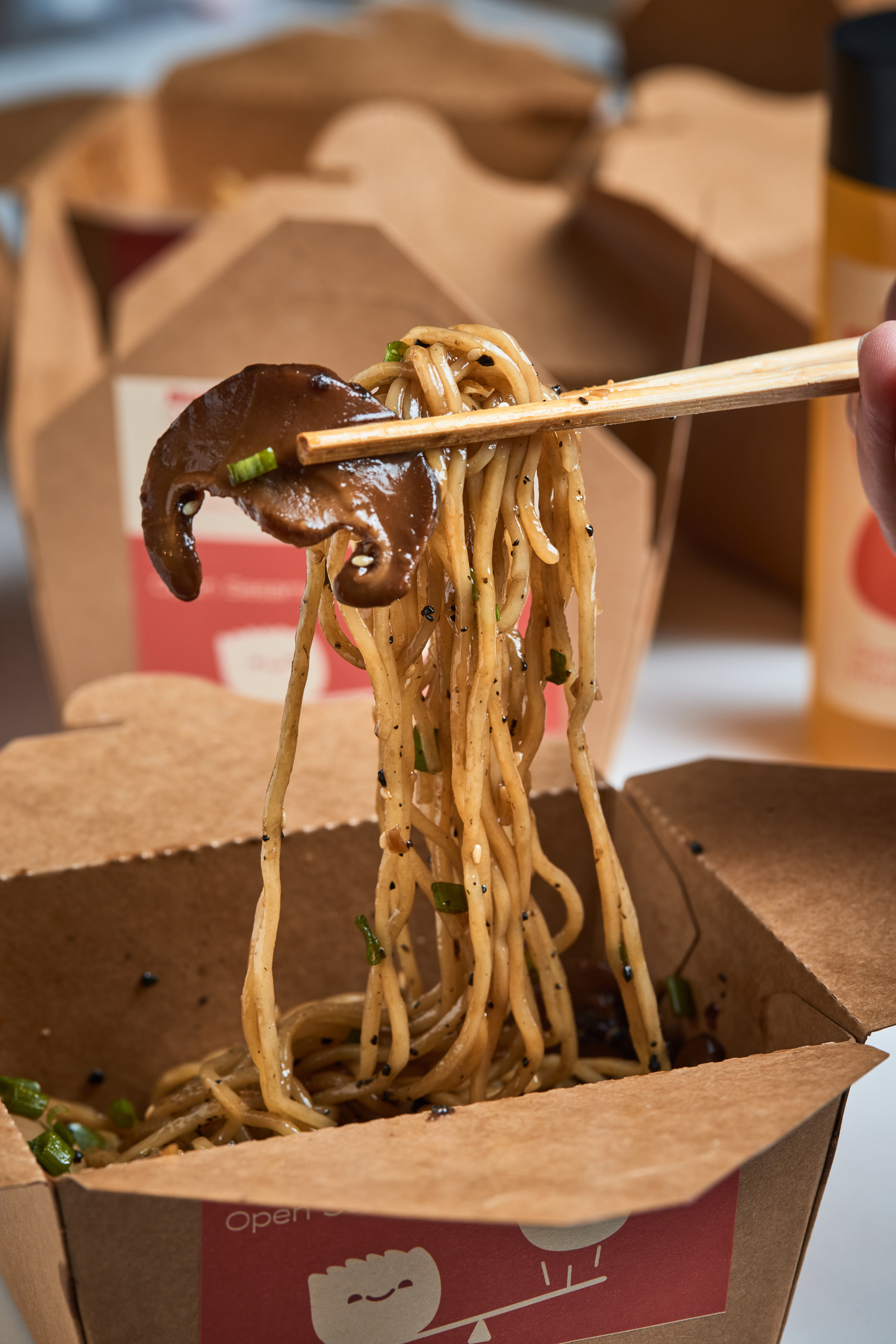 The Truffle Mushroom Noodles, $7.90
This number stars noodles tossed in truffle paste and slices of shitake mushroom, and lashings of crushed garlic chips that render each bite full of an intense and tasty garlicky flavour that pairs well with the strong truffle hit. The springy noodles here, unlike at Dumpling Darlings (where the noodles cost between $8 to $12), are made without egg, which makes this totally vegan.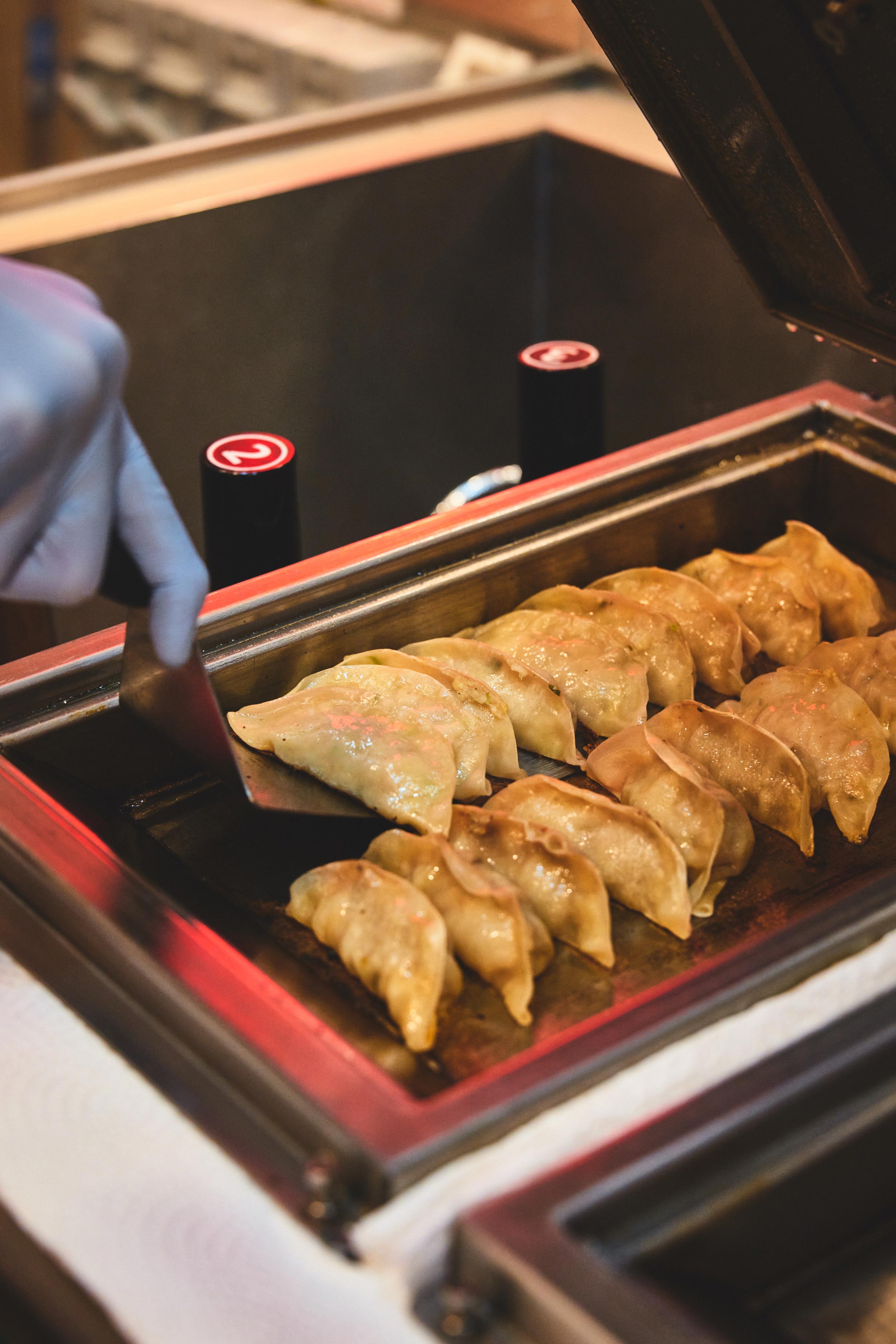 Bottom line
It's hard not to compare this takeout joint to its slicker sibling eatery Dumpling Darlings, but Lucky Dumplings is decidedly more no-frills, with a cheaper, smaller, slightly less adventurous menu. Taste-wise, there's a similar fusion approach, with a fun range of fillings enhanced with some gourmet touches. The dumplings, despite being filled with chicken instead of the usual pork here, are still decently juicy and savoury. And the QQ noodles don't play second fiddle either. Tip: the dumplings are best eaten on the spot (if you can find somewhere comfy to wolf them down), though they heat up reasonably well at home in a microwave oven along with a bowl of water, even if they won't be crispy anymore.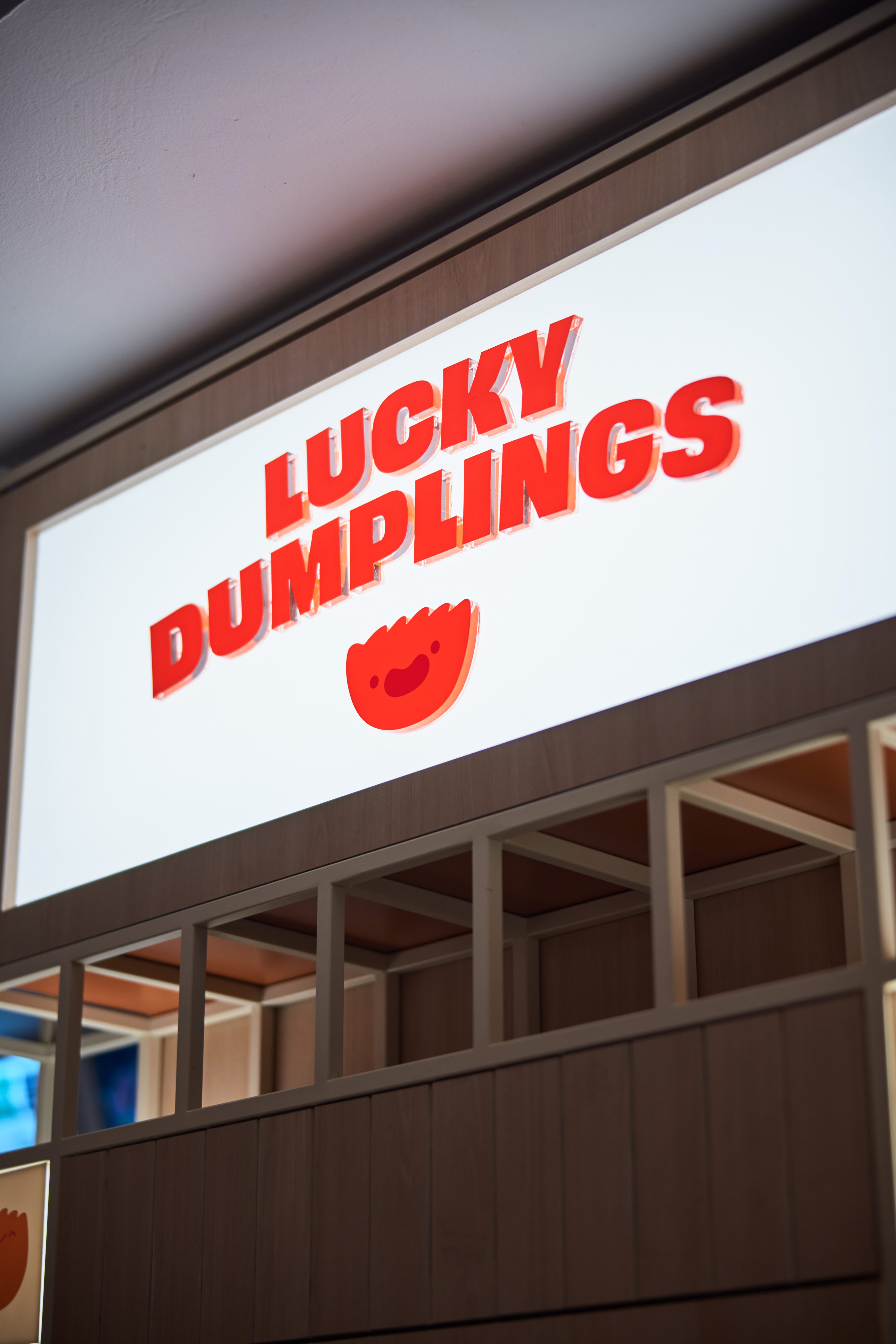 The details
Lucky Dumplings is at #B4-63 Ion Orchard, 2 Orchard Turn, S238801. Open daily 10am-10pm. www.luckydumplings.sg
All photos cannot be reproduced without permission from 8days.sg
Photos: Alvin Teo