1-Hour Queue At 'International' Fried Rice Hawker Stall, Chinese Mala & S'pore-Style Plates On Menu
Fried Rice Boy is helmed by an ex-zi char stall cook who worked as a delivery man for 2 years to save up for his own biz.
He had a stable job as head cook of a zi char stall in a kopitiam and over two decades of kitchen experience. Instead, Max Cheong, 37, quit to do food deliveries because he could earn double his cook's salary.

Yet, it was all worth it when he finally saved up enough to realise his dream of opening a fried rice stall to sell his favourite dish. "I'm content now," the hawker tells 8days.sg in Mandarin.

Nestled in a Hougang coffee shop, Max's stall, Fried Rice Boy, is the latest in a slew of Din Tai Fung-esque fried rice joints that promise the same great taste at a fraction of the price. Unlike some of the other towkays, Max isn't of restaurant pedigree, but customers still queue up for his 'international' fried rice, which comes in five flavours, each representing a different country.

All photos cannot be reproduced without permission from 8days.sg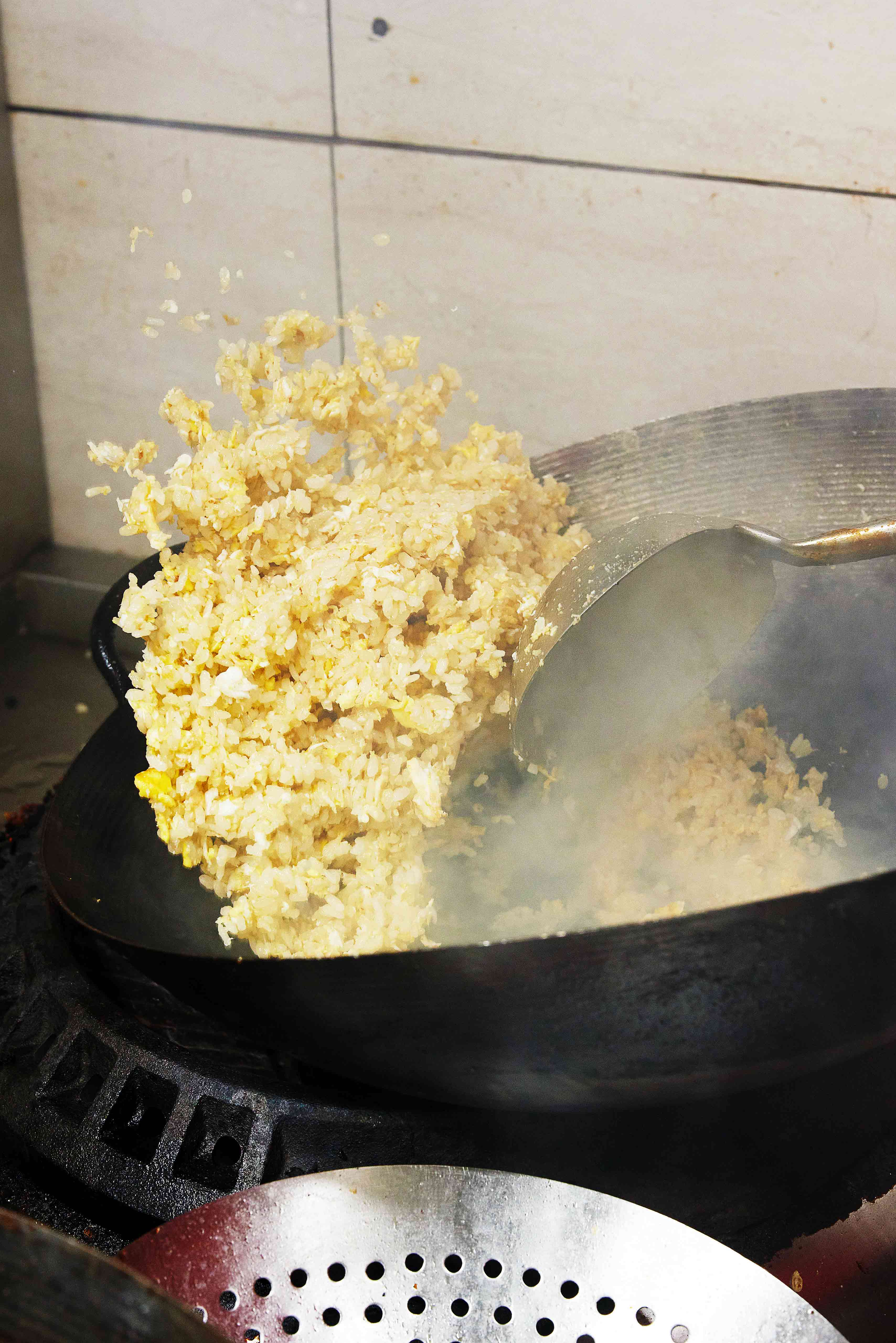 Max, a Malaysian from Pahang, has two decades of cooking experience under his belt, starting his career as a kitchen apprentice aged 12, juggling work and school. Two years later, he dropped out. "I didn't want my parents to pay for my school fees," he says. The Cheongs were farmers on a rubber plantation.

The resolute teen started full-time work, rising to head chef in three years. Aged 20, he moved to Singapore to earn a higher salary, working first at a coffeeshop in Taman Jurong, then at various zi char joints, including in Yishun and Ubi. ("They aren't famous places," he says.) He's now a permanent resident.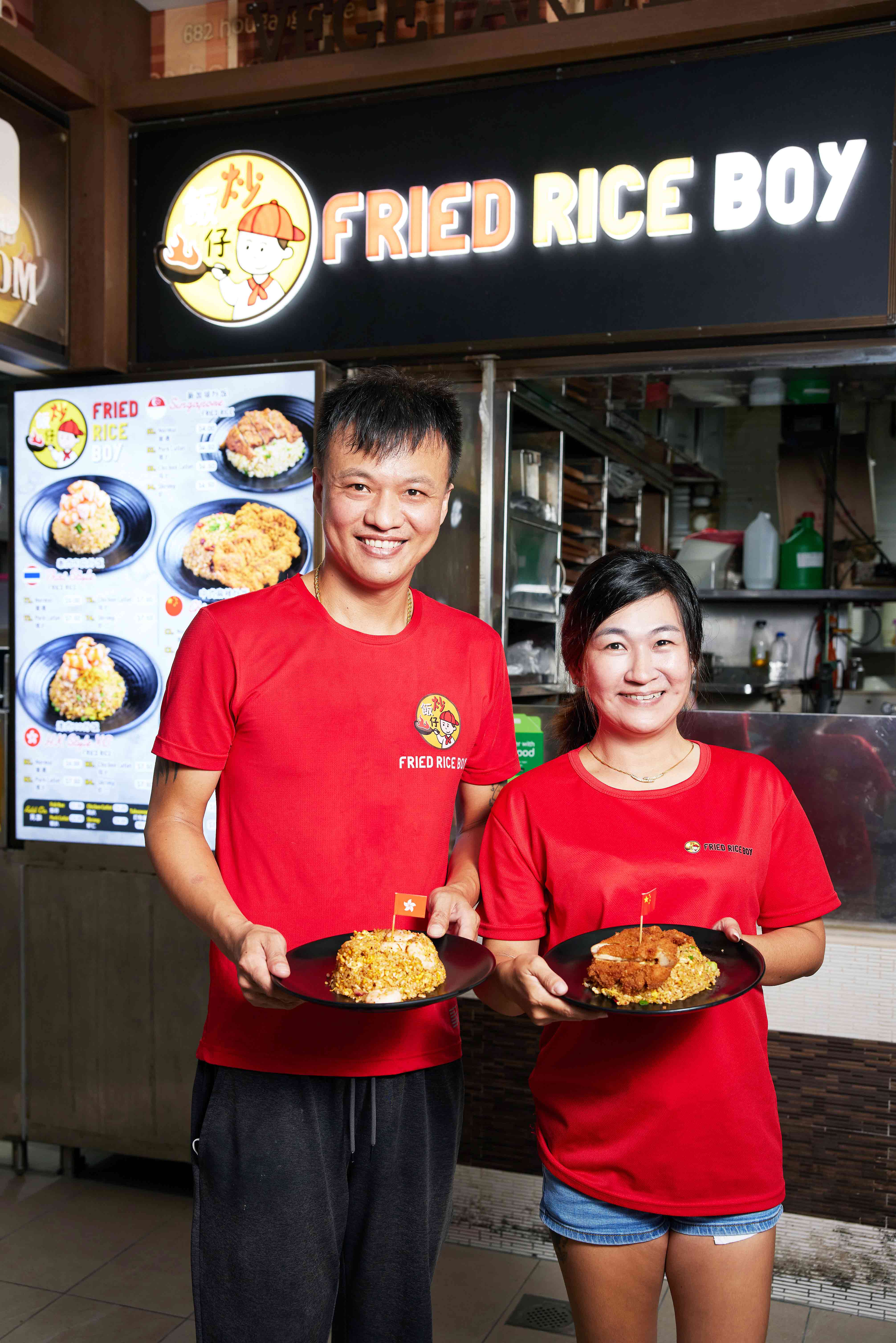 Fried Rice Boy cost Max $27,000 to set up. His dream has always been to open his own fried rice joint, and a visit to famous hawker chain King of Fried Rice back in 2019 gave him the inspiration he needed to get started. He quit his job as a cook that same year to save up, hustling hard as a Foodpanda rider – a job that allowed him to earn up to $7,000 a month, double his old salary.
When COVID-19 hit, earnings fell back to about $3,000 as the number of riders increased, but Max had squirrelled away enough to get his business going by then.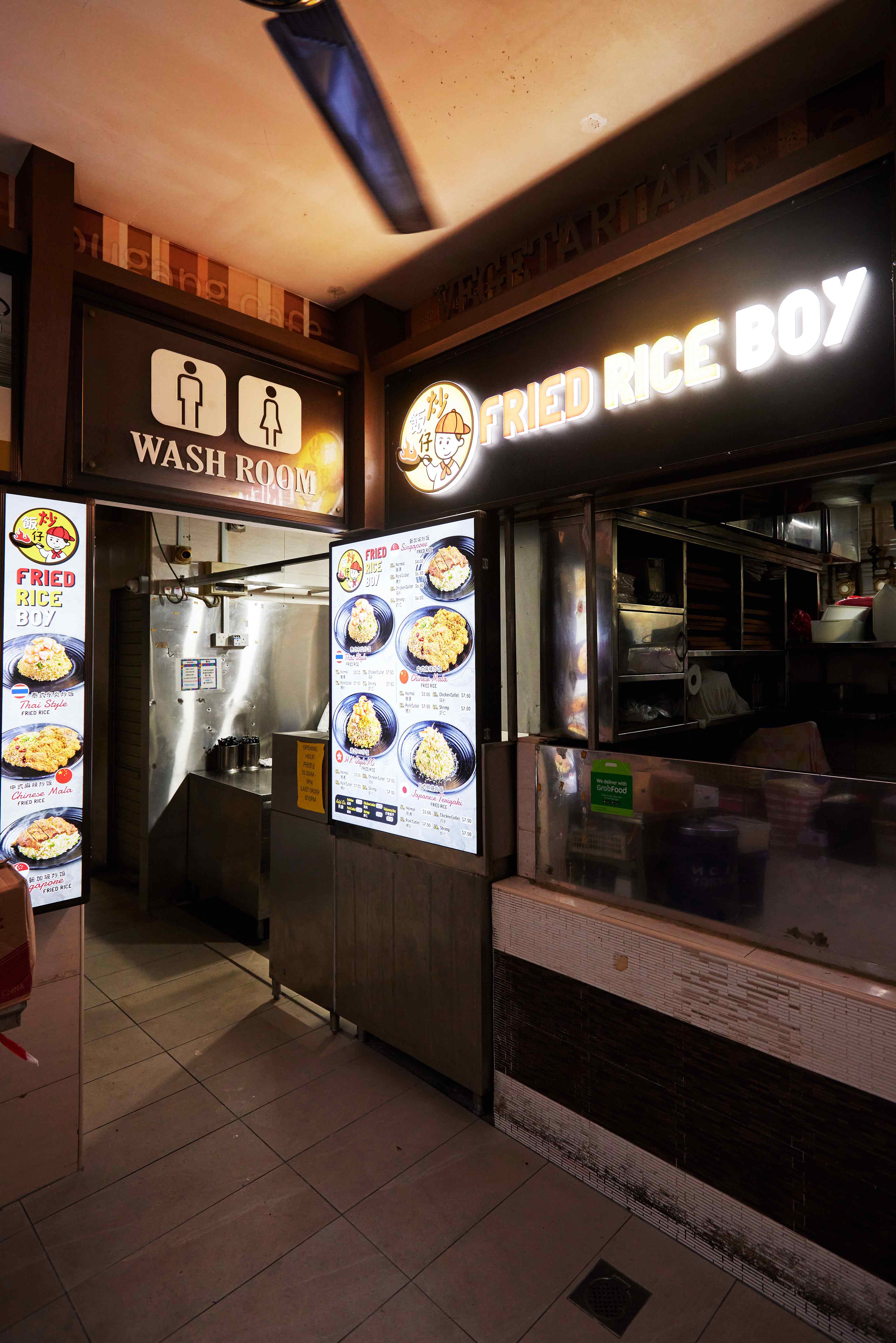 Despite its hidden and – er, unfortunate location next to the loo, Max is beyond grateful to have secured his Hougang lot, having failed to land a unit for two years running (he kept getting outbid by others). His current premises, which opened up earlier this year, are in Meng Kiat Hock Kee Coffee Shop, which belongs to his father-in-law, Ong Chwee Seng. (Mr Ong, 61, owns only one coffeeshop.)

Max's wife Elaine, 40, a pet shop owner, is supportive, helping to take orders. "I'm super confident about his food," she says. "At his previous zi char stall, customers only wanted to eat his cooking. If he's not there, they wouldn't order.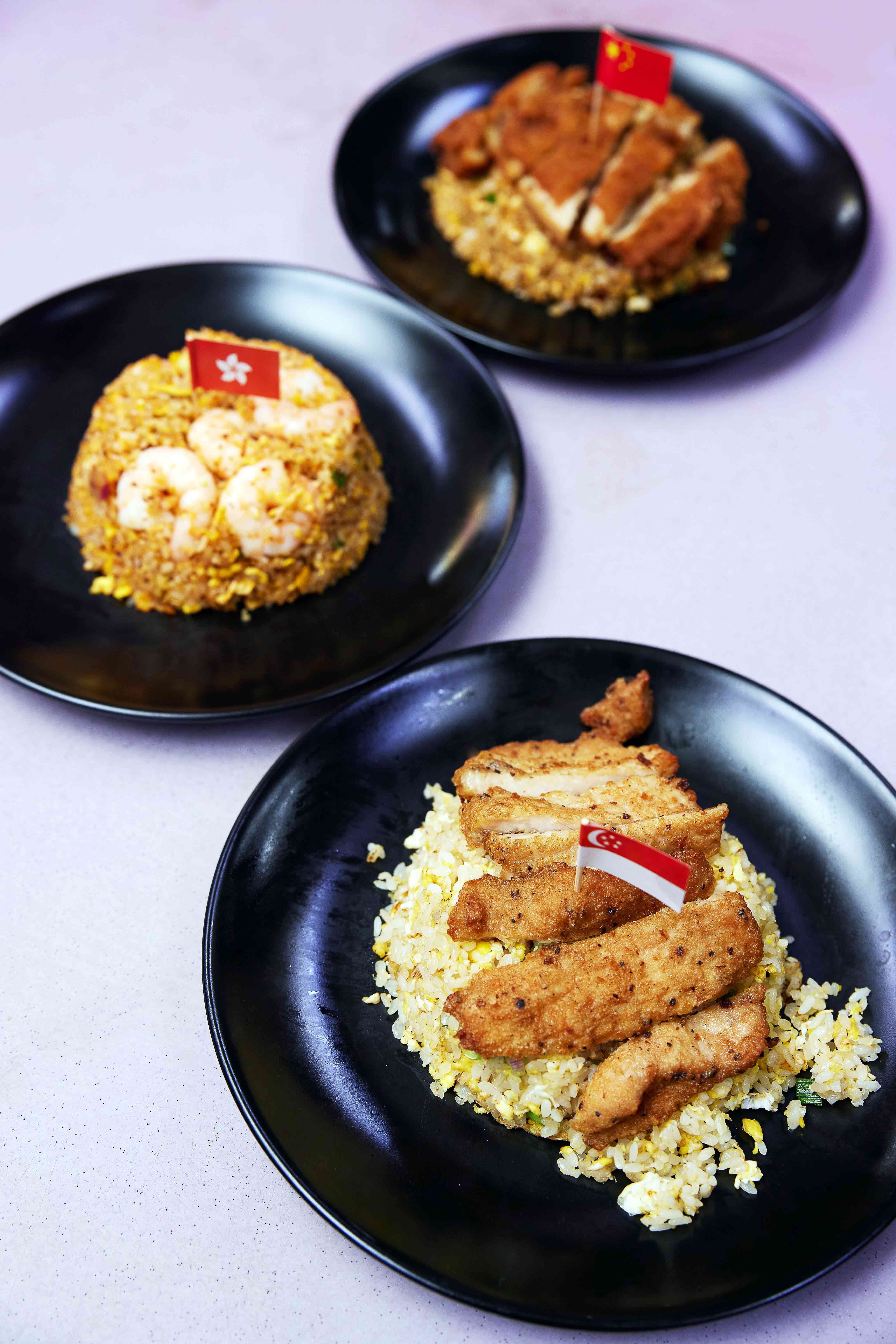 Well, it's a bit of a marketing gimmick. Fried Rice Boy offers almost the same dishes as similar hawker joints, except that Max has labelled his fried rice by country. In case you don't know which is which, they come with little country flags, similar to how IKEA serves their meatballs.

The three best-sellers are the "Singapore-style" fried rice (aka DTF-style egg fried rice), "Chinese-style" mala fried rice, and "Hong Kong-style" XO fried rice.

The remaining two are "Thai-style" tom yum fried rice and "Japanese-style" teriyaki fried rice. There are only three topping options: chicken cutlet, pork cutlet and shrimp, while fish roe is available as an add on.
Fried Rice Boy opened on October 5. At first, customers were mainly residents of nearby housing estates, but now come from as far as Bukit Batok, Elaine says. "I think people posted about us on Facebook." Queues average about 45 minutes to an hour at lunchtime, she says. Staff from the nearby Hougang Polyclinic once ordered 38 packs, while a customer from Orchard recently ordered 20 packs. Max sells about 400 plates a day.

To cope with increased demand, he and hired cook Cheng Kwai Yuen, 45, work in shifts. The plan is for Kwai Yuen to man the current stall when Max opens his second outlet early next year; he's aiming for four outlets in all.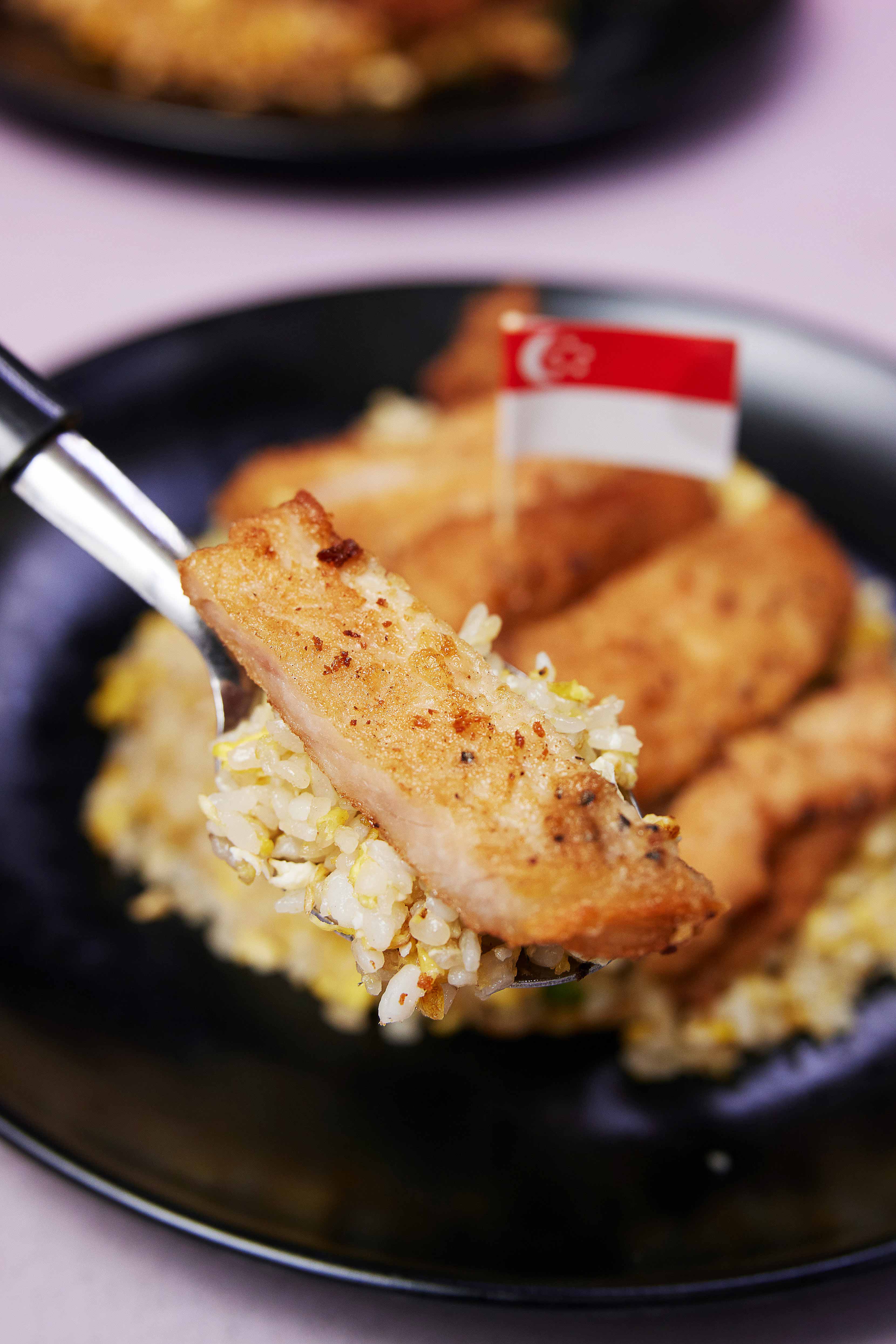 This is a fried rice that tastes better than it looks, because the plating looks a little sad and the rice and meat appear oily and dull. As a result, we fully expect coffeeshop-standard food, but are pleasantly surprised. We're not sure why it's branded Singapore-style when it clearly looks inspired by Taiwanese chain Din Tai Fung's famed dish.

But from the first mouthful, it's clear this isn't exactly DTF-style egg fried rice – it's a lot drier, which is how Max likes his fried rice. Instead of fluffy and light, the short-grain rice is firm and beautifully distinct, with eggy punctuations in each mouthful. The cutlet is a couple of shades lighter than DTF's chestnut-coloured pork chops – in fact, Max's version reminds us a bit of a McChicken patty – but boasts an unexpectedly sophisticated treatment involving an overnight marinade in a secret spice mix, a bath in warm oil till cooked, then a deep-fry at a high temperature to crisp the exterior. Though some may find it a touch drier and leaner than the cutlets at other places, it's still tender and savoury, and sans the oily mouth when you're done.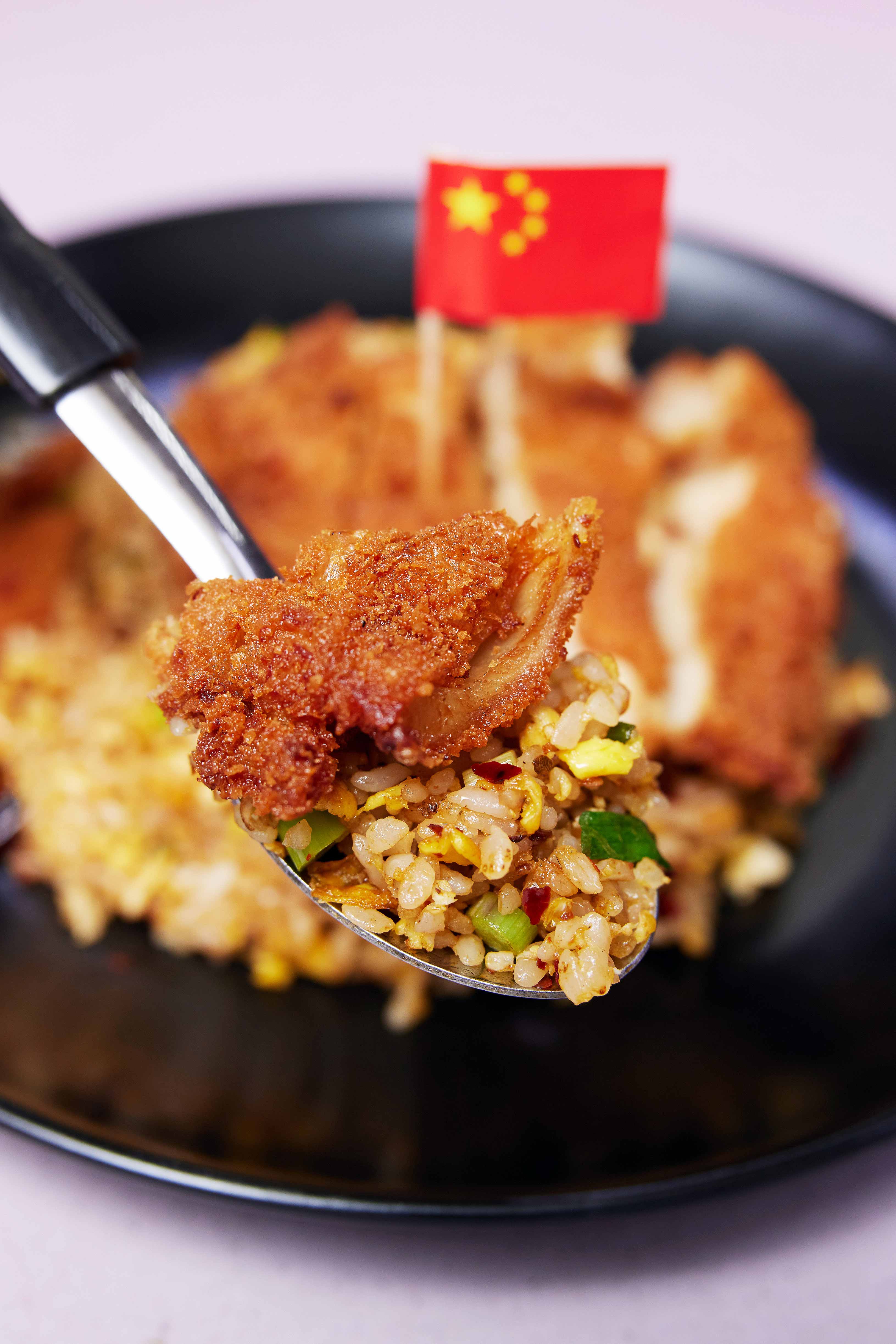 An impressive rendition, with big chilli bits, and fragrant spices that lend the rice a slight sweetness before the numbing effect kicks in. This one is more ma (numbing) than la (spicy), so even those who can't handle much heat will enjoy the good balance of flavours and soft tingling that doesn't burn the throat. (Want your tongue on fire? Add Max's house-made chilli.) The grains are a little spicy and chewy, and very addictive. As for the chicken cutlet, it's done the same way as its pork cousin, except it gets an extra breadcrumb layer that remains delightfully crisp even after three hours in a takeaway box.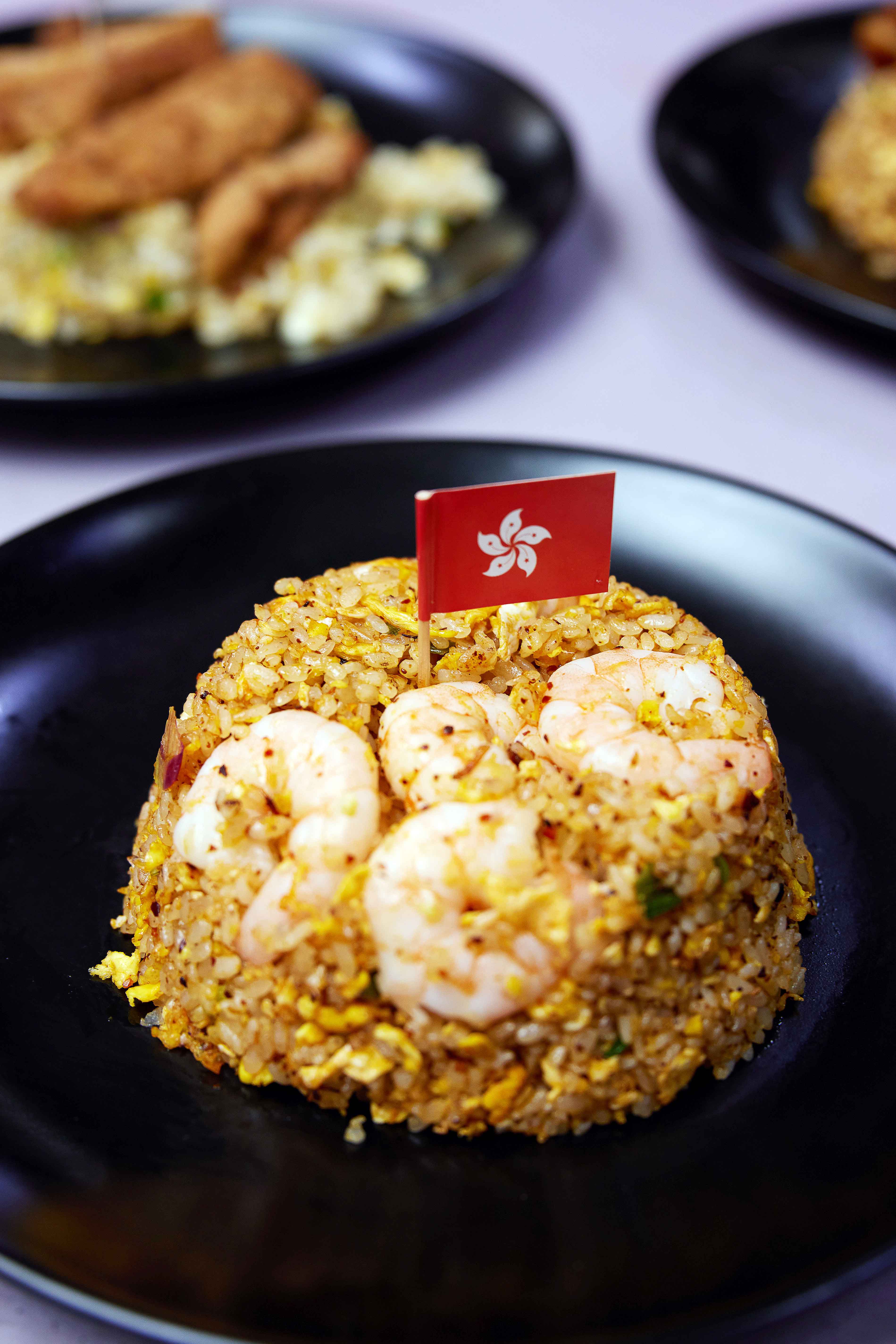 Thanks to the house-made XO sauce, which is spicy and a touch boozy, the darker rice is noticeably wetter and more umami, with greater depth of flavour. Though Max is generous with the prawns – five small though plump ones – they're frozen specimens that taste plain. Opt for the chicken cutlet for more oomph.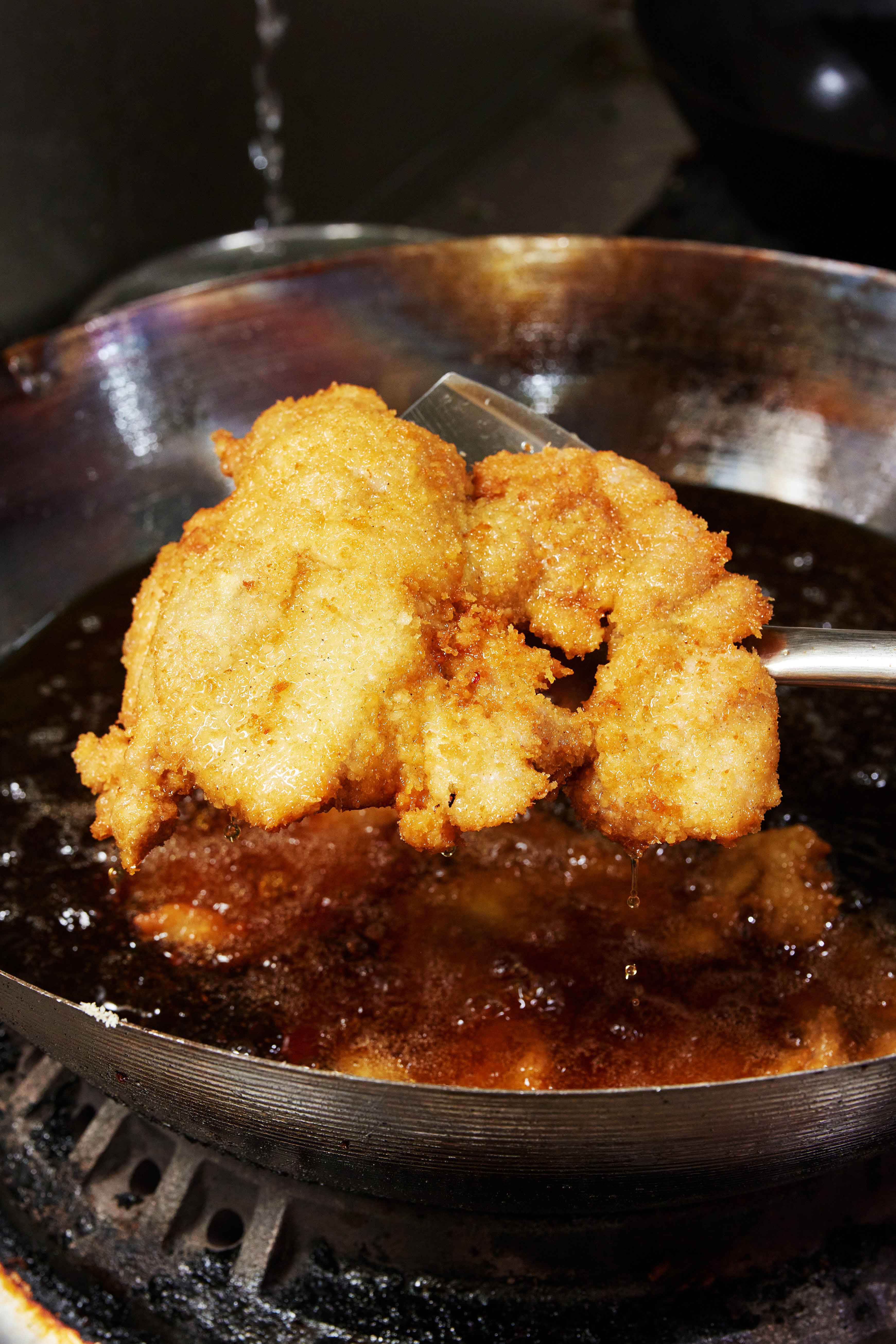 The fried rice here may not be as professionally presented as those from stalls helmed by ex-restaurant chefs, but Max's rice still holds its own in terms of taste. It's less greasy than the plates from its more famous rivals, and boasts well-fried cutlets (though be warned, the meat also leans drier). Note that since Fried Rice Boy isn't aiming to be exactly like Ding Tai Fung — the rice texture isn't as moist and fluffy, but instead has a firmer mouthfeel that is quite pleasant. We enjoyed the mala option best.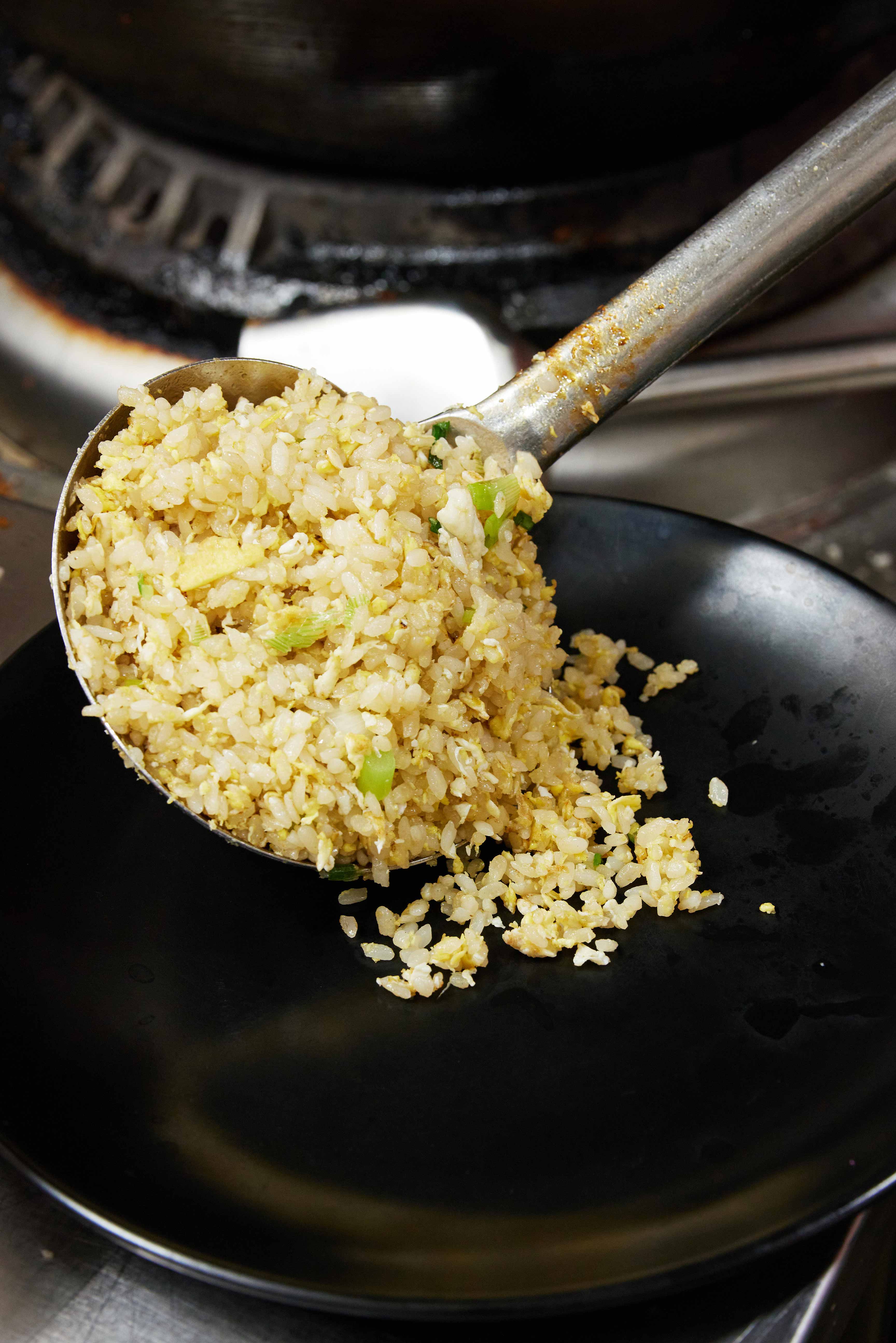 Fried Rice Boy is at #01-346, 682 Hougang Ave 4, S530682. Open Mon - Sun 10.30am - 2pm & 4pm - 9pm. More info via