Addictive Fried Chicken Skin & Wings By Thai Hawker Who Names Stall After Twins
Shuang Bao Thai serves unique Hat Yai-style fried chook with sticky rice and mango salad. ​​​​​​​
If you miss authentic Thai street food – make a trip down to Shuang Bao Thai. The new hawker stall specialises in Hat Yai-style fried chicken and chicken skin (among other hearty Thai dishes). They're cooked using recipes from 31-year-old Thai national Piyanuch Tianthong's grandmother, who hails from Satun, a province near Southern Thailand where Hat Yai is located. Hat Yai fried chook typically comes topped with deep-fried shallots and is served with glutinous rice.
The Bangkok-born lady boss (who goes by Tiffy Wong here) opened the stall on July 16 together with her Singaporean husband Wayne Wong, 45, in a kopitiam in Bedok a stone's throw from High Street Tai Wah Pork Noodle's second branch and Chef Wei HK Cheong Fun.
The stall's name Shuang Bao Thai, an amalgam of the Mandarin phrase shuang bao tai ("twins") and its Thai cuisine on offer, is an homage to the couples' bright-eyed 11-month-old fraternal twins. Meet Macklin (left in pic) and Melody (right), whom their parents brought along for 8days.sg's shoot. The babies, who're also the mascots on the stall's logo, were well-behaved despite the hustle and bustle of the kopitiam. Melody even reached out to grab our pen as we interviewed her mum. Aww.
All photos cannot be reproduced without permission from 8days.sg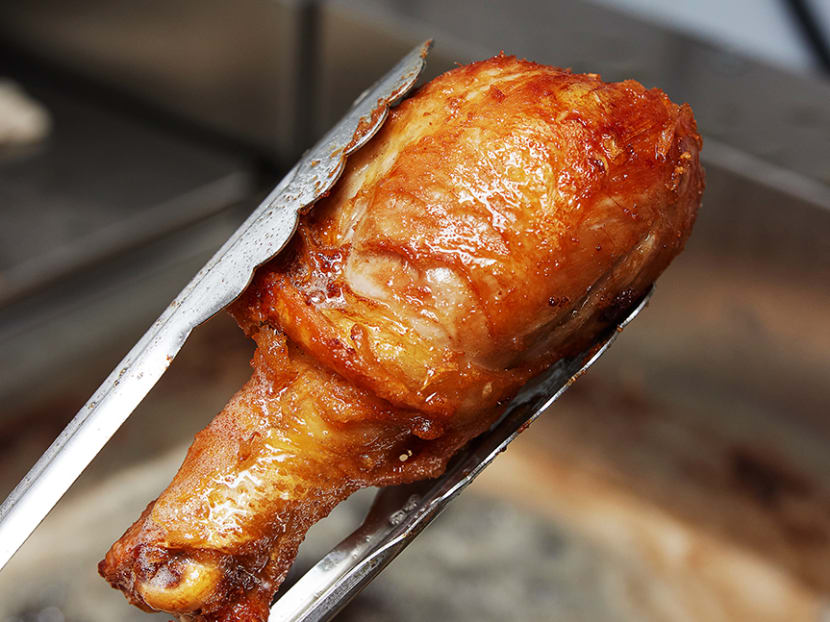 Tiffy, who's here on a long-term visit pass, had her first experience in F&B aged 12, when she was roped into helping her grandma. "She used to cook Thai-style cai fan (mixed rice) at a stall outside a 7-Eleven outlet. It was at a good location and always had a long queue," she tells us. "I was unhappy because I was young [and wanted to go and play]. My grandmother is also very traditional. She keeps telling me that I had to learn to cook so I could get a husband."
She eventually began to enjoy cooking at 16 "after reading food magazines and watching TV". Due to her family's "money problems", she didn't complete her diploma and instead part-timed as a singer and dancer. She later came to Singapore to work for short stints in 2012 and 2014 as a server at an F&B joint before returning to Thailand. This was also when she first met Wayne, who was her boss there.
In 2015, she enrolled in Wandee Culinary Art School in Bangkok in hopes of "going to Europe or Canada to work", though she ultimately decided to head to Singapore once more.
She reconnected with Wayne in 2016, and they eventually got married in 2019 – after she'd opened the now-defunct Resort Thai Fusion Bistro Bar in Changi Golf Club along with another Singaporean partner in August 2018.
Though Tiffy tells us that "the business was quite okay" at her previous 150-seat eatery, especially when catering for weddings and banquets (before Covid-19 wreaked havoc), she closed the restaurant down in August 2019 when the one-year lease was up. "My body was quite weak. I had a miscarriage when I was [running] the restaurant. We wanted to have a baby, and just nice the contract was [ending]," she explains.
The couple got more than they bargained for: twins. "I was scared, and happy. Of course, my husband was very happy, but I was also worried as [we got the news] when it was only nine weeks [into the pregnancy]. I was very careful to take care of my body and my health," Tiffy shares. Her husband (above), who has two sons from a previous marriage, concurs. "It was really scary at the start, 'cos my wife was bleeding [on occasion] for the first five months [of the pregnancy]."
The twins arrived on October 1 without a hitch. Even as the new mother recovered and looked after her babies, she says: "I was always thinking about coming up with new dishes. I would always cook for my [husband and stepsons] – everyday, I would have a different menu for them to try." Among these recipes was fried chicken, a dish she'd learned to cook from her grandmother back in Thailand.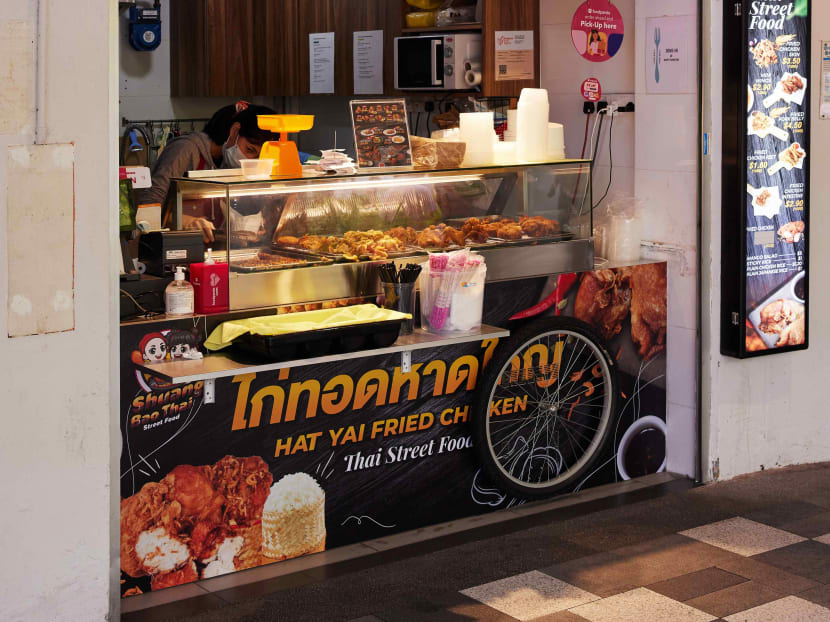 When she was ready to return to the F&B scene, she opted to sell fried chicken in a kopitiam rather than a full-service restaurant. "With a restaurant, the [space] is very big and you must plan a lot of details – like alcohol, many dishes. This one has just a few dishes, and it's a bit like fast food," she says. "Everyone was telling me that [it was better not to start a biz] during this Covid situation, but I feel that because my [concept] is grab-and-go, people will still come and eat [even during a pandemic]."
Wayne, who runs his own automotive company, is supportive of his wife's endeavours. "She's very good at cooking. I just know how to eat," he says with a laugh.
It seems her business instincts have largely paid off. Throughout 8days.sg's visit on a weekday afternoon, there was a steady stream of customers buying her grub. "To be honest, our business during the last lockdown (P2HA) was very good. You can't really find much Thai street food in Singapore, and people can't travel. So they come here," she explains. There are already plans for a second outlet in Sengkang next year.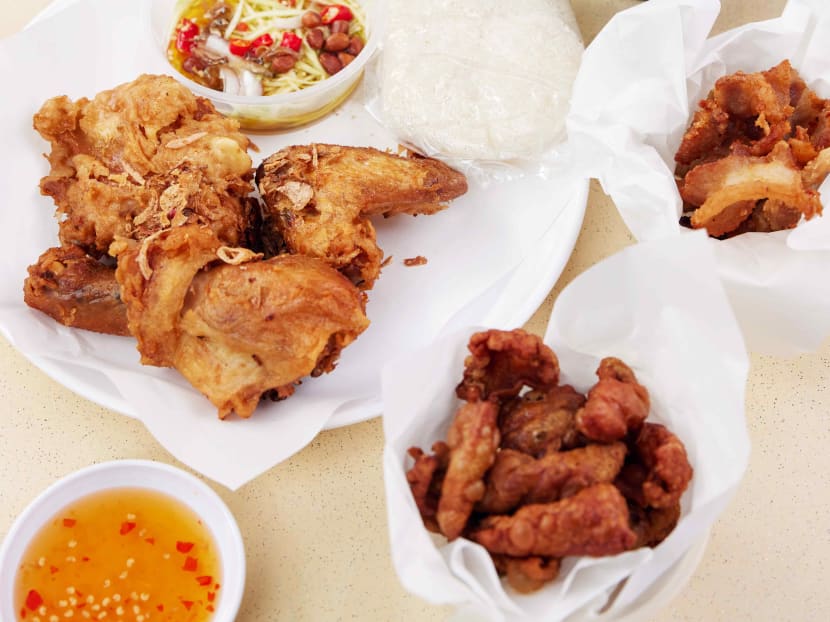 The day-to-day cooking is handled by two full-time Thai cooks, though Tiffy tells us that she's at the stall most days as well. "It's easier to communicate [with other Thais], and they know how Thai food should taste," she muses. "I wanted authentic Thai flavours, but also something that everybody can accept."
Shuang Bao Thai offers a focused menu of Hat Yai-style fried chicken served with sticky rice – the most pocket-friendly featuring a Wing and Drumstick, costs $4.80 – alongside deep-fried accompaniments like Fried Chicken Feet ($1.80), Fried Chicken Intestine ($2.90) and Fried Chicken Skin ($3.50).
They also sell deep-fried meats paired with chicken rice, along with fusion Thai Lu Rou Fan (braised pork rice) at $4.80.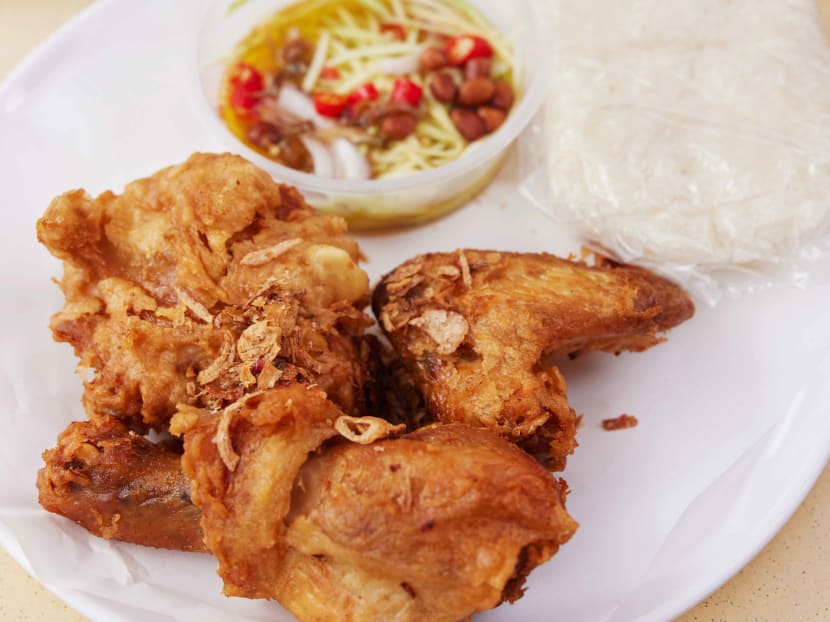 Shuang Bao Thai's owner is reticent about divulging what goes into her chook. She reveals that every batch begins with an eight-hour soak in a "secret" marinade, before being coated in a batter of "three types of flour and sparkling soda water".
The result is a fragile coat with plenty of air pockets that, when bitten, shatters into resoundingly crisp shards. It's plenty moreish, and not overly greasy. The meat within is juicy enough, with a hint of salty-savouriness from the marinade.
As is customary in Hat Yai, the chicken is served sprinkled with fried shallots and a rectangle of glutinous rice. To eat as the Thais do, tear off a chunk of chicken and press onto a lump of sticky rice ("like sushi," Tiffy explains), before dipping it into the zingy housemade sweet-spicy chilli sauce with fish sauce and red chillies to cut through the richness.
The set also comes with mango salad, a refreshing mix of green mango, shallots, chilli padi and anchovies tossed in a secret dressing (the pong of fish sauce shines through) that, like the chilli sauce, perks up the meal.

The lady boss tells us this is a mashup between Thai-style khao kha moo (braised pig's trotters) and Taiwanese braised pork rice. Light and dark soya sauce, Shaoxing rice wine and fried shallots are stewed together with pork belly. She serves it on Japanese short-grain rice with a braised egg, as well as cucumber and another housemade sambal belacan. It's not very different from most traditional Taiwanese lu rou fan, and we love the fragrance of the fried shallots in each mouthful. The only departure from the norm is the accompanying garlic and Thai-style belacan-infused sambal, which we found a bit too strong and funky for this dish. Not bad, though not quite as addictive as the fried chicken.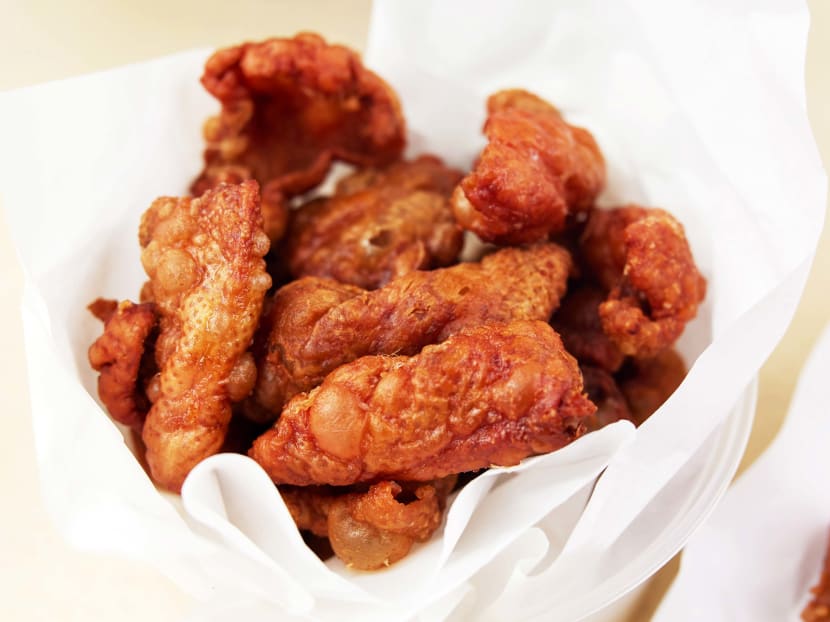 "This is our best-seller," Tiffy enthuses. "This dish takes the most work – you must [remove] all the feathers and the fat for each piece." Every single sliver of chicken skin, lightly coated with the stall's seasoned flour mix, is deliciously crisp. And it's just salty enough to bring out the natural flavours of the bird. The only problem is stopping yourself from polishing off the entire bag at one go. Shiok.
Chicken rice made with premium Thai fragrant rice and plenty of chicken stock, fat and the usual aromatics like ginger and garlic. It's flavourful and well-separated, though we find the grains a little too dry. The same goes for the deep-fried chicken chop, which was also a bit dry in the middle.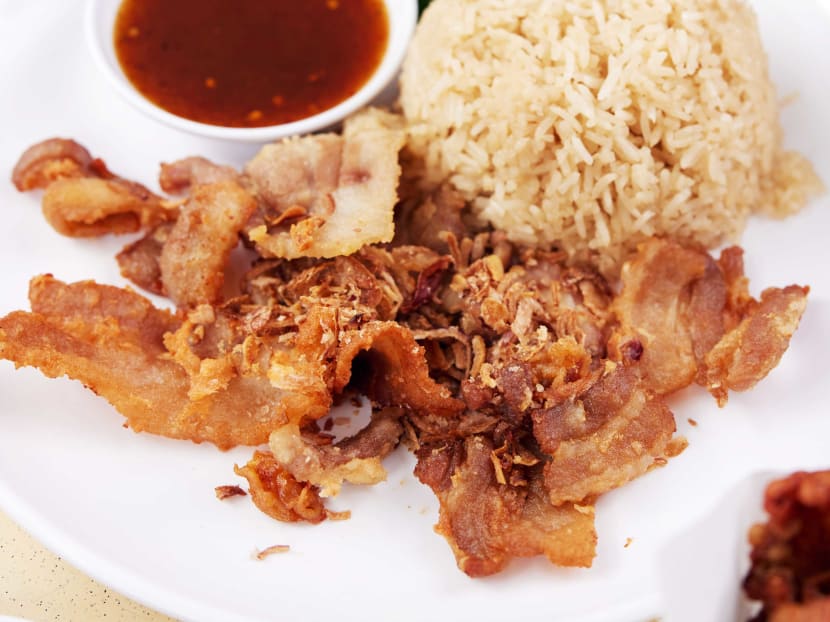 The same dish, now substituted with deep-fried pork belly (rinds removed, as they become "hard like a rock" after frying, says Tiffy). It's not as endlessly munchable as the chicken skin – the fat becomes rather cloying after a couple of bites. Dunk it into their third and final housemade dip, nam jim jaew. The sour, smoky number – concocted from chilli flakes, toasted rice powder and tamarind paste — is pretty good.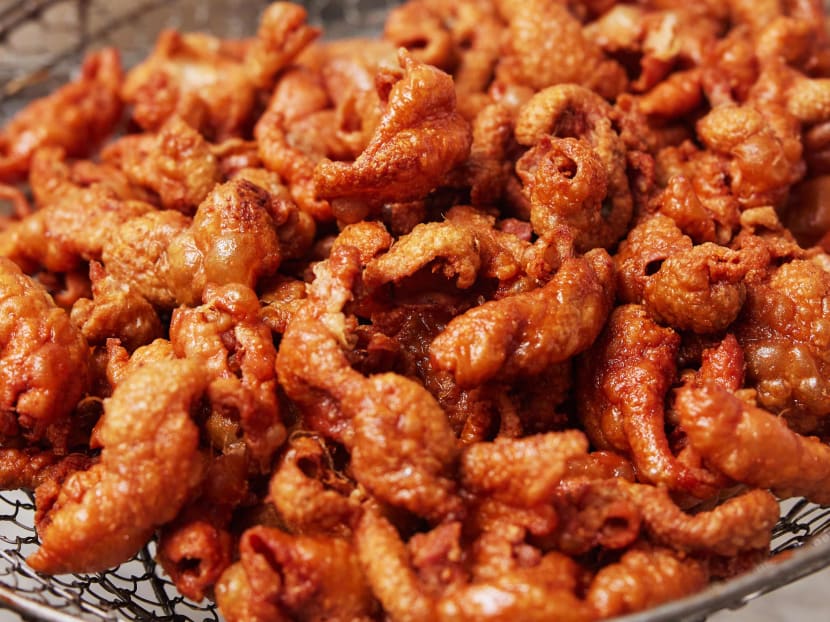 Skip the other dishes and zero in on the yummy fried chicken with a Thai twist. Its ultra crunchy batter, juicy meat and exotic accompaniments like sticky rice, mango salad, zesty chilli keep things interesting. Also, grab a packet of that addictive deep-fried chicken skin if you're planning to sin all the way.