Affordable, Tasty Pork Chop Fried Rice By Din Tai Fung Chefs Turned Hawkers In Ang Mo Kio
The ex-assistant chef supervisor at Din Tai Fung & his protégé are partners at this new hawker stall.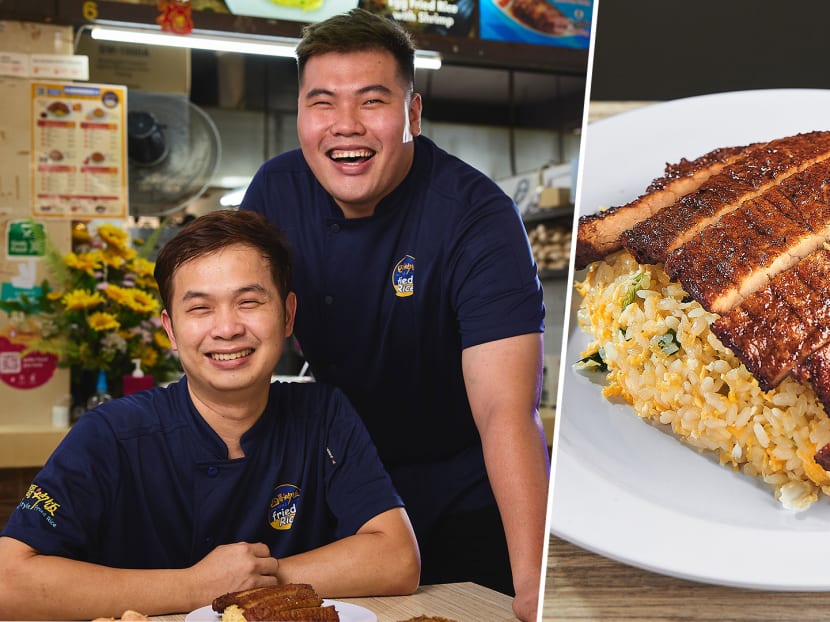 Like the bevy of fried rice specialist hawker stalls – including King of Fried Rice and Chef Wang Fried Rice – that has popped up recently, Hong Style Fried Rice is helmed by an ex-chef from a famous restaurant chain. Eng Lian Hong, 38, was an assistant chef supervisor (the second most senior-ranked staff in the kitchen) at Din Tai Fung's The Centrepoint branch before leaving to open his three-month-old kopitiam stall in Ang Mo Kio. His stall offers four types of fried rice, including an egg fried rice with pork chop dish that DTF fans are familiar with.
Reflecting on his decade-long career with the famous restaurant chain, Malaysian-born Lian Hong is full of gratitude. "I didn't have any formal culinary training before joining the company – I've only helped out at my older brother's economy rice stall in Kuala Lumpur for a short period. A housemate, who was working at Din Tai Fung, told me about an opening and that's how I joined the company," says the first-time hawker in mandarin. "I'm very thankful for the experience and opportunities that I've enjoyed throughout my career."
Lian Hong's longest posting during his employment at Din Tai Fung was a five-year stint at an outlet in Resorts World Sentosa. "That's the period when I learned the most. We were always busy thanks to the tourist crowd and I was also part of a bigger kitchen team at RWS."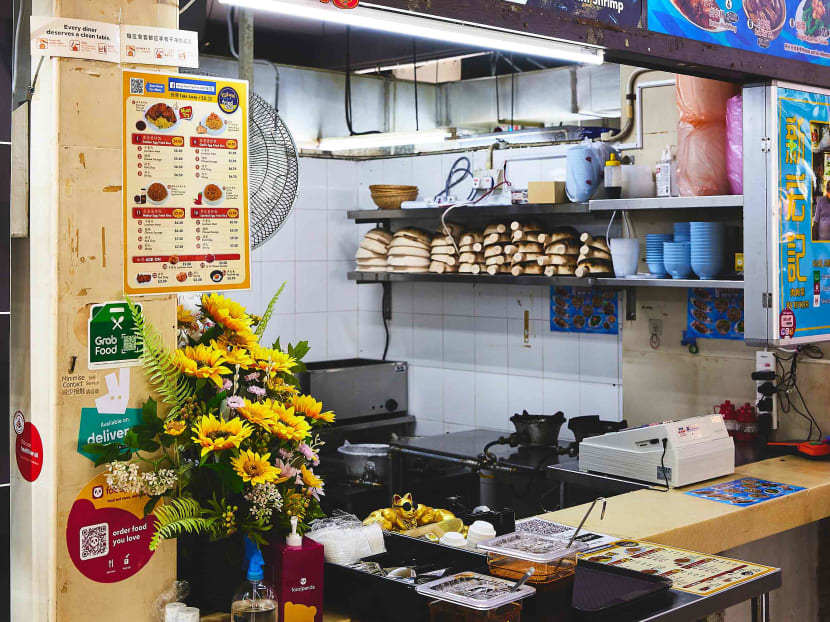 Hong Style Fried Rice is Lian Hong's first business venture, though he confesses that he's toyed with the idea of striking out on his own in the past. "I didn't follow through as my friends and ex-colleagues who set up their own food biz told me that it's challenging. Some also advised me to stick to a secure job," he says.
So, why open a stall now? "I'm getting older, and I really think it's now or never. If I don't try, I'll never know what I'm capable of. I tendered my resignation before I started looking for a stall to rent. It was my way of making sure that I'll follow through with my plan this time," says Lian Hong, who left Din Tai Fung in June. A few weeks later, he signed the lease for his current stall.
A few weeks after the stall's opening on 1 July, Lian Hong's former protege, 28-year-old Ngu Wei Guong joined him as a partner. "We got to know each other at DTF's The Centrepoint branch and he was trained by me," shares Lian Hong.
Says the energetic Wei Guong in mandarin: "I left the company a few months before Lian Hong with plans to take up a multimedia course. The enrolment was delayed and when I saw how well Lian Hong's stall was doing, I approached him to discuss a partnership". As a management trainee assigned to the kitchen, he worked alongside Lian Hong for around two years, learning how to cook the rice and noodle dishes at Din Tai Fung. Wei Guong describes his mentor as "an honest, reliable man" with "a lot of experience and expertise" – which gave him the confidence to pursue the partnership.
The pair tells us they will be opening a second stall in Geylang Bahru by the end of the year. The new branch will be helmed by Wei Guong – who has been learning the ropes by assisting Lian Hong at the current location. "Anything he does, I have been learning to do as well, so I can be equipped to run a stall on my own," says Wei Guong, who we observed helping out with everything from taking orders, deep-frying pork chops to frying rice.
"Biz has been pretty good since our opening. Seeing how well the other fried rice stalls are doing lately has also given me the confidence to expand our biz," shares Lian Hong. The stall dishes out around 100 servings of fried rice daily and the bestselling item is none other than the DTF-style egg fried rice with pork chop.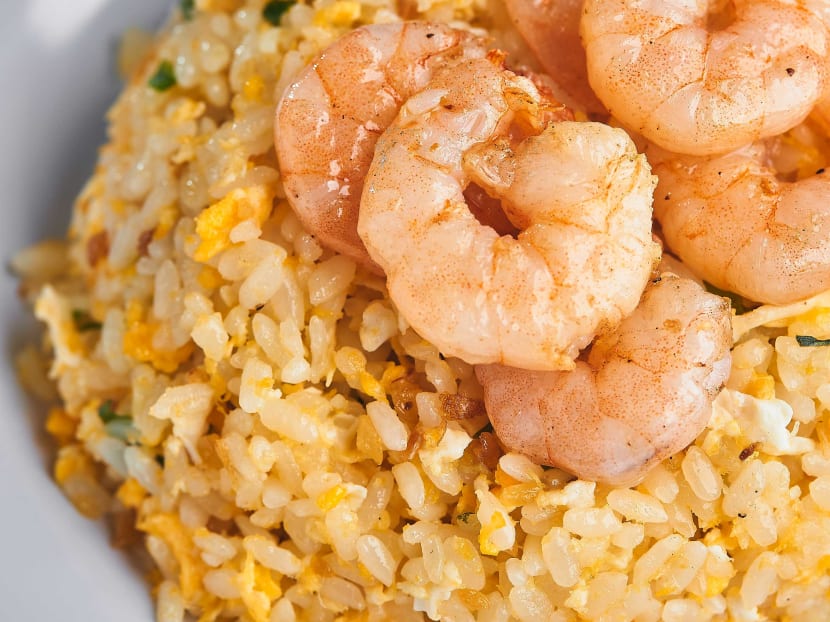 Though his family is based in Kuala Lumpur, Lian Hong says they have offered immense support for his venture so far. He is the fourth of ten kids, which is why his stall's Chinese name translates to "Fourth Brother". "My younger sis, who is a designer, did our signboard and is helping out with our social media posts too. My older sister does all our accounting. My eldest brother, who has his own F&B stall, has also shared good advice," he says.
"It makes me feel less alone even though I'm the only one in Singapore and haven't seen my family for almost two years. I hope they can visit my stall soon and try my food!" he says with a wistful smile.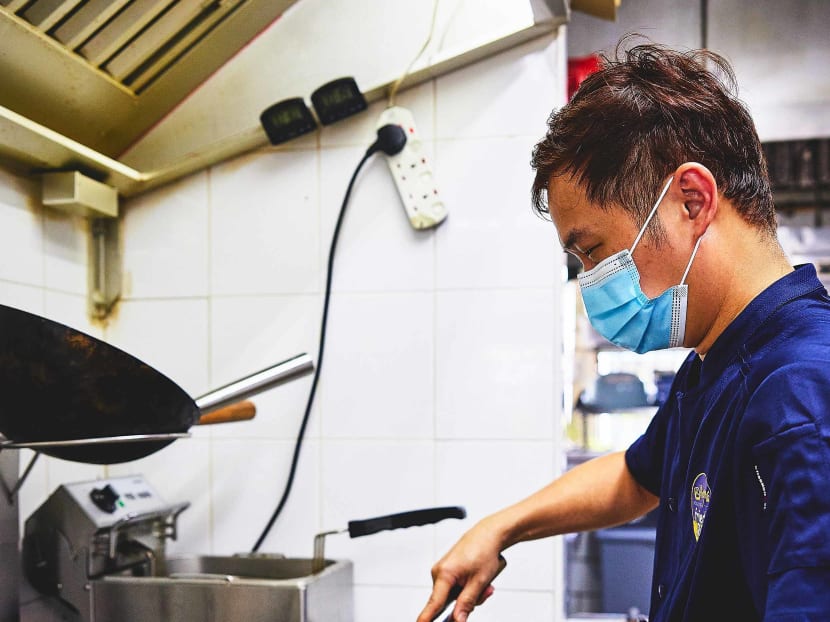 Lian Hong cites the limited space of his hawker stall as the biggest challenge so far. "My stall only has one stove, so I've had to streamline and rethink my whole cooking process and it's very different from what I was used to at Din Tai Fung," he says. "The restaurant was also much more comfortable because there's air-con."
The difference in equipment has also tested his capabilities. "Every stove is different, so it takes time to master its intricacies such as how to control the heat. It took me about two weeks and several plates of burnt rice to sort it out," he quips. "I'm confident of the consistency and standard of my fried rice now."
Choose from four types of fried rice: the classic DTF-style Golden Egg Fried Rice (from $4), Garlic Egg Fried Rice (from $4.20), Sambal Egg Fried Rice (from $5) and Malay Egg Fried Rice (from $5), with a choice of four additional toppings – pork chop, shrimp, luncheon meat and Chinese sausage.
Make sure you try the two house-made condiments as well – the smoky, savoury chilli oil lends an extra kick, while the vinegar-spiked garlic-chilli sauce offers tangy balance to combat any jelak-ness.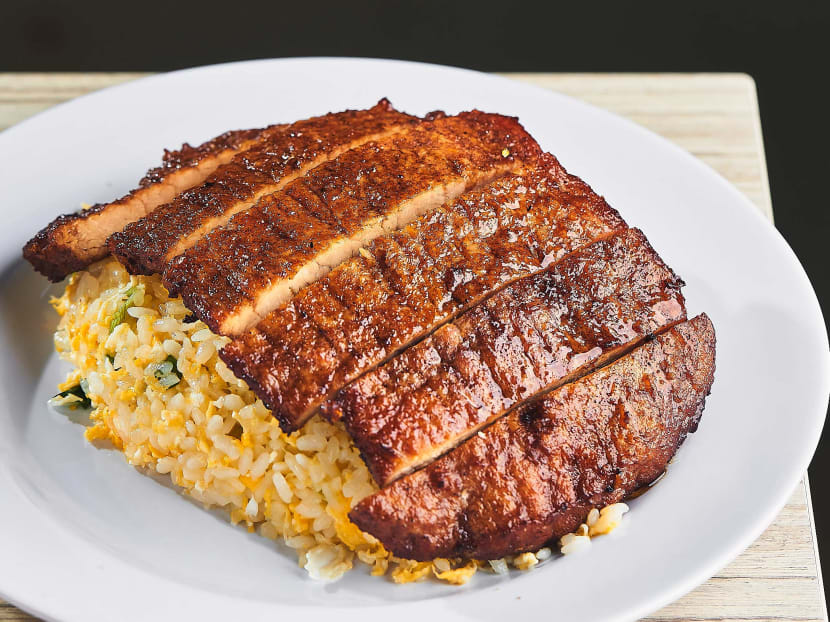 Japanese short-grain rice can be hard to fry as it's stickier than other grains. Thankfully, it's no match for Lian Hong's seasoned wok skills – who effortlessly whips up a plate of fluffy, well-separated fried rice tossed with egg and scallion. The fresh pork chop – marinated overnight – is deep-fried to order and has a lovely, peppery aroma.
The rice is chewy and not too dry or greasy, though we found it to be not as moist as our beloved DTF signature. Overall, it hits the spot if you're looking for an affordable version of the original, which costs $13 at the restaurant (as listed on Din Tai Fung's Facebook page).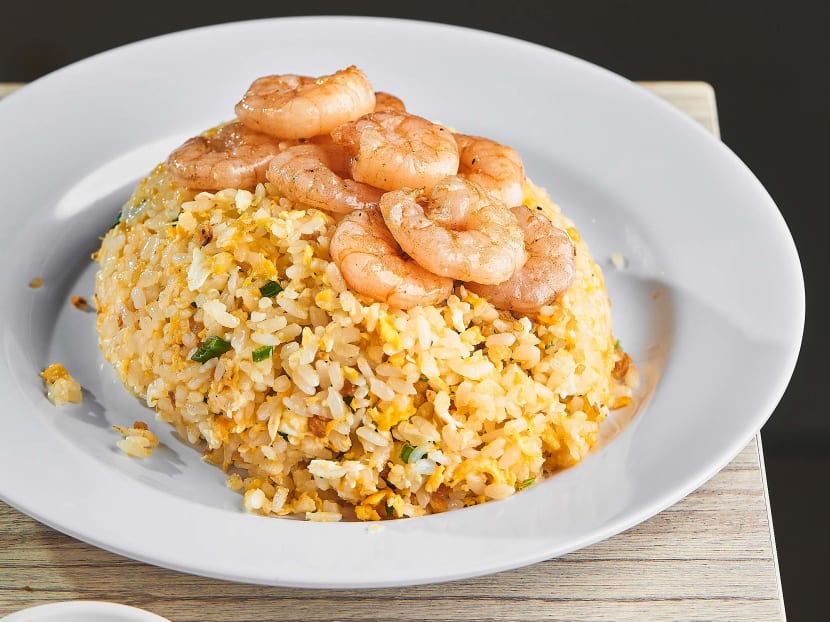 By using sauteed garlic instead of raw cloves, the fried rice is infused with a mild sweetness and an assertive aroma that will please those who want a little more oomph to their carbs. We also like that the small but springy prawns are given a quick deep-fry – to bring out their flavour – before they go into the wok with the tasty rice.
A strong, smoky hae bee hiam fragrance from store-bought sambal permeates the entire dish, which pairs well with the savoury, moreish cubes of luncheon meat. Our only gripe was that the dish was not as fiery as we'd like – which can be remedied by adding some house-made chilli oil to your plate.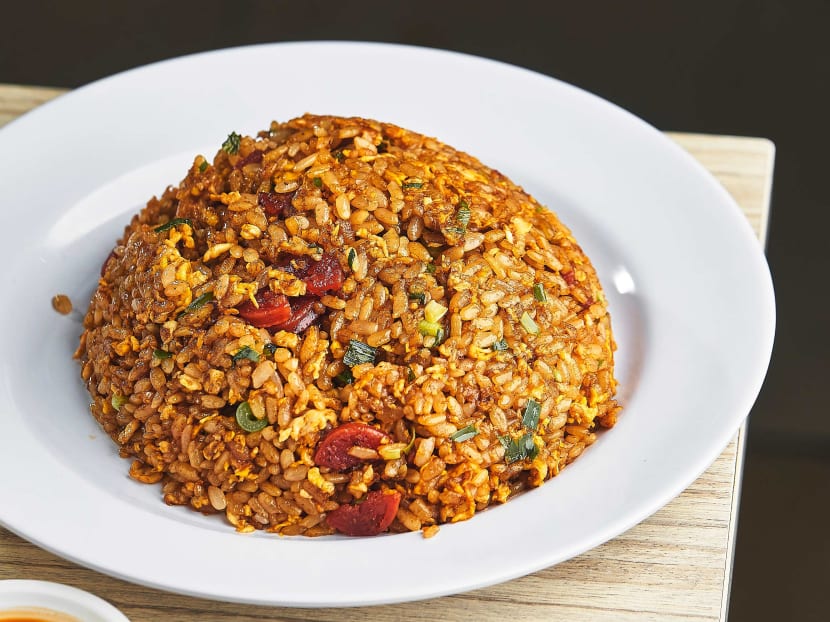 The least impressive of the quartet, we found this peppery and dark soy sauce-spiked fried rice rather forgettable and also misleading as it bears no resemblance to nasi goreng or Malay fried rice. We've advised the hawkers to change its name since this dish contains lup cheong.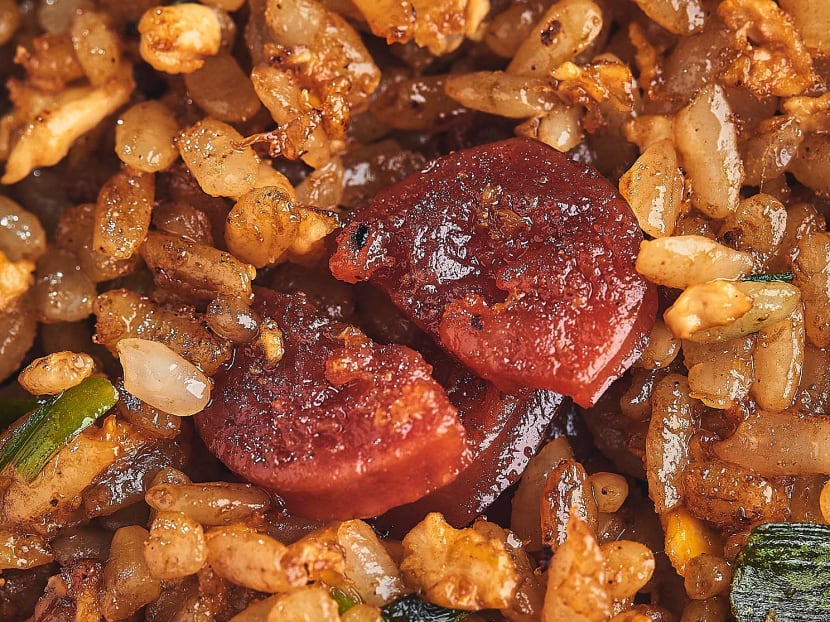 A pretty good hawker (if slightly less moist) rendition of the popular Din Tai Fung-style fried rice for half its price, a least for the pork chop version. We enjoyed the plain and garlic versions (the latter is not offered at the restaurants) the most as they exemplified the chewy, fluffy texture that DTF's fried rice is known for — a testament to Lian Hong's decade of experience manning the wok at the famous chain.
Hong Style Fried Rice is at Blk 332, Ang Mo Kio Ave 1, S560332. Open daily 11am to 9.30pm. Also available on GrabFood. More details via Facebook.
Photos: Alvin Teo