At Café Chez Suzette, The Crêpes Suzette & Charming Décor Transport You To French Riviera
The bistro-style fare is better than the brunch plates at this new spot opened by the ex-maître d' of L'Atelier de Joël Robuchon restaurant.
Teck Lim Road, one of the small streets off uber trendy Keong Saik Road, welcomes a new player in the form of French-inspired Chez Suzette, a lovely two-storey cafe and all-day bistro that serves up classic brunch fare and French bistro-style plates all day long. It's been open since the end of August, and is just across the street from Burnt Ends. It's a gorgeous space that's bright and airy, with subtle designer touches and a distinct European sophistication. We're told it used to house a design school before the restaurateurs moved in and revamped it with a luxurious European sheen. It feels, on our weekday afternoon visit, almost like sitting at a swish French cafe, watching people outside amble by. Well, except for the blistering heat and muggy humidity.
All photos cannot be reproduced without permission from 8days.sg

The ground floor is split into a small dining section, and an alfresco area with fans swinging above to help with the heat. Upstairs is an evening-onwards dining area and bar — it's super chic, full of the light designer touches that run through the joint, and it's also got a great view of the street. There's even a little retail section showing off homeware products by local designers.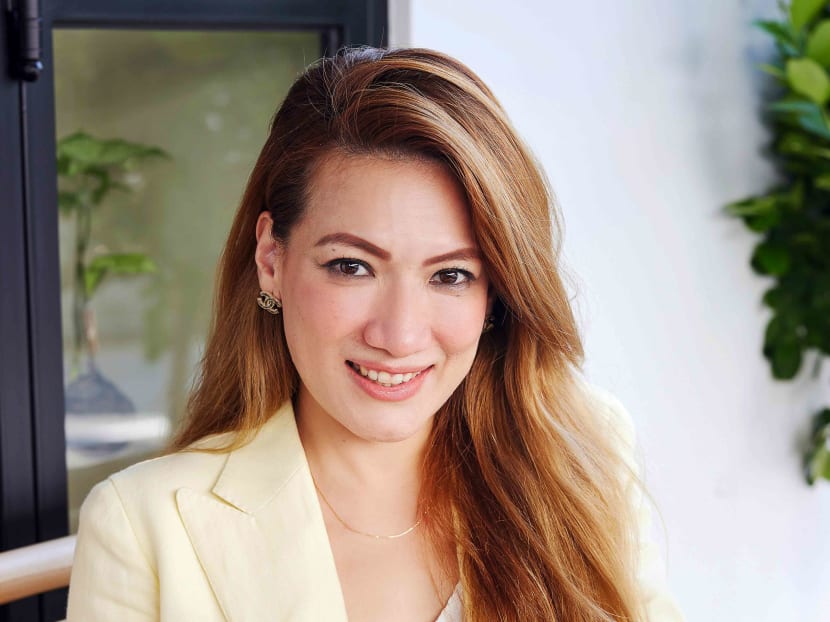 The chef and owner here (along with some silent partners) is the bright and cheery Suzette Simon Tingaud, 42, who welcomes each guest as they arrive, and bustles about the place making light conversation with everyone. This energy is part of the vibe she wants to create here, she says, adding: "I want it to feel welcoming, like a place you can keep coming back to." Suzette does this effortlessly and is genuinely charming, a quality owing to her time working in luxury hospitality. She's originally from the Philippines and moved to Singapore in 2011 to be part of the opening team at the now-defunct L'Atelier de Joël Robuchon French restaurant in Resorts World Sentosa, serving as a senior guest relations manager (or, as she puts it, maître d'). After that, her stints include working in management at Ce La Vi and Capella Hotel.
Suzette runs the kitchen along with a commis cook. She says she picked up her kitchen chops from observing the team at Joël Robuchon, and from entertaining and cooking at home, which she does with her French husband, Jonathan Tingaud, 37. The two met at L'Atelier de Joel Robuchon, where he was the sommelier. Jonathan, who hails from Montpellier in southern France, now runs a luxury wine distribution company, which keeps Chez Suzette's cellar supplied. Although he isn't one of the owners here, Suzette says he's been helping out in the kitchen during their soft launch, and also helped with designing the menu.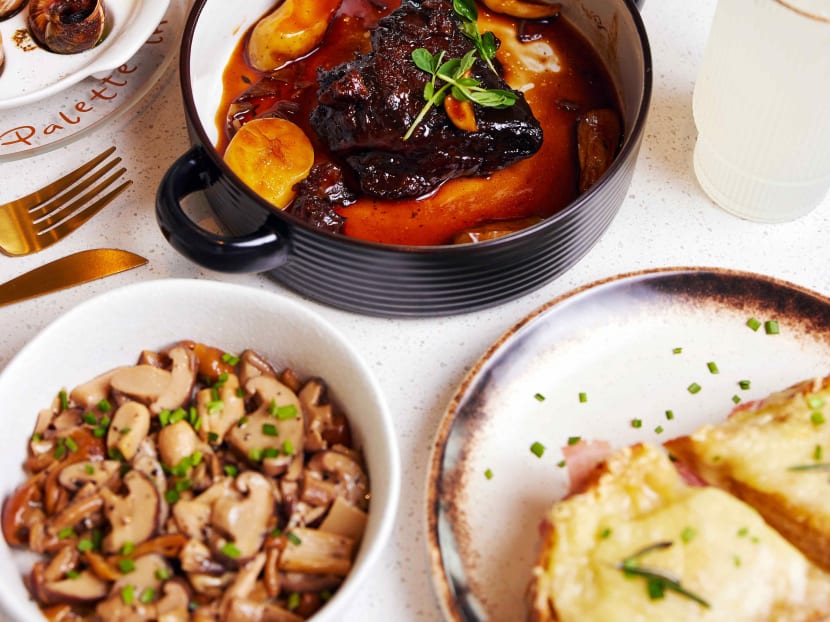 The menu here features all-day brunch with standard fare like Avocado Toast and Eggs Benedict, with a couple of French flourishes like a Croque Monsieur. If you need something heftier, the menu also features more exciting French bistro starters like Charcuterie and Escargots, and entrees like Duck Confit and Braised Beef Cheek, served all day as well.
We kick off our meal with some brunch bites. This is made with organic eggs, your choice of Parma Ham or imported-from-France smoked salmon belly, served atop little brioche buns with Hollandaise sauce. We opt for the smoked salmon, which is really tender, fatty, and rich, though we find it's all a little overpowered by the Hollandaise which is slightly too heavy on the tarragon.
French sliced ham is enrobed with a melty Comté béchamel sauce atop crusty sourdough, then grilled. This comes together in nice crunchy, cheesy mouthfuls. It's pretty tasty, with a classic flavour profile, though we wish the blanket of cheese were more well-grilled for that toasty, crispy cheese flavour we love in Croque Monsieur. It's also a rather petite sandwich.
We move on to the bistro side of things with these pretty globes stuffed with bouncy-fleshed fresh snails bathed in melted butter, garlic and parsley. This classic preparation doesn't fail to please, and is served with crusty sourdough to help mop up all that garlicky buttery sauce.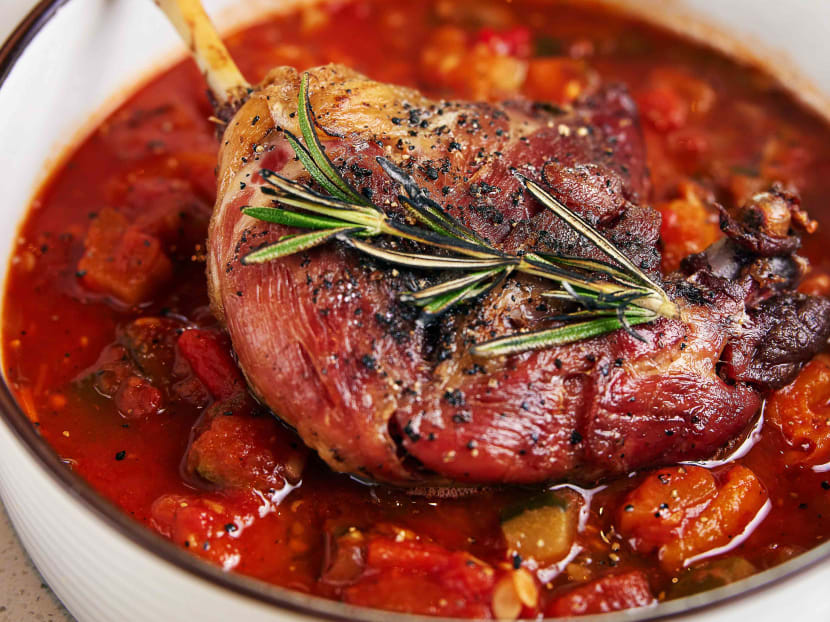 A French duck leg is cooked and crisped in its own fat and served atop a light ratatouille (stewed eggplant, onions, and peppers in a bright tomato sauce). The duck is pleasantly tender with a nice crispy exterior, and the rich dark meat flavour is nicely undercut by the zippy ratatouille, with its bed of tender vegetables that provide a nice textural contrast. Tasty.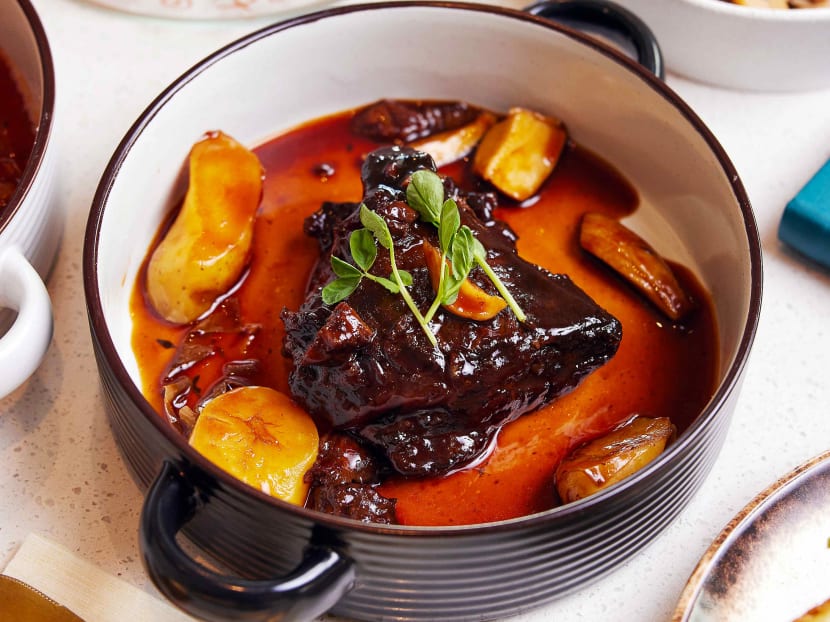 A cut of insanely tender beef cheek sits atop soft sauteed mushrooms and fingerling potatoes, dressed in a rich red wine reduction. We thoroughly enjoy this. The cut of beef is super melting and gelatinous, and the reduction is similarly rich. This is bite after bite of deep, beefy flavour, perfectly mopped up by the silky potatoes.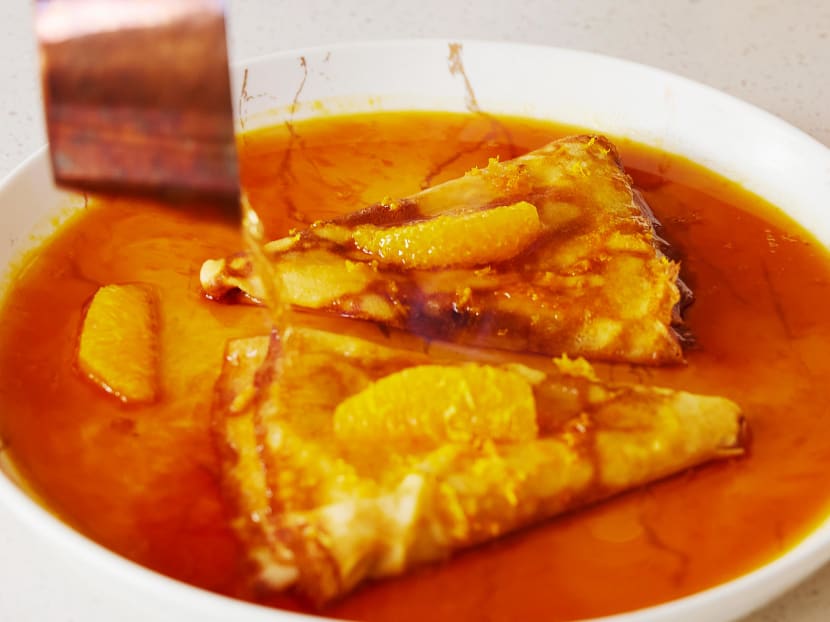 We couldn't leave without trying this classic French dessert, which also happens to bear Suzette's name. She's very excited about both this and the table-side flambé featuring a little ladle of Grand Marnier (it's $5 extra for the flambé) and some fire. These are deliciously chewy flour crepes drenched in a buttery, marmalade-like bitter orange sauce, and topped with wedges of orange. The Grand Marnier flambé adds an extra breath of citrus, luxury, and some theatre. The crepes have a lovely lightness while also maintaining some bite, and the sauce is perfectly balanced — pleasantly bitter and not overwhelmingly saccharine. Delish.
Classic bistro fare made with imported French ingredients — we prefer the heartier bistro main courses over the middling brunch plates. The food is generally tasty, if a little pricey for its rather homely execution. That said, it's served in gorgeous, Instagram-worthy surroundings. Squint a little and you might even imagine yourself somewhere on the French Riviera.
Chez Suzette is at #01-01, 5 Teck Lim Rd, S088383. Tel: 6980-5584. Open Sun & Mon, 8.30am-5pm; Wed-Sat, 8.30am-10pm. Closed Tue. www.chezsuzette.sg
All photos cannot be reproduced without permission from 8days.sg

Photos: Kelvin Chia