Chantalle Ng Loves Spicy Food So Much, She Launched Her Own Line Of Mala Paste
It's the latest product from her online biz, Yuan Collagen Soup. She shares her recipe for mala seafood bag with 8days.sg.
Spice girl Chantalle Ng has taken her love for mala to new heights by creating her own mala paste. Launched end-September, the paste is the latest product from her online business Yuan Collagen Soup.
Chantalle, 26, and her business partner Minying Wong, 28, had been toying with the idea of offering a mala product for a long time. R&D for a mala collagen broth began early this year, but along the way, they decided to switch gears and offer mala paste instead as it is more versatile.
"Unlike the broth, it doesn't have to be frozen, and it can be used for cooking or as a sauce or dip. We have been adding it to our fried rice and Hokkien mee to give it an extra kick. If you want mala broth, just add it to our collagen broth," the actress tells 8dys.sg.

In line with their collagen broths, the paste is 100 per cent made from scratch with natural ingredients by Minying and her mum in their central kitchen. "It is my partner's recipe. We just use herbs, spices, broad beans, dried chilli, and Sichuan peppercorns. There's no MSG and preservatives," says Chantalle.
"I like that even though the paste is very shiok, it is also healthy. Every time I eat mala food, I will get water retention 'cos it is very salty and has a lot of MSG, so this is a healthier option."
As Chantalle loves her food fiery, the mala paste was originally created "da ma (very numbing) and da la (very spicy)", but they decided to tone it down to "reach out to the masses".
"Now it's moderately spicy. When I make mala hotpot, I will add four to five tablespoons of mala paste to one litre of our collagen broth 'cos I still want to taste the sweetness of the broth. But I know some people who add half a bottle of paste," she says.
Chantalle's mum Lin Meijiao has yet to try the mala paste. The veteran actress moved out to care for her ailing mother, who passed away last month, and has yet to move home as she is still "taking care of other matters".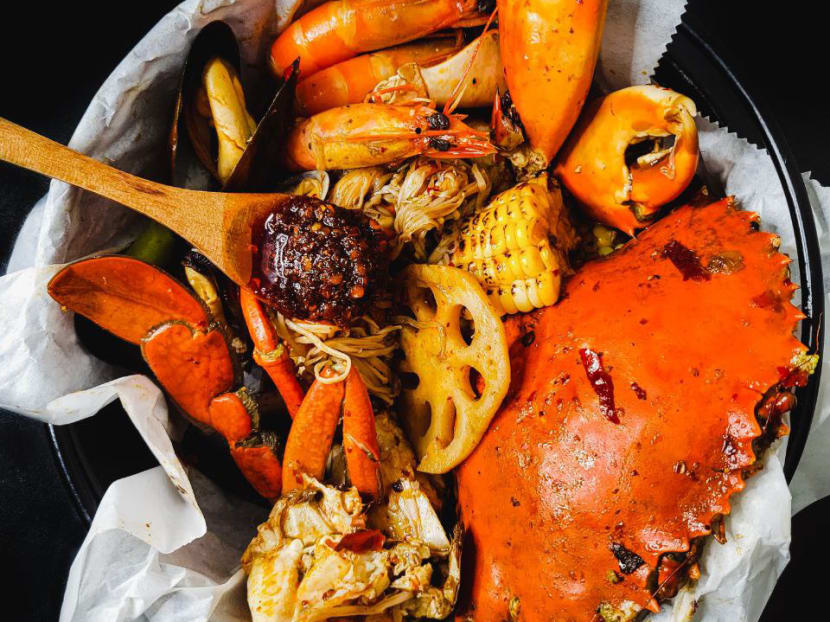 Apart from mala xiang guo and steamboat, Chantalle also uses the paste in other dishes. Some of them include stir-fried mala beef cubes and mala seafood bag, for which she shared the recipe with us.
"I love to eat seafood in a bag. It's something that I like to whip up at home 'cos it's very easy to make and you cannot go wrong. And with this mala paste, you don't have to stress over the sauce which is very important for the seafood bag. I like to eat it with fried mantou," says Chantalle.
"Prior to this, I would cook it with all kinds of sauces like the Ikea meatball gravy. It goes really well with the seafood, trust me!"
The recipe is of course just a guide and Chantalle encourages everyone to be creative with the ingredients. The recipe is on the drier side, so add an extra cup of chicken stock if you like things saucier. Don't have an oven? Just boil it over the stove for 15 to 20 minutes.
"Just make sure you prepare a glass of ice water when you eat it 'cos it's gonna burn!" she laughs.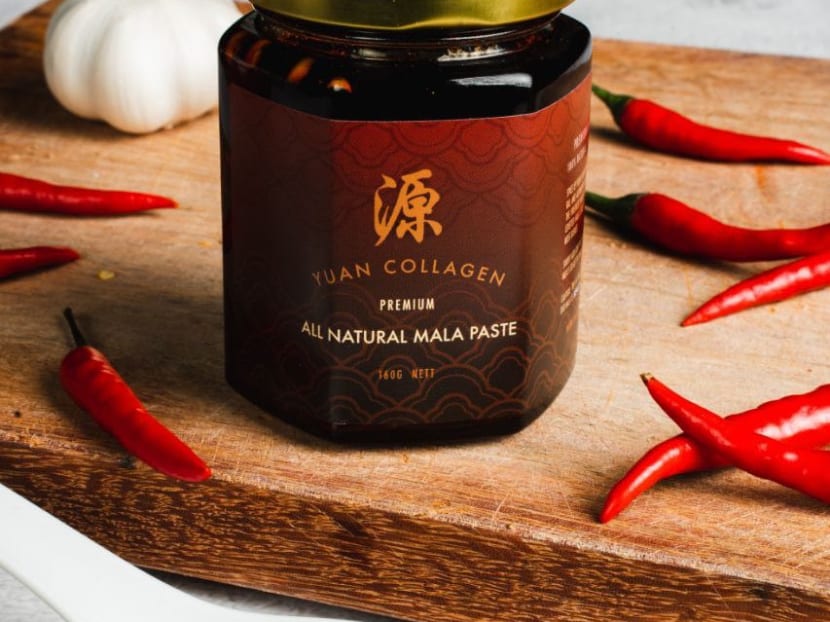 Currently, the mala paste is only sold on their website, however they are in talks with FairPrice to make them available at their supermarkets.
"Hopefully it will be on the shelves by the end of this year," says Chantalle. "We are going to start with the mala paste first and if things go well, we will explore selling our other products."
"We need to provide a large quantity of products if we want to sell them in supermarkets, so we don't think we have the capacity for it [now]. We will need a bigger kitchen," she explains.
But that is not something Chantalle is fussing over at the moment. Like her acting career, things on the business front have been going swimmingly well. In fact, she shares that Yuan Collagen broke even "about two to three months" after they launched last year, and things are pretty much "autopilot" now.
"My partner and I are pretty clear of our roles and I am very glad 'cos when I am filming, I don't have the capacity [to manage the business]. Most of the time I don't really need to step in to do anything for it," she says.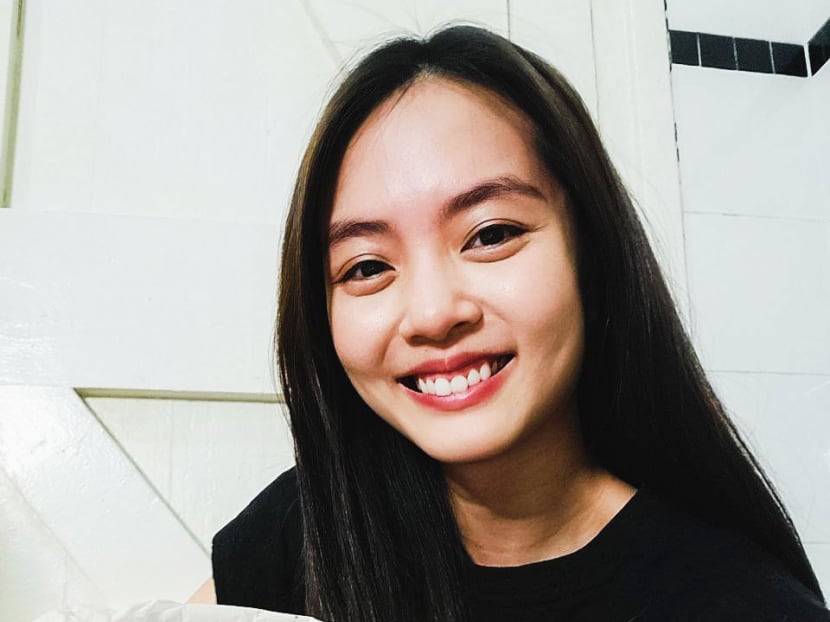 Serves 5 to 6 pax
Ingredients:
250g shiitake mushrooms
1 lotus root (around 450g), cut into thin slices
1 tsp white vinegar
500ml water
7 tbsp cooking oil
1/2 large onion, chopped
3 tsp minced garlic
2 crabs, around 1kg to 1.5kg
6 to 8 prawns
200g mussels
200g clams
1 tbsp soy sauce
1-2 tbsp mala paste
1 cup of chicken stock (2 cups if you intend to boil the seafood boil over a stove)

Parchment paper or aluminum foil, around 60cm. You can also use a heat resistant bag (such as Reynolds)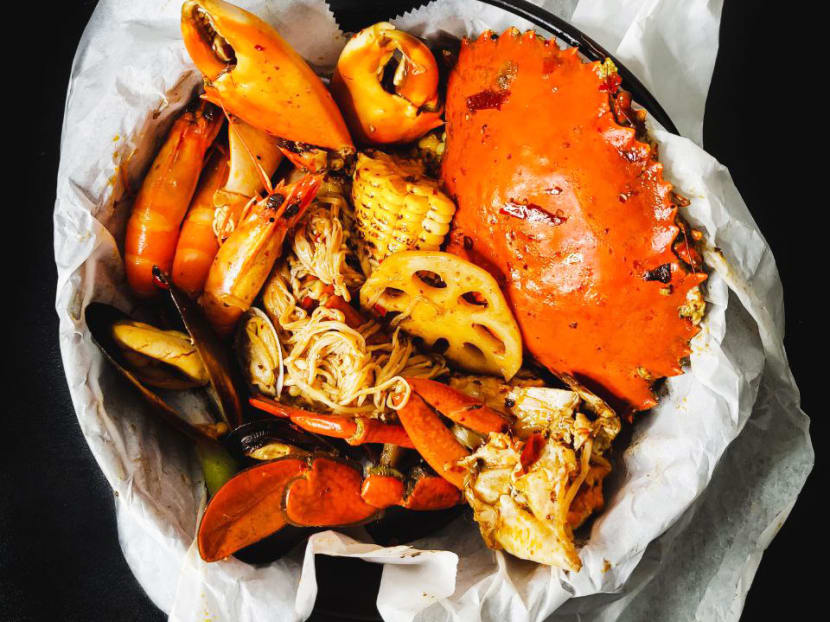 1. Soak black fungus in warm water until soft, around 30 mins. Cut into small pieces.

2. In a bowl, soak lotus root in water and vinegar for about 10 mins to remove stickiness. Wash thoroughly and cut into thin slices.
3. Preheat the oven to 180°C.
4. Lay parchment paper or aluminum foil onto a casserole dish or baking tray.
5. Heat oil in a large pot over medium heat. Add minced garlic and onions and stir-fry for around 1 min until onions soften.
6. Add lotus root, black fungus, seafood, chicken stock, soy sauce and 1 to 2 tablespoons of mala paste, depending on how spicy you want your seafood.
7. Stir-fry for 10 to 15 mins or until seafood is about three quarters cooked. The prawns and crabs should be turning orange and most of the liquid would have mostly evaporated. If you do not have an oven, add 1 cup of chicken stock and let the seafood simmer for 15 to 20 mins before serving.
8. Transfer ingredients onto the middle of parchment paper or aluminum foil. Seal seafood by gathering the sides of paper/foil and twisting it at the top to wrap it tightly. Tie with cotton twine so it won't come loose. You can also use a heat resistant oven bag instead of baking paper or foil.
9. Bake for 40 minutes and serve immediately.
To order, go to www.yuanfoods.com.
Photos: Chantalle Ng