Comforting You Tiao Chee Cheong Fun & Congee By Restaurant Chef-Turned-Hawker
The 59-year-old has been making chee cheong fun and congee since he started working as a chef in 1982.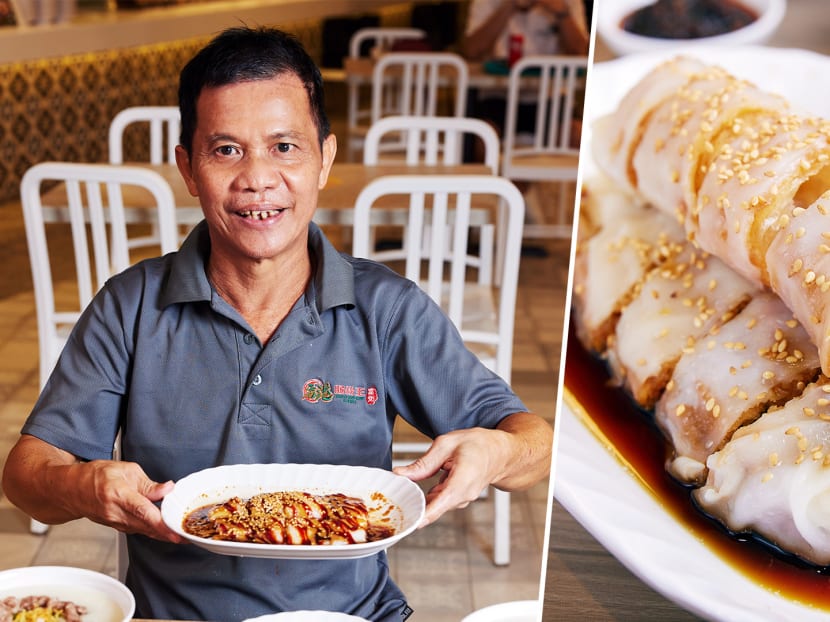 Although chee cheong fun, a Cantonese staple, is far too ubiquitous to be a "trend", there's never been a better time to order a plate of steamed rice rolls than now, as a recent crop of chefs leave notable Chinese restaurants and dim sum chains to set up their own hawker stalls ( 8days.sg has covered three chef-helmed cheong fun stalls in the past two months).
"I've been specialising in cheong fun and porridge since I started cooking," says Oh San Oui, 59, in mandarin. His one-month-old stall, King of HK Rice Roll, is located within the busy Kopitiam food court at Tampines Mall. "I started as an apprentice, learning from Hong Kong chefs in different Chinese restaurants, and slowly worked my way up to becoming sous chef."
While his resume has been singularly focused on cheong fun and porridge, San Oui tells us that it was not an intentional, career-driven move to specialise in these items. "These were the first dishes I learned to make, so I just continued perfecting them over the years. Along the way, different restaurants would approach me to work for them and I kept on making these items," shares the happy-go-lucky Cantonese boss.
All photos cannot be reproduced without permission from 8days.sg

The first-time hawker's most recent position was as a sous chef in charge of porridge at Peninsula Excelsior Hotel's Coleman's Cafe. "We were put on no-pay leave due to the pandemic," shares chef Oh, who left the hotel in 2020 after working there for a year. "I had to start thinking of what to do next. This was the first time starting my own business after a lifetime of working in restaurants."
"Of course I'm a little nervous and stressed," he adds candidly. "But it's not a good climate for the hospitality industry right now and I think it's worth a try [to set up my own business]. I'm taking it a step at a time."
After finding out about chef Oh's plan to open his own stall, a friend who's also in the industry signed up as a silent investor. "I chose to set up my stall in a food court [instead of a hawker centre] because we need a bigger space to fit the cheong fun steamer and a large porridge boiler," he says. His rental cost for the food court stall is about a whopping $8k a month.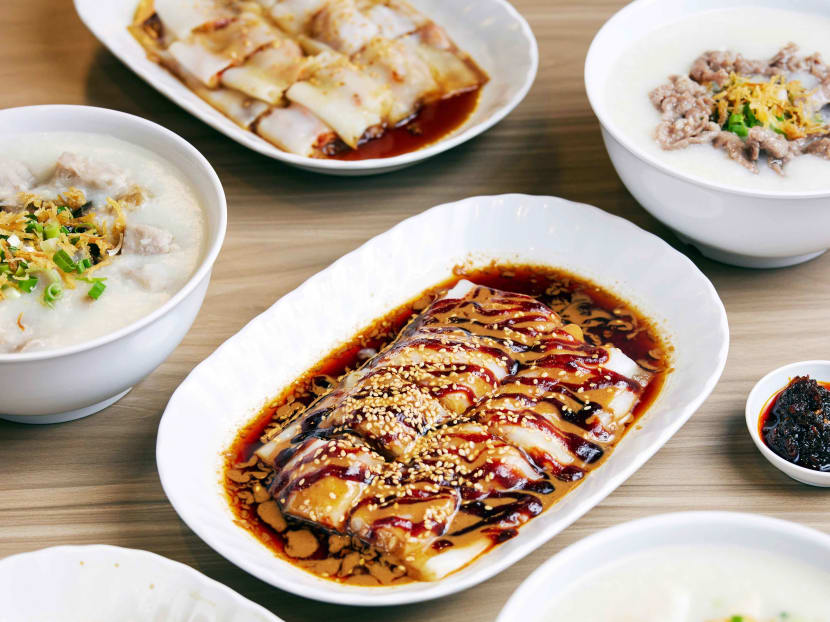 Highlights from his resume include a two-year stint at Resorts World Sentosa, catering porridge to casino patrons, and his longest employment was with the popular but now-defunct Da Wan Zhou – The House of Congee restaurant at Boat Quay from 1992 to 2000.
"At Resorts World Sentosa, we were used to making bigger quantities of food. On a busy day, I can make up to 500 plates of cheong fun, but I'd be drenched in sweat," he jokes. "It was a valuable experience that I can apply now as a stallowner, as I no longer have a big team or subordinates working here. I have to do everything myself while training the new staff."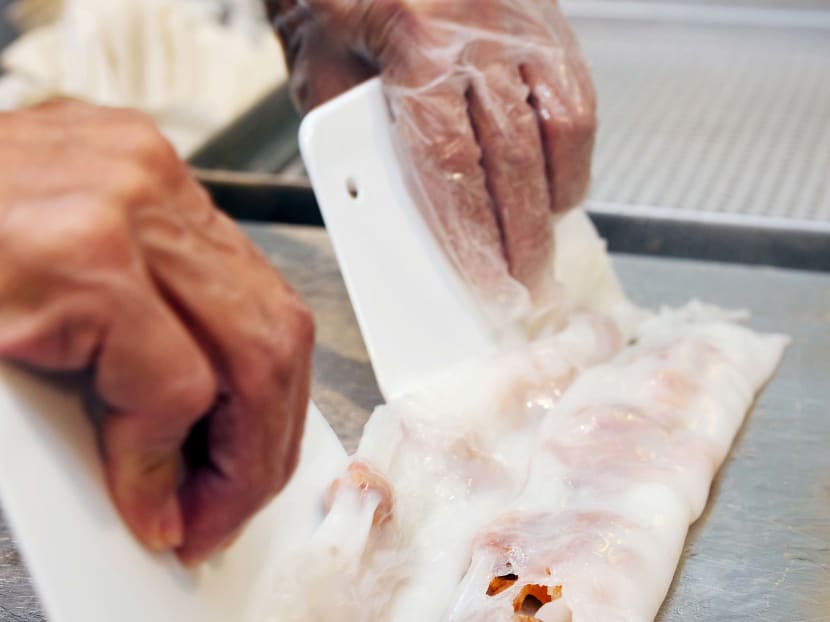 Chef Oh says he's using the same cheong fun recipe that was served at the various establishments he's worked at. The batter is made from five different flours: glutinous rice, rice, potato, tapioca and wheat starch.
The humble veteran tells us there's "nothing special" about his dish, other than stating it's based on traditional Cantonese recipes that he mastered from Hong Kong dim sum chefs during his apprenticeship at the now-defunct Jia Yuan Restaurant in the '80s. "I can't say how mine compares to other versions. I'll leave it to the customers to decide for themselves!"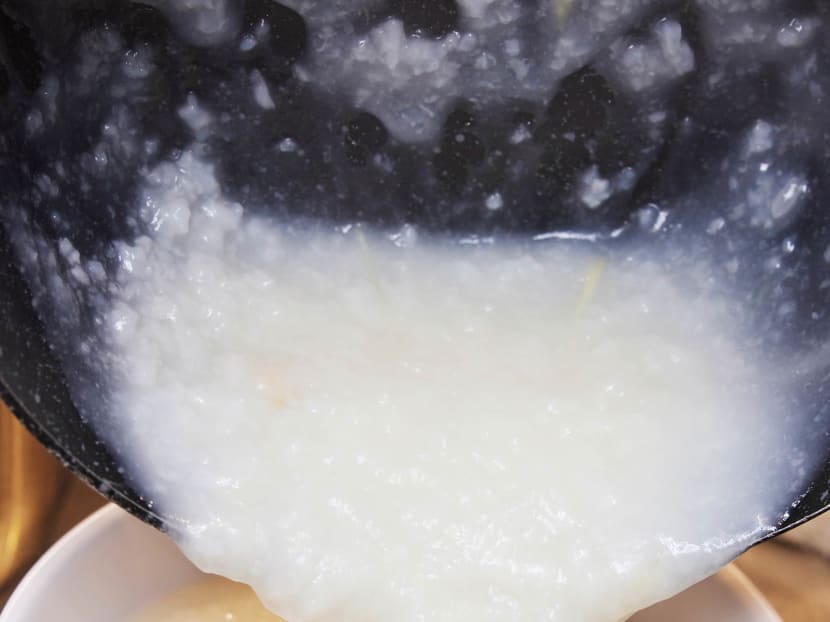 His Cantonese congee is similarly consistent, except for two changes. "Previously, we used pork bones to make the broth but I've changed it to chicken bones and feet now. We could get better quality pork bones in the past but I feel they are not as fresh now, whereas the quality of fresh chicken remains pretty good and consistent."
Chef Oh roasts the chicken bone and feet before making the broth to add flavour and richness. Interestingly, soy milk is also included (a little like how some restaurants in Hong Kong add tau kee or beancurd skin to their porridge). "The soy milk makes the finished broth smoother and more flavourful," he says.
The broth is then brewed for three hours before a mixture of jasmine rice, Japanese pearl rice and glutinous rice is stirred in to make silky smooth Cantonese congee, a process that takes another two hours. "We usually make two batches a day, once in the morning and another in the afternoon. Each batch is about 100 bowls of porridge."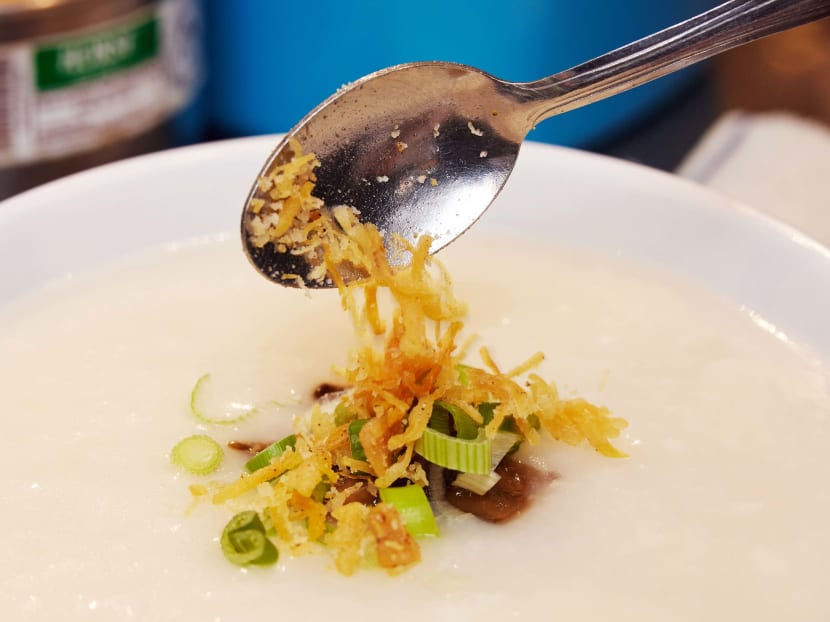 Chef Oh's Cantonese kitchen pedigree shows up in small details, like the toppings – chunky cubes of braised shiitake mushroom and shredded dried scallop – which add finesse to every bowl of congee.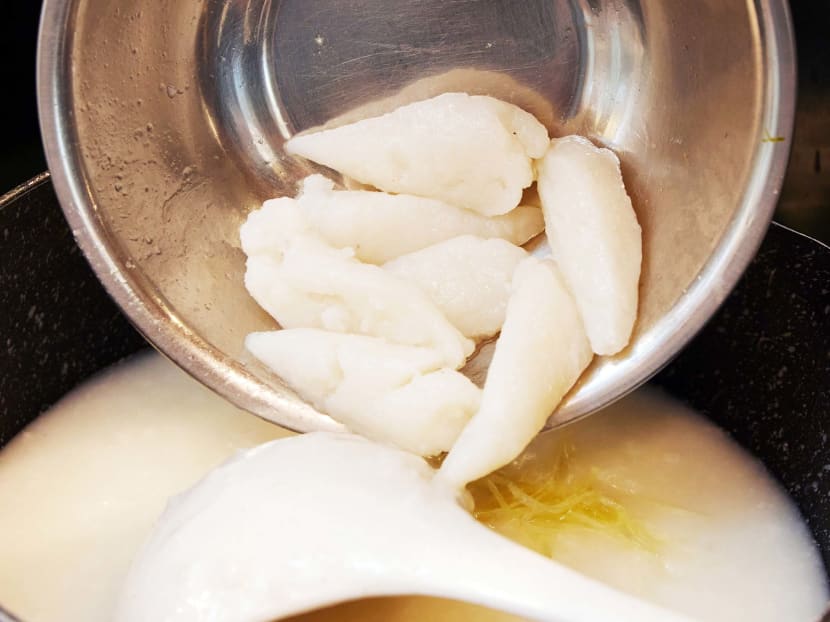 Another meticulous element is the use of fish paste dumplings instead of the typical sliced fish. "I'm using fish paste dumplings so customers, especially kids and older folks, don't have to worry about fish bones," says chef Oh. He makes the dumplings by shaping the pure potato fish paste (from a supplier) into thick, tapered pins, which are cooked together with the porridge base before serving.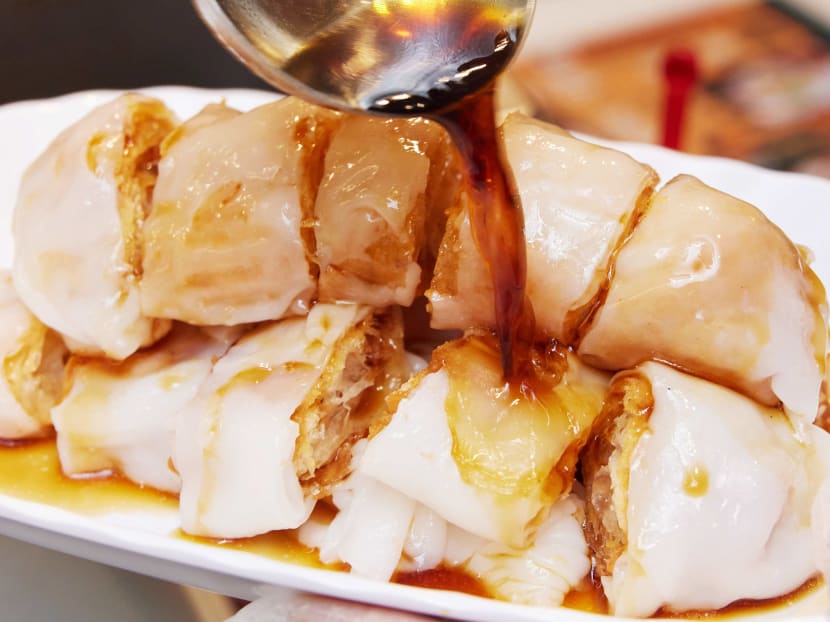 Since opening on 5 August, chef Oh says business has been "okay". "We are getting by. Business has improved a little after dining in is allowed again," he shares. The stall sells around 200 to 300 plates of cheong fun and 100 to 200 bowls of porridge on a good day.
"The biggest challenge is my heavy workload. When I was working as a sous chef, I had a trained team to help me out and it was much less taxing. Now I have to take care of all the food prep, like making the congee and cheong fun batter and preparing the toppings while also training my staff to make the cheong fun."
Chef Oh currently has three staff members – an amicable lady is focused on taking orders while two young kitchen assistants help with cooking porridge and making cheong fun.
The stall's official opening hours are 10am to 9.30pm daily, but chef Oh usually shows up at 7am to start prepping and cater to the early birds. "Some of our customers want to have porridge before heading to work, so we would typically start selling our food earlier."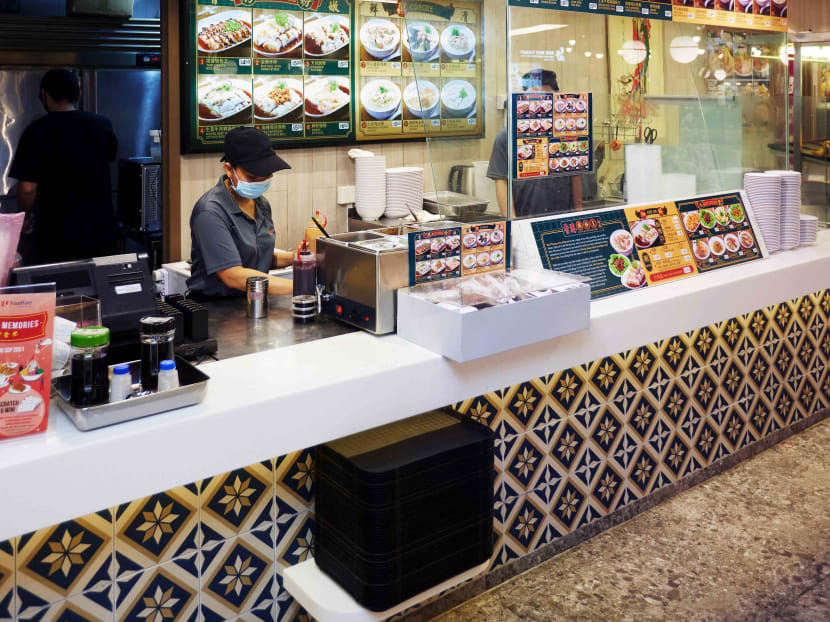 Despite the workload, chef Oh says he's motivated to see if customers will enjoy his food. The first-time biz owner is also excited to "see where things can go", but for now, he's focused on ironing out the kinks of a newly opened stall and training his staff to take over more responsibilities so he can develop new menu items and showcase his repertoire in the future.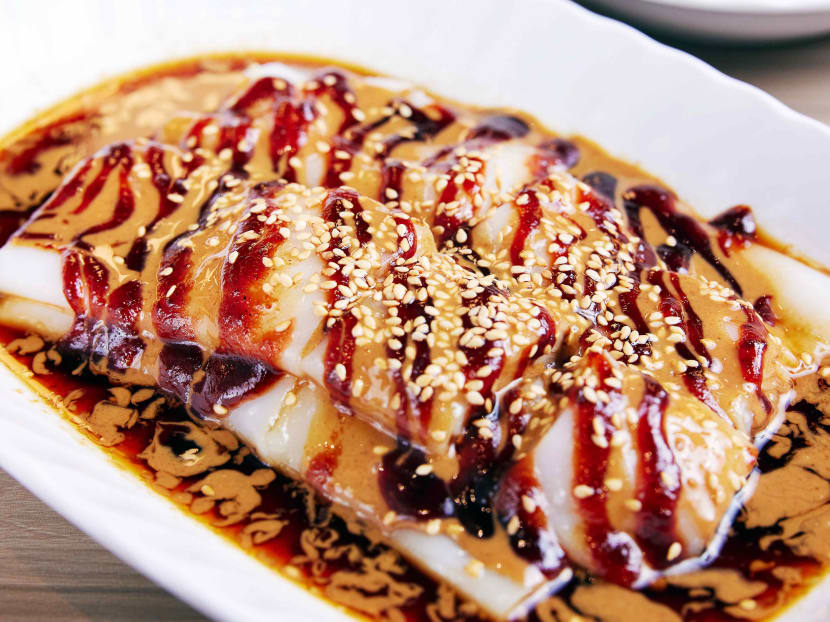 The cheong fun here is slightly thicker than what you'll usually get at dim sum restaurants, and we find its denser texture a good canvas for the bold flavours of this sauce-laden dish. A blend of peanut and sesame sauce, hoisin sauce and sweet sauce mingle to add an aromatic nuttiness to the plain rice rolls that's further enhanced by a generous sprinkling of sesame seeds – kind of like a yummy, elevated version of our local, sweet-sauce-spiked rice rolls.
Again, the thicker texture works in its favour here as the silky smooth and QQ cheong fun holds its own when wrapped around you tiao – deep-fried after your order is placed to ensure crispness – that is soft and chewy on the inside. Though considered a staple in many dim sum joints in Hong Kong, this unassuming item is harder to find here and we thoroughly enjoyed sinking our teeth into the addictively crunchy dish.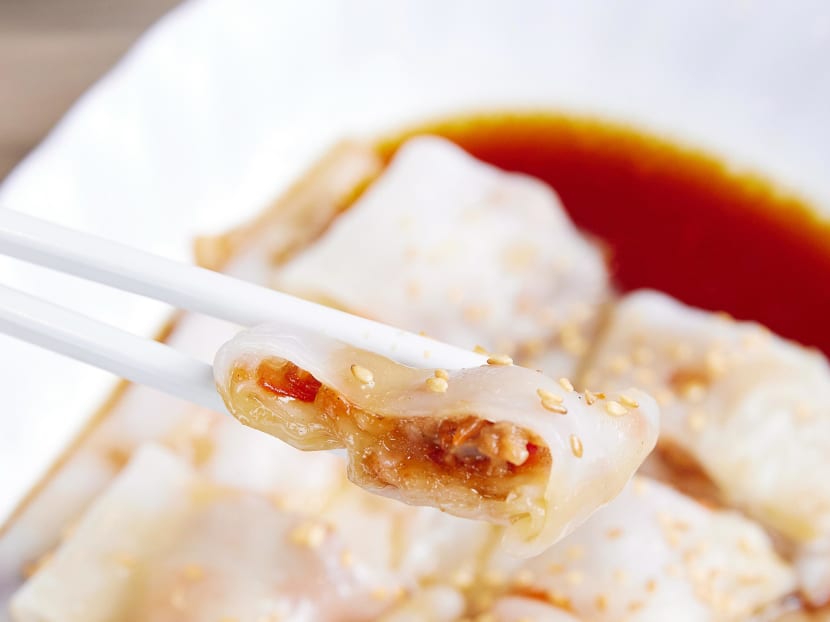 The highlight here is the housemade char siew – it's less fatty and more fragrant than the typical barbecued pork filling you find in other rice rolls. Make sure to try this with the beautifully robust house-made chilli, which is mildly spicy and heavily spiked with savoury, heady hae bee hiam. Delish.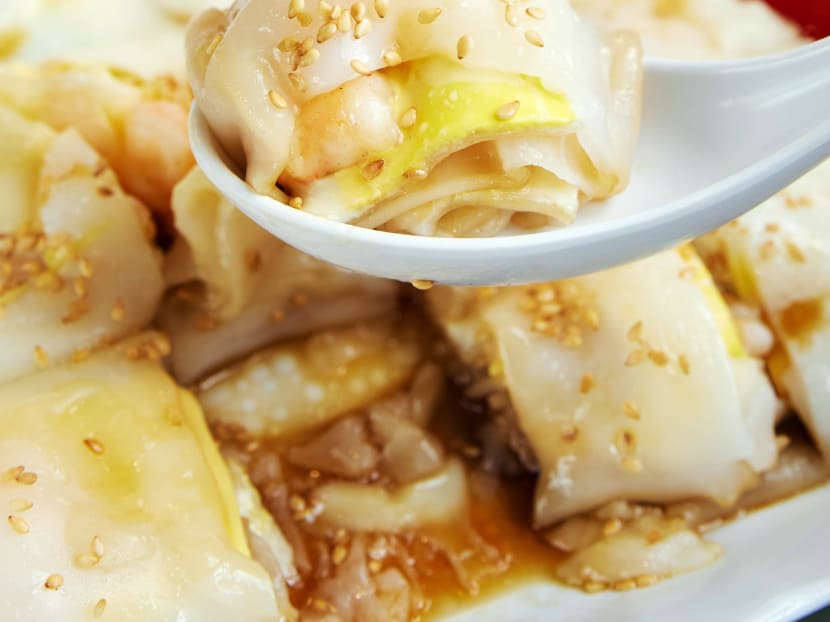 A little pricey, considering chef Oh uses diced (and not whole) prawn for this dish. However, the prawn is springy and has a lovely sweetness, which pairs well with the soy-and-sesame dressing. The addition of egg did not contribute much to the dish in terms of texture or taste – we'd happily stick to having the cheong fun on its own the next time.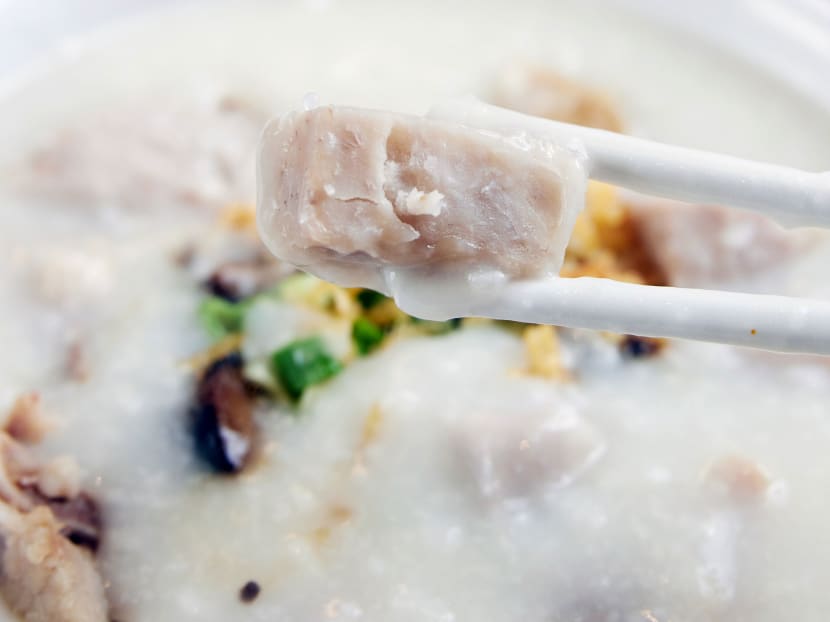 Velvety but not quite thick enough (we can't taste the soy milk), this is nonetheless a comforting bowl of congee that comes with the old-school Cantonese pairing of yam and pork ribs. The steamed yam is creamy, and pork ribs are tender with meat falling off the bone – very tasty and satisfying.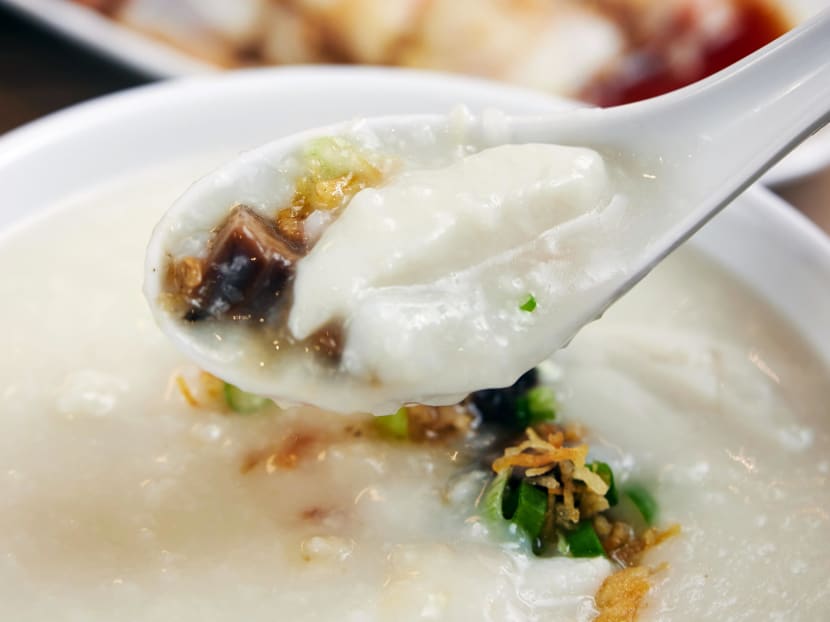 Apart from the addition of finely sliced ginger, flavours are kept simple so you can taste the fresh, delicate sweetness of the fish dumplings. A good palate-cleanser for days when you just want a lighter meal.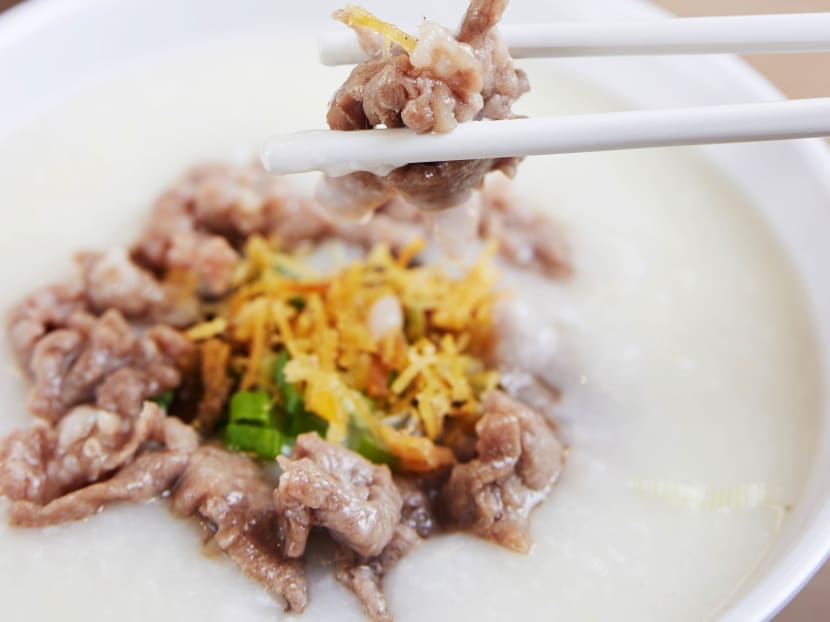 For something more robust, go for the Black Iberico Pork Congee that comes with succulent swatches of soy-marinated pork. The richer than usual fatty meat adds a dose of heartiness that will satisfy most pork porridge fans.
While the cheong fun texture here is not as delicate as most restaurant-quality (and even those from a couple of new hawker stalls also helmed by ex-restaurant chefs) rice rolls, the medium-thick, chewy mouthfeel works well with the yummy you tiao filling and triple sauce pairing. The congees are good picks for a light meal, as they're not as thick and creamy as your typical Cantonese jook — go for the comforting yam and pork rib combo.
King of HK Rice Roll is at Stall 12, Kopitiam Food Court, #04-27/28/29 Tampines Mall, S529510. Open daily 10am-9.30pm. Facebook Instagram
All photos cannot be reproduced without permission from 8days.sg

Photos: Kelvin Chia