Crystal Jade Exec Chef Opens Wanton Mee Hawker Stall After 18 Years With Restaurant Group
His Hong Kong-style wanton mee in Yishun is priced from $5.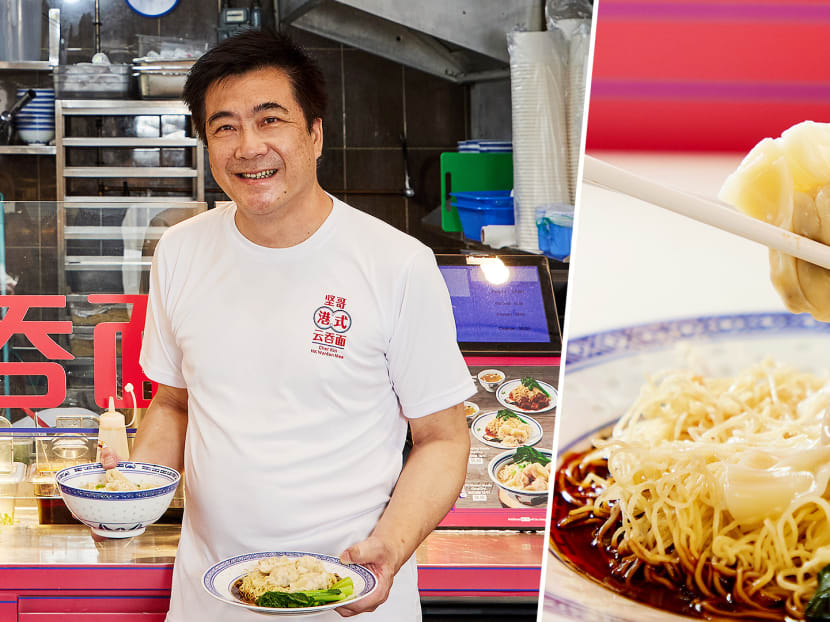 Pedigreed chefs leaving high-flying roles in restaurants to open their own hawker joints seems to be a gift that keeps on giving. Joining the hawker scene is 57-year-old Chan Wing Kin, who spent some eighteen years as an executive chef with Crystal Jade Culinary Concept Holdings planning menus, creating new dishes and managing restaurant operations like staff training.
His stall Chef Kin HK Wanton Noodle opened on September 9 within a breezy though unremarkable kopitiam in the heart of Yishun. You can't miss it — the storefront is boldly emblazoned with red and blue alongside a massive poster of the chef holding his signature dish: Hong Kong-style wanton mee, also served with either shui jiao or beef brisket.

Other notable ex-chefs from Crystal Jade who set up hawker stalls include the late Master Tang Siu Nam, who left the group to open a wanton mee joint in Sixth Avenue. Another ex-Crystal Jade chef-turned-hawker is Li Huaizhi of Supreme Ramen Xiao Long Bao at Holland Drive.

8days.sg speaks to Wing Kin with the help of an interpreter — this Hokkien writer doesn't know a lick of Cantonese, which the Hong-Kong born chef is more comfortable with — on where he plans to take Chef Kin HK Wanton Noodle after selling over 700 bowls on opening day.
All photos cannot be reproduced without permission from 8days.sg
The Hong Konger began his career aged 18 at various Hong Kong restaurants before coming over to the Grand Copthorne Waterfront Hotel in Singapore as a Chinese banquet chef in 1990. After two years, he left and opened his own zi char shop in Clementi for five years before closing shop and joining Crystal Jade Culinary Concept Holdings as an executive chef.
Wing Kin, who was in charge of Crystal Jade Kitchen restaurants (now rebranded as Crystal Jade Hong Kong Kitchen), spent most of his time either at HQ researching new dishes to keep the brand's offerings fresh, or shuffling from kitchen to kitchen overseeing staff training and managing costing operations. That's where he stayed for the next eighteen years before leaving in 2015 after the business was purchased by LVMH's private equity arm, L Capital Asia. He joined a Chinese restaurant group (the name of which he declines to reveal) in a kitchen consulting capacity until the contract ended in May this year. He later took the chance to open Chef Kin HK Wanton Noodle in a kopitiam in the heartlands.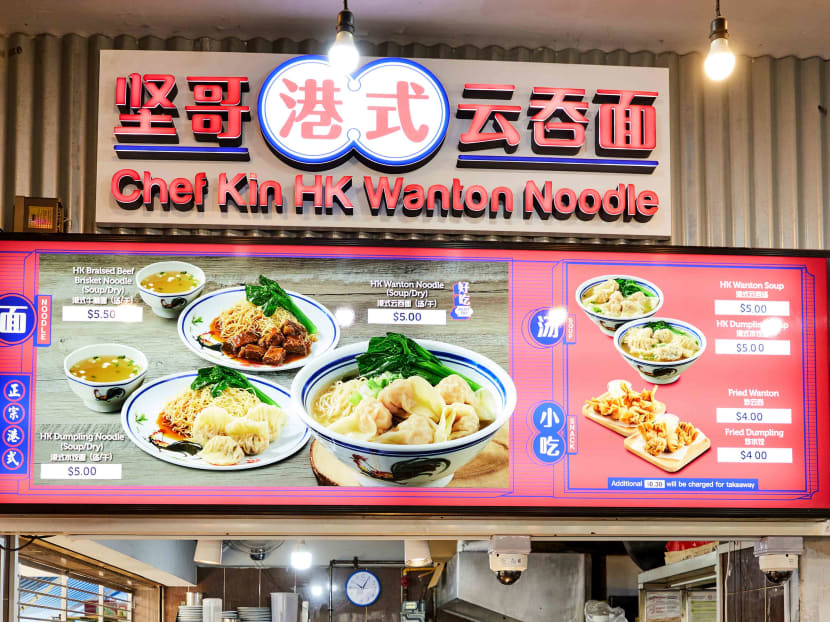 "You can find wanton mee in any corner of Singapore, but to find Hong Kong-style wanton mee, you need to go to a restaurant," Wing Kin, who's the sole owner of the hawker stall, tells us. "I want to bring it to the neighbourhood, so that it's more accessible for people to try it. I want to pass down the traditional taste of the dish."
Last we checked with a Crystal Jade Hong Kong Kitchen branch at Woodlands, a plate of Shrimp Wanton Noodle costs $10.30. Prices for a bowl of noodles at Wing Kin's stall start from $5, and sides from $4.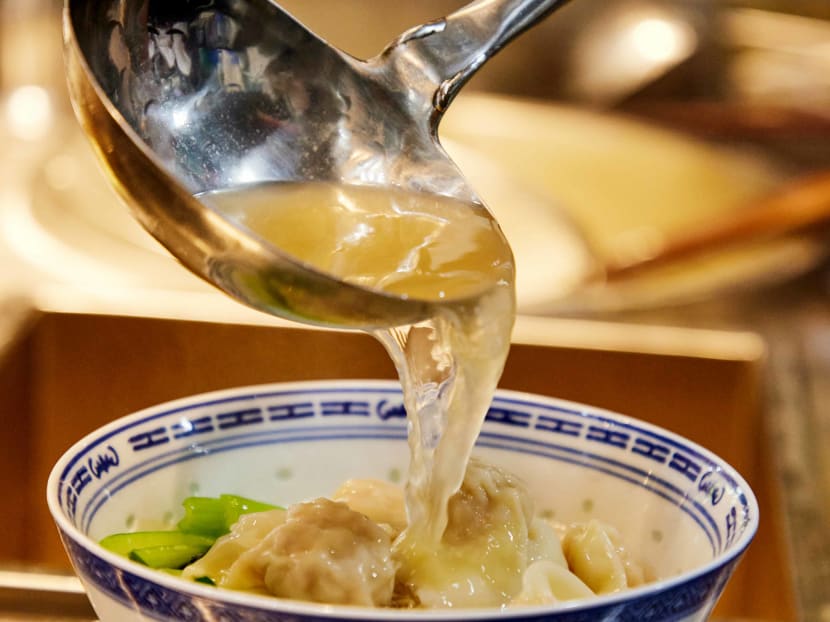 The techniques and recipes, he tells us, are pretty much what you'd get in Crystal Jade. It's only with ingredients that he's made some concessions to keep things as affordable as he can. The starting price of $5 a bowl might seem a tad pricey for the area, but it's value-for-money considering the hours and effort behind each item on the menu.
The soup stock, which comprises old hen, pork, Jinhua ham and dried flounder, is boiled for at least eight hours to extract the umami-rich essence from the ingredients. He imports key ingredients from Hong Kong, including high-grade oyster sauce and duck-egg noodles "for its texture", while he stuffs fresh sea prawns and minced Kurobuta pork into both his house-wrapped wanton and shui jiao. The beef brisket is also stewed for a minimum of two hours in garlic, ginger and imported oyster sauce (along with other secret ingredients).
He's willing to reveal certain touches that elevate a humble bowl of wanton noodles from good to great. For example, cooking the dumplings within the soup stock rather than water to impart them with the broth's savoury flavours. Another key point – getting a good ratio of prawn, to pork, to wrapper in dumplings or wanton, though he says: "Sorry, [the ratio] is a secret."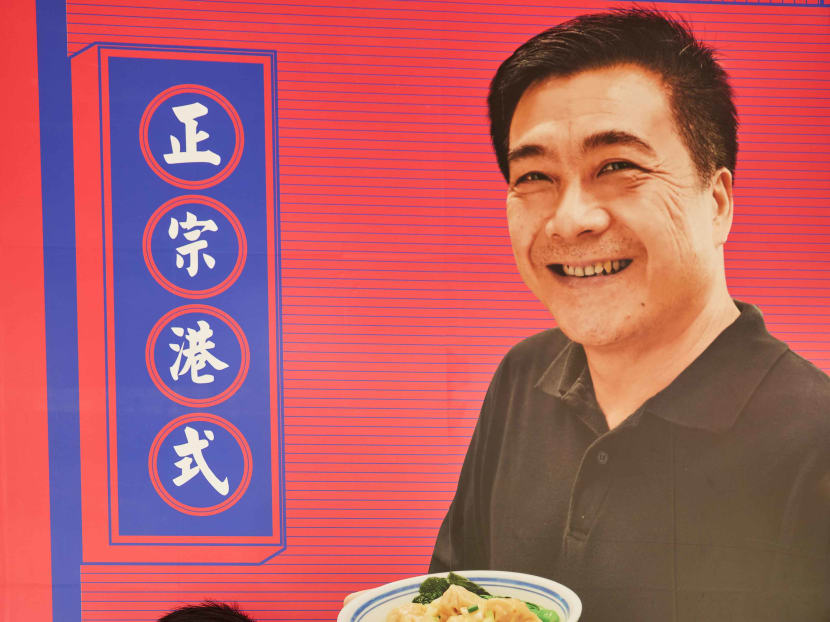 Hong Kongers usually enjoy wanton mee in soup form, which is why the chef is seen cupping a bowl of soup noodles on his stall's poster. "But Singaporeans always ask for dry," Wing Kin adds with a twinkle in his eye.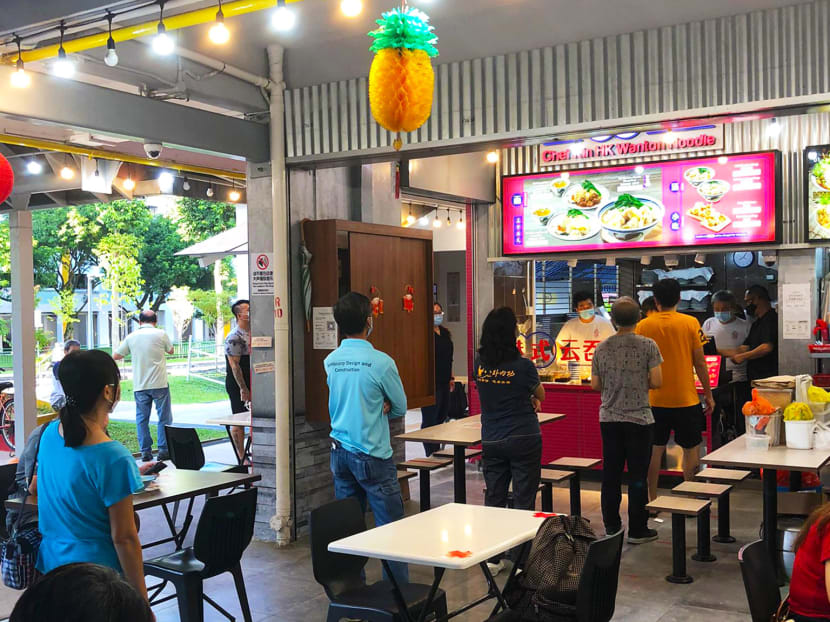 We ask if the chef has any apprehension about striking out on his own in today's volatile climate, which has given even the most steadfast of F&B brands cause for concern. "Absolutely not," he states assuredly. "I've got many years of experience [in both cooking and operations]. The Covid-19 situation won't last forever – even if it gets worse, people still need to eat. Our location is in the neighbourhood now, people are already getting my food to go, so I don't think business will be affected."
Of course, he has fair reason to be this confident: on opening day, Chef Kin HK Wanton Noodle attracted snaking queues up to 20-deep, selling more than 700 bowls by the end of the day. Now, he averages 600 bowls on weekdays and 700 on weekends. "My goal is to hit 1000 [in a day]. It's a personal goal I want to beat," he tells us.
Wing Kin hopes to use this stall to gauge demand for his food before expanding to other heartland locations "like Sengkang or Hougang". Retirement isn't on the cards for the chef, who still works from 6.30am to 8.30pm each day (though he plans to ease back once things are more stable, and his four staff members more confident). "I've still got twenty years to go," he says cheerily.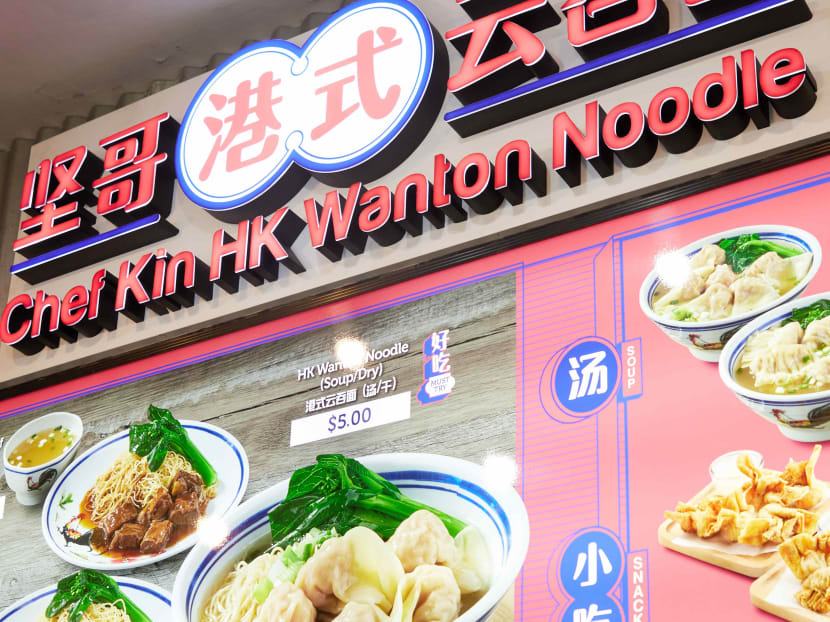 Chef Kin HK Wanton Noodle has just three dishes: HK Wanton Noodle, HK Dumpling Noodle, HK Braised Beef Brisket Noodle, soup or dry. The wanton and dumplings are also available on the side without noodles, or deep-fried as a snack.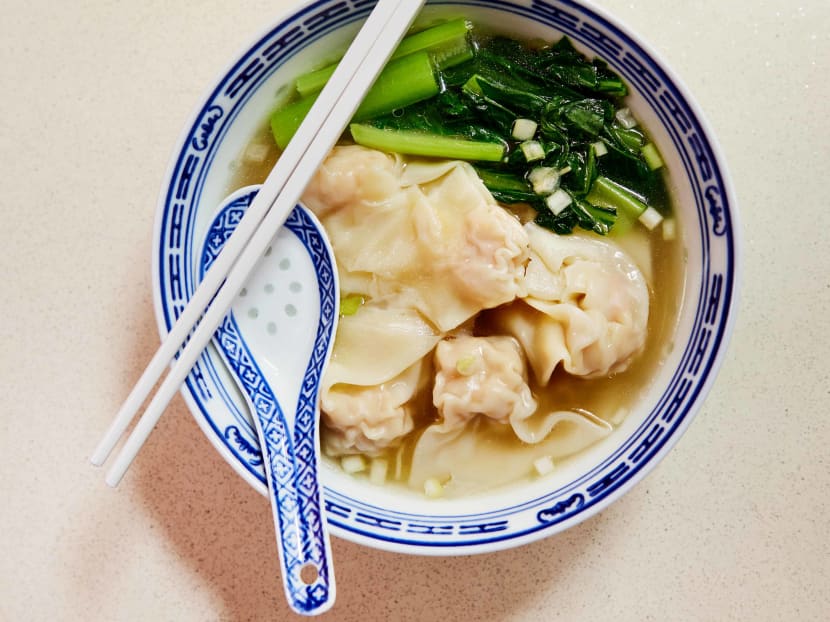 The classic version. Eminently springy egg noodles in a salty, slightly peppery, golden-hued broth – rather tasty at first, though the MSG-laden, alkaline-tinged soup gets to you after a while. The accompanying wantons are stuffed with sizable chunks of fresh, bouncy prawn, dried flounder and minced Kurobuta pork. Pricier than garden-variety pork, but with enough intramuscular fat for the chef to avoid adding any additional lard into the mix. Juicy, savoury and very yummy. We dig it.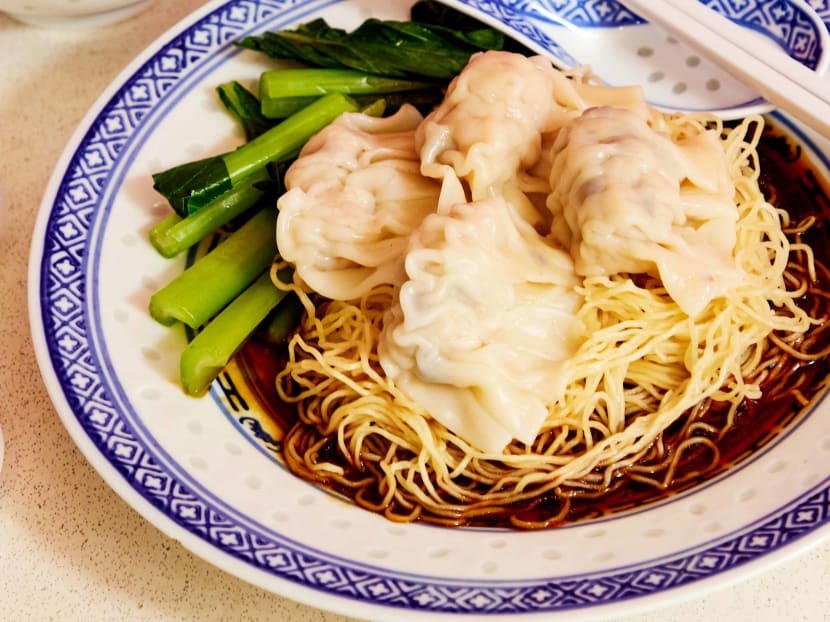 However, we dig their larger dumplings (shui jiao) even more. Apart from the obvious shape and size difference, Wing Kin packs bits of bamboo shoot and black fungus into the prettily-folded parcel. They add a subtle layer of textural crunch into every bite. The subtle notes of dried flounder shine through, but could be a little more robust. Nonetheless, pretty tasty.
The stall's dry noodles are served with a simple oyster sauce, soy sauce and lard oil blend that we find quite slurpable with the QQ eggy noodles. There's a chilli mix (imported HK chilli paste mixed with garlic and cooked over low heat for three hours) too, if you need some heat.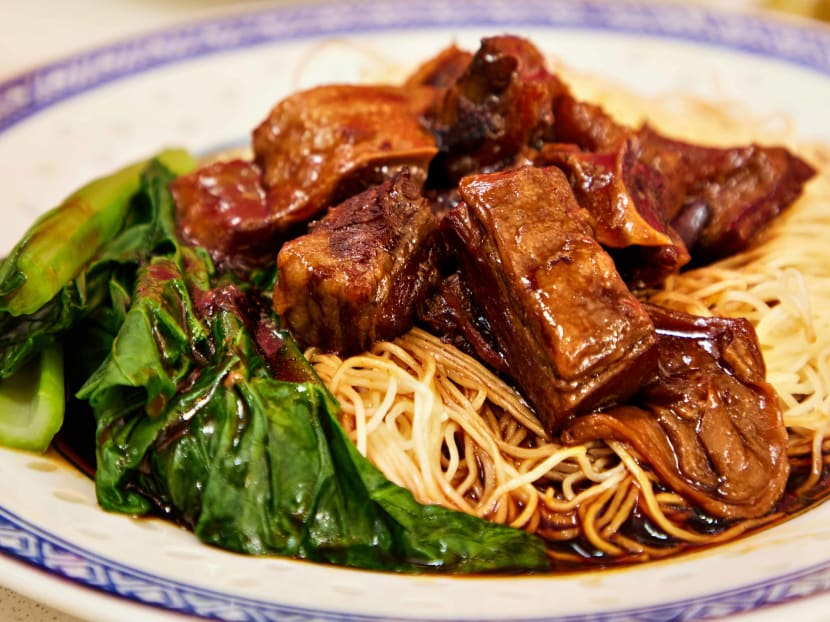 Our favourite offering here. The beef brisket is stewed for two hours in oyster sauce and other condiments imported from Hong Kong, along with ginger and garlic, until meltingly tender. The meat-to-fat ratio in our chunks of beef is around 60:40, which is plenty unctuous enough without getting into post-meal slump territory. Very yummy.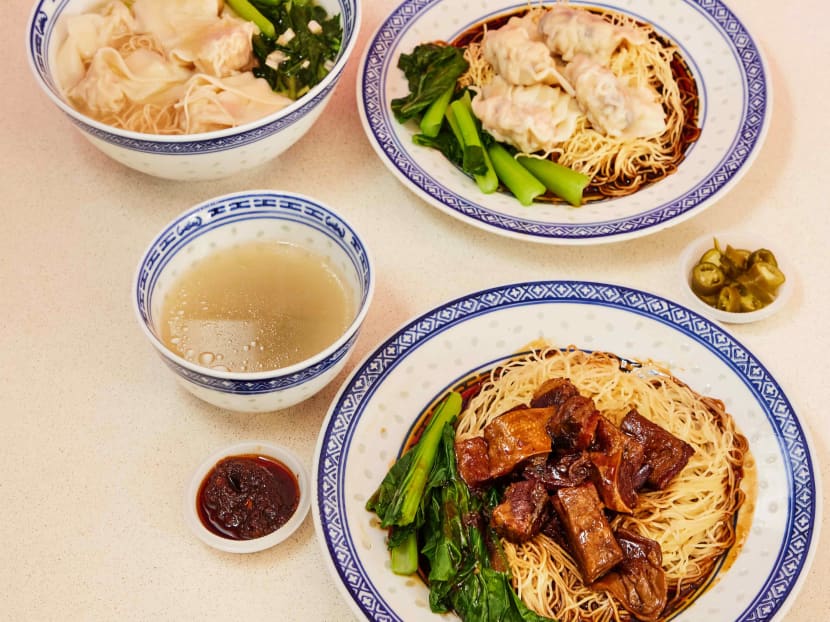 Chef Kin offers pretty darn tasty Hong Kong-style dumpling and beef brisket noodles. Understandably, as this is served at a hawker stall at lower price points, it isn't exactly as refined as Crystal Jade's version where the chef used to work — while the dumplings are almost as good, the noodles have a slightly stronger alkaline aftertaste and the soup a tad saltier — but it's still worth eating, especially at these affordable prices. If you're willing to schlep to Yishun and brave the constant queue, that is.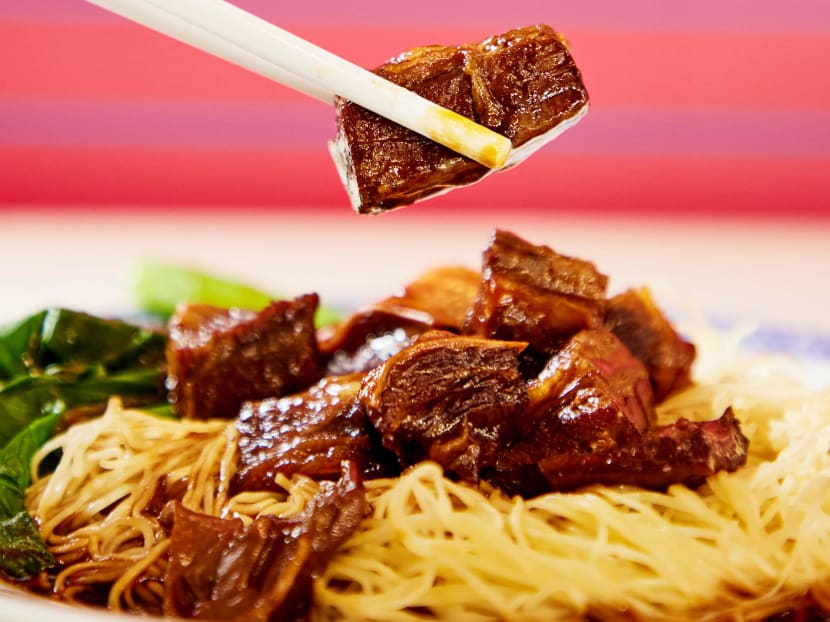 All photos cannot be reproduced without permission from 8days.sg
Photos: Aik Chen / Chef Kin HK Wanton Noodle