Engineer Turned Hawker Sells Hard-To-Find Halal Myanmar Food Like Creamy Tofu Noodles
He uses his self-taught culinary skills to introduce his native Myanmar food to Singaporeans.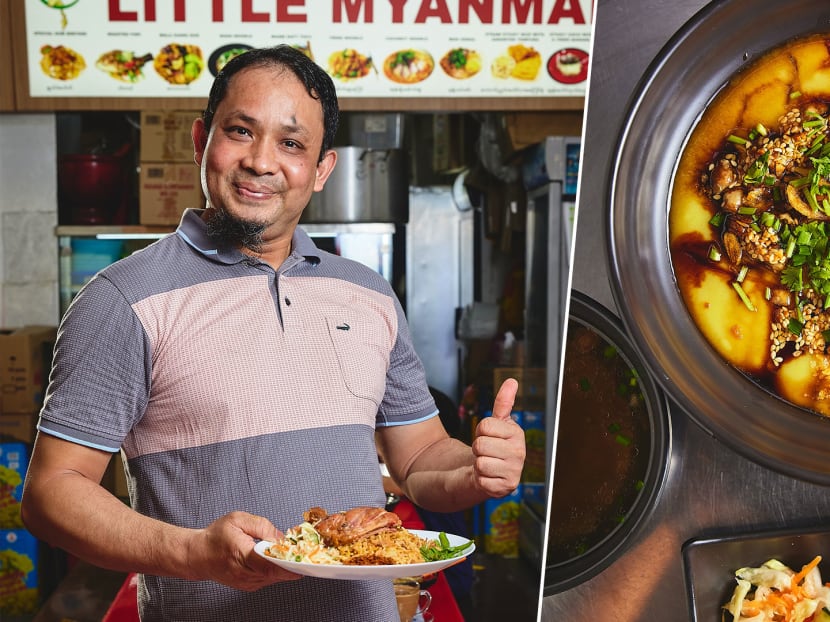 Looking at the spread of scrumptious dishes that Kyaw Kyaw Lin whips up, it's hard to believe that they all came out of his cramped Little Myanmar hawker stall in a Clementi kopitiam (which also houses a new Botak Jones outlet). Becoming a hawker was an unexpected career switch for the Mandalay native, who moved to Singapore 15 years ago to study engineering at Singapore Polytechnic.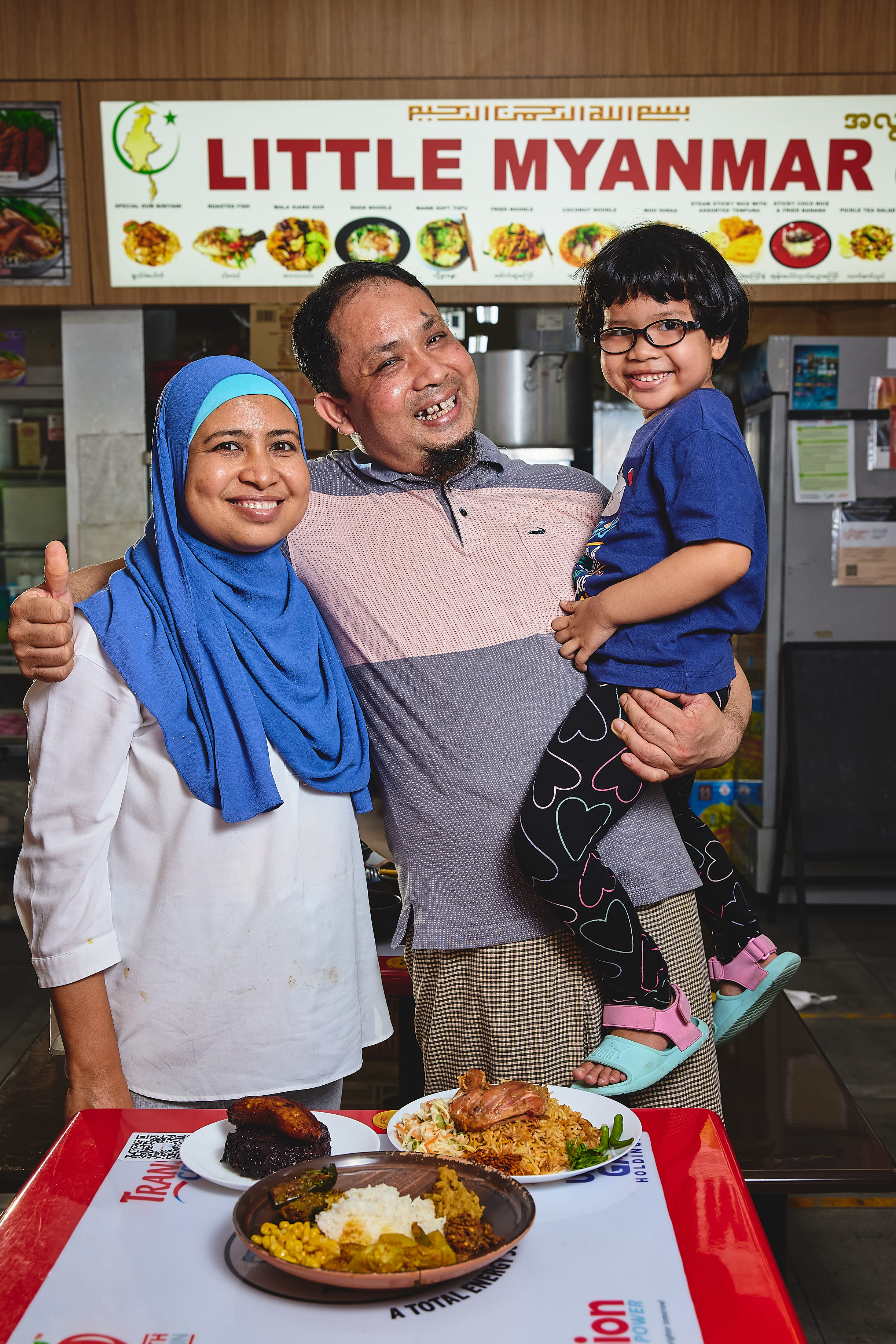 After graduating, Lin (as he's affectionately known) took up a job as a mechanical engineer. The father-of-four would go on to work in a "shipyard, pump company, air-con company and at Pulau Bukom" before he went into F&B. "For every child born, I change my career," jokes the jovial Lin. "But it's just a coincidence." His wife Winny Khin Maung (pictured with Lin and their daughter above), 42, currently still works as a civil engineer here.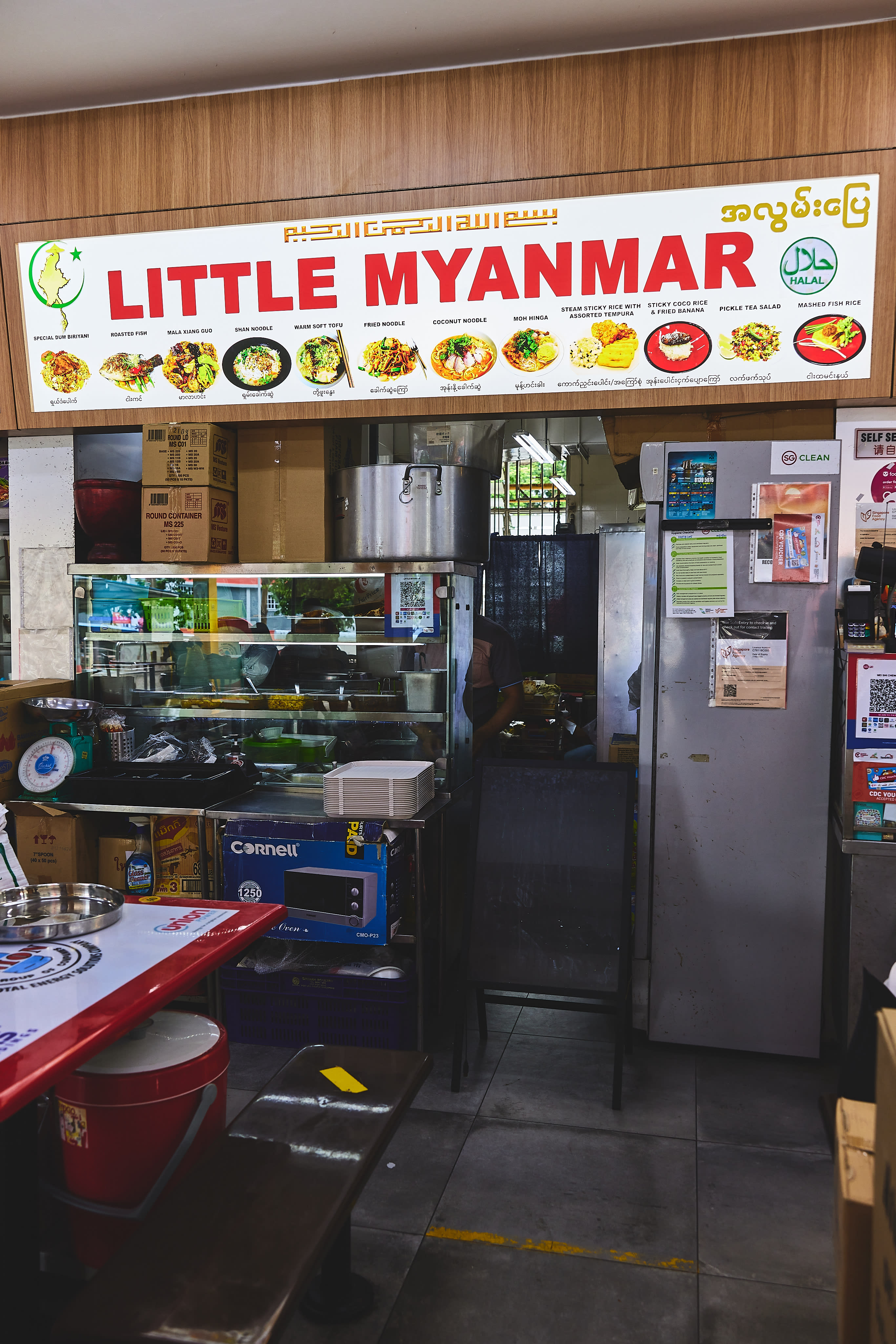 Lin initially opened a Myanmar eatery at Peninsula Plaza with a business partner, which fell through. In 2019, the Muslim-born decided to set up his own hawker stall to introduce his native halal Myanmar food. "Most people don't know what Myanmar food is. They say 'chilli chilli' 'cos they confuse it with Thai food. Halal Myanmar food in Singapore is very rare," says Lin. "You can see at the side of my signboard, I wrote [in Myanmar language] that my food relieves homesickness." During our visit, we also see a steady stream of Myanmar customers ordering food from Lin.

Other than not using pork and lard, Lin explains that his cuisine also has some British-Indian influences, which explains the presence of Indian-style dishes like biryani. "We were colonised by the British, and they brought a lot of Indian migrants with them," he shares. It was not hard for Lin to pivot to hawkering, as he was already used to cooking for large parties pre-Covid times. "During Hari Raya, I opened my house to as many as 50 to 100 people!" he laughs.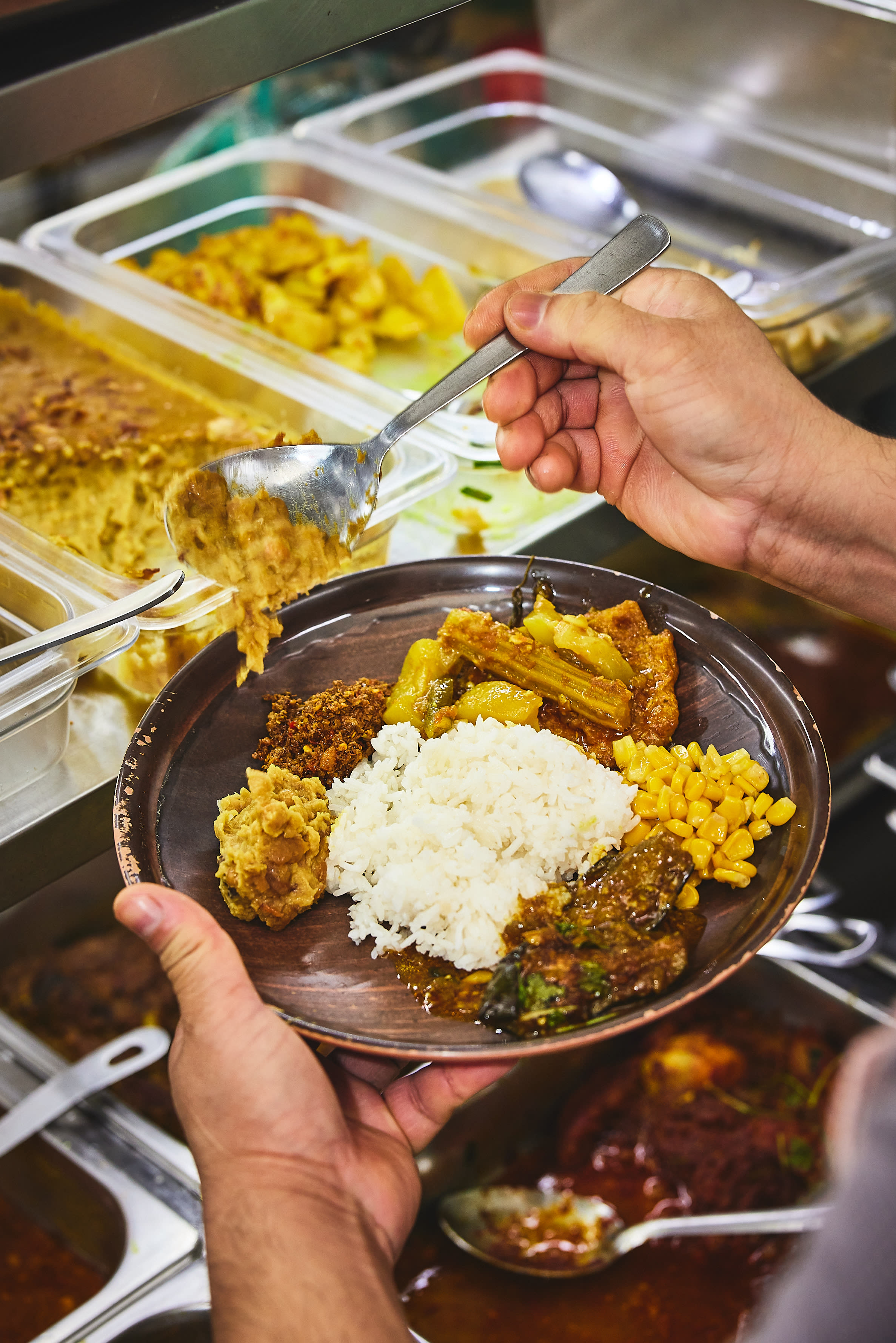 Other than classic Myanmar fare like Mohinga (a rice noodle and fish broth dish that's widely considered to be the country's national dish), Lin also offers Tofu Nway, a Shan State speciality with noodles in warm, creamy chickpea tofu and Lahpet Thoke, a light salad tossed with fermented tea leaves. Another unique dish is Nga Ka-i, Kachin-style grilled fish with herbs which you have to order from Lin at least a day in advance ($15 to $20 for a 900g to 1kg fish). There's also Myanmar 'cai png', where you can choose from Lin's repertoire of rotating dishes that includes spicy eggplants and curried lady's fingers.

While kopitiam food stalls are usually not allowed to sell their own beverages to avoid competition with the main drinks stall, Lin got special permission from his coffee shop's proprietor to serve Lah Phat Yay, milk tea that's brewed with Myanmar black tea leaves. Also on his menu: the popular dessert drink Faluda, which comes with vanilla ice cream, rose syrup and basil seeds.

Also known as Tofu Nway (Lin's dish names are simplified on his menu to cater to non-Myanmar customers), this nutritious noodle dish is great for a cold rainy day. The smooth turmeric-spiked 'tofu' is made with chickpeas, ladled over springy blanched rice noodles and topped with fried peanuts, garlic, sesame seeds and a drizzle of soy sauce and sweet palm sugar sauce. Lin serves it with a side of chilli flakes (mix it with the noodles for extra oomph) and pickled vegetables. Comforting and flavourful, plus its creamy texture makes it moreish, unlike jelak dairy-based sauces.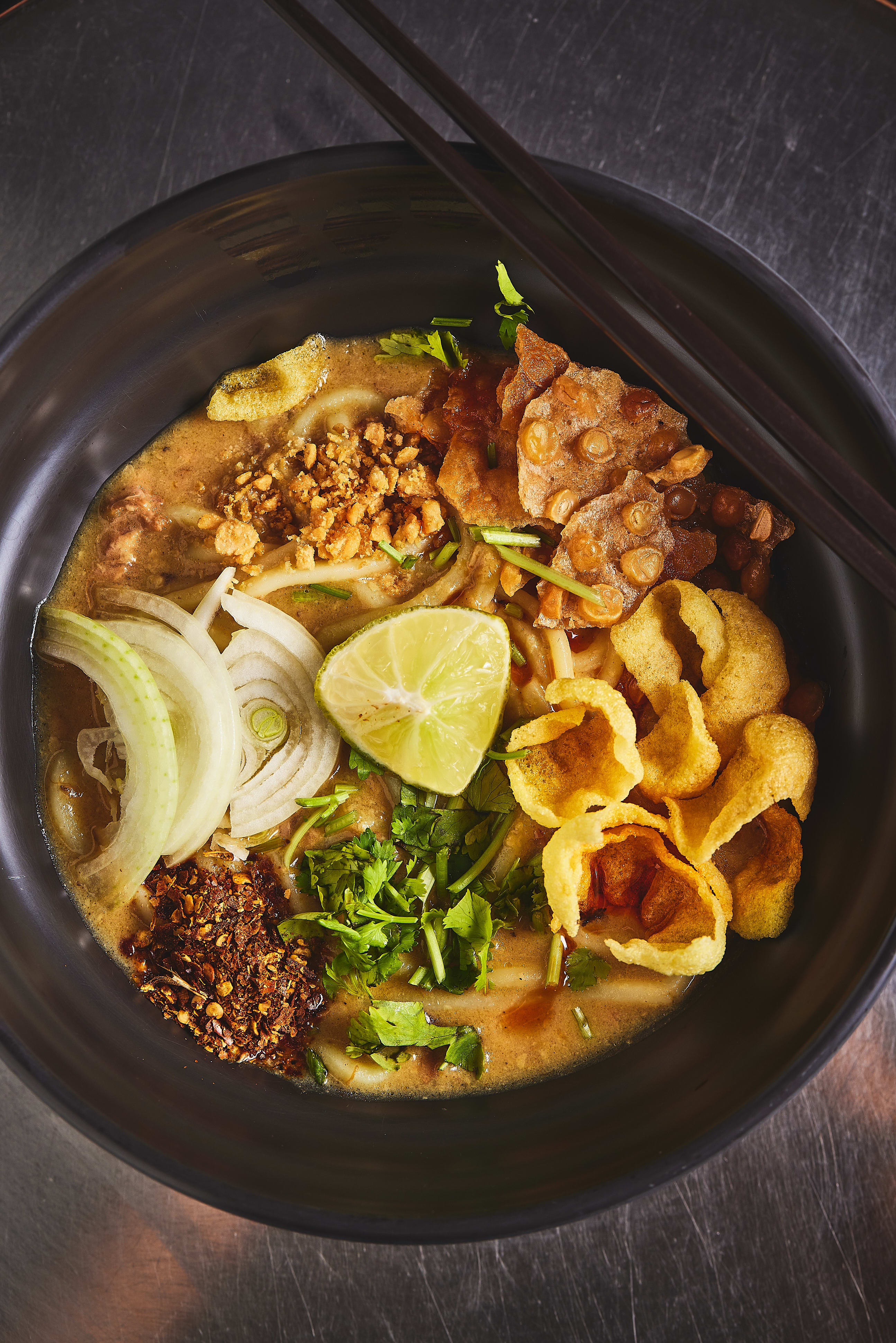 Called Ohn No Khauk Swe in Myanmar, this bowl has a velvety bean flour-thickened, coconutty turmeric chicken broth drenching thick chewy noodles known as san see (Lin jokingly calls it 'Myanmar laksa'). The rich gravy is topped with a melange of ingredients like crispy split chickpea crackers, onions, crushed peanuts, chilli flakes and a wedge of lime to balance the richness.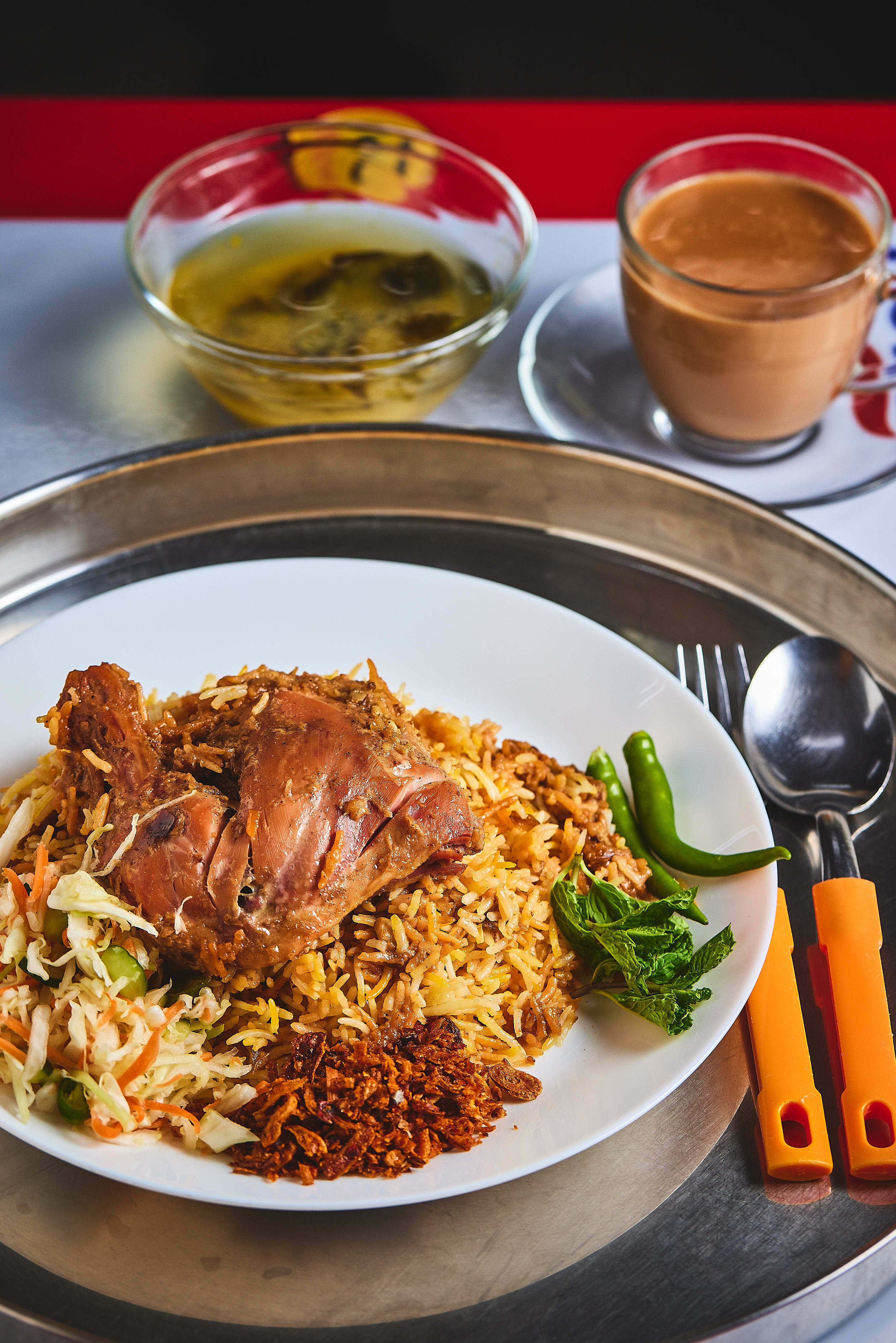 Unlike the biryani you get at prata shops, this Myanmar version comes with palate-cleansing shredded veggies, raw green chillies and fried shallots. The tender chicken is marinated with yogurt and spices, and cooked with loose basmati grains for extra flavour.
This is an acquired taste for those who are new to Myanmar food; the earthy notes of the fermented tea leaves hits you good and strong, tossed with a medley of savoury dried shrimps, raw garlic and green chillies, peanuts, shredded cabbages, and fish sauce with a tangy squeeze of lime.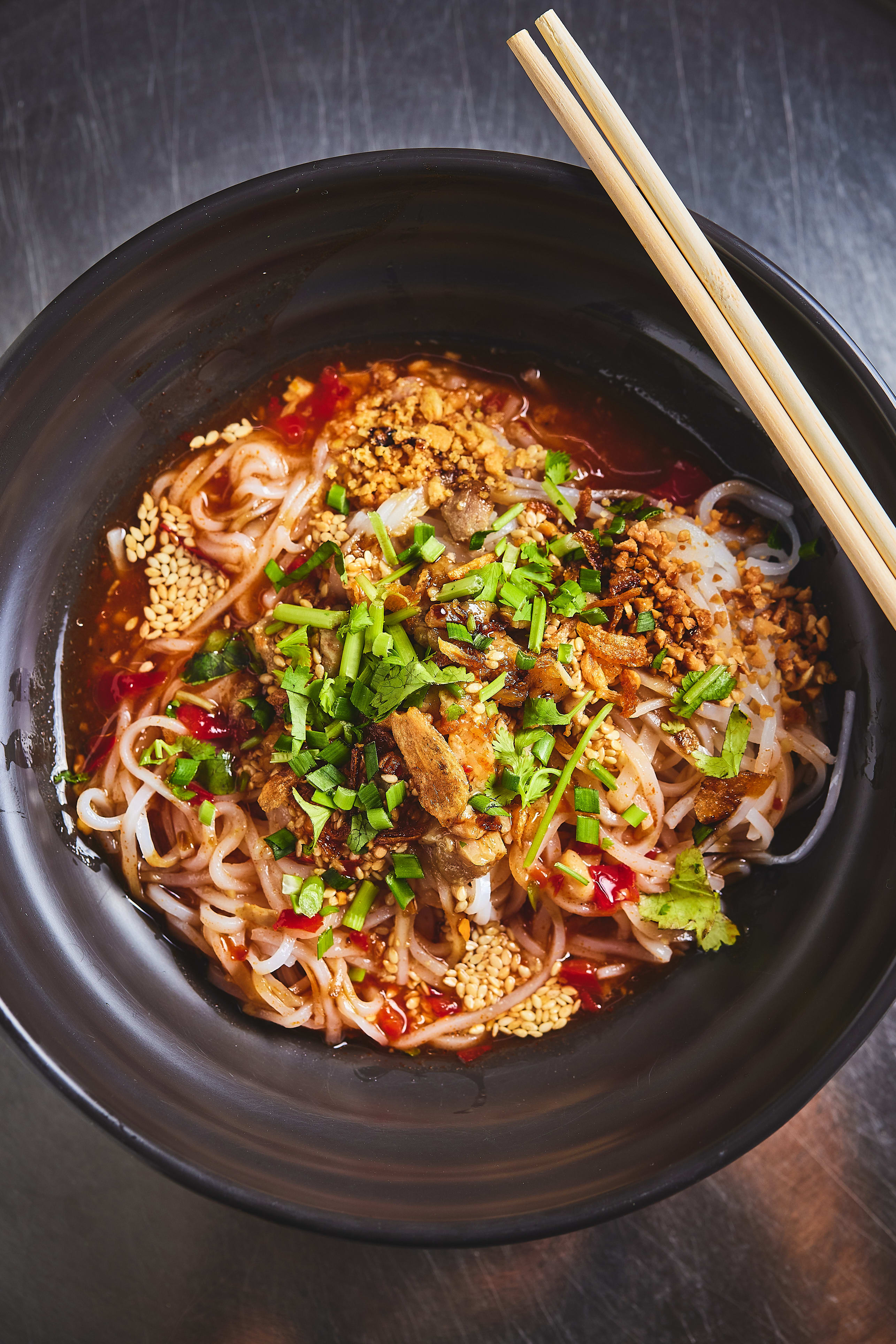 Commonly found in Mandalay and the Shan State, this noodle dish has a refreshing chicken tomato broth base with thin, springy rice noodles that are topped with pickled mustard greens, fried shallots, coriander and chopped chillies. It's lighter and more piquant compared to the creamy tofu noodles, so order this if you are feeling peckish.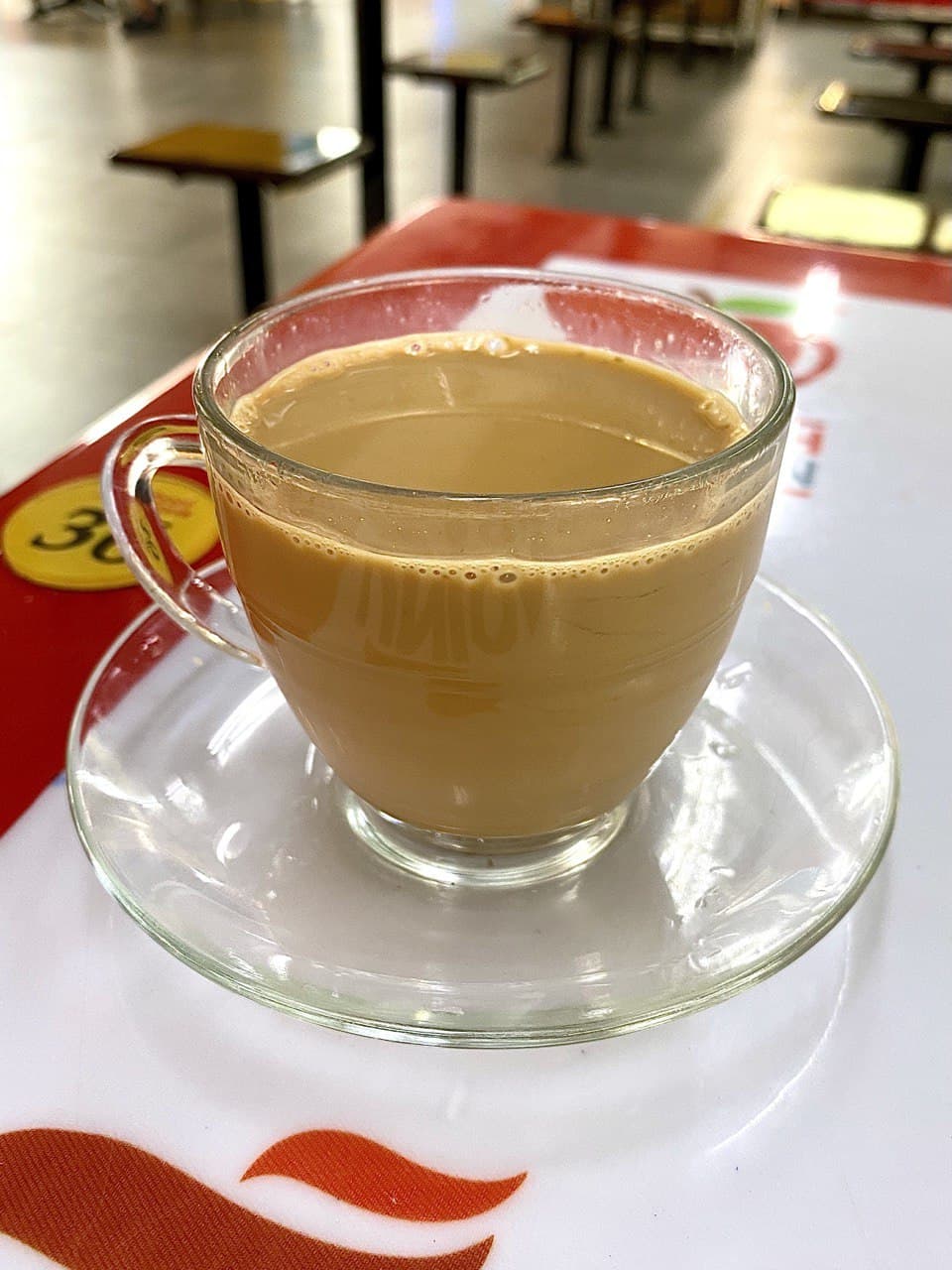 Milk is usually added to brewed tea to make milk tea, but Lin says the Myanmar way of making the drink is to boil the milk together with mildly smoky black tea leaves. This results in a madly fragrant, concentrated cuppa that we can't get enough of (it's also on the sweeter side with its mix of evaporated and condensed milk).

Faluda has its roots in Indian and Persian cuisines, and found its way to Myanmar via colonisation. At Lin's stall, it's a delightful treat served with a generous pool of rose syrup, milk, crunchy basil seeds, firm grass jelly and ice cream.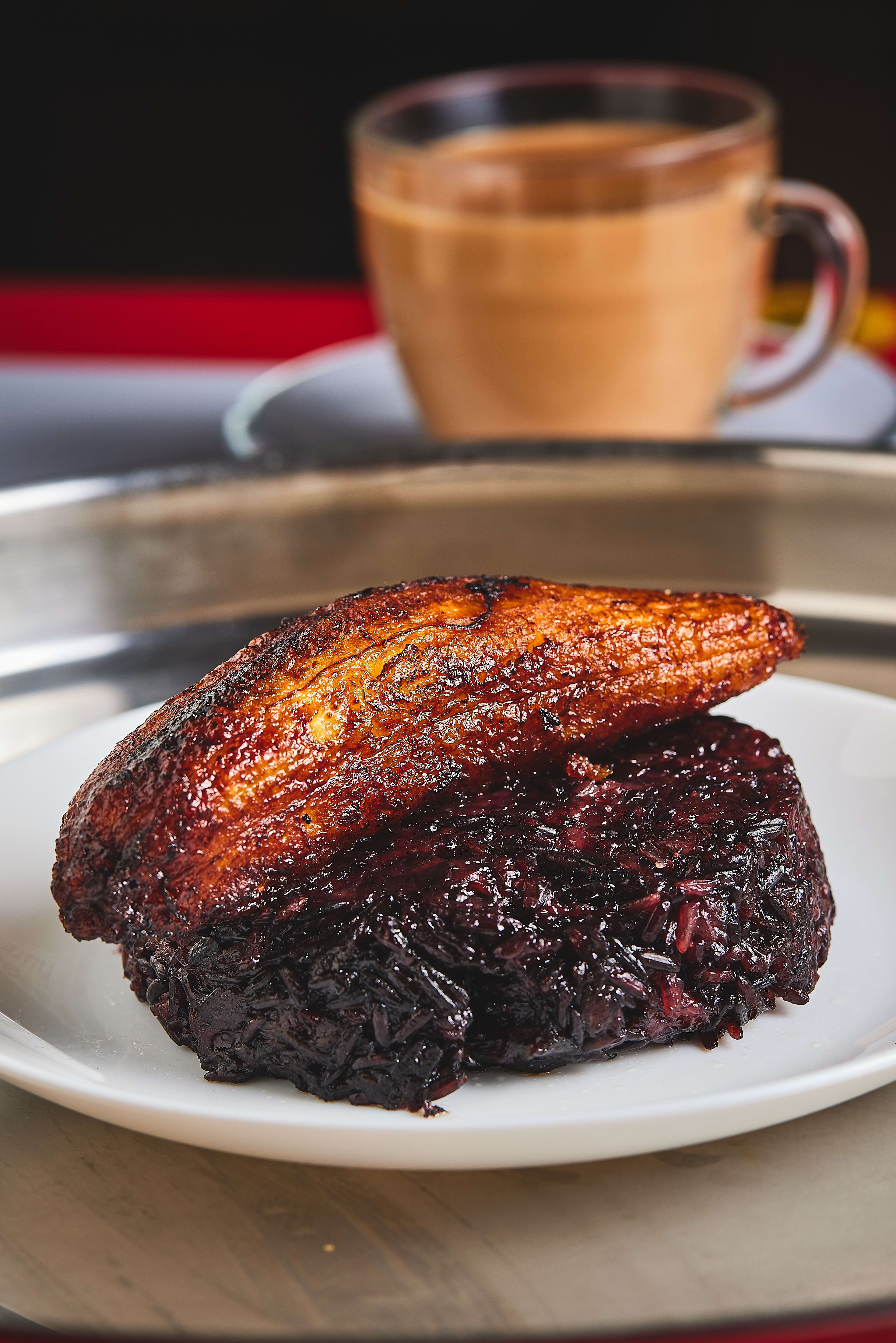 A fried caramelised banana crowns a mound of sticky glutinous rice cooked with brown sugar and coconut milk. Very yummy. Enjoy this while you're at the stall — 'cos it's time-consuming to make, this dessert is pretty hard to find.

#01-220, Blk 328, Clementi Ave 2, S120328. Open daily except Mon, 9am-8.30pm.