Ex-Antoinette Baker Sells Fab Sea Salt Croissant & Euro-Style Swiss Rolls At New Kiosk Swish Rolls
The current head chef at Indonesian kueh shop Ollella partners her boss to launch a Western takeaway concept.
A good croissant is hard to turn down — there's just something about the buttery, flaky French pastry that appeals to people from all walks of life. And making them is chef Lee Wei Jing's passion. The 27-year-old is currently the head chef at Indonesian artisanal kueh shop Ollella, which is launching an offshoot concept called Swish Rolls. The new takeaway kiosk at Cluny Court specialises in European and American-style Swiss rolls, as well as croissants in a variety of flavours. It's slated to open circa October 18, as it is still pending government approval.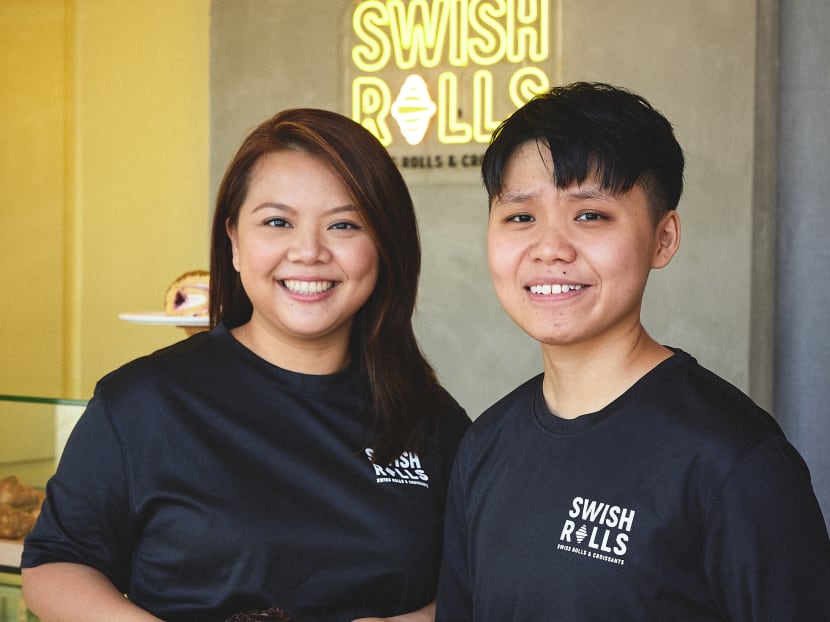 Prior to working at Ollella, Wei Jing (right in pic) spent three years at defunct French patisserie chain Antoinette as a baker, where she made pastries and dough for baguettes. These days, she mainly churns out kuehs and cooks savoury dishes like nasi lemak at her current job. But her boss, Ollella founder Marcella Tanuwijaya (left in pic), 35, noticed her talent in baking "really good" croissants. "I asked her what she really wanted to do, and she said croissants," Marcella shares with 8days.sg.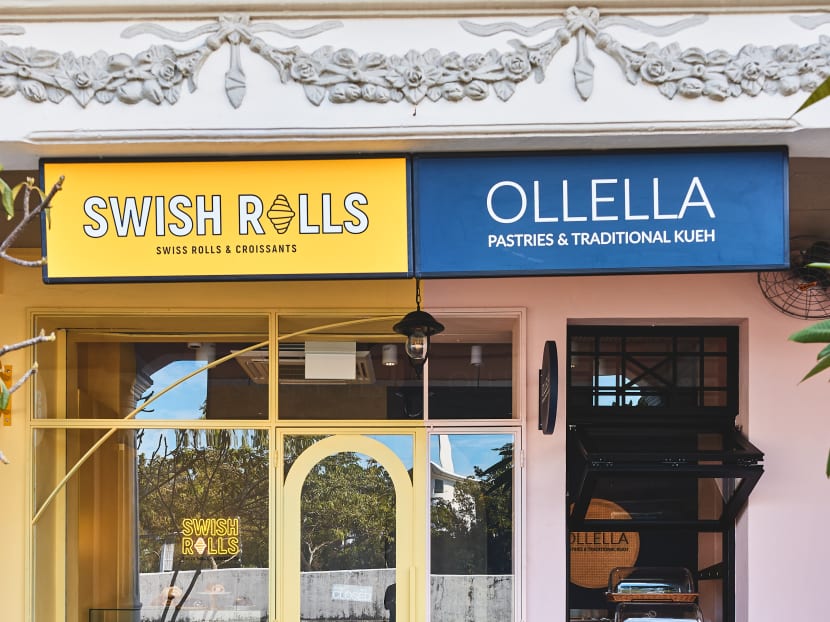 The duo decided to team up to open Swish Rolls, for which Wei Jing is also the co-owner. They settled on selling Swiss rolls and croissants due to its popularity in Singapore. But instead of the dainty, airy Japanese-style roll cakes that are all the rage here, Marcella and Wei Jing offer upsized Western-style Swiss rolls that are denser than its Japanese counterpart.
"We realised that there was a lack of European-American Swiss rolls here," says Marcella. "We spoke to expats [around our shop in Bukit Timah] and they said they couldn't find Swiss rolls like the ones they have back home." She playfully named her concept Swish Rolls, as "some people pronounce Swiss rolls that way".

Her kiosk (there are four al-fresco seats if you want to savour your bakes on the spot) is located next to the Botanic Gardens' Bukit Timah gate. The unit is split; Swish Rolls takes up half of it, while Ollella occupies the other half as a hole-in-the-wall selling its signature takeaway kuehs like kueh dadar and yam cake out of a large window.
There are five main Swiss roll flavours available: Fudgy Brownies, Blackforest, Strawberry Pistachio, Lemon Meringue and Caramel Biscoff. "We will also have seasonal flavours," says Marcella. Each slice costs a flat $5.20 (or $15 for a whole roll), and you can also tapow the rolls in boxes of two, three or five slices.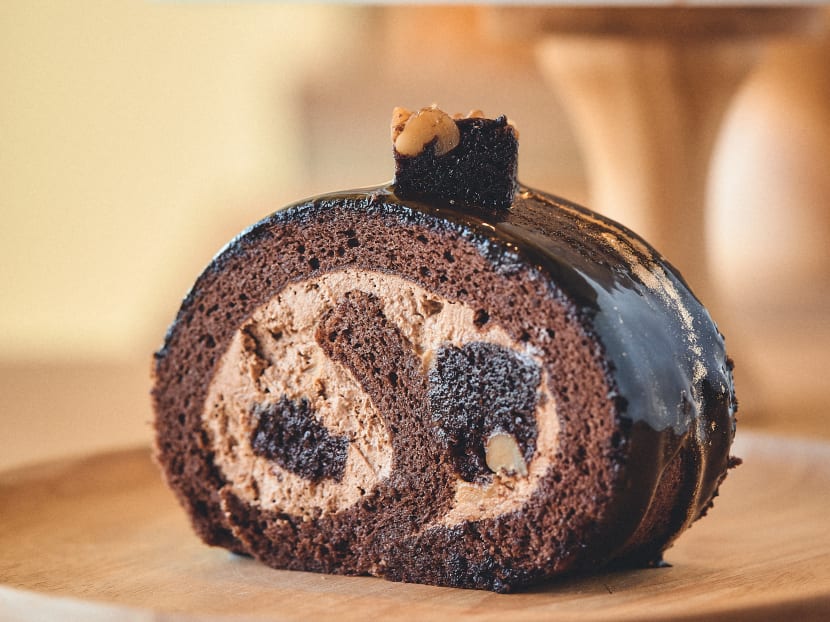 For $5.20, you get a thick, sumptuous slice of choc Swiss roll with rich Valrhona dark choc ganache, the namesake fudgy brownie chunks and walnuts all rolled up in a choc sponge coat. The texture is much denser than delicate Japanese rolls, and we find ourselves sated after just a slice.
Also good: this lighter Strawberry Pistachio number, which has vanilla sponge stuffed with fresh cream, tangy strawberry purée and freeze-dried strawberries crowned with a layer of crunchy diced pistachios.
While we usually see this flavour combination for tarts, Swish Rolls offers it in a Swiss roll with lemon curd, fresh cream, lime zest meringue and drier vanilla sponge. Not bad if you like lemon-flavoured desserts, but we find that the pairing tastier as a tart than a roll cake.
The same vanilla sponge is used to wrap fresh cream and sea salt caramel, with a sprinkling of spice-scented biscoff crumbs. Lovely with a cup of coffee.
The croissants at Swish Rolls are baked fresh on-site throughout the day. There are four types here, including the plain Sea Salt Butter ($1.80), Chocolate Ganache ($3.50), Ham & Cheese ($3.50) and Almond Frangipane ($3.50).

Customers can also buy five-piece bags of Sea Salt Butter croissants ($8) or Premium Mix ($16) with the other three flavours. For Swish Rolls' opening, there's also a preorder-only Swish Launch Box ($32) where you can get five assorted croissants and five Swiss roll slices (pick-up and delivery from Oct 18).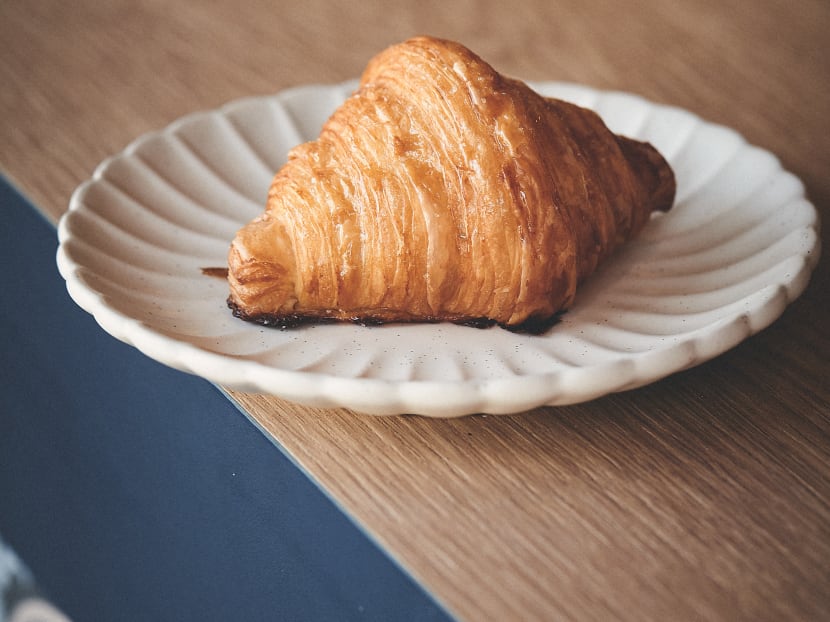 It's a good sign when our favourite pick for the croissant selection is this unadorned, original flavour, which is simply glazed with sugar syrup and a sprinkle of sea salt. French butter is used for our fresh-out-of-the-oven, madly buttery croissant, which boasts a delicate, crisp sweet-savoury shell and soft body that remains tasty after a quick stint in the oven the next day.
Despite its petite size, this craggy ham & cheese croissant is stuffed with a generous amount of mozzarella, cheddar and turkey ham drenched in a rich, house-made gruyère béchamel sauce, plus more cheddar on top. Gourmet and delish.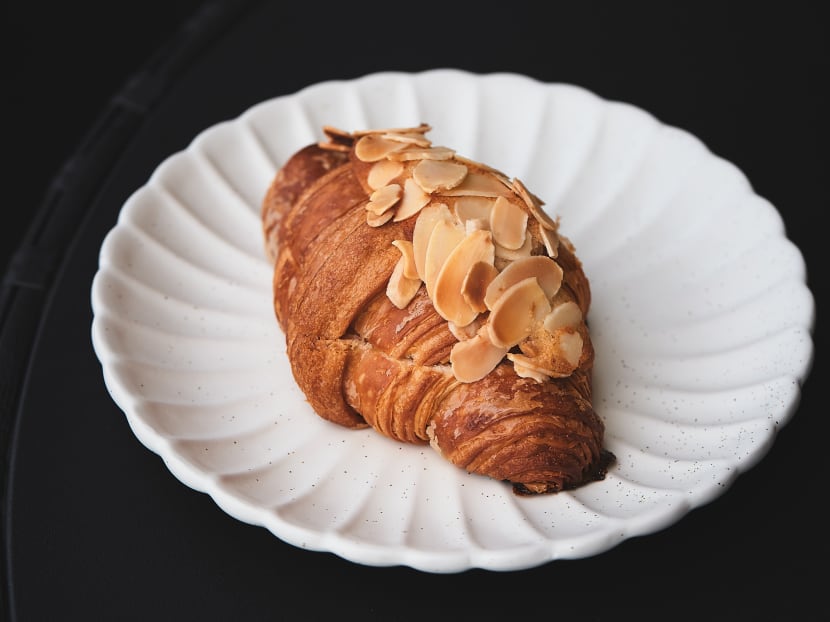 If you like your pastries dense, go for the Almond Frangipane croissant, which comes with a sweet, custard-like almond paste that's made with ground almonds, sugar, butter and eggs. Its richness means we can't savour the fabulous crispiness of the croissant as much, but it's still an enjoyable treat on its own.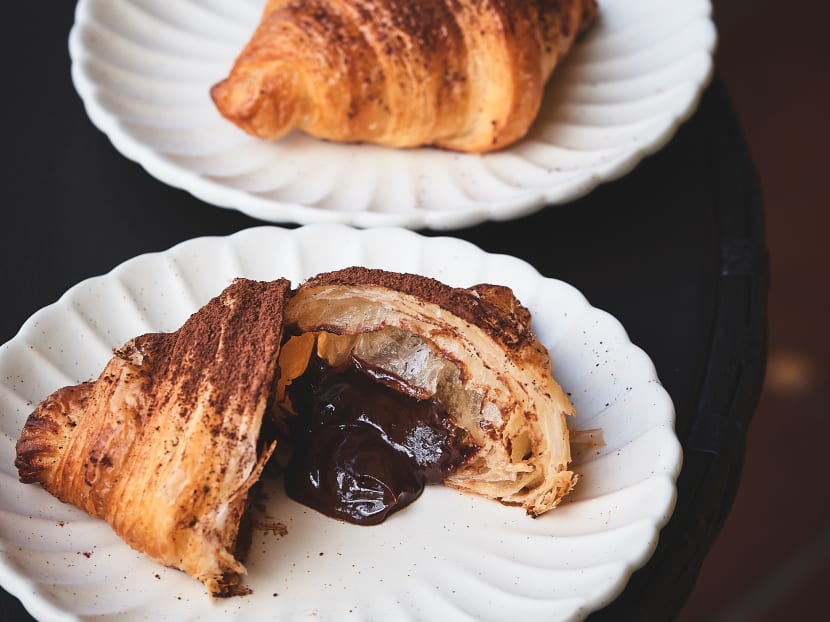 Flowy Valrhona dark choc ganache oozes out of our croissant when we tear it in half, enhanced with a light touch of sea salt and cocoa powder. Sultry and toothsome enough, though it's the other flavours we will tapow extras of.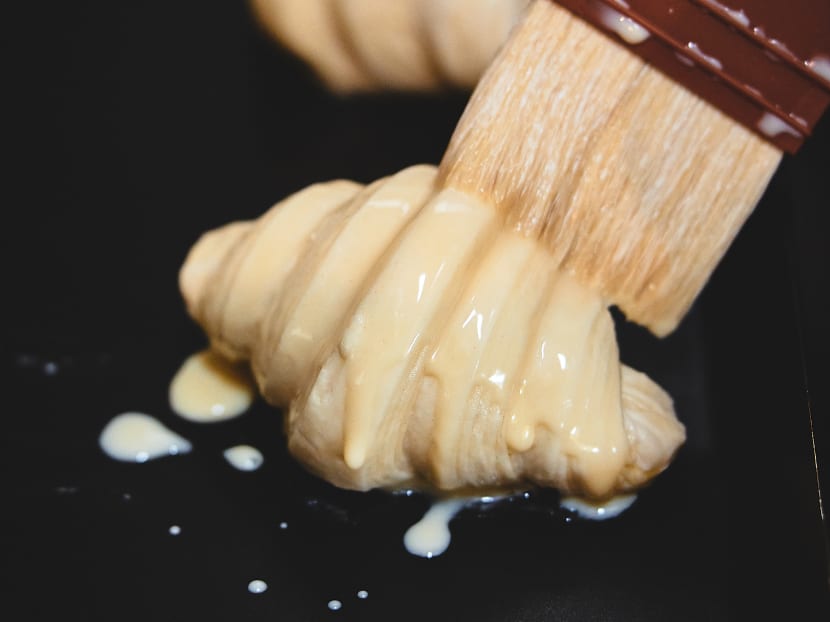 Address: #01-02B Cluny Court, 501 Bukit Timah Rd, S259760

Opening hours: Open daily 9.30am-6pm (Swish Rolls opens circa Oct 18)

Preorders at www.swishrolls.sg

Photos: Alvin Teo