Ex-Bakery Brera Colleagues Start Own Biz Selling 'Ugly Delicious' Scones, Basque Cheesecake
One of them specialised in baking Basque burnt cheesecakes at the famed Brera.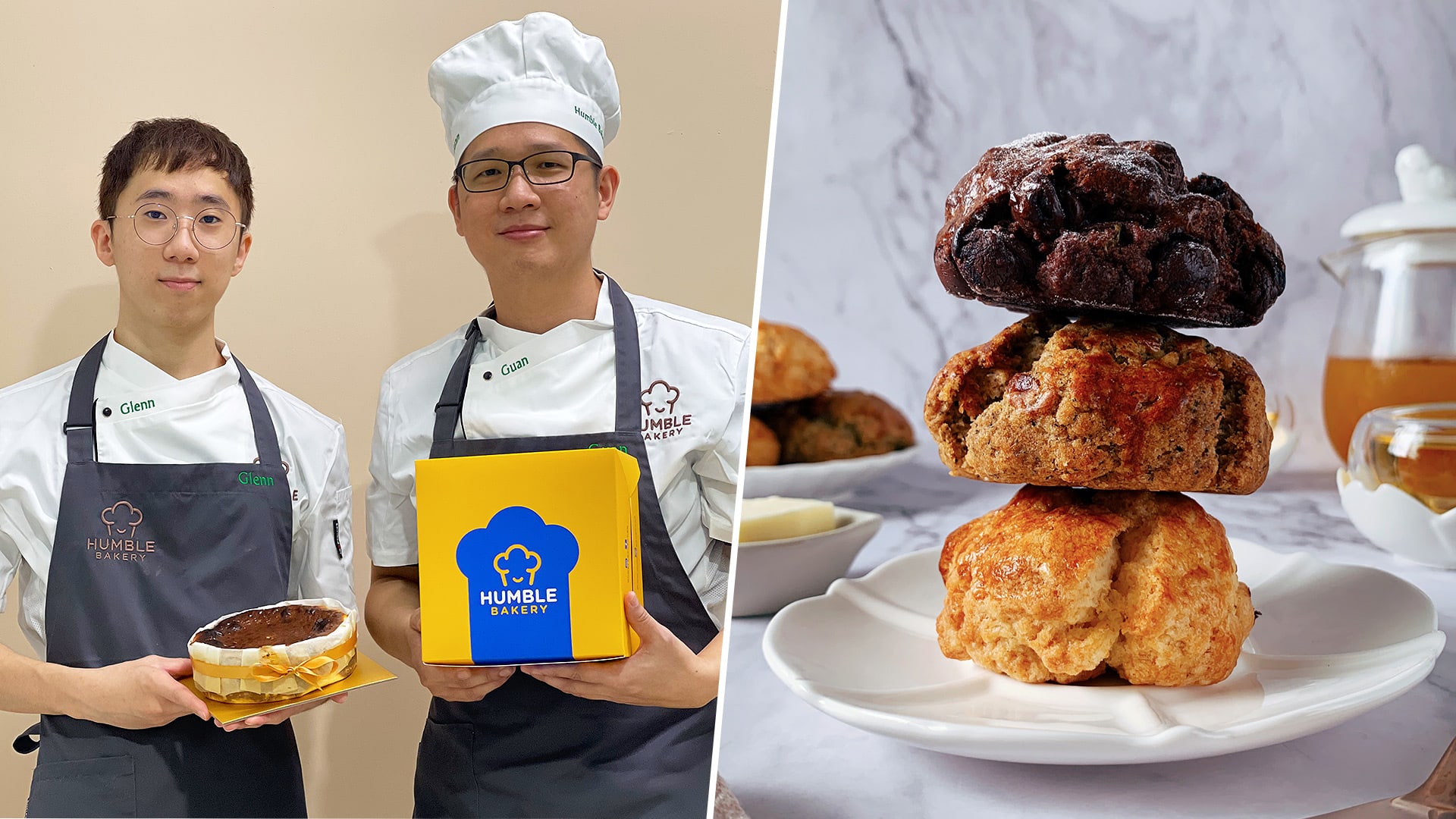 Are Basque burnt cheesecakes, like, so yesterday? That's not what Glenn Lai (left in pic) and Tan Zhuo Guan (right), the pair behind online-based Humble Bakery, think. "Demand is not as high as before when it was really trending, but it's still high," Zhuo Guan tells 8days.sg. "Basque cheesecake has replaced New York cheesecake as the standard cheesecake choice."

Good thing, too, because the scorched Spanish confection is one of the star items on Humble Bakery's menu. Zhuo Guan, formerly a baker specialising in Basque cheesecakes at the ultra popular Bakery Brera – which is famous for the dessert and also cruffins – tweaked the recipe to give it his own spin. In addition, the pair sell Korean-style scones, brownies, fudge cakes and strawberry shortcakes out of a commercial kitchen in Kovan, but it's not open for walk-ins, only pickup and delivery.
With additional reporting by Florence Fong

All photos cannot be reproduced without permission from 8days.sg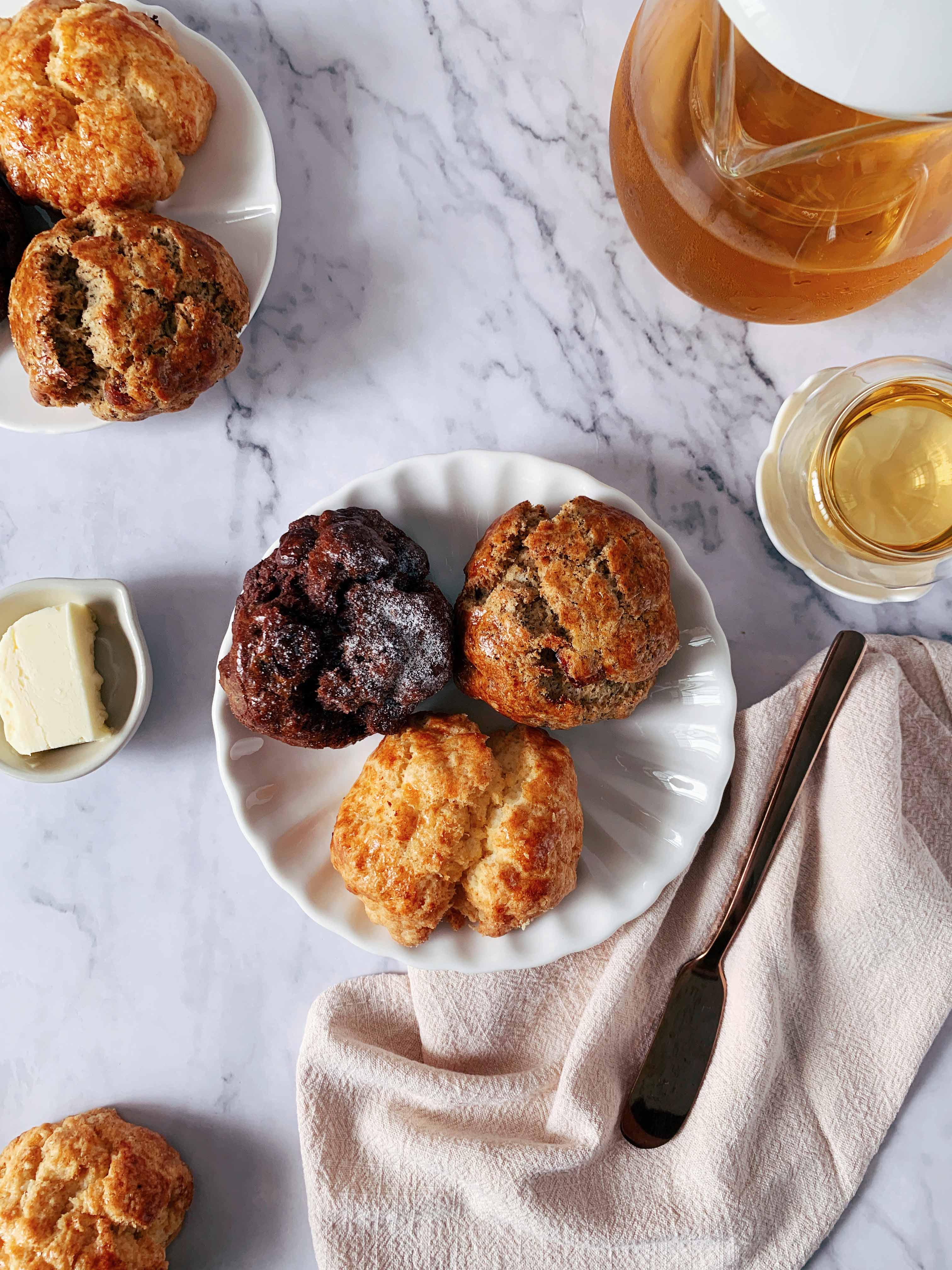 Zhuo Guan, 37, and Glenn, 25, met in Bakery Brera early this year when Glenn, hired as a front-of-house staff, requested to try his hand at baking. Zhuo Guan took him under his wing, teaching him the ins and outs of making Basque cheesecake for two months. "I'm inspired by Guan and learned a lot from him," Glenn says.

The pair got to chatting and realised they shared a similar dream of running a cafe serving artisanal breads, coffee and cakes. That soon turned into the duo getting together on Mondays, their off days, to make and sell bakes on Instagram as a way to "test the market", garnering a good response from family and friends. Both men are single.
Between June and July, the pair made only around $200 from sales of their bakes, as they "didn't scrimp" on pricey ingredients like French butter and dairy cream, Japanese flour, and Belgian chocolate. Nevertheless, the low profits didn't deter them from taking the next step: quitting their jobs and splashing $50,000 on a commercial kitchen to get their online bakery officially going. Their Brera bosses were supportive, Zhuo Guan says.

"Our home fridges were running out of space, and after calculations, we felt comfortable with the sum we were spending," he adds (they split it 50-50). "A commercial kitchen is more hygienic and also means we can bake faster and scale production."
Zhuo Guan, who worked full time at Brera for about nine months, was a maths teacher at Christ Church Secondary School for seven years, where he also taught Design and Technology classes.

His baking hobby started when he was a mechanical engineering undergrad at Nanyang Technological University, and in 2018 he quit teaching to take up a baking and pastry diploma at At-Sunrice GlobalChef Academy, where he did internships at Shangri-La hotel and cake shop Yume Patisserie. "I didn't see myself continuing to teach for the next 10 to 15 years, and wanted to pursue other passions," he says.

Meanwhile, Glenn first started baking for leisure in secondary school. The Business Applications graduate from Republic Polytechnic was a part-time barista at Korean chain dal.komm Coffee between 2018 and 2020 before taking up a baking and pastry course at the Asian Culinary Institute Singapore, then moving on to Brera, where he worked for six months.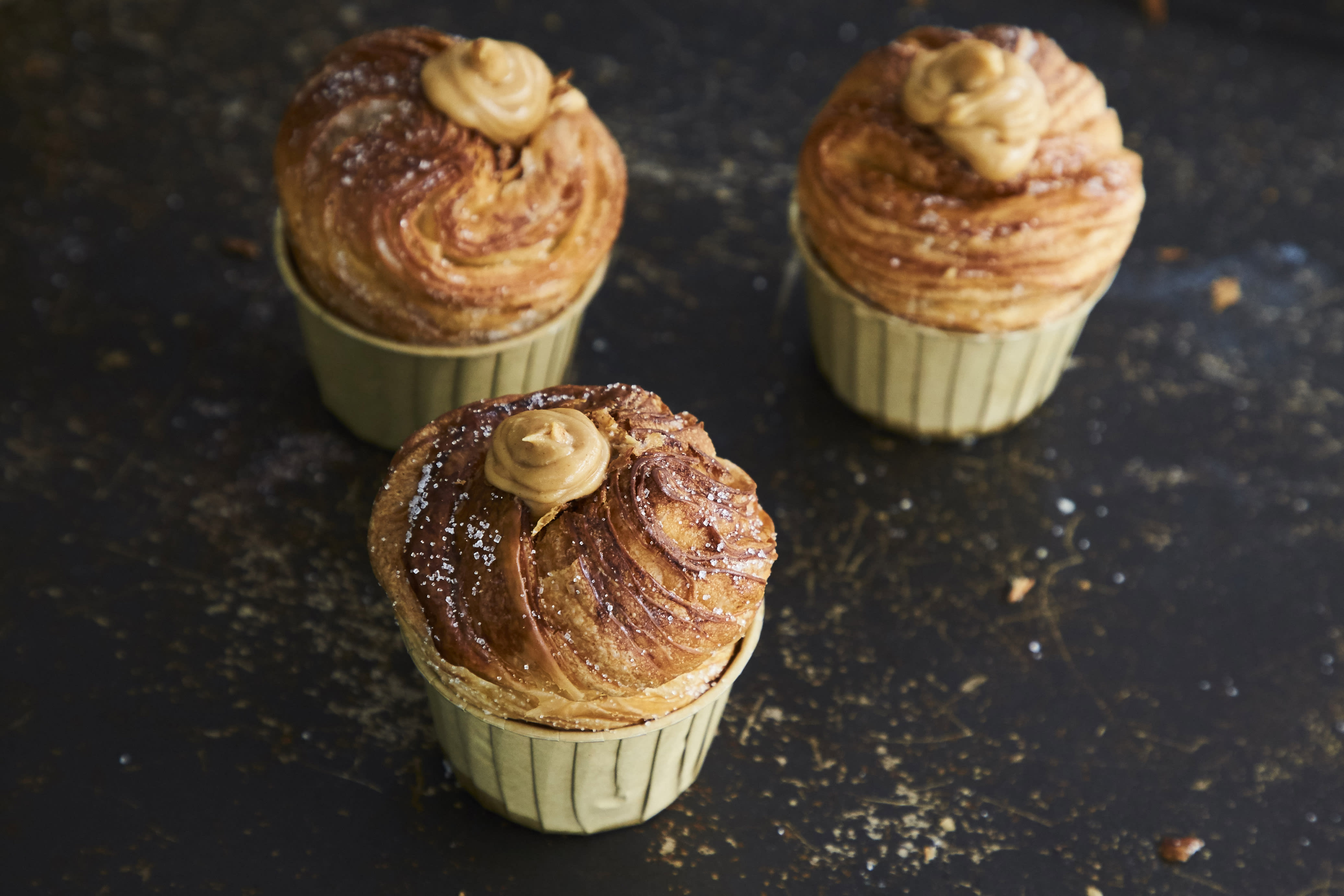 So, how's the commercial kitchen working out? "It's a slow start as we entered the online bakery space too late, and the market is very saturated now," Zhuo Guan admits. The pair clock under 100 orders a month, and are waiting for things to pick up before realising their cafe dream. While they share the baking workload for now, plans are for Zhuo Guan to focus on baking and Glenn to focus on service and the business side of things at their future cafe.

Still, they guys don't regret getting a professional setup. "We didn't want to be just another online Covid baker," Zhuo Guan says. "We know that we have much more to offer." With their stints at Brera, the pair come armed with knowledge on how to run a commercial kitchen, how to set up workflows, and what products customers like best.

Zhuo Guan was involved in shaping, baking and piping the famed cruffins at Brera (though he didn't make the dough), and will consider adding these to Humble Bakery's menu in the future alongside other pastries, he says.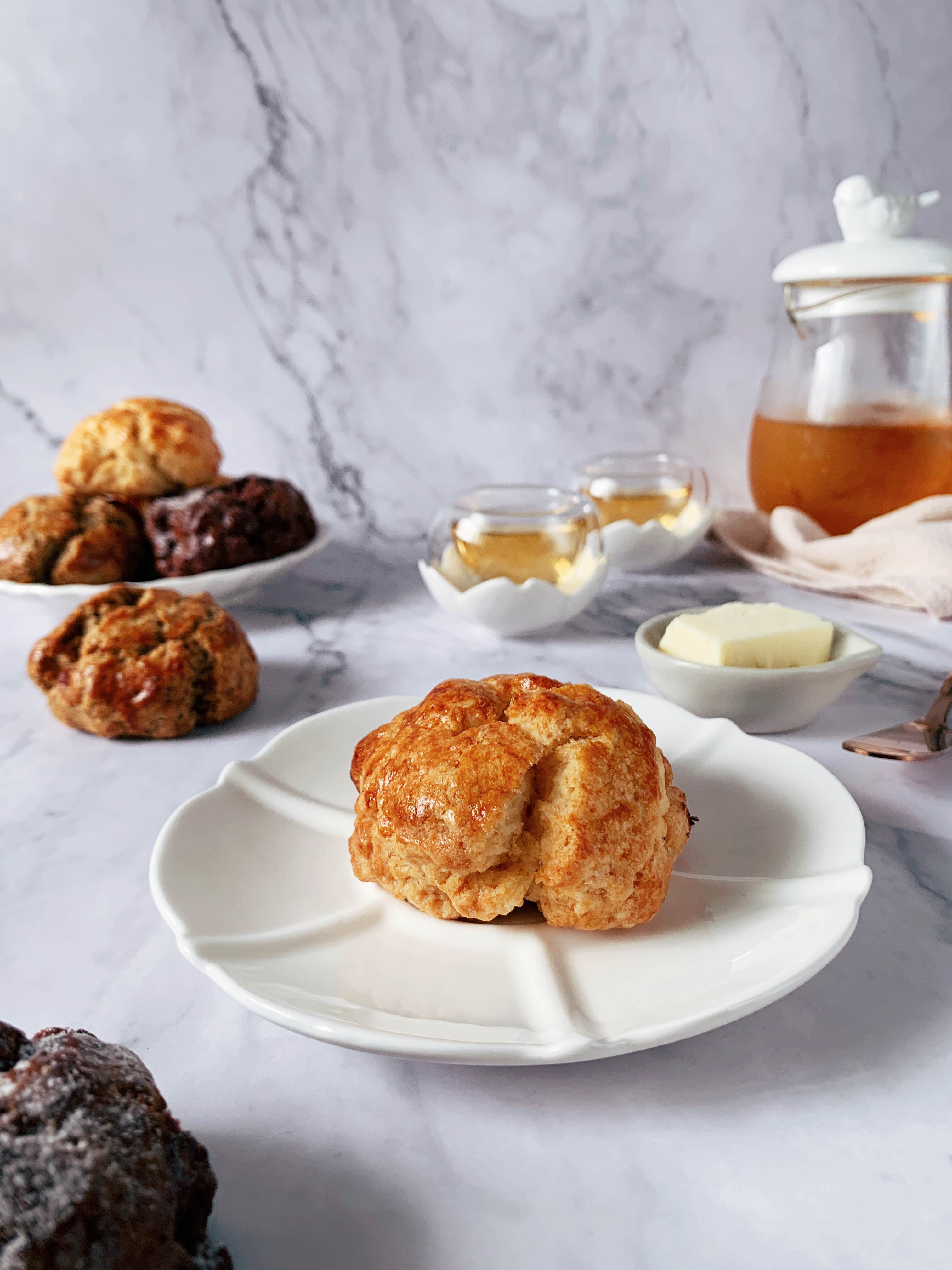 These ugly-cute, apparently Korean-style scones – not the traditional English type – look more like rustic rock buns or free-form drop scones to us. They are squat, cracked and not as photogenic as their taller, smoother, more elegant brethren. But that hasn't stopped them from being the bakery's best-seller. All the scones here are handmade with French Pamplie butter and Elle & Vire whipping cream, using a recipe Zhuo Guan's been baking with for years. No, it's not the same scone offered at his former workplace, Brera.

Because his recipe calls for more butter than regular scones, the dough tends to spread sideways when baking, he says, and the scones end up flattish and very mottled. They're a bit too petite, and don't slice cleanly crosswise for easy application of jam and cream. However, the flavour and texture make up for it: unabashedly creamy and buttery, with a cookie-cake mouthfeel interspersed with a good crunch from the exterior and soft, almost melting crumb within. Very yummy — and despite its size, two pieces go a long way.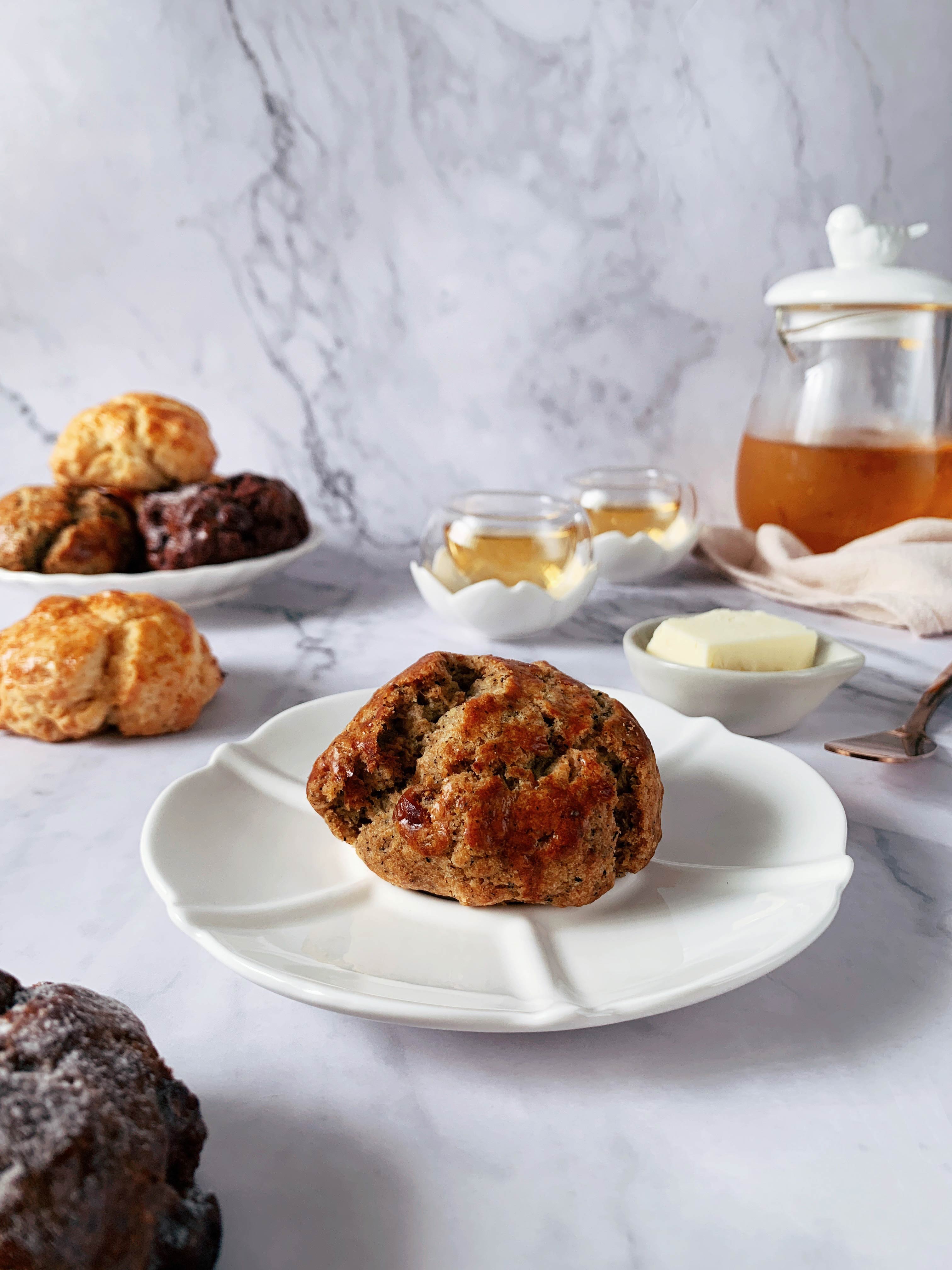 These are also good texture-wise, and equally rich, made by steeping Dilmah Earl Grey tea leaves into whipping cream overnight, then adding more finely-ground tea into the dough alongside chopped dried figs. But they're our least favourite among the scones here. While the bergamot-infused leaves are quite fragrant, they impart a grittiness and bitterness that's rather overwhelming. The small, sweet bits of chewy fig don't do much to mute the astringency.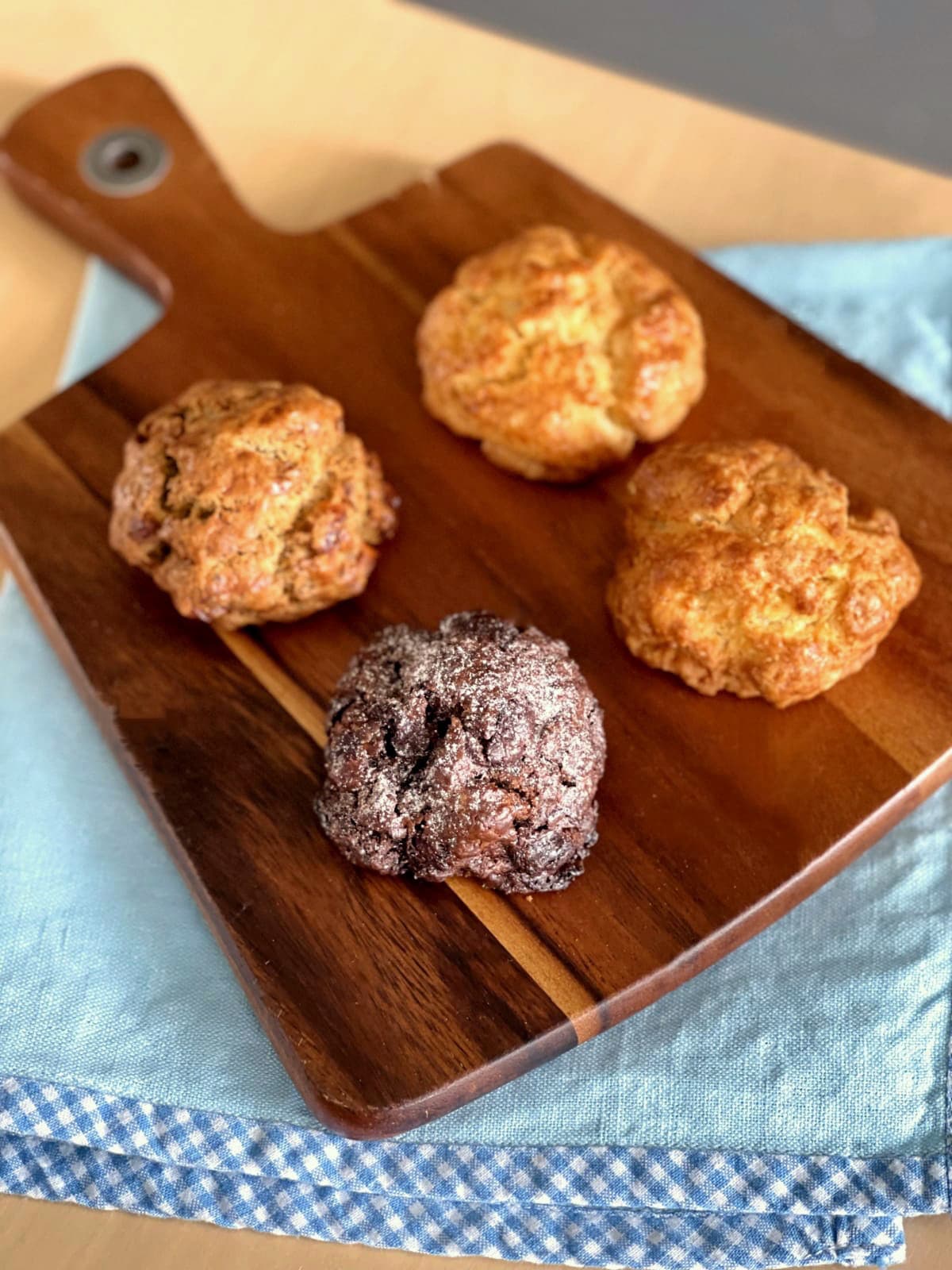 This is somewhat reminiscent of a Levain-style dark chocolate cookie, only fluffier on the inside and even more luxurious with the addition of Callebaut cocoa powder and Callebaut 54.5% dark couverture callets. Each mouthful is punctuated by luscious morsels of gooey dark choc, while the grated lime zest and chopped kaffir lime leaves lend the barest hint of sophisticated citrus notes.
Inspired by Brera's recipe – which uses three cheeses, rum and costs $66 an 8-inch cake. Humble Bakery's rendition uses four cheeses (a blend of three different brands of cream cheese, including Philadelphia, plus Italian mascarpone) and vanilla bean paste. It's indeed reminiscent of Brera's burnt cheesecake as far as the exceedingly satiny, clotted cream texture goes. But it's a little less complex-tasting in its choice of cheeses, though still hit with a bit of welcome savouriness to cut all that creamy richness, and obvious whiffs of vanilla. One of the better burnt cheesecakes around and a crowd-pleaser.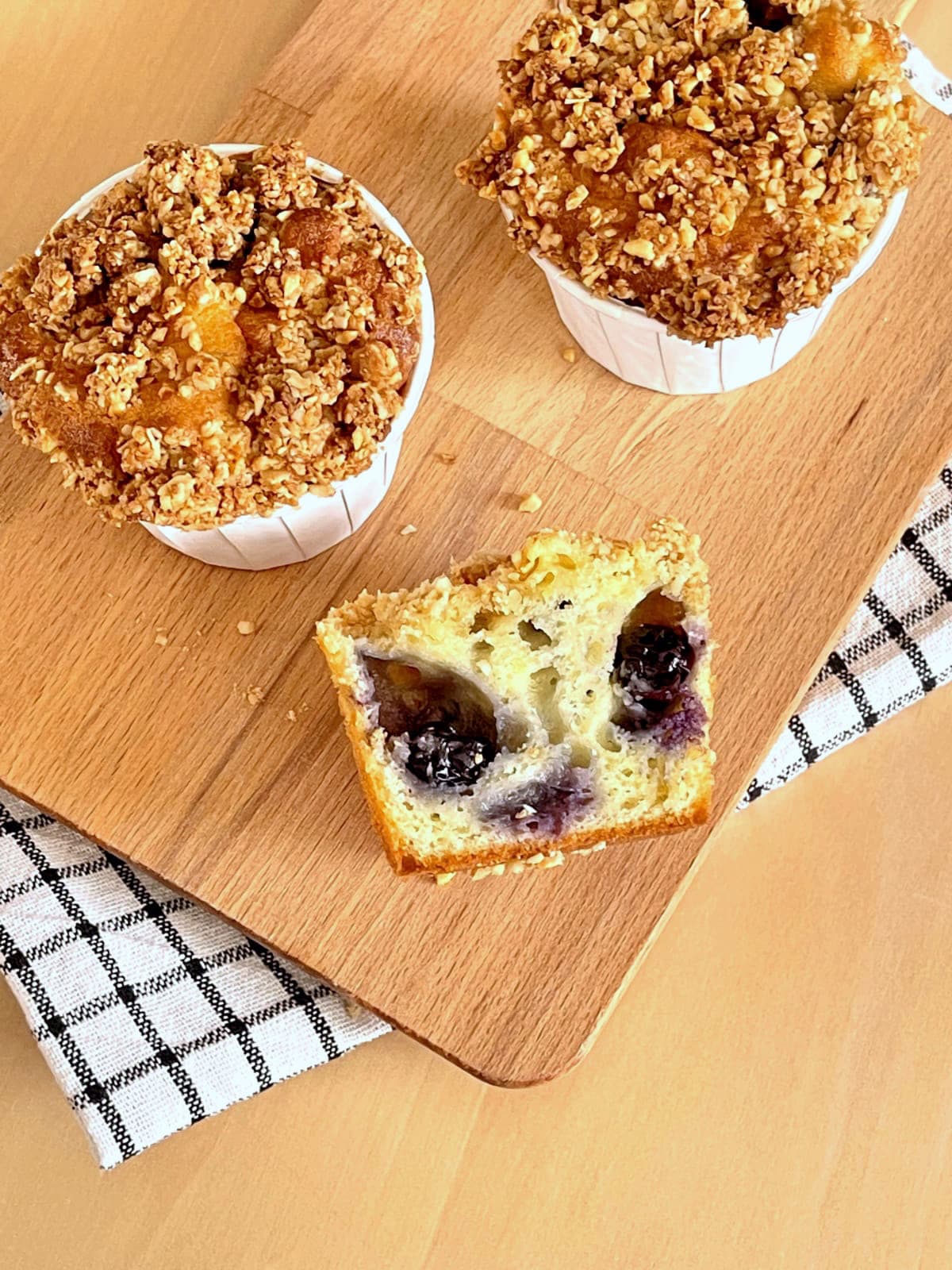 An off-menu item that may soon be offered in seasonal bake boxes. These muffins are small in size but huge on flavour, boasting a tender, melt-in-the-mouth quality and lushness thanks to the addition of sour cream and cream cheese. Tangy pops from lemon juice and jammy berries make it wonderfully refreshing. One thing we could have done without: the flavourful but messy and unnecessary granola topping (oats, almonds, hazelnuts). Still, it's one of the best store-bought blueberry muffins we've tried and we hope they make it a permanent menu item soon.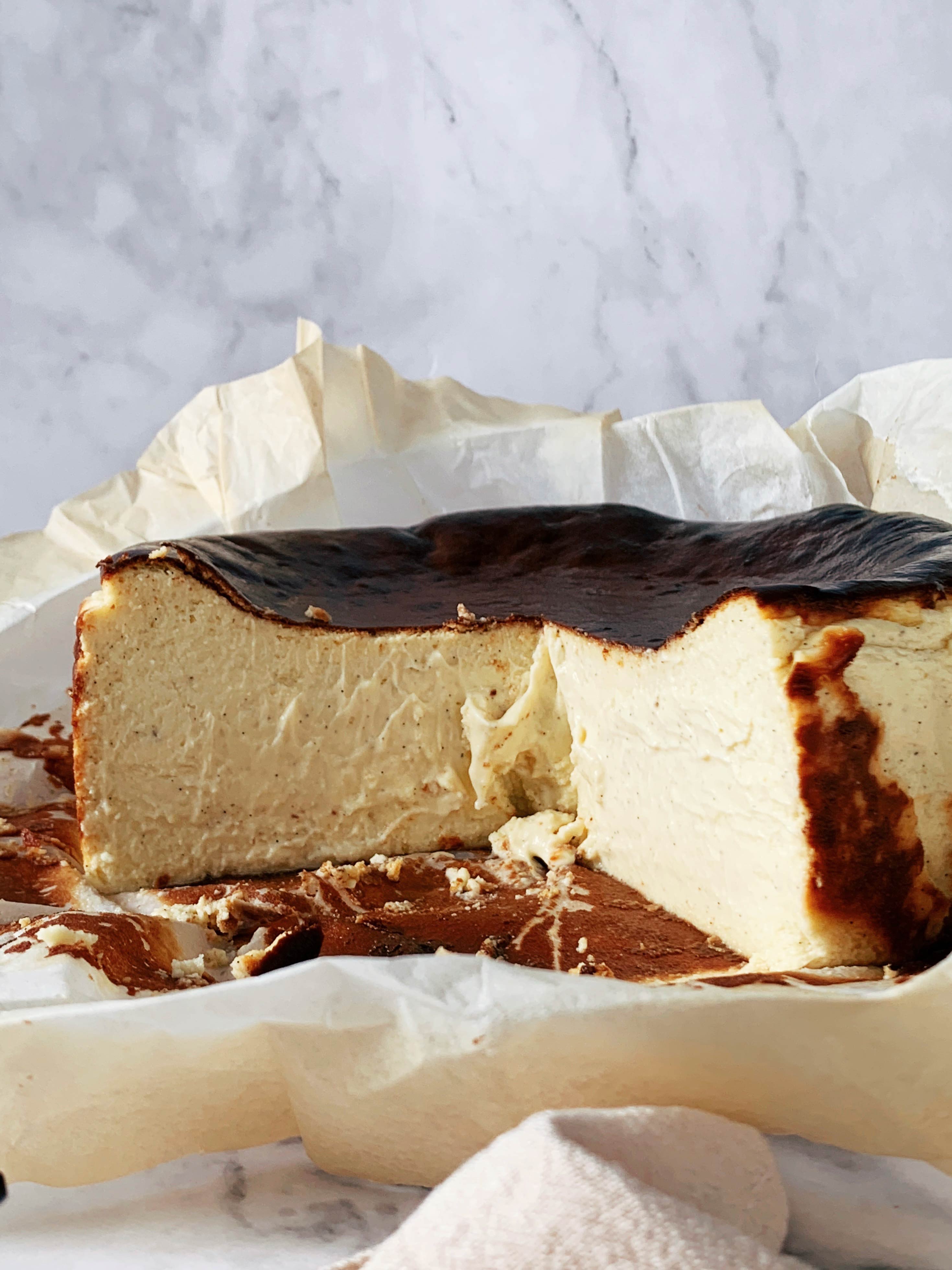 Humble Bakery is at 183 Jln Pelikat, B1-27, The Promenade @ Pelikat, S37643. Open Wed - Sun 9.30am - 6pm. Delivery costs $10, free for orders above $100. No delivery to Sentosa and Tuas. More info via their website,
.
All photos cannot be reproduced without permission from 8days.sg​​​​​​​

Photos: Alicia Ho/Humble Bakery/Florence Fong