Ex-Hotel Pastry Chef Opens Heartland BBT Shop With Pretty Cakes & Customisable Baked Potatoes
Very good desserts at this underrated new joint.
Bukit Merah is not exactly known for being a hipster food hotspot, but it is now home to quaint new bubble tea joint Sohtt. The takeaway shop, which opened recently on October 10, offers well-priced, trendy BBT like Yam Milk and White Peach Yakult that costs between $2.50 to $3 a cup, as well as artisanal cakes made in-house and baked mashed potatoes with customisable toppings.

Sohtt is opened by pastry chef Candy Lu, 36, and ex-catering sales manager Jerine Soh, 33. When the catering industry was hit hard by Covid-19, Jerine decided to leave her job, but had no inclination to set up her own business.

Just when she found another office job, she was diagnosed with tuberculosis. "I had no idea how I contracted it, even though the nurses kept asking me," she tells 8days.sg. "I had to leave my new job because by law I had to go to the polyclinic every day to take my medication, and the clinic was only open during office hours."

It took Jerine six months to completely recover from TB (according to MOH, patients who undergo TB treatment will "rapidly become non-infectious and no longer pose as a source for infection".) But she had to look for a new job, having given up her previous role to focus on her recovery. "I didn't know what to do, so I came up with a home-based business," she says.

The home-based biz did well enough for Jerine (left in pic) to open a brick-and-mortar shop with her partner Candy (right), who had worked at Raffles Hotel, Marriott Hotel and Parkroyal Collection Pickering's Lime Restaurant. The Shatec-trained pastry chef left her job at Lime Restaurant in the midst of the Covid-19 pandemic as "it had become very stagnant". As the buffet-centric restaurant had to adhere to dining restrictions and deviate from their usual spread, she admits that her work "came to a point where there wasn't much creation".

Located within walking distance from ABC Brickworks Market & Food Centre, the air-conditioned Sohtt is done up in pale blue with cutesy menus and signboards reminiscent of whimsical cafes in Taiwan. "We named our shop Sohtt 'cos it sounds like [the Singlish slang for] 'crazy' and 'electrifying', and it combines my surname and the initials for Candy's Chinese name," explains Jerine.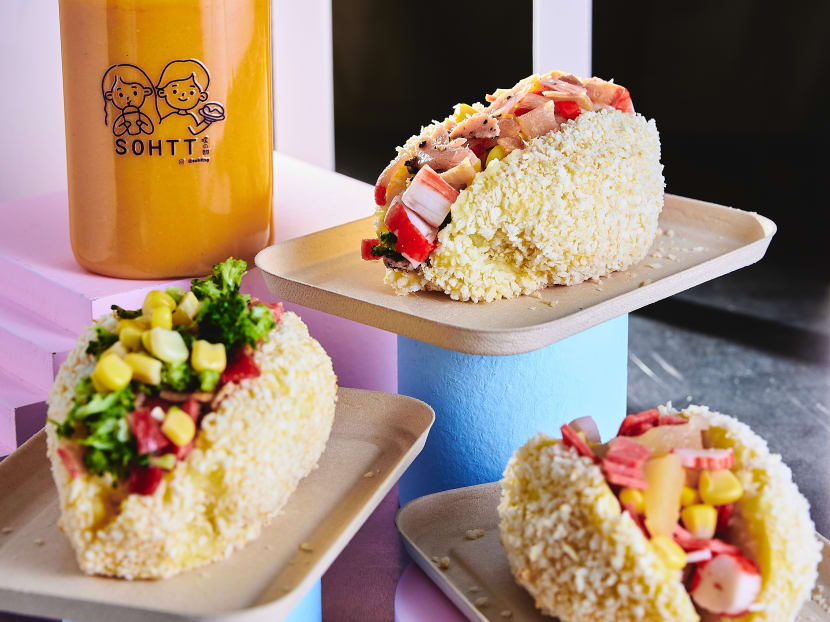 It's a pity that there are no dine-in seats here, 'cos Sohtt offers nosh that's great for savouring on the spot. Other than bubble tea, there's also a unique Stuffed Cheezy Potato with customisable toppings. According to Jerine and Candy, the item is inspired by the popular baked potato sold at Taiwan's night markets.

But instead of a whole baked tuber, Candy mashes boiled russet and local potatoes, and reassembles them into the shape of a potato again before breading and baking it. "If not, how do you find potatoes that big and nicely-shaped?" laughs Jerine. The naked baked potato is sold at $3 each, with the option to add 10 types of toppings like Salmon ($2), Crabstick ($0.50), Bacon ($1), Egg ($0.80), Corn ($0.50) and Chicken ($1.50).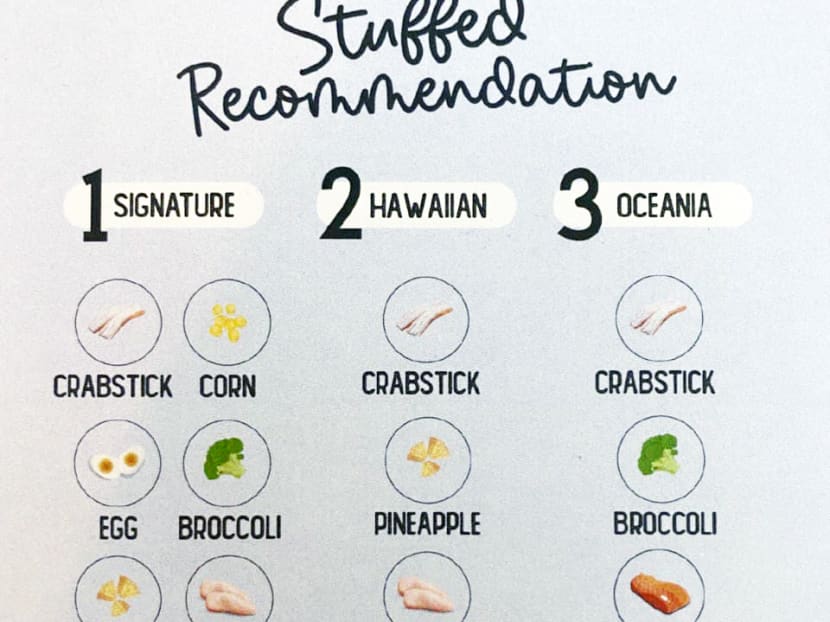 If you're too lazy to decide on your toppings, there are three prefixed combinations called Signature, Hawaiian and Oceania (chargeable according to the toppings included; see pic above). Or go for the value-for-money $8.80 Set, which gets you a stuffed potato and any bubble tea, both of your choice.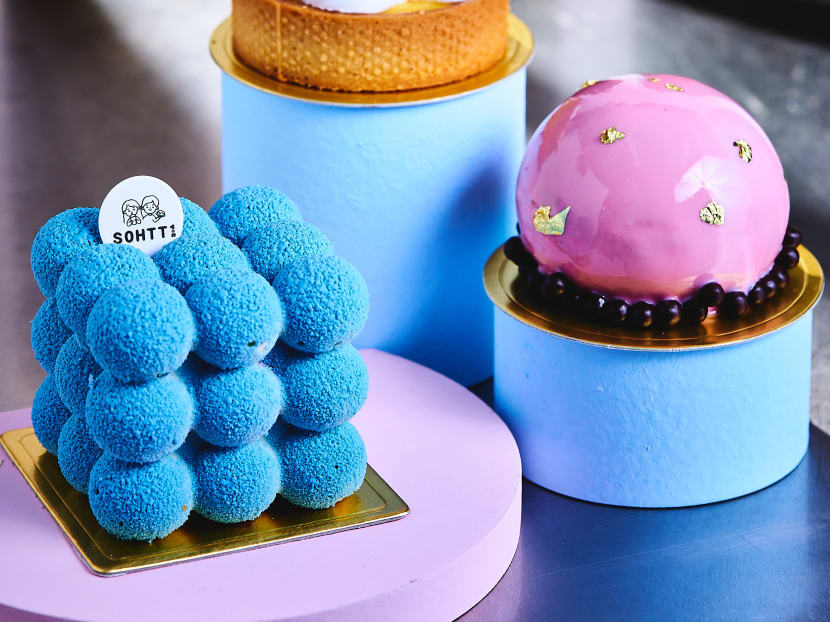 Due to her background in making fancy cakes, Candy also offers beautifully-made desserts like a Berries Cheesecake ($7.80), Salted Caramel Tart ($6.80), Passionfruit Meringue Tart ($5.80) and a pretty, dome-shaped Raspberry Earl Grey Cake ($6.80) speckled with gold leaf. The cake menu changes daily, so you don't get the same picks all the time. There are also giant chocolate, vanilla and durian Choux Puffs ($12.80 for a box of four).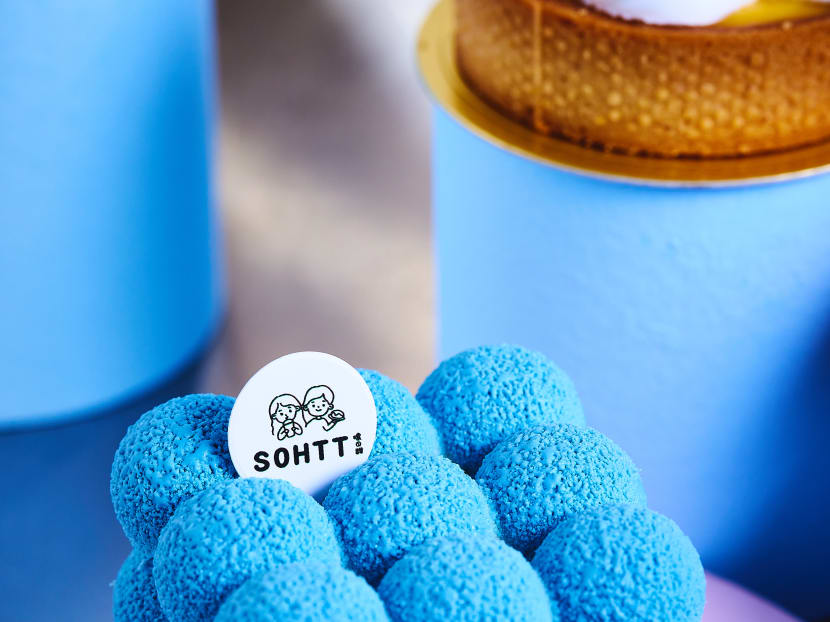 We almost can't bear to dig into this intricate confection (far left), which looks more like an art sculpture than delish "cheeseballs" stuffed with a mixed berries compote and crunchy digestive biscuits. Also order the Raspberry Earl Grey Cake ($6.80) filled with heady earl grey mousse and vanilla-scented Valrhona Jivara milk choc, and the refined Salted Caramel Tart ($6.80) with crunchy choc spheres.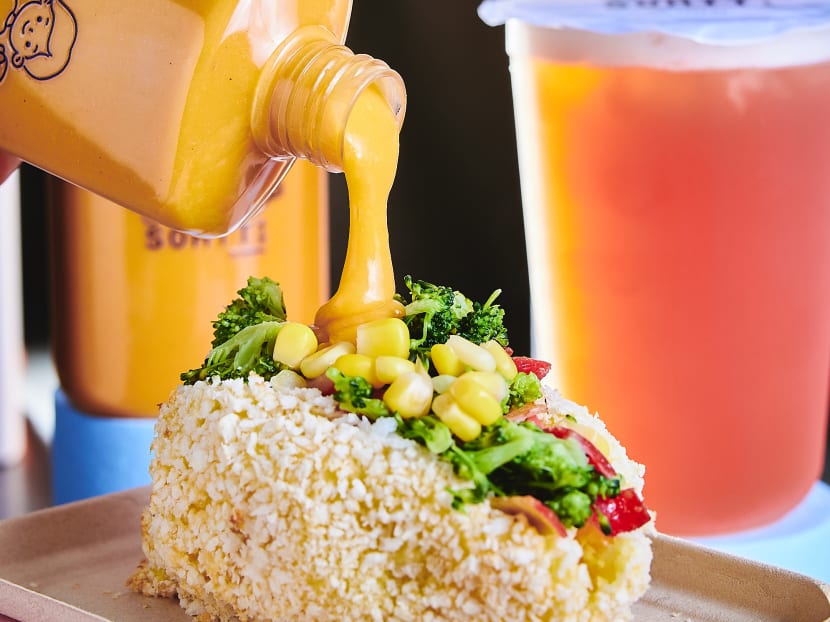 This adorable stuffed 'baked potato' sounds very promising on paper — what's not to love about panko-coated, smoothly mashed potatoes baked and topped with a smorgasbord of yummy nibbles? But it would be even better if the potatoes were more buttery, with a tad more salt for flavour (we like the piquant jalapeño slices served by default with each potato order). The toppings here are all decent, though we'd skip the rather dry salmon. Candy recommends pairing the potato with a "flood" of nacho cheese sauce ('Flood It' Cheese Sauce, $1.50), which you can also buy bottled for $2.

At first glance, Sohtt appears to be more like a patisserie than bubble tea kiosk. But its BBT selection is wallet-friendly and decent, like this creamy cup of Yam Milk in a dreamy lavender shade which we order with chewy White Pearls ($0.80) and not-so-chewy Mini Taro-Q ($0.80). Also good: the refreshing Lychee Rose Black Tea ($3) and White Peach Yakult ($3) to beat the heat.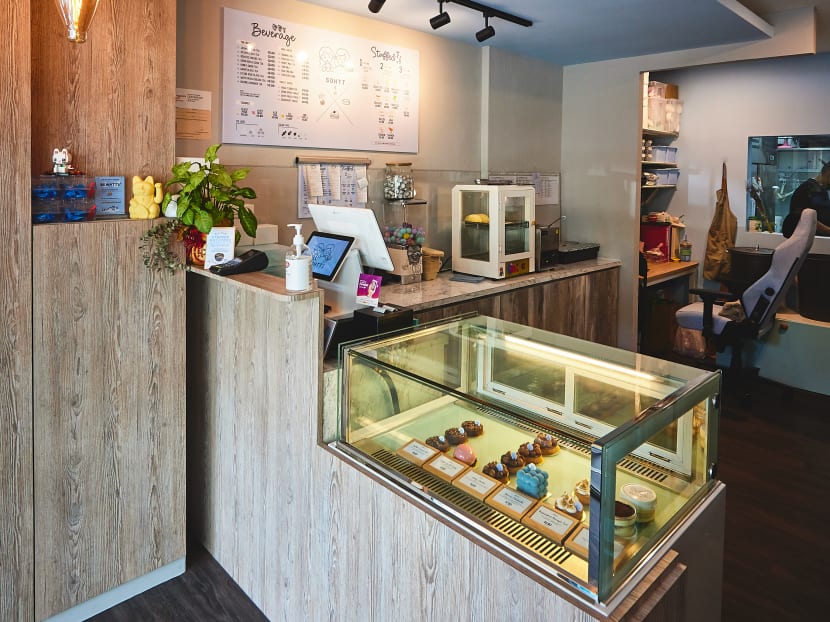 Address: #01-4464, 28 Jln Bukit Merah, S152028.

Tel: 9880-4680

Opening hours: Open daily 11am-9pm

Instagram

Photos: Alvin Teo