Ex-Mikuni Restaurant Chef Opens Japanese Hawker Stall Serving Rice Bowls From $6.90
The chef worked for a decade at the Japanese fine-diner in Fairmont Singapore. ​​​​​​​
After ten years in a professional kitchen, 38-year-old Ang Wing Hong quit his junior sous chef job at upmarket Japanese restaurant Mikuni in February this year. The Ipoh-born Singaporean PR traded his chef's whites for a humble hawker stall within a quiet MacPherson kopitiam. The business is called Billion Bowls and it opened on April 3. Yes, it sounds more like it sells fishball noodles instead of Japanese food, but more on that later.
Here, he dishes out hearty Japanese rice bowls topped with rich, fusion sauces such as mentaiko mayo as well as his signature peanut paste-spiked 'golden sauce', often given the flame-torched treatment — essentially rich, heavy flavours that appeal to the casual market segment. He is assisted by his wife, Yuri Teng, a 34-year-old from Johor who used to do sales in jewellery shops.
All photos cannot be reproduced without permission from 8days.sg​​​​​​​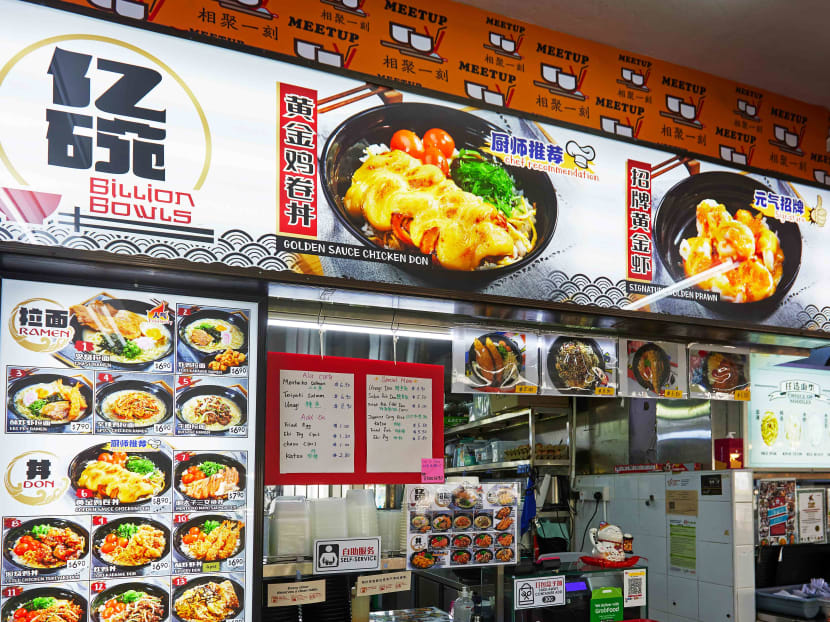 The soft-spoken Wing Hong tells us that his first taste of F&B came at the age 16 when he relocated to Johor with his older brother to find work. He spent 12 years working in a Japanese restaurant there before snagging a job in Singapore as a commis chef in Mikuni, his home for the next decade. There, his signature dishes included nikomi gyu rib (beef stew) and gindara saikyo miso yaki (grilled miso-glazed black cod).
Over the years, he climbed the ranks to junior sous chef before the Covid-19 pandemic hit. He was among many hospitality workers redeployed to other essential roles during the pandemic, spending three months at NTUC FairPrice manning the seafood counter, and a further three at Cold Storage's deli counter.
Thereafter, he returned to Mikuni, where he continued working until his application to become a Singaporean PR was approved in early February this year. "I wasn't scared [during the pandemic] as my company was taking care of me," the hawker explains in Mandarin. "But I've always wanted to start my own business. Once I got my PR status (and could own a business in Singapore), I quit."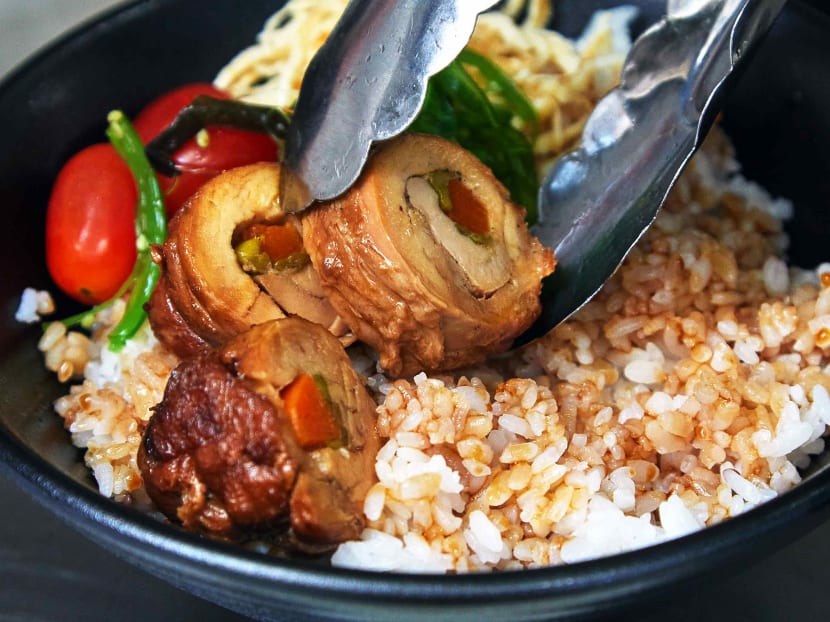 Wing Hong opted to open a hawker stall rather than a café or restaurant as "a restaurant is too big – you need a lot of capital. It was out of our budget." We ask if there's any fear leaving a cushy job in a hotel kitchen for the wide world of a solo hawker venture. "I'm scared, of course," the hawker muses. "I have three kids to feed, but I also don't want to wait too long to try. If you don't try, you'll never know." He adds, "I was thinking that if our business is meant to succeed, it will do well even during Covid."
His bubbly wife, though supportive, is also apprehensive. "I quit my job to support my husband, because he can't do it alone. I'm worried, but he's my husband. Of course, I'll believe in his dream," she shares frankly.
While looking for a space, he worked at a Japanese food court stall in Sengkang for two days – "there wasn't much to learn there, as they got everything from suppliers" – followed by a week at a zi char joint. By March, he was recommended the stall space in MacPherson by a friend and decided to set up shop there. "We called it Billion Bowls because that is our goal – to sell a billion bowls," the hawker says simply.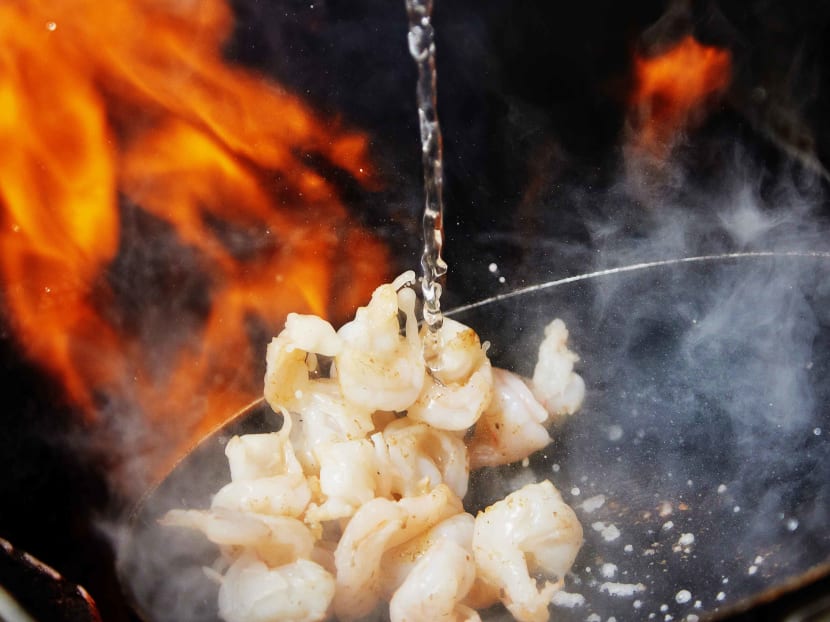 At first glance, Billion Bowls' grub doesn't seem like the best fit for the sleepy kopitiam within a mature neighbourhood. Wing Hong is optimistic: "To find any other Japanese food in the area, you have to walk out quite a distance. So the residents in the area would have to come to us."
Yuri adds (a little less optimistically), "When we first opened here, some of the hawkers told us we're very brave [to offer Japanese food here]. They were very welcoming – they helped us to set up our Facebook page, 'cos my husband and I are both very bad at this kind of thing."
Business is "okay" so far, with most of their sales coming during weekends when there's a larger crowd, or from takeaways – they weren't too affected by the year's dining restrictions, reporting a "10 to 20 percent drop in business". A bigger help for the couple was getting on social media. "After Facebook, we're slowly getting more big orders. Recently, someone ordered 33 packets from us," Yuri tells us.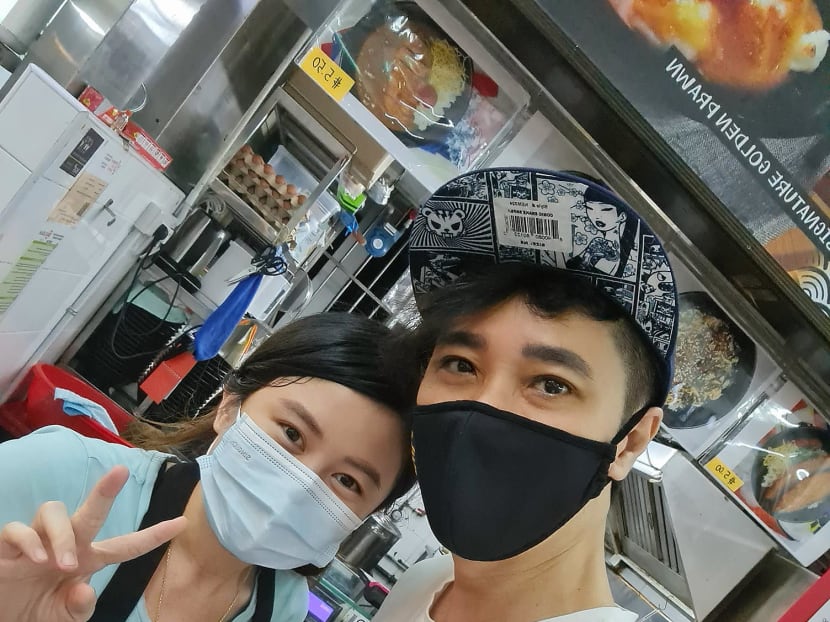 TV host Dasmond Koh popped by for a meal (he lives a few minutes' walk away, according to Yuri) earlier this month, ordering "the bulgogi and spicy chicken ramen for takeaway." "He's not like his onscreen characters at all," gushes Yuri. "He's reserved, yet very friendly."
Seasoned chef Wing Hong describes hawker life as "almost identical" to being a chef in a hotel kitchen, except for "uncertain hours, and the need to push harder"; Yuri, on the other hand, shares that she "really misses her old job". "I was in an air-conditioned office all day," she shares with a laugh. "Now, the kitchen is so hot – I've lost so much weight since we started." The couple share three kids aged five to 15, and they live with Wing Hong's parents back in Ipoh. They haven't seen them for two years thanks to the pandemic, though they connect via video call daily.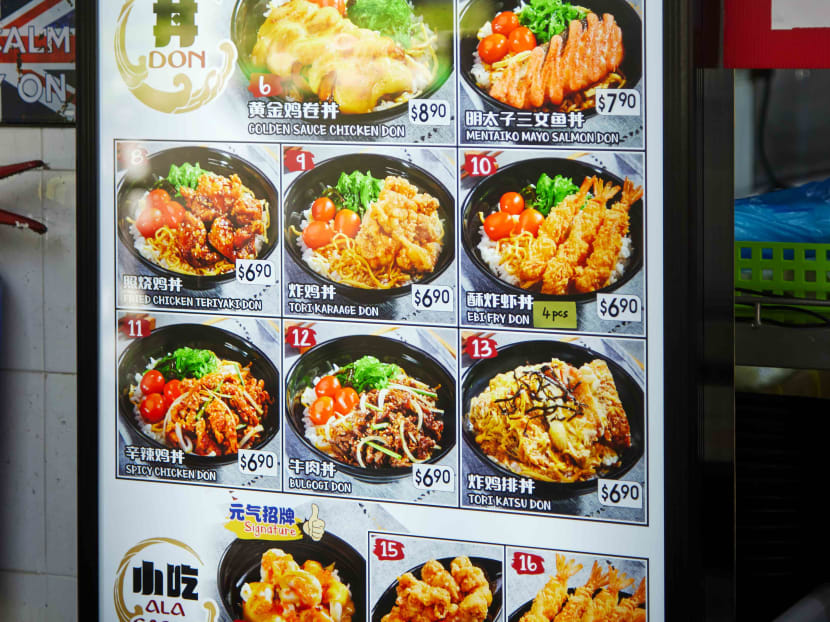 Expect unfussy Japanese fare with some fusion influences at Billion Bowls cooked by the ex-restaurant chef with service from his cheerful wife. The grub, ranging from ramen, to rice bowls, comes at kopitiam-friendly prices ranging from $6.90 to $8.90.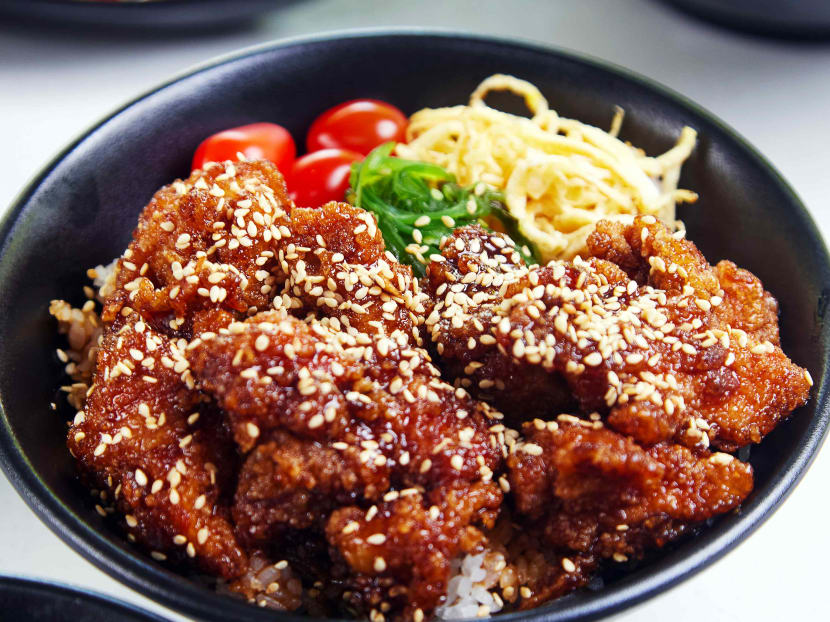 Chunks of chicken thigh, drumstick and breast are coated with potato starch and deep-fried, tossed over a roaring flame in a homemade teriyaki sauce. The chook stays crisp despite being coated in punchy, savoury, sticky teriyaki sauce. We enjoy it immensely, though our only grouse is that it gets a tad too salty after a while. So refresh your palate with the accompanying shredded omelette, raw cherry tomatoes and seaweed salad. This is served on a bed of fluffy Japanese pearl rice (drizzled with more of that teriyaki sauce) and a bowl of miso soup.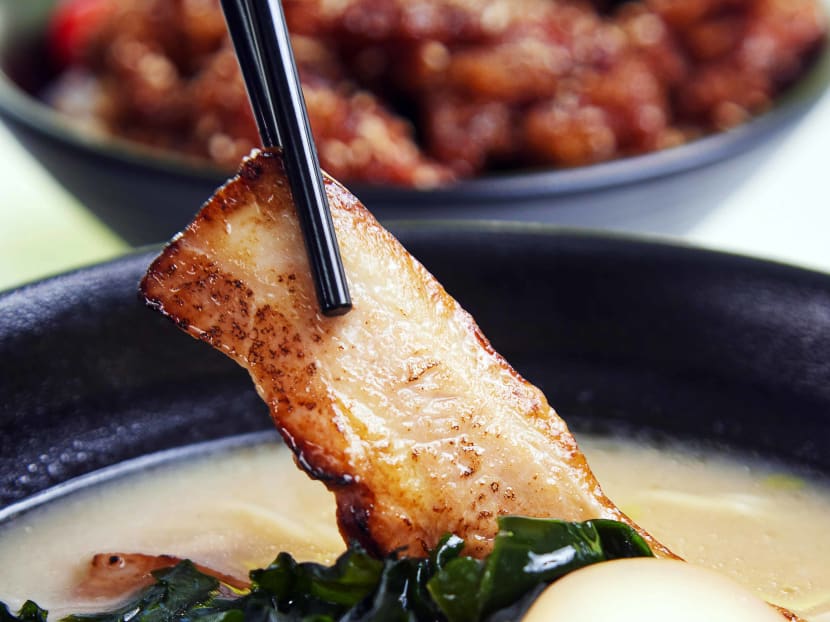 Tonkotsu ramen with housemade chashu. The thin, store-bought soup base isn't as creamy or thick as we'd like, and the slender Hakata-style ramen noodles are a little too soft. The ajitsuke tamago – marinated in shoyu, sake and mirin for about a day – is also undermarinated and has a fully-set instead of gooey yolk.
The pork belly chashu fares better. It's simmered with carrot, onion and shoyu for two-and-a-half hours, sliced and finished with a blowtorch – the result is tender, smoky, delish pork that melts in the mouth. We'd recommend getting it a la carte ($1 a slice) rather than with the ramen.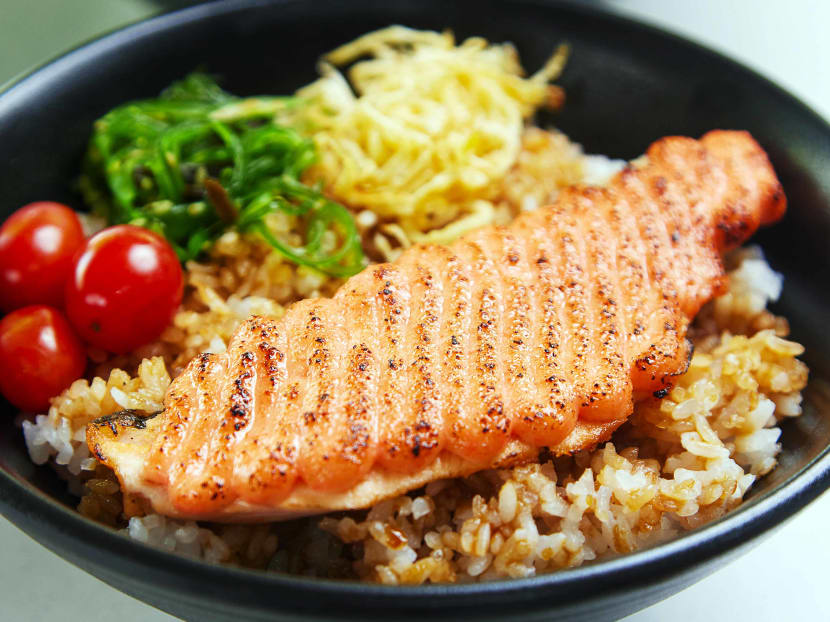 Wing Hong's homemade mentaiko mayo sauce is tempered with onion to balance out the briny, umami richness of the cod roe. It's slathered onto a thinnish – but well-cooked and flaky – slice of salmon and torched. A simple bowl that's competently done.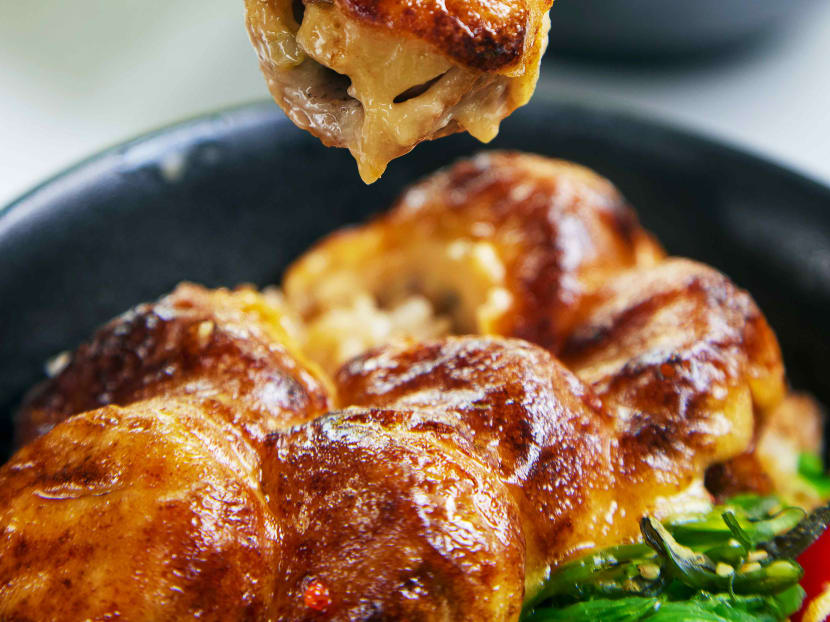 Billion Bowls' signature dish show's the chef's restaurant kitchen chops. A chicken roulade fashioned from deboned chicken drumstick, wrapped around carrot and asparagus, is pan-fried before being simmered in teriyaki sauce till meltingly tender.
'Golden sauce', a creamy housemade mix underscored by egg yolk and peanut paste, is then piped over the protein before seared with a blowtorch. We find the sweetish sauce — which admittedly doesn't sound remotely Japanese — aromatic with a smoky perfume from the aburi treatment. The toasty nuttiness complements the stronger savoury notes from the teriyaki-laden chicken and rice. Speaking of the roulade, it's super soft, as are the veggies within. Tasty and good value-for-money, considering the amount of work involved in making this.

While the food here isn't show-stopping, there are a couple of yummy bowls that are a step up from what you'll get from standard Japanese hawker stalls. Such as the unique chicken roulade don slathered with a fusion house-made 'golden sauce'.