Father & Son Hawkers Sell Ipoh Curry Noodles Using 30-Year-Old Family Recipe
Dad, an ex-SBS bus captain, returned to his Ipoh hometown during the pandemic to master the dish before opening the stall.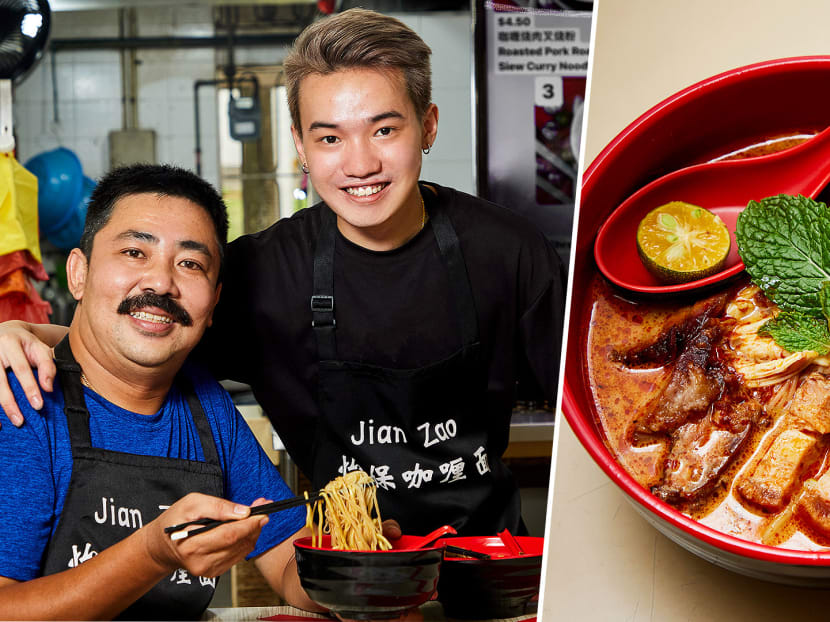 Since our coverage of pork chop fried rice joint Hong Style Fried Rice by former Din Tai Fung chefs, and Chao Zhou Teochew Fish Soup by a hawker trained by Mott 32's ex-head chef, the Ang Mo Kio Ave 1 kopitiam that houses both stalls has been busier than ever. Last month, a third stall joined the promising hawker line-up – Jian Zao Ipoh Curry Noodles is run by a Malaysian father-and-son team, selling soup and dry versions of the famous Ipoh staple.
Steven Cheah, 46, is a third-generation hawker specialising in Ipoh curry noodles. His grandmother and mother used to own hawker stalls in Ipoh selling the same dish. Steven's grandma retired after running her stall for over two decades, while his mum closed her joint after a five-year stint.
"My grandma passed her recipe to my mum, and I first learned it while working at my mum's stall from 2004 to 2005," says Steven in mandarin. "As both shops are now closed, I thought it'd be a great pity if my grandma's recipe is lost. That's why I wanted to set up this stall and share her curry noodles with more people."
All photos cannot be reproduced without permission from 8days.sg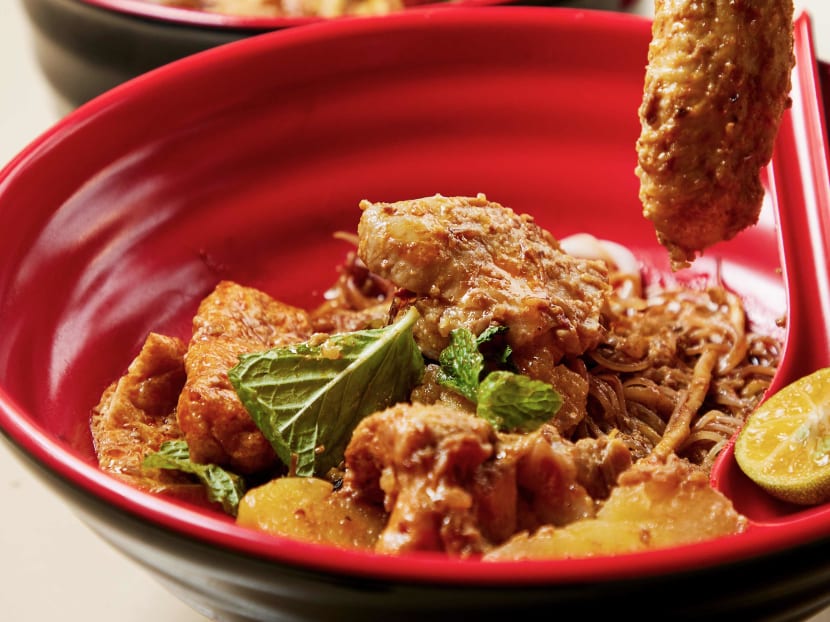 Prior to becoming a hawker, Steven, who is now a Singapore PR, spent about 12 years working for SBS Transit. "I came to Singapore to work in 2008 as a bus captain, then slowly worked my way up to admin roles. My last position was management support officer when I left the company in 2019."
He says the decision to leave SBS Transit was tough, especially in the midst of a pandemic. "It required a lot of courage to continue pursuing my plan [of opening a hawker stall]. After all, I had good job security. When my son decided to join me, there was a bigger worry of whether the stall can support both our livelihoods."
Driven by his desire to become a business owner and to take his family recipe to the next level, Steven decided to press on and opened Jian Zao Ipoh Curry Noodle last month.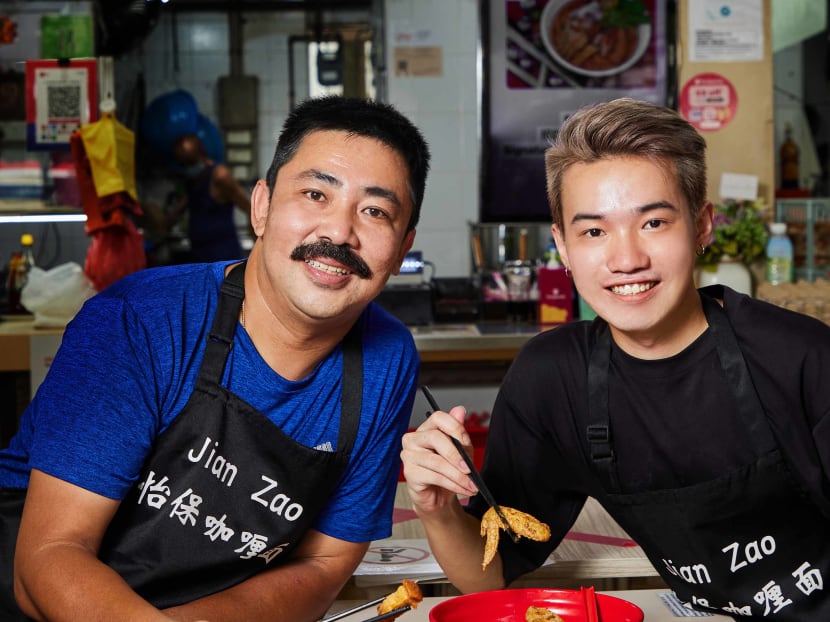 Shortly after leaving SBS Transit, Steven returned to his hometown, Ipoh, for a month to master the recipe. "I knew most of the recipe by heart, but I needed to perfect the finer details like the seasoning and cooking process. So I went home to 'apprentice' under my mum again. She was a little surprised that I wanted to follow in her footsteps, but she's supportive." He had to quarantine for a total of four weeks for the trip there and back to Singapore.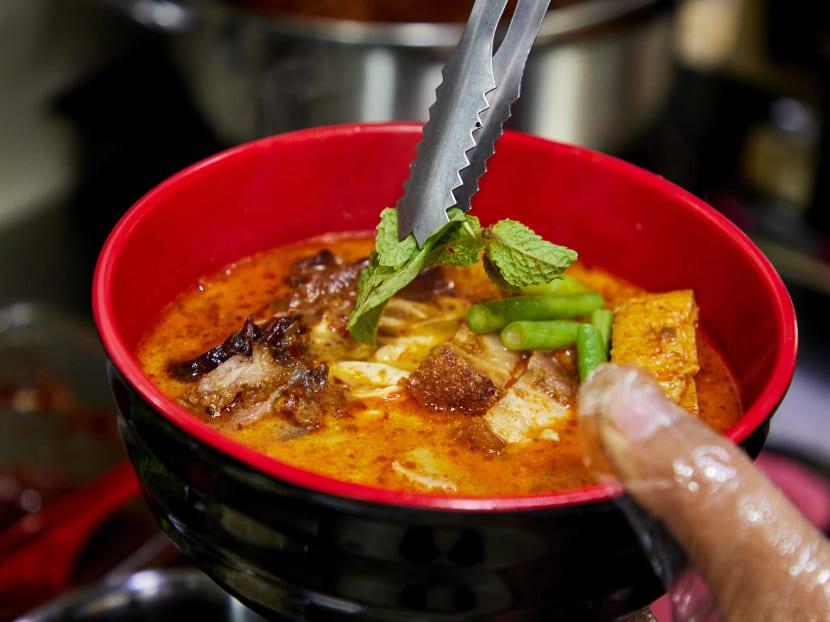 The biggest obstacle that Steven faced was hunting down the right ingredients for his curry base. "All the seasonings, like curry and chilli pastes, used in our family recipe are from Malaysian suppliers. I can't get the same ingredients in Singapore and it's very troublesome to import them."
"I spent about a year doing R&D with what I could find here. I was close to giving up as I was unable to replicate the same taste," he says. While developing the recipe, Steven was also working full-time as a manager for grocery chain Value Dollar Shop for about three months in 2020 to make ends meet.
His perseverance paid off, thankfully, when he managed to find a suitable curry paste from a supplier. "I was so happy! I'd say the taste is about 95 percent similar to the original recipe."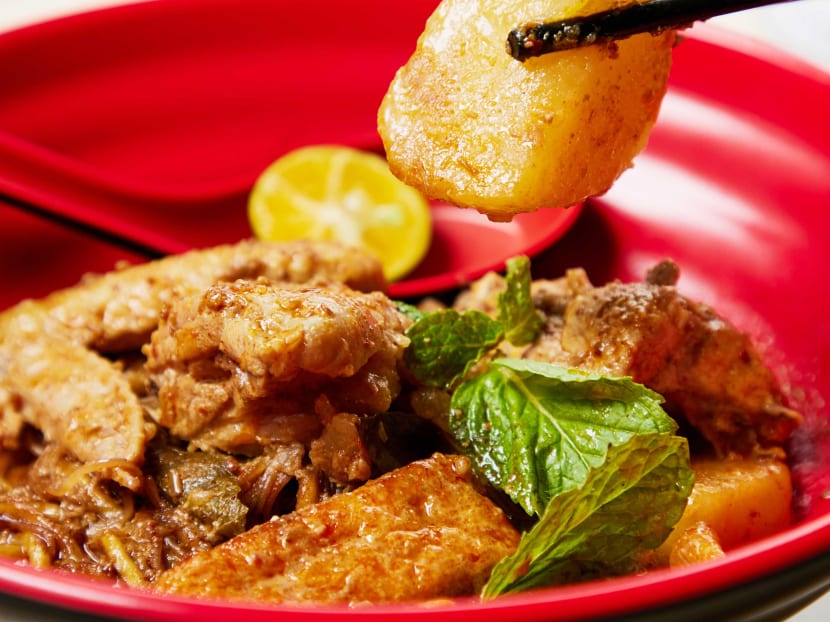 Once he nailed the recipe, Steven approached his eldest son, Jacky Cheah, 22, with the idea of opening a stall together. "I wanted to create a business together… something that can give him better security for the future," shares Steven. "If this works out, Jacky will be the fourth-generation hawker using the same family recipe that my grandma created – that's something to be very proud of."
Despite having no F&B experience, Jacky was all in after tasting his dad's curry noodles. "I was a little hesitant at first, but once my dad nailed the taste, I wanted to go ahead with it. I've always loved my ah ma's curry and his noodles reminded me of home. So I said, 'ok lor, teach me how to cook it!'"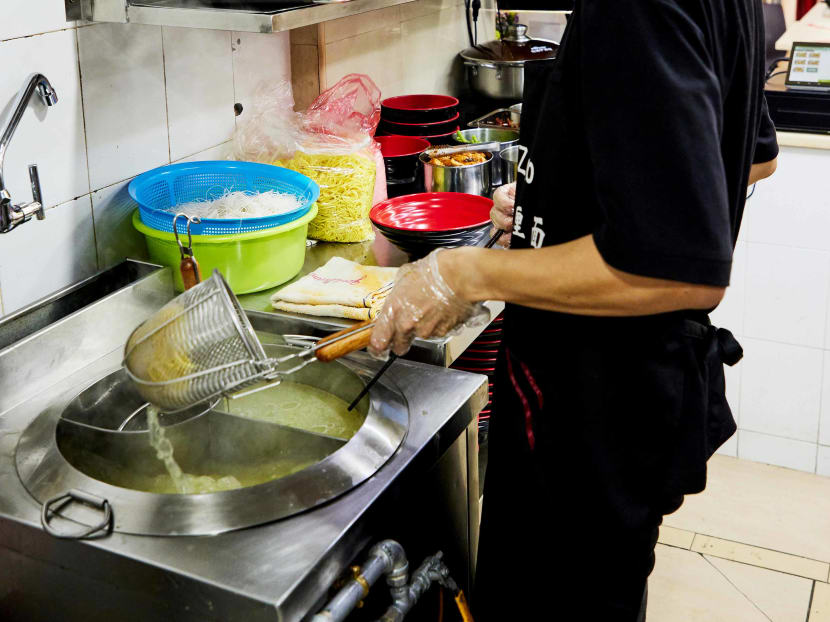 Malaysian-born Jacky has been working in Singapore for the past four years. His previous jobs include bag and shoe repair at Mister Minit.
F&B appears to run strong in his blood, though. Steven has nothing but praise for the novice hawker. "He has exceeded my expectations so far. He's a quick learner and very hard working. Preparing the curry is a complicated process – for example, it's very easy to burn the rempah when frying it, but Jacky handles it well," shares the proud father.
"I don't think there's anything [about being a hawker] that's particularly tough, as long as your heart is in it. Of course he's stricter when it comes to training me, but everything has been smooth and there have been no big arguments," says Jacky. "The long hours are the most challenging part. I now wake up much earlier than before, and I have less time to rest. But I'm quite adaptable and I'm used to it now."
Since its opening, biz has been encouraging. The stall sells about 200 bowls of curry noodles a day, with the number rising to almost 300 during weekends. "We're especially happy when Malaysian customers say our noodles have 'jia xiang wei' (mandarin for "taste of home"). It's an added dose of confidence for us," says Steven.
He is currently scouting for a location for a second stall, with the plan of letting Jacky helm one of them. A menu expansion is also in the works, with Penang laksa possibly added to their Malaysian noodle repertoire soon.
While they look similar, the noodles here do not taste like the Singapore-style curry noodles you'll find at Hong Lim Food Centre. The spices are way more robust (closer to Indian curries, in our opinion), and the soup is richer and more savoury than the latter. You can also identify Ipoh-style curry noodles from their toppings, which typically include roast pork, char siew, chicken and pig skin.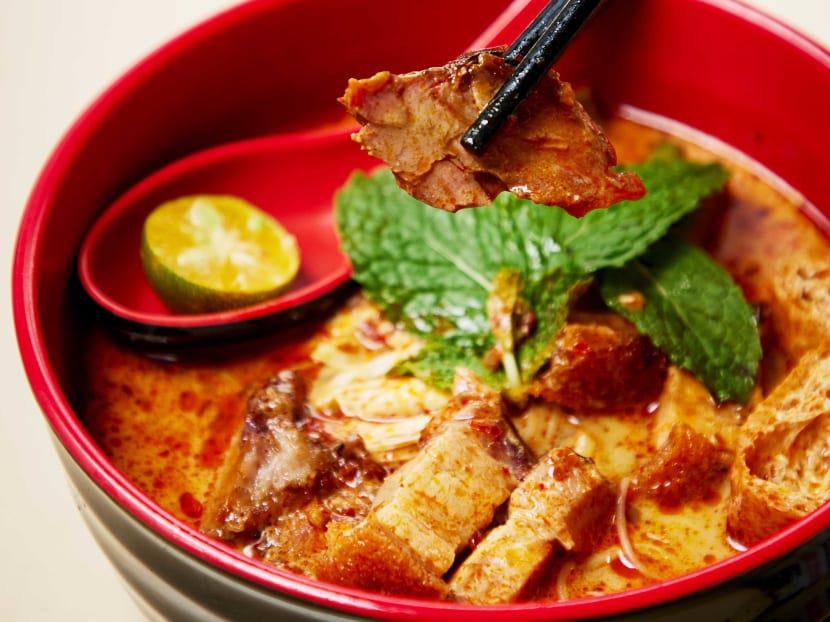 The aromatic curry soup is the result of a 'secret' rempah made from a dozen ingredients and fried for an hour before being combined with water and coconut milk to yield the smooth, fragrant base. We found the spiciness level just right – not overpoweringly hot but with enough piquancy to pack a punch. The lime and mint garnish add a refreshing zing to cut through the richness of the soup.
We like the generous portion of roast pork and char siew (both from a supplier), while the deep-fried tofu puffs were a delight to chomp on, having soaked up the gravy like a sponge. Other toppings include shredded chicken breast, bean sprouts and long beans.
For carbs, you can choose between yellow noodle, bee hoon and hor fun – we recommend the winning combination of bee hoon-mee.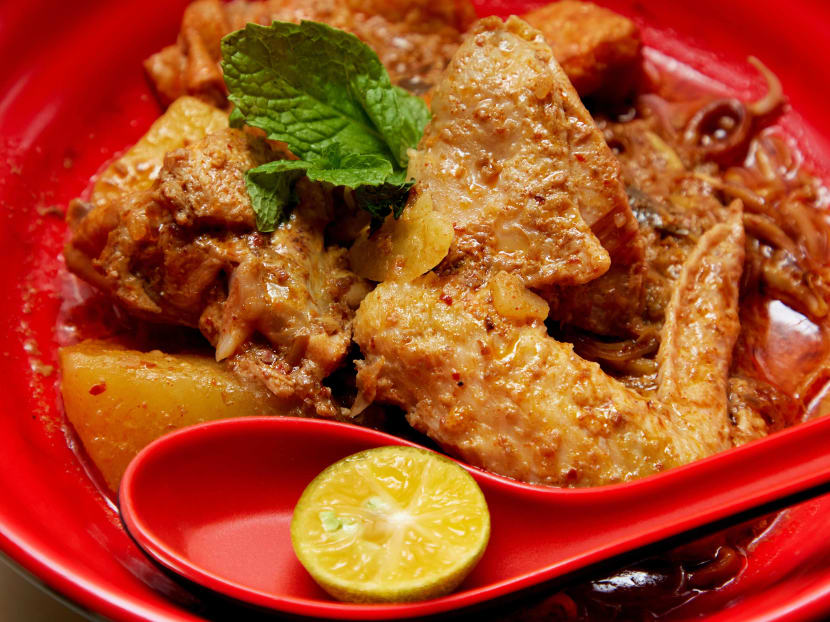 The dry noodles come with a thicker curry gravy enhanced with dark soy sauce, which glosses the strands of smooth hor fun in our bowl beautifully. However, we found the fragrance and spiciness of the curry to be more subdued compared to the soup version.
Topped with chunky curry chicken and potato pieces, this is a satisfying pick for those who prefer a less spicy bowl of curry noodles.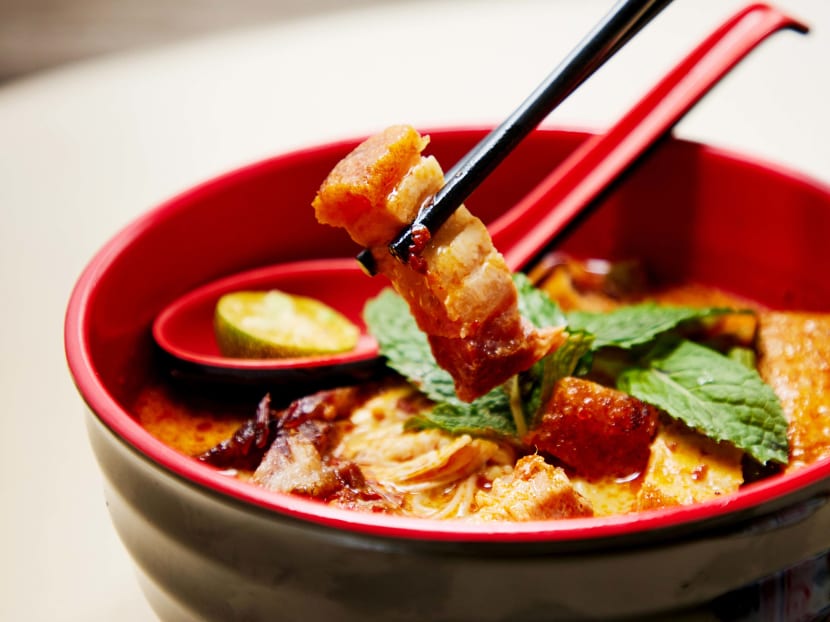 For $5.50, the soupy curry version is value-for-money, considering the generous mix of roast pork, char siew, chicken, tau pok and veggies in the bowl. The highlight is of course the gravy, which is punchy and has just the right amount of richness so you won't feel too jelak even if you finish the last drop. Overall, we found the soup version more satisfying — we couldn't get enough of that addictive, lemak curry gravy that reminded us of the noodles we had in Ipoh a few years ago.