Hawker Who Looks Like Hip Gyoza Chef Makes Teochew Herh Keow From Scratch
He even uses a Japanese soba knife to slice the dough.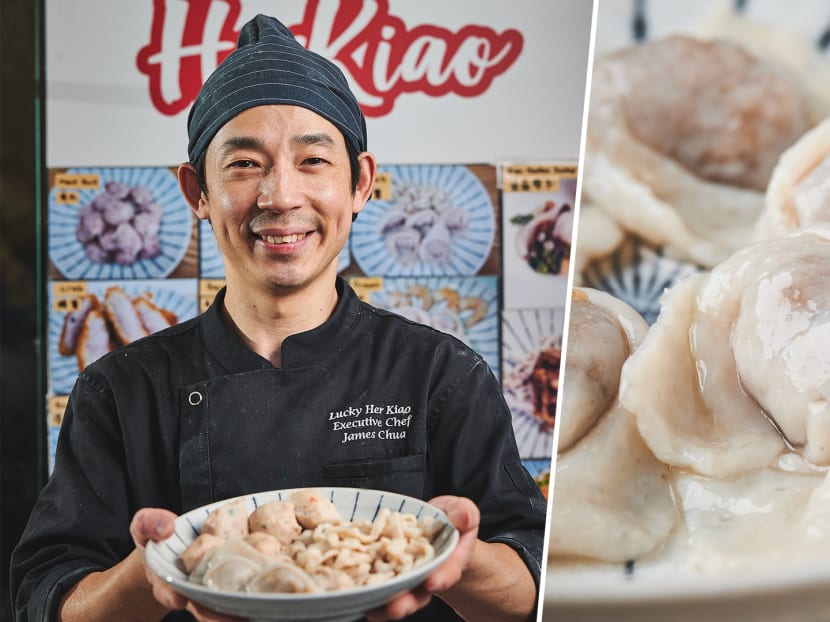 Herh keow
(Teochew fish dumplings) – especially factory-made ones – can veer into gummy territory. Not in the capable hands of the youthful-looking James Chua, 43, who has been making these
Teochew delicacies
since he was a teen and helping out at his father's
fishball noodle
stall.
As it turns out, James' dad is the owner of Original Song Kee at Toa Payoh Lor 5 – not to be confused with Song Kee Fishball Noodle on Yio Chu Kang Road (the latter, in our opinion, is the best of the Song Kees around). He also runs Finest Song Kee Fishball Noodles on Upper Serangoon Road and is a cousin of the three Chua brothers who own Song Kee Fishball Noodle, though the two businesses are completely unaffiliated.
All photos cannot be reproduced without permission from 8days.sg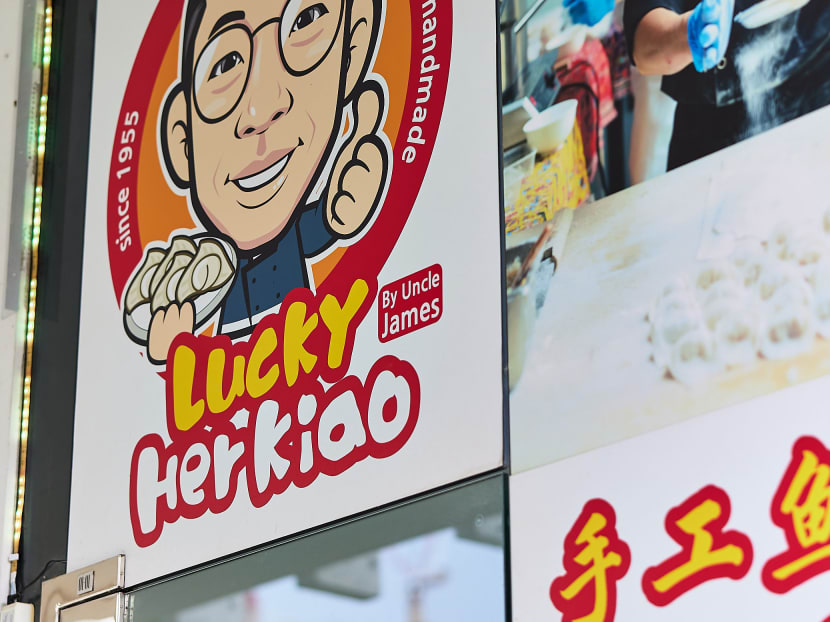 Over a year ago, James opened a shop specialising in handmade herh keows and other fish products like fish balls and fish paste noodles at One Dusun Residences along Balestier Road. All the products are sold frozen. The shop is called Lucky Her Kiao, after James' nickname – Ah Heng.

We asked why he chose not to use the Song Kee name, since the instant brand recognition would be good for his new biz. "If I use the Song Kee name, then people will expect traditional items like only pork herh keows and fish balls. I want to come up with new, creative items and create a brand for myself here," the ambitious boss explains in mandarin.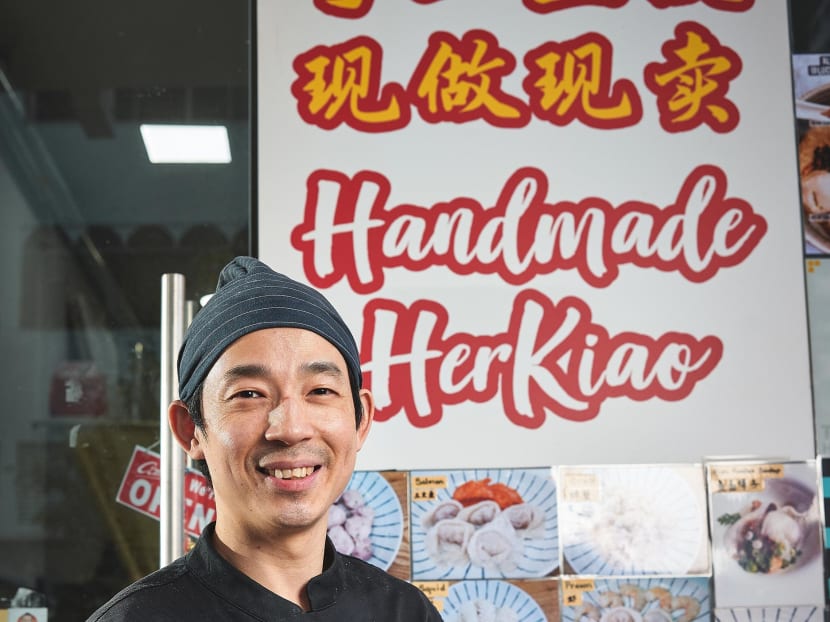 The chatty artisan tells us he's been thinking of opening a herh keow shop for more than two decades. "I've always been passionate about herh keows. It took about six months to master the recipe from my dad and I started seriously making them daily when I was about 19 years old," shares James. He began working as a hawker with his dad at the Toa Payoh stall back in 1989, after finishing his primary school education. James is married with a four-year-old daughter and his Korean-born wife sometimes helps out with orders at the shop during weekends.

"I was so busy [with the family biz] and there wasn't really time to properly plan it even though the idea [of opening a shop] was always on my mind," he says. "There's hardly anyone who knows how to make or are making herh keows from scratch in Singapore now, I could be the last few. It's a skill that might be obsolete soon, so it's something that I want to elevate – I want to create new fillings, develop innovative fish products. When I finally found the current location, I decided to go ahead with it."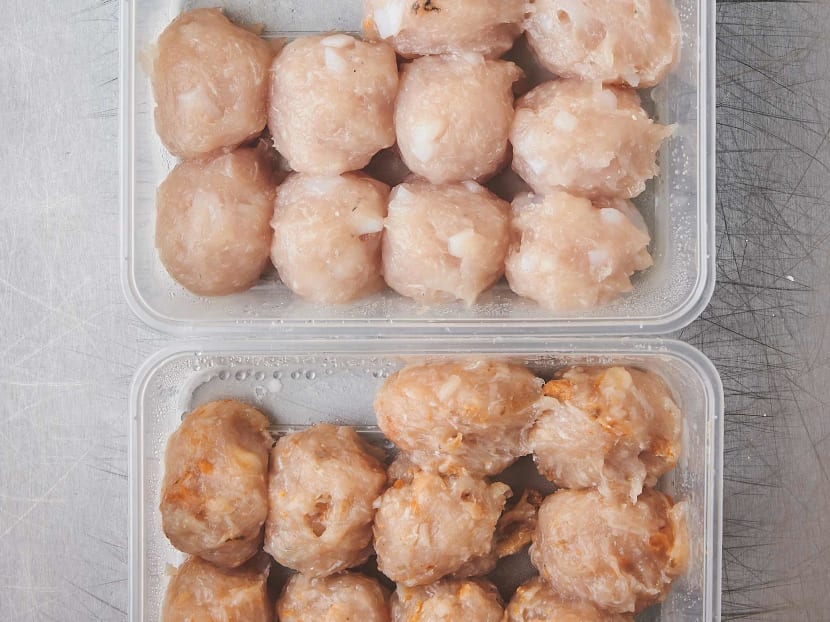 James tells us candidly that when he first started Lucky Her Kiao, he was hardly making a profit. "I was supplying our own stalls, and that was only enough to cover the rent. I'm a crazy person. I don't think about making a lot of money first. I believe in perfecting the product. Once your product is good, the money will come in."

He shares that biz has become "much better", especially after a recent feature by a food blogger. "Since the article, I've been getting more orders from younger folks. Previously it was mainly uncles and aunties."

The hardworking artisan makes about 3,000 to 4,000 fish dumplings daily – about half are supplied to his family's stalls and the rest are sold to walk-in customers and pre-orders. While James confesses that he would love to supply his dumplings to restaurants and supermarkets as well, he tells us that he is restricted by his one-man-operation for now. "I'm already working all the time, except for my one day off a week and a few days during Chinese New Year, to meet the current production orders. It's impossible to scale up unless I get other business partners that can help to set up mass production."

When asked if a factory-made herh keow will still taste as good, James' response was confident. "I've been doing this all my life. I have ways to manufacture it in a way that still meets my standards."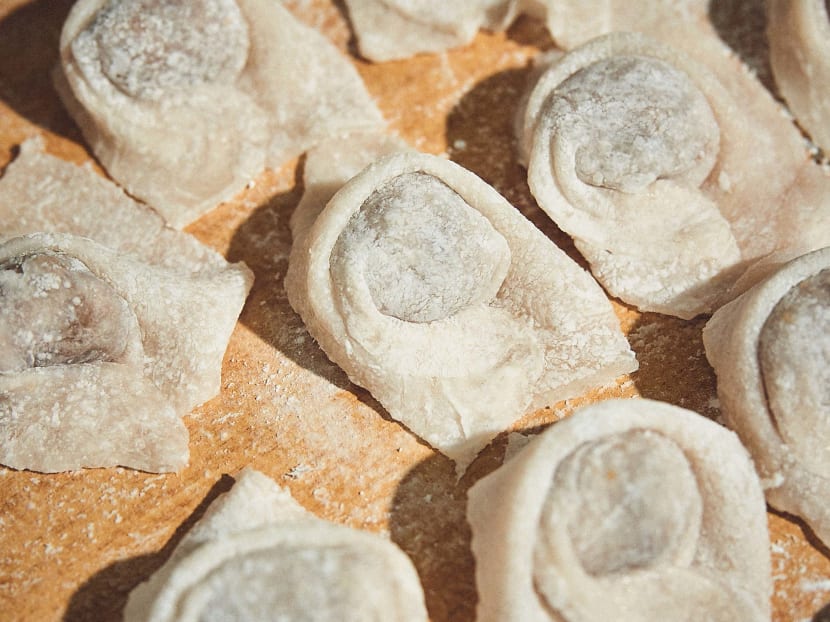 James says his dad is supportive of his new venture, despite 'losing' a capable assistant at his noodle stall. "Because I'm still waking up at 2.30am every day to make fish balls at his stall! Then I come here at 10am to continue making herh keows," he quips. He has a younger brother and sister who are not involved in the family biz.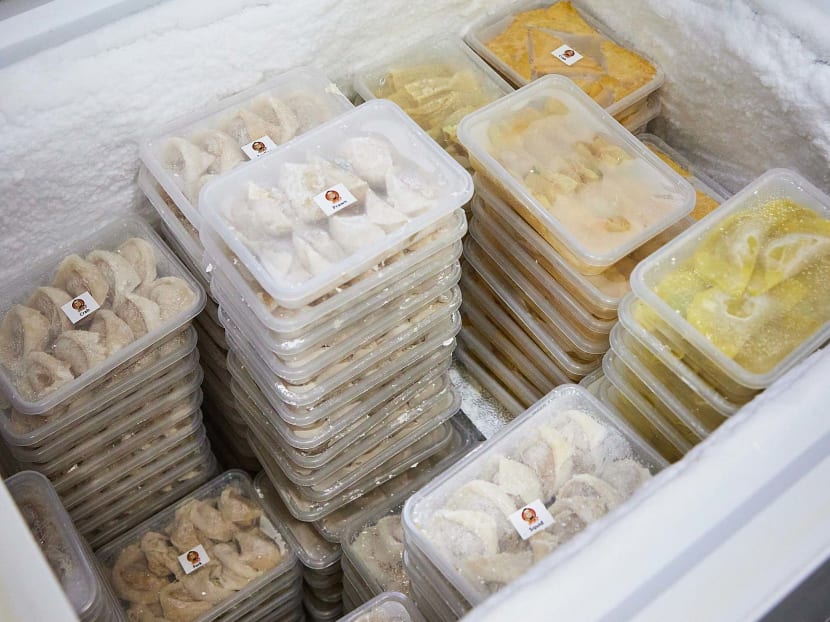 There are two freezers and one fridge in the tiny shop that stores over a dozen different types of fish products. James loves to experiment with different fillings for his fish dumplings and fish balls – so far, he has introduced herh keow stuffed with salmon, scallop and crab, as well as specialty fish balls made with scallop, prawn and squid. He also sells a variety of stuffed tau pok and tau kee and wantons.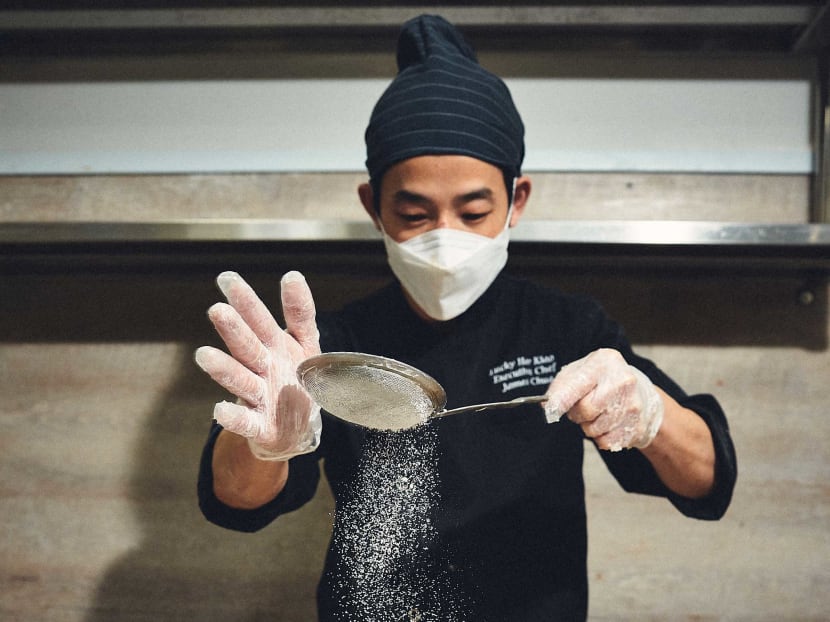 Wearing a flour-dusted black chef uniform and striped apron, with his man bun concealed under a head wrap, James could pass off as a rather hip Japanese soba — or gyoza — chef.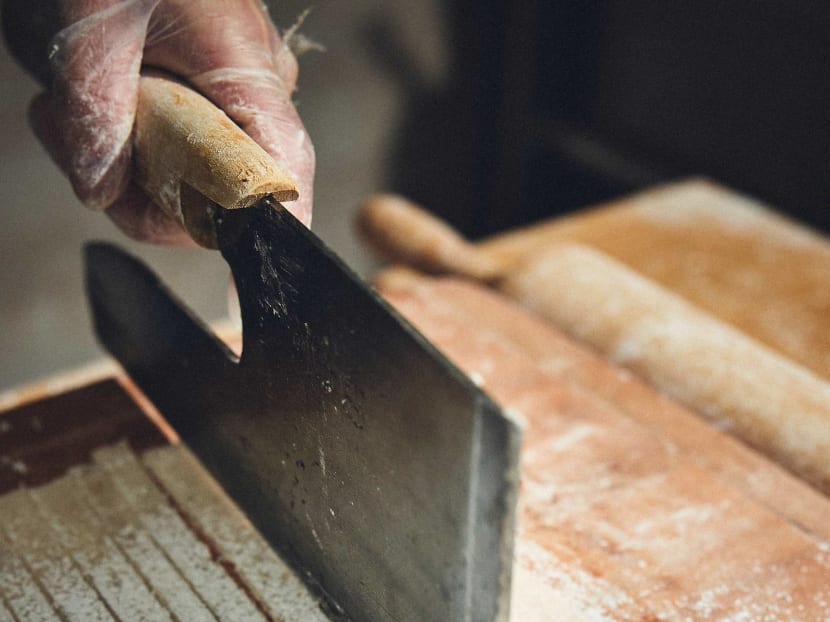 He even uses a Japanese soba kiri knife to cut the flattened minced fish into rectangular dumpling skins or neat long strips to make fish paste noodles.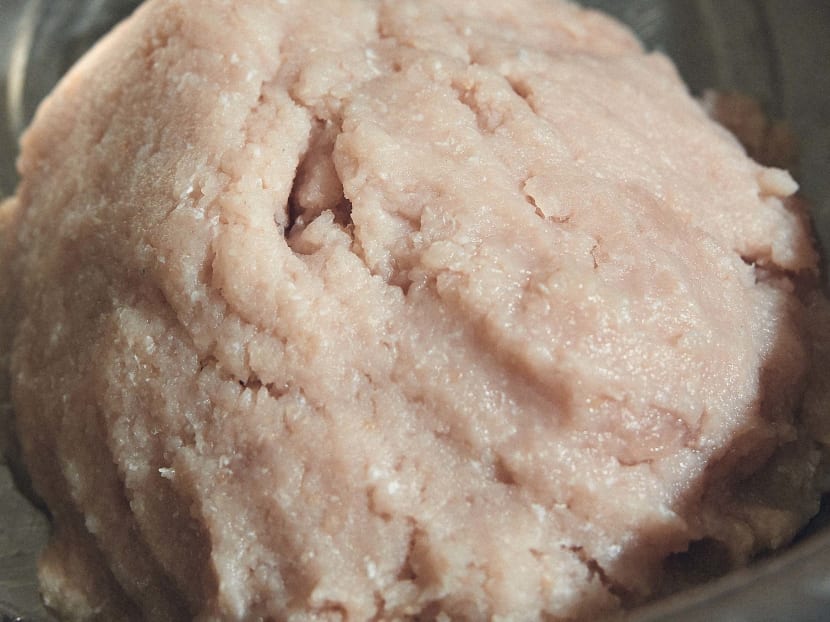 James uses a special type of Malaysian yellowtail fish to make the dumplings – he orders about 200-300kg of fish a week. "We have suppliers to deliver them to us. It's not something you can find at wet markets. You have to use the right fish to get the correct texture for making herh keows – otherwise the fish paste will break easily when you're rolling it out."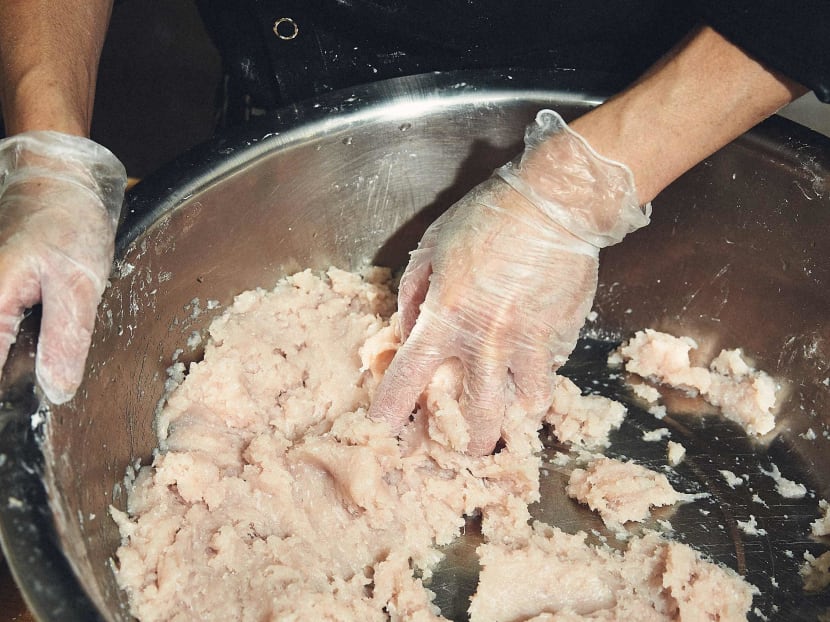 After adding salt and msg powder to the pure fish paste, James manipulates the fish paste through a series of kneading and slapping to bind the mixture. "I know whether it's ready [to start flattening it into dumpling skin] by touch."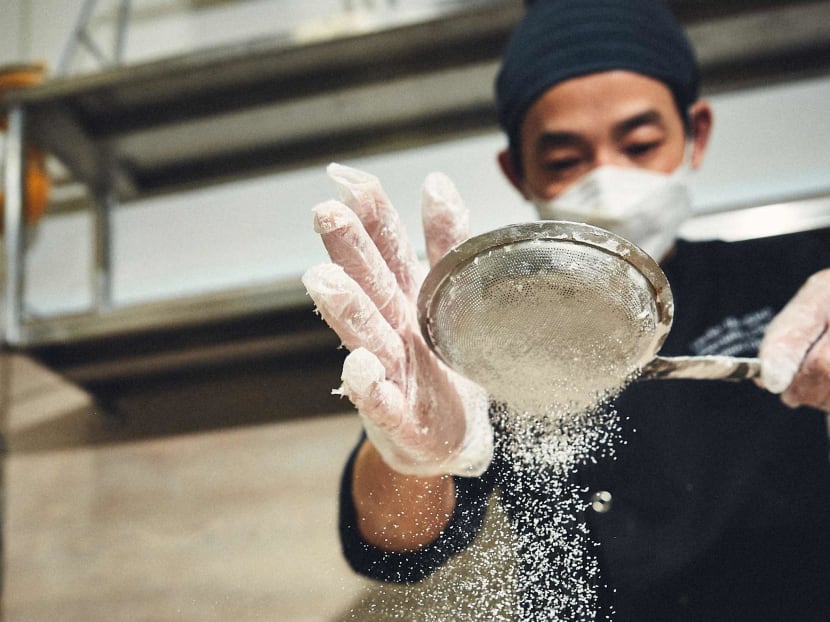 Before rolling the fish paste into herh keow skin, James dusts tapioca flour over his workbench to prevent sticking. The sifting is proof of his perfectionism – "I don't want the paste to get lumpy."
Sometimes, he employs a couple of part-timers to help with the wrapping, but most of the work is done by him.
A partnership with hotpot chain Haidilao would be an ultimate dream come true for James. "It'd be amazing if my products can make it into their restaurants!" he says, laughing. "For someone like me who has only had a primary school education, it'd be satisfying to have that kind of recognition. I hope it'll happen some day!"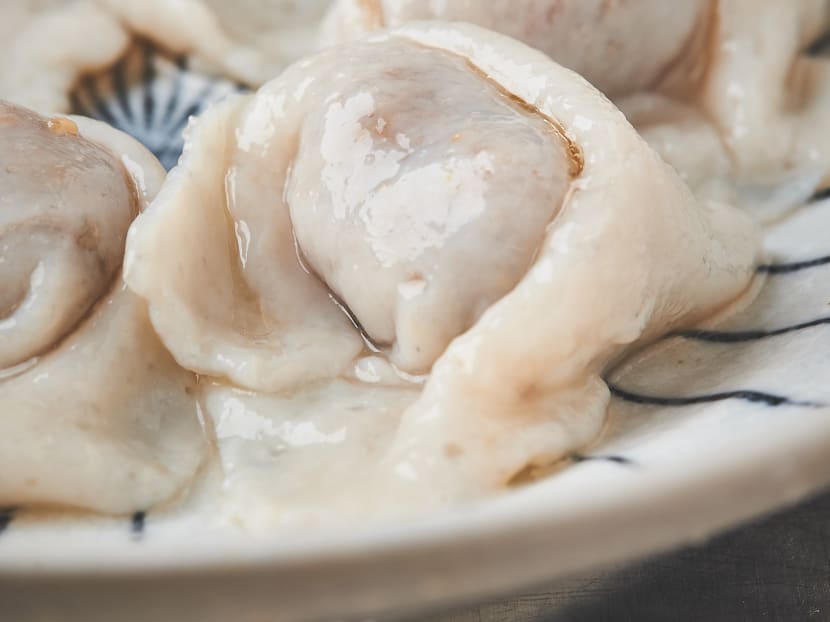 After cooking the herh keows in boiling water for three minutes – as recommended by James – we were delighted by how the dumpling skin takes on an ivory-hued glossy sheen. This is a testament to James' use of pure, quality fish paste, unlike the dull factory-made dumplings out there that use more flour as a bulking agent.

The jumbo herh keow holds a slippery chew and is a terrific vehicle for the generous amount of minced pork loin flavoured with fragrant dried flounder powder that James makes from scratch. There's a good amount of pepper used in the stuffing to give the dumpling a heady punch.

James also makes herh keows with newfangled filling like crab, scallop, salmon and more – sold at the same price as the pork ones. It's best to call in advance to check if these limited-edition flavours are available, as James only makes them when he can find fresh, quality ingredients at the market.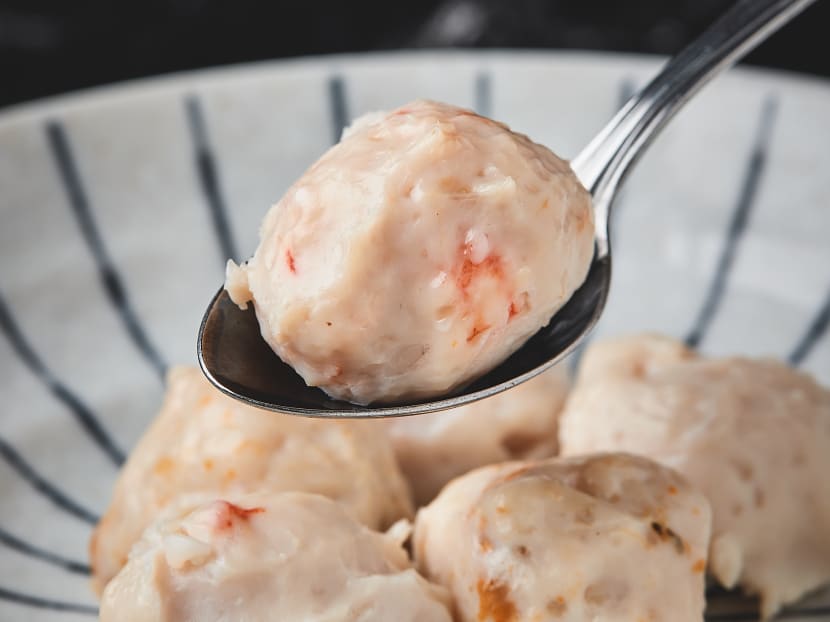 Studded with red prawn bits, this specialty ball tastes as good as it looks. James uses fresh tiger prawns that he personally sources from Ghim Moh market to incorporate in these balls made solely from yellowtail fish paste. It's soft, juicy, with a bouncy bite and has a distinct but not overpowering fish aroma.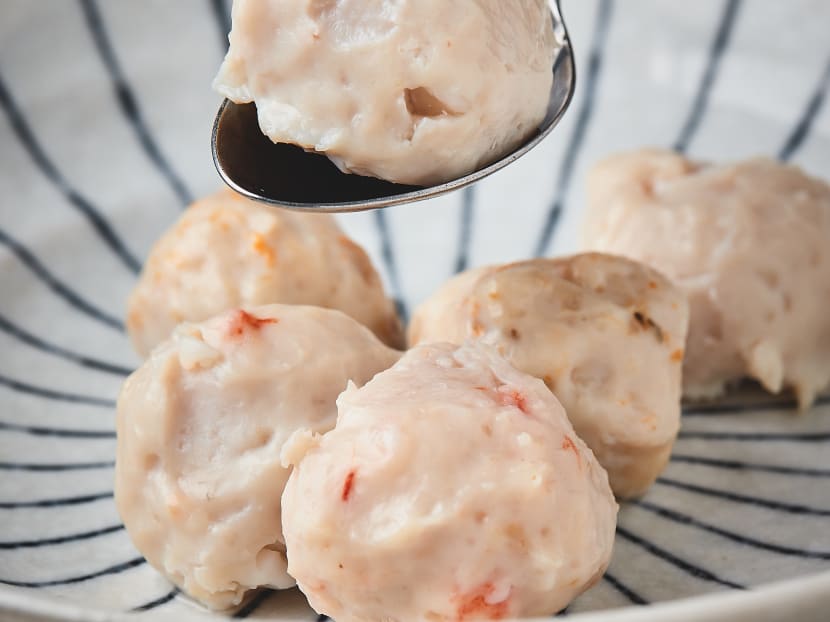 The diced sotong adds an enjoyable chewiness to the fish ball, though it was hard to detect the squid flavour when eating it as a whole.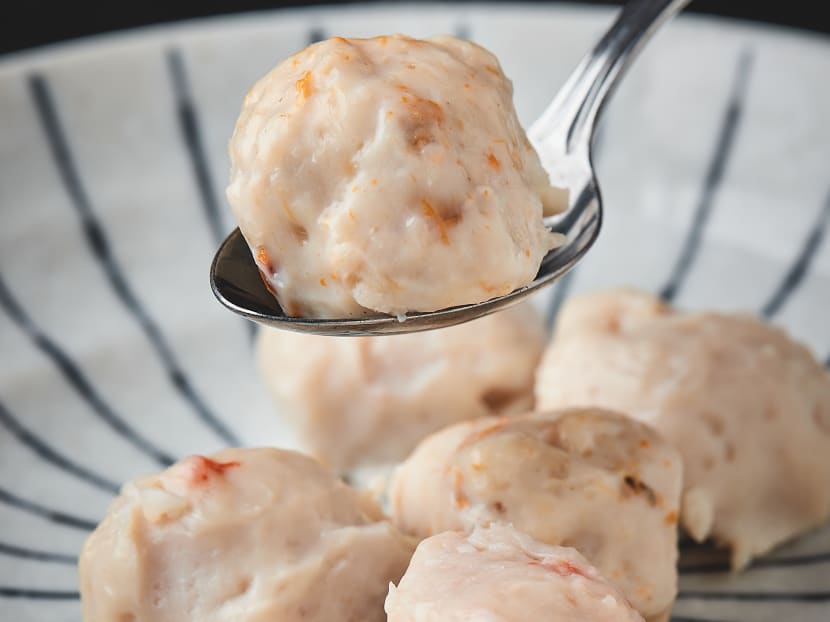 Our favourite out of the seafood orbs – the fresh scallop chunks were especially fragrant, with a subtle sweetness that pairs beautifully with the fish paste.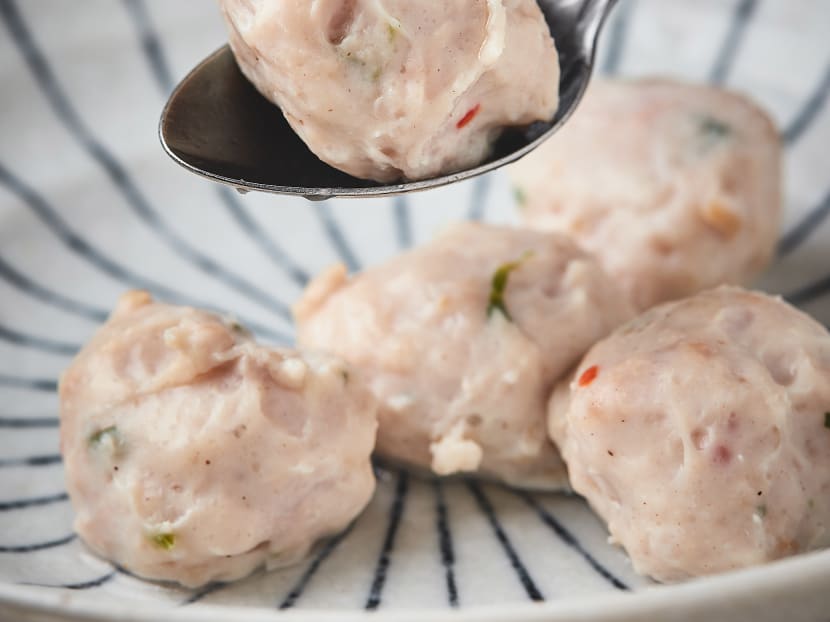 James uses an equal amount of pork loin and yellowtail fish paste to make the meatball, which gives it a more tender, yielding texture compared to pure pork meatballs that can sometimes be too tough. We also enjoyed the fragrant coriander and chilli bits, which gave the meat balls extra oomph.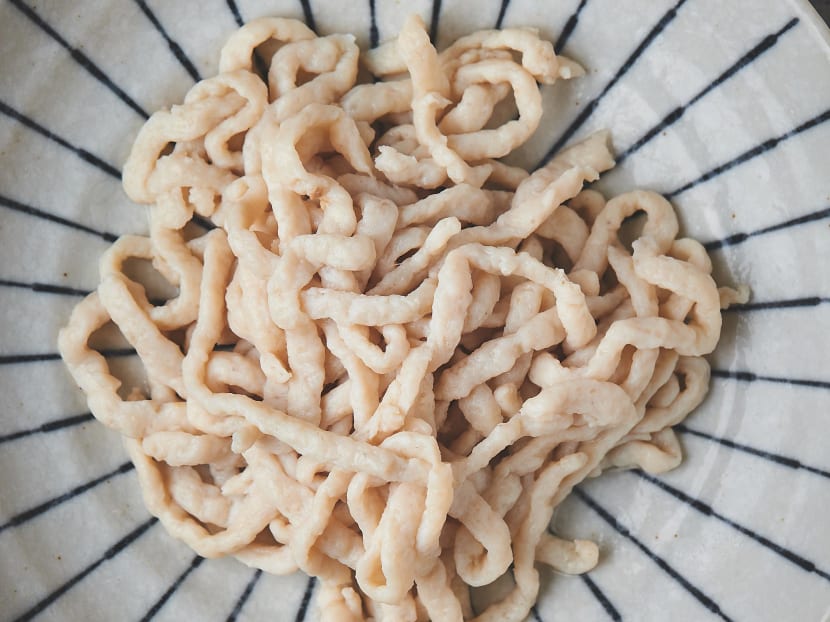 These silky and springy handmade 'noodles' are wholly created from fish paste without any seasoning, which makes them great for experimenting with different sauces and cooking styles. James, whose wife is Korean, suggests tossing them in tteokbokki (spicy rice cakes) sauce or deep-frying them like keropok.