Home Cook Sells $20 Prawn Mee With Tonkotsu-Style Soup & Tiger Prawns
The recipe is based on his Table At 7 restaurant chef mum's version of the dish.
Since its launch in June, Grandmaster Prawn Noodles, a home-based business hawking the titular noodles, has been consistently sold out. "We do a limited run of about 30 to 40 bowls each time, twice a week. This is the maximum I can handle for now as I'm the only one cooking," says sole biz owner, Errol Chandra, 31. The thirty-odd orders are often snapped up within a day – evident from the steady stream of "sold out" updates on Grandmaster Prawn Noodles' Instagram account.
The young cook, who has a business degree, tells us he is also juggling a full-time job handling accounts and HR for a marketing agency while running the food biz. "My sister is helping with orders and social media, but I'm handling all the kitchen work and operations on my own."
All photos cannot be reproduced without permission from 8days.sg

Don't mistake this for your ordinary bowl of prawn mee – Errol's soup is thick, almost-creamy and pork-forward, similar to tonkotsu ramen (pork bone) broth. "My mum is a restaurant chef, so I learned the recipe from her. Her version is atas and uses lobster and abalone, and it's my favourite prawn mee as I grew up eating it," shares Errol. "I thought it'd be good to learn to execute this dish, since it's [a twist on] a Singaporean staple."
It took Errol a few weeks to perfect the recipe. "I first learned the recipe a few years ago but didn't act on it. When I had the idea to start a HBB, I sent beta versions to friends and family, and slowly tweaked it based on their feedback."
Errol's mum is none other than Eugenia Ong, who co-owns Table At 7, a modern European and Indonesian fine-dining restaurant, with Austrian chef Karl Dobler. The veteran chef is known for her reinvention of traditional dishes with premium ingredients, such as wagyu oxtail rendang, a specialty at the restaurant.
"She's very supportive of me learning her recipes and following in her footsteps. She will taste my food [to ensure it's up to standard]," says the reticent home cook, whose only F&B experience is "doing admin stuff" at his mum's restaurant prior to setting up Grandmaster Prawn Noodles. "I grew up seeing my mother's passion for cooking and love for F&B. That inspired me to start my own path [in the industry]."
Even though Errol's version excludes lobster and abalone to keep the prices affordable, he doesn't skimp on the ingredients used in his recipe, especially the prawn and pork rib. "I make sure my ingredients are fresh and hand-select them from Tekka market. I'm particular about the pork rib – it has to be very soft as I like the meat to fall off the bone. So I pick fresh ribs from the market."
For prawns, he opts for the larger, more flavoursome tiger prawns. "I use about 7kg of prawn heads for each batch of broth. That's about 120 prawns." Every bowl also comes with three jumbo prawns, lovingly shelled by the cook. "I prefer my prawns peeled [when eating prawn mee], so it's worth doing it for the customers even though it's time-consuming to de-vein and shell them myself."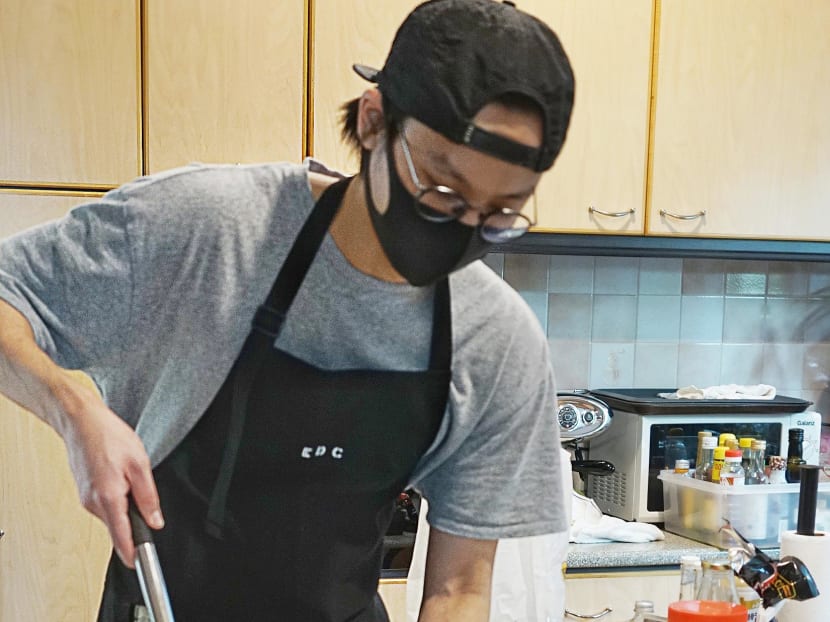 Errol tells us the most time-consuming part of his cooking process is making the broth. "It takes about three to four days. I have to boil the pork bones and prep the other ingredients – like sauteeing the prawn heads and dried shrimps. It takes time to get the thicker, milkier and more gao (rich) consistency for my broth."
Deliveries are sent out every Wednesday and Saturday. "For Wednesday's orders, I start prepping the broth on Sunday. Once the batch is done, I have to start prepping immediately for Saturday's deliveries. The noodles and kangkong are cooked on the day of delivery."
The perks of having a chef mum? A well-equipped landed house kitchen with restaurant-standard equipment, like large steel stock pots that Errol uses to make the broth. "Yeah she has everything!" he affirms.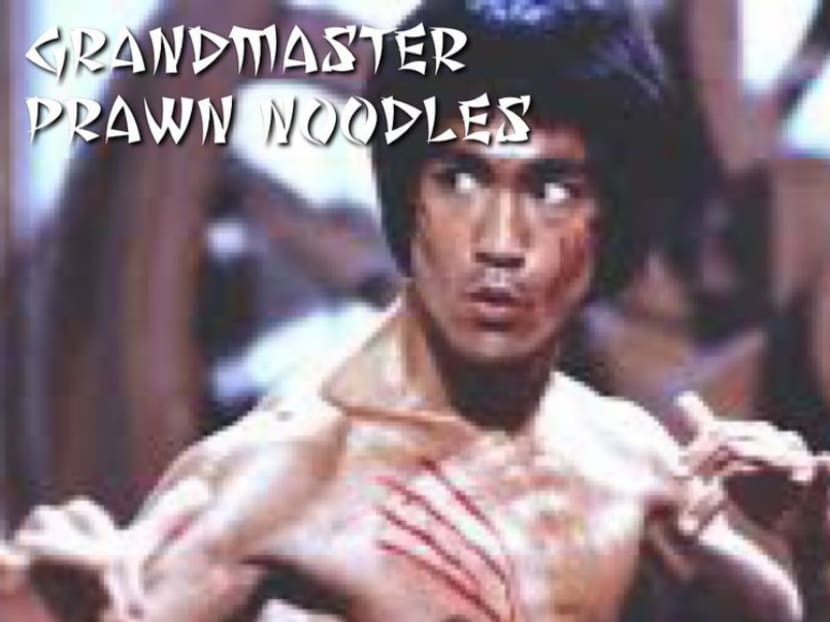 Grandmaster Prawn Noodles is exclusively taking orders through Instagram, and the account is an absolute riot – with Bruce Lee film posters and hilarious captions like "A pot needs to be emptied, before it can be filled again" and "Ask not when is the next lesson, but how well this lesson is learned".
"There's no story behind it lah, I just thought it'd be funny to use a kungfu master of prawn noodles story," says Errol. "I don't write the captions. The account is run by my sister [who works in marketing] and her boyfriend."
"My initial plan was to open a prawn mee restaurant – this is an idea that has been in the works for a while. Right now it's a good trial to get feedback via my home-based biz first," shares Errol, who has his sights set on opening a physical shop if his home-based biz continues to do well. His mum has been encouraging, too. "She has advised me to be confident of my dish and not to panic over small hiccups," he says, referring to the uncertainty of starting a biz during the pandemic.
"I'm encouraged by the positive feedback so far. There are customers who ordered during the first few weeks of our launch and have continued to support us. It's rewarding to know that people love the noodles."
Currently, Errol is working on "ramping up the quantity of orders", as well as developing a dry version of prawn mee – an item that many of his customers have been asking for.
You get about 350ml of soup with each order, which doesn't seem like much when you pour it out of the container (Errol recommends reheating the soup before eating), but trust us, the flavour-packed soup will last till your final scoop of noodles.
The broth is like a cross between tonkotsu soup and seafood bisque – very thick, hearty and brimming with pork and prawn flavours. Fans of heavier ramen styles will enjoy this 'gao' version of prawn mee soup, though we think the strong brininess can get a little too overpowering and jelak towards the last few spoonfuls.
We like the use of you mian (egg noodles), which has a springy, chewy bite without the alkaline taste of traditional yellow noodles. The toppings are excellent: the tiger prawns are sweet and succulent, the braised pork rib is tender and falls off the fork easily, and the generous pile of kang kong adds a lovely crunch to the bowl.
The separately packed fried pork lard is another sign of Errol's meticulousness. Made from scratch, it contains smaller bits as well as chunkier cubes for varied texture. Shiok.
It's a little pricey for prawn mee, albeit an atas version – $52 for two bowls (the minimum order) and delivery – but still worth a try, especially if you like tonkotsu ramen-style soup. Be warned that unlike local hae mee, the soup is ultra thick, so you have to be into super rich stuff to thoroughly enjoy this. Meanwhile, the other components were excellent and make for a satisfying bowl of premium prawn mee.