Kit Chan Made Oatmeal Cookies With "Domestic Un-Goddess" Rui En & Didn't "Trust Her To Handle Mixer"
Kit's an avid baker while Rui En, a noob, admits, "I CMI (cannot make it)".
Remember the "chaotic" clips of Rui En whipping up a meal for Dennis Chew on his birthday this year (you can watch them here and here)? Well, thankfully the "domestic un-goddess", as Rui En self-deprecatingly calls herself, didn't bring the chaos with her when she met up with singer Kit Chan to bake oatmeal raisin cookies for her recent Instagram TV video.

After the hilarious cooking videos, many fans suggested she try baking, so Rui En invited Kit to be her guest. Titled "Calm Baking with Kit Chan", the 40-year-old actress says on IG that the session was chaos-free as Kit not only made sure they did all the food prep before the shoot, but also took over the stirring of the mixture "because I CMI (cannot make it)".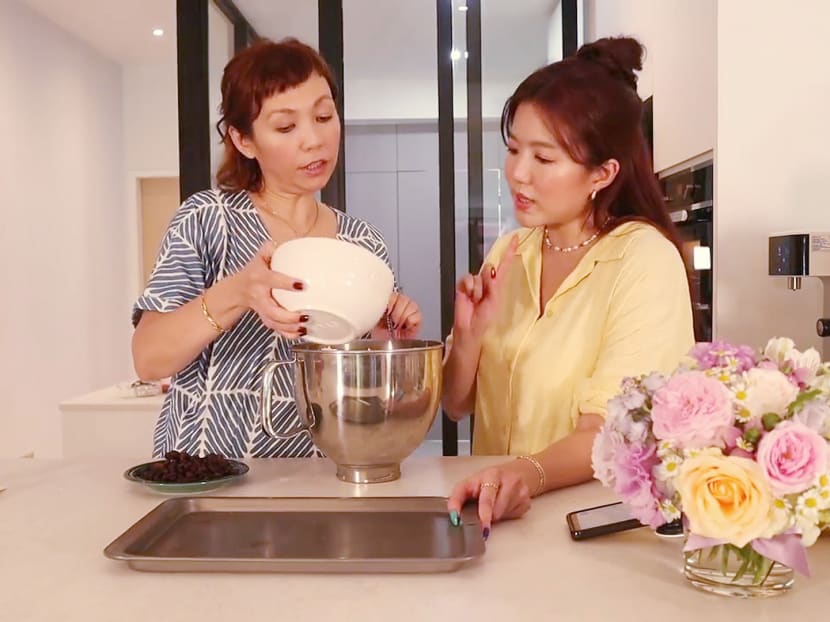 Well, not that Kit would allow any mayhem. Despite the cool cat that she appears to be, Kit, who just turned 49 some three weeks ago, tells 8days.sg that she's "a bit of a control freak", that's why she took charge of the baking.
"I could tell Rui En has never baked before, so I was not going to trust her to handle the mixer," she says, though she did consider sabo-ing Rui En for a minute.
"This was edited out of the video, but I was telling Rui En that when you add the flour in the mixer, you want to start at low [speed] and then as the flour gets mixed in, you [slowly increase the speed]. So, when we were doing that, I should have played a trick on her and told her to put it all the way to the highest speed then she'll have flour [flying] all over her face. But no, I didn't do it," she laughs.
That would have been quite a sight.
Her only task for "sous chef" Rui En was to add the raisins to the cookie dough, and even then, she quickly took back the reins when things didn't quite meet her expectations.

From their easy chemistry, it's hard to believe that this was their first time meeting each other in person. The pair had only recently gotten acquainted via Instagram (they both joined the social media platform within days of each other). They started chatting over DMs, then via phone text messages, and when Rui En decided to do a baking video, she invited Kit to be her guest.
For those of you who didn't know, Kit is an avid baker and has even starred as a pastry chef in Mediacorp web series Patisserie Fighting, though if you asked her, she'd probably tell you "baking in an acting sort of way", is not as enjoyable.
Her go-to bakes are biscuits and cookies, and the oatmeal raisin cookies, which happen to be Rui En's favourite, are one of those that Kit makes regularly.
"It is one of those cookies that you can sort of lie to yourself that it is healthy. 'Cos while it has all the fat and sugar, it also has a lot of fibre. There are three cups of old-fashioned rolled oats, that's like a lot of oatmeal. And I also really like the textures in an oatmeal raisin cookie," she quips.
For Kit, the perfect oatmeal raisin cookie should be crunchy on the outside and chewy on the inside, and not too sweet. "This is why you need to use old-fashioned oats, which give a much better chew. 'Cos if you use quick oats, they break down a lot easier. It is all about texture," she says.
She also uses both butter and butter-flavoured shortening in her recipe 'cos "butter gives a cookie crispness and shortening gives it chewiness".

Kit chose this recipe for the baking video as it is not only simple, but also "foolproof", perfect for noobs like Rui En. It is adaptable to suit different tastes too. If you're not a fan of raisins, you can substitute it with cranberries, dried blueberries or even chocolate chips. Don't have cloves? Just add more cinnamon or allspice.
One important tip she has for beginners is not to be too hung up on the baking time of the recipe.
"The baking time says 10 to 12 minutes, but it really depends 'cos every oven is a little different. Look at the colour of the cookies. If the colour is quite brown at 10 minutes, you can take it out of the oven, otherwise go all the way to 12 minutes," she says.
"The cookie is gonna be soft when you touch it. Don't worry, take it out, let it cool on the rack and it will harden on the outside within five minutes. This is very important 'cos I [overbaked them] when I first started," she adds.
Now that Kit has made her first baking video, would she be keen to do her own baking show?
"That's something to think about. But I think if I ever did a baking or cooking show, I won't be like an expert, but more like a Nigella Lawson or Jamie Oliver, where it's about home stuff, not professional restaurant standard stuff. I would inject stories about life, and why food is so important in our lives. And I would really love to share that passion for eating, for food and life. Who knows? One day CNA might have a programme and I would love to do it," she says.
"But my real dream is to be in a food show, travelling all over the world, tasting different things, meeting people, seeing and trying new things. I have a feeling I would really excel in that. And I do hope that such an opportunity would come."
CNA producers, are you reading this?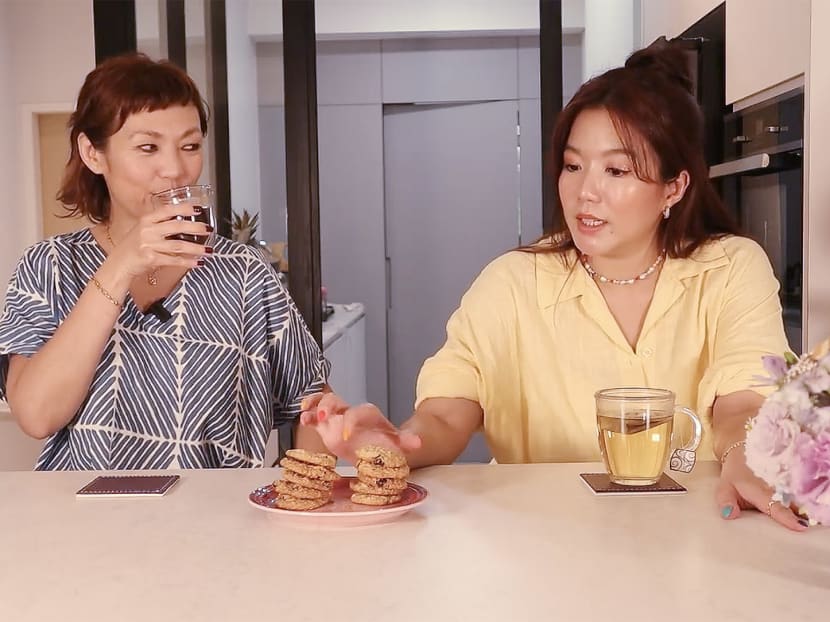 Makes about 36 cookies
Ingredients
½ cup butter, softened at room temp for 10 mins
½ cup butter flavoured shortening (like Crisco)
3/4 cup tightly packed light brown sugar
½ cup caster sugar
2 eggs
1½ tsp vanilla extract
1½ cups all-purpose flour
1 tsp baking soda
1 tsp ground cinnamon
½ tsp ground cloves
½ tsp sea salt
3 cups rolled oats
1 cup raisins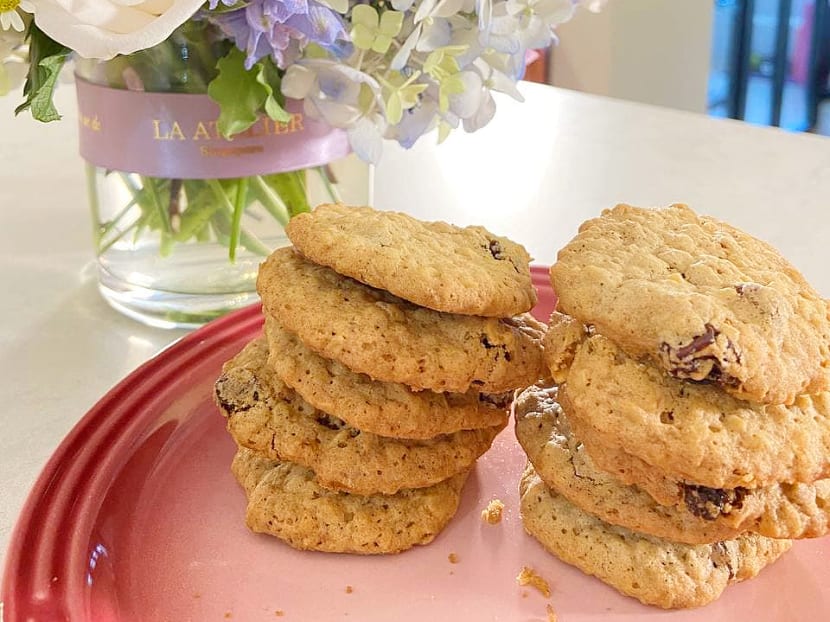 1. Preheat oven to 175°C. Line baking tray with baking paper.
2. In the bowl of a standing electric mixer, cream butter, butter flavoured shortening, brown sugar, white sugar, eggs, and vanilla on medium speed until smooth and fluffy.
3. In a separate bowl, stir flour, baking soda, cinnamon, cloves, and salt until well mixed. Add flour mixture in two batches to butter mixture, mixing on low speed each time till almost incorporated. Don't over-mix.
4. Add oats and raisins and mix on low speed till just incorporated. Using a spatula, give mixture a final quick stir to ensure no flour or oats remain at the bottom of the bowl.
5. Scoop out heaped tablespoons of dough and drop them on to the lined baking tray about two inches apart as they'll need space to spread as they bake.
6. Bake cookies for 10 to 12 mins, or until light brown. Don't worry if they're soft to the touch when you first take them out of the oven — they will harden after a few minutes.
7. Let cookies cool in their trays for two mins before transferring them to a cooling rack.
8. Serve warm and store leftovers in an airtight container for up to three weeks.
Photos: Kit Chan, Rui En/Instagram