MasterChef Israel Judge Offers Cleaver-Chopped Focaccia At 2nd S'pore Eatery North Miznon
The newly-opened restaurant is his second concept here after the pita-centric Miznon.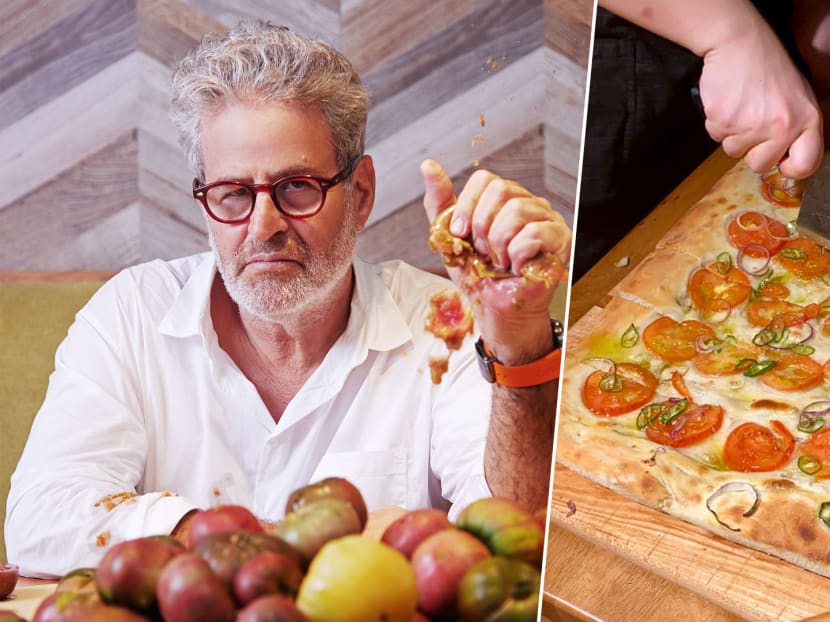 "I need a knife," declares Eyal Shani, as he grips a ripened tomato in his hand. The Israeli celeb chef and MasterChef Israel judge is at a photoshoot for 8days.sg, where he has proposed squeezing the tomato like a stress ball for dramatic effect. "It will get on my shirt, and that's when I know this [photo] session must end," he asserts in his Hebrew-accented English. At our photographer's cue, chef Eyal crushes his tomato (heirloom, imported from Israel) and pale red pulp splatters onto his crisp white business shirt. Unperturbed, he continues with his day tomato-stained.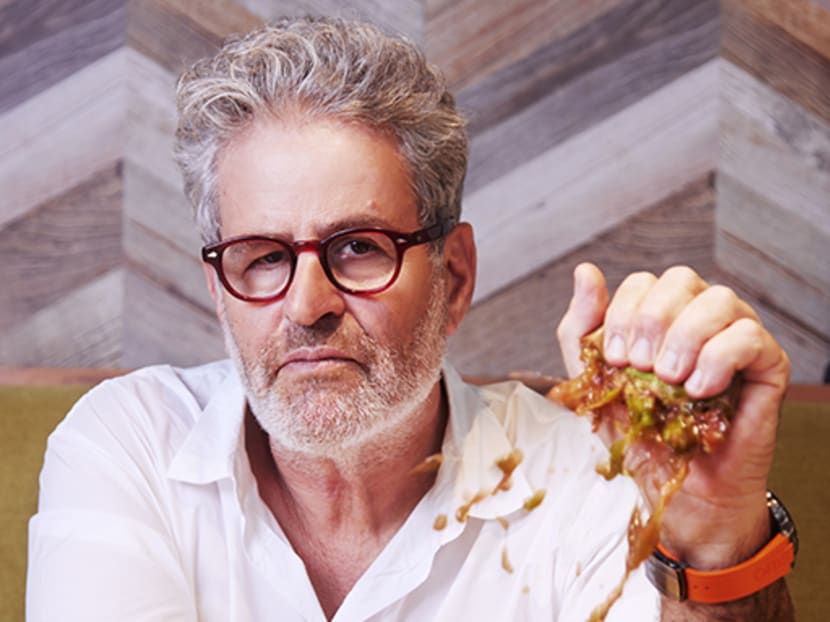 The colourful 62-year-old is in town for the opening of his latest mod Israeli restaurant North Miznon. It's the slightly more upscale sister concept of Miznon (try not to confuse the two eateries' names; the newer restaurant is just named after its original location in Tel Aviv), his popular pita-centric casual chain with a local outlet that's located just a short walk away in Telok Ayer.

Other than its first Asia branch in Singapore, North Miznon has two other outlets in New York and Vienna. While Miznon's offerings lean heavy on pita pockets, there's no pita bread at North Miznon. Instead, there are mod Mediterranean-style sharing plates that are mostly seasoned only with Atlantic sea salt and Greek olive oil.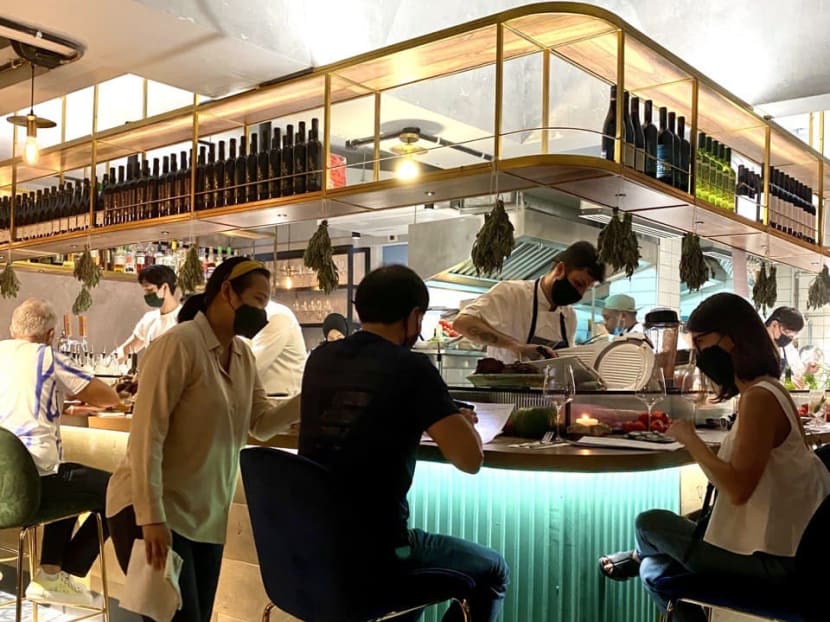 North Miznon is the latest restaurant to open along hip Amoy Street. The buzzy eatery, already packed on its opening night on Sept 21, is done up in wood and emerald green with artfully mismatched chairs. Fat, drippy white candles provide light, while rows of egg-shaped raw tomatoes lined up along banquette booths serve as quirky decoration. The tables are covered with brown paper to catch mess. An open kitchen holds court at the back of the 65-seat space, with bar seats where you can ogle at the ingredients and watch the chefs cook.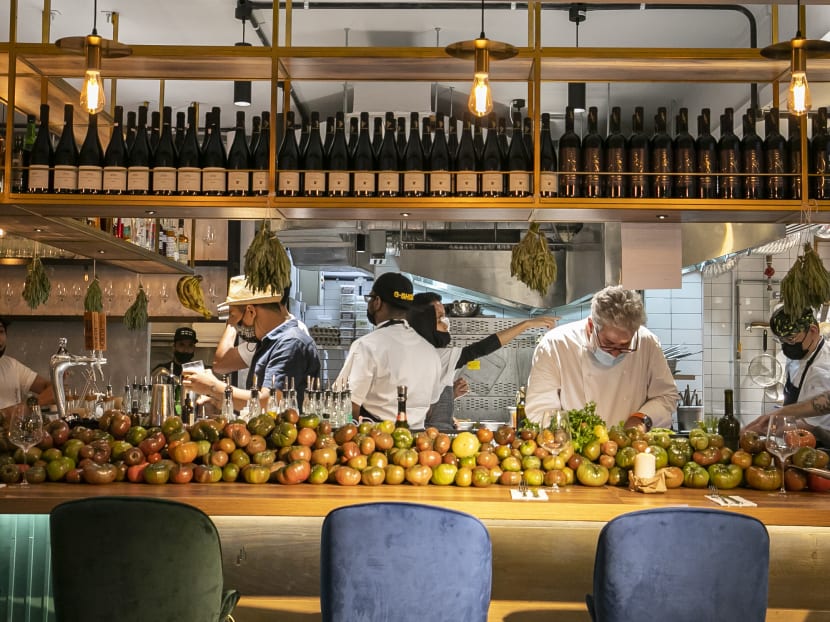 Chef Eyal's menu, typed out in Comic Sans font and distributed to diners on A4 printing paper, reads like an uncut Inside Out-esque monologue of his thoughts. There are dishes like Fire-Roasted Eggplant Lines Cut Nervously on a Tahini ($17), Fresh Anchovies Pizzeta ($25) with an optional top-up of "beautiful sauces from hell that will swirl your mind, very hot" ($11) and a Giant Octopus Carpaccio Print on the Rock ($47, we'll translate that for you later).

Chef Eyal's obsession with tomatoes (his Instagram handle is @eyaltomato), he says, stems from his belief that it's a "creature" with a perfect balance between sweetness and sourness. "One ingredient, to reach that point, is perfection. It's like Picasso painting women with one line," he marvels.

Naked Heirloom Tomatoes, $19
It's with the same intense conviction that he offers $19 "naked heirloom tomatoes mosaic topped with olive oil and salt flowers". The famously pricey tomatoes — which are grown only seasonally and prized for their equally sweet-and-tangy flavour — are sliced very thin and draped on a marble slab with olive oil and salt. It may seem audacious for pandemic-battered pockets, but no less ballsy than the Japanese serving momotaro tomatoes with a clean dab of mayonnaise.

There's also Tomato Pasta ($29), which the chef says he cooks at home "thousands of times" over his 33-year culinary career. When we suggest opening a restaurant with everything tomato, he perks up. "I want to open a hole-in-the-wall that has only tomato pasta!" he exclaims.

But he concedes that his focus is not on entrepreneurship. "I'm opening restaurants outside of Israel not for the business, but to deliver my food language [to] human beings," he says cryptically. On the biz side, he has partnered Singapore-based hospitality group Foragers, co-founded by Nadav Cohen (far left in pic) and Tal Eisenberg (far right), to set up and run his concepts here. The duo is also behind Miznon and Aussie cafe chain Carrotsticks & Cravings' local outlet.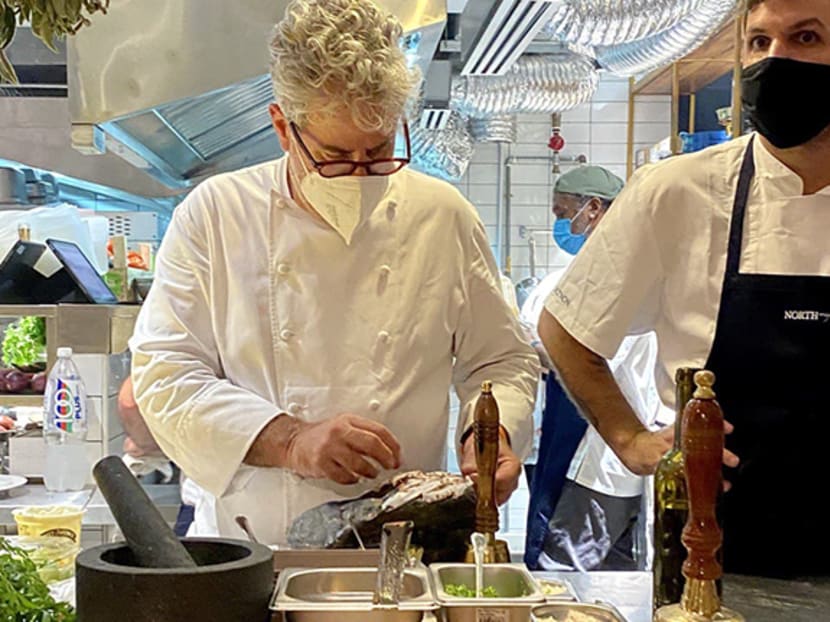 At North Miznon, fresh ingredients like vegetables and seafood are not refrigerated. Instead, they are piled tantalisingly on a counter at the open-concept kitchen, octopus tentacles on hooks descending from a fixture, to be grabbed by chef Eyal and his team when it's time to cook. "We put it all in front of us. When I'm cooking, I don't want to remember what I have in the fridge. I want to be seduced by what I have in front of me," he explains.

Burning Yellow Potato, $21
North Miznon's menu changes daily — save for a few permanent dishes — depending on the quality of ingredients. During our visit, the Burning Yellow Potato ($21) — a German agria tuber topped with sour cream and salsa, was unavailable because chef Eyal was dissatisfied with the potatoes (no amount of disappointed murmurs would sway him). Once he returns home to Israel, the kitchen will be helmed by Miznon's executive chef Or Hakmimi.

Despite his controlled Covid-regulated itinerary, chef Eyal has been visiting Tiong Bahru Market and Tekka Market on a near-daily basis during his trip to source for ingredients. At the latter, he discovered long beans that he says were almost a metre long. "How can I express the length of the bean?" he raves to us. "I understand I can make a plait out of it. And that's the final shape (pictured)."

And "because I couldn't bring my knives from Israel", he also dropped by a knife shop at Tan Boon Liat building to stock up on some tools. "I found an axe that was so beautiful, I had to buy it, I don't know why," he muses (as it turns out, he meant a meat cleaver).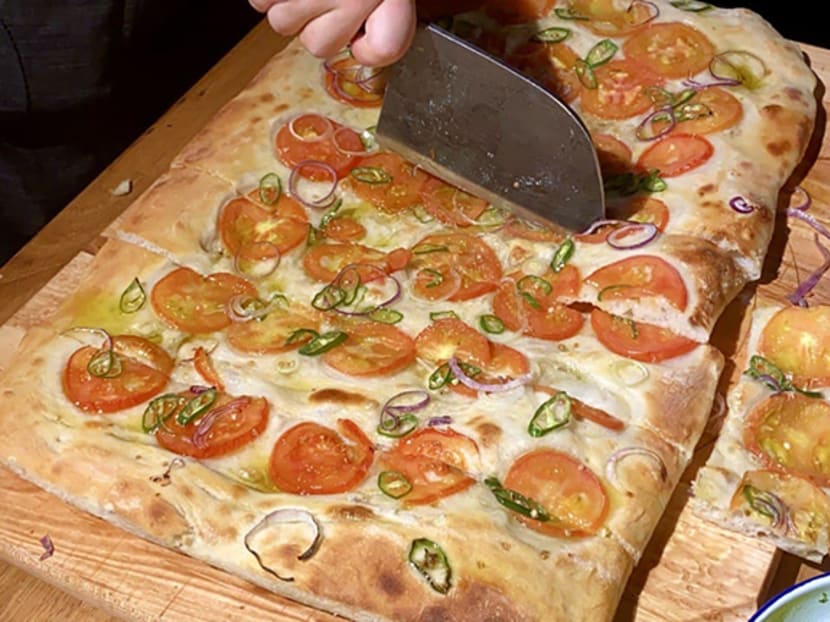 Nonetheless, he has decided to make use of his impulse buy to chop up focaccia, which is served complimentary in lieu of pita bread at North Miznon with spicy Yemeni zhug (a green chilli paste with salsa, garlic and olives) on sour cream. "We are butchering that bread! It brings me to the sky," he coos happily.

The tomato, onion and green chilli-topped focaccia is made in-house, and periodically brought out steaming hot in a huge pan from the kitchen before a chef enthusiastically hacks it into individual portions (thanks to chef Eyal's serendipitous purchase, this is something exclusive to Singapore's North Miznon). Our warm focaccia is delish with the creamy zhug, but we still crave for the superiorly addictive pita at Miznon.

The seafood here are locally sourced, like the octopus carpaccio on the rock, where the mollusc is sliced into long strips and draped like laundry on a rock. Seeds from an heirloom tomato are squeezed over the dish as a finishing touch. As delicate slices, the fresh, briny octopus — unmolested by sauces — is easier to chew. As much as we like our food served on a plate, we admit the rock presentation made it easier to lift slippery slices with a fork.

There's a beef version of octopus on the rock, which is roast sirloin served pink with mustard and tomato seeds. The cold beef slices are tender enough, but we reckon it's an acquired taste to enjoy sirloin this way.

The bulb of a fennel (from the carrot family) is roasted till soft, sweet and silky, which we eat with a dab of sour cream. Simple, but enjoyable.

An Indian cabbage, the size of a newborn's head, is roasted in its own juices till slightly charred. The succulent layers become soft but not mushy, with none of the grassiness of cooked cabbage. Not bad if you like cabbage, but we reckon it wouldn't convert ardent veggie haters.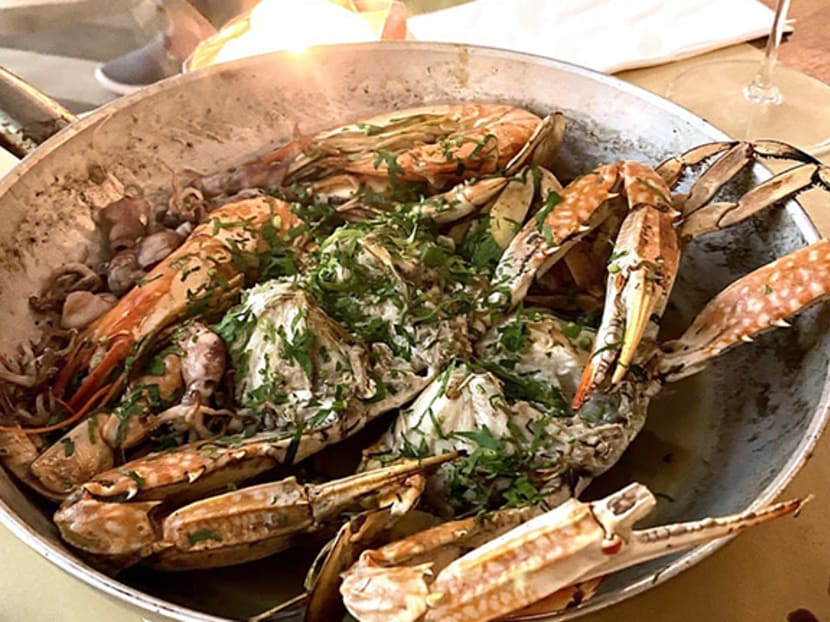 A large roasted king crab, baby squids and meaty tiger prawns mingle in a pan, soaking up lemon butter sauce punctuated with parsley and chilli pepper flakes that accentuates the creatures' natural sweetness. Fuss-free and unpretentious, this is an ideal way to savour seafood.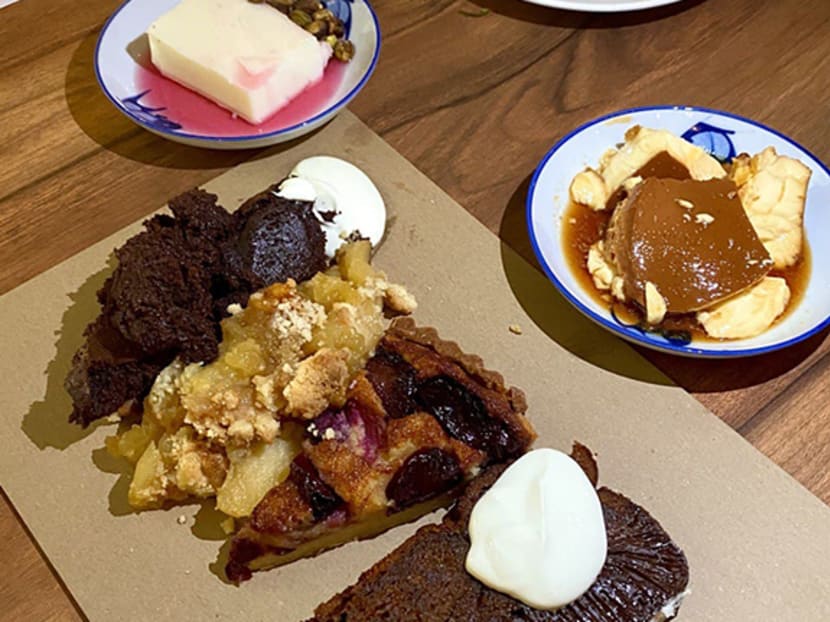 North Miznon serves its desserts like a tasting platter, an interesting style which we've experienced only in its native Tel Aviv so far. A selection of house-made desserts like Malabi (traditional Israeli rosewater milk pudding), Creme Caramel, Blood Plum Tart, Valrhona Naked Chocolate Cake and Apple Crumble Cake are presented on a stiff piece of cardboard (go check out the dessert table, where pans of the sweet treats are displayed). It's hard to pick a favourite because we find them all pretty good, but definitely order more of the tasty Ants' Nest Cake, a caramelly version of the old-school chewy kueh ambon (also known as kueh sarang semut).