12 Perpetually Crowded Eateries Now With Delivery & Takeaway Options
Practise safe distancing for every meal.
As the Covid-19 pandemic rages on, it has become harder for Singaporeans to go out. In a move to stop the gathering of crowds in public places, the Singapore government has issued a directive for entertainment venues to be shut down till April 30. While restaurants could continue operating, they will have to comply with safe distancing measures, where dining groups have to be seated at least a metre apart.

But safeguarding yourself from the coronavirus doesn't just mean holing up at home and eating your stash of instant noodles and eggs. While eateries had started rolling out promotions earlier to attract dine-in customers, they are now offering takeaway and delivery deals for people who'd rather makan in the comfort and safety of their own homes.

Below, we have compiled a list of takeaway/delivery lobangs from 12 popular, perpetually crowded eateries, so you can still eat the food you usually enjoy even if you're serving a Stay-Home Notice.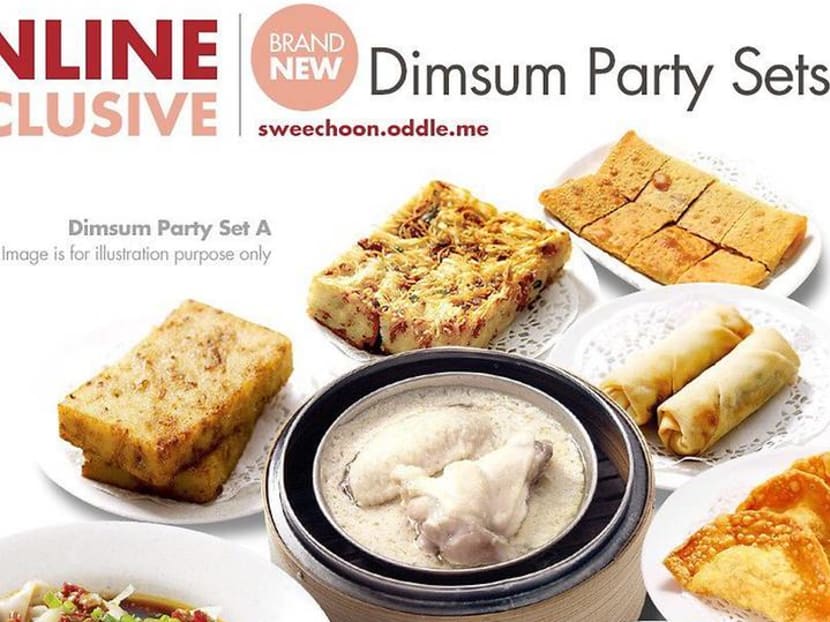 Swee Choon is popular for late-night suppers, though it's now offering Dim Sum Party Sets for takeaway and delivery. The smallest Party Set A ($59, feeds three to four pax) has nine types of dim sum goodies like Baked BBQ Pork Pastry, Beancurd Prawn Rolls, Carrot Cake and Swee Choon Mee-Suah Kueh. The shop also has Zi Char Set Dinners (from $65 for three to four pax) with eight types of dishes such as Shrimp Hor Fun in Creamy Egg Sauce, Sweet & Sour Pork and Deep Fried Shrimp Paste Chicken Wings. And even if you don't live around Swee Choon's Jalan Besar neighbourhood, you can order its food for delivery islandwide for a flat $5.

Order online at www.sweechoon.oddle.me.

The wildly popular Chinese hotpot chain typically has insane queues outside its outlets (but #safedistancing, remember?). While it introduced home delivery services for its hotpots a while back, Hai Di Lao is now offering 35% off your total bill if you self-collect your takeaway food at their restaurants. Call or head down to any of their branches to place your order. The promo is not valid for alcohol, a la carte soup bases and condiments.

Available till April 30 at all outlets. www.haidilao.com. Delivery orders via www.haidilao.oddle.me/en_SG.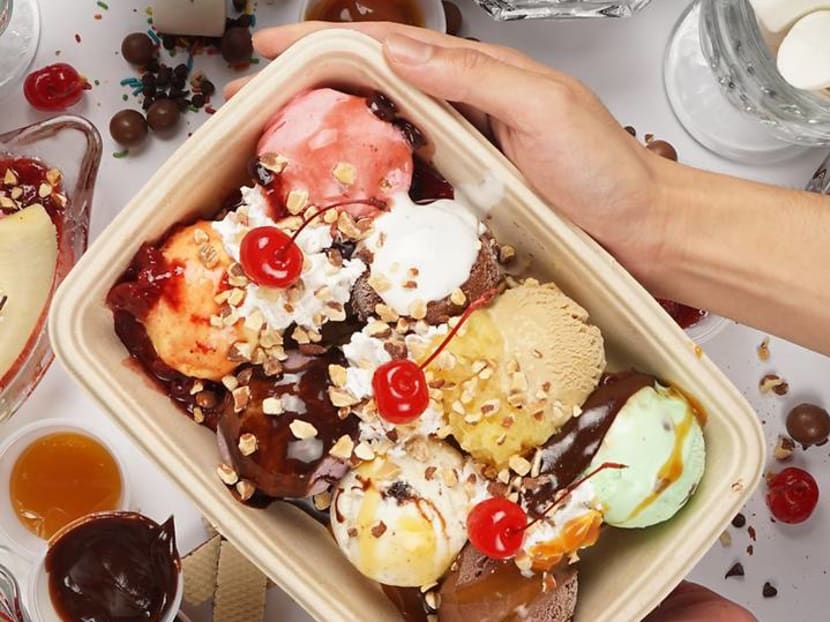 You'd usually have to go to a Swensen's outlet to dig into its signature Earthquake Sundae and Banana Split. To cater to customers who prefer to stay home, the restaurant chain has introduced takeaway-friendly versions of its classic desserts, called Earthquake In A Box ($25.47) and Jumbo Banana Split ($19.05). For the boxed Earthquake, you can choose eight ice cream scoops from 24 flavours (such as Dark Chocolate Truffle and Butterfly Pea Flower Milk Tea; low sugar options available), and the scoops come with eight toppings like hot fudge sauce and maraschino cherries. Meanwhile the upsized banana split has three scoops of strawberry, chocolate and vanilla ice cream sandwiched between banana halves and drizzled with toppings like almonds and pineapple sauce.

From April 1, Swensen's will also serve two new sundaes exclusively for takeaway and delivery (via GrabFood and Foodpanda). The Topless 15 ($17.98) is a sampler box of 15 ice cream scoops with no toppings (pick from 24 flavours), while the Chocolate Fantasy ($16.91) has three scoops each of Swensen's five chocolate ice cream flavours, like Rocky Road and Sticky Chewy Chocolate.

Available via GrabFood, Foodpanda and Deliveroo.

The one-Michelin-starred Fujian cuisine chain is now offering $7.90 main dishes (Fujian Lor Mee, Fried Heng Hwa Bee Hoon and Cabbage Rice) for self-collection takeaway. There are also eight side dishes on promotion for you to choose from, like Stir-Fried Yam ($12.90, usual price $14.90) and Spinach Supreme Stock ($11.90, usual price $13.90).

Available for self-takeaway orders from 11.30am-12.30pm and 5.30pm-6.30pm daily, till December 31, at all outlets except Jewel Changi Airport.

Enjoy cha chaan teng food during tea time without leaving your house. Tsui Wah has rolled out Afternoon Tea Sets for your snacking pleasure, such as Tsui Wah Signature Pork Chop Bun ($9) or Sliced Chicken in Mala Soup with Mixian ($9), all with your choice of a hot coffee or tea (add $0.50 for cold drinks). For lunch, there are five new takeaway-only Executive Set Lunches ($13++ each) available on a daily rotational basis. Each two-course set comes with your choice of Borscht Soup or Soup of the Day, a main such as Grilled Chicken with Red Wine Sauce or Grilled Pork Chop with Mushroom Sauce, and your choice of coffee or tea. Or go for the new Chef's Special Set ($12++) with Kagoshima-Style Braised Pork Cartilage & Wontons in Fish Soup with Mixian and a drink.

Afternoon Tea Sets available for takeaway Fri-Sun, Eve of PH and PH, from 2.30pm-5.30pm at Tsui Wah Clarke Quay or via GrabFood and Deliveroo. Executive Set Lunches available for dine-in and takeaway from Mon-Fri, 11am-2.30pm, at Tsui Wah Clarke Quay. Chef's Special available for dine-in and takeaway from now till June 30, 2020 at Clarke Quay and The Heeren outlets, and via GrabFood and Deliveroo.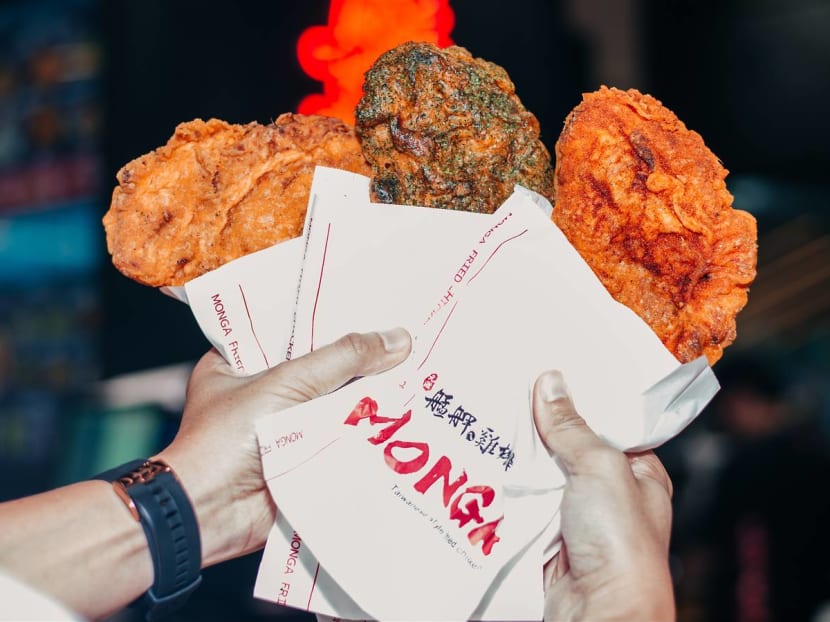 The Ion Orchard and Jem outlets for Taiwanese comedian Nono's Monga Taiwanese fried chicken cutlet chain now offers delivery. So you can savour its Chicken Cutlets ($6.90 each) which comes in three flavours like the spicy Hot Chick. If you live around SingPost Centre's vicinity, you can also order the brand's new Hainanese Chicken Rice Boxes ($8.90 each) with fried chicken.

Available via GrabFood and Foodpanda.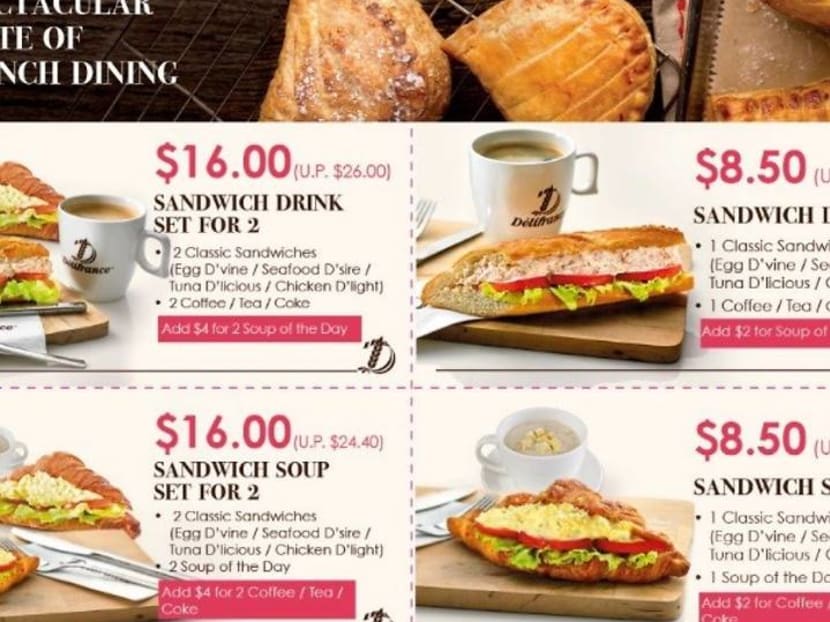 The French cafe chain is offering e-coupon deals for its dine-in and takeaway-friendly Sandwich, Lasagne and Pasta set meals (from $8.50 for a Sandwich Drink Set with your choice of a croissant/baguette sandwich and either a coffee/tea or a slice of cake, usual price $13 a set). You can also use the coupons to get discounts off Delifrance's pastries such as Peach Tarts (three for $10, usual price $12).
Available till June 30 at all Delifrance outlets except Delifrance Express counters at Fairprice Xpress and Cheers. Download the e-coupons here.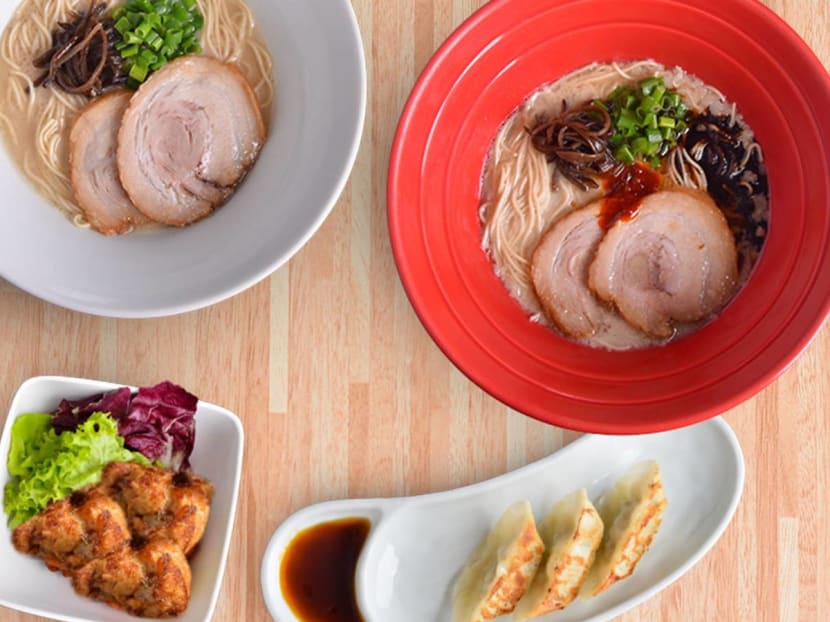 Ramen chain Ippudo brings its nosh to your doorstep via food delivery platforms. Other than Hakaka-style ramen bowls, it also offers new donburi bowls such as Chashu Don and Karaage Don (from $9 each), plus delivery-exclusive Combo Meals (from $20 per pax, available for up to three pax). The combo meals include dishes like Shiromaru Motoaji and Akamaru Shinaji ramen, deep-fried gyozas and chicken karaage. If you order a Croquette or Chicken Bento Set ($12 each with pork chashu croquette or chicken karaage, gyoza, edamame, potato salad and rice with unagi sauce) via Deliveroo, you also get a free bottle of Japanese tea (choice of green tea, barley or jasmine).

Available via GrabFood and Deliveroo.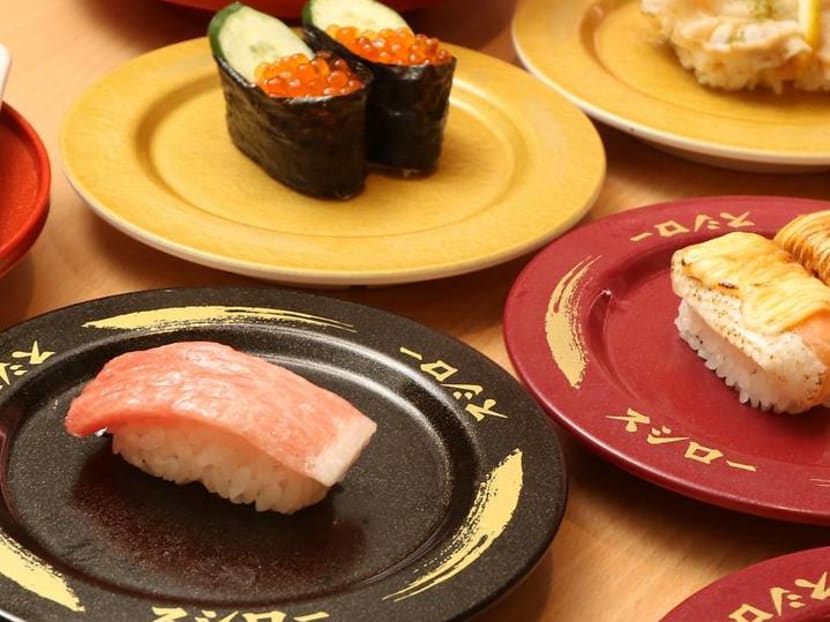 Going for conveyor belt sushi is not a great idea right now, but you can still order in sushi platters for your meals. Sushiro's home delivery sushi platters start from $14.15 for the D08 Sushiro Platter 10 (feeds one to two pax) with sushi like Tuna, Salmon Belly, Broiled Salmon Belly, Shrimp, Grilled Eel, Squid, Steamed Scallop, Japanese Egg Omelet, Salmon Roll and Cucumber.

Available via GrabFood and Foodpanda.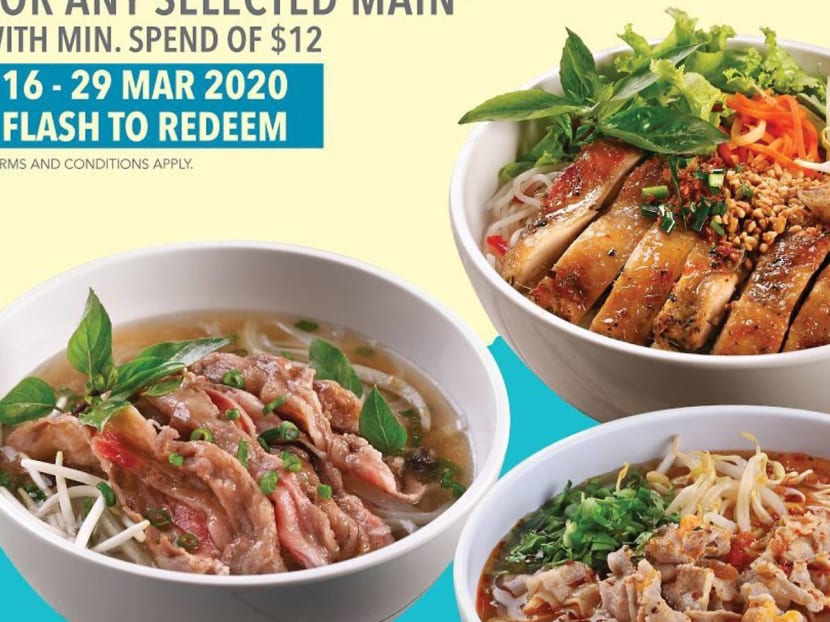 Spend a minimum of $12 for dine-in or takeaway orders at Pho Street and you can purchase Pho Beef Tender Slices, Spicy Pork Shabu, Shabu Rice Vermicelli or Dry Rice Vermicelli with Roasted Lemongrass Chicken at only $0.50 per dish. Every $12 spent gets you one redemption (each customer can redeem up to a maximum of three dishes). Flash the promo poster above to order before redeeming the deal.

Available till March 29 at Compass One, Chinatown Point, Galaxis, Keat Hong CC, The Centrepoint and Westgate outlets.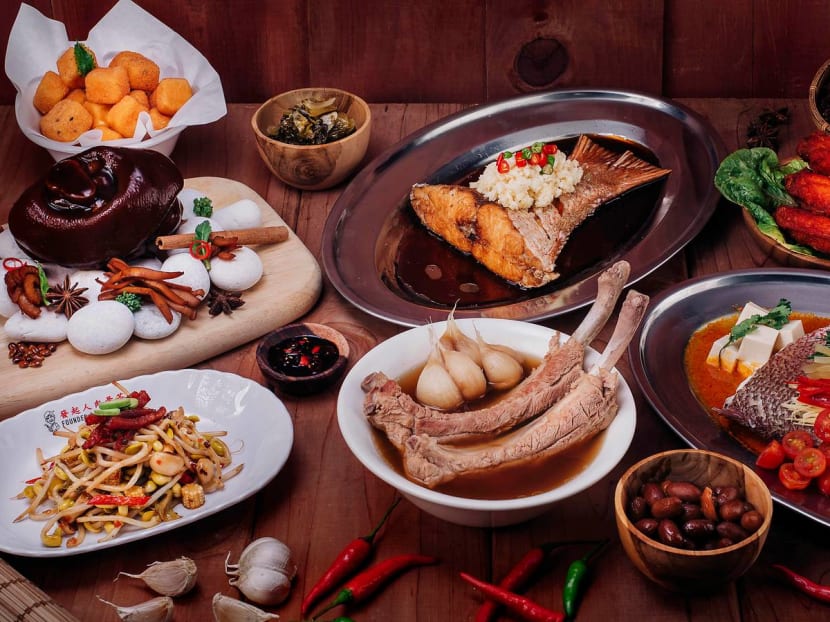 Going out to eat bak kut teh is a no-no if you're, ahem, serving a SHN. But when the craving strikes, you can order it to savour at home responsibly. Founder BKT's menu is available for delivery, such as Ninki Bak Kut Teh ($8.35), Premium Short Ribs ($11.56), Premium Ribs ($12.63) and Founder Bak Kut Teh ($10.49).

Available via GrabFood and Deliveroo (Hotel Boss and Bugis outlets) and FoodPanda (Hotel Boss outlet only).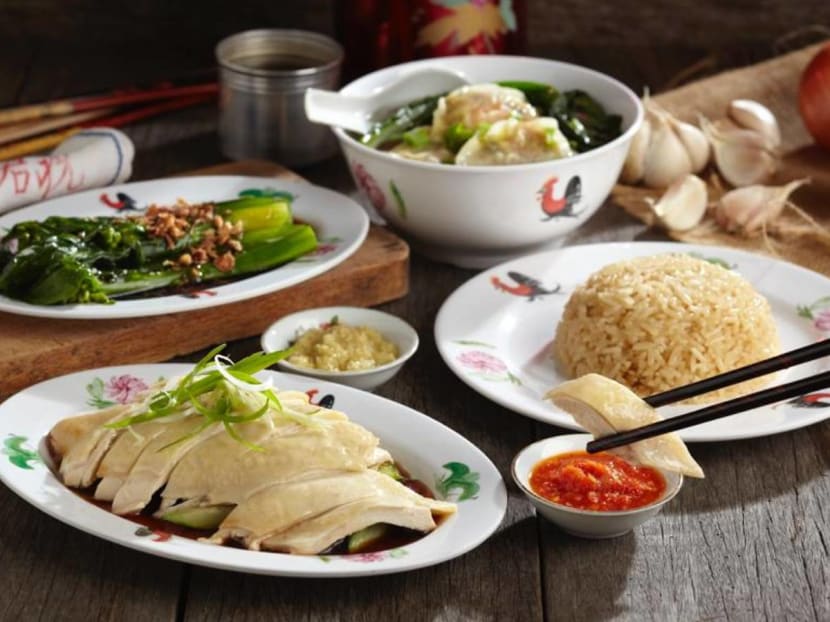 Chicken rice chain Wee Nam Kee has been quietly offering simple set meals via the major food delivery platforms. There are 10 sets to choose from, including a Chicken Rice Dumplings Set ($7.49) and pork options such as Roasted Pork Vegetable Set ($7.49).

Available via GrabFood, Foodpanda and Deliveroo.