This $14.90 Chicken Rice From Picnic Is Better Than Chatterbox's
The boss refined his Hainanese granddad's recipe with artisanal techniques.
When it comes to chicken rice, Singaporeans are divided into two camps: those who believe this hawker favourite should be wallet-friendly, meaning $3 a plate, and the gourmands who'd pay $27 for the atas award-winning chicken rice at Mandarin Orchard hotel's Chatterbox. Now, there's a new stall that's offering chicken rice from $14.90 for a one-person set, and it's made in such an artisanal way, we think it's much better than the hotel's once good, now supremely disappointing version (the meat was dry and rice bland when our food editor last had it).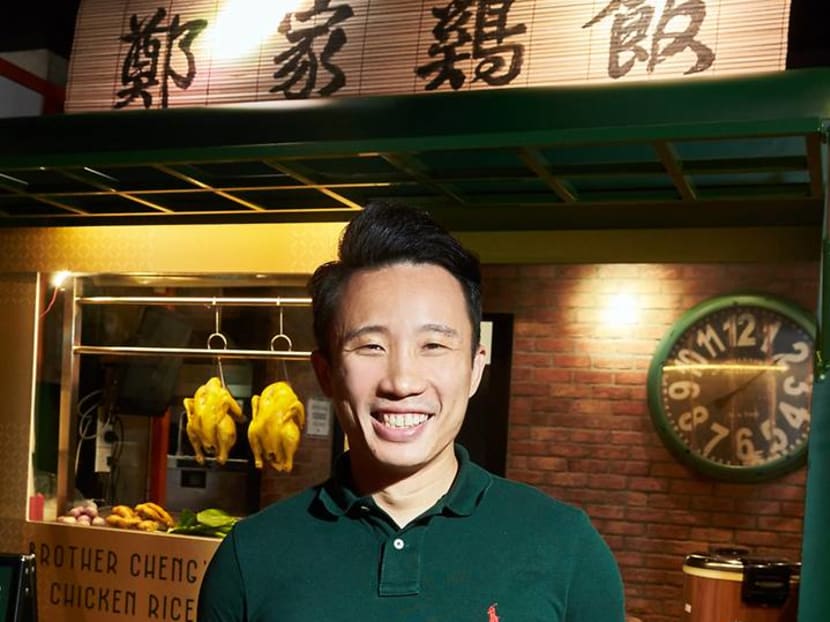 Called Brother Cheng's Chicken Rice, the stall is tucked within Wisma Atria's casual multi-concept F&B enclave Picnic Food Park owned by restaurateur Cheng Hsin Yao, 34. He is best known for starting the popular homegrown burger joint Omakase Burger, and recently launched more new concepts like fast-casual greek diner Supergreek and Daifuku by Seizan (which are also at Picnic).

For his chicken rice stall, Hsin Yao drew on his family's chicken rice recipe that they cook at home. It had been passed down by his late grandfather, a Hainan immigrant affectionately known as 'Brother Cheng'. "He worked as a cook for the British Air Force [in Singapore], and he experimented a lot with Asian and Western recipes. That's where he really refined his Hainanese chicken rice recipe," Hsin Yao tells 8days.sg. Ever the exacting food purist, it took Hsin Yao about a year to source for the right ingredients and perfect the recipe with Picnic's in-house cooks.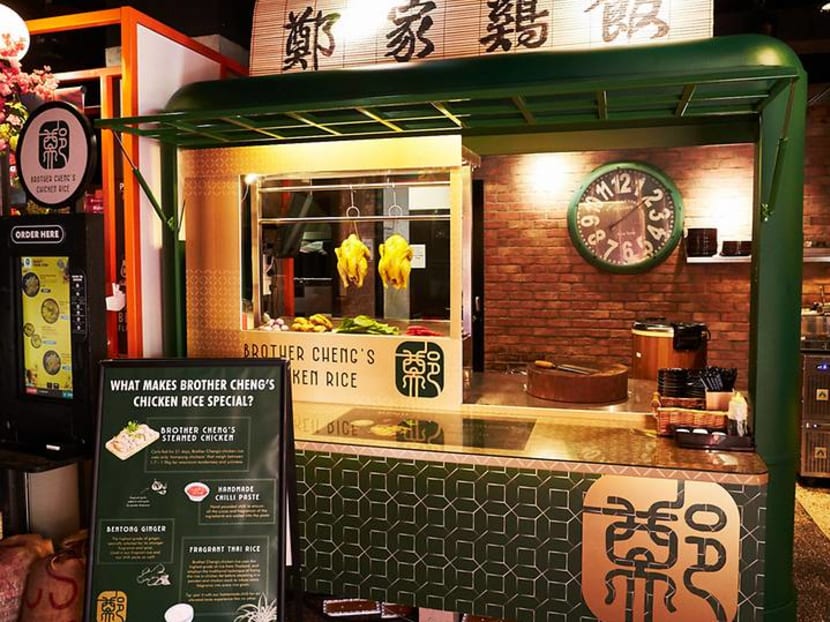 Traditional Hainanese-style chicken rice calls for 'Wenchang chicken', a special breed of free-range fowl originating from Wenchang City in Hainan, which feeds on corn, coconuts and other tasty morsels found around the farmers' homes. The chickens are famous for yielding gelatinous yellow skin over firm flesh — we have tried the prized delicacy in China and found it an acquired taste; tough with disconcertingly oily skin.

To suit their Singaporean palate, Hsin Yao and his parents modified their family recipe by swapping the firm Hainanese chicken with a loosely Cantonese-style one, where the chook is poached in a chicken and pork stock, then dunked in ice water to stop the heat from cooking it further. This results in tender chicken with a precious layer of collagen clinging to the underside of the skin. "It's a combination of [Cantonese and Hainanese] cultures," Hsin Yao explains. "If I just serve the Hainanese chicken, you would be chewing and chewing [nonstop]."

At Brother Cheng's, a French breed of 'kampong' chicken is used. "The chicks are flown to Malaysia from Sabres, France, and corn-fed for 21 days to give them that yellow skin and intense flavour. After that, they're bred on mixed grains till they're 60-days-old, making them double the size of regular Malaysian chickens at 1.7kg to 1.9kg in size," says Hsin Yao. The chopped deboned chicken is served on a bed of Japanese cucumbers and drizzled with soy sauce and sesame oil which Hsin Yao gets from Malacca.

According to him, real free-range kampong chicken sport distinctively yellow skin, as their premium diet of corn, grass and other plants is high in carotenoids (the same stuff that makes carrots orange). "Regular chickens cooped up in pens and fed by machine never got to eat carotenoid-rich food, which explains their pale skin and pale egg yolks," he adds.

For the Fragrant Chicken Rice, Thai jasmine grains are dry-fried with chicken fat and Bentong ginger from Pahang, Malaysia before being steamed with chicken stock and fresh pandan leaves. Bentong ginger, nicknamed the 'King of Ginger', is considered a superior species grown in cool climate, boasting a uniquely spicy kick with a woody scent. It's so atas, it is certified as a Geographical Indication in Pahang (an accolade that's given only to products that originate from a specific location, like champagne from Champagne, France).

The same ginger is used for the house-made Signature Chilli Sauce, another Cheng family recipe which is pounded by hand using a giant mortar and pestle, with chilli padi, red chillies and garlic cloves. Interestingly, the chilli paste goes through the extra step of being briefly blanched in boiling hot chicken stock and chicken oil for additional flavour before being served.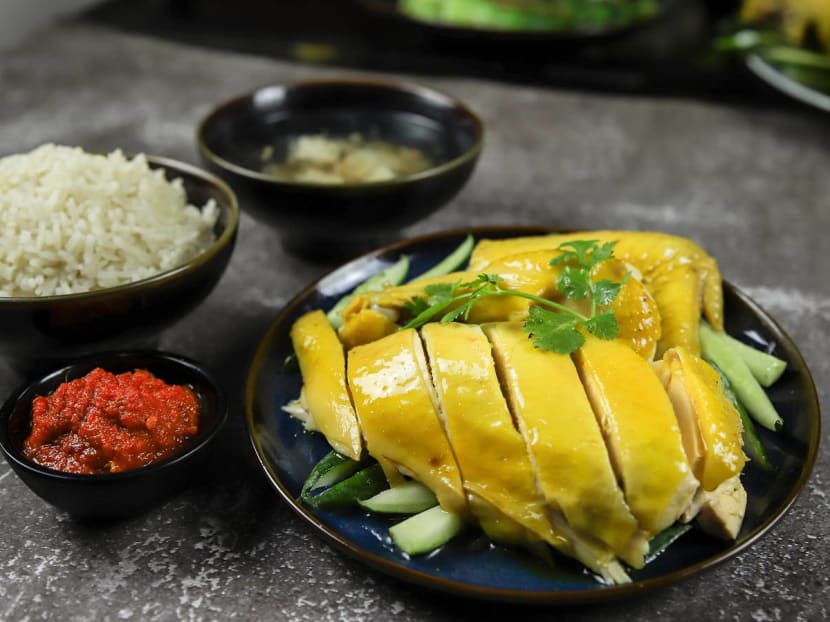 Each Chicken Rice set comes with chicken, rice, chilli and your choice of beansprouts or so-so oyster sauce bok choy, plus chicken soup. If you like taugeh, you can also order additional Traditional Beansprouts ($3), which we prefer (you're also allowed to swap the bok choy for this). The lightly blanched beansprouts dressed in soy sauce and nutty sesame oil, then topped with shallots, chilli and spring onions, add an enjoyable crunch to our meal.

The chicken and rice did not disappoint us; you can smell the aromatic rice cooking at the stall as soon as you step into Picnic. The loose, al dente grains absorb the rich flavours of the chicken stock-and-ginger concoction it's cooked in, with a perfumy pandan whiff. However, a colleague who ate it on another occasion found the rice slightly overcooked, if still very tasty. We could eat the rice alone with the chilli sauce, a slightly chunky, tangy, ginger-kissed, heat-packed affair that's more paste than the overly-diluted puddle you get at the average chicken rice stall (we could see the fibrous Bentong ginger peeking out from the pounded chillies).

About that chicken: this baby is for connoisseurs of the bird. It's cooked exactly the way gourmands would approve of: the supple, silky soft thighs are slightly pink, while the breast is so tender we're surprised it isn't brined. The bright yellow skin has globs of transparent collagen under the skin. This type of fowl used — with its more intensely flavoured meat — is rare in Singapore where flabby, white-fleshed, bland birds are the norm. In keeping with Hainanese tradition, the chicken doesn't have much of a sauce (unlike, say Boon Tong Kee's or Tian Tian's saucy versions). Instead it's salted more heavily, and lightly drizzled with soy sauce and heady sesame oil to finish.

Our only grouse is the portion. The chicken is so shiok, we found there wasn't quite enough to go with the generous serving of rice. The portion for three, for instance, only had half a chicken, which has to be rationed if there are two or more guys in the group.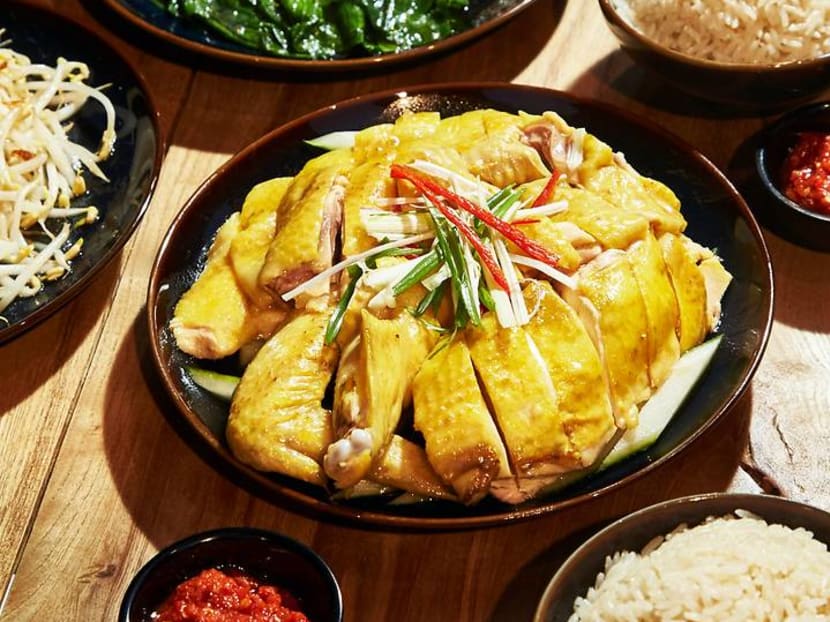 $14.90 for a plate of chicken rice may sound preposterous to Singaporeans who're used to paying under $5 for this humble hawker dish. But Picnic's family-honed version is a lot more gourmet. It uses top-grade chicken, "the king of ginger", and is cooked in such an artisanal way we can't help being impressed. More importantly, it truly is a delicious rendition of our national fave dish. Definitely more satisfying than a mediocre $15 salad bowl... or Chatterbox's inferior and overpriced $27 chicken rice.

Brother Cheng's Chicken Rice is at Picnic. #03-15 Wisma Atria, 435 Orchard Rd, S238877. Tel: 6734-8352. Open daily 11am to 10pm. www.picnicsg.com.

PHOTOS: KELVIN CHIA/ BROTHER CHENG'S CHICKEN RICE