20-Year-Old Sells Tasty Abalone Glutinous Rice Using 85-Year-Old Ah Ma's Recipe
The nuo mi fan is topped with baby abalone and premium lup cheong.
Telling Jerome Chow (right in pic) that he cooks like a grandma is possibly the best compliment you can give him. After all, his four-month-old home-based business, Sticky Lo Mi Fan, is rooted in the 20-year-old's relationship with his youthful-looking granny, Wong Chui Yoke (left), 85.

"The brand is a tribute to my Cantonese grandmother. She relocated from Malaysia to Singapore in the '60s and became a hawker to support the family when my grandfather had cancer. All our recipes are from her and we plan to make more [of her dishes] to keep them alive," the enthusiastic home cook tells 8days.sg over the phone.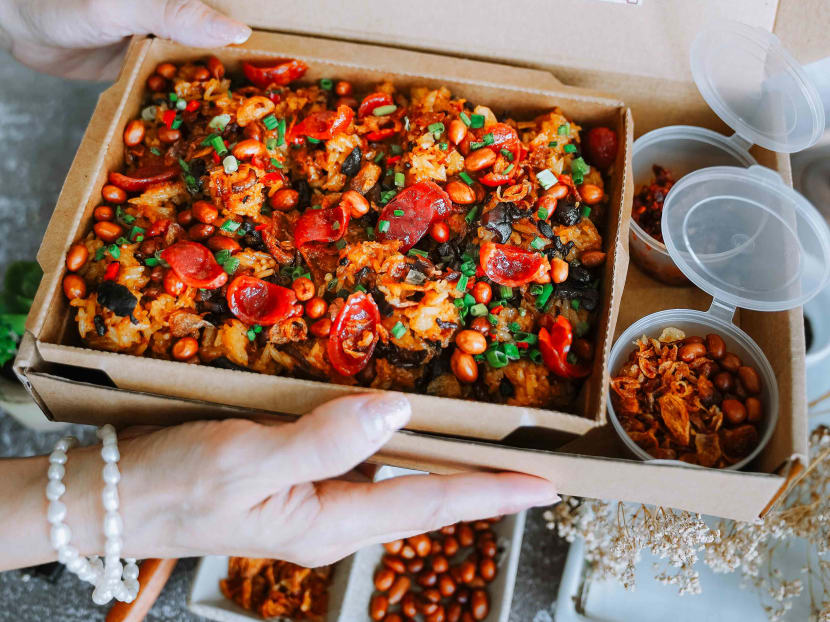 When Jerome graduated from Singapore Polytechnic with a marketing diploma earlier this year, he wasn't planning on entering the F&B industry. "I was supposed to go for an internship at a data science company in Shenzhen, but it was cancelled due to Covid."

"My mum's business was kind of affected too so I thought, why not start a biz sharing our grandma's nuo mi fan (Chinese sticky rice) since we all love her food. We decided to start Sticky Lo Mi Fan in March," he shares.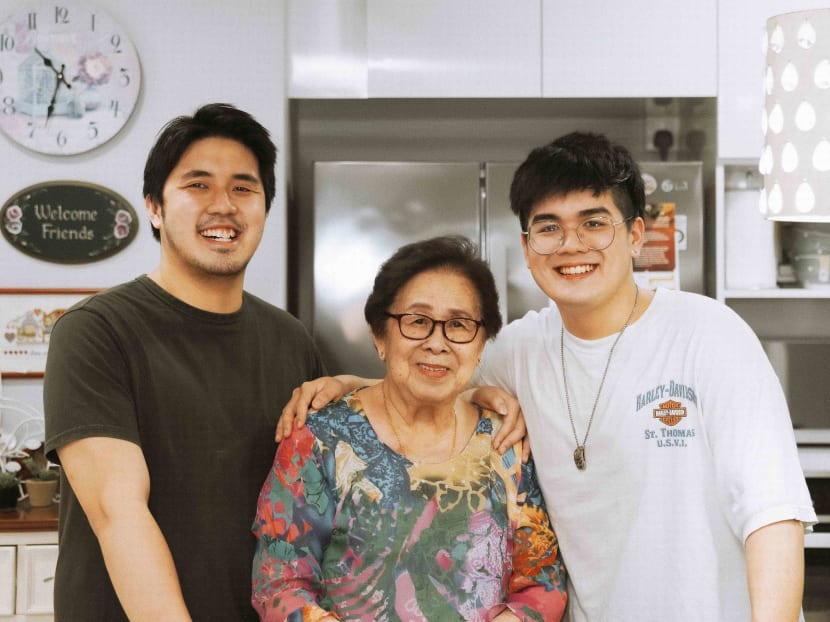 Jerome's mother, Mummy Ho (she declined to be named or photographed), 58, a self-employed sales professional in healthcare, is the "master chef" behind the operation on their "work days" from Wednesday to Sunday. Jerome assists her with the preparation and cooking, and his older brother Josiah (left in pic), 27, a HR professional, chips in on weekends as well from their Pasir Ris flat.

Jerome, who's the youngest of three, tells us his mum is "not as tech-savvy", so he handles orders, logistics and marketing on his own.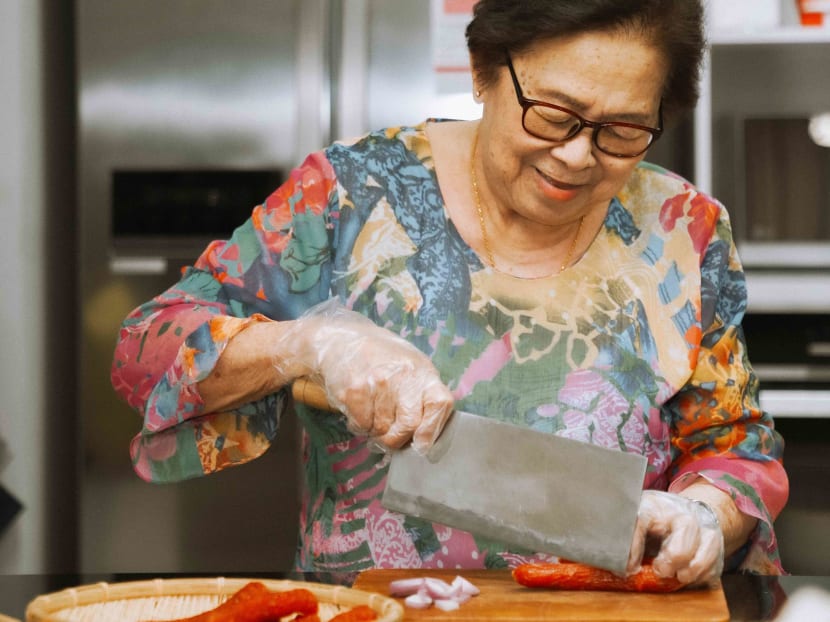 "We wanted to make the whole brand about my grandma so I used an illustration of her face for our logo. I didn't tell her until four weeks into our operation. When I showed her the sticker [I created], she was so shocked – she said, 'it looks exactly like me!'" he says with a laugh.

Jerome, who has been actively engaging food bloggers and influencers as part of his marketing efforts, also shares that Grandma Wong is especially pleased to hear that celebrities like Pan Ling Ling and Mark Lee are enjoying her recipes. "Now she's demanding a cut. She always asks, 'when am I getting paid?'" he quips.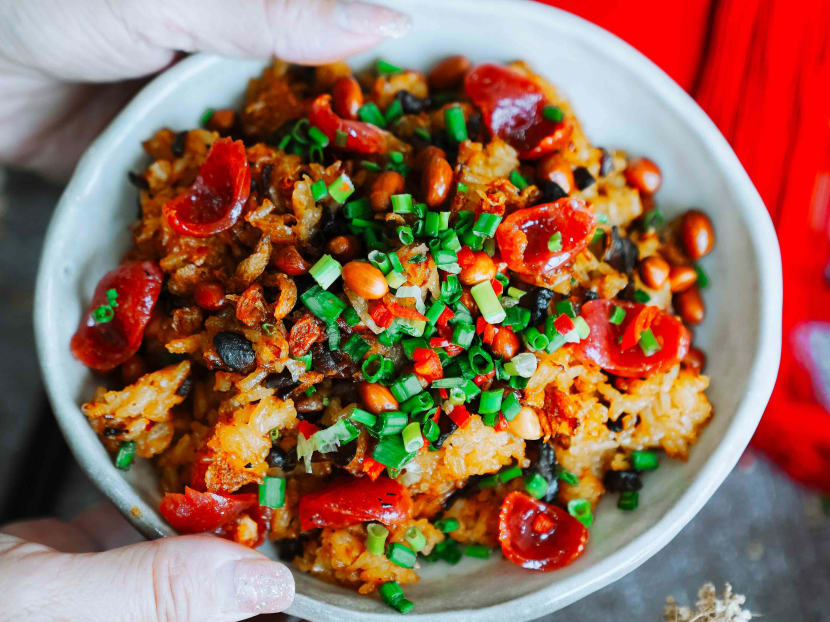 For Jerome, it was a no-brainer to focus on sticky rice as his HBB's specialty. "Ah ma used to sell yong tau foo and prawn noodles at her hawker stall in Bedok about 35 years ago. In the morning, she'd offer nuo mi fan as a breakfast item. It was also something we ate often while growing up – I will eat it before I go to school."

The young cook tells us that his grandma's sticky rice is Cantonese-style, which is "more savoury" and "includes lup cheong (Chinese sausage)", compared to the Hakka version made by his grandfather's family.

He adds that learning how to make Grandma Wong's nuo mi fan was a "fun and tedious" process. In February, it took them about two weeks to perfect and tweak the recipe.

"She cooks without a recipe, everything is agak agak. My mum learned how to make it long ago, but there wasn't a fixed recipe. My brother and I learned by watching my ah ma cook the sticky rice and making it on the spot. Sometimes she'll scold me for doing it wrong - she can't let go because it's her dish. It was very funny to see her go, 'eh this step is wrong' or when there is hesitation on her end because we were fine-tuning the recipe for larger scale production. In the end, she still gives me full support to develop it my way."
Despite its humble appearance, sticky rice requires a lot of work. "Not everyone knows it's a very laborious dish - people often think of nuo mi fan as the white version with just peanuts. Ours has premium ingredients and it's very tedious as there are a lot of steps. We hand-cut all the ingredients like shallots, mushrooms and hae bee (dried shrimp), fry them, fry the rice and there's the steaming as well."

"The rice itself is not very rich, as we want to let the other ingredients like the mushrooms and hae bee shine. So we marinate them in our sauces before we fry them."

Each batch of sticky rice is steamed for about 40 to 45 minutes, then left to rest and cool for another 30 to 45 minutes. Jerome says this process helps to create the "perfect texture". "As you chew, the flavours get more intense and the mushrooms and hae bee will play their role in your mouth," adds the passionate cook.

For now, Sticky Lo Mi Fan is only making deliveries every Friday to Sunday, as Mummy Ho is busy with her day job on weekdays. "We start prepping the ingredients on Wednesday. The cooking is done every morning from Friday to Sunday, so our customers can receive fresh sticky rice by 6pm."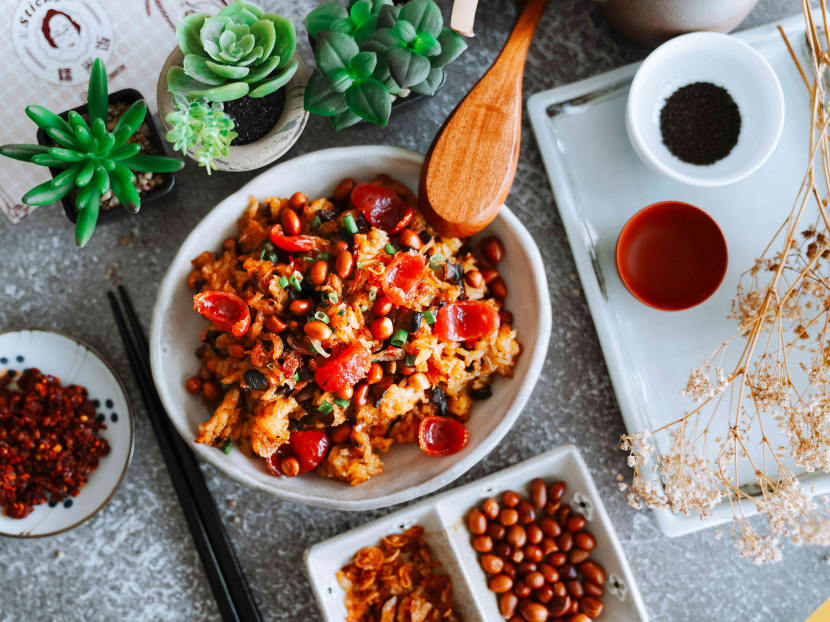 Jerome shares that he is expecting to be enlisted for national service in October or November. "I'm scrambling to find an easier [ordering] process so it can run by itself and it's not so taxing for my mum while I'm away for NS," he says.

"Yeah I'm a bit worried about how the biz will continue [while he is serving NS]. We'll keep focusing on hitting a stable number of orders and building the brand."

"I've always loved food and I enjoy cooking. I find it sad when the hawkers from my favourite stalls cannot find anyone to continue their legacy and pass their recipes on to. Food is part of our culture – if we let it go so easily, next time we won't have any traditional food. I see this [running the HBB] as a stepping stone. I'll learn my grandma's recipes first, and next time maybe I can help these hawkers find a way to continue their legacy."

"My next step will be trying to make something for the young people. I want to make nuo mi fan a trendy option," shares the ambitious youth. "I've thought of making it more bite-sized, grilling it like onigiri, or introducing different flavours like curry sticky rice!"

Jerome also hopes to have a physical space someday. "I would eventually want a kiosk, where people can collect their orders. Our dish is more of a to-go item, so it wouldn't be a dine-in kind of place."
We like our glutinous rice to be chewy, flavourful and not too greasy – this one ticks all our boxes. The soy-infused short-grain Thai glutinous rice is perfectly QQ, moist and tasty on its own, though we were equally enthralled by the rich, intense flavours of the shiitake mushroom and dried shrimp.

Fried shallot and air-fried lup cheong made from quality pork round off the sticky, savoury carbs with a shiok crispiness and sweetness, while fried peanuts are cleverly served on the side to ensure maximum crunchiness.

Packed with generous dried shrimp, chilli flakes and fried garlic, the accompanying homemade hae bee hiam is a textural triumph: super crispy, fragrant and fiery. No wonder Jerome has started bottling this addictive condiment at $9 for 180g.

He recommends enjoying the sticky rice at room temp (which we did) or just pop it into the microwave for a minute or two if you prefer a warmer nuo mi fan. The portion was big enough to make a satisfying meal for our family of four.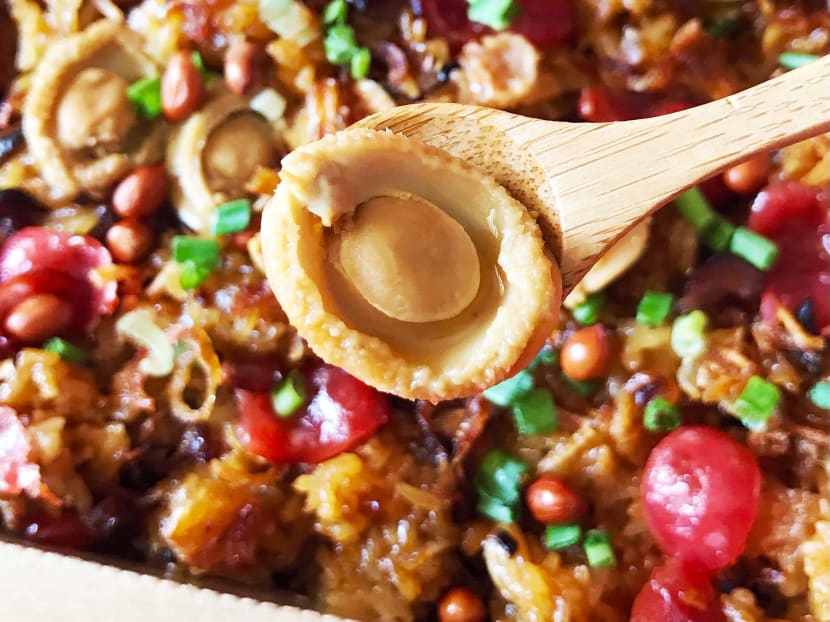 Luxed up nuo mi fan with four baby abalone – the delicate flavour and texture do not add much to the already-yummy sticky rice, but the presentation is beautiful. Good for gifting.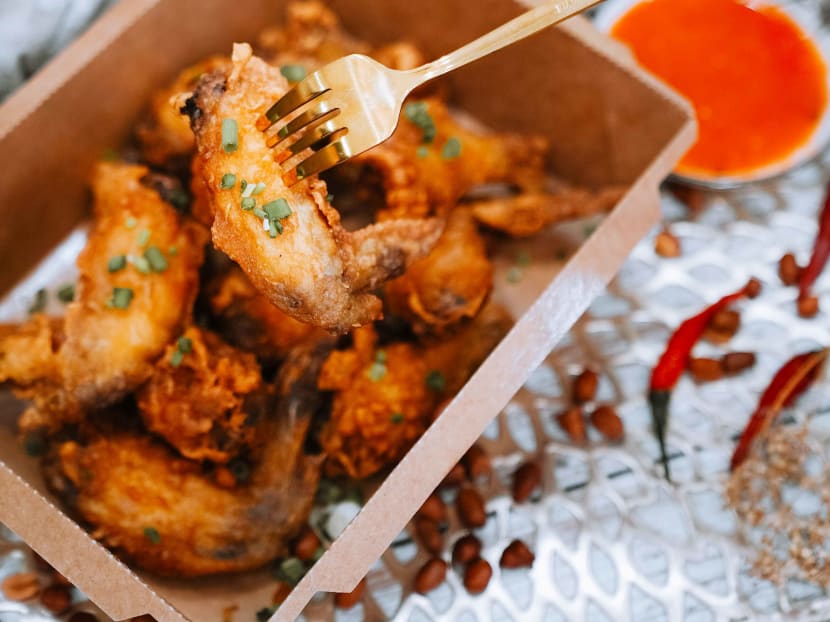 Introduced three weeks ago, this is the newest item on the menu. We think the chicken could be yummier with a more robust har cheong (prawn paste) flavour. Still, we enjoyed the superbly crispy skin – made from a batter of rice and tapioca flour – that gives way to moist, tender meat. Pairs well with the tangy chilli dip and a nice add-on to the sticky rice.
Chewy, delectable nuo mi fan with fragrant ingredients and a heartwarming story. We appreciate Sticky Lo Mi Fan's attention to detail as well – from the just-right, chewy texture of the rice to the shiok homemade hae bee hiam. A pleasant gift to win over your older relatives.

Place orders here. Delivery costs $8 islandwide, with free delivery for orders above $100. More info on Facebook, Instagram

Photos: Jerome Chow & Chin Chih Lin