Atas Indian Food From $6 At Maxwell Food Centre By Ex-Restaurant Chef 
The mod Indian nosh is as good as those from posher restaurants.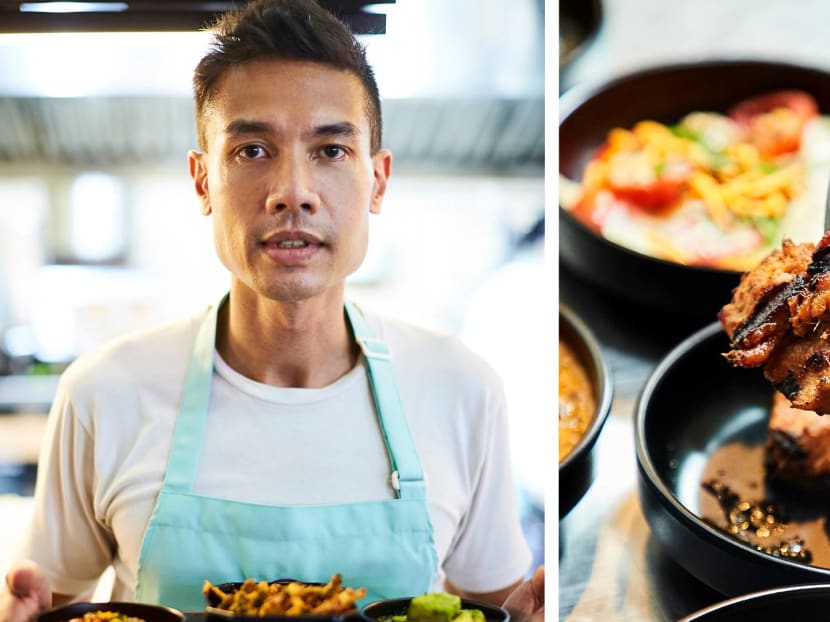 The area around Maxwell Food Centre has been boarded up lately due to the new MRT station being built underground, which has made the building even stuffier than usual. But amidst the hawker stalls enduring this discomfort is a stylish new mint green storefront with an adorable Lucky Cat in the centre. Luckmeow is a stall dishing out a rotating menu of contemporary Indian plates. The name is a play on Lucknow, the capital of Uttar Pradesh in Northern India.

No photos can be reproduced without permission from 8days.sg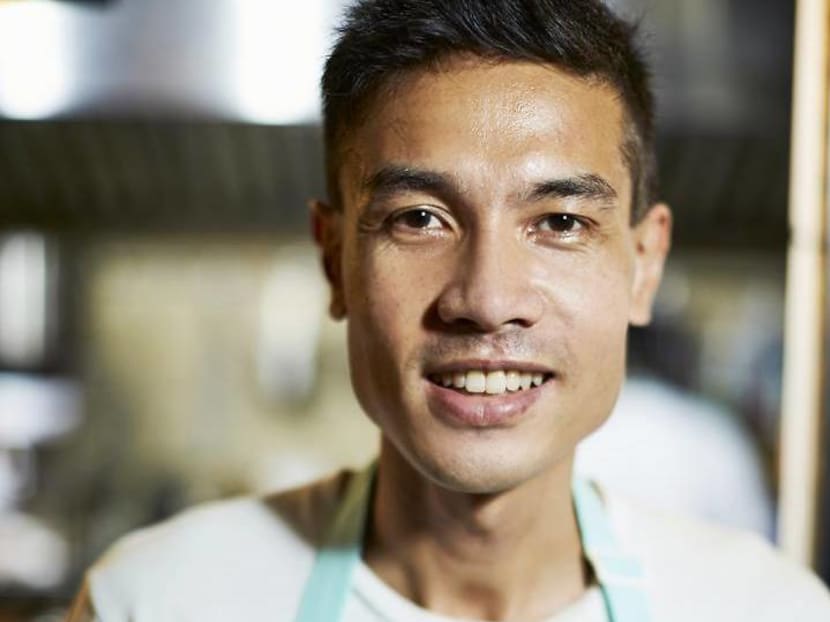 Behind the stove is soft-spoken owner, Pasha Siraj, 38, a handsome former linguist who ditched academia five years ago to enroll in At-Sunrice culinary academy to train as a chef. The Singaporean born to a Chinese mum and Indian dad says he named his stall Luckmeow because he has some family roots in Uttar Pradesh, but mainly because it was cute. Pasha cut his teeth at a few professional kitchens (he prefers not to name them, but reveals they served Japanese and European nosh), but even before his training, he was an avid cook since his university days in the USA.
He struck out on his own to put out a lighter, more innovative take on Indian cuisine at hawker prices. Pasha says he's much happier cooking and being creative in the kitchen than working in academia, which was beginning to wear him down. Here, he's responsible for the entire menu and prepares everything from scratch.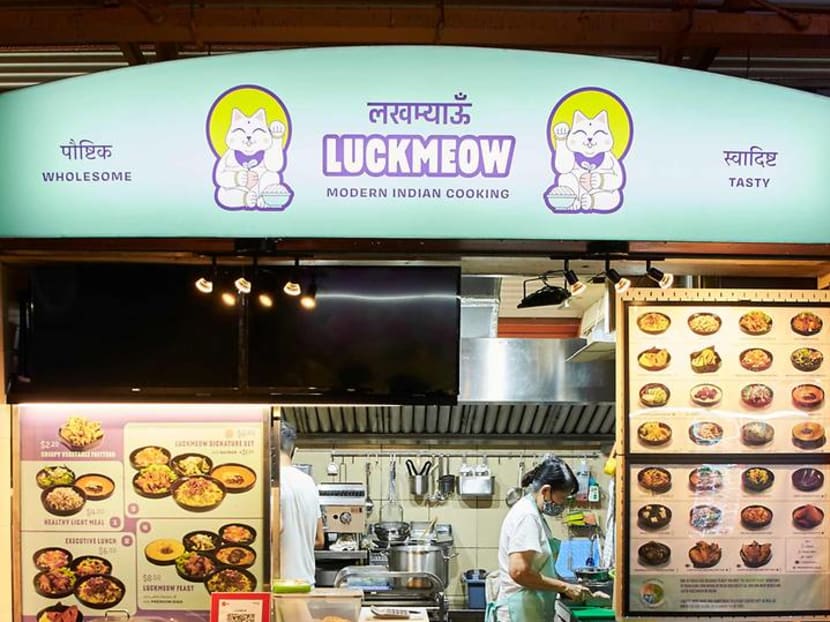 We ask Pasha if he's planning to expand the business anytime soon, since the concept seems like it'd be right at home in a small restaurant, and he laughs, saying he's got his hands full at the moment and doesn't see any expansion plans in the near future. He got the lease for the stall in early 2020 just before the Circuit Breaker hit, and spent those months of lockdown experimenting on recipes at home. The stall opened in September, and has proven a popular lunch option for nearby CBD workers, but overall, falling foot traffic at the food centre thanks to Covid-19 means business has been a little slow.
On offer is a rotating menu of small plates, many of them takes on classics like Tandoori Chicken, and Pakoras. It's not just North Indian flavours either, some of the dishes draw on South Indian and even Japanese flavours.
Every day, you can expect a range of about six to seven dishes, a mostly vegetarian selection, with two chicken or fish options thrown in for good measure. These dishes are combined into sets (no a la carte options for now), ranging from the four-dish Executive Lunch ($6) to the six-dish Luckmeow Feast ($8.50), which includes everything on offer that day. In between is the five-dish Luckmeow Signature Set. They all come served on little plates and are good for one, though the six-dish set can feed two. All sets come with one portion of buttery turmeric-kissed basmati rice, or quinoa for $1 more. Pasha's innovative repertoire includes about twelve dishes that he rotates about on a weekly basis, to keep things fresh for customers and himself. What we tasted is on the core menu, so chances are you'll find it on offer on your visit.
Pasha says his plant-based direction comes from his love of Indian vegetarian cooking. "Indian cuisine does so many wonderful things with vegetables and I always feel it's quite sad that these dishes aren't more widely known," he says, lamenting that vegetables in many local Indian joints tend to be drowned in various generic, heavy gravies, to the point of obscuring the vegetable's natural flavours. Here, Pasha says, he wants the vegetables to be the star.

Overall, Pasha says his approach is to offer lighter, more wholesome versions of Indian classics. We think it really works. We love the well-considered flavours here, and the innovative techniques and flavour pairings wouldn't be out of place in a more glamorous restaurant set-up.
We sampled the six-dish Luckmeow Feast, with some extras thrown in for the tasting.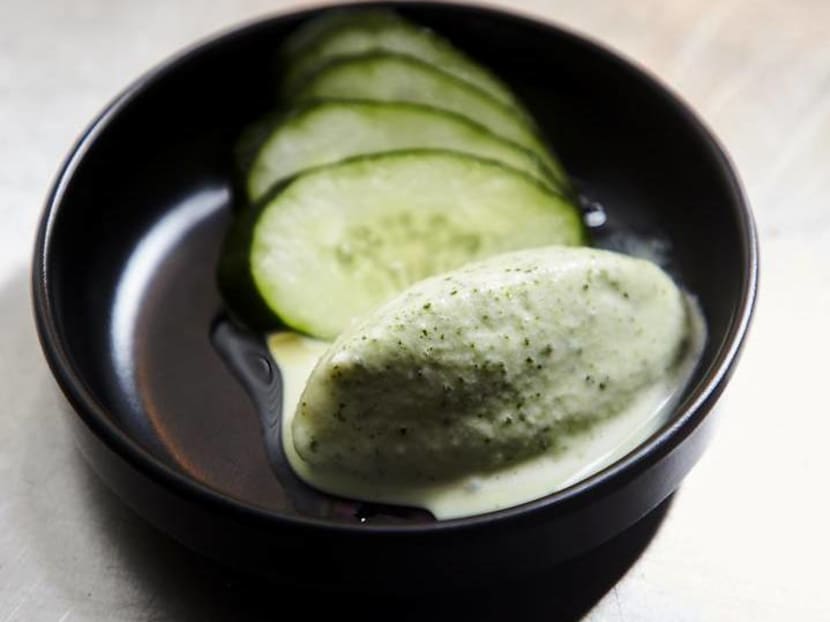 We start off with some cold dishes: a quenelle of the savoury-sweet Japanese Cucumber Sorbet, tangy and minty with a bright hit of sweet cucumber flavour. A zingy palate-cleanser.
This humdrum-sounding salad turns out to be quite special: it's garnished with thinly-sliced sour guava and a peppery dressing of garlicky buttermilk infused with chili and other spices. It's got a rich, almost cheesy flavour, while being light and refreshing.
We find the vegetable dishes more interesting than the meat ones. We absolutely love the Japanese-inspired Pumpkin With Black Sesame, chunks of baked pumpkin topped with a coconut chutney that's been infused with curry leaf and coriander, to which ground black sesame is added for extra nuttiness. It comes together with a satisfying, nutty richness.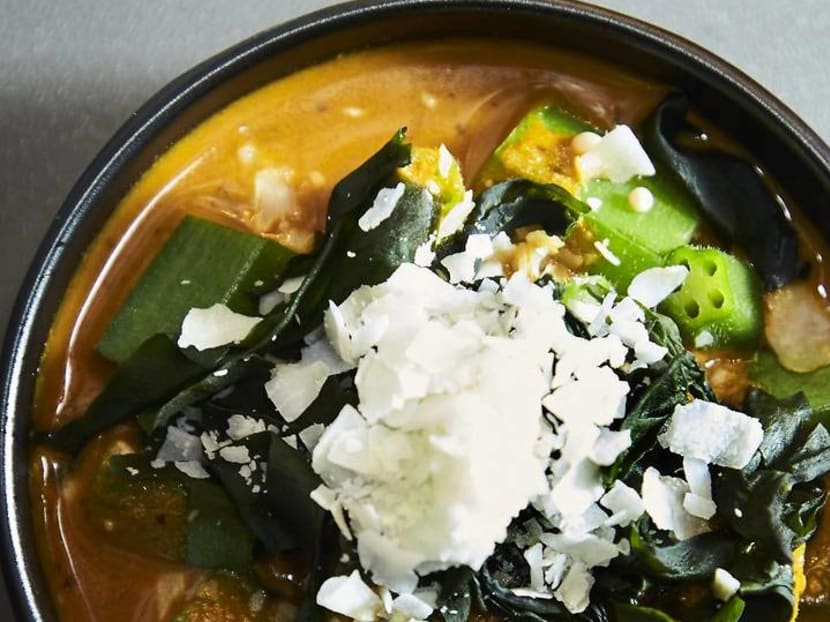 Another dish with Japanese influences. Chunks of okra stewed in a deliciously tart tamarind sauce, amped up with lots of curry leaf, fenugreek, mustard seed, and coriander. It's wonderfully piquant, and reminiscent of a South Indian fish curry, with umami flavours from toasted coconut flakes and seaweed, a combination that works very well.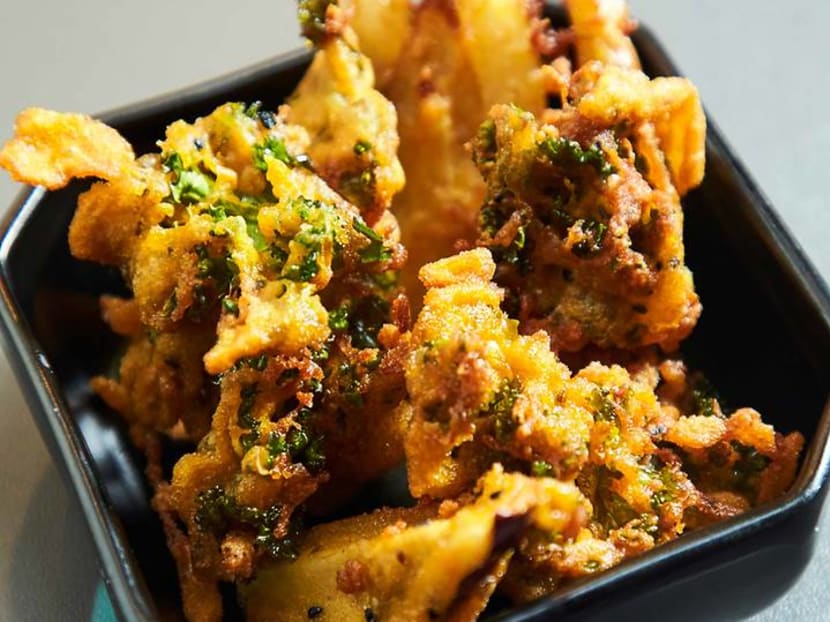 These spiced fritters feature vegetables like onions and eggplant, and are Pasha's take on pakoras, wonderfully crunchy with spices reminiscent of murukku.
Pieces of unripe jackfruit stewed in a Sri Lankan style coconut curry spiced with curry leaf and fenugreek. The jackfruit is wonderfully meaty and tangy, and it's paired with crunchy snow fungus which adds some texture and mops up the sauce. Rich and surprisingly light, and reminiscent of Indonesian Gulai Nangka. Yum.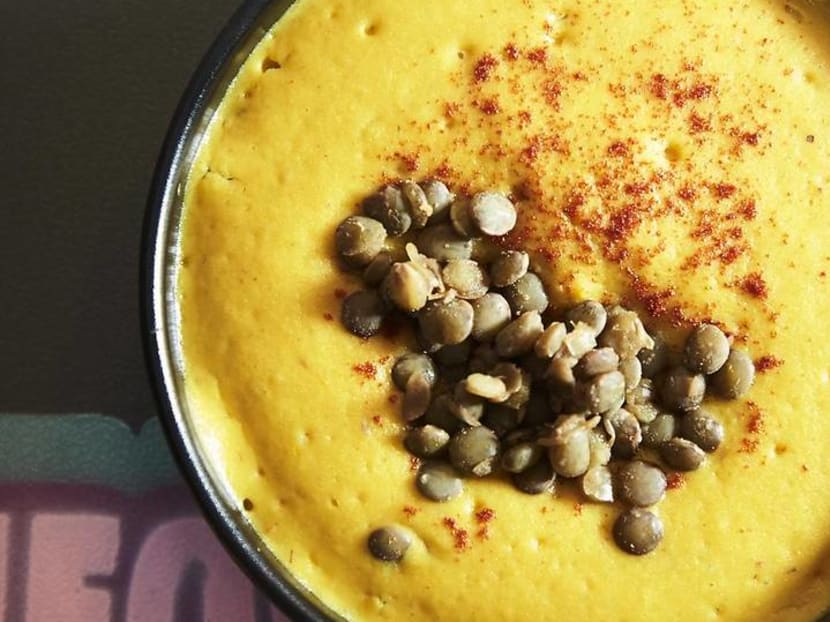 It wouldn't be Indian cuisine without some dal, and the ones on offer here are very unusual. The Yellow Lentil Mousse is a traditional yellow dal tarka that Pasha aerates with a whipping siphon, commonly used in modernist cooking. The result is a light and airy mousse with all the earthy, buttery goodness of dal. Pasha says he wanted to create a dal with a more refined, homogenous texture than your usual variety.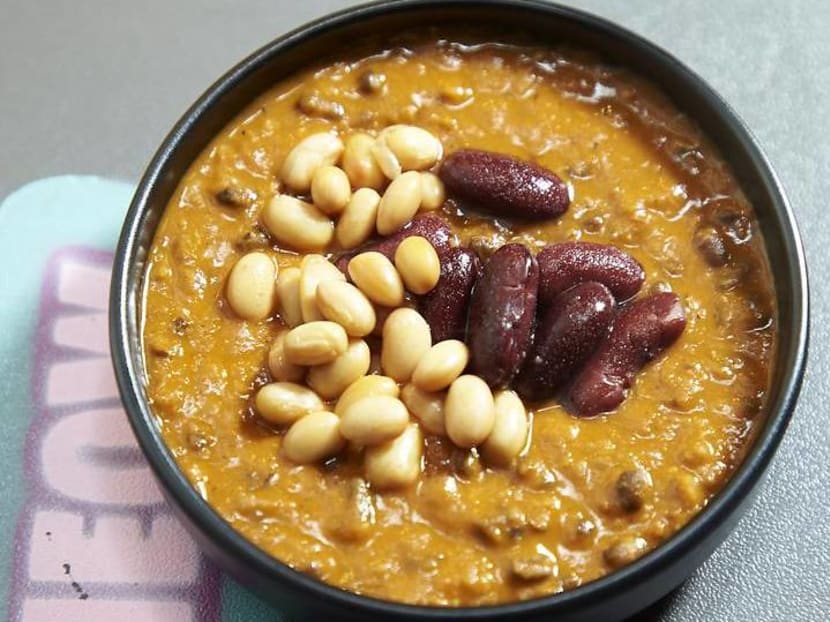 Also known as Dal Makhani. It's normally a calorie bomb made with outrageous amounts of cream and butter. This is a much lighter version, with just enough dairy to provide irresistible sweetness, but with body provided by more black lentils than is usually called for, plus a topping of tender kidney beans. It's the lightest Dal Makhani we've ever had, but still so satisfyingly rich and creamy.
We're so impressed by these fun flavour combinations that we almost forget about the meat options, which, while tasty, don't quite wow us as much as the veg dishes. There's a pretty simple and non-descript Honey Baked Chicken, for one, though we much prefer the…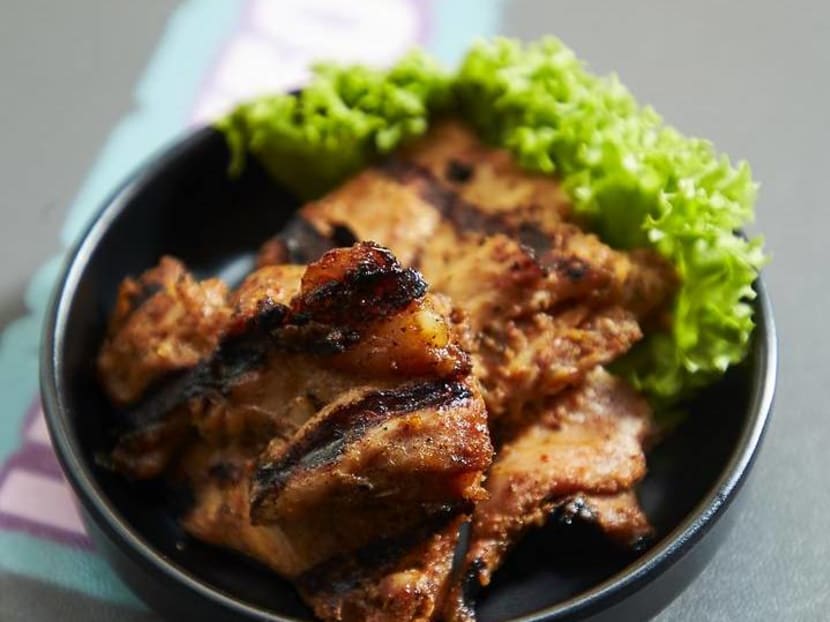 Pasha's answer to tandoori chicken: chicken thighs are steeped in a fiery yoghurt marinade and then quickly chargrilled. It's smoky, tender, tart and very spicy. It's juicy enough that we don't miss the mint yoghurt sauce normally served on the side.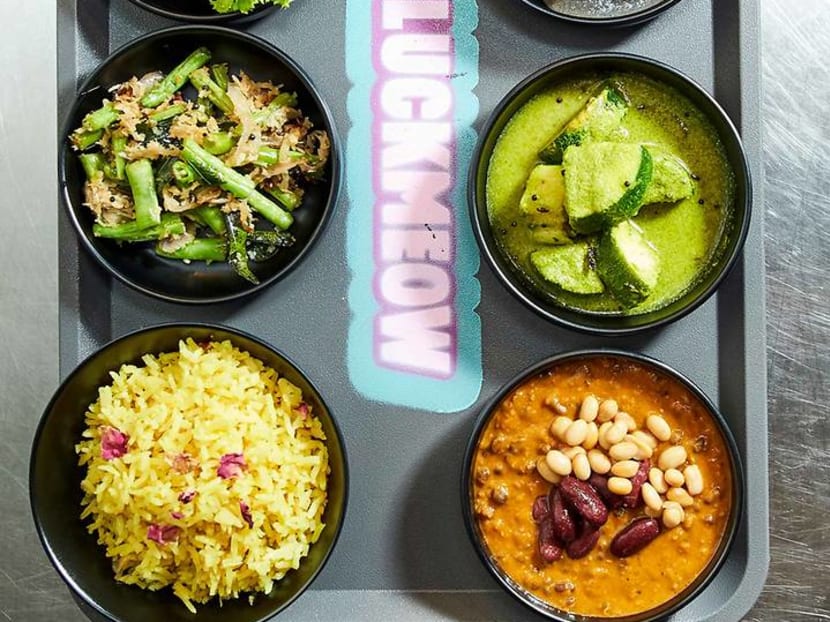 Impressive offerings — the flavours are bright and robust, and the dishes come together beautifully, especially ladled over rice. The cooking here is refined enough to hold its own in a posh mod Indian restaurant, but we're happy we can get them at these affordable prices. Individually, the plates look pretty small, but in a set, they work out to be a good amount of food. A real gem in Maxwell Food Centre.
#01-03 Maxwell Food Centre, 1 Kadayanallur St, S069184. Open daily except Tue 11.30am-3pm, 5.30pm-8pm; Sat 5.30pm-9pm; Sun 11.30am-3pm. https://www.facebook.com/pages/category/Restaurant/Luckmeow-109441074229412/

Note: Luckmeow is currently closed for tweaks to the menu and will reopen 1 Nov.

Photos: Aik Chen

No photos can be reproduced without permission from 8days.sg