Banker-Turned-Hawker Sells Delish $8 Marché-Style Rosti After Losing Life Savings
Algin Tan lost $40k in a failed cryptocurrency investment, but bounced back by setting up a hawker stall with his brother.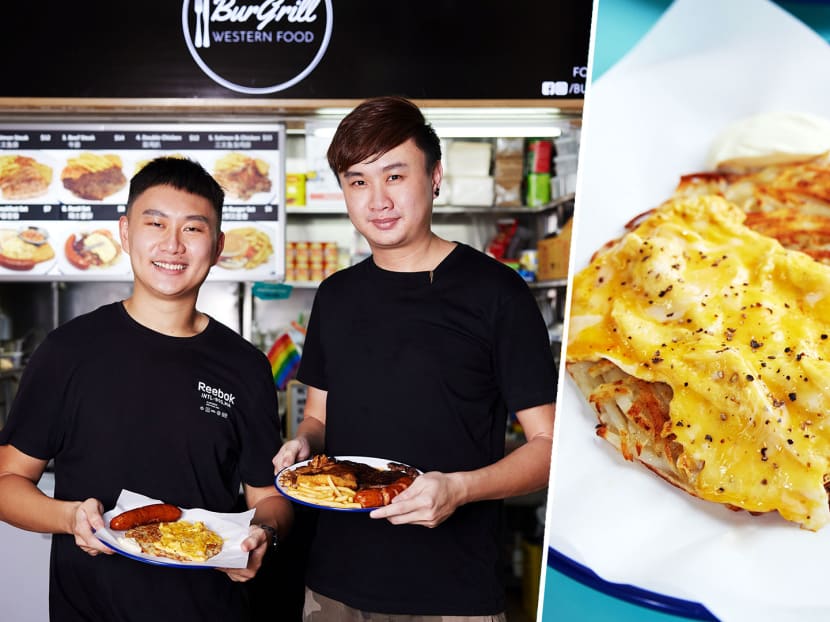 In 2020, Algin Tan was having a rough time in his finance career. The 30-year-old had been working in Singapore for a Shenzhen-based cryptocurrency company for a year when it suddenly folded. "It was ultimately a scam. Cryptocurrency is a new thing, and it's a totally different world," he tells 8days.sg.

He had invested his life savings of around $40,000 in cryptocurrency, and lost it all. "I didn't withdraw my money 'cos my supervisor asked me not to, and I listened to him. But I did believe in [my investment]," recalls Algin, who says "the company people just disappeared after that".

His family members and friends had also invested in the Chinese company's currencies, but managed to withdraw their money in time and avoid losses. But some of Algin's friends suffered a loss. "A few of them distanced themselves from me because of the incident. I was quite depressed after that, 'cos I couldn't answer to my friends," he says.

Before he went into cryptocurrency, Algin was also a banker at Citibank. He left the job, as he says: "Banking wasn't really what I thought it was. As a banker, the sales figure is the most important part, no matter what you sell."
Feeling "tired of life" after his career upheavals, Algin (left in pic) worked at a cold-pressed juice company for half a year before his brother, Milton Tan (right in pic), 35, offered to set up a hawker stall with him. The duo opened Western stall Burgrill at Hong Lim Market & Food Centre, right beside their hawker aunt's stall called Salted Egg Rice.

Burgrill sells classic Western fare like a Fish Burger Set ($6), Chicken Chop ($7), Norwegian Salmon Steak ($12) and Australian grass-fed Beef Steak ($14). "We decided to sell traditional Western food, as there are fewer [old-school] Western stalls like Tanglin Halt's [Chef Hainanese Western Food] these days," says Algin.

Going into F&B wasn't exactly a random move for the brothers, as Milton is a Shatec-trained chef who used to bartend at defunct iconic bar Madam Wong's. "Both of us like to eat," chuckles Algin. "For hawkers, the barriers to entry were quite low, so my brother took his savings and opened this stall with me."

Burgrill officially opened on March 27 this year, though Algin and Milton have not managed to break even or make a profit so far. Then Phase 2 (Heightened Alert) kicked in almost two months after their stall's opening. "For other people there would be a drop in business, but for me there's no difference, 'cos the sales are equally bad (guffaws). I was eating my own food for a month, but that saves money lah," Algin jokes good-naturedly.

He reckons that his hawker centre doesn't see much of a dinner crowd, which means less business for him. And being a newbie, he also found it hard to compete with the famous longtime stalls in his vicinity like Outram Park Fried Kway Teow Mee and Heng Kee Curry Chicken. "I approached groupbuy groups too, but they weren't receptive," he says.

The brothers now take turns cooking at the stall. But Milton — who used to be a Taobao deliveryman before opening Burgrill — had to take on delivery gigs again for extra income. "We were barely surviving, so he earns money from his deliveries to support our stall," explains Algin.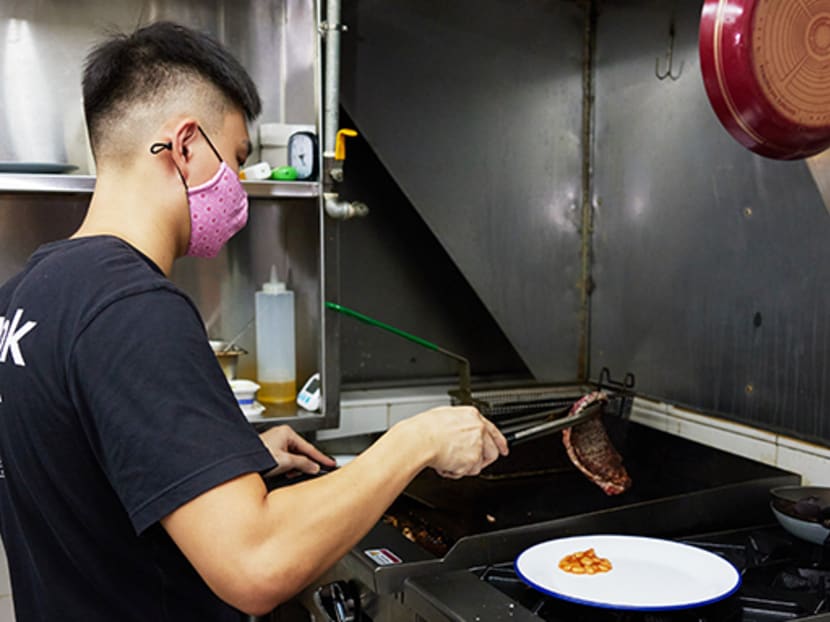 Algin and Milton were taught how to cook Western food by Milton's friend, a retired chef who used to run a Western stall in an international school. Says Algin, "He coached us [on how to cook] for about two months. And whenever we have any queries along the way, we would ask him as well. He's very nice to help us out."

After brainstorming ways to improve their biz, the siblings decided to offer Swiss-style rosti made with russet potatoes (a starchy variety that's good for frying). They applied for a government grant to buy a potato peeling and shredding machine that costs "over $4,000", which will arrive this August. In the meantime, they bought a "$100-plus machine from Courts to start".

His current machine (pictured), Algin says, can only do the basic function of shredding the potatoes and has a much smaller capacity than a professional-grade beast. He now peels the potatoes by hand, while Milton is mainly in charge of cooking the rosti. The brothers have been working seven days a week, though Algin says they have decided to close their stall on Sundays to rest.

This value-for-money set gets you a big frying pan-sized Swiss rosti, sour cream, scrambled eggs and a 100g chicken bratwurst. For comparison, Marché's popular plain rosti of a similar size costs around $9 before GST.

Burgrill's rosti is just as yummy, though. The shredded spuds form a nicely golden pancake that's crispy to the bite, and delish with a smear of the smooth, thick sour cream.

It goes well with the soft scrambled eggs cooked by Algin — the eggs are perfectly silky and buttery a la Hong Kong cha chaan tengs' version, and lay languidly on their rosti bed like Gudetama. And there's the very juicy bratwurst, which has a good snap to it. If you have a Marché addiction, this is a good budget alternative.

Our only grouse is that our second rosti order came with greyish potatoes (the natural discolouration happens when the grated potatoes are exposed to air). It doesn't affect the rosti's tastiness though, and we happily hoover up everything. Take note that the brothers take 10 to 15 minutes to cook each rosti, so be patient when you order.

To make things even more fun, you can also top up for an extra 260g Chicken Chop ($5), 180g Norwegian Salmon Steak ($8) or 220g Australian grass-fed Beef Steak ($10) to go with your rosti. Now that dining in is allowed again, the brothers' food presentation on hipster enamel plates is also very appealing for the 'gram.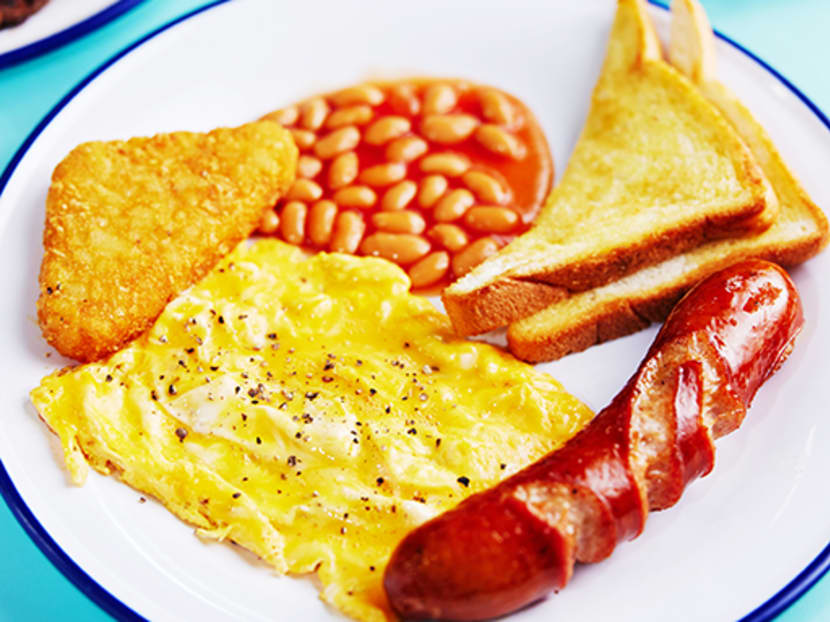 The Breakfast Set reminds us a little of London's greasy spoon cafes. Our platter comes with the scrambled eggs, buttered toast, baked beans, hashbrown and a chicken bratwurst (the stall does not use any pork or lard). It's classic comforting Western hawker fare, with the creamy scrambled eggs as the highlight.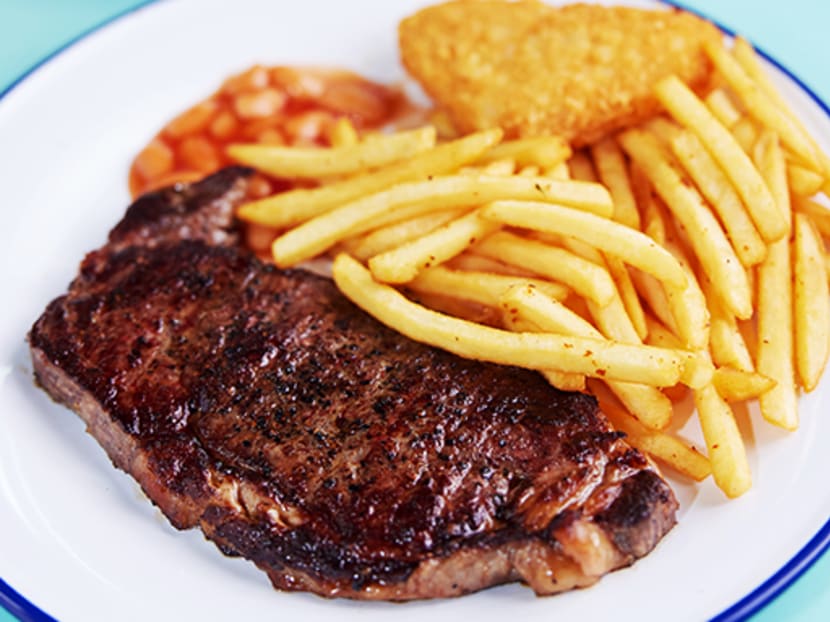 Burgrill's marbled beef striploin steak, draped with a house-made brown sauce, is reasonably succulent with a good sear. It comes with generous, homely sides of crispy shoestring fries, hashbrown and baked beans. We had this in a takeaway paper box before the dine-in ban was lifted, so we foresee diners having some difficulty cutting steak on an enamel plate. A sturdier plate would be nice.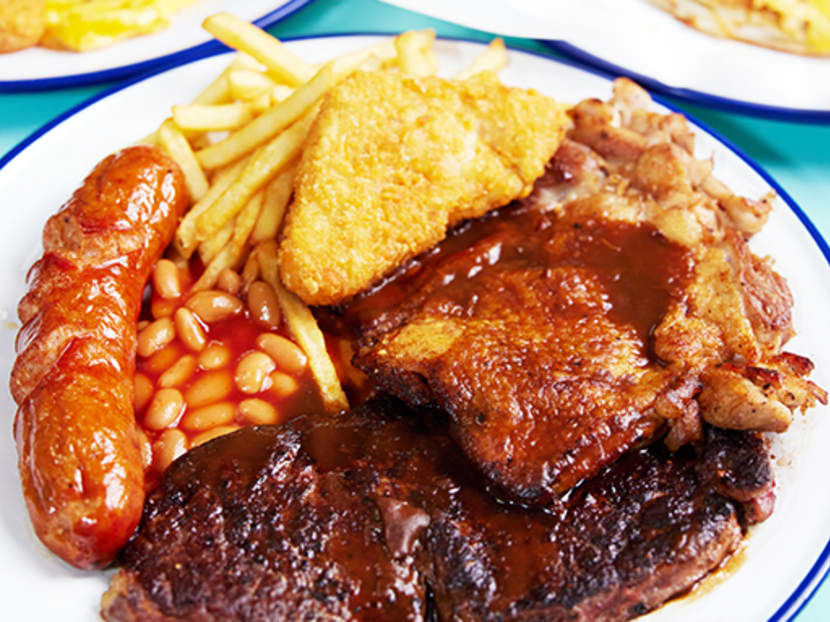 Order this if you want a hearty platter. The Mixed Grill is a mish-mash of Burgrill's meat offerings, like a beef steak, tender chicken chop, chicken bratwurst, fries, hashbrown and baked beans. Satisfying enough, and good for two small eaters.