The Buah Keluak Maggi Goreng, A Genius Creation You Need To Eat Now
Order this with some Beef Short Rib Kapitan for Father's Day.
We've long been fans of Candlenut's buah keluak fried rice. But we never thought that the 'junk food' version of it would threaten to dethrone the dish as our fave carb offering from the one-Michelin starred mod Peranakan restaurant. Enter the Buah Keluak Maggi Goreng, an old creation by the gentle-mannered, talented chef Malcolm Lee, which he recently revived during the no dine-in period. It's a classic example of humble and haute working together to create magic in your mouth.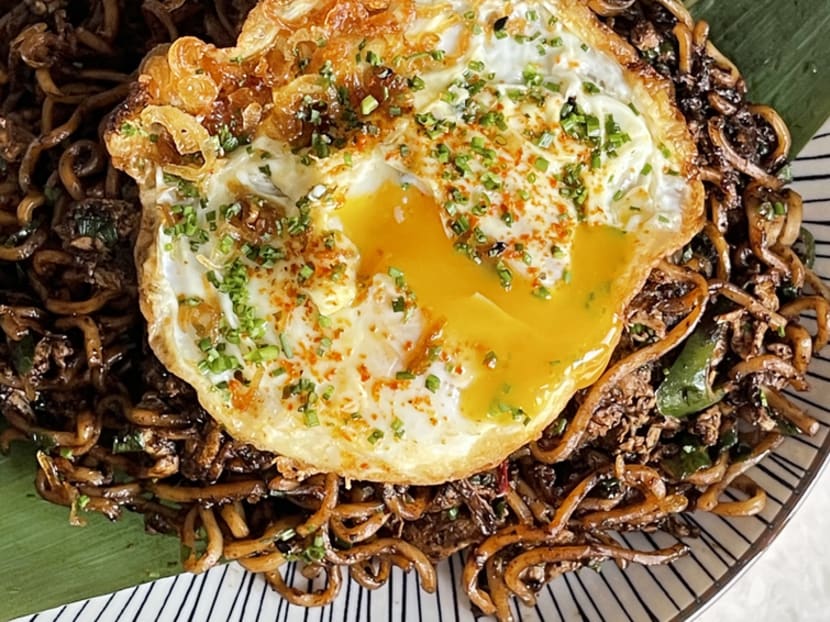 Candlenut's same intensely earthy, umami and spicy black nut sambal is stir-fried here with curly instant noodles. While the original rice version is nutty and slightly chewy, this rendition is comfortingly soft and slurpable, each strand smoky and completely saturated in all the flavours you'd want in a buah keluak dish. There's also a hint of what seems like that familiar umami, salty instant noodle seasoning that somehow makes this dish even more addictive. Piercing the yolk of the organic fried egg crowning it so it oozes its golden cream all over the noodles is, at the risk of sounding a bit sad, one of life's greatest pleasures — at least right now. Available for takeaway and delivery only.
A worthy pairing for the atas Maggi Goreng. Beautifully soft Margaret River Angus beef rib luxuriates in a rich, fragrant curry teeming with lemongrass, turmeric, galangal, coconut milk and kaffir lime leaf. This is a Father's Day special available for takeaway and delivery only, till June 30. And believe us when we say papa's gonna dig (into) this.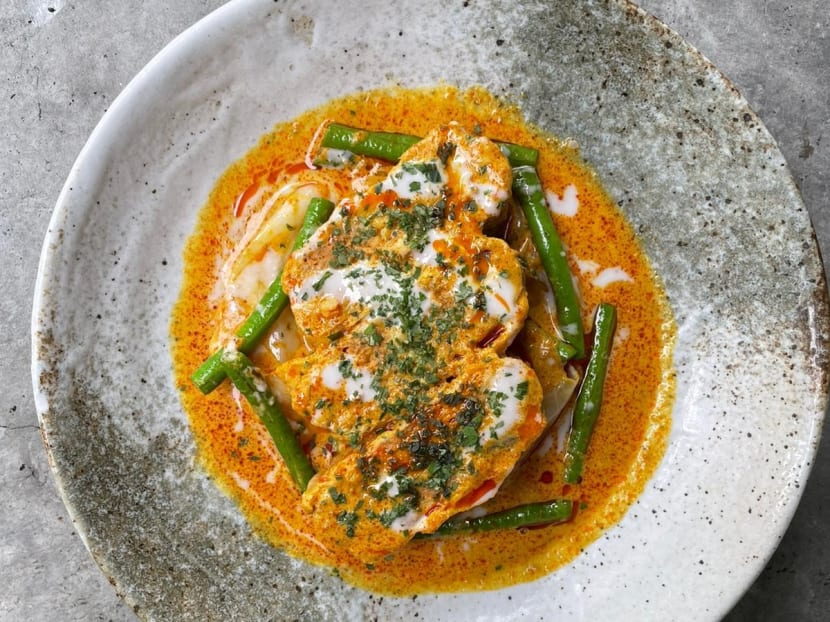 Not a new dish, but nonetheless worth ordering — and not just so you hit your veggie quota (there are cabbage and long beans in it). It's quite possibly the best sayur lodeh we've eaten. The gravy is crazy lemak — however, its richness is tempered with a good amount of spice and dried shrimp, the briny sweetness of hae bee underscoring each spoonful. And then there's the house-made otak — tasty fish and prawn paste nestled within a soft Japanese taupok, the entire thing soaking up that incredible gravy like a deliciously juicy pillow. Shiok.