Burger King Launches Chocolate Whopper & Nuggets With Fudge Dip
This is not an April Fool's joke.
It's April 1 today, and Burger King has announced that it's launching a Chocolate Whopper with chocolate sauce. This is not an April Fool's joke, though. The 'dessert' burger hits BK outlets today, and will be available for a limited period till April 15.
Each Chocolate Whopper costs $6.40 a la carte and $7.90 as a meal with a small Coca-Cola drink and medium-sized fries.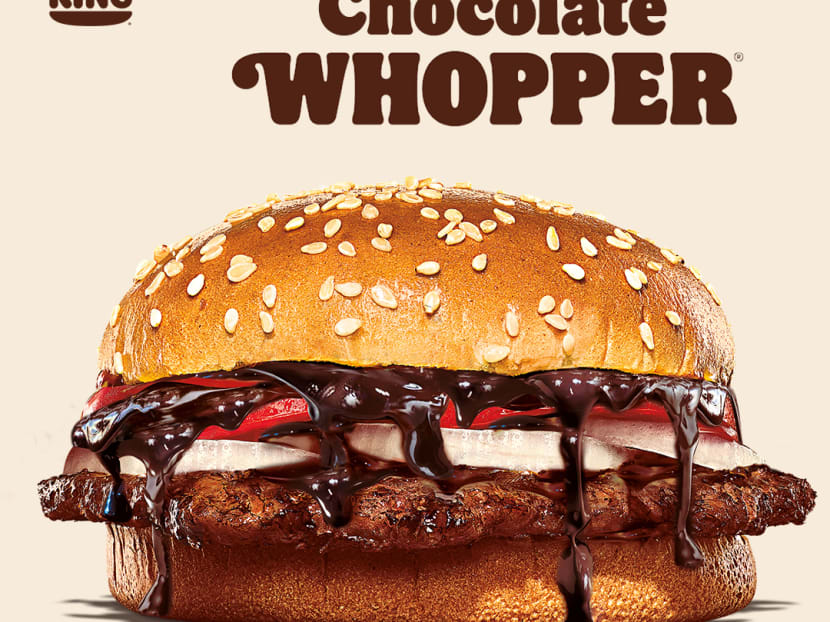 The burger comprises the usual Whopper ingredients, such as a flame-grilled beef patty, tomatoes and onions sandwiched between sesame buns. Oh, and it's also "dressed with a layer of rich chocolate sauce [with] swirly richness". Yea or nay? You decide.
For $3.90, you can also get the six-piece Nugget Dipper, which comes with a tub of chocolate fudge swirl dip. Sounds adventurous to us.
Customers who ordered the Chocolate Whopper on the Burger King App can redeem a free Mashed Up Fries, which consists of French fries topped with vanilla soft serve and chocolate fudge sauce (check out our review here).

All items available from now till April 15 via the Burger King App and digital kiosks at Burger King outlets islandwide.