Burger King's New Mashed Up Fries Taste Test: Nice Or Not?
Is this fries-and-ice cream combo better than buying 'em separately? We find out.
When we first dipped warm French fries into vanilla soft serve as a kid at McDonald's, our mother frowned. "Sweet and salty, nice meh?" she said sceptically, before muttering: "You eat hot and cold together, later stomach ache then you know."

Despite the threat of internal bodily havoc, we — like many other Singaporeans — continue to enjoy this unorthodox, off-menu combination through the years. It's just one of those strange food marriages, like Milo Halia, that works when it shouldn't.

Now, in 2020, it is Burger King (not McDonald's) who made ice cream and fries a legit thang on its menu. And our local fast food hack has a name now: Mashed Up Fries.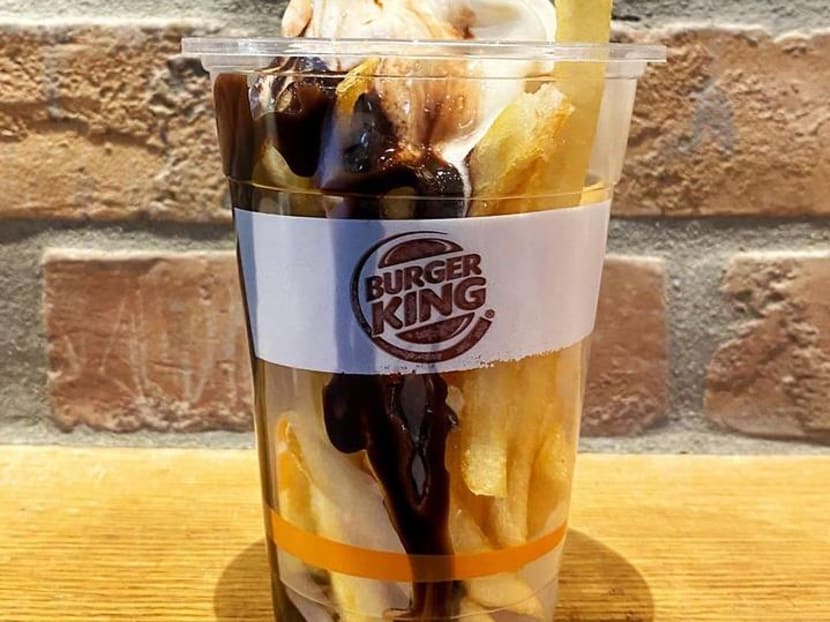 BK's limited-edition version consists of potato fries topped with a chocolate fudge soft serve sundae in a cup ($2.90). Initially, it seems like a gimmick to us. Why not just buy the items separately?

But when we bought a cup to try, we realised the Mashed Up Fries was actually cuter than we expected (and Instagrammable, for people who care about that sort of thing). With everything contained in a cup, it was also way easier to eat the ice cream-covered fries without making a mess.

Our only grouse is the portion — we get less fries and less soft serve for $2.90 (the fries cost $1.90 and the sundae, $2, a la carte).

We were automatically given a plastic fork and spoon by the counter staff to eat the fries with. Fancy. The warm fries fogged up the cup like a post-shower bathroom mirror. We struggled to yank a fry buried under the soft serve with our fork before ditching our civility and said fork, and used our (sanitised) hands instead. Ah, better.

Compared to McDonald's thin shoestring fries — which lately somehow isn't as salty as it used to be — BK's fries are the thick, old-fashioned kind that still taste like delicious, starchy potatoes. It's also generously salted, the way fries should be (this writer will not go into the specifics of eating clean while reviewing fries-loaded ice cream).

It's pure junky heaven with the creamy, milky soft serve, though the chocolate fudge just had to spoil the party. The cloyingly, artificially sweet sauce upsets the sweet-savoury balance of the fries and ice cream.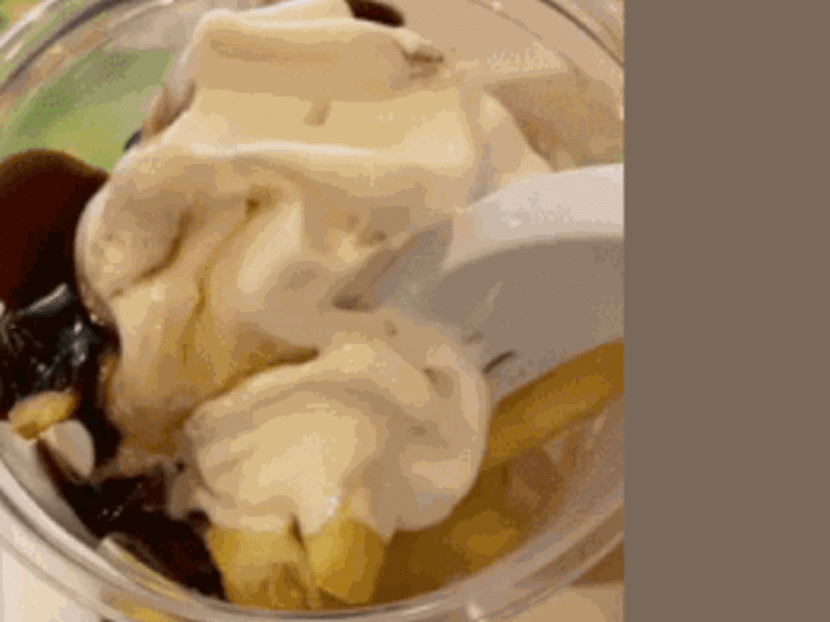 The heat from the fries melts the ice cream quickly, and at the bottom of the cup is a coagulation of soggy fries. Now, we adore soggy fries, so we enjoyed picking at the limp sticks coated in cold, melted soft serve. Those who like their fries crispy should order it a la carte instead. It also makes for a pretty filling, carby snack, though we will request to hold off the choc fudge next time.

Available while stocks last at Burger King outlets. www.burgerking.com.sg.

PHOTOS: YIP JIEYING