Champion Bolo Bun's Young Boss, 21, On How She Set Up S'pore's Buzziest Cafe
Hoh Loyi trained in the male-dominated kitchen of a Hong Kong cha chaan teng for two years before opening her own bolo bun biz.
"Have you been to Champion Bolo Bun?" is a question we have been hearing from our family and friends. The 70-seat cafe, housed in a three-storey Tanjong Pagar shophouse, is one of the most exciting additions to Singapore's F&B scene since its soft opening in April this year.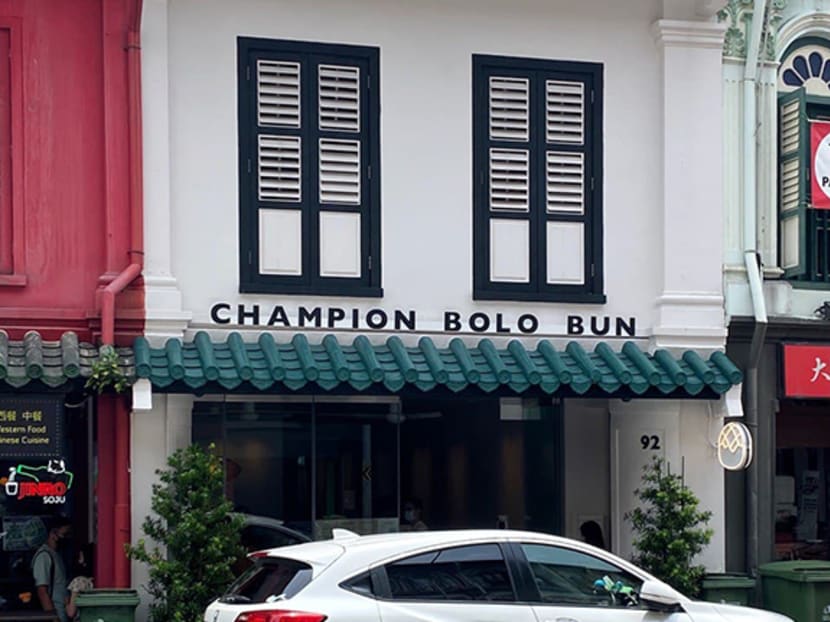 It sells just its namesake bolo bao, aka pineapple bun, the classic Hong Kong cha chaan teng pastry with a burnished, craggy crust that resembles a pineapple rind. The bolo bun comes in four iterations: Classic, Classic with Butter, Curry Potato and Mini of 4.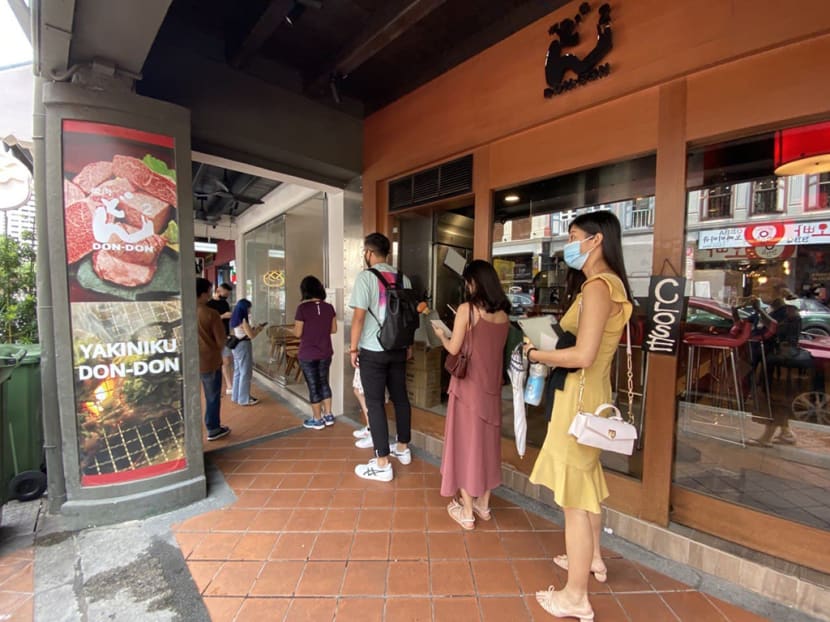 Just a week after opening, the cafe already has a snaking line and a 30-minute wait for its freshly-baked bolo buns. Customers start queuing up half an hour before opening. It's the dream scenario for F&B owners, but one that's as rare as an empty hawker centre table at peak lunch hour.

Champion's massive popularity boils down to this: it offers the uncommon combination of fab food and drinks in a visually appealing space. The sparse, all-white cafe resembles a Japanese art museum, with tasteful rattan and wooden furniture scattered around.


This cafe's golden-brown buns, served fresh out of the oven, sport a lightly crisp — almost crunchy — buttery and eggy crust crowning a soft, fluffy bun. Order the fantastic Classic with Butter ($5), and you get a thick pat of cold New Zealand butter wedged in. But we say splurge on a few rounds of the Curry Potato ($6), stuffed with a fragrant, mildly spicy potato filling. The Classic ($4.50) and Mini of 4 ($4.50) are just as good, but go for the other buns if you want maximum satisfaction.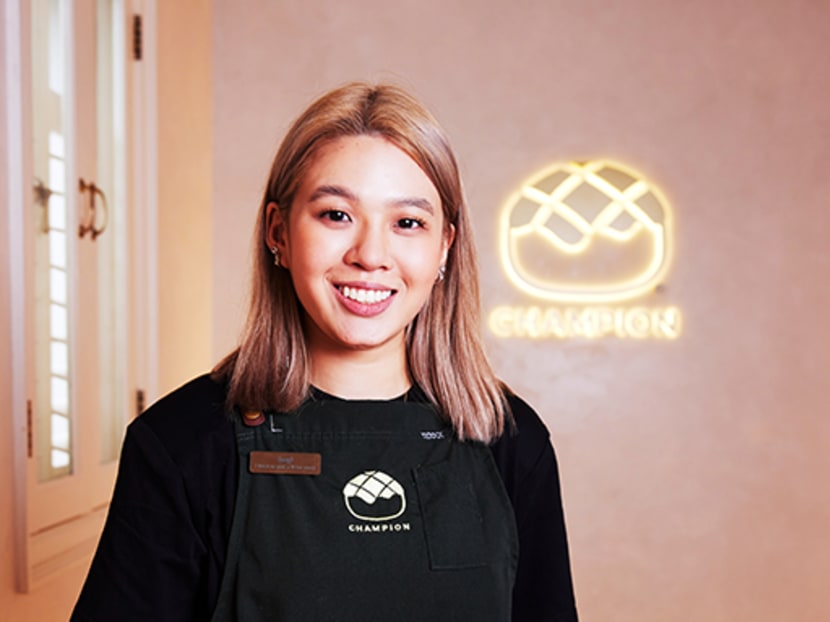 The owner and driving force behind Champion Bolo Bun is 21-year-old Hoh Loyi. Born in Kuala Lumpur to a family who runs their own hardware business, she moved to Singapore to study when she was in Primary Two. After completing her 'O' Levels at Broadrick Secondary School, Loyi's friends made plans to attend local junior colleges and polytechnics. But she had a different idea.

Curious about bread-making, she decided to study the subject at the China Grain Products Research & Development Institute in Taipei. "Bread is a very mature and respected industry in Taiwan," she enthuses to 8days.sg. "A lot of people go there to learn bread-making theory, and bakers are brought to a whole new level there."

She recognises that "a lot of science and chemistry goes into making good bread". She muses: "It's 30 per cent theory, 70 per cent practical. You need to know the basic theories well. My textbook was so thick. I'm not gonna lie, I'm not even halfway through it!"

But Loyi took her one-year course in Taiwan seriously. "I wasn't there to waste time or have fun. I wanted to explore if this route was suitable for me," she explains. "The institution was so ulu, I had to take a bus for 45 minutes from the train station at Tamsui, and walk another 15 minutes to school."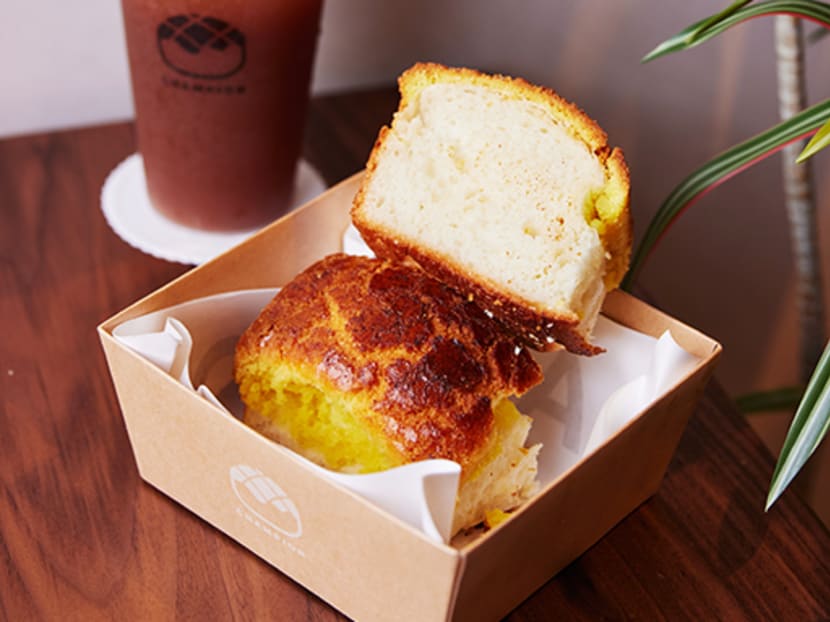 Loyi's year in Taiwan cemented her love for baking. "I was like, oh! I really like it! I want to be a baker," she chirps. After she returned to Singapore, Loyi admits to "feeling lost for a few months", while she figured out what to do next.

During a trip to Hong Kong in 2016, she frequented a cha chaan teng — she declined to name which — in Mongkok which serves "the best-rated bolo buns in HK". A fan of the pastry, she boldly asked the head chef there to teach her how to make bolo buns. Unsurprisingly, he turned her down. "He didn't just accept me. But I persistently asked him a few more times, and he decided to take me in," she recalls.

Loyi, who's fluent in Cantonese, would remain there for two years as an apprentice. "It was very traditional. The people in the kitchen were mostly male, and sometimes they were shirtless and in shorts," she says. "There were no women working in that kitchen, and I was only 19 then. It was like, 'Who is thaaaat!"

Her shifu (Chinese for 'teacher') taught her his own self-created bolo bun recipe. "He and his right hand man patiently guided me," says Loyi. "I asked him why he was willing to teach me. He said, 'I was looking at how you performed'. I wasn't sure if it was because I was very driven. I don't want to be hao lian (Hokkien for arrogant) lah (laughs). But it was quite unreal."

At the cha chaan teng, she picked up methods like using traditional ovens to bake the bolo buns, which she also installed in Champion's kitchen. "You need to stick your hand in to test whether it's hot enough. If it feels a bit unbearable, that's when you put the buns in," she explains.
After returning to Singapore, Loyi made plans to open Champion Bolo Bun with her shifu's blessings. "He just called me last week to ask me how my shop was doing. Some people take up an apprenticeship to 'steal' skills. But I didn't go in with the intention to open a bolo bun shop. I was just someone who loves making bread," she says.

She was also motivated to make her teacher proud. She avers: "It was my good fortune that he wanted to teach me, and I have to guard his recipe and make a good product. I didn't want to let him down."

Loyi came up with a simple but meaningful name for her shop: Champion Bolo Bun. "Champion is an old-fashioned name, but quality is first to us," she says earnestly. "The buns are all fresh out of the oven, we don't heat them up. You can't fake the bread aroma in the shop. Who doesn't love a freshly baked bun?"

She takes her standards so seriously that the cafe has a "no arguments" policy to replace, for free, the bolo buns that are not consumed within 20 minutes. "It's okay if people take advantage. What we value are returning customers who will bring more customers. This is an investment," she explains.

But Loyi had also done her math; at $4.50 for the most basic Classic bolo bun made with Japanese flour and New Zealand butter ($5 for a Classic with Butter), her bakes are the priciest in town. "Some people said, '$5 bolo bun, so expensive'. The $5 takes care of the ingredients and labour," she says.

Due to her background studying bread-making in Taiwan and bolo bun-making in Hong Kong, Loyi created a hybrid bolo bun that caters to the local palate. "The crust is 100 per cent my teacher's recipe. But the buns in Hong Kong are tougher, and Singaporeans like fluffy, soft buns. So I came up with my own bun recipe," she says.

Loyi also made the humble bolo bun, well-loved but decidedly untrendy, appeal to younger generations. "Before I opened [my shop], we did five pop-ups at Expo, a food fair at Ang Mo Kio and Artbox to test the market, because it was low-cost," she recalls. "Artbox was the one that changed my route. Bolo bun is traditional food, but it was all millennials there and the queues started forming. I realised then that bolo bun is a very diverse thing — even young people like it. I was very stunned."

A "big fan of [brands like] %Arabica, Blue Bottle Coffee and Aesop", Loyi began crafting the look for her cafe, which she wanted to be "very minimal". Setting up shop costs "six figures" with a sleeping partner. Renovations took a year, with delays caused by Covid-19 and "a bad experience with an interior design firm".

When things didn't work out with the ID firm she initially engaged, Loyi landed back on square one. "Looking back, it was like going through a breakup," she jokes. She confided her woes to her businessman dad, who had also built his hardware biz in Malaysia from scratch. "I was like, I did nothing wrong. Why did I get screwed over?" she lamented. "And my dad's only advice to me was, 'Suck it up. Complain to me also no use' (Guffaws)"

But father and daughter bonded over their shared experience of running a business. "I got closer with him, because we've common topics to talk about. Even though my dad and I are from different industries, emotionally and physically it's the same," says Loyi. Apart from "having no social life", she acknowledges that starting Champion has been enriching for her. "But the word 'entrepreneur' is a bit cringey to me, because I'm just doing what I love," she muses.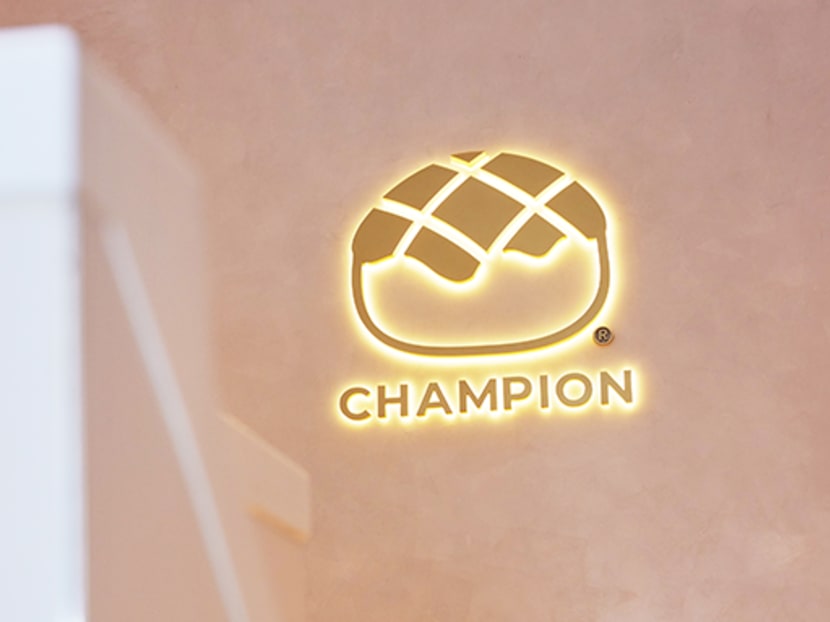 Champion's sleek logo and high-end packaging, which adds to the dining experience, is also designed by a young talent. "It was all done by my secondary school friend, who's a second-year design student at RMIT," shares Loyi.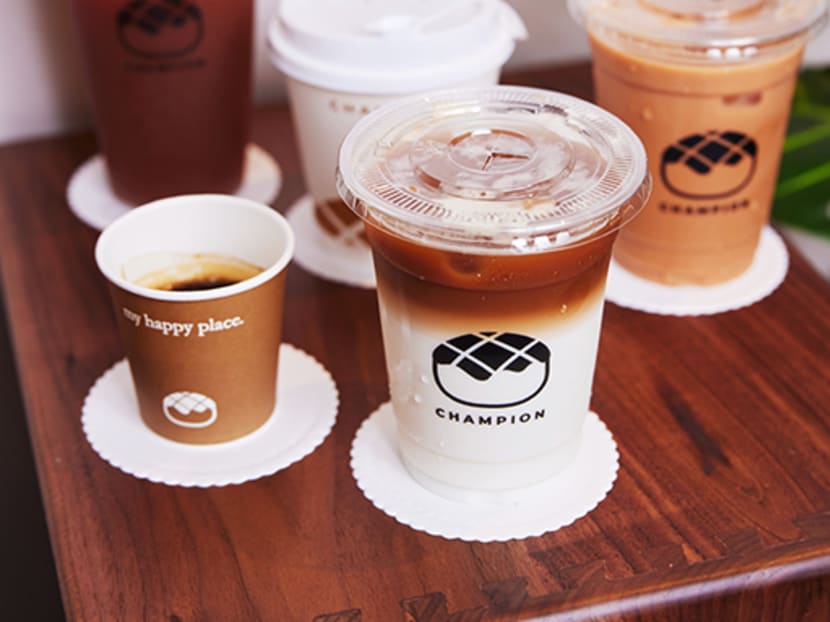 She lavishes similar attention on the beverages she serves, which includes Coffee, Milk Tea, Lemon and express-based options like Americano and Latte. "We're coming up with a beverage campaign soon, 'cos there's this misconception that our bolo buns are the main draw and beverages are just an accompaniment. But both are the stars," says Loyi earnestly.

The thick, silky ​​​​​​​Milk Tea here is a decadent treat. We find it so intense to the point of tannicity at times, but it's robust with a lovely floral fragrance.

Champion's tea leaves and coffee beans are imported from Hong Kong. According to Loyi, the recipes like the heady Champion's Lemon Tea were "taught by tea championship masters through my shifu's connections — it's not your regular teh peng, and the coffee is like a cold brew".

Tea championship masters are so revered in Hong Kong, they sport medals that they have won in milk tea-brewing competitions. "Our items are very minimal, so they have to be good," says Loyi. "The food that tastes extra good has extra effort put into it. They will stand out naturally, because consumers are smart."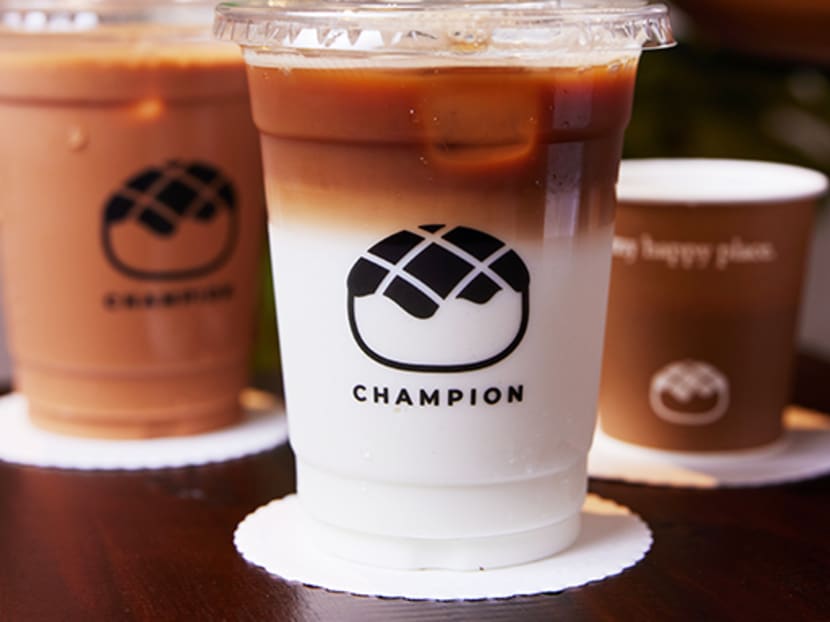 Loyi has set her sights on the international market, having trademarked her brand in Europe, US and China. There are plans to open a shophouse outlet in Kuala Lumpur ("where I was born") and New York ("it's like a migrating state, so I'm [sure] our product will be popular there as well"). She adds, "We are open to collaborations too if there's a potential opportunity for our third store."

Despite Champion Bolo Bun's popularity, don't expect a Starbucks-style bolo bun chain in Singapore alone. "We don't want to be mainstream. But it depends on whether there are new opportunities," says Loyi, who reasons: "I don't want this to be like a hype. Business is long-running, and I don't want to climb up overnight and fall hard."