Convict-Turned-Millionaire Now A Hawker Selling Fab Seafood Congee
He earned big bucks running a car rental biz, then lost it all to a gambling addiction.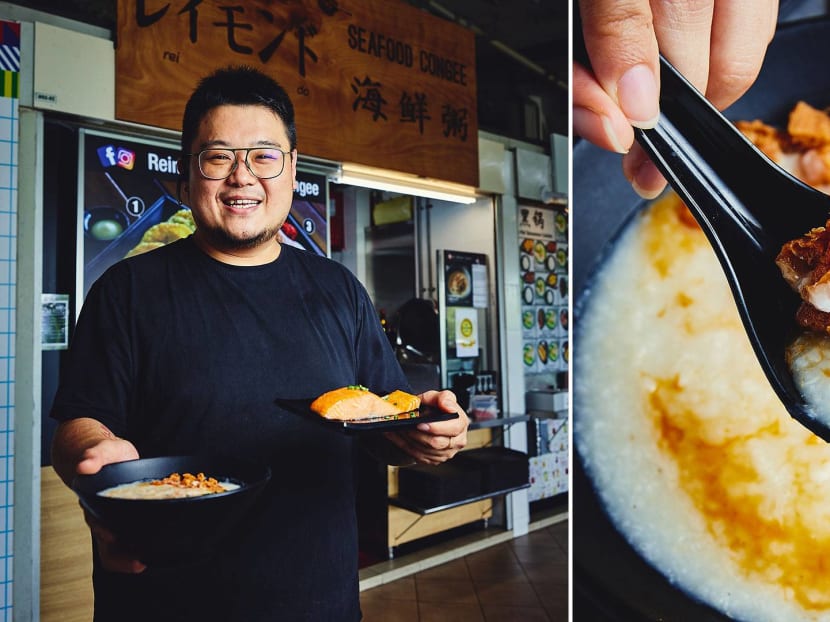 For most people, being a hawker is an exhausting full-time job – but for Raymond Tan, it's merely a side hustle on top of his day job as a car mechanic.

Every day from 5am to noon, the jovial 33-year-old replaces car batteries and repairs tyres for a roadside assistance company. After that, till 8.30pm, he dons an apron and transforms into the boss of his eponymous hawker stall Reimondo Seafood Congee, dishing up bowls of his unique "wok hei" congee for diners at Pasir Ris Central Hawker Centre.

"I had too much time on my hands," he jokes, when asked about his decision to start a hawker business. But the father-of-two shares that his stall runs smoothly enough that he can afford to split his time between jobs. "The work is not hectic. I even have stall helpers, so in between working hours I can still go home and spend some time with my kids," he says.
But Raymond's working life wasn't always so smooth-sailing. With his upbeat smile and passion for cooking, few would recognise him as the troubled youth who spent nearly five years in prison stints between 2000 and 2009. "I've gone to Boys' Home and prison five, six times – all due to greed," he shares. His offences included shoplifting, house-breaking, and stealing cars.

By the time he was 22, Raymond was keen to stay out of jail for good. He decided to set up a car rental company in Pasir Ris. This business, along with a car repair workshop he later opened, made him a millionaire within two years. However, he admits he made his big bucks by charging customers exorbitant sums for penalties and damages.

"I tried to get rich quick," he says. "Then I got rich too young, and trouble came along." He would soon lose his fortune in a casino. Constant arguments with his wife Vivian, 32, led him to develop a gambling addiction. Once, he spent 15 months "staying at every hotel at Resorts World Sentosa" and visited the casino every day. He recalls, "I was holding their platinum member card with VIP parking, and it came with all the perks like free [hotel] rooms."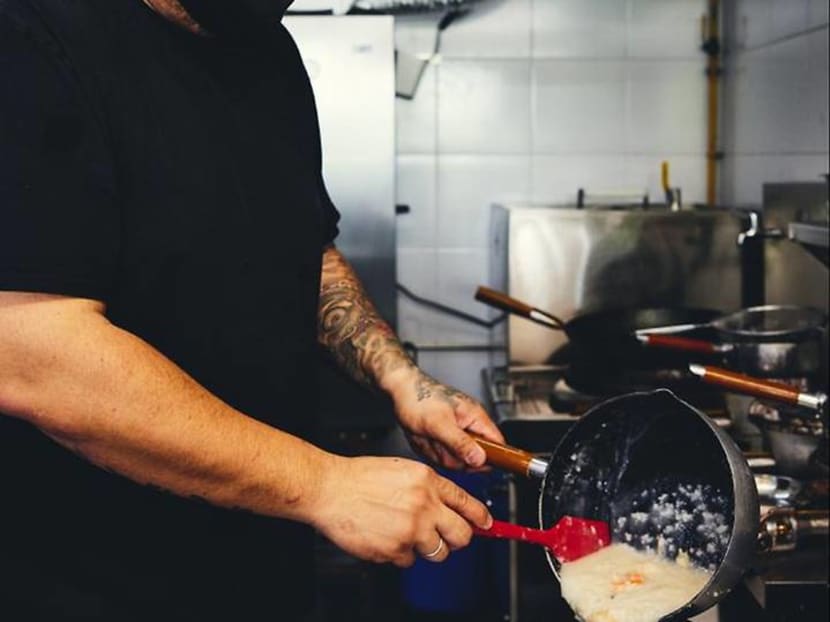 He would return home once or twice a month only for the couple to bicker again, which sent Raymond right back to the casinos. Despite his wealth, he soon gambled himself into debt. "I just spent money without thinking much. I thought, once I lose it all, I'll end my life," he says.

Faced with crushing debts and a failing marriage, Raymond considered committing suicide in 2015. Then unexpectedly, he received news that Vivian was pregnant with their second child. The sobering news made him decide to turn his life around and rekindle his marriage.

Ready to make an honest living, he set up a hawker stall in MacPherson selling crabmeat wanton mee. He used the money he earned to pay off his debts. "I gave up taking shortcuts to make money. I wanted to find stability in the hawker life," he says. Unfortunately, his noodle business did not take off, and he eventually closed his stall in 2017.

He went back to a salaried job repairing cars, as it offered more reasonable working hours. His wanton mee business – which saw him working from 6am to midnight on most days – had kept him away from his children Vernon and Vera, then aged one and three.

When Covid-19 struck in 2020, Raymond started to worry about retrenchment, and began searching for alternative work. It was during this time that he spotted a vacant hawker stall in Pasir Ris, and decided to give hawker life a second shot. He forked out nearly $30,000 for the stall, and Reimondo Seafood Congee opened on Feb 1 this year.
But Reimondo Seafood Congee might nearly have been Reimondo Marinated Wings, if not for the fact that the hawker centre Raymond is in had too many similar food stalls. He scrapped his original idea and settled on offering seafood congee, after some friends who tasted it thought it was good enough to sell. One such friend was ieatishootipost food blogger Leslie Tay, who suggested that he give a unique spin to the dish by adding stir-fried seafood to infuse the congee with wok hei.

To do this, Raymond picked up frying techniques off YouTube. The first time I tried, all the prawns flew out of the wok," he laughs. Leslie — whom Raymond refers to as his mentor — also gave the hawker his own recipe for smoked salmon, which Raymond's wife tried and loved. The couple now work together at the stall, and offer the smoked salmon on their menu.

Salmon smoked at the stall

As someone who used to overcharge his car rental customers for profit, Raymond is a changed man. These days, he ensures that people get value for their money. "I really stretch my budget to include lots of seafood ingredients, even Hokkaido scallops," he explains earnestly. I see it as a way of giving back to my customers.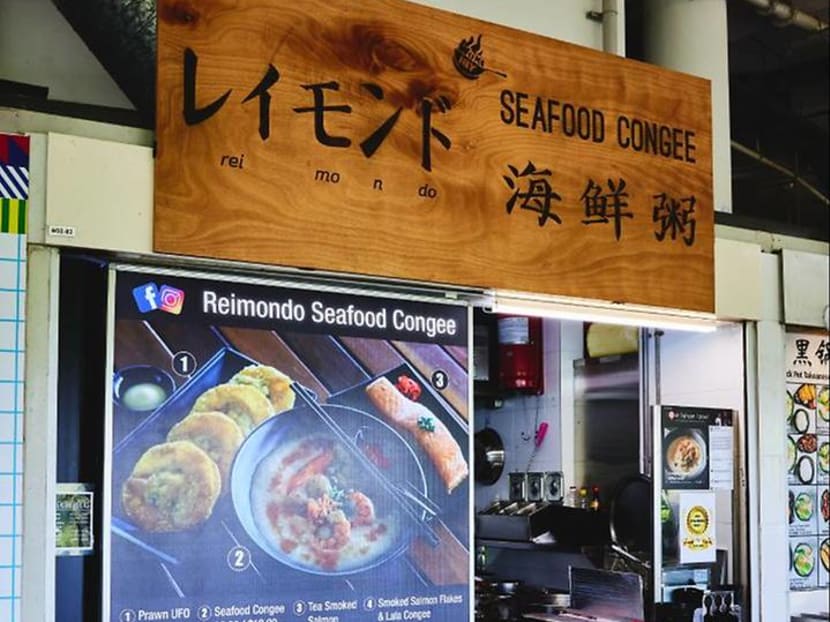 Despite being only two weeks old, Raymond's stall is already attracting regulars. He sells about 70 to 80 bowls of congee a day. He also avoids the mistakes he made from running his first stall to make his current one sustainable.

One of the lessons learnt, he says, is to be systematic and create efficient processes to save on labour. For instance, his seafood comes flash-frozen, and he plans to keep his menu succinct with just four dishes. "It's not too much work to the point where it will burn you out," he says.

He also keeps his overheads low by carefully managing his manpower costs. Currently, he has three salaried assistants, including his wife Vivian and his mother Irene, 48. Once business picks up, Raymond hopes to hire ex-convicts like himself who are looking to work in the F&B industry.
The complex, smoky aroma of wok hei permeates every bite of this thick, silky, Cantonese-style chok (congee). For each small bowl, two Hokkaido scallops, two prawns and clam pieces are stir-fried in a wok over high heat before being mixed in with the congee, which is cooked separately in a Japanese-style umami-rich stock of la la clams, miso and bonito. The dish is finished with salmon flakes, youtiao, chye poh and a crabstick (smoked in-house). Large-sized bowls get double the ingredients.

There's a good savouriness that keeps the congee flavourful, with the youtiao – fried till "extra crispy" – adding much-needed texture. Our bowl is loaded with enough ingredients to score at least one chunk of seafood per bite, and it all tastes decently fresh, without any fishy pong.

The only disappointment here is the prawn head-infused oil that's drizzled on the congee. For all of Raymond's effort to make the oil, we could barely detect the taste. Pity. There's also a Salmon Flakes & Lala Congee ($3.50) on the menu, which is like a wallet-friendly version of the seafood congee, except without Hokkaido scallops and crabsticks.
Like the porridge, the salmon is dominated by a layered, rich smokiness that lingers with every bite. It takes 24 hours to brine the fillets so they stay moist, then they're off to be smoked with applewood and black tea leaves for an hour. The fatty fish boasts an undeniably soft flesh, with a texture somewhere in between smoked salmon slices and tataki (seared fish with a raw middle). Masterfully done, but an entire slab proves too much to finish, even when shared between two. Do not attempt this solo, unless you really love smoked salmon.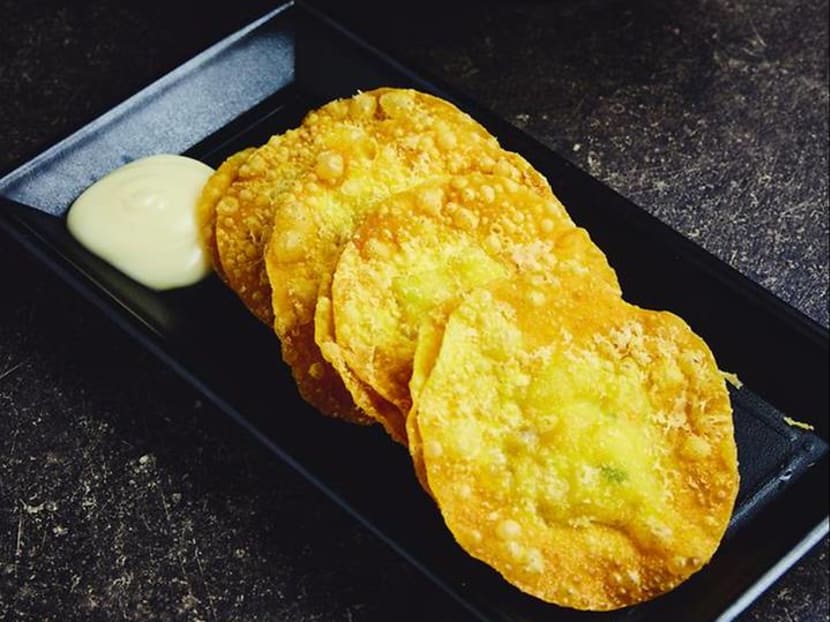 This dish is a nod to Raymond's previous wanton mee stall. He modified his old wanton recipe for the adorably-named Prawn UFO, which has a spoonful of chopped prawns sandwiched between two dumpling skins. Instead of being folded, the skins are simply pressed together to create a cartoonish UFO shape (this saves the staff from having to spend time folding dumplings, Raymond confesses. Genius.)

The fried wanton skin is exceptionally light, not greasy, and stays crisp even after sitting out for a 20-minute photoshoot. Raymond attributes this to a customised ratio of flour to alkaline water that their supplier produces just for the stall. The prawns are juicy and bouncy, and the unusual wanton shape means a higher ratio of skin to filling. While this translates to flatter wantons, it also offers extra crispiness, almost like a chip.
Ever since acclaimed mod ramen stall A Noodle Story, we have a thing for young hawkers elevating local favourites with their own interpretations of ingredients and cooking techniques. Reimondo Seafood Congee impresses with a well-executed congee that delivers splendid wok hei, and tastes like it could be a specialty at an upscale Chinese restaurant. The house-made smoked salmon is also a special find for a hawker stall.

While the bowl of congee we tried was worth the price for the quantity of seafood, the smokiness in most of the dishes might make this a tad too jelak for daily meals there. We'd still come back occasionally for all three dishes, though – as long as there's someone to split that salmon with.