Decadent Family-Sized Laksa Pao Fan To Celebrate National Day At Home
8days.sg samples this fun fusion dish.
Pao fan (rice submerged in soup) has been everywhere lately, and why not since it's pure comfort food? But instead of the usual clear seafood-driven broth, Peranakan restaurant and caterer Chilli Padi is offering pao fan pimped up with decadent spicy, lemak laksa broth and lots of seafood just in time for National Day. Shiok or not? 8days.sg tries some.
The usual fixings of deep-fried rice crisp garnish, egg floss and steamed rice are just here to lift up the star of the show – in this case, a coconut milk-laden laksa gravy. The package arrives with every component separately packed – they even throw in a ladle for extra convenience. Heat up the gravy for maximum shiokness though.
Its base comes from prawn shells, boiled for hours to extract their seafood-y essence. It's fortified with aromatics and a rempah (spice blend) comprising hae bee and coriander seeds, among other secret ingredients that's blended and sautéed in oil, from scratch, every day.
So how does it fare? The gravy is thick and rich enough, with an enjoyable savouriness from the prawn base. Meanwhile, the rempah is fragrant but can afford to be spicier, even after we've stirred in a dollop of accompanying sambal into the gravy.
This enormous pao fan is topped with fresh whole prawns, pacific clams, battered fish fillets and seafood beancurd rolls, while the fried rice grains and egg floss provide an enjoyable crunchy contrast to the boiled rice. A fun and tasty communal dish, but it can get a bit jelak after a while as you tend to slurp up more of the laksa gravy in a pao fan dish versus the traditional noodle version.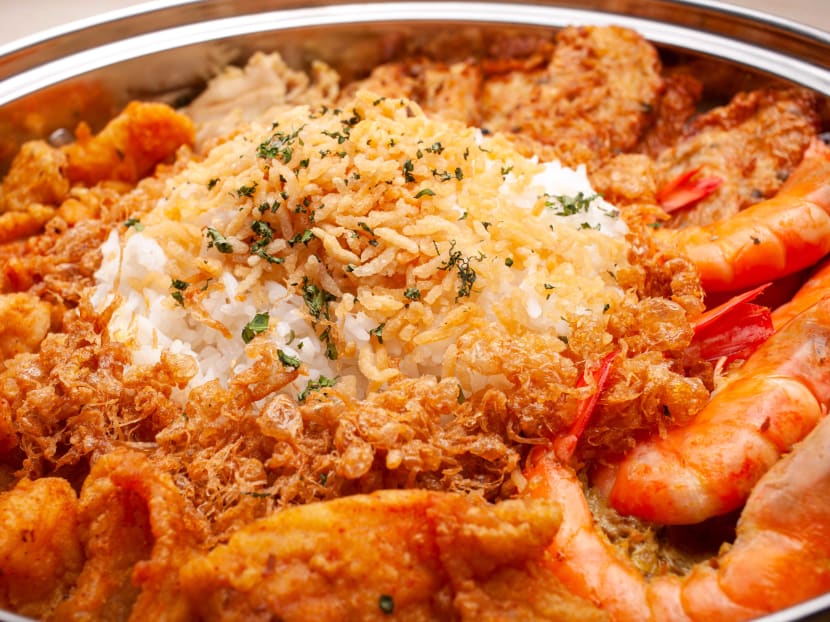 The laksa pao fan is available for delivery till Aug 30 via Chilli Padi's e-store.
Photos: Chilli Padi, Alvin Lim