Delish $2.50 Dark Choc Banana Muffin From Hawker Stall Opened By Millennial
"It's 'Ah Tas' because our muffins have standard lah, but not at café or shopping mall [bakery] prices," says the towkay of Ah Tas Muffins.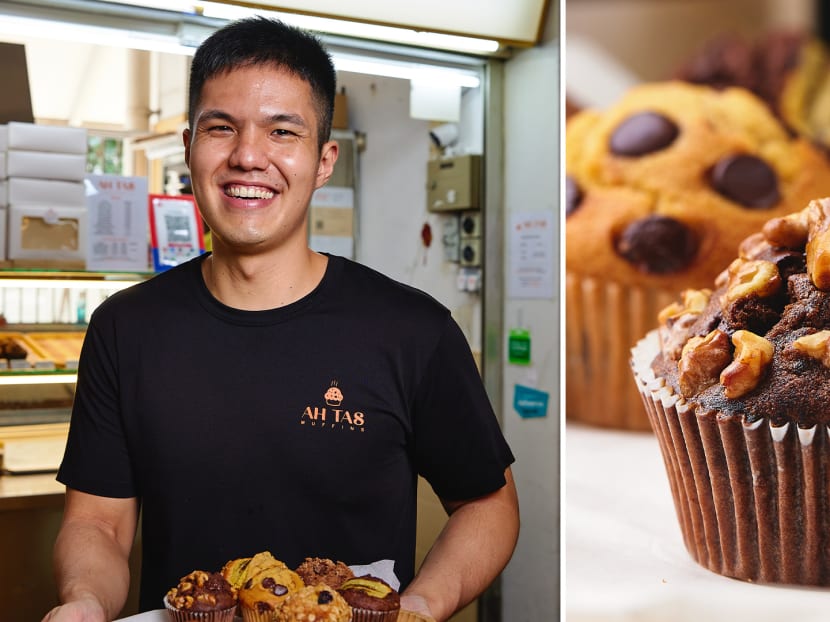 Leaving the comfort and security of a corporate job for the vagaries of hawker life takes guts. But David Lim, 31, dove headlong into setting up his own hawker stall anyway after six years in the corporate world. The business management graduate spent three years in aviation sales, followed by another three in business development at a construction firm before opening the amusingly named Ah Tas Muffins (a play on 'atas') on January 1, 2021, at Old Airport Road Food Centre. It cost him around $18k to set up the stall.
All photos cannot be reproduced without permission from 8days.sg​

David has always wanted to start his own business, though not necessarily in F&B. "My wife knows me quite well, as I always tell her whenever [I have any biz ideas]," he says. "So when I told her about starting a muffin stall, she was very supportive." He's been baking for friends and family since he was 14. "I started out with bakes like brownies and cheesecakes," he says.
"Before jumping in, I made sure to save up enough to last an entire year. That's how long I gave myself to succeed — or fail. We also made plans to cut back on expenses if business is bad," he adds. Another worry the young hawker had was paying the monthly installments for his resale flat in Ang Mo Kio, where he lives with his wife who works as a supply chain analyst in a biotech firm. "She agreed to [pay my portion of the installment] if I wasn't earning enough. Thankfully, I haven't missed any so far," he adds.
He admits: "If I have a child, I wouldn't dare to leave [my job] and do this. Even without a job, it's already quite scary." The couple has put their plans to have children on hold while he pursued his dreams of entrepreneurship. David says this is his "last chance" to set up his own biz before starting a family.
His friends have told him "he's crazy, giving up a comfy life to be a hawker". Some also asked him to start out as a home-based biz (HBB) instead, but he says, "a big part of selling food is talking to customers." Thankfully, the hawker has had plenty of customer service experience from his corporate life. "You're dealing with people that don't own one stall or two stalls — they own the whole building. So you really learn how to provide good customer service," he says.
"HBBs are indirect competition. But they'll always be around, like celeb bakeries or bigger chains like Famous Amos. We just have to keep learning," he shares candidly. "So far, no regrets lah!"

He has applied for halal certification and hopes to open a fully-fledged bakery after testing the waters with this hawker stall. All of our ingredients are already from halal suppliers, he adds.

Ah Tas Muffins' name is inspired by the Malay word atas, which translates directly to "above" (though locals use it colloquially to describe something as high class). "It's 'Ah Tas' because our muffins have standard lah, but not at café or shopping mall [bakery] prices," the young towkay explains. "Our butter is from Denmark, our couverture chocolate (which boasts higher cocoa butter content for a richer mouthfeel) from Italy, milk from Germany and walnuts from the States."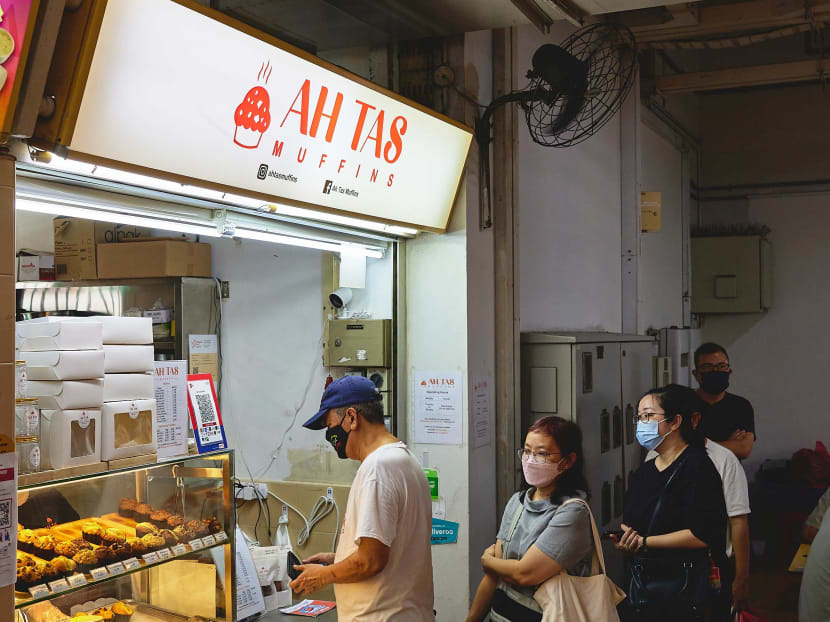 "Business has slowly picked up since we first opened. We were losing money despite opening on most days, but our customer base has grown and things are better," he shares. Now, his bakes are selling at a "pretty constant rate" even during the Heightened Alert, as they're mostly eaten for takeaways regardless of whether dining-in is allowed. "The biggest factor for us would be the size of social gatherings allowed, not dining-in. Customers usually buy our muffins to share as a group," he says. "So we're really looking forward to [ when eight pax can gather]."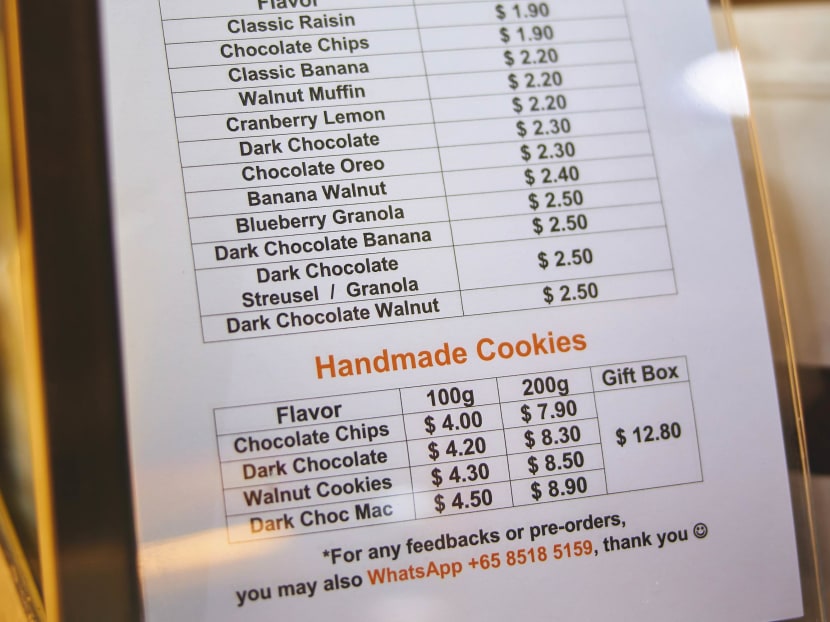 The stall's menu has expanded from its initial offerings of just "two muffin flavours and one cookie flavour" to a dozen muffin flavours and four types of cookies. Prices start from $1.90 per muffin.
"We chose [to focus on muffins and cookies] as they're the most accessible. Easy to eat, and not too sweet – 99 per cent of our customers are always asking for 'less sweet'." Muffins are also a bake that can be adapted to suit different tastes. "We have older customers asking for stuff like nuts or bananas, while younger people usually want something a little richer," he says.
Every day, David and a hired assistant arrive at the stall around 7am to bake – their single oven's max capacity is around "48 muffins an hour". They close shop by 3pm. "Work-life balance is important," he muses.
The simplest option of the bunch, but quite delectable nonetheless. Slightly darker chocolate chips with 55.5 percent cocoa content dot this confection, and they melt agreeably within the buttery, fluffy muffins. It's moist and light on the palate, with an occasional chocolatey punch. Yum.
This banana and walnut number's all about the creaminess of the banana against the crunch of the toasted nut. The muffin, naturally, is largely dominated by the scent of banana, so it's a worthy option if you're a fan of the fruit.
One of David's bestsellers, and it's easy to see why. It's one of the richer-tasting muffins on the menu, thanks to a velvety, gooey combo of 65 percent cocoa chocolate chips and banana. The sweetness of the fruit mellows out the slightly bitter profile of the dark choc, so it doesn't get too jelak. Shiok.
Streusel is a sweet-crumbly topping that hails from Germany – it's a relatively simple construction of flour, butter, sugar and in this case, a dash of cinnamon. The craggy crown is well-balanced and enjoyable enough — it contrasts quite nicely against the bitterness of the dark chocolate, but it might be too sweet for some folks.
The granola offers some textural contrast to the tangy blobs of whole blueberries interspersed throughout the muffin. Quite yummy, and an option for those who prefer something a little more wholesome in their bakes.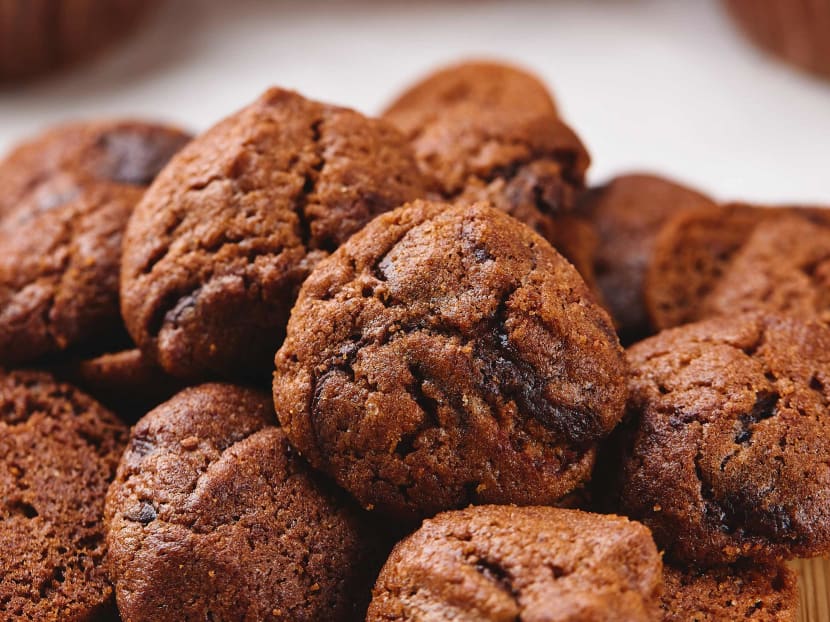 Smallish, crispy cookies in the style of Famous Amos's. It's crunchy throughout – he's added some shortening to the dough to ensure that. But it's not as buttery and fragrant as the famed cookie brand's. It's not as chocolatey or sweet either, which is good, we suppose, if you want to eat more than just a couple.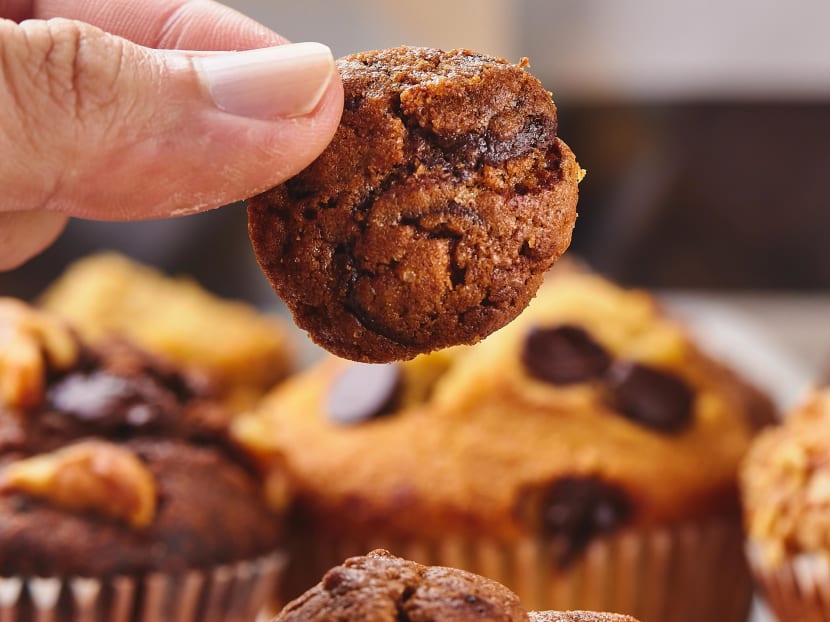 The muffins from Ah Tas are indeed slightly more, ahem, atas-tasting (and also a bit more expensive) than those from some other popular hawker bakeries. Worth grabbing a bunch home for a teatime treat if you're lunching at Old Airport Road .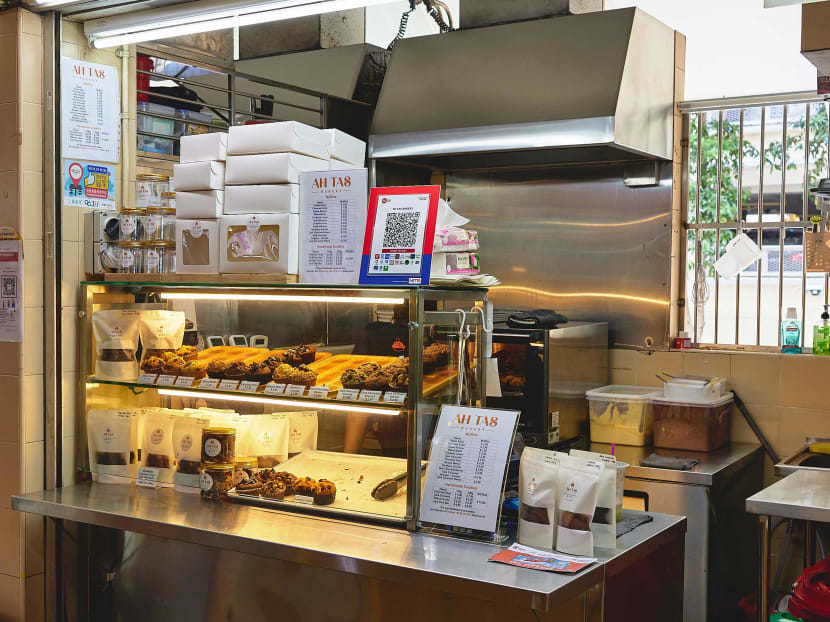 Ah Tas Muffins is at #01-49 Old Airport Road Food Centre, 51 Old Airport Rd, S390051. Tel: 8518-5159. Open daily except Mon, 8.30am – 3.30pm. Available for delivery via Grabfood, Foodpanda and Deliveroo. More info via Facebook or Instagram.
All photos cannot be reproduced without permission from 8days.sg​

Photo: Alvin Teo