Drummer Who Worked For JJ Lin & Angela Chang Opens Gelato Shop
No gigs during the pandemic, so he opened Paradiddle Gelato instead with his fiancée.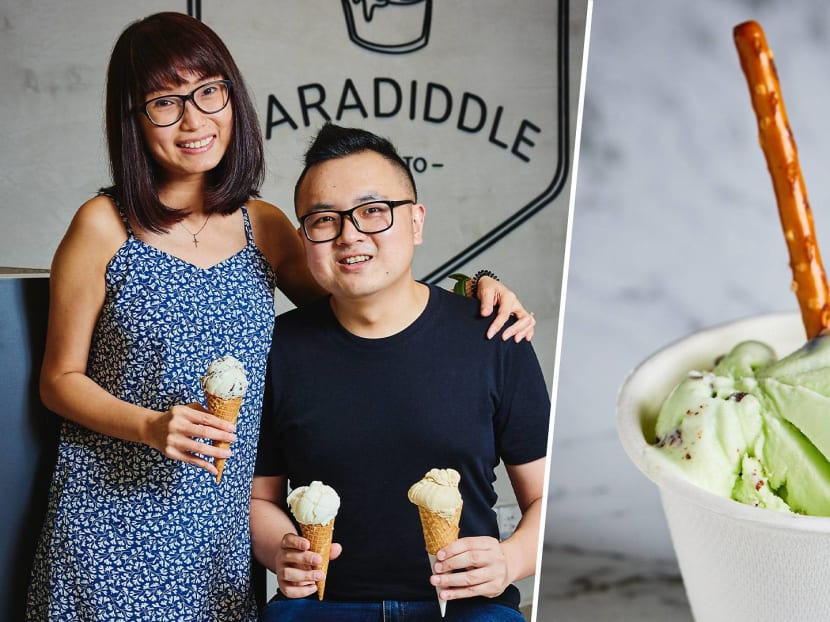 Er Chow Kiat, 31, and his fiancée Cheok Jer Yee, 30, were due to be married last December, but when the pandemic got in the way of those plans, they decided to open a gelato business instead. Their, um, new baby is Paradiddle, a month-old gelato shop in the basement of Kinex Mall at Payar Lebar. Okay, it's not exactly a substitute for marriage, but the couple say that starting a new business together definitely beats sitting around and being stagnant. #couplegoals? "We put what we'd have spent on the wedding into this business," Chow Kiat laughs, declining to reveal the amount, though he later shares that the nuptials are now slated for sometime in 2021 when things hopefully simmer down.
No photos can be reproduced without permission from 8days.sg

Affable and smiley, Chow Kiat is a professional drummer and drum teacher who runs a music school, Drum Tutor, which happens to be on level two of the same mall. As a gigging drummer, he has played drums for Singaporean singer-songwriter JJ Lin, Taiwanese singer Angela Chang and Instagram rockstar, Mateus Asato, which has taken him around the globe, such as the 2018 world tour he did with Angela. He says he misses the thrill of performing because "my whole life revolves around music," and sadly because of the pandemic, his last gig was in March 2020.

But at least it has made room for new ventures like this gelato one. He admits he never thought he'd go into the food business, but when their landlord said there was a space available in the mall's basement, he and Jer Yee decided to jump at the opportunity. Chow Kiat is running the business in tandem with the music school, so it's his fiancée who's here everyday, working full-time. She's a former marketing executive who left the corporate world before the pandemic, and says that it's been a challenge getting used to the new long hours and uncertainty of the food business.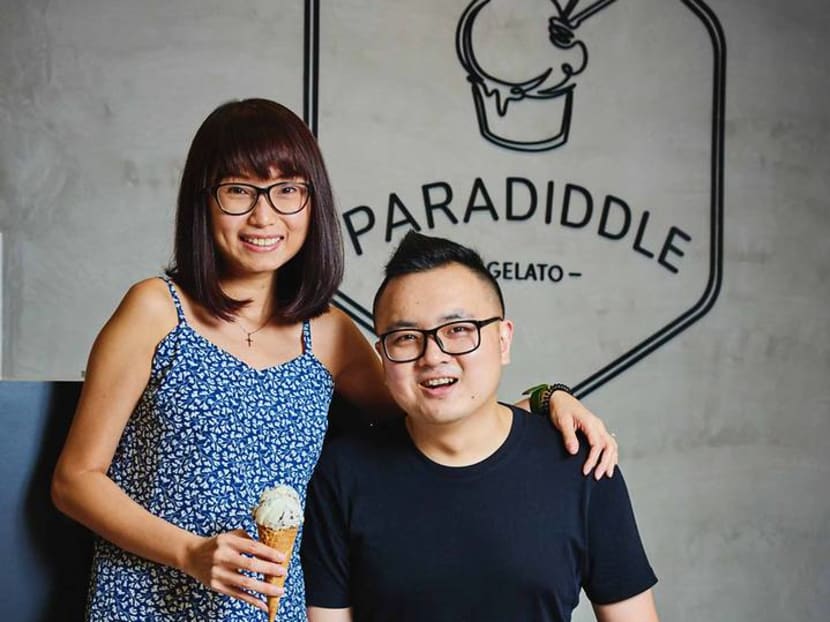 Why start a new business during a pandemic, though? "We didn't want to stay inside our comfort zone," Chow Kiat says, "and we wanted to keep pushing ourselves." And so in lieu of a wedding, they're keeping themselves busy with this new challenge, which at any rate means they're spending a lot more time together. The couple settled on gelato because Chow Kiat, whose students are mostly teenagers and kids, wanted to keep things centred on something both kids and adults would like. "Everyone loves ice cream," he quips, and it helps that most of their customers in the opening weeks have been students of the school, dropping by for a scoop or two after class.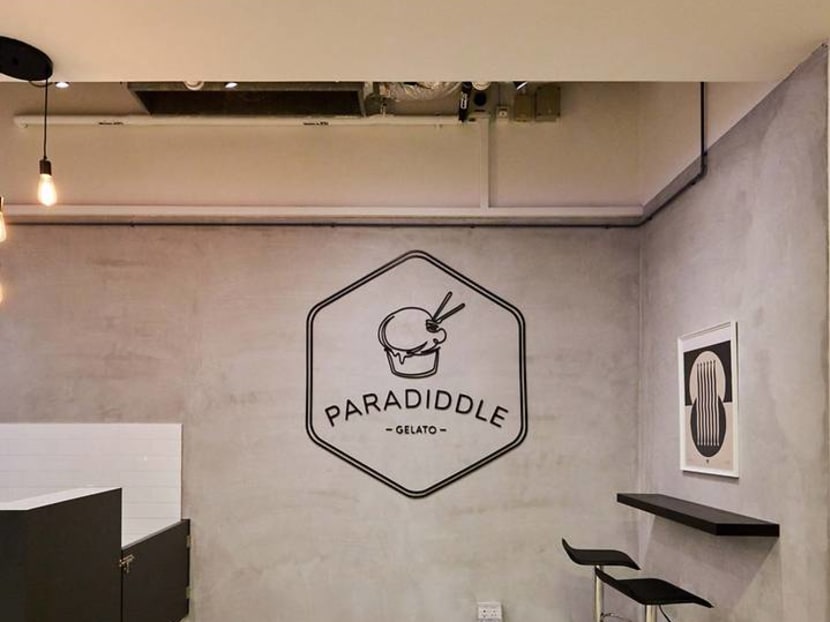 Owing to Chow Kiat's primary passion in life, there's a drum-related theme running through the concept. The press release describes the mostly takeaway shop as a "musically-inspired gelateria" but the drum theme here is mostly cosmetic, though initially we imagined there might be some kind of elaborate drumming technique involved in the making of the gelato. Sadly not, but still very cute. The name 'Paradiddle' itself is a kind of basic drum pattern, and the serving-cup sizes are named after sizes of drums: snare, toms, and bass (small, medium, large). They also offer a pair of pretzel sticks in place of a spoon for your ice cream, which kind of looks like you're eating a tiny drum. Adorable.
The frozen dessert is made in a central kitchen run by a gelato specialist, who works closely with the couple to devise their selection of flavours. Everything here uses natural flavourings, and there's a mix of standard fare flavours like Cookies & Cream and more Asian ones like Oolong Tea. It's $3.90 for a single scoop and $7.50 for a double, and pints are also available from $17.90. The waffle cones (add $1), including one made with rosemary (add $1.20), are pretty tasty. There's twelve on offer every day, and the flavours rotate weekly, with some mainstays, like their signature Dark Chocolate.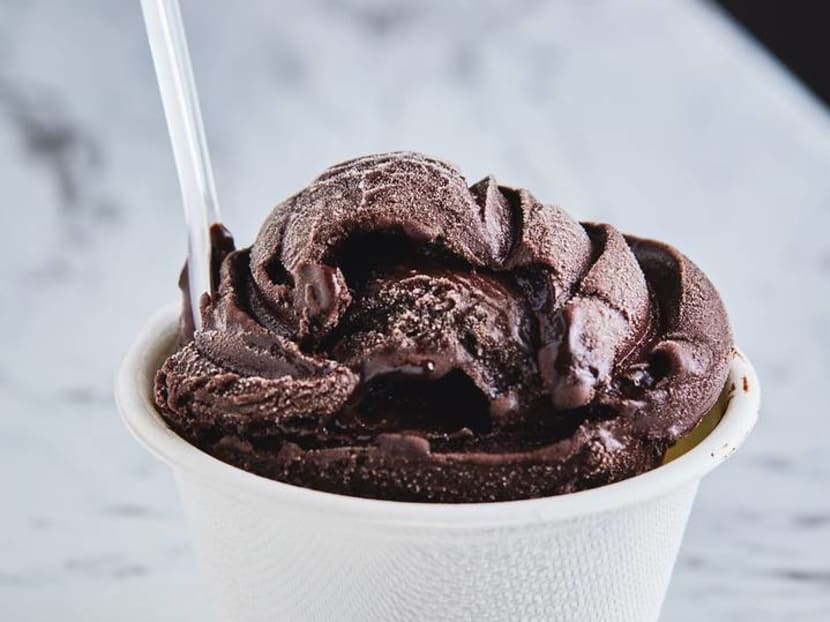 Our eyes are immediately drawn to this number, an almost jet-black dark chocolate gelato made with premium Belgian chocolate. Turns out it's their bestseller and signature flavour. It's very good: bitter, richly chocolatey, and not at all cloying.
The mint hits hard in this one: sharp and floral. It's made with fresh mint leaf extracts which gives it its pretty green hue, and comes studded with tiny bits of dark chocolate. Very nice and sophisticated. We go with the pretzel stick 'spoons' on this one, and they taste nondescript but are actually quite solid and functional. It's a move to reduce plastic waste though we can't say we prefer this over more ergonomic spoons.
One of the more kid-friendly options here, this is a simple, milky vanilla gelato studded with bits of Honey Stars cereal giving little bursts of subtle honey and cereal flavour. Sadly the Honey Stars were soft and a little mushy, though we don't think the kids will mind that much.
The honey in this comes in the form of chunks of honey comb that are worked into the gelato, which then soften into lovely, syrupy pools. We really like this. The honey flavour is subtle and floral, and blends really well with the rich, creamy base. There's also a slight saltiness to this number that brings it all together.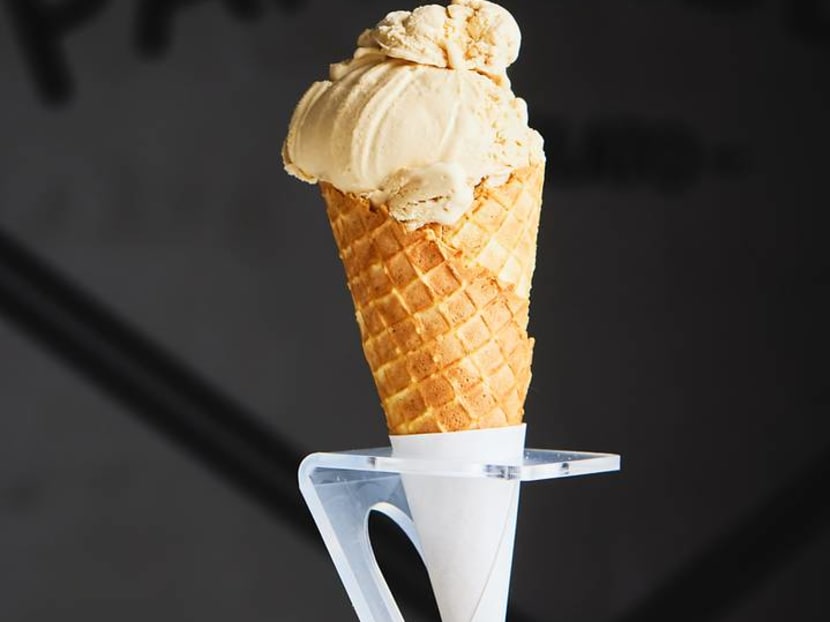 This has a pronounced earthy Oolong flavour, and is just slightly bitter from the osmanthus flower. Overall, a nice milk tea gelato. We try this one with the rosemary-infused cone. The rosemary flavour is very subtle, and is overwhelmed by the Oolong, but we manage to taste it on its own when we reach the bottom of the cone and it's pretty yummy. It's clearly a nod to the super delish thyme cones from Birds of Paradise Gelato, who make their super fragrant cones on-site. However, BOP's generally light and botanical flavours play off the herby cone a lot better, while we don't really see rosemary going with many of the flavours here.
For the lactose-intolerant, there's always sorbet. This one is made with fresh rock melon puree which lends it a pretty pink colour. The rock melon flavour is very pronounced and it's quite sweet and honeyed, and the sorbet has a good, soft texture.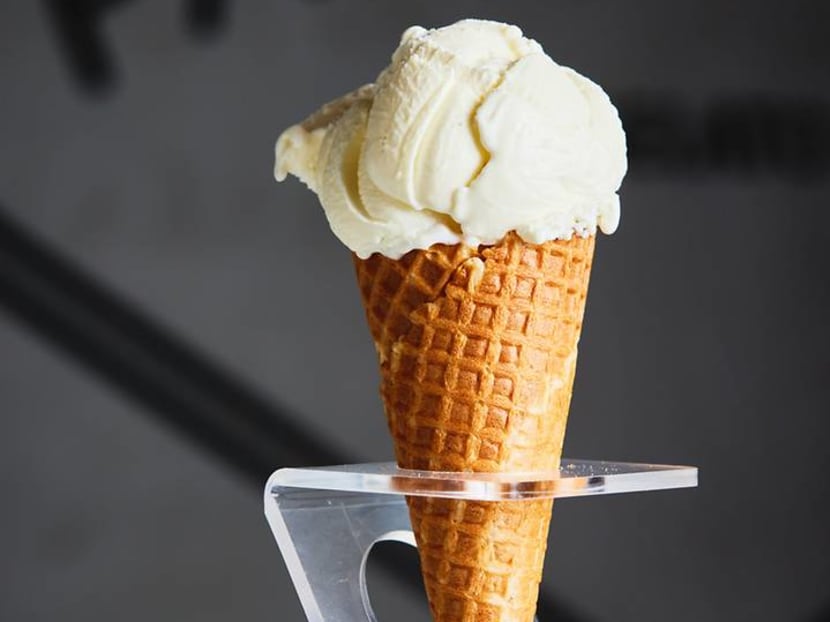 This is made with original flavour Yakult and is basically a zippy yoghurt-flavoured gelato. It's tangy, not too sweet, and moreish. We like it very much.
The gelato is rich and milky, with a lovely full-bodied texture. Capably made, unfussy offerings, with a good balance of flavours. Nothing here is too cloying, and the sexily bittersweet Dark Chocolate is a winner.

#B1-11, Kinex Mall (formerly OneKM Mall), 11 Tanjong Katong Rd, S437157. Open Tue-Fri 1pm-9pm; Sat-Sun 11.30am-9pm. Closed Mon. https://www.facebook.com/paradiddle.sg

Photos: Alvin Teo/8 Days

No photos can be reproduced without permission from 8days.sg