Ex-Head Chef Of Tonkatsu Restaurant At Ion Opens Hawker Stall Selling Kurobuta Pork Dishes
Prices of his tonkatsu are about half that of those from specialist restaurants.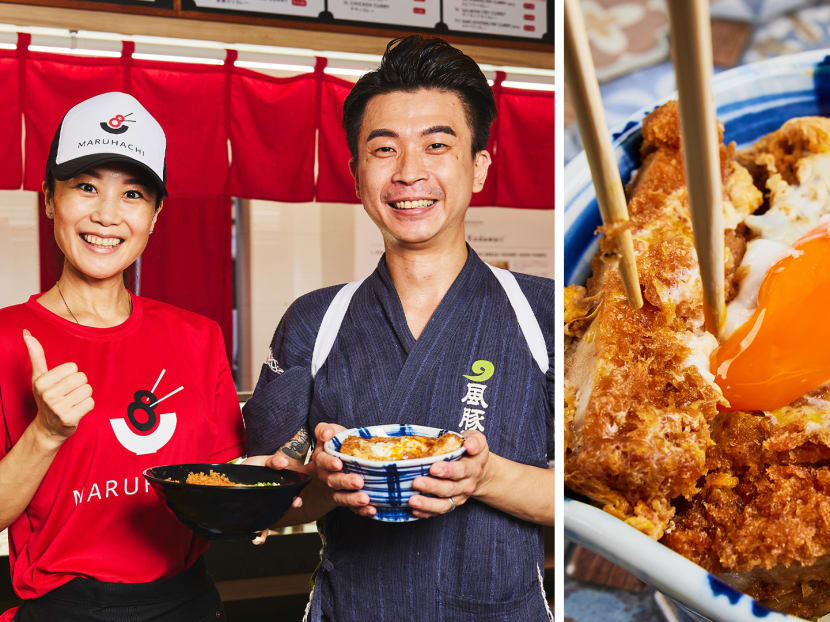 In a nondescript kopitiam in Edgefield Plains, a relatively new HDB estate in Punggol, queues have been forming around lunch and dinner time at Maruhachi, a tonkatsu specialist that opened in November 2020. The claim to fame is restaurant-quality tonkatsu (Japanese breaded deep-fried pork cutlets) served in a humble setting, and at correspondingly friendlier prices. The chef-owner is Indonesian-born Singaporean PR August Wijaya, 38, who prior to this was the head chef at the Ion Orchard outpost of a famous Tokyo-based tonkatsu restaurant for almost nine years (off the record, he tells us the name of the restaurant which closed down in 2018, as he had left on bad terms). He continued working in a management role with the restaurant group that brought the brand to Singapore, running a few other Japanese eateries before leaving last September amid the pandemic, citing disagreements with the business.

All photos cannot be reproduced without permission from 8days.sg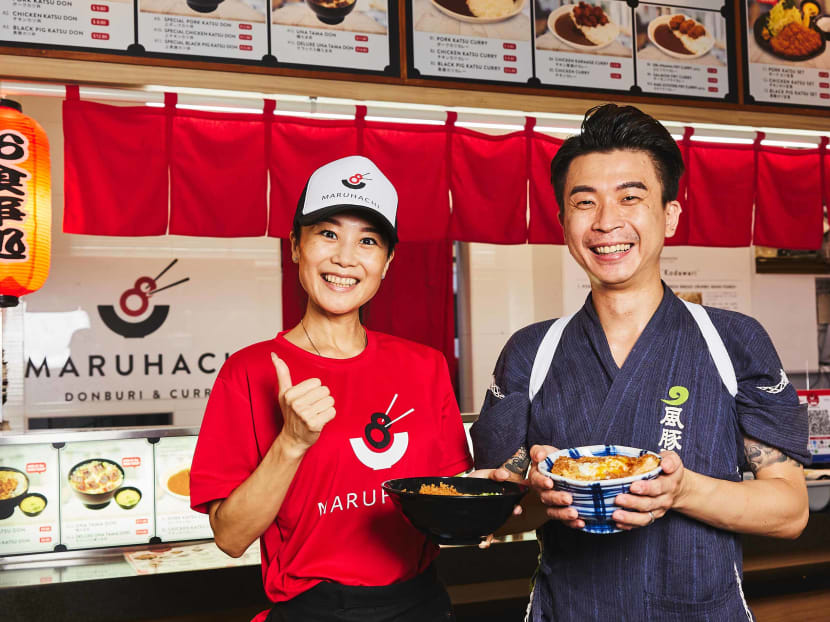 August and his Japanese wife Yoko, who helps out at the stall in between her work as a freelancer (she declines to specify in what field), lead the small team at this waterside location. The couple met in Australia where August was studying IT and Yoko had gotten a work-holiday visa to live abroad for a spell. Shortly after, August moved back with Yoko to her hometown in Nagoya, where August, without a word of Japanese, started work as a kitchen helper in an izakaya. "It was the only job I could do without speaking any Japanese," he says. Eventually, because of his English language abilities, he became the assistant manager of a Nagoya branch of Outback Steakhouse. In 2007, he came to Singapore to help start up a now-defunct Japanese curry udon restaurant, and after a few years, joined the tonkatsu restaurant at Orchard Ion where he was head chef for almost nine years. It's been a pretty unusual life journey for August, who grew up in Jakarta. Now, he and Yoko are raising their four children here in Singapore.

"If you can make it in a restaurant, you can make it as a hawker," he laughs when we ask about the transition from head chef of a restaurant to kopitiam towkay. August decided to go into the hawker business to keep doing what he loved but as his own boss, and to leverage on the cheaper rent. It helps that their location is near their Punggol home. "But people's perception isn't so good," he adds, saying that when he told former customers about his new digs, they were initially miffed that it was in a kopitiam.

To be fair, this one has a pleasant view of the Punggol Waterway, though it is quite stuffy. "In the beginning, people thought our prices were too high," he said. The pork katsu set here, which features the tonkatsu with a side of rice, soup, and salad, starts from $11.80. It's $14.80 for the superior black pig version. "People are used to $5 Japanese food at food courts," he says. Plans are underway for a second kopitiam branch, hopefully sometime in the middle of the year.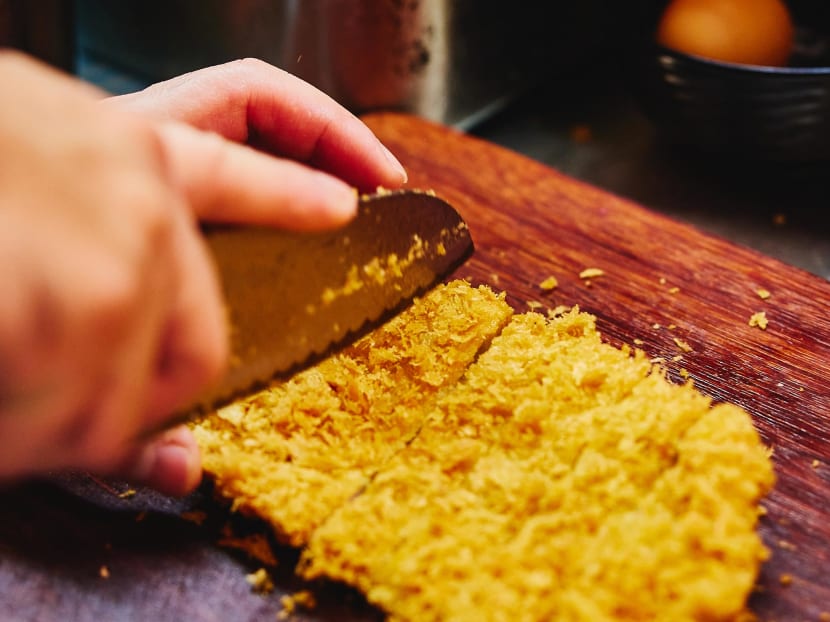 Sure, the prices are a little steep for a kopitiam stall, but August, who works in the kitchen with a few assistants, says it's because he uses premium ingredients and restaurant techniques. For instance, Maruhachi's premium offering of a kurobuta katsu set costs $14.80 versus the $22 from tonkatsu restaurant chain Tonkichi. August points to a sign at the shop front that advertises his "kodawari" or concept. He chooses thick-cut tenderloin and fillets of pork from the USA and Canada, and the katsu is breaded in fresh, not dried, white panko bread crumbs imported from Japan. For deep-frying, August uses 100 percent cottonseed oil, which he says has a clean, non-odorous flavour. On top of that, each katsu is breaded, fried and then sliced to order, so it comes to the table crisp and piping hot. Even the plates August uses are attractive chinaware. "To be frank, the cost is high," he says, "but the overheads and rent are low" he says of his competitive prices, and says business has been doing well thanks mostly to word-of-mouth and good online reviews.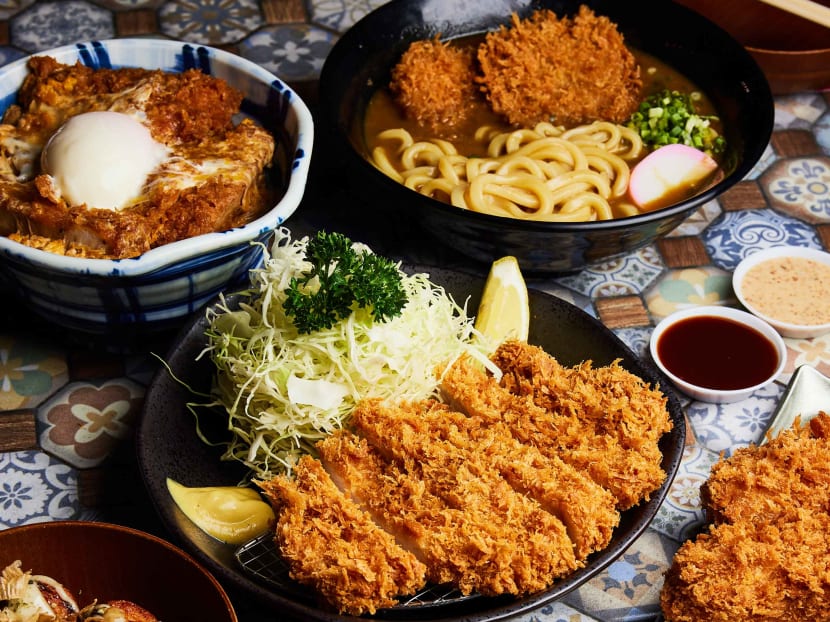 The star here is the pork katsu, which comes served in various forms: over an eggy, saucy rice bowl (donburi), as a set on its own with shredded cabbage, rice and soup on the side (teishoku), alongside curry rice, or atop curry udon. A small selection of sides, like takoyaki and croquettes, rounds off the menu.​​​​​​​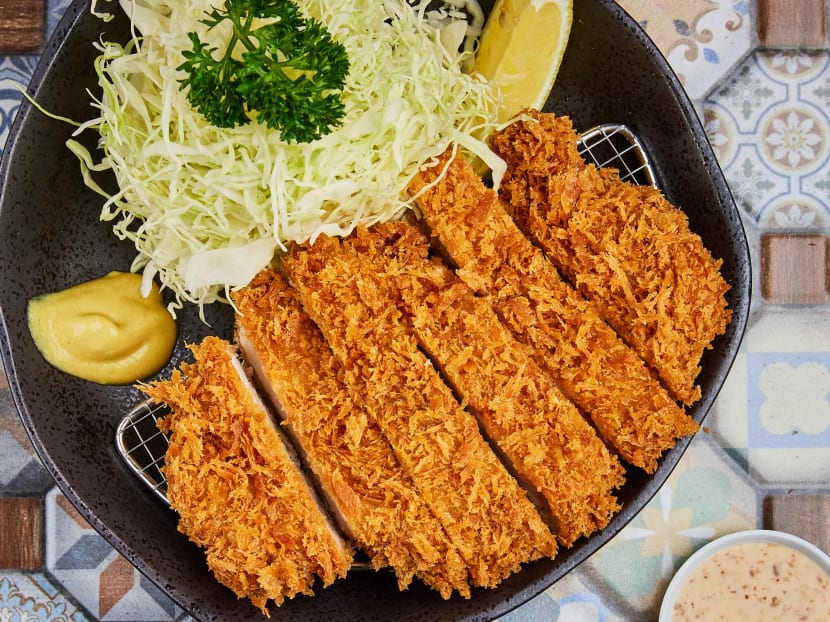 This premium offering is probably the most talked about option on the menu. It features black pig (kurobuta) from the USA, specifically the juicy tenderloin (or, in Japanese, "Rosu") cut, which is supposedly fattier and more marbled than the leaner "Hire" or fillet cut. There is no black pig "Hire" option, though the regular pork comes in both cuts (we sample the "Hire" cut with curry udon, see below).

The presentation is classic: the katsu is elegantly presented atop a mini rack to prevent the bottom from getting soggy. It comes with a mound of shredded cabbage, light creamy sesame dressing and zippy tonkatsu sauce. The set also offers a bowl of rice and miso soup. Based on appearance alone, it looks very inviting: the breading is flaky and craggy, and the colour a beautiful golden-brown. True enough, the crust is shatteringly crisp, even after sitting out on the table for at least ten minutes during our photo shoot. The flesh has a nice tender bite, is very juicy, and has a lovely umami flavour. We like it best with the barest squeeze of lemon to brighten up the flavours, though the accompanying home-made tonkatsu sauce, which has a nice acidity and sweetness from its blend of mirin, Worcestershire sauce, soy sauce, and vegetable stock, gives it more oomph. Lovely amid refreshing bites of raw cabbage salad.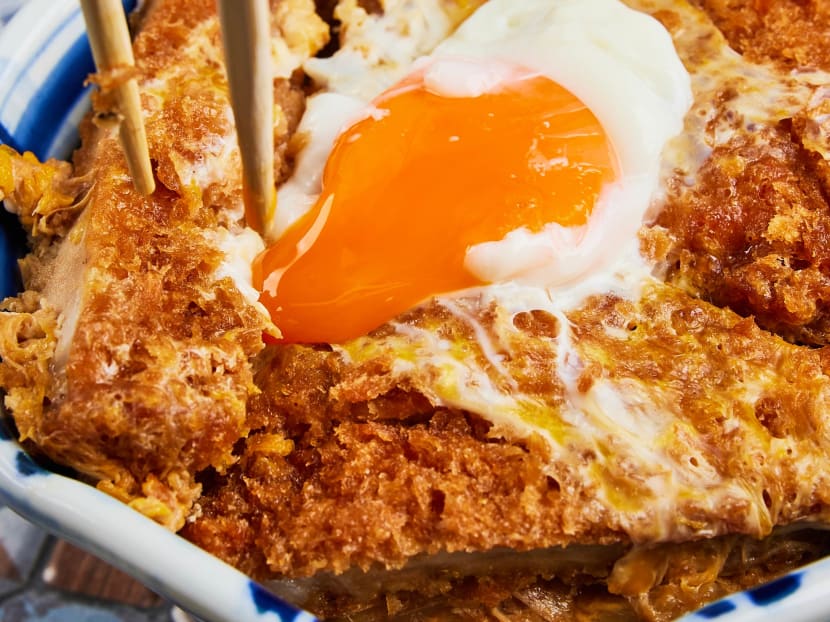 Though this isn't fancy kurobuta, the donburi also features the Rosu cut, either from Canada or America. Although of lesser pedigree, the pork still boasts a nice succulent bite, though it is slightly firmer and leaner than the black pig version. The katsu here is served atop soy-and-mirin kissed scrambled egg, steaming, fluffy Japanese uruchimai rice and crowned with a tantalisingly wobbly onsen egg. We really love this: the meat has a nice juicy bite and the crust is part crunchy, part soft and sauce-soaked. It all comes together in comforting, eggy, savoury-sweet mouthfuls.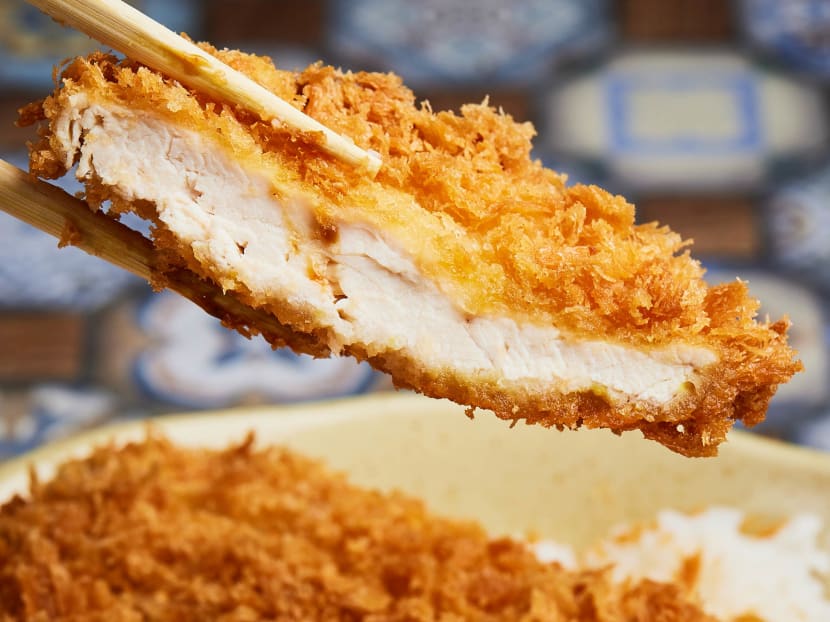 Fresh chicken breast is given the same katsu treatment, then served alongside rice and a pool of rich Japanese curry and lovely sticky-chewy rice. The chicken katsu is great: virtuously lean and firm to the bite, but still perfectly juicy, with a wonderful crispy panko coat. We like chicken breast, though some may find it too lean. The curry is also very tasty: thick, aromatic, and sweet, with a yummy spicy kick. August uses imported-from-Japan curry spice flakes but amps it up with his own stock and secret sauce. This isn't much of a looker, but is comfort on a plate.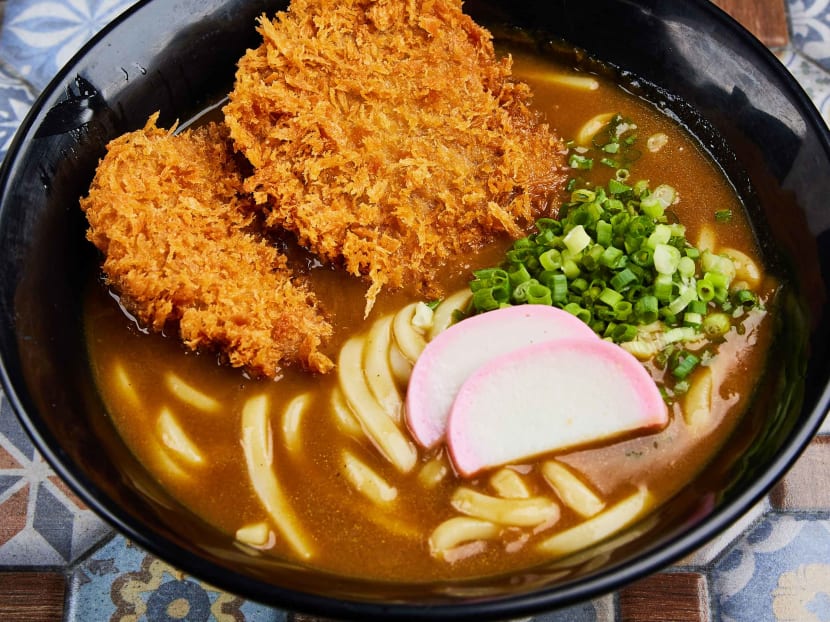 This features two pork fillets, which is a leaner cut of pork than the Rosu. In Japanese, this is known as the Hire-katsu. Although less fatty, these are nicely cooked and retain a good amount of moisture, and have an agreeably firm texture. They're delish when dunked in the rich curry sauce and eaten together with slippery udon noodles, which have a great bouncy texture and are good vehicles for the sauce. This also comes served with deliciously chewy and savoury kamaboko, or fish cake. Lots of textural contrasts in this bowl make this is a bit of an unexpected favourite for us.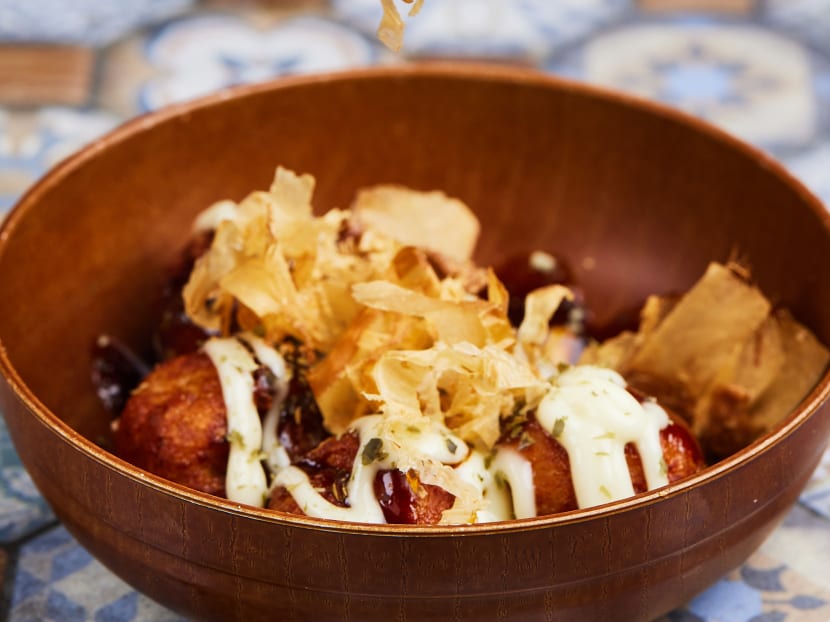 If you're looking for something to snack on, these takoyaki are quite yummy. Six orbs are served with oodles of sweet Japanese mayo and tonkatsu sauce, and a healthy scattering of salty bonito flakes. They're tender, comforting and each contains a piece of chewy octopus.

The tonkatsu offerings here aren't cheap by kopitiam standards, but the quality is comparable to those from more upmarket restaurants — wonderfully crunchy crust, juicy meat and sophisticated presentation. The curry and donburi options make for comforting and satisfying meals as well. Head down to the stall around 2pm or 3pm like we did to beat the crowd — we imagine the dining experience would be far less pleasant if we had to queue up for this.

Maruhachi is at #01-01, 671 Edgefield Plains, S820671. Tel: 9176-5750. Open Mon; Wed-Sun 10.30am to 8.30pm. Closed Tue. Last orders at closing. https://www.facebook.com/Maruhachi2020
All photos cannot be reproduced without permission from 8days.sg

Photos: Alvin Lim