Ex-Les Amis Chef Opens Chic Joo Chiat Café; Serves Fab Choc 'Taco' & Other Pastries
Tigerlily Patisserie has opened a brick-and-mortar incarnation of its online shop.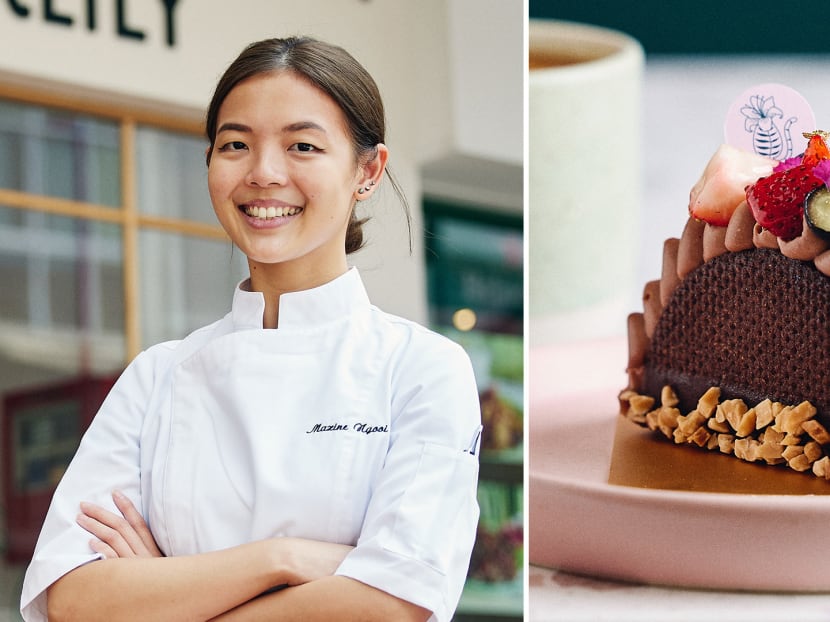 Maxine Ngooi, 29, is living the dream. Well, the pastry chef dream, anyway. Her popular online bakery, Tigerlily Patisserie, recently made the leap to a gorgeous café, which opened earlier this week along Joo Chiat Road. Tigerlily first launched on 29 August last year and immediately gained popularity for its pastry boxes which she filled with the likes of galettes and cruffins, as well as buns and sweet treats, often with a local twist.

All photos cannot be reproduced without permission from 8days.sg.

The former head pastry chef at now defunct one-Michelin-starred French restaurant Vianney Massot trained at the three-Michelin-starred Les Amis, before moving on to the equally vaunted Joel Robuchon Restaurant at RWS for two years. She left her job at Vianney Massot in early 2020, with plans to travel and stage at restaurants in various parts of the world. But the pandemic put paid to those plans and before she knew it, the Ebb & Flow group, which used to own Vianney Massot invited her to start an online bakery. Incidentally, the food group also invested in heritage kaya joint Chin Mee Chin and Maxine will also head the kitchen there when it opens in July.

Fast forward a year, and the new Tigerlily Patisserie is literally the brand come to life in a shophouse space filled with just 12 tables. The spacious café sports a quirky, modern palette of light wood, marigold and lime leaf, accented by pretty terrazzo tables speckled with oyster and pink. One wall features an abstract mural of leaves and flowers reflecting the botanical elements that Maxine likes to use in her bakes. The vibe is young and hip, with comfy seats that make it easy to linger over your coffee and cake. It's only been three days since it opened and already the cafe has seen queues during peak hours in the mornings and at teatime.

Beyond the showcase of little mousse cakes and pastries like croissants and her popular blondie mochi, the café also serves a small brunch menu of simple eats like granola with oats, sandwiches and a big breakfast. Many of her bakes feature seasonal fruit, which means that you'll find a couple of seasonal danish pastries and cakes on top of her signature items.
And with Joo Chiat experiencing a bit of a coffee renaissance, Tigerlily Patisserie has teamed up with local roaster Bearded Bella to create its own custom blend.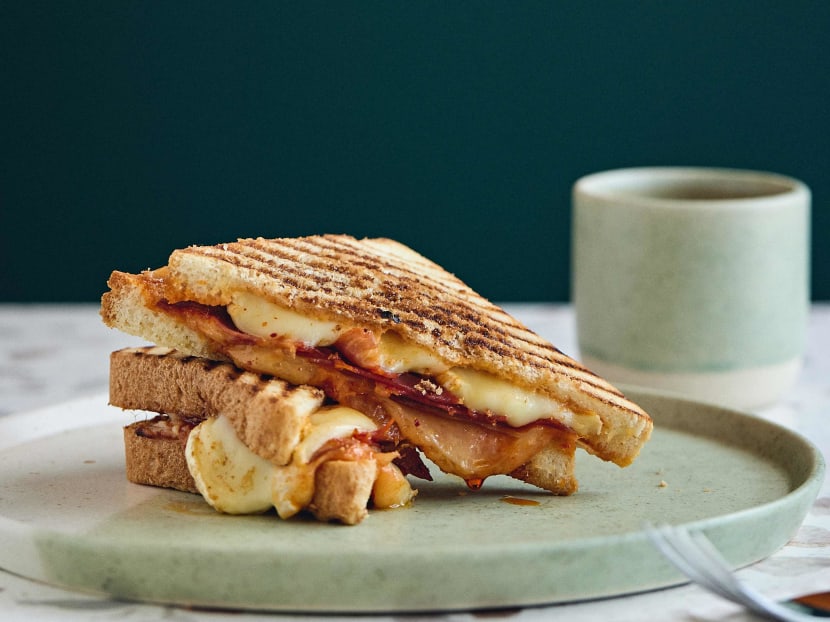 A clever Korean play on the croque monsieur or French grilled ham and cheese sandwich. This one features house-baked sandwich bread filled with a tasty mix of brie, comte, Emmenthal and caciocavallo (a Southern Italian stretched-curd sheep's milk cheese), along with paper-thin slices of chorizo smothered in kimchi. All this is grilled in a panini press to yield a crisp, oozy sandwich with real depth of flavour without being too salty or tasting too funky.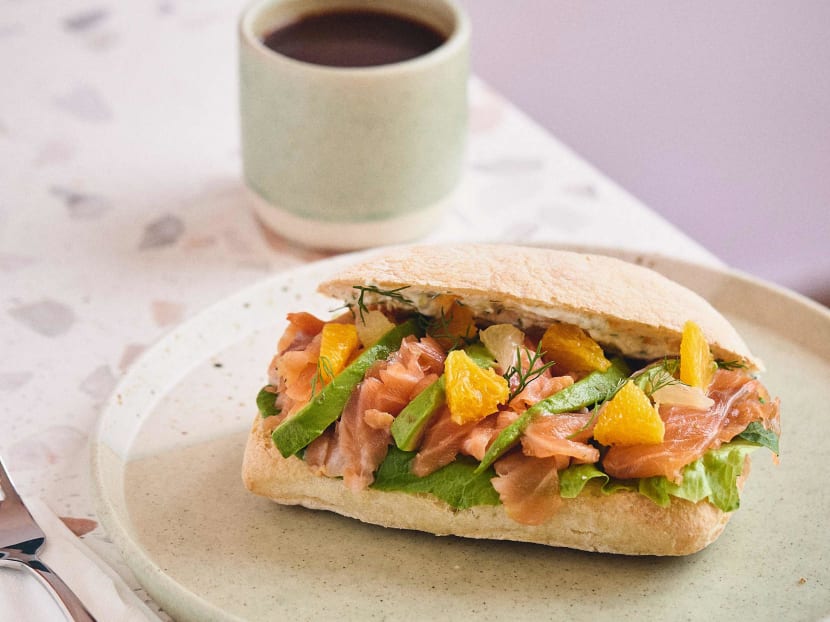 This pretty-as-a-picture ciabatta sandwich has all the Scandinavian feels. It's filled with lovely slivers of salmon that are cured for a week in a mixture of citrus juices, mustard and dill so that their flavours are fresh and pronounced. The slices of jade-hued avocado temper the fish's deep savouriness, along with tiny segments of fresh orange and lemon, and sprigs of dill. The dill and cucumber tzatziki, slathered on the tender slabs of ciabatta, add to this hearty sandwich's fresh flavours.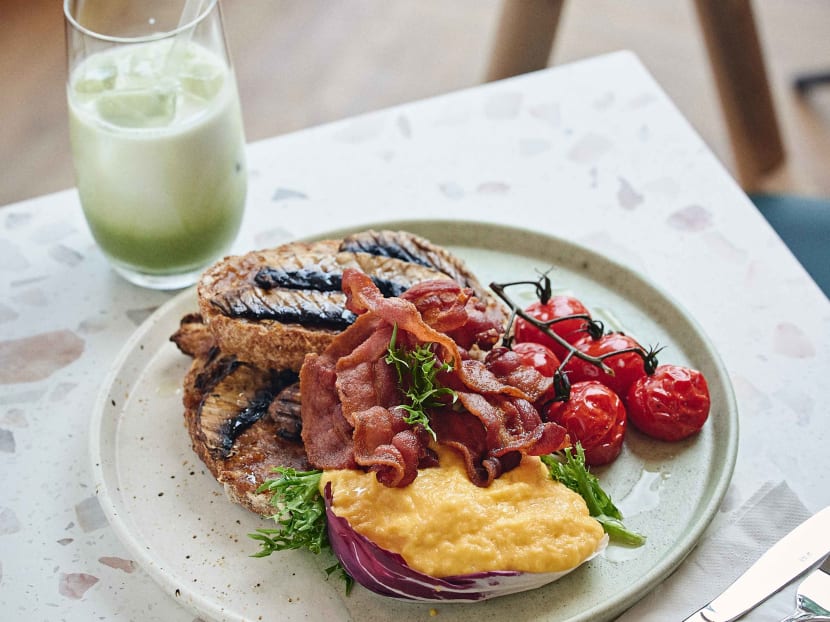 This breakfast fry-up comes with choices galore. You get to choose the type of bread you want (baguette, sourdough, ciabatta), a spread (mushroom, kombu butter, hummus, caramelised onions), eggs (scrambled, sunny side up, poached), vegetables (sauteed potatoes, vine cherry tomatoes, grilled mushrooms, avocado, sauteed seasonal veggies), and meat (spiced chicken, house-cured salmon or fried bacon). We opted for slices of sourdough, which were mildly chewy and flavourful, but not tart, spread with sweet caramelised onions. We also got sweet roasted cherry tomatoes, grilled mushrooms, scrambled eggs that were done to soft, wobbly perfection and exemplary rashers of fried bacon. This is a great value-for-money big breakfast, if you ask us.

"Peaches are my favourite fruit ever!" chirps Maxine. While they are in season, she slices and arranges them on croissant dough to yield this tender, crisp danish. The natural sweetness and flavour of the creamy yellow peaches really came through in the baking.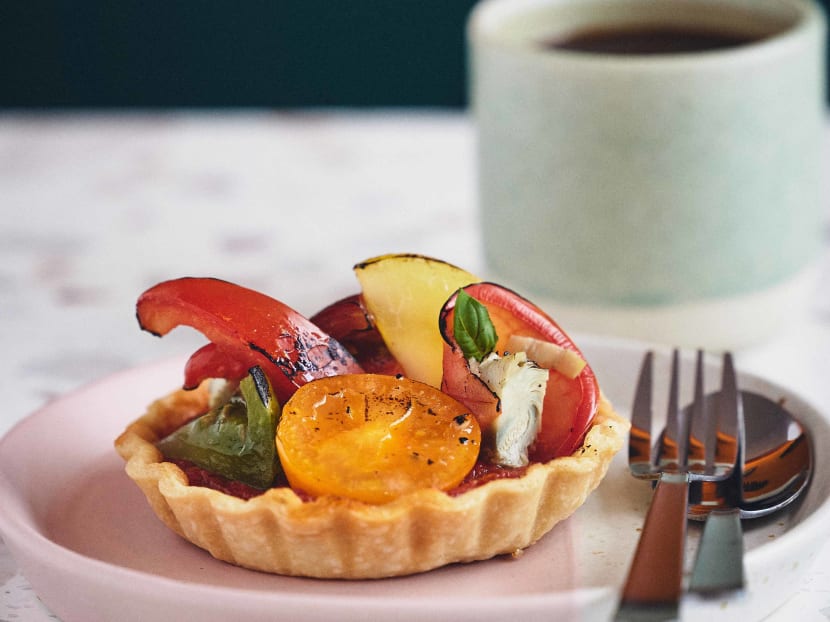 This simple teatime treat is perfect for those who don't have a sweet tooth. The buttery pastry case spread with tomato concasse (seedless and skinless tomato sauce) is crisp when we cut through it and contrasted by sweet wedges of lightly grilled heirloom tomatoes and delicately tangy leaves of pickled artichoke hearts.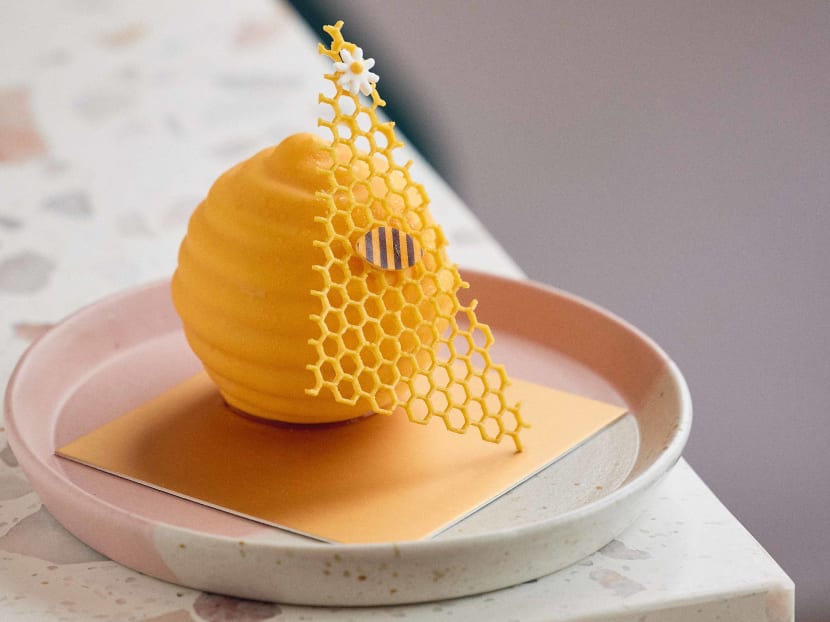 We like the contrasting textures of this dessert, from the white chocolate shell and jellied lemon thyme and litchi honey, to the wafer-like honeycomb tuile that it is crowned with. Also within this yellow orb is a light lemon sponge encased in a creamy honey parfait. Flavour-wise, it has a sharp lemony zing, which is great for lemon lovers.

This confection is as beautiful to look at as it is to eat. We are totally impressed by the crisp chocolate pate sucree (essentially a friable sugar cookie) shell, which holds a delightfully balanced filling of just-sweet-enough forest berry mousse and berry jam. On top, a lovely swirl of impeccably smooth whipped milk chocolate ganache made from Valrhona Jivara milk chocolate. Some almond nibs at its base gives this dessert "taco" textural contrast. Delicious!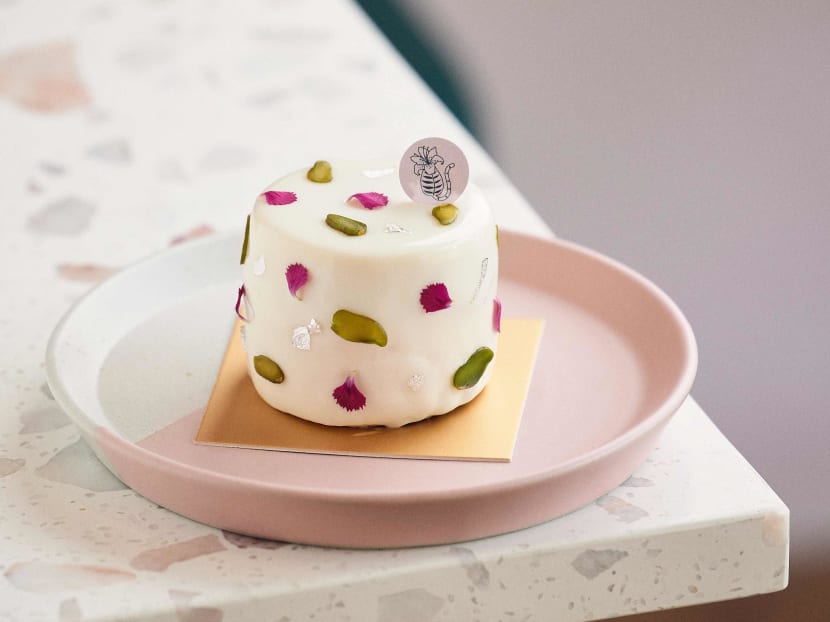 Ethereal guava and elderflower mousse encases a layer of diced fresh pears and pink guava jelly. The mousse has a light mango-esque flavour, which pairs really well with the fresh fruit and jelly. A petite circular cookie — rich and buttery like that you might find anchoring a no-bake cheesecake — hidden within its base is a nice touch. It also helps that this entremet's glossy white exterior, flecked with pink flower petals and sliced pistachios, is undeniably pretty.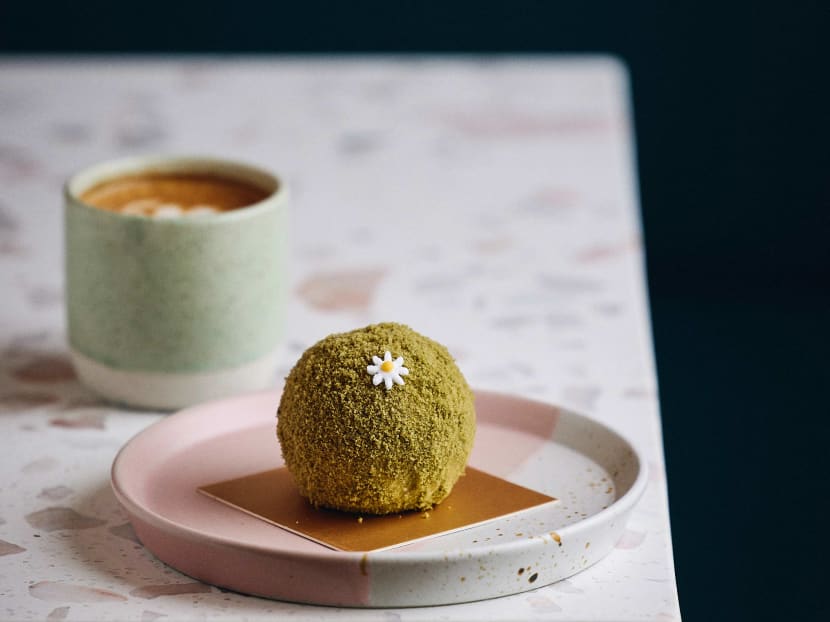 Pistachio fans will enjoy this rich orb comprising a creamy pistachio praline at its centre, a layer of pistachio frangipane (sweetened pistachio puree) and pistachio mousse. This barely sweetened confection is saturated with that distinctly earthy flavour of pistachios. Its crispy feuilletine base gives it some much needed crunch.

Another stunner. It is rich with Piedmont hazelnut praline, a thick, smooth dark chocolate ganache, whipped chocolate cream, and finished with a crispy cocoa nib tuile. Perfectly balanced, with just the right amount of sweetness and a rich chocolatey-ness that isn't cloying.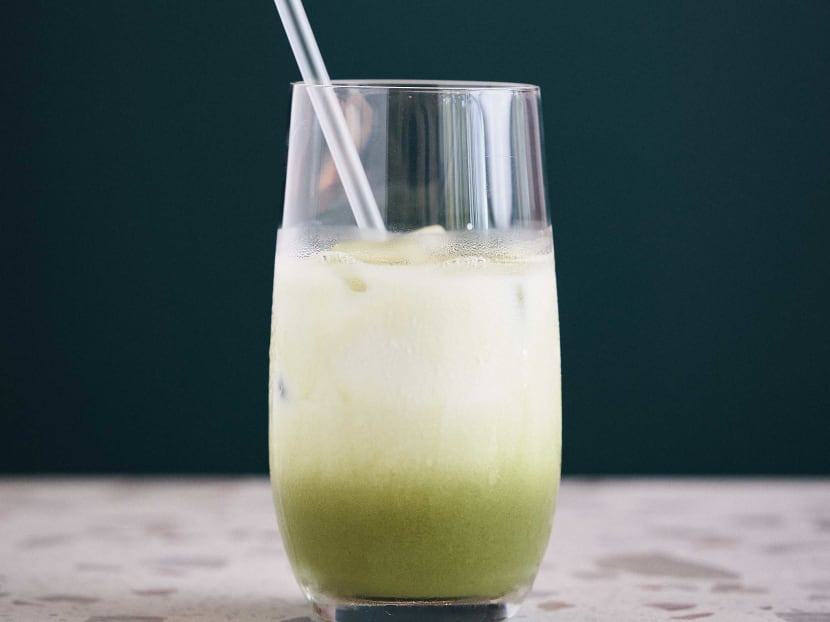 You can have this latte hot or cold. Either way, it is made with high-quality Tencha tea leaves grown in Shizuoka, which have a nice bitter edge and the barest hint of seaweed flavour, which is typically inherent in good matcha.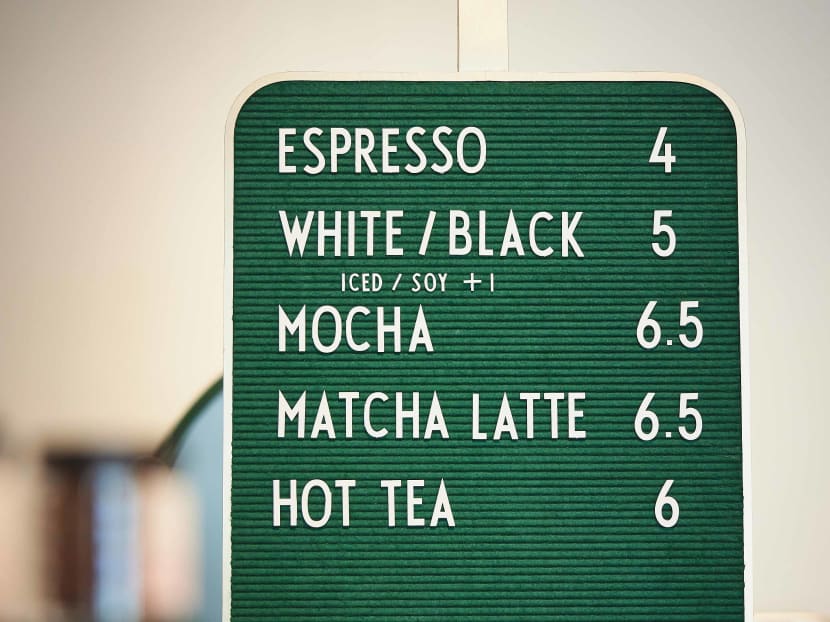 Made from a blend of Colombia and Ethiopia beans by local roasters Bearded Bella, this cuppa has a slightly sour tang at first sip which mellows to a deep smooth brew. Pretty good coffee.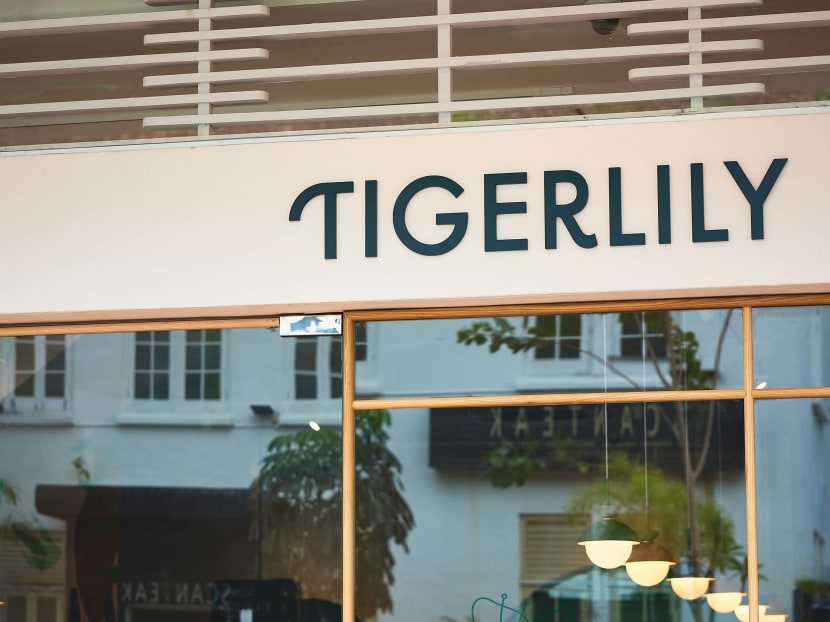 Another worthy café to put on your to-go list. Maxine's fine-dining experience shows in her technically excellent mod French bakes and flavours that are refreshingly original. Think of this as a younger answer to Tarte By Cheryl Koh, which for a long time, has been unrivalled. Incidentally, Maxine trained under Cheryl and helped launch Tarte in 2015. With this new café up and running, online orders for Tigerlily have taken a backseat while Maxine and her team fine-tune their operations. Online ordering will return in the coming months on the Ebb & Flow group's ordering app Tabletop.

Tigerlily Patisserie is at 350 Joo Chiat Rd, S427598. Tel 8887 0988. Open daily except Mon. Tue-Sun 9am-6pm. Last orders at 5.30pm. tigerlilypatisserie.com

All photos cannot be reproduced without permission from 8days.sg.

Photos: Alvin Teo