Ex-Thai Club Entertainers Open Boat Noodle Shop; Crab Omelette Fried Rice Served Too
The boat noodle recipe is from a 35-year-old Bangkok stall.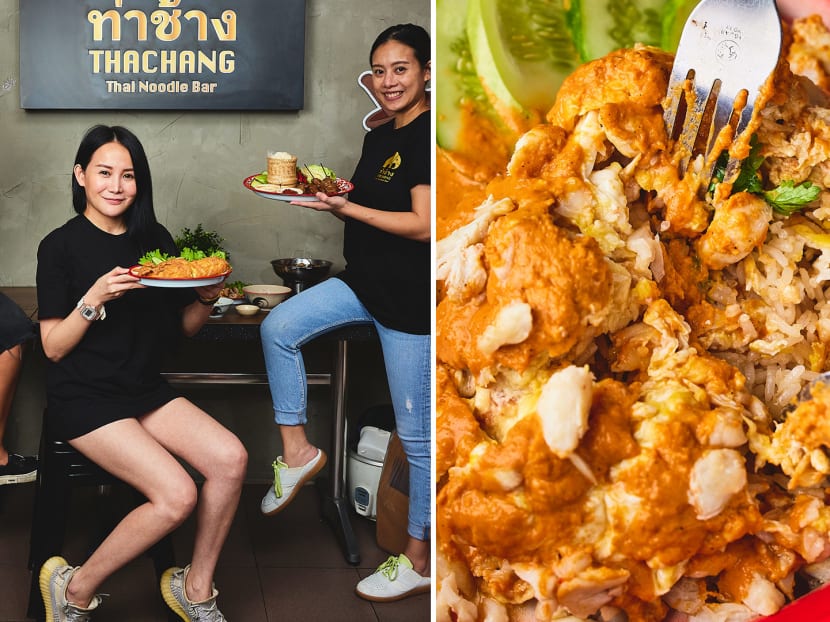 If the mention of "Bangkok", "Victory Monument" and "boat noodles" trigger major withdrawal symptoms in you, we have good news. There's a new Thai-style noodle joint in town, hidden in the musty maze of Golden Mile Complex.

Opened in April by three sassy Thai ladies, Tha Chang Noodle Bar does not pledge allegiance to a specific region of Thai cooking, and instead focuses on broadly popular dishes like Thai salads, grilled pork skewers and crab omelette fried rice in addition to their signature boat noodles.

Maysa D, 36 (right in pic), is the mastermind behind the noodles. Her aunt owns a popular 35-year-old stall – Po Pratip Boat Noodles – in Bangkok's Bueng Kum district. "I learned the recipe from her with the intention of starting my own business in Singapore," explains Maysa, who was acquainted with co-owner, Anna S, 32 (middle), when they worked as entertainers at a Thai club in Golden Mile Complex about a decade ago.

Six years ago, she opened a boat noodle shop with a partner in the same mall. "Anna loved my noodles and she visited my shop almost every day. I sold the business after my partner pulled out a year later as I could not cope on my own. [After the closure] Anna kept messaging me to start a business with her," she says with a laugh.
All photos cannot be reproduced without permission from 8days.sg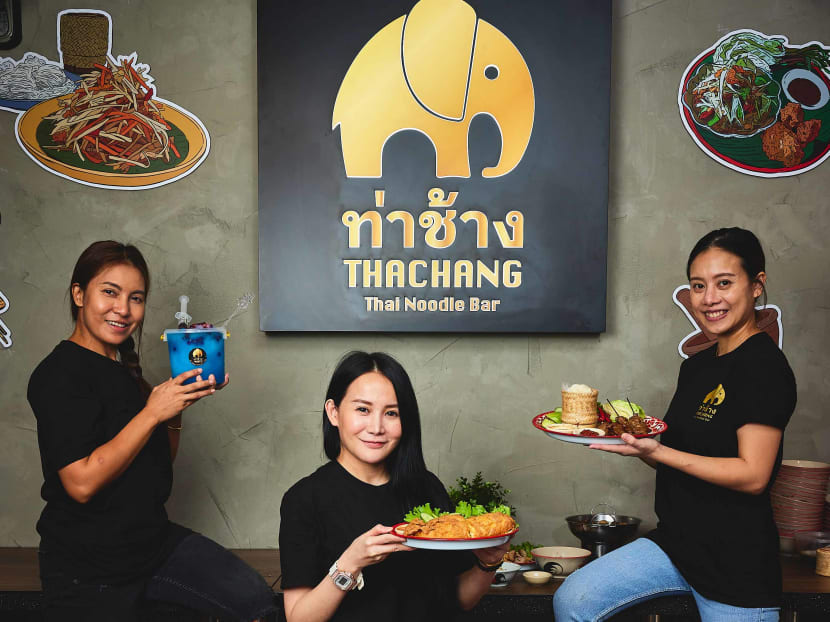 Together with Jess S (left in pic), 39, who is a self-professed "housewife" who "sometimes helps out at my husband's Thai club", the trio shares an intimate bond, often breaking out in laughter and cracking jokes in Thai throughout our interview. With such unity, it's no surprise they were undaunted by the challenges of opening a physical shop during a pandemic.

"I told Anna, you find a place and we will open [the shop]. Don't every time say only," Maysa tells us. "I trust May's food 100%. I'm confident in her skills. We've all known each other for a long time and we have spent a lot of time researching food and coming up with new recipes," shares Anna.

Anna's husband, Singaporean Shawn Chio, 39, who mans the phone and helps to coordinate delivery orders when he's not at his events planning day job, adds: "People did ask them, why open now? But they've been talking about it for almost five years. Since they were not working during the pandemic, we thought it's a good time to start and just get some experience."
Business was good at the beginning, which the owners attribute to the support of their friends in the Thai community. "It started with only our [Thai] friends' support, they told their friends and more people came. For Thai people, if your food is good, they will come back to support," shares Jess.

The P2HA dine-in ban came into effect 1.5 months after Tha Chang was opened. "We are at 60 to 70% of our usual orders. I don't think people are aware of our shop as we just opened, so they are not keen to order [via delivery] yet. We've posted on some Facebook groups but we're still not garnering much support. We can't get listed on GrabFood yet as we are very new and don't meet their requirements, and we're waiting to get approved on FoodPanda. We're taking orders through social media platforms, and we get our friends to help with delivery," says Shawn.

Despite the extension of the no dining-in rule during P3HA, the team is staying optimistic. "We want the place to be somewhere for customers to chill, that's why we also have cocktails and beer," adds Jess. "Hopefully we can do that soon."
Except for the use of pig's blood, which is banned in Singapore, Maysa assures us that her recipe is as authentically Thai as it gets. "My broths are made fresh every day, boiled slowly for over four hours. I use at least 15 types of herbs."

When asked about what makes her boat noodles better than her competition, the confident cook does not mince her words. "Some of them use [stock] powder to make the broth. They just top up with water and sauces [to achieve the flavour]. We get our ingredients, like noodles, spices and sauces, imported from Hat Yai every week to preserve the [authentic] taste."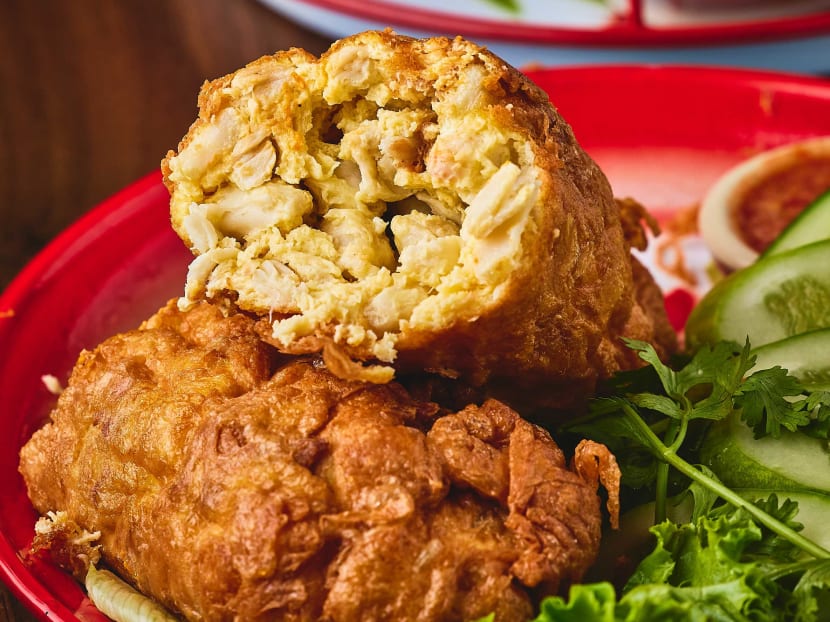 We were intrigued by a crab omelette photo on the menu, which resembles the famed dish from one-Michelin-starred street food stall Jay Fai in Bangkok. Indeed, Anna quickly tells us that the eatery is her inspiration for the dish.

Back when she was in Thailand, she says: "I just stood there and watched how she [the chef-owner, Supinya Junsuta] made it. Then I went home and tried to make it on my own. It's not that difficult, I'll show you later!"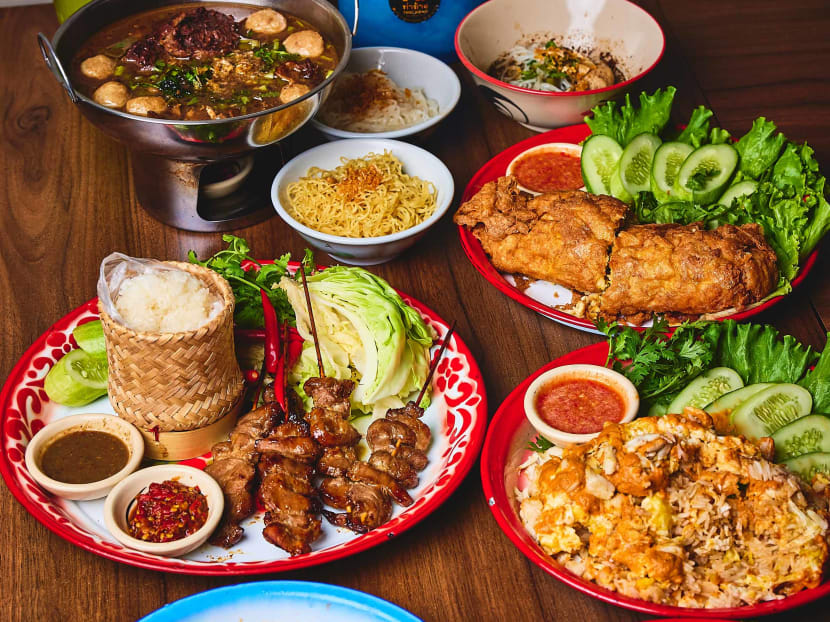 Another highlight of Tha Chang's menu is the wide range of yum (which means 'mix' in Thai), or Thai salads, created by Jess. You can pick from over 15 variations, from regular papaya salad to fancy toppings like blue crab and salmon.

"We make the salads one by one, so we can customise [the flavours] for customers. For example, you can say if you want spicy, or more sour," says Jess. "But 'Singapore spicy' is only half of 'Thai spicy' – if you want Thai spicy, you can tell us," Maysa adds playfully.
'Tha Chang' means 'the elephant' – a symbol of luck and prosperity in Thailand, which is why you can spot the mascot easily around the snug 32-seater, from ornaments to the main signages. The rest of the decor shares a rustic, DIY flair: illustrations of Thai dishes and a cute pink neon sign adorn the cement walls, while rattan lights hang from the ceiling. Cheerful Thai pop tunes keep the ambience lively, and the friendly service lives up to the reputation of the Land of Smiles.

Here's how the menu works – choose your soup (beef or pork) and a carb like glass noodles, rice noodles or egg noodles. The noodles are tossed in a broth enriched with garlic, shallot and coriander. For the pork version, you get a pork ball with your bowl. We love the intense smokiness brought on by the dried chilli powder as we slurp on the silky glass noodles. You'll need about 10 small bowls of this to fill up, as per tradition. For takeaways, we recommend ordering the large version ($6.90), meant for one person.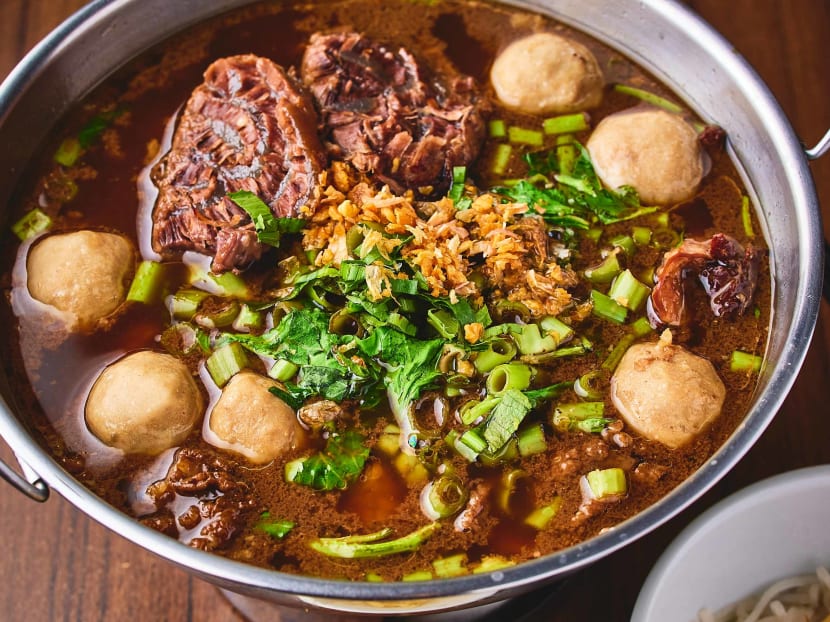 For dining in, this option comes in a small stainless steel pot with a burner that keeps the broth at a simmer throughout your meal. The hotpot experience is removed when you order takeaway, as the staff will simply pack the soup and noodles separately.

Even without the distinct creaminess endowed by pig's blood, Maysa has created a broth that is rich but clean-tasting, and slightly sweet, similar to those we've had in Thailand. What makes the deeply flavourful broth memorable is its baseline of aromatics: lemongrass, galangal, garlic, coriander, shallots, chilli powder and many more "secret ingredients" – the flavours are distinct and layered, lifting Tha Chang above most of the bowls we've tried in Singapore. Maysa braises the beef shank in a rich gravy until it reaches fall-off-the-fork tenderness before adding it to the soup. This option feeds two and comes with generous toppings: hunky slices of beef shank, beef balls, tendon and sliced beef, and two servings of carbs (we like the egg noodles). The springy mee kia and crunchy kangkong make a perfect foil to this ruddy stew.
It's pretty impressive how Anna is able to create this dish by using a portable stove (their kitchen only has two gas stoves, which are used for the soups). The golden, crispy eggy cylinder is stuffed with canned lump crab meat – which is less sweet and succulent compared to the one from Jay Fai that we've tried during our pre-pandemic Bangkok trip. The famous eatery uses freshly-shelled crustaceans at more than double the price (around S$42).

Without the sweetness of fresh crab, this dish lacks a certain oomph, which could've been offset with more seasoning. The texture is also pretty different from the original's, which has a thinner outer layer of egg and is therefore crispier. Still, though not the most faithful replica, we think this dish delivers enough value to make a hearty side.
Another rendition of crab omelette – this time, draped over a mound of fried jasmine rice and finished with a rich, umami-packed Thai shrimp sauce and more chunks of canned crab meat. Apart from the lack of smoky wok hei, the fried rice is tasty and a notch better than most home-cooked versions. The portion is big enough to feed two to three people – we recommend drizzling some of the chilli-garlic sauce over your rice to give it a much-needed spicy-tangy jolt.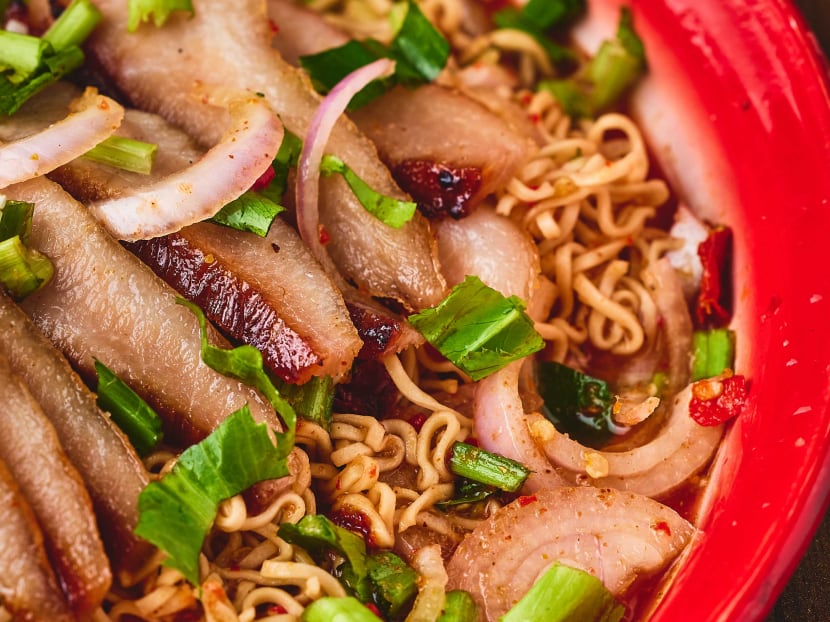 We have Jess's unfettered seasoning instincts to thank for the knock-out deliciousness of this salad. Tender slices of grilled pork collar sit on a jumble of instant noodles – from the ubiquitous Thai brand MAMA – and drenched with lime juice and a chilli sauce blend to create an intense spicy-and-sour tug of war, infused with lemongrass and finished with a salty nip of fish sauce – perfect for cutting through the fattiness of the meat.

A lovely, bright citrusy salad with powerful and pulse-quickening heat and tang. Beneath the spice and salinity, the fresh raw salmon is subtle but delivers a rich flavour and a buttery texture, while the red onion and coriander add a punchy accent to the starter.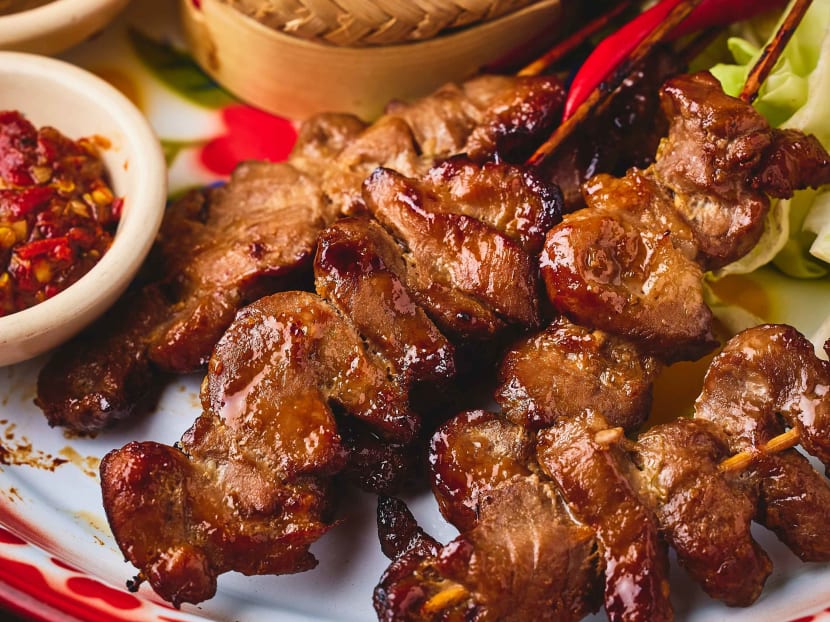 Thanks to an unbridled use of fermented fish sauce, the glaze on the tender-chewy pork is funkier than most of the Thai skewers we've tried here – and we dig its robustness. If you want an even more aggressive hit, dip it into the two accompanying condiments: the brown sauce is a salty, pungent fermented fish paste, while the chilli sauce is made from fresh red chilli tinged with fermented fish sauce. Then temper the saltiness with sticky rice and a bottle of Singha.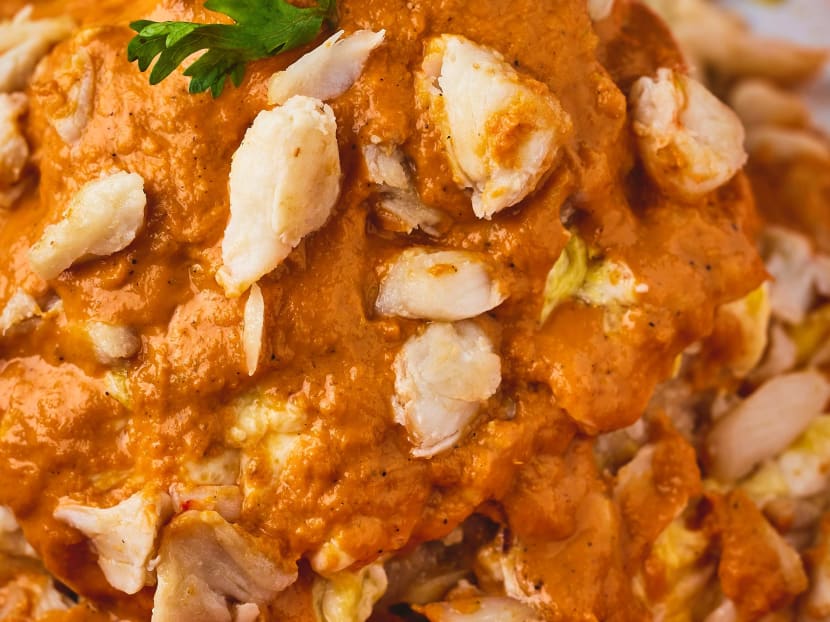 Our new go-to place for boat noodles. Tip: order the larger hot pot option as it has more toppings. We also enjoyed the go-big-or-go-home boldness of the Thai salads – make sure you let the staff know your preferred spice level if you can't take too much heat. With such stellar food at a place less than two months old, we're looking forward to trying more gems at this hole-in-the-wall eatery as they continue to improve and introduce new items.