Fab Handmade Chee Cheong Fun By Peach Garden Dim Sum Head Chef-Turned-Hawker
He has been making CCF since he was 18 years old.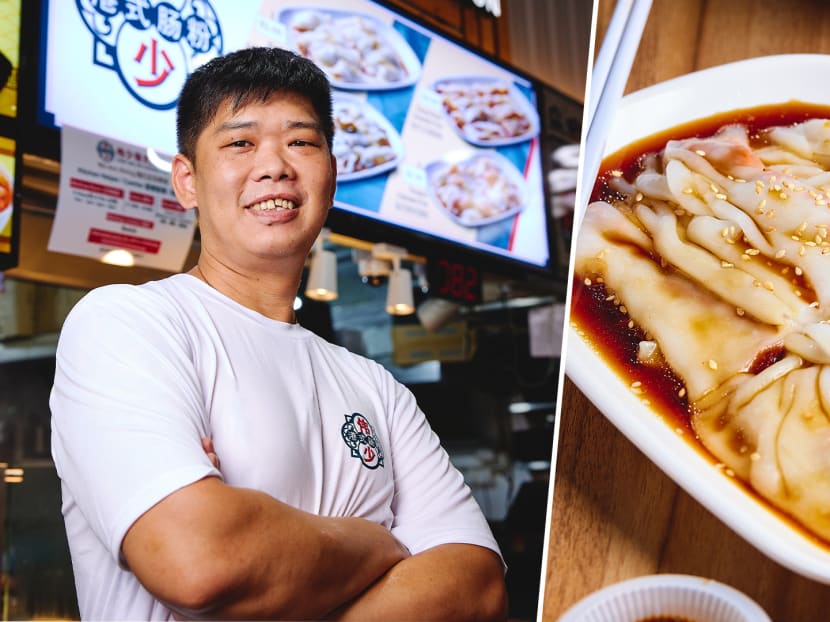 Looking at the unrelenting queue at Chef Wei HK Cheong Fun on a Monday morning, it's hard to believe that the kopitiam stall in Bedok Town Centre is merely a week old. Thoo Chang Wei, 36, is in the eye of the storm, a tall figure ladling films of batter onto a wet cloth mesh positioned over a steamer. Though he may be a first-time hawker, the Malaysian boasts a remarkable resume, having headed the dim sum kitchen at Peach Garden Hotel Miramar for the past six years, and a total of 11 years with the Chinese restaurant group.
All photos cannot be reproduced without permission from 8days.sg

Chang Wei's culinary career has been singularly focused on dim sum. At the age of 18, he began his apprenticeship at Min Kok Restaurant, a Cantonese eatery in his hometown, Seremban, and slowly worked his way up to become the sole chef at the cheong fun station for the next four years.

In 2010, the diligent chef moved to Singapore and joined Peach Garden, where he continued to hone his dim sum skills, particularly the creation of cheong fun, for over a decade.

"Cheong fun has always been my favourite food. When I was a kid, there was a pushcart selling chee cheong fun with sweet sauce next to my school and I often ate it after class," Chang Wei tells 8days.sg in Mandarin.
The soft-spoken chef tells us he decided to start his own business because of the pandemic. "I just felt that it was time. Due to Covid, we had to take no-pay leave, and I started to consider launching something on my own. I also have friends in Malaysia who started their own food biz during this period, which encouraged me. I wanted to see how far I could take my specialty, cheong fun."

The stall is solely owned by Chang Wei, and we're told that his former employer has been supportive of his entrepreneurship journey, offering some advice along the way.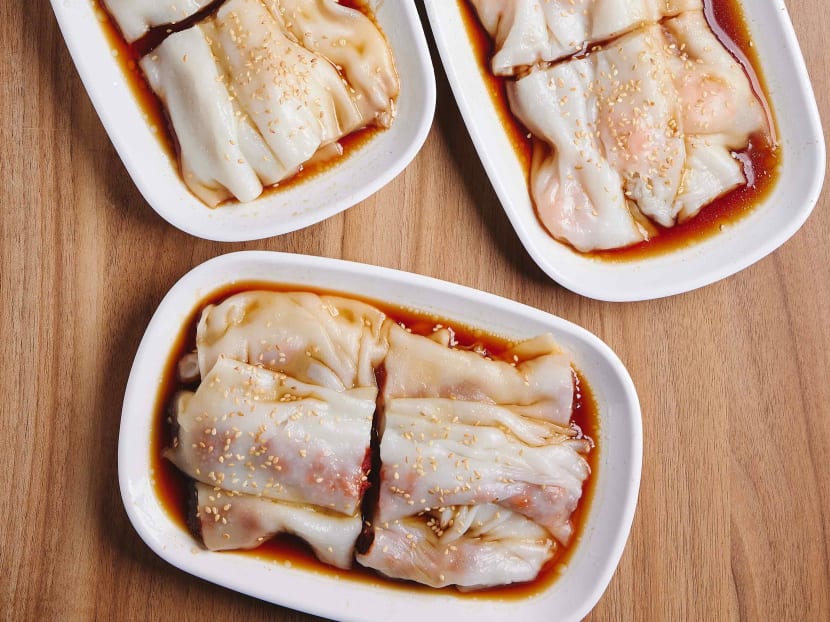 According to Chang Wei, the cheong fun served at his stall is comparable to what he was creating at Peach Garden. "The only tweak I've made is to the sauces. Customers tell me they prefer something sweeter, and less salty."

Fillings wise, the Mushroom Cheong Fun ($4) is a brand new creation that is offered along with staple stuffings like prawn and char siew.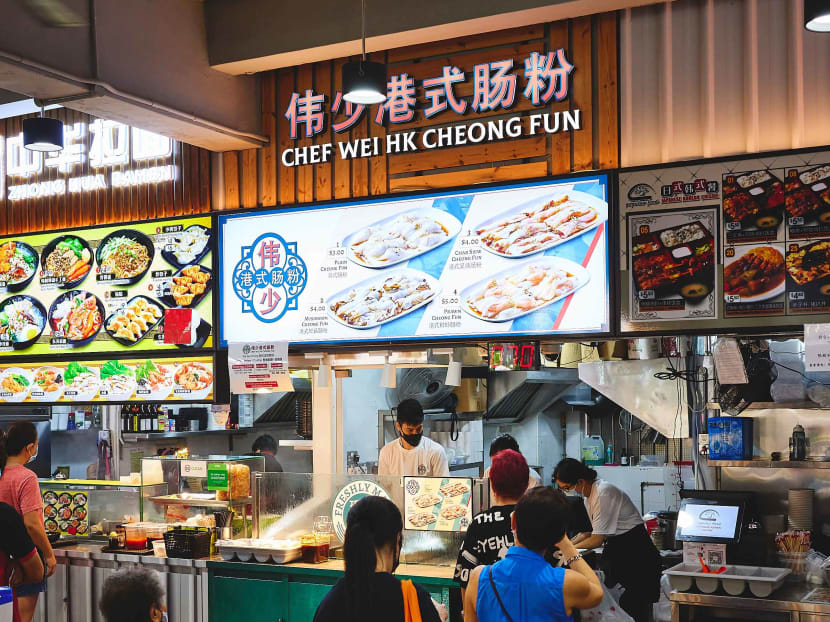 We remarked on the endless long line at the stall, and the humble hawker tells us he is taken aback by the positive turnout. "It has definitely been better than expected. My goal was to sell about 300 plates a day, and we've been achieving double of that so far. On weekends, the orders can go up to 700 plates," he says, grinning.

Chang Wei believes the crowd is a result of the advertising banners his team has put up in the area, as well as the stall's great location – it's situated near Bedok MRT station, a bus interchange and next to a Sheng Siong Supermarket. The kopitiam enjoys busy foot traffic and Chang Wei's fresh rice noodle rolls are a hit among the older folks who reside in the surrounding mature estates. "Most of our customers are in their 40s and 50s, and we get some younger ones too," he adds.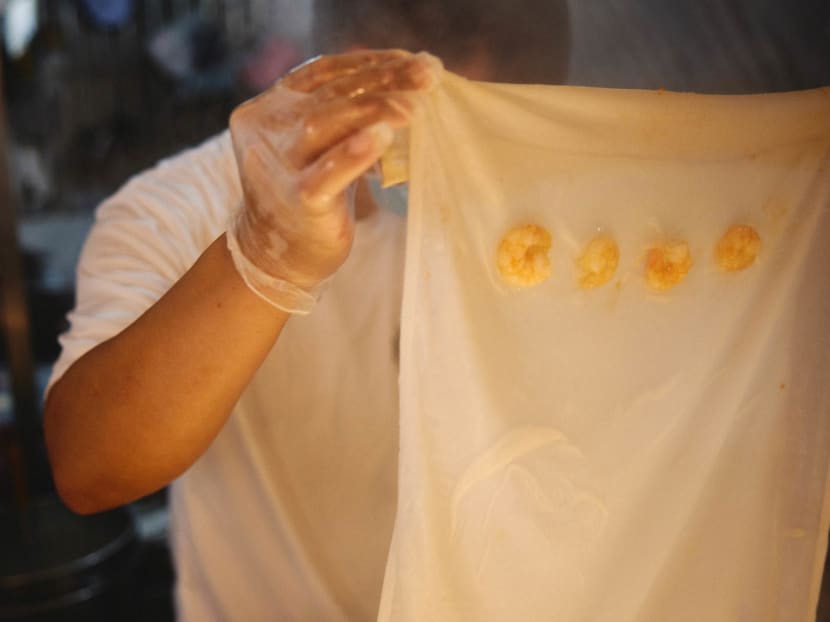 When asked about his definition of good cheong fun, the experienced dim sum chef rattled off four important traits: the thickness has to be just right ("not too thick or too thin"), the texture has to be "QQ" (chewy), the roll should be translucent enough that you can see the fillings, and the ratio of roll to stuffing is around five to one.

Chang Wei even has a 'texture test' for his cheong fun. "If I pull it slightly, it should have a certain elasticity and not tear apart. That's how I know it'll be QQ."

To achieve this, he has perfected a recipe that includes four types of four, namely potato, chestnut, tapioca and wheat starch. We also spotted the chef vigorously mixing the cheong fun batter with his bare arm – a technique that Chang Wei says will help to create the right elasticity.
To cope with the long hours – the stall is open daily from 7am to 9pm – Chang Wei has a team of eight who work in two shifts to help with running the stall. The hardworking hawker tells us he is usually at the stall from 6am till closing time.

Making cheong fun by hand is an extremely labour-intensive process. Batter is carefully poured on a large wet cloth placed over a steamer, which is then covered for a few seconds. This gives the batter time to solidify before the filling, such as prawn or char siew, is placed at the top and bottom of the sheet. During our visit, Chang Wei was personally managing this process as it requires dedicated attention.

After another quick steam, the sheet is moved to an oiled, stainless steel workstation where an assistant removes the cheong fun using a scraper before it is rolled, sliced and topped with sauce.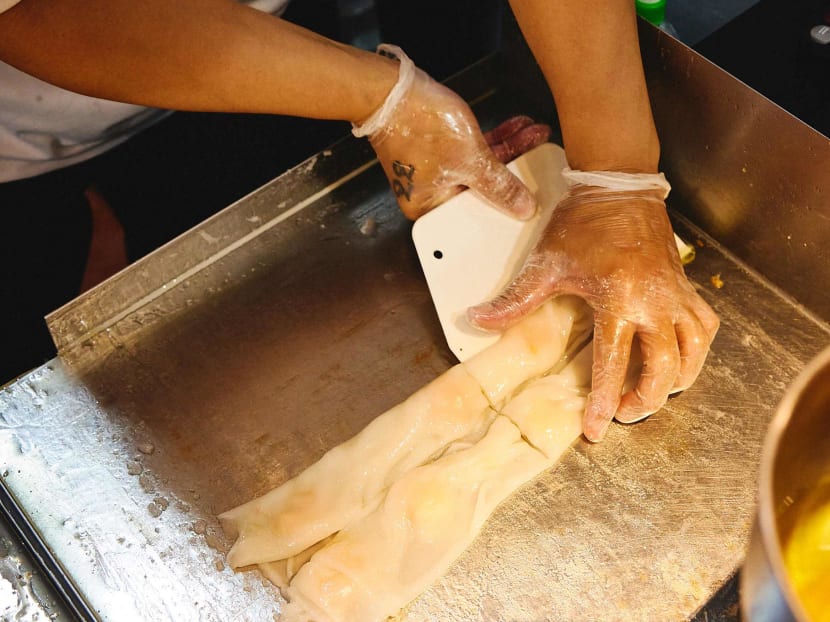 Every plate of cheong fun is made to order – an insistence by the perfectionist chef to ensure the steamed rice rolls are of restaurant quality. "I'm not worried [about long waiting time] as I'm confident in our speed. We take about a minute to prepare each order of cheong fun, and my goal is to get them [his assistants] to become faster with more practice."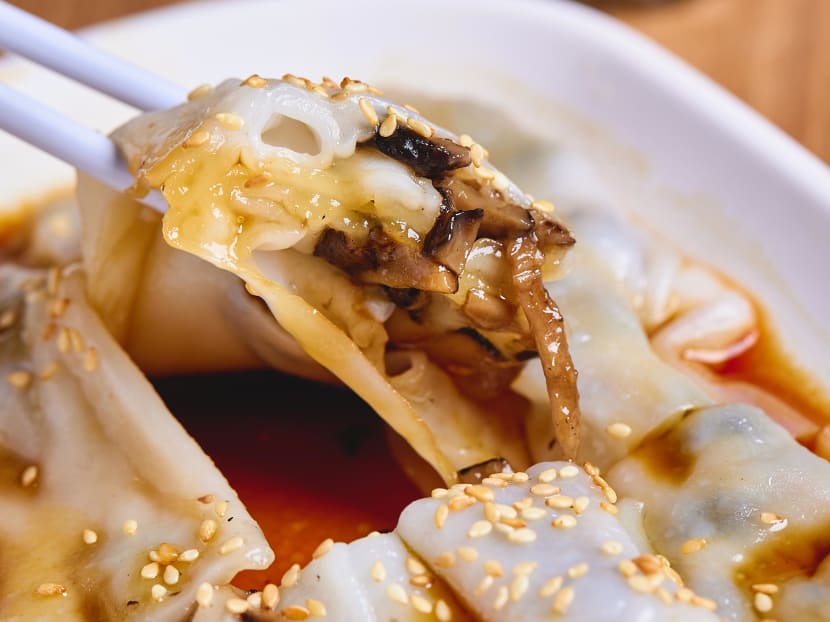 We were most excited to try this innovative creation, and were glad that it exceeded our expectations. The delicate, mildly nutty flavours of stir-fried shiitake and shimeji mushrooms mingle beautifully with the fresh fragrance of the steamed rice rolls, while the wonderfully tender yet chewy stuffing echoes the enticingly jiggly, thin, springy cheong fun.

The Hong Kong-style sauce, made from a base of dark and light soy sauce with sesame oil, shallot, coriander, spring onion and ginger, is slightly sweet, not too salty and absolutely delicious. We also liked the restraint of the garnish – just a sprinkle of sesame seeds – which doesn't distract from the simplicity and freshness of the excellent cheong fun.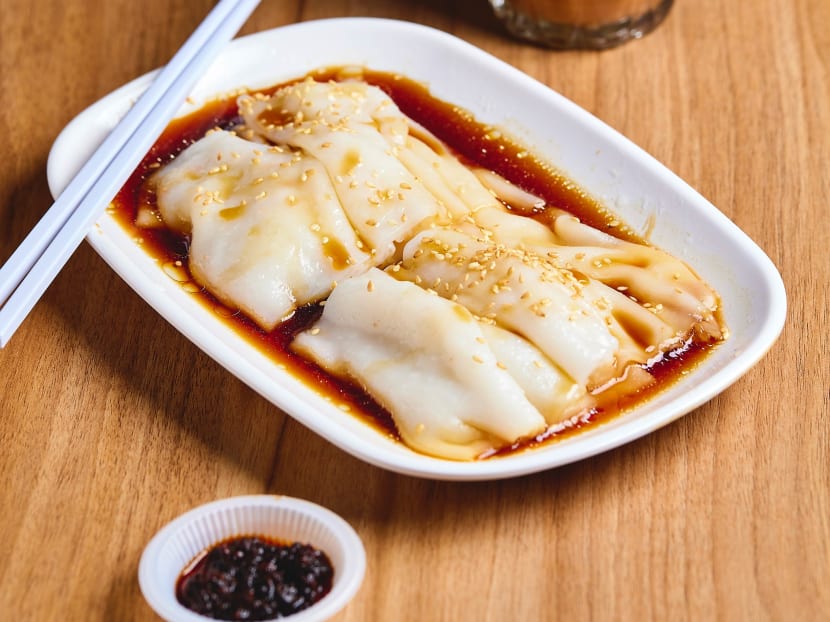 It's a feat to serve plain cheong fun and not have it taste like a glob of dough – which Chang Wei has clearly nailed with ease. The silky-smooth rolls have a nice bite to it and yet the chewiness does not dominate the cheong fun – a characteristic that often plagues factory-made versions. Pair with the smoky, savoury chilli crisp sauce for a wonderful snack any time of the day.

You can't go wrong with this classic combination (and the current best-seller). Though the char siew is not housemade, Chang Wei and his team further season the barbecued pork to enhance its savoury-sweet flavours.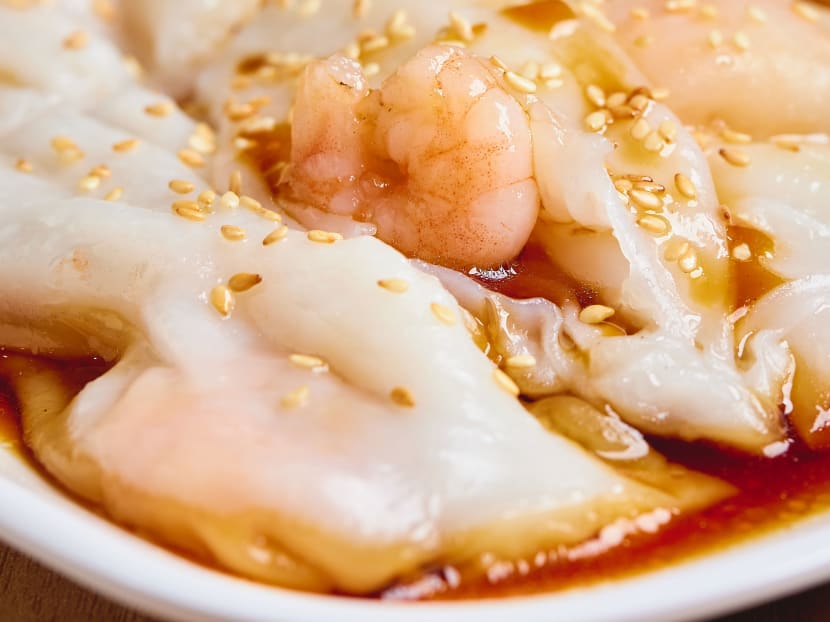 While $5 may seem pricey for hawker cheong fun, we counted ten small shrimps stuffed in the rolls – which we consider good value for money. The slight sweetness of gently seasoned plump shrimps was a delight to savour, too.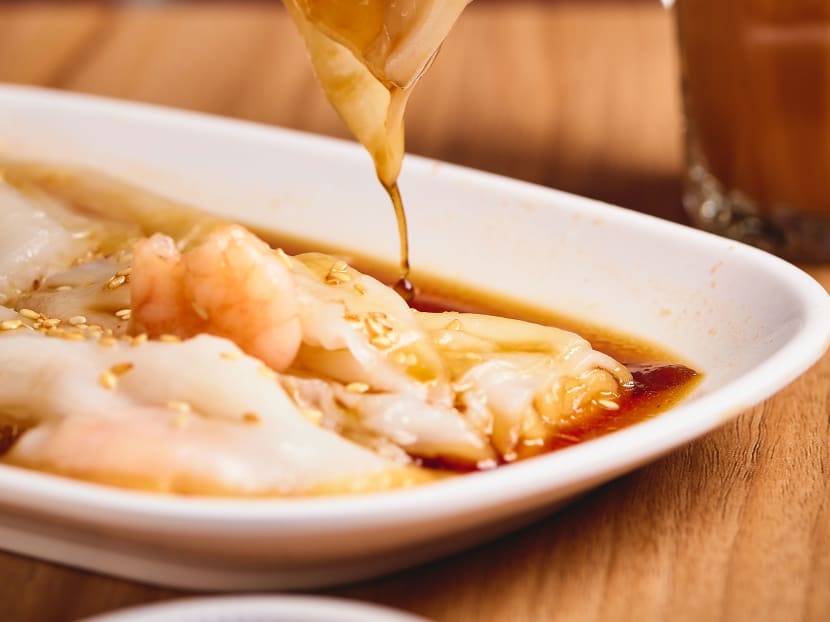 Come here for freshly made restaurant-quality cheong fun at hawker prices. The rolls are silky-smooth, tender and slightly chewy — we like the mushroom and char siew stuffings best. Don't be alarmed by the long queues, as the team works quickly enough to keep the line moving.