Financial Consultant Creates Idiot-Proof Rice Cooker Recipes, Including Muah Chee
We've included his viral, step-by-step recipes below.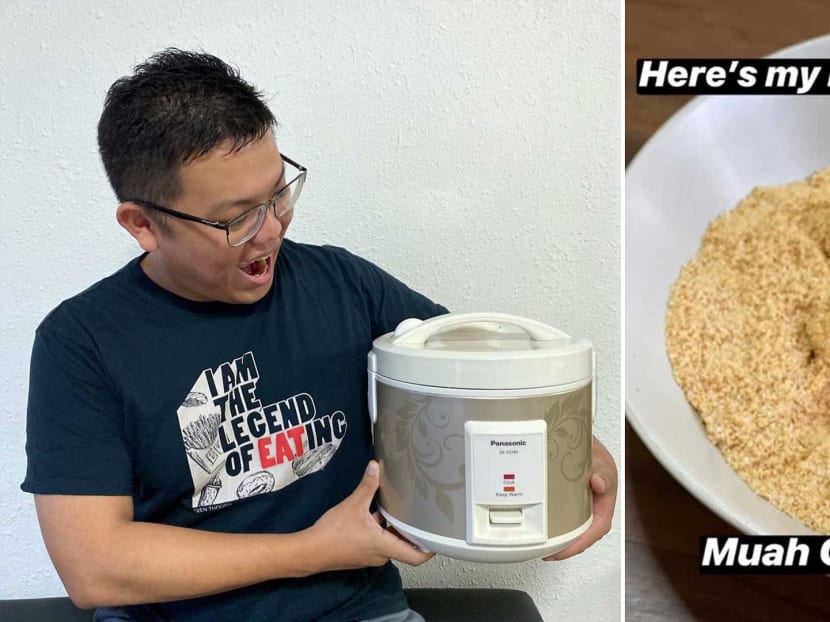 Home cooking recipes are all the rage these days, as most folks are staying indoors during the circuit breaker period ( Dalgona coffee, anyone?). And you may have come across netizen Leslie Koh's insanely viral recipes on Facebook, where he whips up popular dishes like muah chee, char kway teow and mac & cheese using only a rice cooker.

He shares the #RiceCookerMan recipes on his eponymous public Facebook page, which has attracted a huge following eager to try out his foolproof, step-by-step pictorial recipes (which anyone can do, even if you have only ever cooked instant noodles). "I always make my recipes as simple as possible, with just a few ingredients," he tells 8days.sg.

The 34-year-old works full-time as a financial consultant, and tinkers with his recipes as a hobby. He had picked up cooking as a way of spending time with his sister. "We came from a single-parent family, and cooking keeps us bonded," he explains. The siblings started experimenting with making their meals in a rice cooker out of financial necessity. "My dad had to work two jobs to support us, so my sister and I were alone at home most of the time. We had to fend for ourselves. Eating out is expensive, and there are certain things we couldn't cook with a normal stove, like claypot rice, 'cos buying a claypot is also expensive. So we thought, why not use a rice cooker?" says Leslie.
In December 2019, a Japanese recipe for KFC fried chicken rice, cooked in a rice cooker, made its rounds on the internet. A curious Leslie tried it out and posted his dish on Instagram. He recalls, "Everyone was sharing the recipe but no one was trying it, so I did. My friend said, 'Eh bro, that looks amazing. Can you post it on your Instagram Highlights?' And I thought, why not post it on Facebook too?". Within four days, the Facebook post had garnered some 10,000 shares.

His rice cooker recipes appeal to people 'cos it's ridiculously easy to follow, with minimal kitchen equipment and fuss-free ingredients. "I want to have a decent meal without having to do a lot of washing up," Leslie says. He painstakingly labels his recipe photos with step-by-step instructions, from the raw ingredients to the cooking and completed dish. "I find some online recipes hard to follow 'cos there are no photos. I get lost sometimes since I don't cook very often. So I made my recipes a guide to cook for dummies," he shares.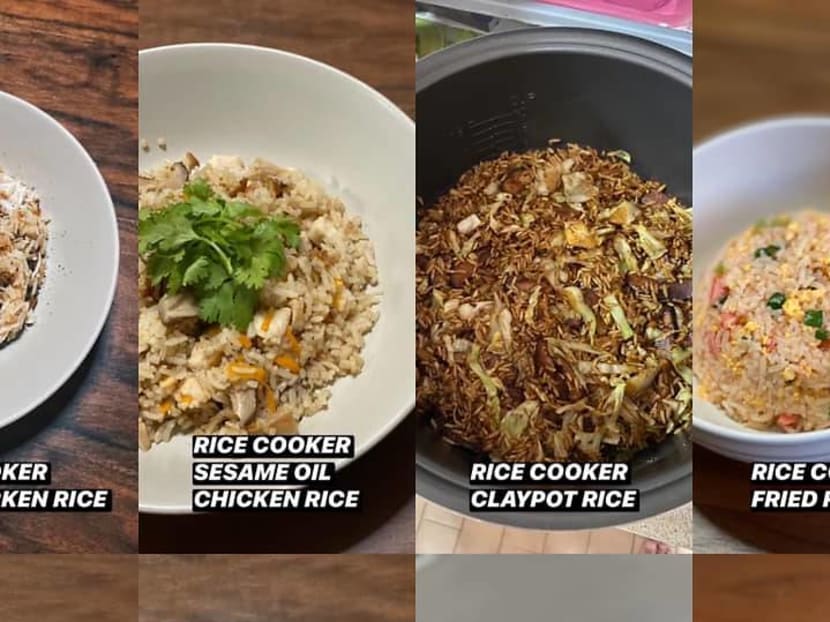 Leslie has posted 12 recipes so far, ranging from hawker dishes like economical bee hoon to desserts like matcha cake. He reckons "everything can be cooked in a rice cooker", though not every dish is a success. "Obviously, I can't deep-fry stuff. I also tried making an Oreo cheesecake and I screwed up. I've never baked a cake in my life, and it's a lot of steps to incorporate," he says, adding that he's still "figuring it out".

He has also been approached by commercial brands to do sponsored content. While Leslie has worked with some of them, he avers that he is "not doing it for the money". According to him, "My main business is insurance. It pays me so I can pursue my passion. The brands only pay for my ingredients, which is fair since it costs me money to run the whole show. But if they offer me money, I don't think I should take it. I'm not well-off; it just feels wrong to take the money, especially during current times. I believe people like my content because it's authentic. My intention is always to help people and give back to the community."

While circuit-breaking is going on, Leslie is posting new recipes about twice a week. "But it's not sustainable for me in the long run," he laughs. "I sleep at 3am thinking about whether my recipes work and trying them out. After this I'm going back to posting once a week or every two weeks, because it takes time for me to practise."

Check out some of his most popular rice cooker recipes for muah chee, char kway teow, economical bee hoon, mac & cheese and matcha cake below (recipes edited for clarity).

For more of Leslie's recipes, head to his Facebook page ( www.facebook.com/lesliekohzm) and Instagram ( @leslie.koh).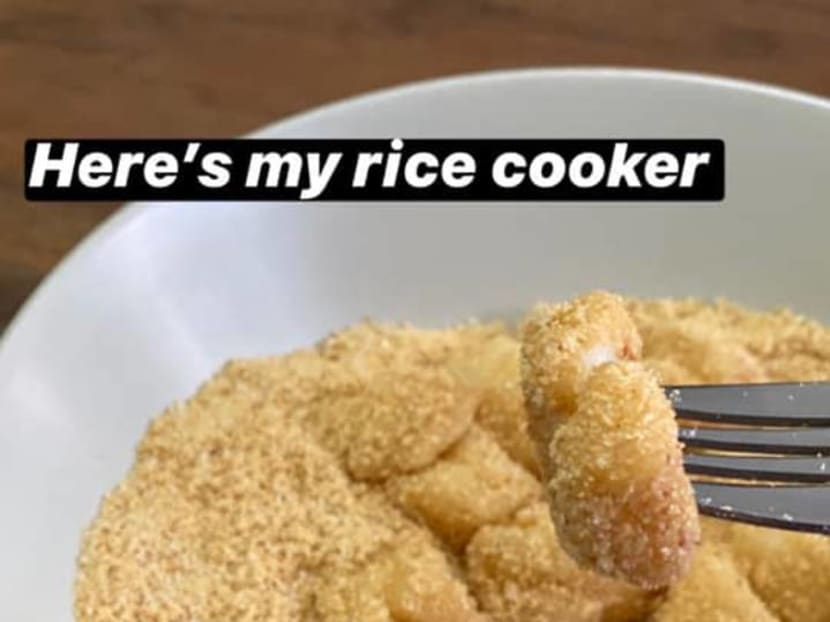 Ingredients (serves four)
- 2 cups glutinous rice flour (try Erawan brand)

- 2 cups water
- Peanut powder
- 1 tsp sesame oil
- 1 tsp sugar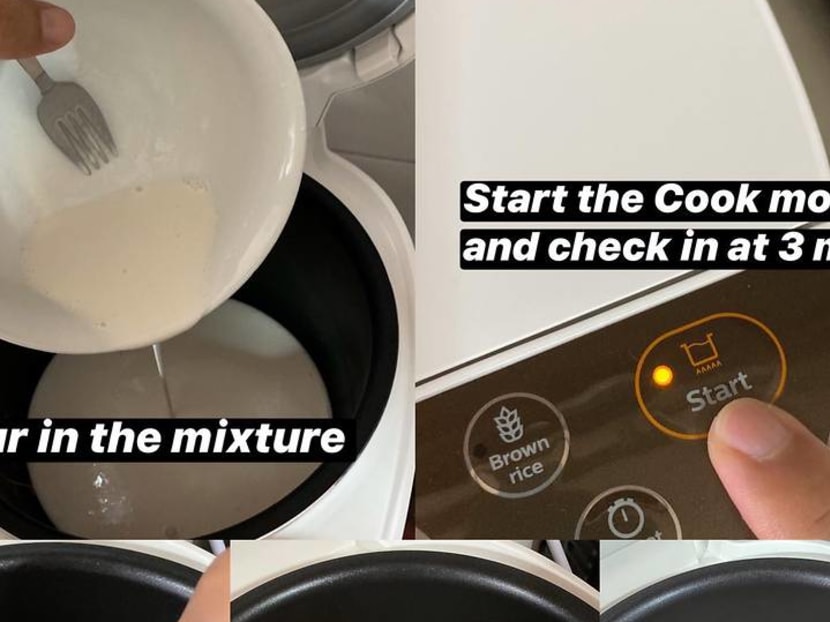 1. Add 2 cups glutinous rice flour to 2 cups water (same 1:1 ratio if you are making bigger portions) and mix well to remove clumps.

2. Oil a kitchen towel and coat the whole rice cooker pot with a thin layer of oil.

3. Pour the mixture into the pot, start the cook cycle and check it after 3 mins.

4. Stir the mixture and let it cook for another 3 mins.

5. Repeat this cycle until it becomes one lump. Cut into the middle to check if it's fully cooked.

6. Add a teaspoon of sesame oil and toss it with the muah chee.

7. Pour out half the peanut powder, add a teaspoon of sugar if you prefer it sweeter and mix well.

8. Cut out the portion you want from the rice cooker and keep the remaining under the Keep Warm mode till you are serving it.

9. Put the muah chee on the peanut powder, cut it into bite-sized pieces and toss them in the peanut powder.

10. There you have it! Rice Cooker Muah Chee, bringing the pasar malam (night market) to your house!
Ingredients (serves 2-3)
- 400g kway teow
- 250g sliced pork belly, sliced half again (you can also use beef with a fattier cut)
- 50g chives (cut into 5cm length)
- 100g beansprouts
- 1 palm-sized onion (sliced)
- 1/2 tbsp oil
- 1 tsp white pepper
- 1 tbsp soy sauce
- 1/2 tbsp sesame oil
- 1 tbsp oyster sauce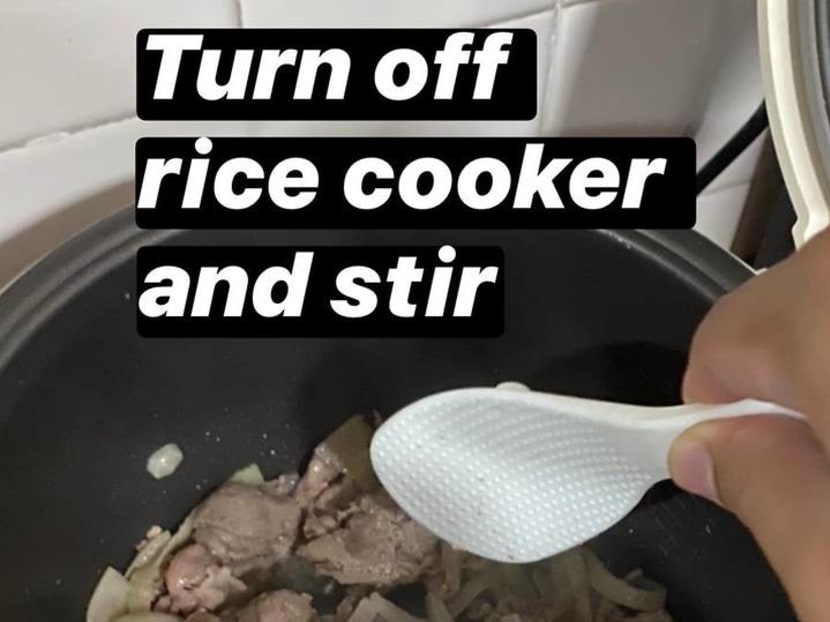 1. Prepare the pork belly, chives and onion. Rinse the beansprouts.

2. Add oil in the pot first, then add sliced onion. Separate the pork slices one by one and add in.

3. Mix well to make sure everything is coated with oil and start the rice cooker for 5 mins.

4. Turn off the rice cooker and stir.

5. Add the kway teow in first, followed by the soy sauce, sesame oil, oyster sauce and white pepper. Mix well to make sure everything is evenly coated.

6. Add in the beansprouts and chives, and mix again. (Skip if you don't like these veggies or replace with green veggies.)

7. Reset the rice cooker and start the Cook mode again.

8. Serve!
Ingredients (serves 4)
- 1/2 pack beehoon (200g)
- 1 stalk Xiao Bai Cai
- 100g beansprouts
- 1 pack chicken stock (250g)
- 1 tbsp soy sauce
- 1 tbsp dark soy sauce
- 1/2 tbsp sesame oil
- 1/2 tbsp oyster sauce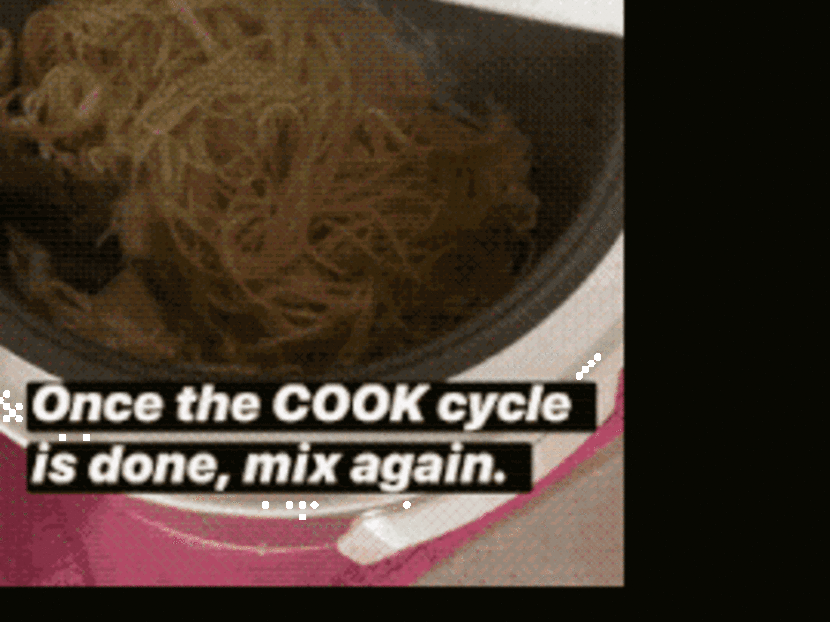 1. Soak the beehoon for 20 mins and remove the water.

2. Cut the Xiao Bai Cai into 2 sections: leaves & stalks and separate them.

3. Rinse the beansprouts and remove the water.

4. Pour the chicken stock into a bowl.

5. Add in soy sauce, dark soy sauce, sesame oil, oyster sauce and mix well.

6. Pour the mixture onto the beehoon and mix well.

7. Add in the veggies in this order: stalks, beansprouts, then the leaves. This is so that the stalks, beansprouts and the leaves will be cooked but not turn soggy.

8. Cook as per normal.

9. Once done, mix well again.

10. Voila! My version of economical beehoon!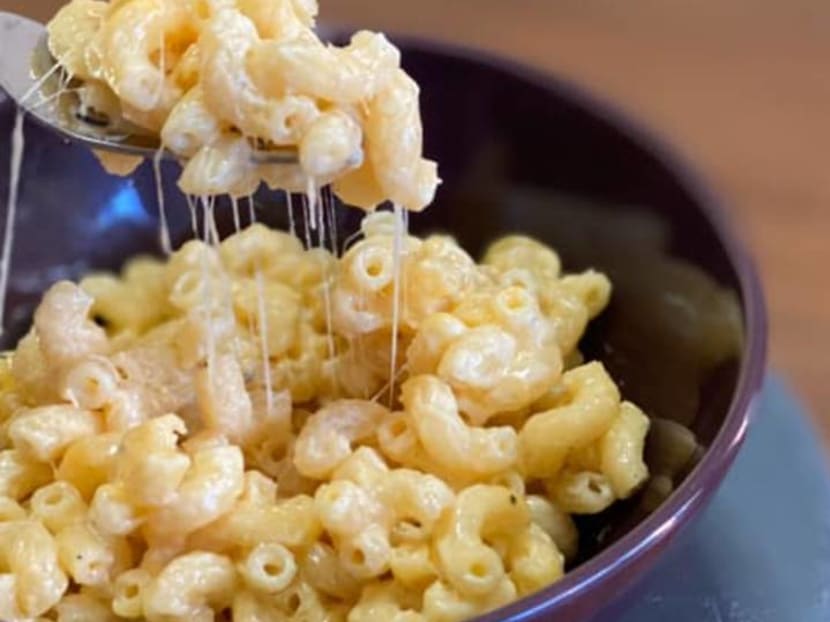 Ingredients (serves 2 to 3)
- 2 cups macaroni
- 1 cup chicken stock
- 1 cup whipping or heavy cream
- 2 tbsp butter
- 1 cup mixed cheese
- Black pepper to taste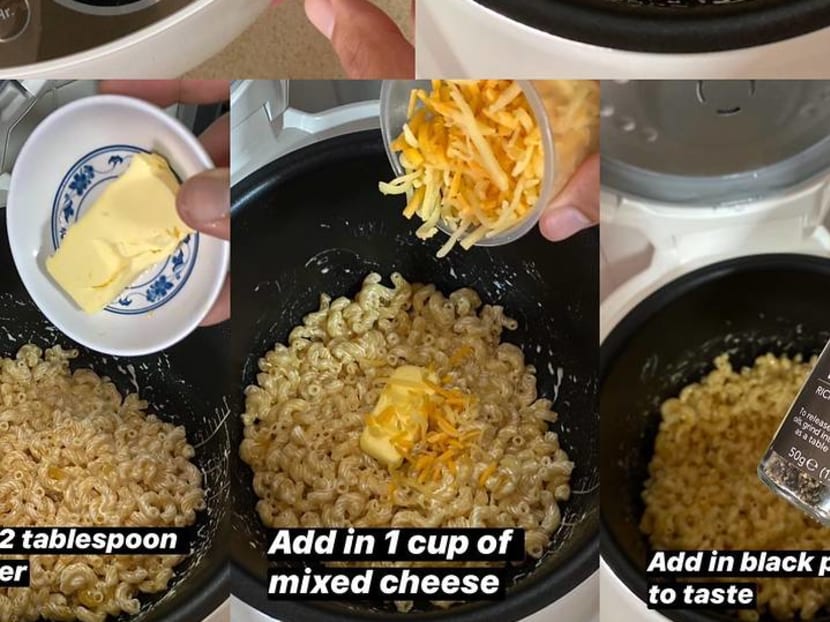 1. Pour macaroni into the cooker pot.

2. Add the chicken stock and the cream

3. Mix well and cook for 20 mins.

4. Once done, stir the macaroni and add in butter and mixed cheese.

5. Add black pepper to taste and mix well again.

6. Keep it in heat retention mode for 3 to 5 mins for the cheese to melt completely.

7. Here you go! Mac & Cheese using rice cooker!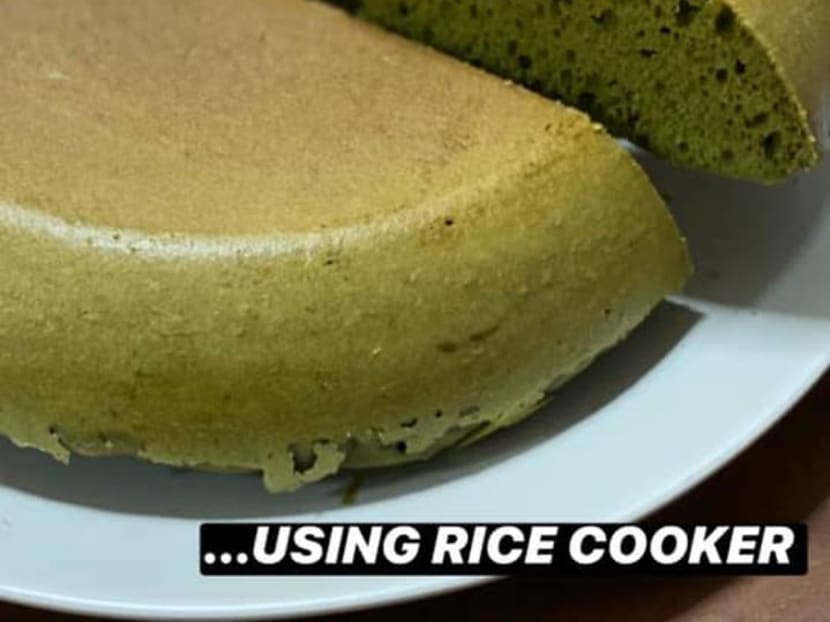 Ingredients (for 6 pax)
- 200ml fresh milk
- 300g pancake mix (try Morinaga brand)
- 2 tbsp unsweetened matcha powder
- 2 eggs
- Sugar to taste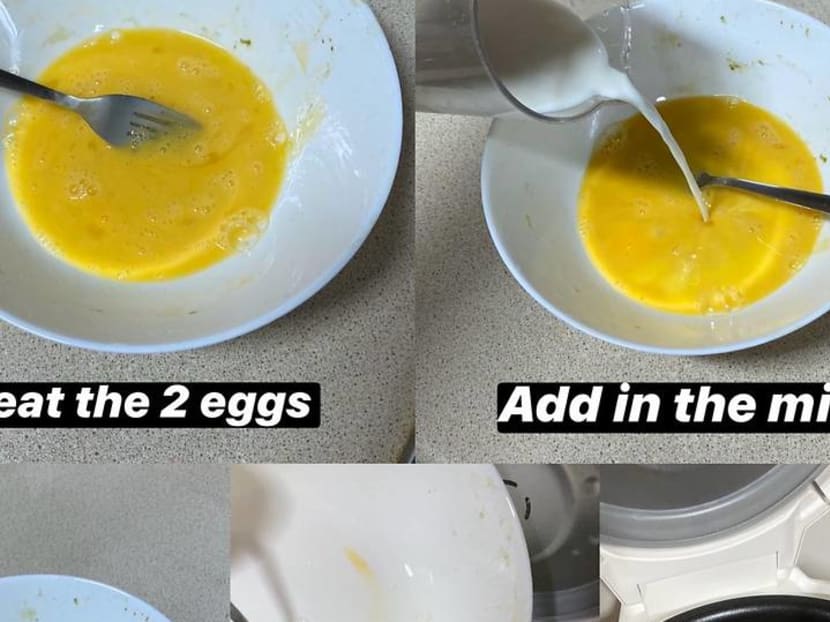 1. Pour the pancake mix and the matcha powder into a bowl.

2. If you prefer to have stronger matcha flavour, add 1 tsp of sugar just to taste. If you prefer it sweeter, add 1 to 1.5 tbsp of sugar.

3. Mix well and pour into the cooker pot.

4. Beat the eggs and add in the milk before mixing again.

5. Gently pour the egg/milk mixture into the pot.

6. Stir gently till there are no more clumps.

7. Cook as per normal. (For mine, it took 35 mins)

8. Once the cook cycle is done, check the cake by poking a chopstick in it. If it comes out clean, it's ready. If not, extend the cooking by 5 mins and check again.

9. Once done, remove the pot from the cooker and let it cool down.

10. Put a plate over the pot and flip over.

11. There you have it, Matcha Cake!
PHOTOS: LESLIE KOH​​​​​​​