Grounded Airline Worker's Crepe Cake Home Biz So Good, She Opens Takeout Shop
Two Bake Boys started out as a humble HBB selling four cakes a day. It now sells 20.
Since our feature on Two Bake Boys last August, Kitty R's home-based crepe cake business has been on the rise. Back then, we spoke to the 36-year-old "aviation industry professional" in her family condo where her business first began. Her husband Philip Yap, 37, also an airline worker, has been helping her with deliveries, logistics and "whatever she needs". Kitty started selling cakes from home after dealing with a pay cut amid a dramatic pause in her jet-setting life (her company's name is withheld in this article due to a confidentiality clause). But as they say: when one door closes, another opens. In the intervening nine months, she's had a fivefold increase in orders, introduced eight new flavours (there are a total of 10, three of which are Thai tea-based), and moved to a bigger kitchen in a rented house before finally settling into her new central kitchen and takeaway shop at CT Hub 2 in Lavender a week ago.

"Orders have been consistent since last October, which gave me the confidence to move [to a bigger space]," shares the radiant Thai-born Singaporean PR, who launched Two Bake Boys last July. "We chose this location as we can provide drive-through service for cake collection."
All photos cannot be reproduced without permission from 8days.sg

Even though her business has been doing "ok enough" to cover her previous salary, Kitty, who is still holding on to her airline job (she's currently on no-pay leave), considers herself an amateur. "We were hesitant about whether to move fully into the F&B industry as I have no background in it and we are not experienced in [operating a] business at all," shares the grounded boss.

Before moving into her current shop, Kitty was making her crepe cakes in the kitchen of a rented landed property, where she was able to increase her production by five times – from four to twenty cakes a day – thanks to the larger storage space.

"We started looking for a central kitchen last October but couldn't find a suitable space. It was a coincidence that a mother of my son's classmate asked if I wanted to rent her house," shares Kitty, whose business is named after her two sons, aged five and four. "She wanted to do some construction work but Covid affected her plans, so she rented it to me instead."
After about eight months at the rented property, Kitty eventually found the new home for Two Bake Boys at a modest 28-sqm ground-floor unit at CT Hub 2. It faces a driveway, so cars are able to stop right in front of her shop to collect the pre-ordered cakes.

"I've told my customers to call about five minutes before they arrive, and I will deliver the cakes to their window so they don't even need to get out of their cars," Kitty tells us excitedly. "Most of our customers choose self-collection so our new shop is perfect for that."

She declined to reveal how much she has spent to set up shop, but confesses that it's been "much more expensive than expected". There's renovation and licensing. Every time I need to buy a new fridge or equipment, it takes me so long to decide because I'm not a [professional] baker. I feel like I don't need [to invest in] something so expensive," shares Kitty.

The first-time boss has also hired three part-time staff to help with crepe-making and assembly. "I used to have Sundays off but now we're open every day. I'm still adjusting my schedule as I want to spend time with my kids too."

Prices have increased since our last feature (from $35 to $45 for the classic flavours), which Kitty explains is due to a rise in dairy prices and rental costs. The cakes are also slightly bigger (from 15 to 16cm) to offset the price hike.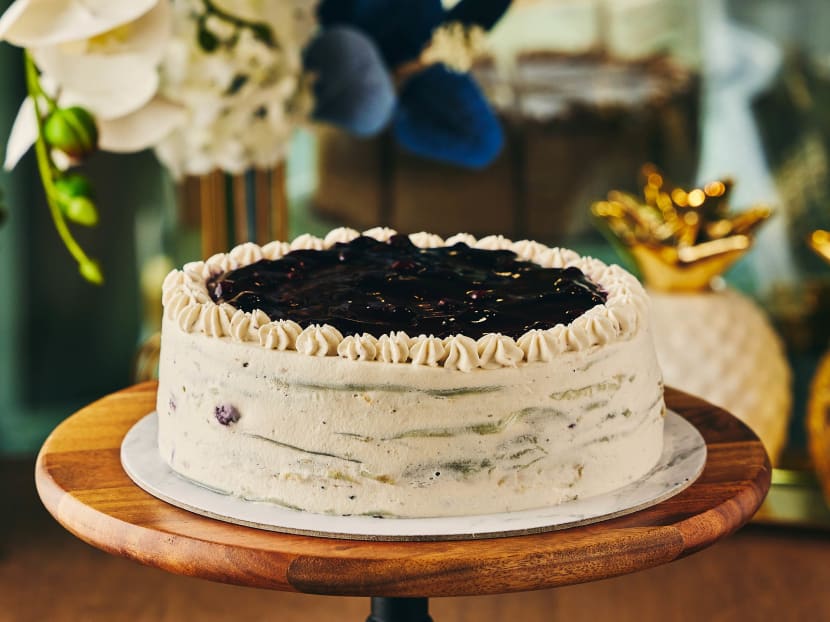 Opening a physical shop was "a big decision" that initially made Kitty anxious, especially when the airline worker recalled how her jet-setting career came to an abrupt stop during the pandemic. When speaking about this, her typically bubbly tone grows sombre.

"Phase 2 (Heightened Alert) really brought back memories [of how flights were first cancelled last year]. At first, I wanted to have a dine-in cafe area but we decided against it for now. I [am] also scared. We are not pros in this biz, so I just want to maintain the handcrafted feel of my cakes and the customer relationships – those are what make me happy."

Kitty sums up her journey thus far in one word: blessed. "It was emotional packing up our stuff to move into this shop," adds hubby Philip. "We were going through our first boxes from when we were a home-based business and looking back at how far we've come."
It's easy to spot the takeaway shop from the Lavender Street entrance of CT Hub 2 – the brightly lit space with cheery yellow branding and wood accents stands out in the otherwise stark industrial building. The kitchen is small, but efficient – while there is hardly any room to move around, the four-person team manages to make all the crepe cakes in this rather cramped space.
Kitty tells us that Phase 2 HA has not affected sales – in fact, she was busy making a huge order of 40 cakes on the first Saturday after her opening (soon after the new measures kicked in). However, she will scale back to her usual 20-cake production rate eventually as she wants to "relax" and "have family time". She plans to make an exception for festive occasions, which usually see an influx in orders. "We did well for the mid-autumn festival last year, as some of our customers were sending cakes to their clients instead of mooncakes!"

She is unfazed by any potential extension of HA. "We have accepted that this is the new normal and people are used to ordering our cakes for takeaway and delivery. We hope that having this shop and the drive-through service will encourage more customers to try our cakes."

To cope with her booming business, Kitty has relinquished her "essential services" duty doing visitor check-ins at a hospital, previously assigned by her employer. "They were very understanding and allowed me to pull out from the services."

Philip, who is employed by the same airline, is currently activated to help out with similar duties until the end of May. Both of them haven't flown in a year. "I may be flying again after this, but given the situation, we're not sure of anything yet," he shares. "My shifts either start or end at 3pm, so I'm here [at the shop] to help out in my free time."

Despite the popularity of their cakes, the pragmatic couple has no plans for further expansion. "We're still very new at this. I'm amazed by the power of social media and how we have an online business even though I don't even have a personal Instagram account! There's still a lot to learn," admits Philip.
The "Two Boys" – Kitty's sons Carter and Coby – were meant to be included in our photoshoot, until HA was implemented and she decided that they should stay home. "Yeah I keep them at home. I'm scared as this brings back memories from last year [during the peak of the pandemic]."

We're told that the boys are still huge fans of the original Thai tea crepe cake, while the new chocolate flavour is a close second. "They love adding rainbow sprinkles to the [chocolate] cake! Sometimes they help themselves to the cakes in my display fridge and I have to double check if I have enough for my orders," Kitty shares with a laugh.
You can't go wrong with the OG cake that started it all – the signature cha yen (Thai milk tea) crepe cake that Kitty learned how to make in Thailand. The tea flavour remains robust throughout the 18 to 20 crepe and cream layers, which come together nicely to form a perfectly springy bite. Do note that the crepe cakes here are thicker and more akin to silkier kueh dadar skins than delicate French-style pancakes. Kitty tells us she has increased the amount of tea leaves used in preparing the cake after customers shared that they prefer a stronger flavour. Want to make it even more 'gao'? Pour the strong but not too sweet Thai milk tea sauce onto your crepe cake to give it a richer, toastier finish.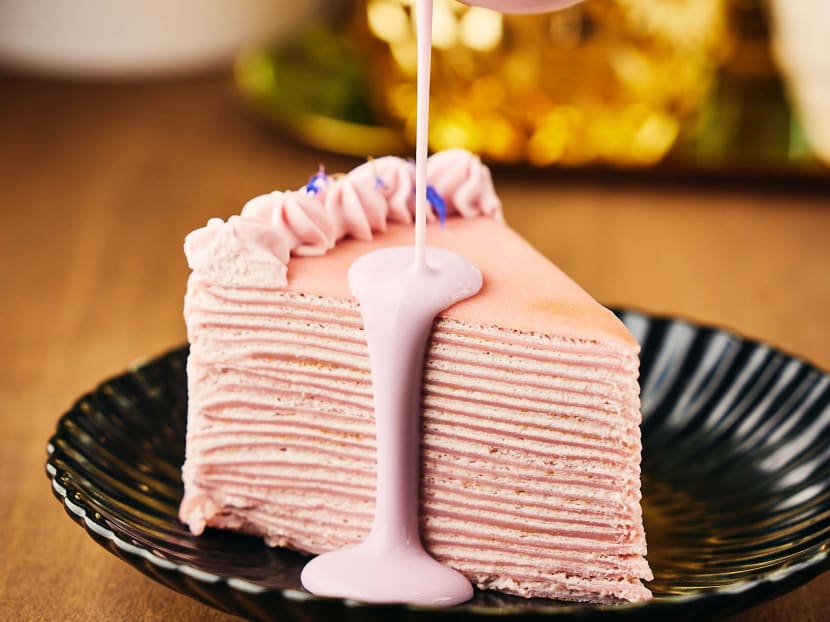 This reminds us of old-school yam cream cake from neighbourhood bakeries – which could explain why this is one of the best-selling new flavours at Two Bake Boys. Tender stacks of soft crepes and cream are generously spiked with taro powder, which gives the pastel pastry its beautiful purple hue and comforting, familiar aroma. The sauce is like a concentrated version of taro-flavoured bubble milk tea – add some if you want your crepe cake to be a tad sweeter and creamier.
Kitty infuses both her crepes and cream with cocoa powder to impart chocolatey depth throughout the entire cake – and that's what makes it so delicious. It's mildly sweet with a deep chocolate flavour and doesn't leave you feeling jelak even if you reach for a second slice.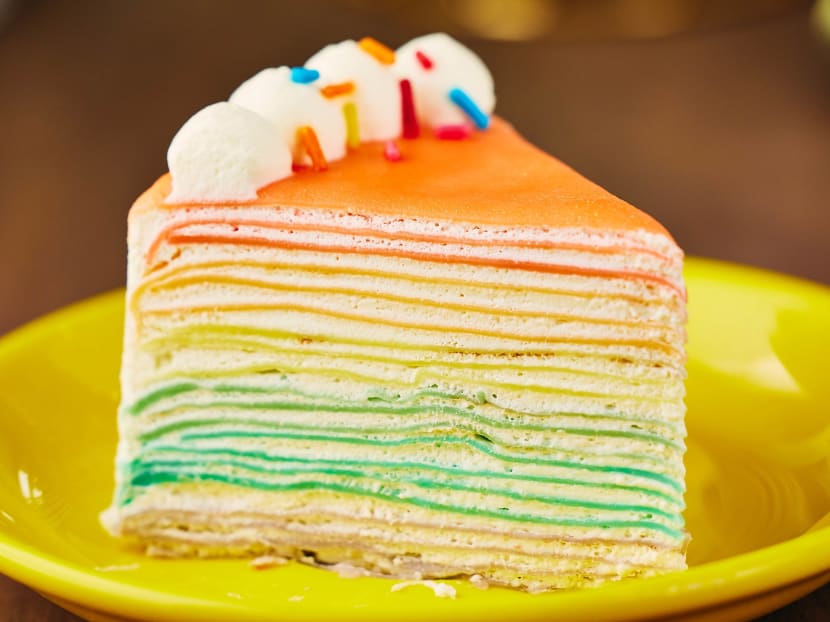 Though the vibrant ombre is a delight to look at, what really impressed us is the simple flavour of the cream in this pretty confection. You can tell Kitty uses good quality, full-bodied whipping cream that doesn't veer on being too rich. Jazz up the vanilla flavours with a drizzle of the accompanying strawberry sauce to give it a sweet, fruity jolt. This caffeine-free celebratory cake will make a great centrepiece at kids' parties and family gatherings.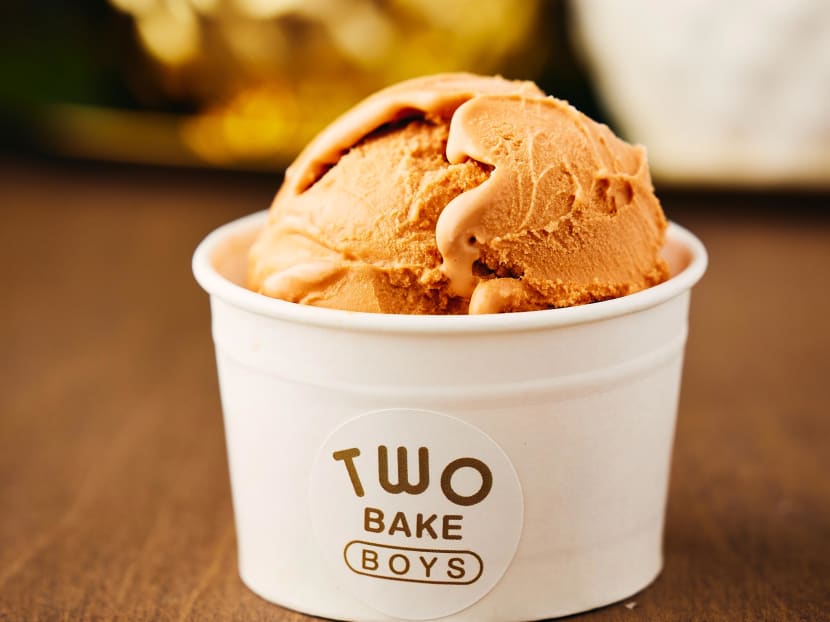 The new takeaway shop also offers gelato in three flavours: Thai Tea, Blue Pea Lemongrass and Tahitian Vanilla. We like the Thai Tea best – Kitty worked with a supplier to develop the gelato based on her Thai milk tea sauce, which explains why it has the same earthy intensity. The result is a smooth, creamy scoop with the right balance of tea kick and sweetness – don't miss this when you visit the shop.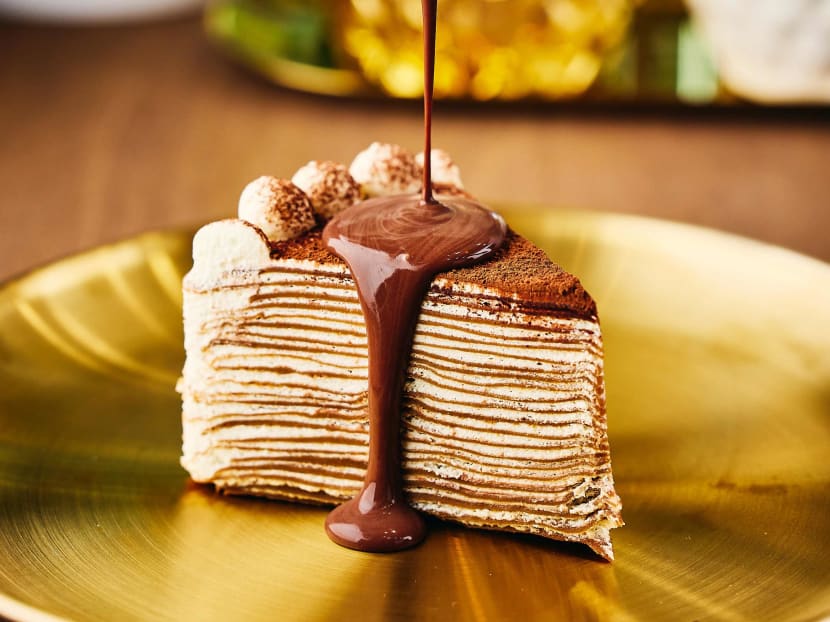 While these aren't the lacy, porous French-style crepe cakes we're used to, we appreciate Kitty's handcrafted versions with slightly thicker but still soft, pliable layers. The ever-expanding flavours at her new takeaway shop keep things interesting, and we really like the Thai tea gelato. Kitty's warm airline-quality service is the cherry on the (crepe) cake. We're also impressed by her and her hubby's ability to pivot to F&B so quickly and successfully during such a dark time for the airline industry.

Pre-order the cakes at www.twobakeboys.com. Self-collection available from 11am to 5pm at #01-04 CT Hub 2, 114 Lavender St, S338729. @twobakeboys
All photos cannot be reproduced without permission from 8days.sg
Photos: Alvin Teo