Illiterate Elderly Hawkers Who Can't Offer Delivery Forced To Consider Closing Stalls
Some of them, unable to read and write, have trouble taking online orders & suffer poor biz.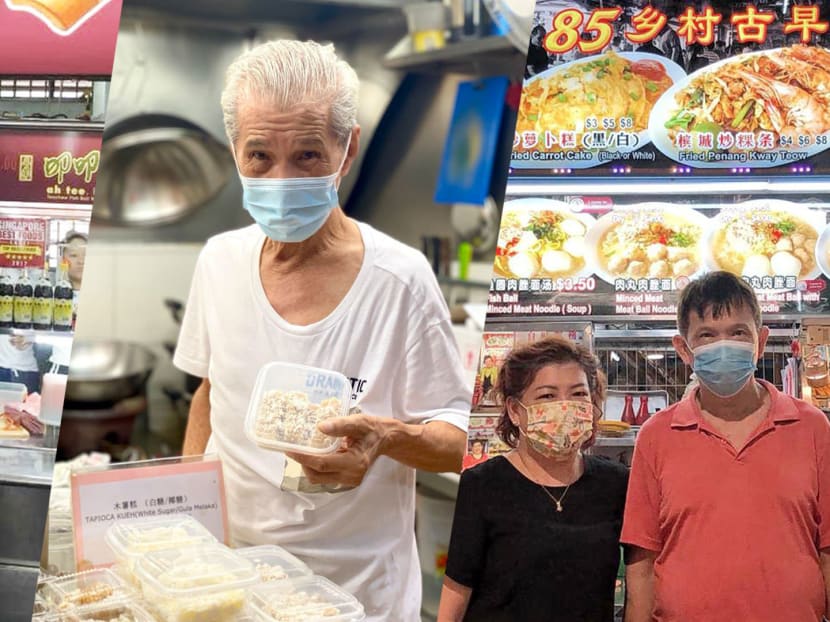 The no dine-in rule for Phase 2 (Heightened Alert) has gotten everyone staying in, and for some, relying on food delivery for meals. While online ordering and delivery is a convenient benefit for F&B owners, there are also elderly hawkers who fall off the technological grid.

One instance is Sim Ah Tee, 73, who has been a hawker for over 50 years. He started out with a pushcart in Jalan Besar hawking 'ko ko mee', fishball noodles which got its name from the seller hitting bamboo with a stick to produce a 'kok kok' sound to attract customers. He moved into his current stall, Ah Tee Ko Ko Mee, at Jalan Berseh three years ago.

Being unable to read or write, Ah Tee was at a disadvantage when the Covid-19 Circuit Breaker started last year. While eateries and hawkers scrambled to offer food delivery, Ah Tee could not keep up with the new technology. "At the age of 70 plus, he's not agile enough to multitask anymore. He's still using the old Nokia handphone," his son Calvin Sim, 49, tells 8days.sg.

All photos cannot be reproduced without permission from 8days.sg.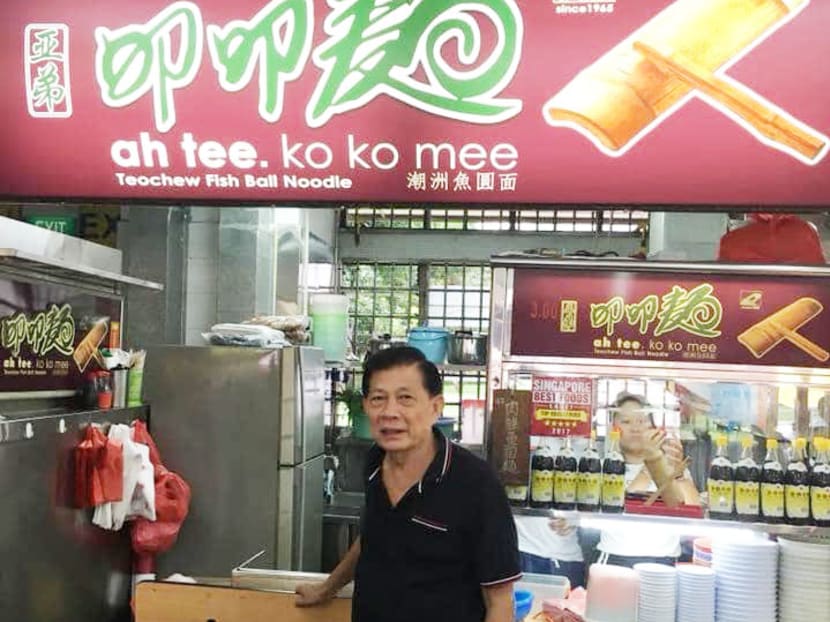 Ah Tee's stall suffered from the no dine-in rule implemented during Phase 1 last year, and again this year for Phase 2 (HA). "Takeaways are few. Only a few regulars patronised his stall once the restrictions were announced," Calvin shares.

It doesn't help that Ah Tee (pictured above) also faces competition from the bigger, more well-known Berseh Food Centre nearby. Despite the slow business, he has continued to open his stall as usual. "He's a committed person. He's making a loss every day, but insisted on carrying on till now despite using his own savings [to sustain]. As I'm working, I can't manage his calls for him," says Calvin, who tried to help his dad drum up business by posting about the stall on Facebook foodie groups like Can Eat! Hawker Food.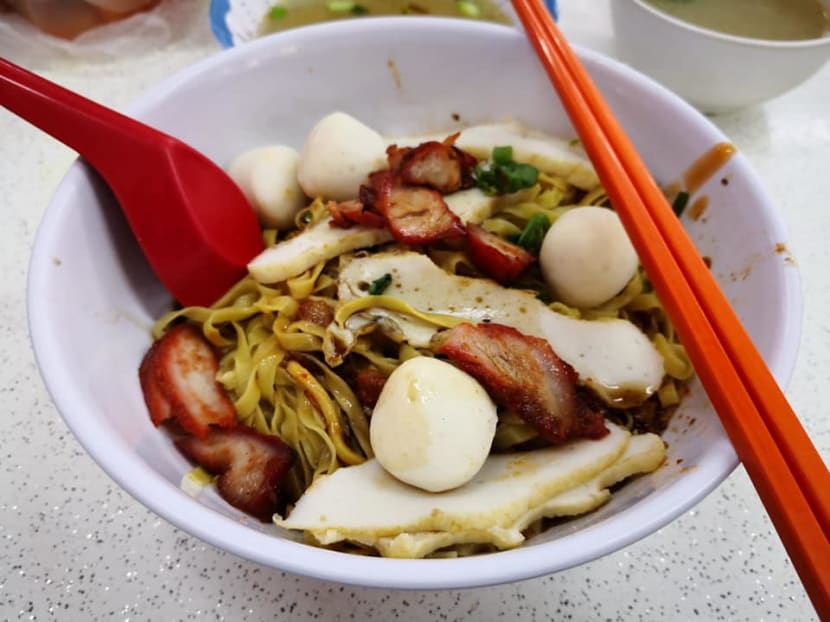 But the sharp drop in income affects Ah Tee's morale. "He told me if he continues to make a loss, he will consider quitting," Calvin reveals. "I could tell from his eyes, when he told me his decision, that he's not happy to retire. It's never easy for him to give up after spending almost his entire life building his business. But no choice, sooner or later he still has to let go."

Calvin himself had set up two ko ko mee stalls a few years ago, but shuttered them "due to high rental and manpower [issues]". He's now working a salaried job as a kitchen assistant in a central kitchen. When we ask if he would consider taking over his father's stall, he chuckles: "This current situation, how to take over? Scared scared (laughs)."

Ah Tee Ko Ko Mee, #01-100 Gourmet Street, Blk 27 Kelantan Court, S200027. Open Mon-Sat, 5.30am-1.30pm.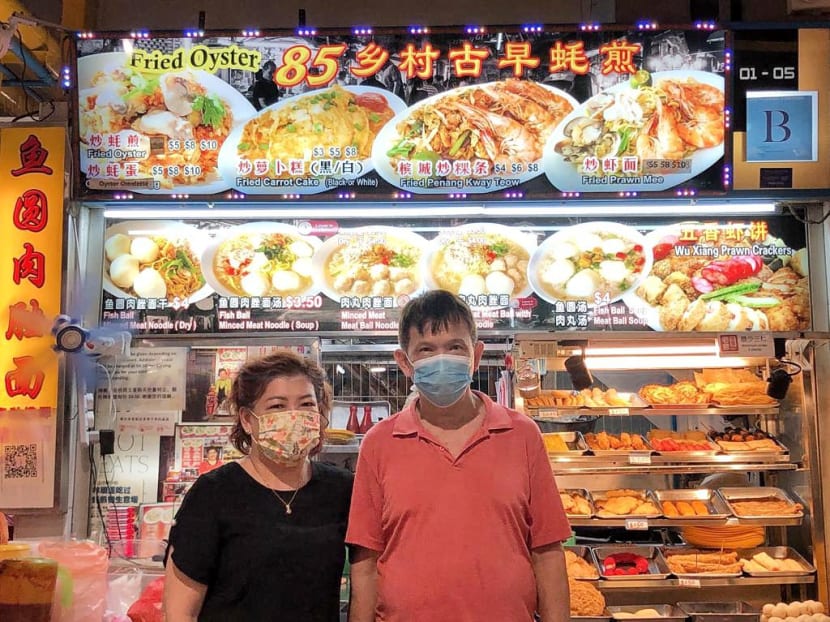 Like Ah Tee, hawker Goh Peng Huan, 61, struggles with dismal numbers. Together with his partner Anne Tan, 59, he runs the 85 乡村古早蚝煎 stall at Fengshan Centre in Bedok selling fried oyster omelette, carrot cake, bak chor mee and handmade ngoh hiang till 11pm daily.

From February to June last year, they had zero income as their hawker centre was undergoing renovations, which were delayed by the pandemic. When Phase 2 (HA) kicked in on May 14, 2021, there was immediately a "drastic drop" in business. Speaking to 8days.sg, Peng Huan's daughter Desrina Goh, 39, says: "There was a 60 per cent drop in customers. Today was the worst yet, not even 30 per cent of the usual number of customers."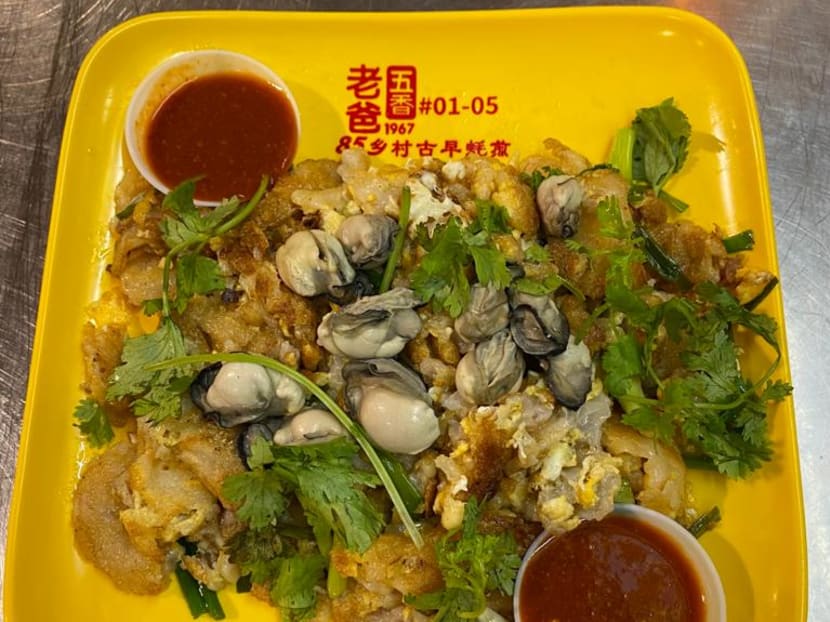 Delivery is also out of the question for Peng Huan. "My dad is illiterate, so it's very difficult for him to work with a digital delivery platform. WhatsApp orders are not possible as well, because he can't read," Desrina frets.

She, too, turned to social media to help her dad. "We have seen the Hawkers United Facebook group by [founder] Melvin Chew helping a lot of hawkers. We hope posting online can help promote hawker food to people," she says.

85 乡村古早蚝煎 #01-05, 85 Fengshan Centre, Blk 85 Bedok North St 4, S460085. Open daily 11.30am-11pm. Closed on alternate Tuesdays.

Despite the tough circumstances, there are also heartwarming instances of customers helping elderly hawkers - while not necessarily illiterate but less tech-savvy - to promote their stalls. Like Malaysian author SockPeng Ng, who recently posted about a Tampines stall called 915 Prawn Mee. It's run by an 80-something auntie who has been a hawker for over 50 years.

The auntie tells SockPeng that she decided not to offer delivery due to its logistical challenges. "If the food spills along the way, I have to make the order again. If the delivery is too slow, people will complain that the food is cold," she says.
According to SockPeng, the friendly auntie serves Penang-style pork rib prawn mee with a chilli-spiked broth. Despite her income loss, the hawker has a can-do outlook: "I'll just take what I can get."

915 虾面, 827 Tampines Street 81, S520827.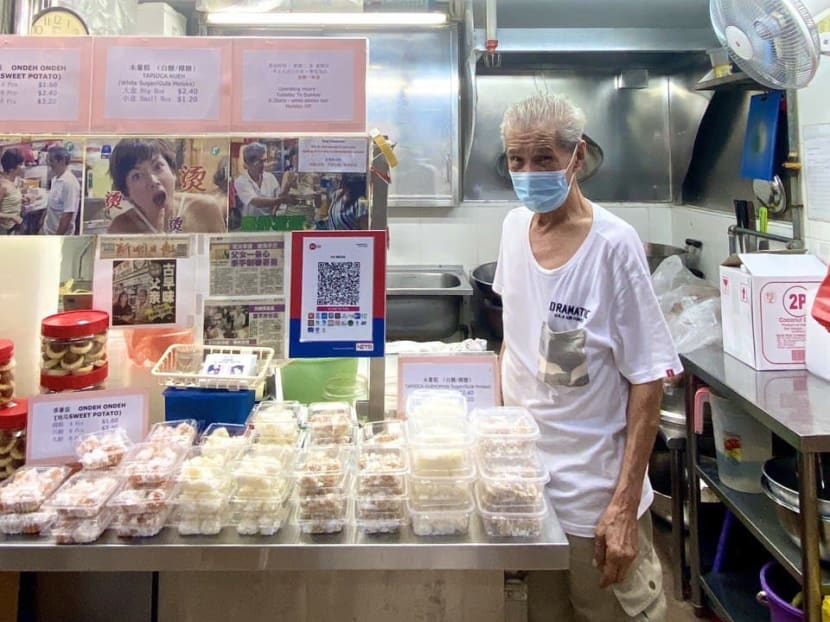 When we drop by Hong Lim Market & Food Centre, most of the stalls are closed. The usual bustling hawker centre is an eerie sight, but amidst the dim lighting, we spy a stall's brightly-lit signboard. It belongs to Lee Ah Meng, 78, who has been selling his handmade sweet potato ondeh ondeh and tapioca kueh at his stall Ah Meng for 21 years.

The snowy-haired hawker has been waiting for customers all day, though they were few and far between. It's evident that he takes pride in his craft; as we load up on his kuehs, he proudly tells us he's the "only one in Singapore making this gula melaka tapioca kueh".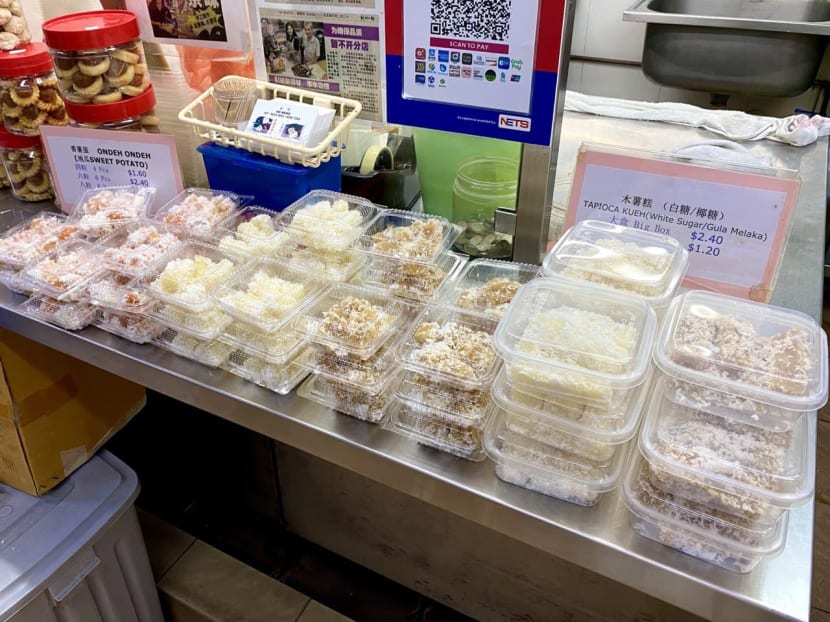 Take it from us: his old-school kuehs are very good (and oddly enough, even better the next day after a stint in the fridge, per his recommendation). The sweet potato balls are smooth with bits of crunchy grated coconut, and gently burst in our mouth to spill sweet gula melaka, while the gula melaka tapioca kueh has the ethereally delicate texture of warabi mochi.

His wares usually sell out by noon, but at 4pm on the day we visit, there are still many boxes of soft coconut-coated kuehs piled in front of the stall. Wouldn't your kuehs move faster if you do delivery, we remark. But Ah Meng rejects the notion due to supply issues, and old-fashioned loyalty to his walk-in regulars.

"I make my kuehs by hand, so there are limited quantities. If I have delivery, my regular customers who come here may not be able to get anything," he says. When we ask what he is planning to do with his leftover stock, he looks sad for a moment before replying: "Never mind lah. I'll take them to the old folks' home later."

#02-45 Hong Lim Market & Food Centre, 531A Upper Cross St, S051531. Open Tues-Sat, 8.30am-6.30pm, Sun 8.30am-4pm.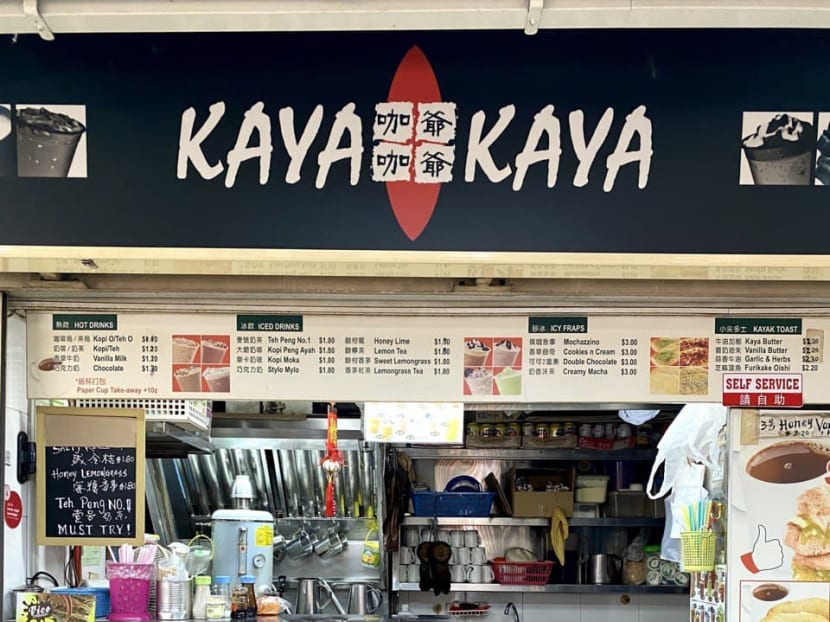 Another overlooked group of hawkers who usually don't benefit from food delivery culture: drinks stall operators. As beverages like coffee and tea can be prepared at home, people usually save the delivery costs and make their own. "Even if we have delivery, there's no one ordering," drawls one Mr Loh, in his 60s, a stall assistant at popular toast stall Kaya Kaya at Hong Lim Market & Food Centre.

Business has not been great, he says, but his stall is still open to cater to the few customers who come by. Incidentally, the amusingly jaded Mr Loh serves, in our opinion, the best milk tea in Singapore. Called Teh Peng No.1, it's an ultra gao (thick), ultra milky chilled concoction with a floral tea whiff that begs for some chewy BBT pearls. Worth a detour to tapow.

So folks who plan on ordering food delivery through Phase 2 (HA), do consider visiting (with safe distancing) the hawkers out there who depend on walk-in customers to keep their businesses afloat. Meanwhile, we're hoping for a delivery system that can help F&B owners who can't read or write (perhaps a system that uses photos and numbers? Hmm. Fingers crossed.)

Kaya Kaya, #01-71 Hong Lim Market & Food Centre, 531A Upper Cross St, S051531. Open daily 8am-5pm except Sat, 8am-5.30pm.

Photos: Calvin Sim, Desrina Goh, SockPeng Ng, Yip Jieying