Interior Designer Sells Delish Sio Bak In Unique Mala, Pesto & Mustard Flavours
His home-based biz Juno Roast Pork is named after his five-month-old son.
There's nothing quite as satisfying as the ASMR-ific crunch of sio bak. With aspiring home cooks serving up dishes from ramen to smoked brisket, it's about time that sio bak made an appearance. We're quite happy seeking out our favourite hawker stalls for our hit of the roast pork — though we've found a surprisingly delicious version from a home cook. An interior designer, no less.

Juno Roast Pork is run by 35-year-old Tay Junlong, a full-time interior designer who started his little food biz from the kitchen of his Bendemeer flat during Phase 1.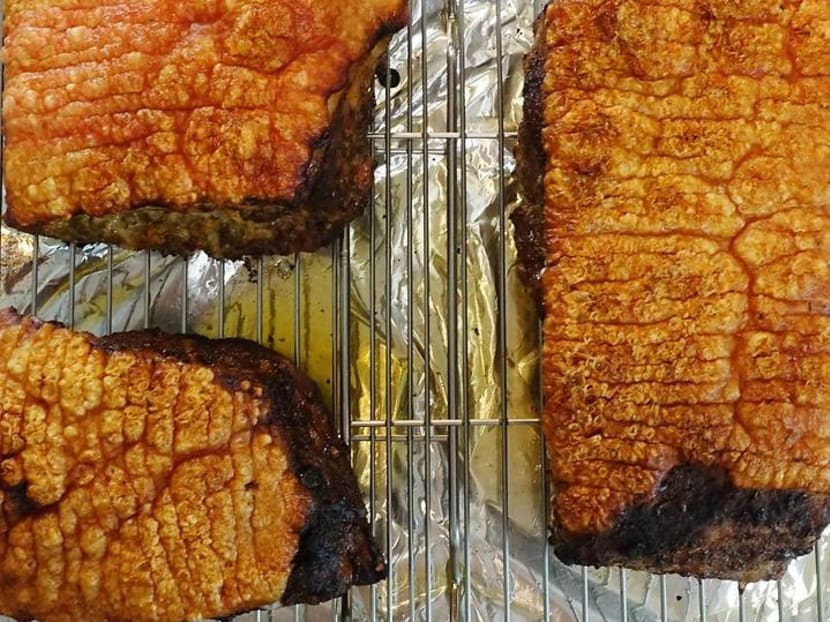 Even though he has no formal culinary background, Junlong's passion and knack for cooking stems all the way back to his school days.

"When I was in my early 20s, I was trying to decide between studying interior design, or heading off to culinary school." Eventually, he decided to pursue an interior design course at Singapore Polytechnic, graduating with a diploma in Interior Design in 2004 when he was 19. Upon graduation, Junlong joined both commercial and residential interior design firms, before finally starting his own commercial interior design company, Space Invasion, in 2016, which does work for retail outlets, offices and F&B joints.

Throughout the eight years since becoming a commercial interior designer, Junlong never gave up cooking for friends and family, but kept it as a hobby — up till April this year.
When the Circuit Breaker hit in April, Junlong suddenly found himself with no work to do. "Suddenly, I found myself with a lot of free time on my hands," says Junlong. Even though there were still commercial projects in the pipeline, all the work for the projects had been paused until further notice.

He consulted Youtube videos and online articles for different techniques on improving his sio bak recipe. During this time, he also dabbled in all kinds of cuisines, though sio bak was the one thing he kept making. "This was the dish that caught the attention of my family and friends, even before I started Juno Roast Pork."

After Phase One started in June, Junlong continued staying at home most of the time as the commercial interior design projects were still on hold due to regulations — plus, his wife Jacqueline, had just given birth. "Jac and her confinement nanny both became the taste-testers for my sio bak," says Junlong with a laugh.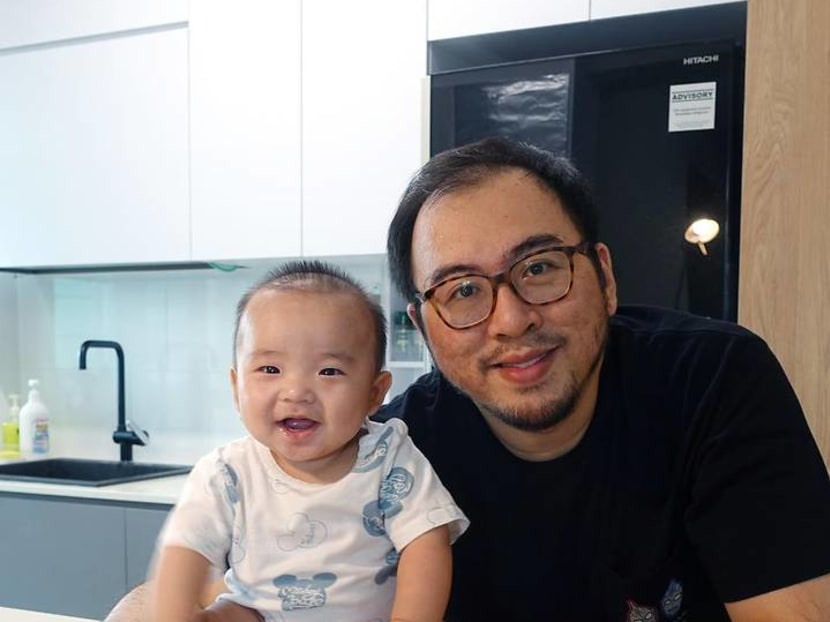 Who's Juno, you ask?

None other than the couple's five-month-old son. Junlong explains, "At first, I also didn't know what to name my business, until one day I was speaking to my wife about it and I suddenly had the thought: what if we just named it after Juno? And it has stuck ever since."

When asked how he imagines Juno might react once he's old enough to understand that the roast pork business was christened after him, Julong replies simply, "Hopefully, he'll be proud of his name!"

On whether he'd consider going full-time into F&B, Junlong says likely not — he will probably stick with interior design even in the future. "That said, if Juno Roast Pork really picks up and things do much better than we expect, I'll of course consider expanding the business and scaling up." At the moment, looking into a shared kitchen, and perhaps even opening a pop-up store are all possible avenues to him.
Being a new parent is no mean feat to begin with. Throw in a full-time job and a fledgling home biz, and you've got a very, very busy man.
"I won't lie, it's really quite tiring. That's why I'm keeping the deliveries to only Friday and the weekends — that's when it's easiest to plan in advance, as I won't be called down to a job site out of the blue," says Junlong. "Right now, design projects are restarting again, though I'm still not as busy as I used to be. Juno's Roast Pork does a bit to supplement my income."
However, prep for every batch of sio bak starts three days in advance, meaning that he has to prepare the meat on Wednesday and Thursday as well — leaving only two days of the week free from his sio bak commitments.

His wife Jacqueline has a full-time customer service job in the government sector (she helps him handle the admin for Juno Roast Pork), so Junlong usually spends his mornings and evenings taking care of baby Juno. He goes to a childcare centre in the afternoons, which frees up the couple's schedule for their respective jobs.

Despite the plethora of commitments, Junlong still considers it all manageable, for the time being. "Right now, projects are still coming in slowly, so I'm still not slammed trying to juggle everything just yet."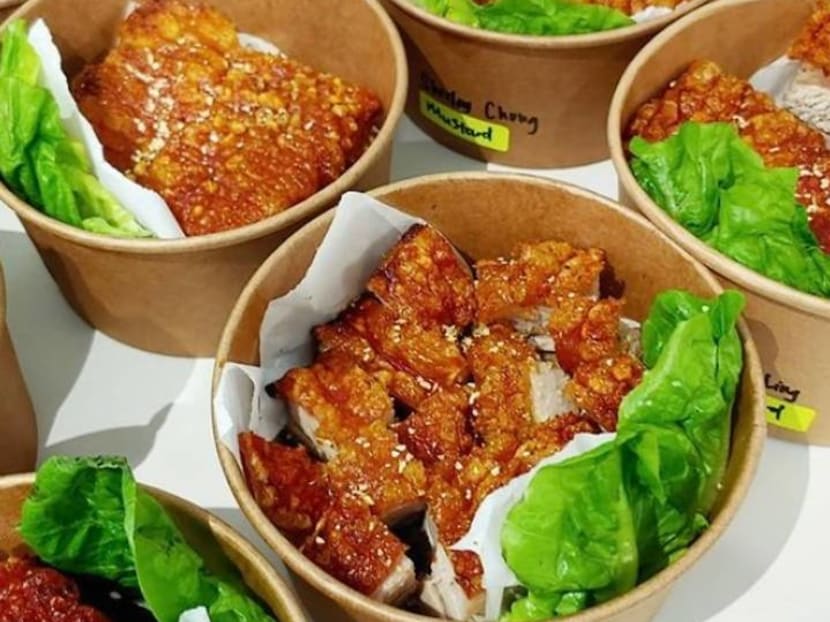 After their "soft launch" period in June and July when the couple got their friends and family to give them their feedback, Junlong decided that they were ready to open orders to the public. As with most home businesses, things were slow at first — he had around five to six orders a week, all from friends who ordered to support him (now, a busy week can draw in twenty orders).

This was when they had the idea of reaching out to local celebs via the Juno Roast Pork Instagram account, to gain some exposure and feedback. "We messaged a bunch of celebs — around 15 or so — and luckily out of all of them, Zoe Tay responded, along with Paige Chua," says Junlong. He sent over the sio bak to Paige and Zoe in October and November respectively, and received their stamp of approval. "They said they really enjoyed the crispy skin."
Juno Roast Pork's sio bak is available in three flavors: Mala Five Spice Powder, Garlic Mustard and Herbs, and Italian Herbs and Pesto. All flavours are sold at $40 per 500g box — on the pricey side, when compared to famous hawker stalls like Kim Heng Roasted Delights in Serangoon that sells their sio bak at $48 per kilo.

"To be honest, I don't really compare my sio bak with the famous brands out there. I consider mine quite different due to the flavors," says Junlong. "I just do my best to keep on improving and perfecting my version."

"This sio bak has actually been two years in the making — I started out doing regular roast pork, and that was a hit. Then I started thinking — perhaps I can bring some colour to this traditional dish."

During his circuit breaker R&D period, Junlong started thinking of seasonings and marinades that he could use to infuse his sio bak recipe with Western flavours. And like a true interior designer, he put the visuals first in his R&D process. "Sio bak in itself is just brown and white. So I began by thinking along the lines of different colours — like red, green and yellow — and started coming up with new flavours from there."

After buying the slabs of pork belly fresh from the market, Junlong will score the skin of each slab, before leaving it to sit in its marinade for 24 to 48 hours in the fridge. After it has been marinated long enough, the meat is taken out on the day of delivery, and roasted for about two hours in his modest conventional oven before being left to rest. It's first slow-roasted at a low temperature, before being broiled at the highest setting to finish — the secret to the crispy skin and juicy meat, says Junlong.
Currently, Junlong is able to produce about 15 to 20 boxes each day — a total of about 10kg of pork each day.

"The fact that we only have one oven is a bit of a limiting factor, as there is only so much meat that can go in at once," says Junlong. "I've been considering using my interior design skills to use and rejig our kitchen a bit to accommodate an extra oven and chiller!"

To ensure that the skin is still crispy, the sio bak should be consumed within the first two hours upon delivery. If you'd like to reheat the roast meat, it can be heated up in the oven or air fryer for about 15 to 25 minutes.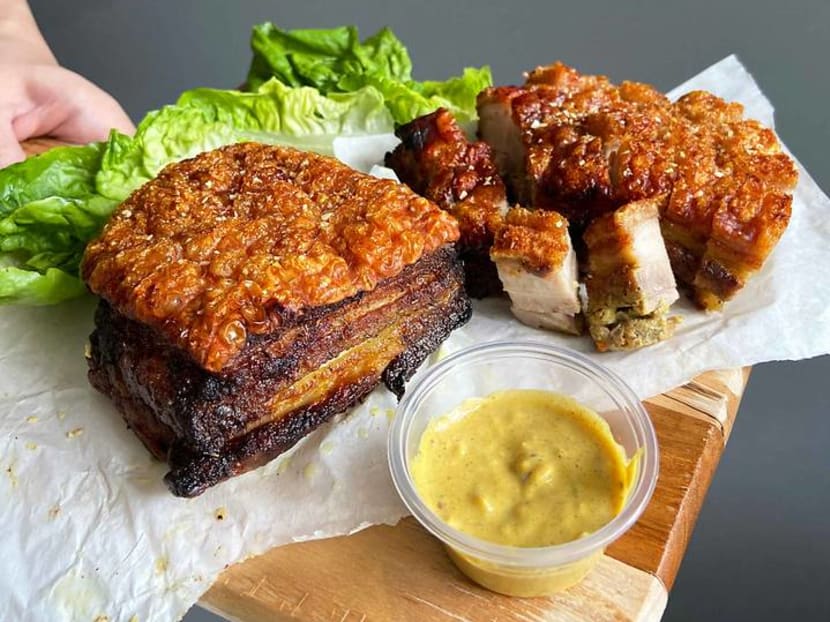 The brick-sized slabs of Indonesian pork come pre-sliced, but we asked for this one to be left whole and it turned out to be our favourite among the three. Junlong is upfront that he uses mass market bottled sauces like Barilla pesto for this, along with fresh thyme and basil. Because making his own sauces from scratch wouldn't justify the time and money spent for only minimal returns on flavour. Moreover, he adds: "I need the marinade to stay consistent throughout. I didn't want to choose an obscure brand and then suddenly have it go out of stock on me!"

We warmed this up briefly in the oven and the golden, blistered skin was shatteringly crisp, light and dreamy with the tender, succulent pork layered with just enough melting fat. To be honest, we couldn't really detect the pesto, just faint whiffs of fresh herbs, enough salt to stand up to the richness of the meat, and an undertone of familiar five-spice powder.

All the pork here comes with your choice of four homemade sauces: Mala Sesame, Thai BBQ, Garlic Mustard and Wasabi Mayo. We had the piquant Thai BBQ and slightly sweet Garlic Mustard — both good but the Thai one is punchier.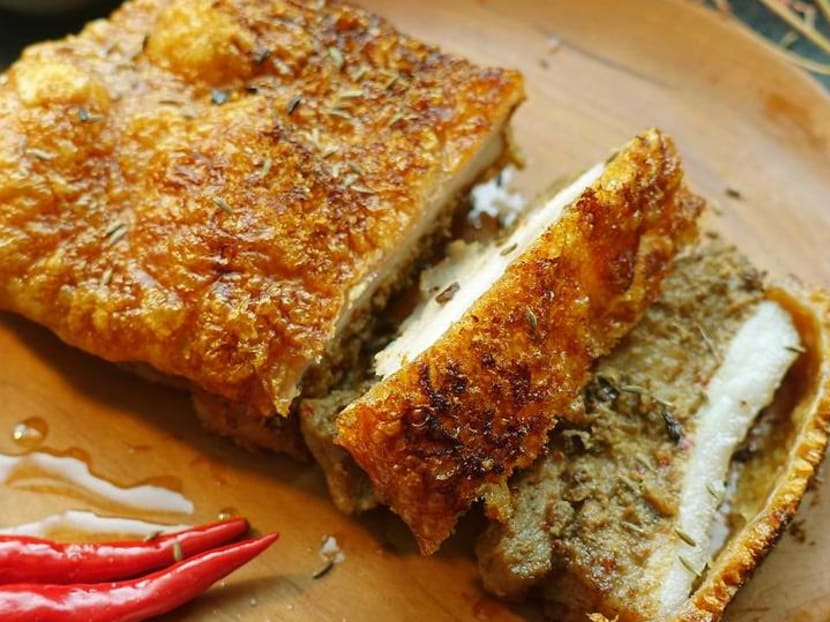 We're not usually fans of mala anything, but this slab, rubbed with fermented beancurd, five-spice powder and bottled mala sauce (from NTUC online) is yummy. The mala only stings the pork lightly with its heat, and though the fermented beancurd isn't exactly distinguishable, it adds a layer of complexity to the flavours. Addictive.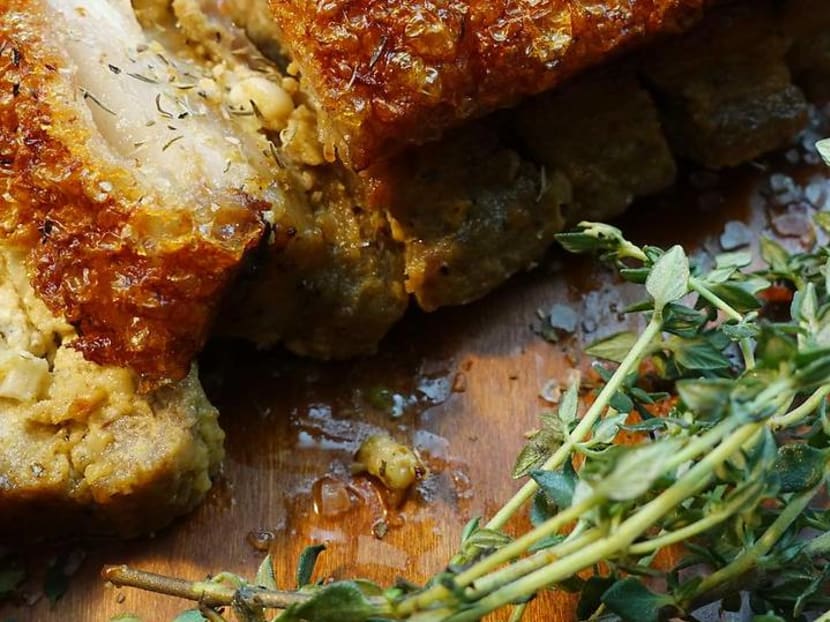 The slightly sharp savouriness of mustard (Junlong uses a mix of Dijon and American yellow mustard) adds a refreshing tang to the chopped garlic, brown sugar, pink Himalayan sea salt, dried Italian herb and black pepper rub on this sio bak. We like.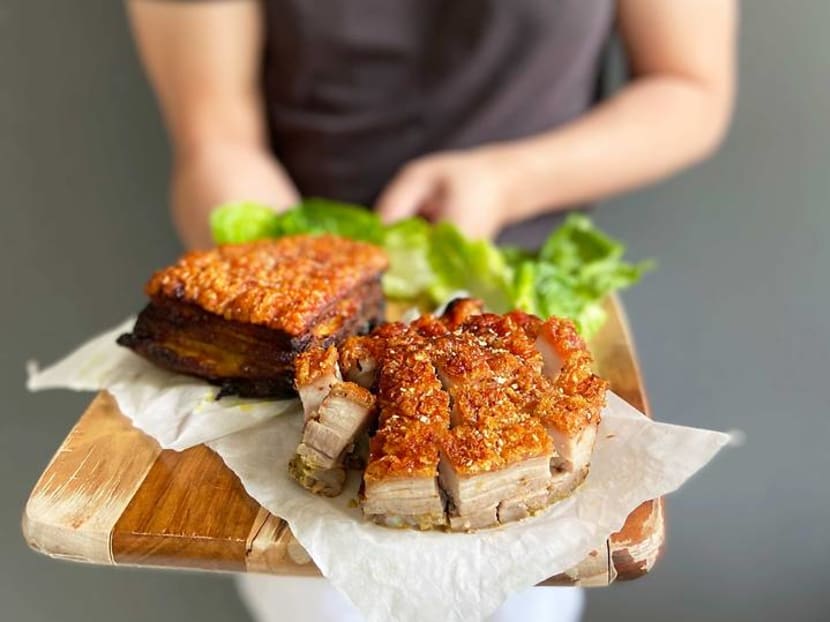 Excellent sio bak that boasts a lightness of texture, with layers of flavours that are both refreshingly modern yet familiar. It's not cheap for the modest portion, but we suppose that's the way it goes for home business owners who don't get to buy their ingredients at wholesale prices and have to be compensated for the time that goes into producing small batches from modest kitchens. Worth the splurge for the upcoming festive season (you'll need at least two portions — ask for it to be unsliced and warm up before serving) if you want a taste of great home-cooked sio bak instead of the commercial variety, we suppose.

Order through Juno Roast Pork's Instagram or Facebook via their Google form. Delivery on Fri, Sat & Sun, with pre-orders opening three days before date of collection/delivery.
Photos: Florence Fong & Juno Roast Pork