Jack Neo's Daughter & Son-In-Law Launching Collagen Soup Brand At FairPrice Finest
Their soup biz isn't the only baby they conceived during the Circuit Breaker.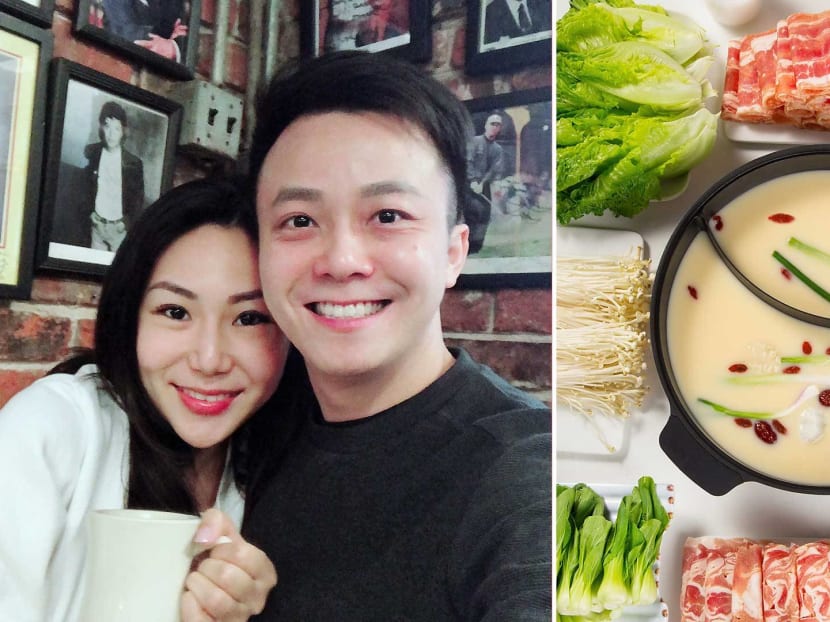 While everyone was homebound during the Circuit Breaker period this year, Ethel Neo has been keeping busy. The 29-year-old daughter of Jack Neo launched a collagen soup business, Chu Collagen, in April with her husband Peter Lau, 35. The enterprising couple has been running their own online diamond simulant jewellery label, Éclat by Oui, when they decided to set up a food biz. "Our jewellery business is a bit more stable now, so we wanted to venture into new grounds and go into F&B since we're both still quite young," shares Ethel over a phone chat with 8days.sg.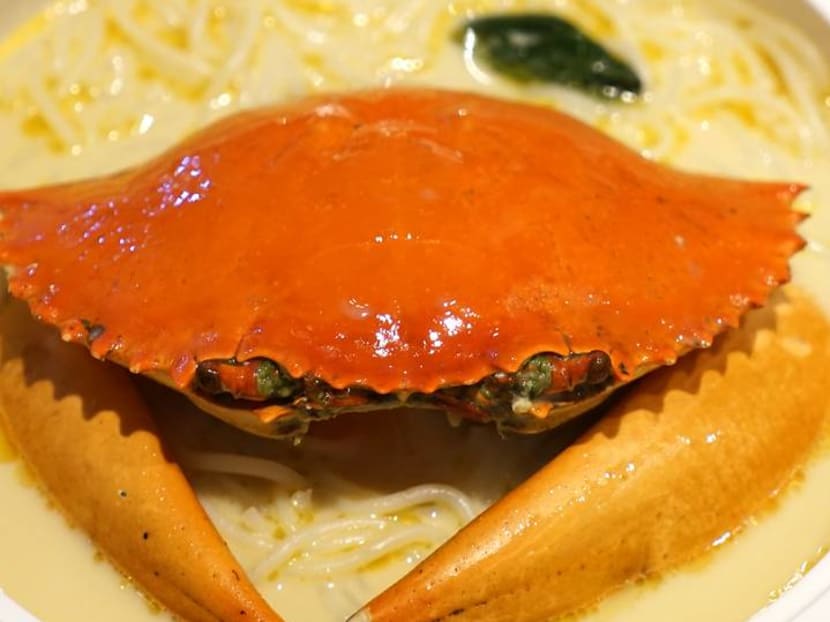 Chu Collagen offers just one star product, a chicken-based Premium Collagen Soup Pack which is sold in a one-litre bundle ($28) of two 500ml packs, or a two-litre bundle ($50) of four 500ml packs on their website. Come September 28, the soup will also be sold exclusively at FairPrice Finest supermarkets, at $14 for an individual 500ml pouch.

According to recipes on Chu's website, the soup can be used to make dishes like hotpot, risotto, crab bee hoon, porridge and fish maw soup. Chu Collagen is also named after the cutesy Japanese onomatopoeic slang for the sound of a kiss. "It's the word that the Japanese use for something they adore," says Peter.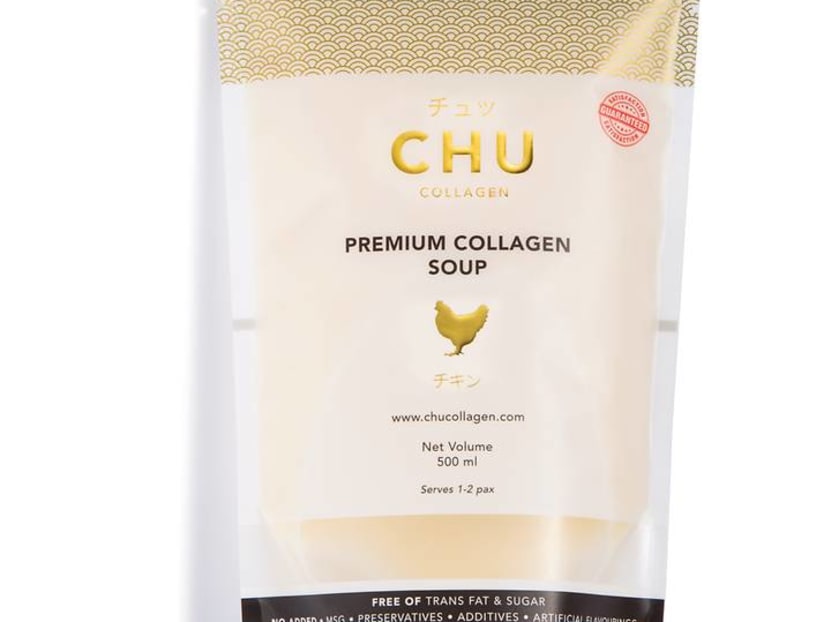 The collagen broth, which is cooked in a food production facility and packaged in "BPA-free pouches", is double-boiled for eight hours with "chicken, chicken bones, salt and ginger" using Ethel's own recipe. "It took one year for us to perfect our recipe. We added a lot of chickens to get that thick, almost sticky taste, like what you'd get at [collagen hotpot chain] Beauty in the Pot," she recalls.

She had begun craving for wholesome, nourishing food after giving birth to her first child in 2018. "I like soupy stuff, like steamed fish, crab bee hoon or pig's trotter in vinegar," she laughs. Peter adds, "She loves hotpot, so we wanted to recreate restaurant-quality food at home."

Husband-and-wife were eventually convinced by their family and friends to set up a soup biz. "Jack absolutely loves the soup. He was one of the first people in our family to ask us to start selling it. He was also part of the tasting team when we were developing the soup with the factory," says Peter. (Incidentally, veteran actress Lin Meijiao's daughter, Chantalle Eng, also has her own collagen soup biz called Yuan Collagen Soup.)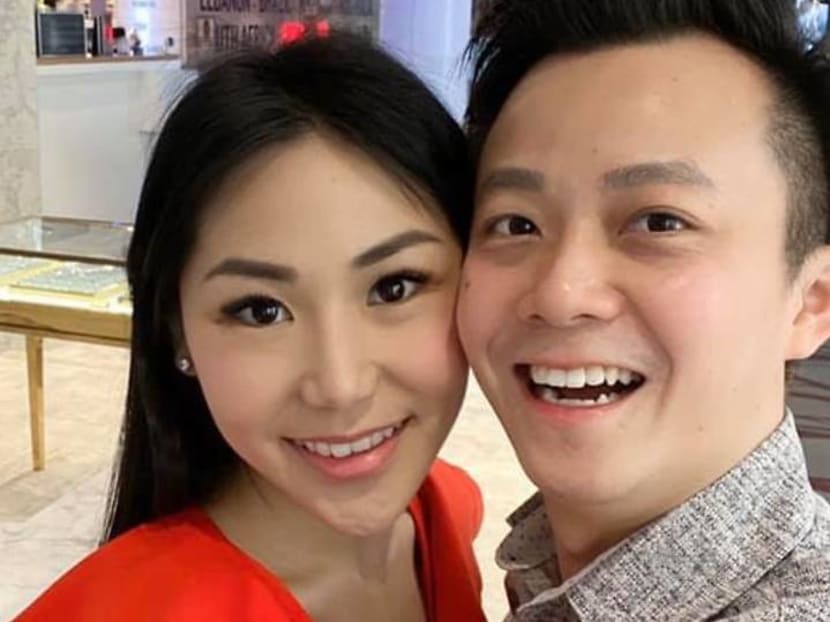 According to the couple, Chu Collagen also came about due to very fortuitous timing. They approached a manufacturer to produce their recipe "after Chinese New Year this year" without knowing that the pandemic would worsen, and got the operations on track just before the Circuit Breaker started. "Everyone was staying at home, so they ordered and tried our soup," says Ethel.

She reckons their pivot came at the right moment: "Our jewellery business was affected [by Covid-19]. Fewer people were going out, so they weren't buying a lot of jewellery, especially our elaborate pieces. But we saw more people getting our simpler designs, like ear studs."

Other than offering soup for home cooking, Chu Collagen is currently partnering ramen restaurant Takeshi Noodle Bar at the local Hotel Soloha, which uses the collagen broth in its Chu-ni Broth Ramen with Murasaki uni and Seafood Mala Collagen Ramen. Ethel and Peter are also working on "two to three more soup flavours", one of which will be launched "at the end of October".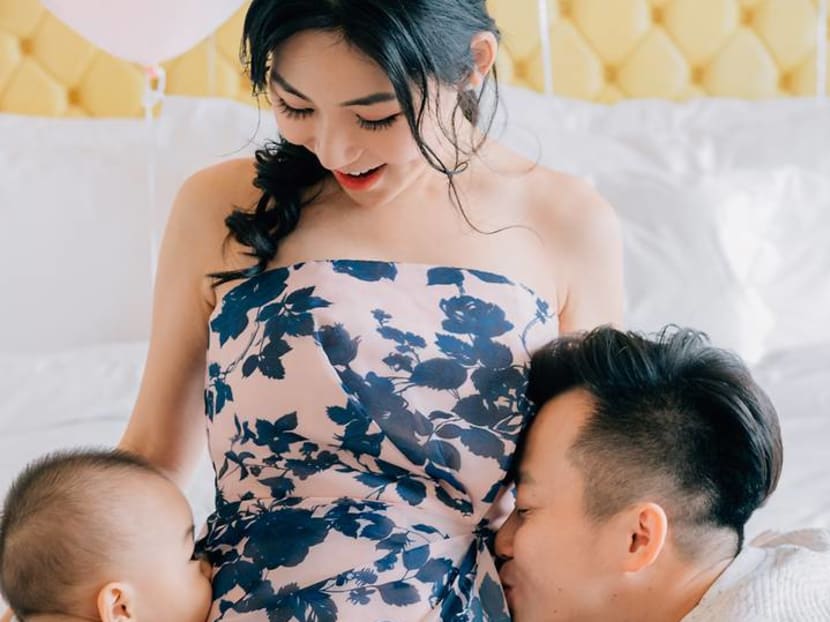 Other than setting up Chu Collagen, Ethel and Peter – who met at a motivational camp – also shared with us the good news that they're expecting a sibling for their 22-month-old son, Flynn Lau. Says Peter, "My wife and I conceived two babies during the Circuit Breaker (laughs)."

Ethel is currently 20 weeks along. "I'm due next February," she reveals. "The first trimester was quite bad for me. It was very different from my first pregnancy, so I was quite taken aback. But I'm back to my normal self in my second trimester (laughs). We've been trying [to have a second kid] for some time, because we wanted the age gap of our kids to be near. So when I got pregnant, I was like, 'Oh, yay!'"

According to the seasoned parents, they're now "not as kancheong". Ethel shares, "We're very chill about it. We don't really check the pregnancy app, which reminds us how many weeks I'm at. I'm also craving lots of pig's trotter in vinegar. Everyone around me is just really grossed out by it by now!"

Chu Collagen will be available at all FairPrice Finest supermarkets from September 28, and online at www.chucollagen.com.

PHOTOS: CHU COLLAGEN/ ETHEL NEO & PETER LAU/ JACK NEO'S INSTAGRAM