Japanese Mee Pok Hawker Back In S'pore With New Stall After Closing Tokyo Shop
He's back to cook his ramen-meets-BCM, with a crayfish version, at Li Yuan Mee Pok.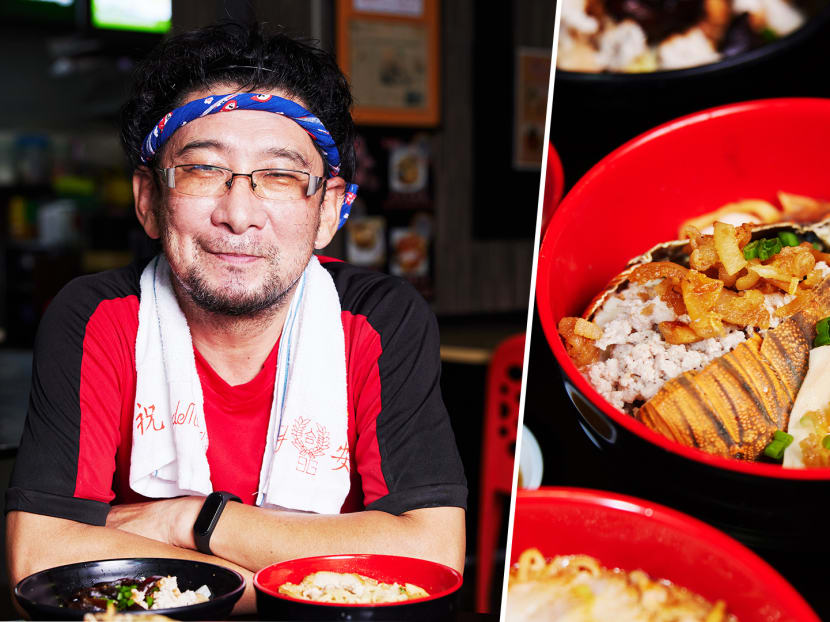 If you've been wondering what happened to Naoji Kuribara, 54, the Japanese salaryman-turned-mee pok tow kay who owned Li Yuan Mee Pok at 710 Clementi West, he's back in action at a new branch of his stall named after Naoji's name in Chinese. It's located in a kopitiam within an industrial park in Boon Lay, a short bus ride from Clementi central. We first met Naoji-san in 2016 when 8days.sg profiled him and his family — they ran two mee pok stalls in Clementi West, one fronted by Naoji, and the other by Naoji's teenage kids, son Yuki and daughter Reiya.

In May 2018, the family moved back to their home city of Chiba (near Tokyo) because Naoji's wife and kids wanted to live in Japan. They closed down one of their mee pok outlets and handed the cooking duties at the original 710 West Clementi stall to a Singaporean friend of Reiya's, who's still running the stall today under the Li Yuan brand which Naoji owns. According to Naoji, both his kids now work in Japan Post, while mum works with an instant noodle manufacturing company.

All photos cannot be reproduced without permission from 8days.sg​​​​​​​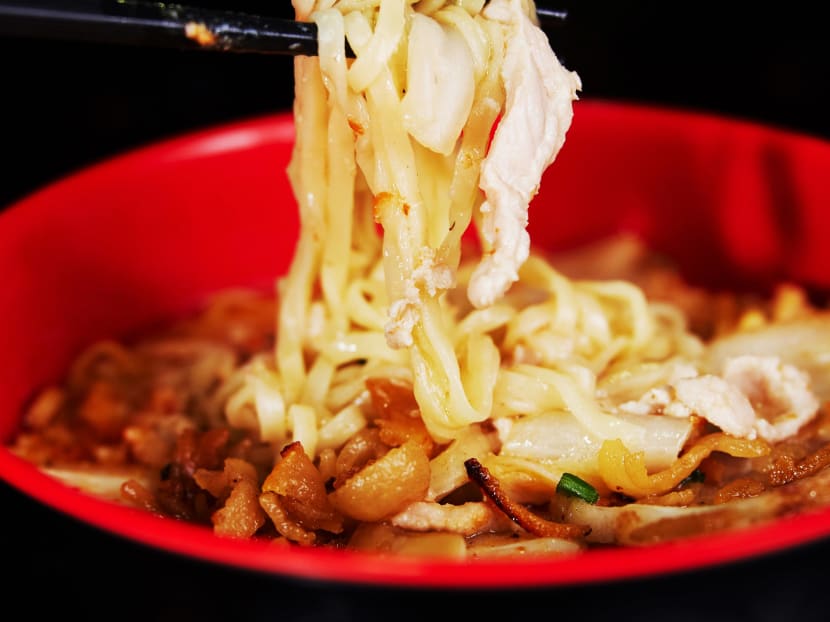 In 2018, Naoji expanded his biz to Tokyo, setting up a stall there selling Singapore-style mee pok, which he says the locals enjoyed. Sadly, when the pandemic happened, business took a hit and he had to close shop earlier this year. Naoji then decided to focus on growing the business in Singapore and so he left his family in Japan and returned to the island in January this year. Naoji is now back in the kitchen of this month-old Boon Lay outlet, selling what he calls Japanese Fusion Mee Pok, so this is your chance to have your noodles made by the original Japanese Mee Pok Man.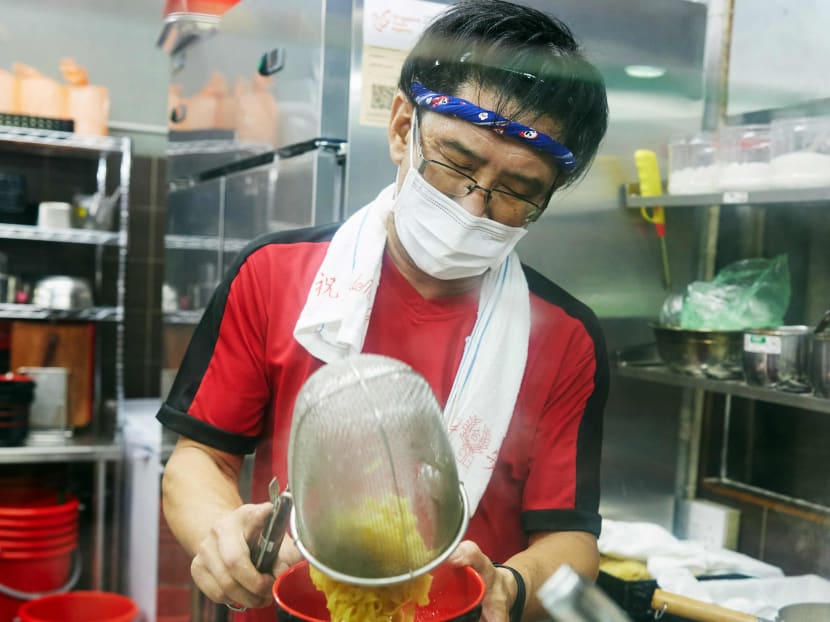 "I miss my family," says Naoji, who hasn't seen them in half a year because, on top of travel restrictions, he's been so busy with work. "I want to grow this business, and make this fusion Japanese mee pok concept famous here," he adds with a pensive nod, drinking a can of Heineken as he sits down after a busy shift to talk to us. Naoji's clearly been bitten by the hawker bug. Naoji left his salaryman life because he got tired of the corporate 9 to 5 and wanted to build something of his own. Mee pok was never on the cards at first: he started out with a kopitiam Japanese food stall, but dropped that to become an apprentice at the neighbouring Ah Hoe Mee Pok stall after tasting their noodles. He would eventually take over the stall and create his own brand. Naoji is clearly very proud of his product. As we watch him cook, he moves with clockwork precision, focus, and skill, and fusses over the food during our shoot to make sure it looks "kirei" (pretty in Japanese).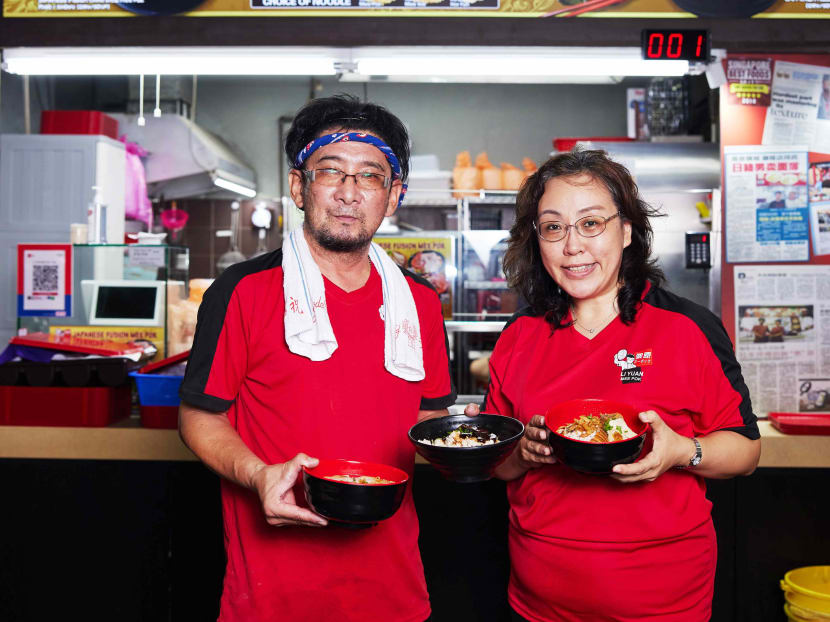 The Tokyo side of the business may not have survived, but business here seems to be doing well. Naoji says, surprisingly, that the pandemic didn't really hit him so badly since people could do takeaways, and here at the new Boon Lay stall, there's been a steady flow of customers to keep Naoji busy. Plus, in November 2020, Naoji took over as master tenant of the entire kopitiam at 710 Clementi West (where the original mee pok stall still stands), together with a new business partner, Jenny Shi, 53. Jenny is a bubbly Shanghai native who was Naoji's former colleague at the Singapore office of Japanese electronics company Sanyo, where Naoji was a financial executive before turning to food.

This new development is a major reason for Naoji's return to Singapore. The two old friends natter away in Japanese and seem genuinely excited to be in business together. Jenny does the back end work for the business on top of her full-time job as an accountant in a Japanese trading company. They've got quite a bit on their plate. Apart from running this Boon Lay joint, they have to fulfill duties as master tenants at the Clementi kopitiam (where Annyeong Chicken, a super popular Korean stall, operates). They also own the zi char stall at that kopitiam, which is helmed by a Malaysian chef they hired.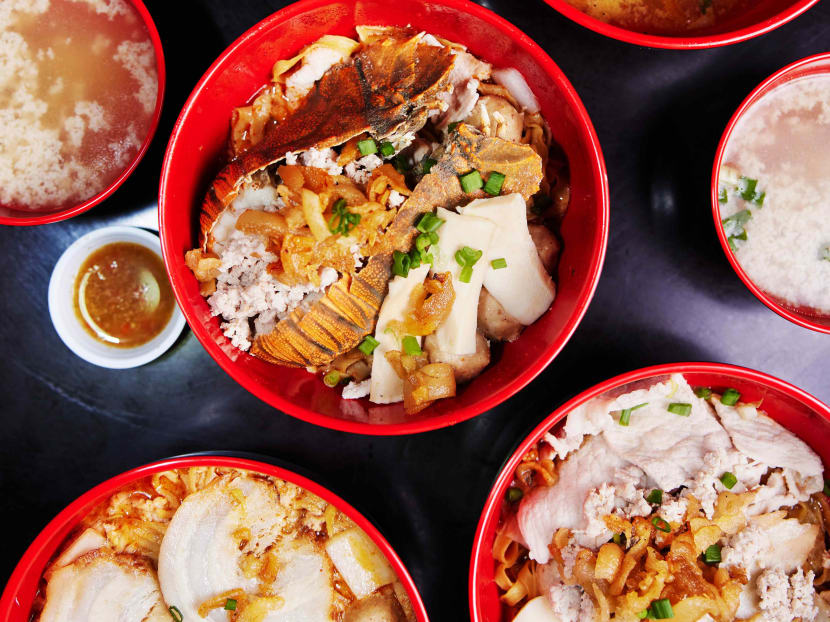 When we tried Li Yuan Mee Pok's food back in 2016 we found it a little middling (maybe because when we visited, the food was prepared by his then slightly bored teenage kids), but the stall's nonetheless developed quite a loyal following since then. Naoji says he's finessed the Japanese base used to make the sauce, and has improved the recipe. It's a rich concoction of umami-laden ingredients including condensed milk, garlic, and bonito extract, to which either miso or soy sauce is blended. It's added to your standard mee pok base of chilli, lard and vinegar. The sauce is essentially tare, found in every bowl of Japanese ramen — a sauce or paste added to the bottom of the bowl before the soup is poured in and mixed.

The fusion bowl of mee pok is also amped up with slices of fatty ramen-esque chashu, abalone slices, and your choice of shoyu or miso tare. You can also choose between mee pok, mee kia, or hor fun, of which Naoji recommends the first two, which are made by a supplier to his specifications without alkaline for a better flavour. We like that Naoji also offers a traditional Singapore-style mee pok, without the Japanese trimmings.
We start with the dry version, and Naoji recommends the shoyu base with this. It's a bowl of porky heaven, full of smoky lard, perfectly fatty and tender chashu, minced pork, bouncy pork balls, and lean pork slices that've been marinated in soy sauce and garlic for extra tenderness and flavour. There's a distinct Japanese-ness to the flavour: under the familiar mee-pok elements are an extra savoury-sweetness, and the sauce is richer and thicker than regular Singapore-style mee-pok, with just a hint of vinegar cutting through to temper it. The noodles are pleasantly bouncy, and hold up even after sitting out on the table for our shoot. What we like about it is that the individual elements, from the pork toppings to the noodles, shine and come together in tasty, addictive mouthfuls.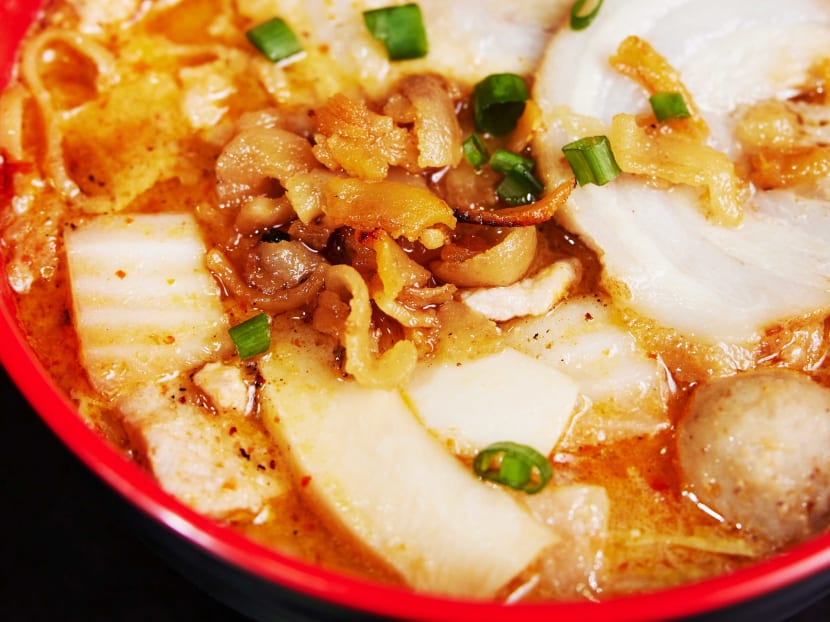 For this, Naoji serves it up with the miso base. The stock is a standard mee pok broth made from chicken and pork bones, as well as soy beans. On its own it's pretty light and simple, but together with the miso base and lard, it becomes a lot richer, thicker, and heartier. This doesn't have the punchiness of the vinegar and chilli in the dry version, but we like it for its sweet bone broth flavour, amped up with chopped cabbage and rich miso. Naoji recommends mee kia noodles to go along with this, which add a pleasant bite and also do a good job of picking up lots of the rich broth. We really enjoy this: it's got all the elements of a soupy mee pok but is richer and almost ramen-like.
This is the Singapore-style mee pok, that unlike its Japanese cousins contains no tare and a big helping of braised mushrooms alongside the standard garnish of minced pork, abalone slices, meatballs, and lean marinated pork. We have ours with the customary mee pok. This is a very good bowl of bak chor mee, spicy, sharp with vinegar, and redolent with lard. Again, the individual components shine, especially the tender and sweet braised mushrooms, and the noodles have a lovely texture. It's the soul of simplicity, and the flavour is distinctly local and comforting. This more than holds its own against the sweeter, more pimped-up Japanese counterpart, but we think if you're traveling all the way to get this, the fusion bowl is the obvious choice.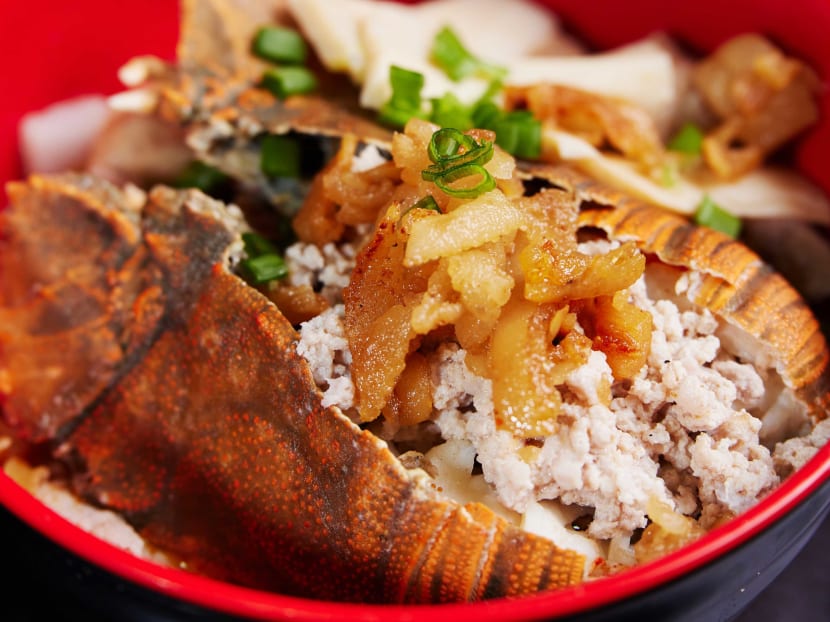 This is basically the fusion bowl but with poached crayfish instead of chashu on top. The crayfish is competently cooked, and the flesh is bouncy and mildly sweet, but it gets lost in all the heavy porky flavours. We think this would come together better with a shellfish stock base, and think if you're gonna get a $10 bowl, the Japanese Fusion Char Siew Mee Pok, which is the standard bowl with a double helping of the delicious pork belly, is more worth the added cholesterol.
Pretty darn delicious. It's recognisably mee pok, yet also distinctly Japanese: sharp, punchy flavours, lots of pork-driven savouriness, all served atop well-cooked noodles, but with an added umami sweetness layered beneath. The attention to detail is what makes the food here sing: we love the texture of the noodles, the quality of the pork toppings, and the way it all comes together in a balanced way. It's pricier than your average mee pok, but you're getting a lot in a bowl. Naoji says he's only planning to cook at this new outlet for another month or two before taking a step back to focus on the business side of things, so head down now if you want to get your fusion mee pok made by the OG himself.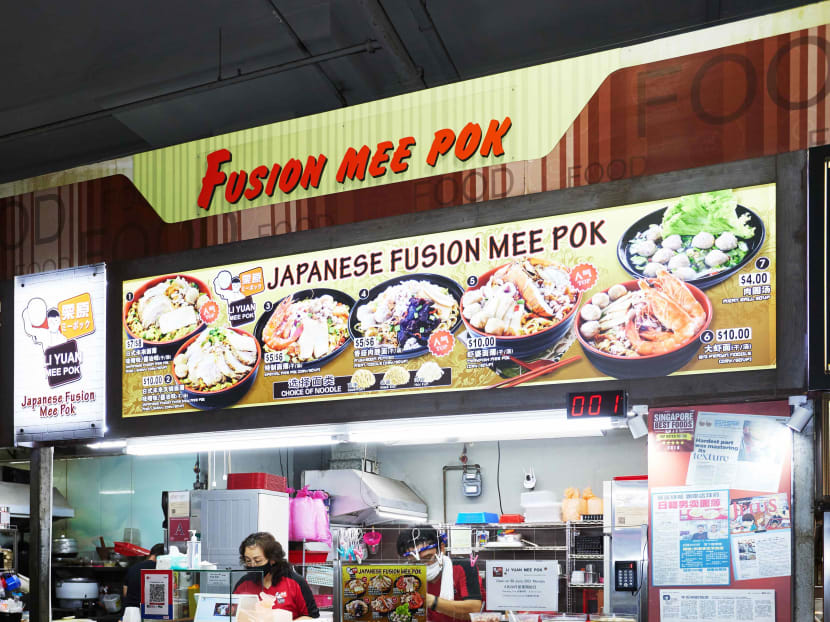 Li Yuan Mee Pok is at Kimly Coffee Shop, TradeHub 21, #01-98, 18 Boon Lay Way. Singapore 609966. Open daily except Sun, 8am-3pm. Visit www.ahlimeepok.com for address of the other outlet. ​​​​​​​

All photos cannot be reproduced without permission from 8days.sg​​​​​​​
Photos: Kelvin Chia