Japan's Famed Afuri Ramen Opening First Singapore Outlet In Funan Mall
No need to travel to Tokyo for your Afuri yuzu ramen fix.
Hands up if you can't visit Tokyo without gravitating towards one of Afuri Ramen's numerous outlets dotted around the city. We don't blame you — the eatery's signature noodles, served in a zesty yuzu-scented soup is pretty irresistible. For a commercial chain with close to 10 restaurants in Tokyo (plus branches in Yokohama and Hokkaido), the quality of its food is pretty on point.

And finally, after opening outposts in as far as Portland, Oregon and Lisbon in Portugal — Afuri is expanding its franchise reach into the rest of Asia, starting with Singapore. Its first outlet will be at the basement of the newly revamped Funan mall, and will open its doors on 28 June. Lucky us.

The Singapore outlet is brought in by local company Japan Foods Holding, which also runs other franchised ramen restaurants in Singapore such as Menya Musashi, Menzo Butao, Konjiki Hototogisu and Ajisen Ramen.

However, the Afuri in Singapore isn't 100 percent similar to the one in Tokyo. Its full name here is Afuri Ramen + Dumpling, like its other franchised outlets outside of Japan. A Japan Foods Holding's rep says the SG menu will be similar to the Portland branch . Hmm, why not the Tokyo branches? We just hope the standard of the cooking here will be on par with the Tokyo restaurants' because we hear the quality at the Portland branches isn't quite the same. According to Afuri's Portland outlet's website, the crowd-pleasing heavyweights like Yuzu Shio and Yuzu Ratan ramen are served, as well as their popular Yuzu Tsukemen. There are also, er, funkier fusion options like a Hazelnut Tantanmen with hazelnut broth, as well as housemade gyozas stuffed with pork, napa cabbages and leeks.
The Japan Foods Holding rep adds that the Singapore restaurant will have 73 seats, with a shopfront design similar to Tokyo's . Which means you can expect to slurp your ramen in an ultra sleek, all-black enclave, as evident from a shop rendering photo (see main pic) sent to us by the rep.

The restaurant in Funan is currently undergoing renovation, but looks promising from its Facebook photos: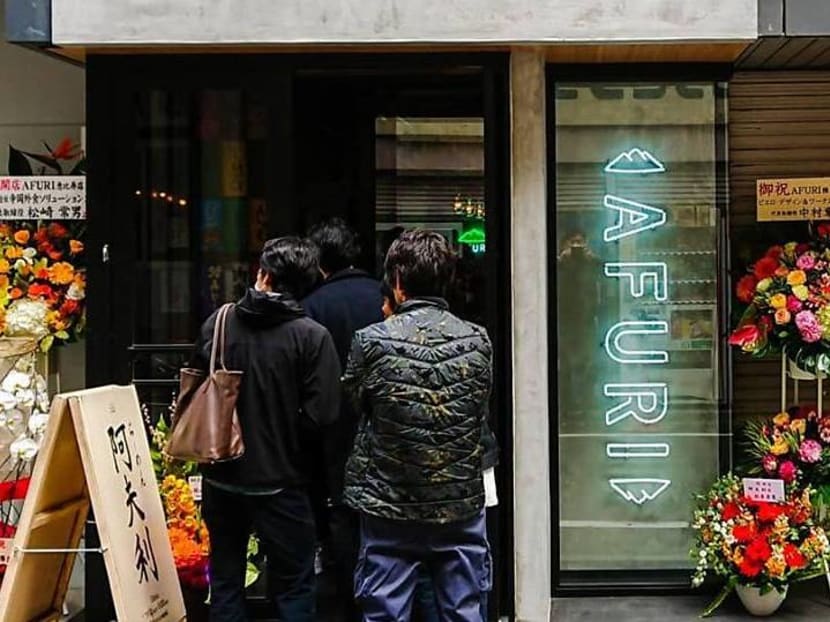 Interestingly, the brand has its roots as a different restaurant. Well, kinda. According to Afuri's website, it sort of started out under the name Zund-Bar back in 2001 in Kanagawa Prefecture. Apparently, the eatery was located on the foothill of Mt. Afuri (says its website: "legend has it Afuri is the father of Mt. Fuji"). It soon followed with its first Afuri-branded ramen store in Tokyo in 2003.

Afuri's Singapore outlet will be helmed by two Japanese and one local chef who have all trained at Afuri's headquarters in Tokyo. There will also be a Japanese chef from Afuri Japan flying in to oversee operations during the opening period.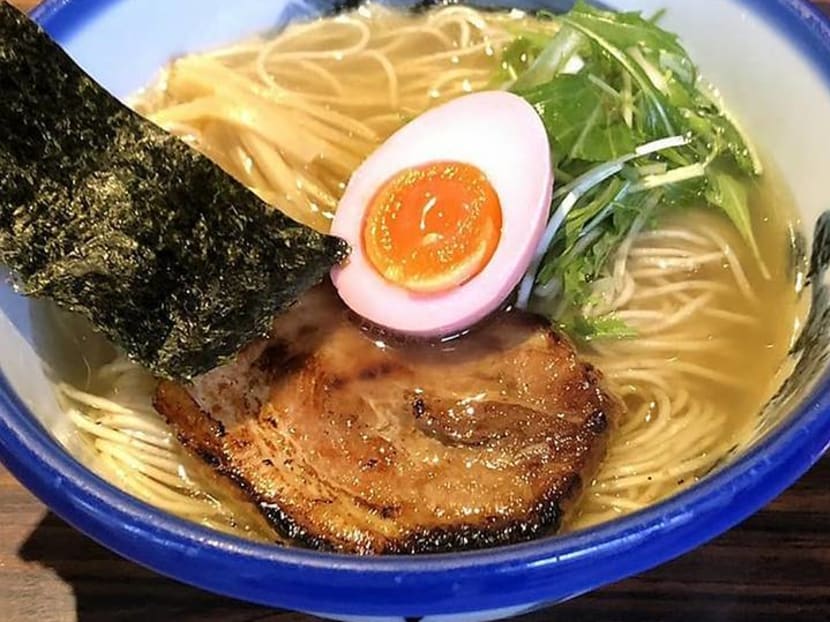 The chicken and seafood-based dashi soup at Afuri is nothing like those rib-sticking, murky, gummy tonkotsu-based ramen soups Singaporeans seem to go nuts for. But neither is it as thin and insubstantial as the broth at truffle ramen joint Tsuta (which, coincidentally, is also opening a branch at the refreshed Funan). There are two soup options offered at Afuri: Shio (salt) or Shoyu (soy sauce). Definitely order the shio — the clear soup may be light, but it's still sufficiently steeped with the essence of poultry and seafood like dried scallops, bonito and kelp. But what makes it super special is the fact that the soup is brought to the next level with a magical sprinkle of maddeningly fragrant yuzu peel. The Japanese citrus used here is intense, fresh and natural-tasting. It adds an elegant zip to the bowl.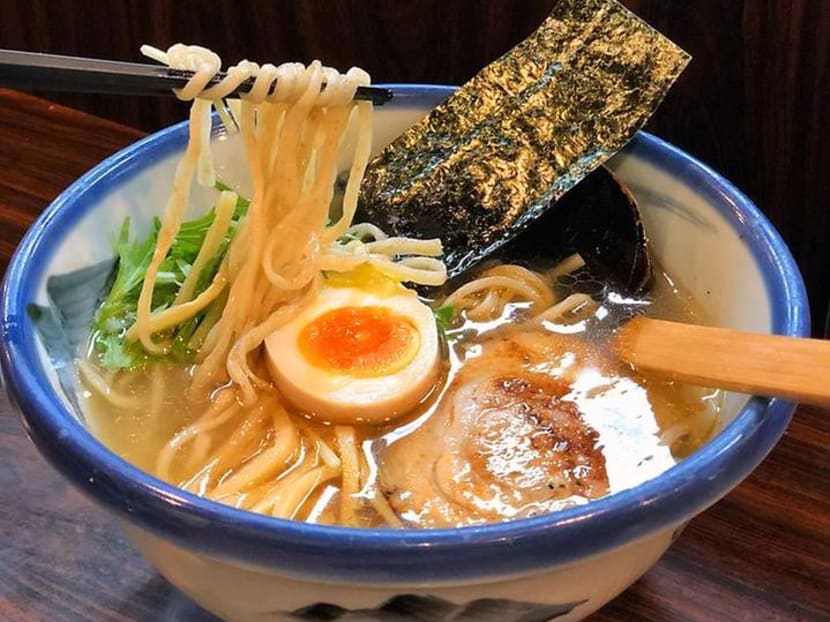 Afuri's signature dish, which we tried recently in Tokyo. Served with the lovely zesty yuzu-scented soup and thin but al dente noodles made with Hokkaido wholegrain wheat and rye (pictured here is the thicker noodle, which you can request for if you prefer more bite). The accompanying gooey centred, soy-soaked ramen egg is as good as you can expect from any reputable ramen joint. However, what's also impressive here is that all the noodles come with charcoal-grilled-to-order pork belly chashu. And the meat melts on the tongue in a savoury, smoky burst of yumminess. What thoughtful gourmet flourishes.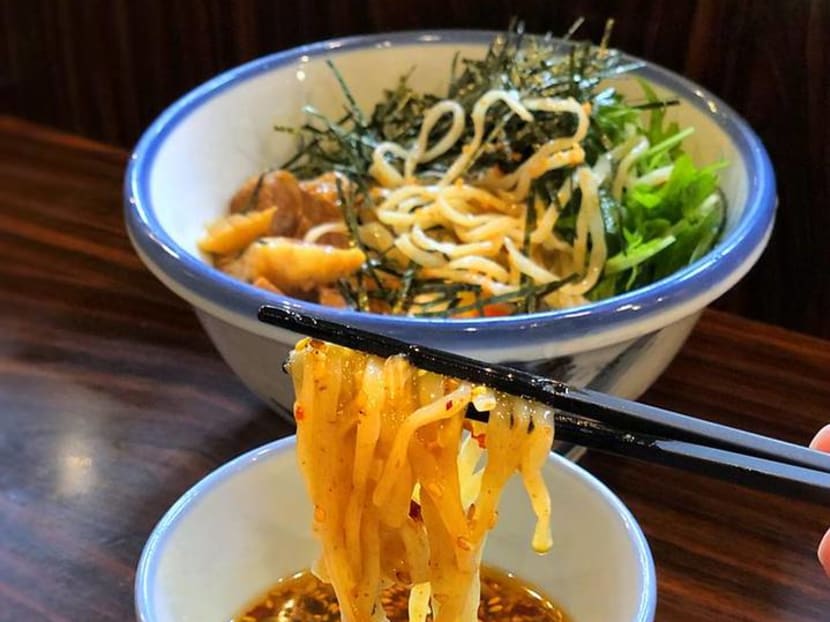 We loved this dry ramen served with a dipping sauce almost as much as the signature soupy yuzu shio one. The noodles here are of the thicker, curlier and thus springier variety. And they were incredibly delish dunked in a warm soy-based dip perfumed with more of that intoxicating yuzu zest (though it's more apparent in the soup version).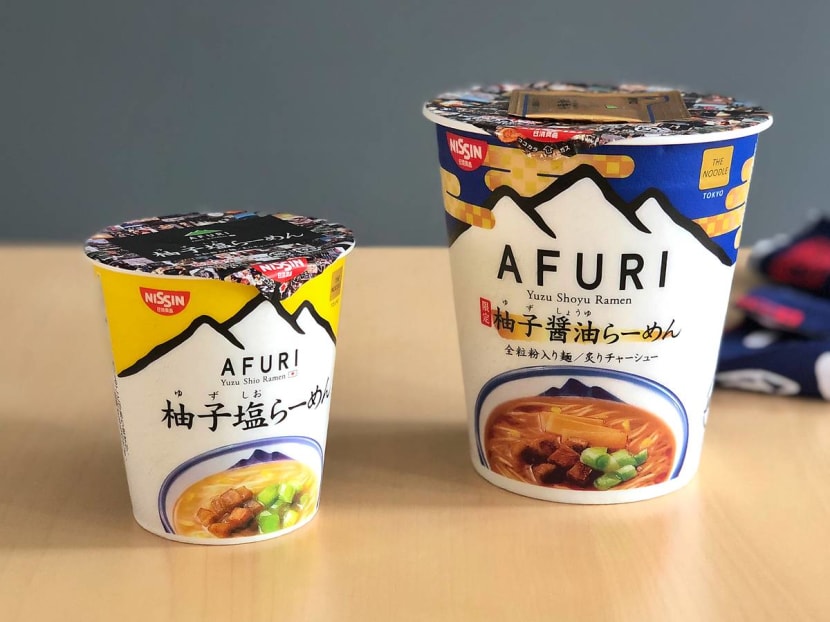 Besides fab, freshly-made ramen, Afuri also sells a pretty appetising — and much cheaper — instant cup noodle version, available for purchase via its in-store vending machines. While we've seen a variation of it sold in Singapore (a spicy yuzu ratan flavour that's been sold out in Cold Storage supermarket for the longest time), we only found the yummier signature Yuzu Shio cup noodles at its Tokyo stores. The Shoyu soup version, sold in a larger cup, boasts fatter, more QQ noodles and is also pretty tasty. Let's hope both offerings will be available at Afuri's shop in Funan. We also pray the quality of the ramen here will be as stellar as its outlets in Japan.

Watch this space for updates.

Afuri Singapore is at #B1-29 Funan, 107 North Bridge Rd, S179105​​​​​​​, Tel: 6970-1386. www.facebook.com/afurisg.

PHOTOS: AFURI RAMEN/ FLORENCE FONG