Jeanette Aw's Patisserie Is So Minimalist You Can't Tell It Sells Cake; Only 3 Flavours Daily
We preview the space, which costs "six figures" to set up, ahead of its May 25 opening.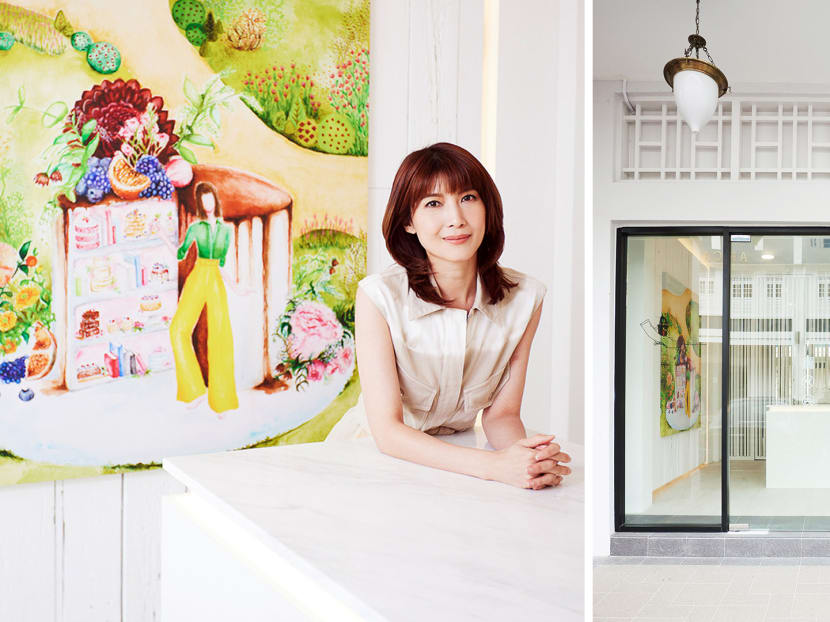 After five years in the planning, Jeanette Aw's dream of opening a patisserie is almost a reality. The actress and Le Cordon Bleu-trained baker's patisserie Once Upon A Time, which occupies a shophouse unit in the hip Jalan Besar enclave, opens online for pre-orders at 10am on May 25.
For the past few weeks, Jeanette has been busy getting used to her new kitchen and equipment. As the 41-year-old will be doing all of the baking herself, only three cakes will be on offer during the launch. "It is good to start slow. I want to be comfortable and confident with pushing out consistent and good products. If I just keep pushing and I stretch myself beyond what I can manage, I won't be able give people consistency in my bakes," she tells 8days.sg. "There are people who have sent me resumes and I do have people [to help bake] in mind as well. Once I am ready, I will bring them in."

All photos cannot be reproduced without permission from 8days.sg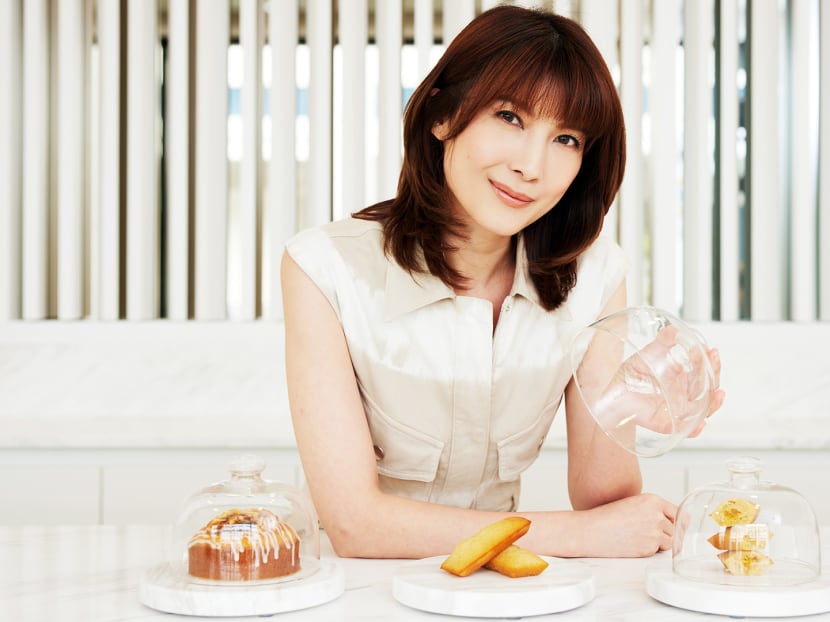 Due to the tightened COVID-19 measures, the store will not be taking walk-ins for the time-being. Only pre-orders will be accepted via their website and customers can opt for self-pick up or delivery for a flat fee of $18. "I need to control the crowd, so I will offer different time slots for customers to choose from. Once the time slot hits the limit, it will close," says Jeanette.
Not that she minds holding off opening her brick-and-mortar store properly. Jeanette says it is a good chance for her to gauge sales so she can better estimate how much to produce when they eventually open for walk-ins. As to when that will be will depend on "how [she] feels". 8days.sg gets a sneak peek of the space and the bakes that will be available.
It's easy to miss Once Upon A Time when walking down Hamilton Street, no thanks to its understated entrance. There is no signage at the shopfront, just a little decal of the logo — designed by Jeanette — on its window. Similarly inside, it is as minimalist as it gets. You will not find a cake display, only a sleek marble countertop with a slice or two of the day's offerings. Hanging on the white wood panelling are two whimsical paintings, which look like they could be pulled out of Jeanette's pictorial book Sol's World, to give the space a burst of colour.
"I like things clean and simple. Someone walking past wouldn't know that this is a cake shop, but this is my concept. Everyone has their own style, and this is mine," she says.


From the décor to the artwork and tableware, everything was conceptualised and handpicked by Jeanette. Despite its seemingly sparse interior, she splashed a "six-figure sum" to put the place together.
"Kitchen equipment is very expensive and so are the wood panels. This countertop is cut from one huge slab of marble. Because I didn't want the joint lines to show, I had to get two slabs of marble. The leftovers were used to make plates to display the cakes. A lot of friends told me that marble and white are not practical 'cos it will get stained, but I felt that since this is my first shop, I wanted to put the things that I really like into the place," reasons Jeanette.
"I didn't look for sponsors 'cos I didn't want to feel obliged to do anything for them as this is after all my own shop. I don't have partners or investors, this is all solely built up by me and my team."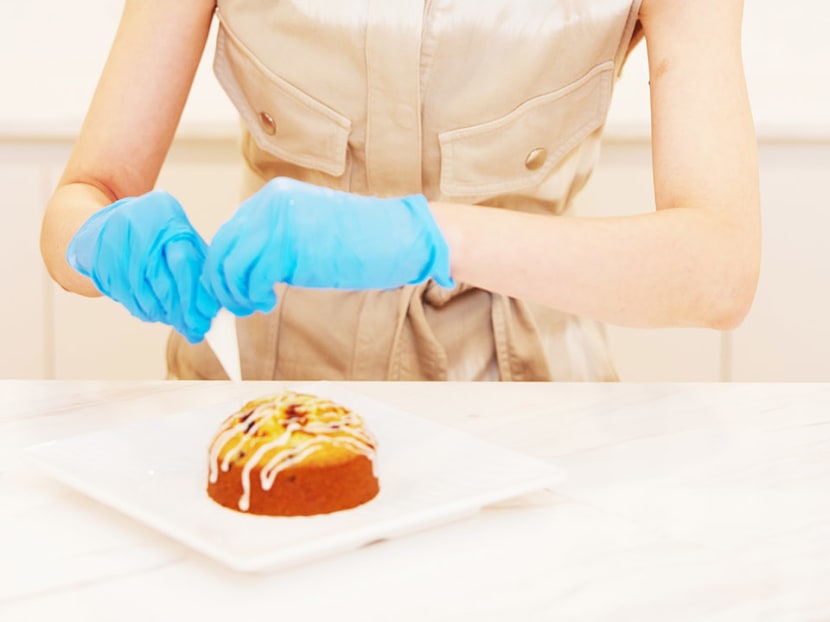 Once Upon A Time's menu reflects the same minimalist philosophy. The patisserie will offer a revolving menu of cakes and pastries, depending on what inspires Jeanette, with three to five bakes available at any one time. There are also plans to offer whole cakes in future.
"I didn't want to work with a fixed menu 'cos I don't want to be stuck baking the same cakes five years down the road. I want to be constantly creating new things as this keeps the passion alive, and at the same time, customers will have something new to look forward to." This is also the reason why she is taking a break from her much-raved-about WTF (What The Fudge) Brownies, which had a "900 to 1,000" pax wait list for her bake sale last year. While she's not sure when she will offer it at her store, judging from its popularity, we reckon the wait shouldn't be too long, so keep your eyes peeled for them on the website.

To start, three cakes will be on offer: Blueberry Burst, a blueberry and lemon pound cake, plain Financiers, and Pineapple Financiers. All the cakes are freshly baked by Jeanette each day and only a limited number will be available for sale.
"I haven't decided how long I want to keep each offering for. I could change something after a month or if it's selling well, I will keep it around for a while. We'll see how it goes. Everything is very fluid," she says.
Unfortunately, we were not able to try her bakes on-site or take them home to taste because Jeanette says she was too busy dealing with the store's opening to bake samples for our preview shoot. Instead, we settle for the next best thing — Jeanette's description of each of her three bakes on offer.
Jeanette has a soft spot for this simple but elegant-looking blueberry lemon pound cake as it's one of her earliest bakes as a budding baker. She says she revisited her old recipe to come up with a new and improved version. Instead of the shape of a loaf, as most pound cakes are, Jeanette made to it into a individually-portioned four-inch circular cake decorated with a slice of lemon.
Financiers (pronounced fee-nahn-see-ay) are small, buttery French almond cakes that when done well, are gently crisp on the outside, soft, moist and dense on the inside. They are traditionally known to resemble gold bars, so Jeanette felt it would be auspicious to offer them when the store opens. It has a "nutty hazelnut aroma" from the browned butter.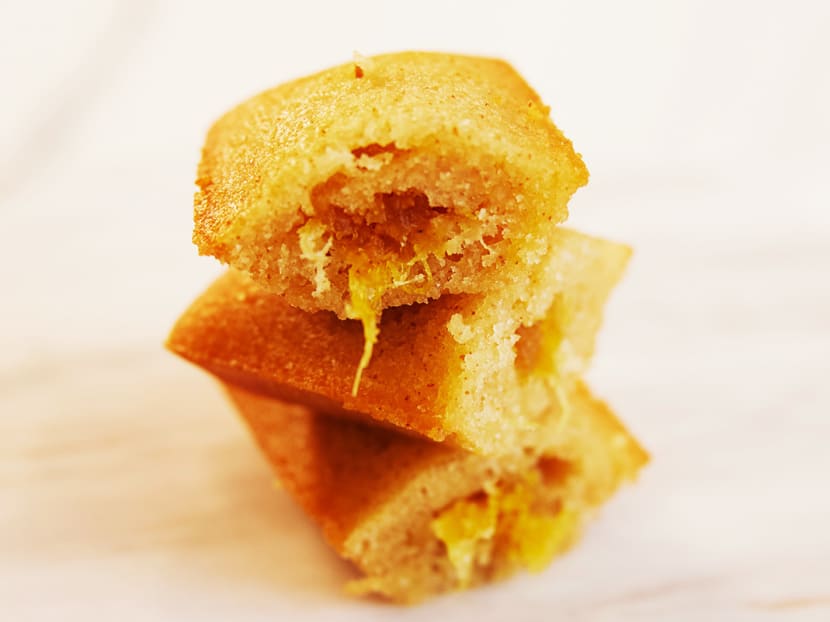 Think of this as a pineapple tart with a French twist. One of Jeanette's most popular bakes, she tells us she created this two years ago for Chinese New Year and gifted it to friends, and up till this day, she still gets requests for it. She shares: "When they knew that I was opening a patisserie, they said this should be one of my first offerings. I make the pineapple jam filling from scratch and this is my own creation. You can't find this anywhere else."

Once Upon A Time is at 01-04, 35 Hamilton Road, Singapore 209204. Opens Thu-Sun, 11am-4pm. Onceuponatime.sg (accessible from May 25, 10am)

All photos cannot be reproduced without permission from 8days.sg

Photos: Kelvin Chia