Kopi Stall By Ex-Trader Counts Edmund Chen, Xiang Yun & Son Yixi As Regulars
Henry Golding is also a fan of the kopi here.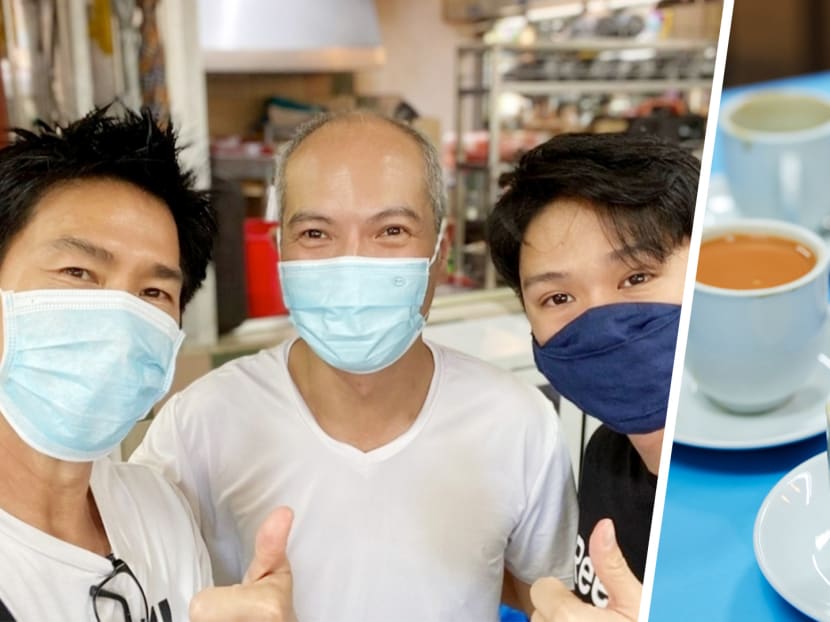 We've never heard of Kopi More, a coffee stall at the basement of perpetually-packed Golden Mile Food Centre, till we saw Facebook posts extolling the "handsome" uncle who brews the kopi there. Probing further, we found out that the boss, Lawrence Tan, 47, uses modern methods to make traditional kopi. He grinds the beans to order and pulls each cup of kopi from an espresso machine. We had to investigate.
All photos cannot be reproduced without permission from 8days.sg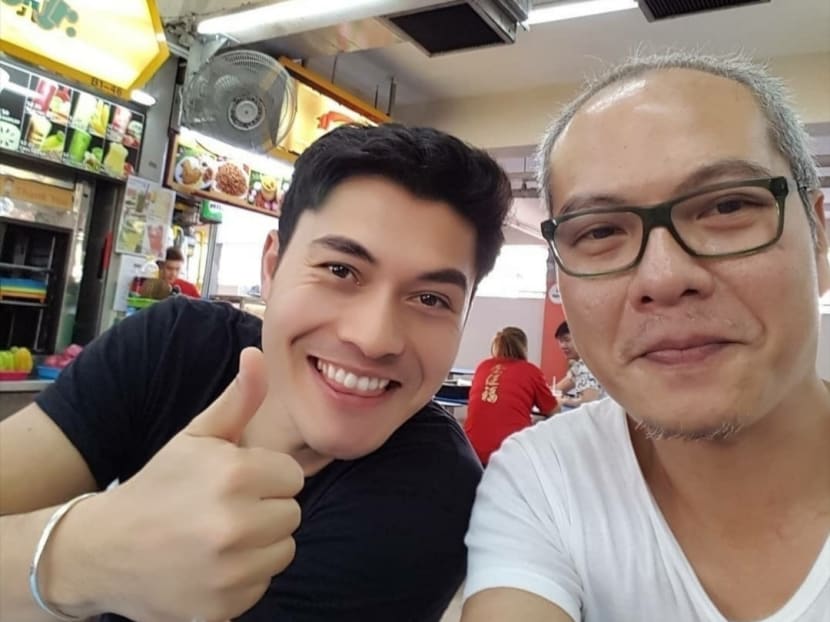 We got in touch with Lawrence to arrange for a visit and he enthusiastically offers to invite Chen Yixi, Mediacorp star and son of Xiang Yun and Edmund Tan. We're baffled. "Oh he's a regular customer," Lawrence tells us, saying the family are longtime fans of his coffee. "Xiang Yun is such a humble and charming lady," he says, adding that when she first tasted his coffee, she quietly came up to him to offer her compliments. Sadly, her son Yixi's manager steps in before our visit and quashes our hopes of a celebrity sighting. For the record, the Chens drink standard kopi and Xiang Yun's order is less, less sweet . Turns out Yixi and family aren't the only glitterati who frequent this stall, though. Lawrence also counts Henry Golding amongst his loyal fans, saying that the Crazy Rich Asians star used to drop by frequently before his move to America to pursue his Hollywood career (his usual order was a kopi peng).
At lunchtime there's always a long queue for Lawrence's coffee — there were almost 10 people in line during our visit. His kopi has gained a loyal following since his stall's opening in 2016. Lawrence, a former petroleum trader, says he left the petrochemicals industry because of an economic downturn in 2015. Instead of going back to a similar industry and becoming yet another employee of a big corporation, he realised that what he really wanted to do was start his own business. Going into the hawker life meant taking a huge pay cut and losing out on spending time with his wife and kids, which was initially difficult for the family. Lawrence runs a one-man operation, saying that he's had part-time helpers in the past, but not anymore. He's here every day, even on weekends, and opens from 10.30am to 4pm. It's a hard, unglamorous slog compared to his old job, which he says used to take him all over the world. But the success he sees today and the joy he seems to get from this work seem like a good pay-off.
Why kopi, though? "I wanted something with a unique Asian branding and kopi is so iconic," he says of his pivot, adding that over the years he was saddened to see a lot of inferior coffee in the market, and so thought this might be a good space to enter. "And after years of working with petroleum, I had confidence in working with another black liquid". At first we think he's joking, but he then goes on to talk at length about how he applied his petrol know-how to coffee, like how he took apart an espresso machine to tinker with its parts, play with pressure and temperature, all in an effort to reverse-engineer his brew. With the success his stall is seeing, Lawrence has dreams to set up a cafe one day, but there are no concrete plans at the moment.
Lawrence is quite a character: he's charismatic, well-spoken, chatty and meandering, and has a ramen chef's passion and belief in his product. Initially, he worked with coffee importers and roasters to refine his custom brew, which is a combination of Arabica and Robusta beans sourced from all over the world, including Colombia and Indonesia. The beans are given a characteristic kopitiam-style dark roast, and are freshly ground to order in his trusty grinder. He says he uses an espresso machine to have more control over the process and to make sure each cup is as fresh and strong as possible. For Lawrence, it's the intensity of the roast, the nuttiness of the flavours, and the strength of the brew that gives Singapore kopi its distinctive flavour, and high-pressure machine brewing tends to extract a lot more flavour and potency from beans than the sock filter can.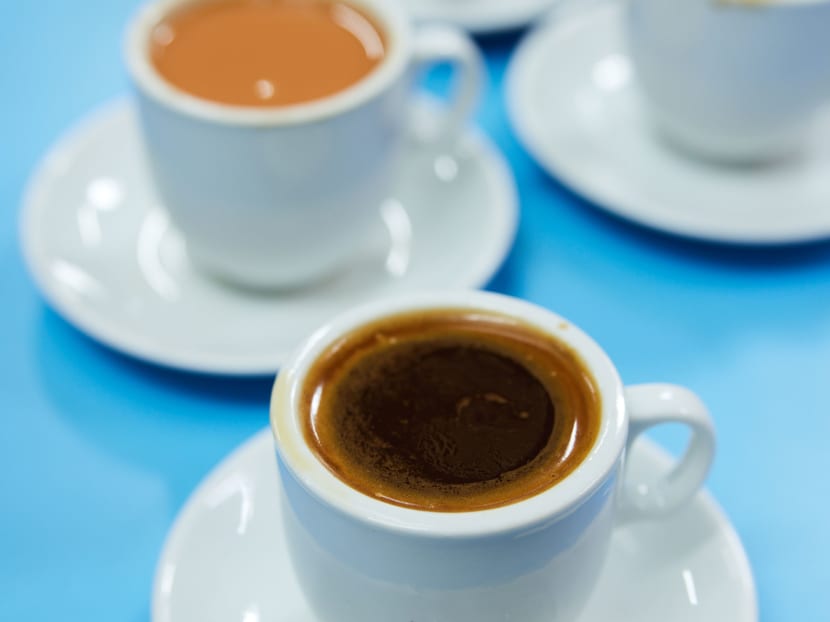 We ask if his blend of beans is roasted with butter, as is the traditional way, and Lawrence bristles a bit. "No, because of the way I make the coffee, it's rich enough on its own," saying that butter roasting was a way to add richness to cheaper beans. He points to the crema (a creamy layer at the top of coffee that comes from the emulsification of coffee oils) forming at the top of the cup as he pulls us a shot to demonstrate, something you apparently don't get with the conventional coffee sock method. True enough, the coffee does look potently dark, very gao and has a nice, lemak crema. It smells really strong as well. Although today he sells something like 100 cups a day, people were initially sceptical of this machine-brewed kopi when he first started out. The rich crema crowning each cup made people think milk had been added into their black coffee, and he'd often get cups sent back to him. Eventually, though, people developed a taste for his coffee, which he says is much stronger and richer than most others.

The selection is simple: kopi and teh, with your choice of black or with sweetened milk, hot or iced. The signage advertises custard buns but Lawrence no longer serves those, choosing to focus entirely on drinks.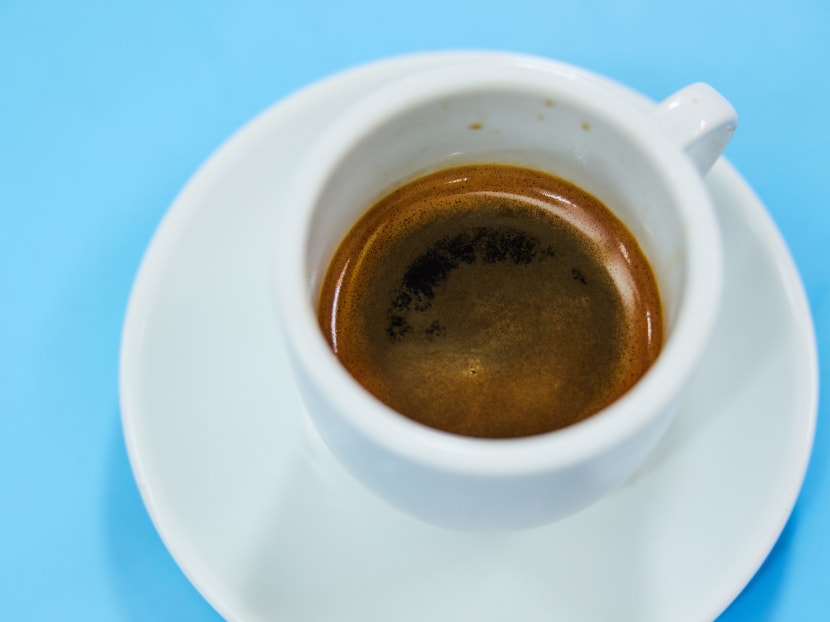 Lawrence insists we have our coffee black to start, a true barista power move. He doesn't serve his kopi-o with added sugar (unless you ask). It's strong, alright: very acidic with bitter overtones from the dark roast, and thick but not syrupy. In fact, it's a little too strong and overpowering for us.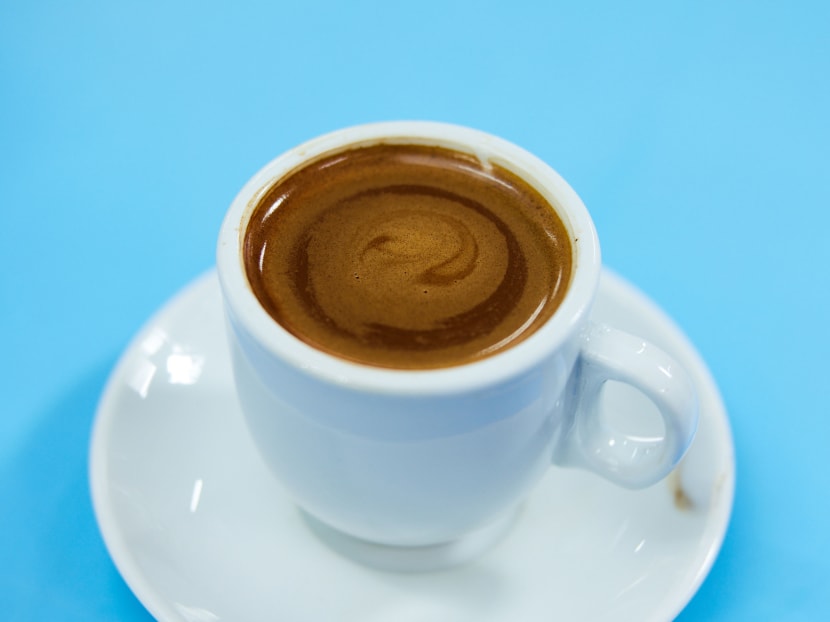 We much prefer the Kopi, stirred with a mix of evaporated and condensed milk. Lawrence doesn't add sugar to his kopi, which he says mutes the complexity of the flavours. The sweet milk brings out the almost chocolatey flavours of this blend, and it's quite heavenly: rich, buttery and nutty. But it's still got dark and roasty notes, with a pleasant bitterness. Very comforting. This is also really good over ice ($2.20 ) — the coffee is strong enough to handle the dilution.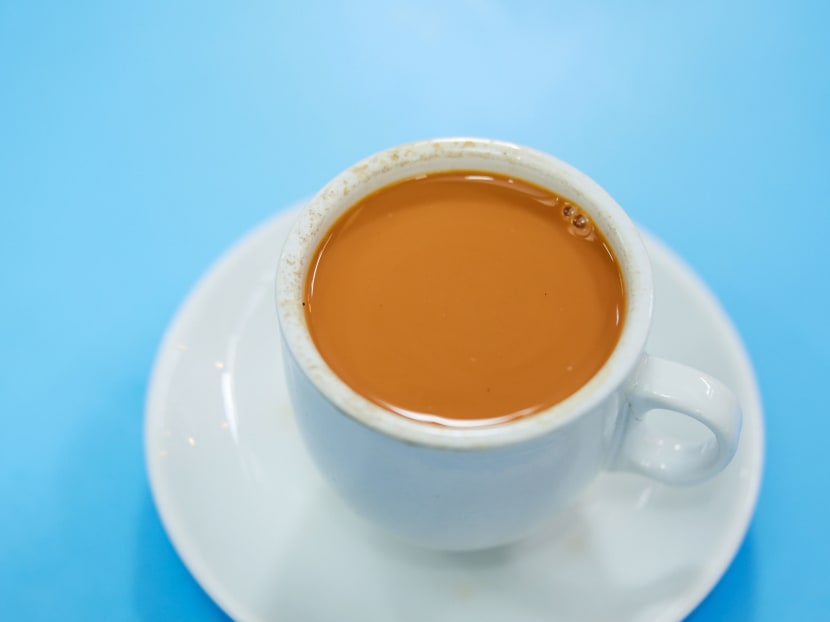 Lawrence also serves Teh, similarly pulled through the espresso machine. He uses ground Ceylon tea leaves for this. We have ours with milk. The high-pressure extraction produces a strongly tannic but aromatic tea that cuts right through the milk. It's slightly mouth-puckering, very bracing, but tasty, possibly the strongest teh we've ever had.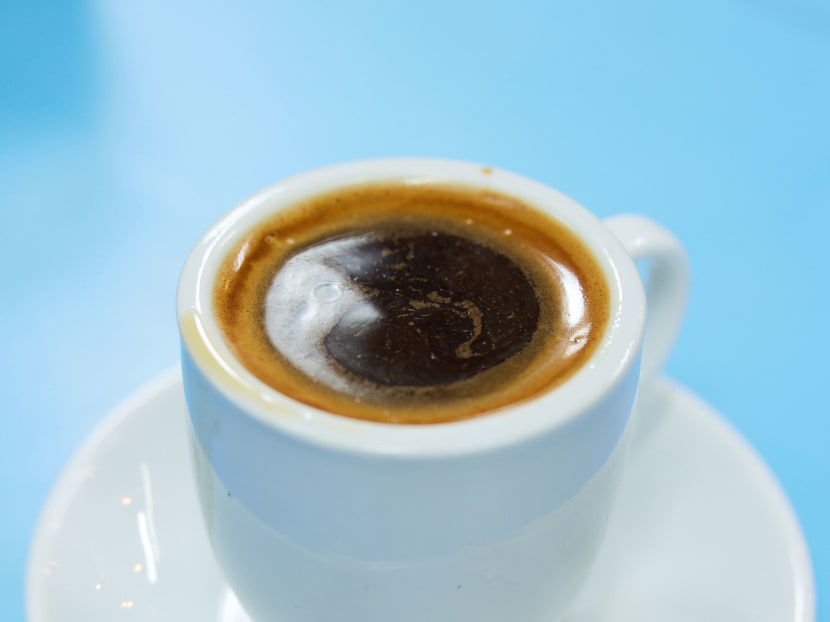 A half shot each of coffee and tea, which we have black, this is a very bracing caffeine bomb. We enjoy the tasty mix of floral tea aromas and the punchy, roasty coffee, which predominates.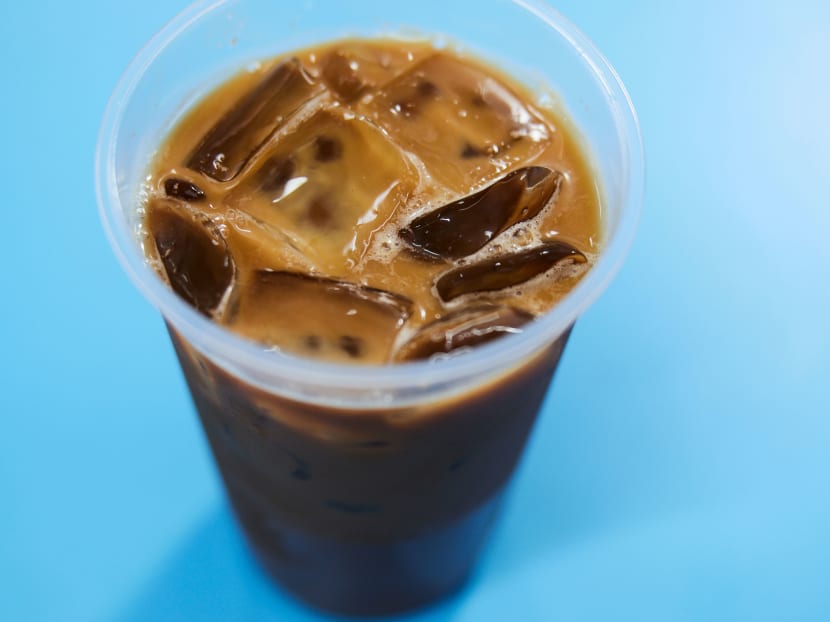 Strength is the name of the game here. After this tasting, we definitely felt the zip in our head. It's not just brute strength though, because Lawrence's bean blend and espresso machine technique produce a flavourful cup that's so much more than just your regular kopi gao. His coffee has a distinctive local flavour, but is punchier, richer and more robust than your usual kopitiam offering. Pro tip: have it with sweetened milk — this mellows the strong coffee pleasantly so it forms a smooth mouthfeel and delish nutty flavour with complex bitter undertones.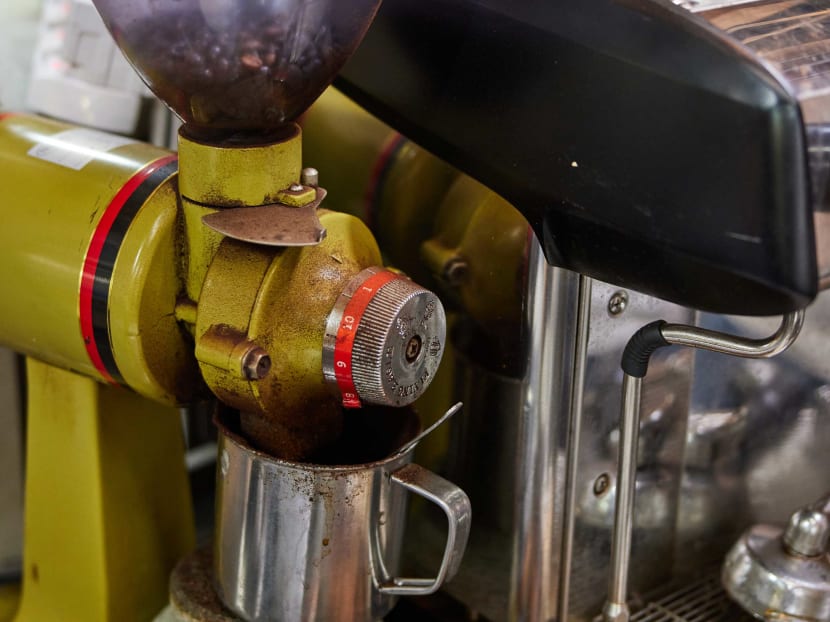 Kopi More is at #B1-49 Golden Mile Food Centre, 505 Beach Rd, 199583. Open daily 10.30am-4pm.

Photos: Aik Chen
All photos cannot be reproduced without permission from 8days.sg