MasterChef S'pore Runner-Up Opens Sourdough Doughnut Takeaway Shop After Home Biz's Success
Genevieve Lee sold 1,600 doughnuts just two weeks after starting her online biz last year.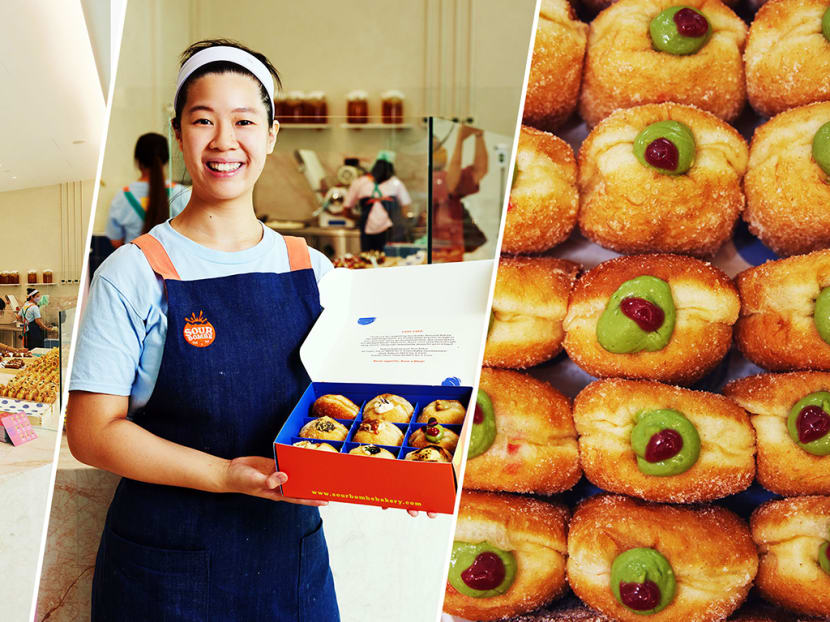 Not many 23-year-olds can say they have been personally praised by culinary legend Marco Pierre White for their cooking, and also run their own bakery. But Genevieve Lee (she goes by Gen) is exceptionally talented. The runner-up of MasterChef Singapore's first season, she started her home-based business last August called Sourbombe. It's a portmanteau for sourdough bomboloni, the puffy Italian doughnuts that are piped with various fillings like chocolate.

Gen's flavours are more gourmet. Besides a plain Cinnabombe that's simply dusted with cinnamon and sugar, the other bombolonis boast silky custard scented with delicate ingredients, like Burnt Honey & Sage Walnuts, Lavender Lime Mascarpone and Basque Burnt Cheesecake with blue cheese and cream cheese. The 'bombs' are fried in refined coconut oil for a less greasy finish.

Take it from us: the doughnuts are insanely addictive. The naturally leavened dough — fermented for 18 to 24 hours — is soft, chewy and a little denser than your average doughnut, with barely any tang when eaten freshly fried. Each bomboloni is stuffed with so much custard, it oozes out like lava when we bite into the doughnut. Seriously shiok stuff.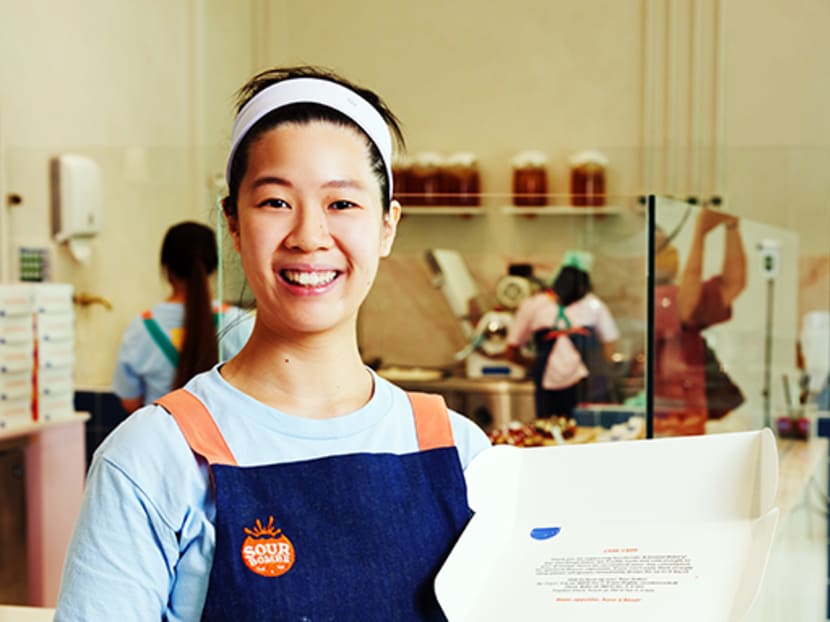 In just two weeks, she sold 1,600 doughnuts from home. Her pre-order slots were released twice a week, fastest fingers first, and snapped up within minutes. Gen, who studied Culinary Business at the Culinary Institute of America's Singapore campus, made the goodies in her family's five-room flat in Punggol. Her father David, who's also in F&B, owns the popular soy sauce chicken rice restaurant Lee Fun Nam Kee.

The strong demand prompted Gen to open a brick-and-mortar store where she can ramp up her doughnut production. Together with her business partner Tan Chun Rong, 30, a photographer, food stylist and influencer who goes by @xlbcr on Instagram, the duo searched for several months before deciding on a brightly-lit space at the former Park Mall.

The newly-revamped mall, now called 9 Penang Road, is home to Swiss bank UBS' office and a smattering of cafes including Gen and Chun Rong's Sourbombe Artisanal Bakery on the second floor. The elegant takeaway shop, designed by Chun Rong, soft-opens tomorrow (July 3).

"My parents were so relieved when I moved my equipment out of our home to the shop. They were like, finally we can see our walls!" laughs Gen. According to Chun Rong, the bakery's kitchen can produce "about three to four times more than [Sourbombe's home-based operations]".

This means you can just drop by the shop to buy a box of doughnuts. There's the Signature Box of Nine ($44), Original Box of Six ($29) and Seasonal Box of Three ($15.50). The doughnuts are also sold by the piece which you can mix and match, starting from $3.60 for the OG Plain, $4.80 for the Standard Flavour and $5.60 for the Premium Flavour.

The duo also offer Sourdough Croissants, with a Signature Box of Six going for $35, a Filled one for $6.50, and a Plain croissant for $4. And there are more picks - Sourdough Loaves with blueberries, walnuts and raspberries. "Sourdough gives you more complexity [in flavour] through fermentation," Chun Rong explains of their specialty. The fermentation of the sourdough starter, plus the making of the bomboloni, are all done in-house.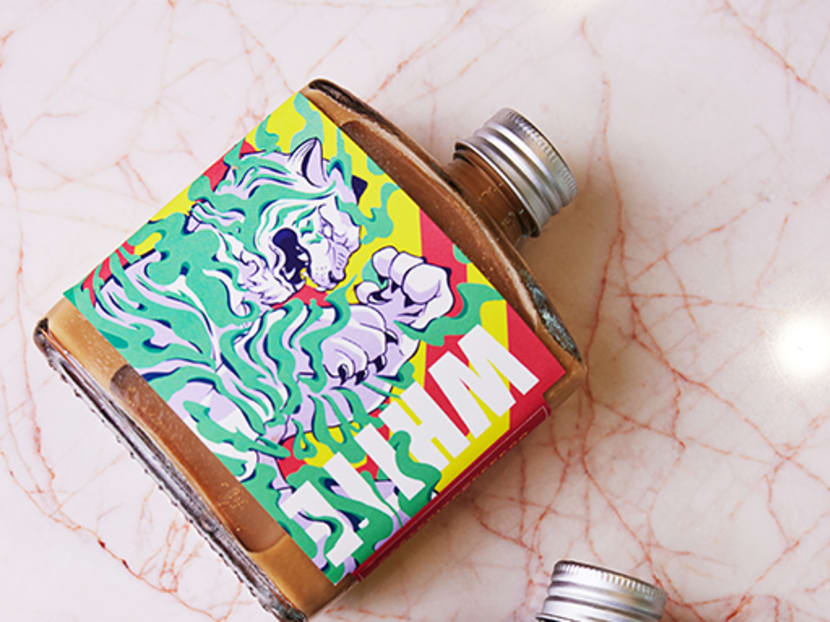 There are also beverages like cold brew coffee by Asterix Coffee Co (pictured), matcha and hojicha from Matchaya and house-made kombucha to go with the sourdough treats.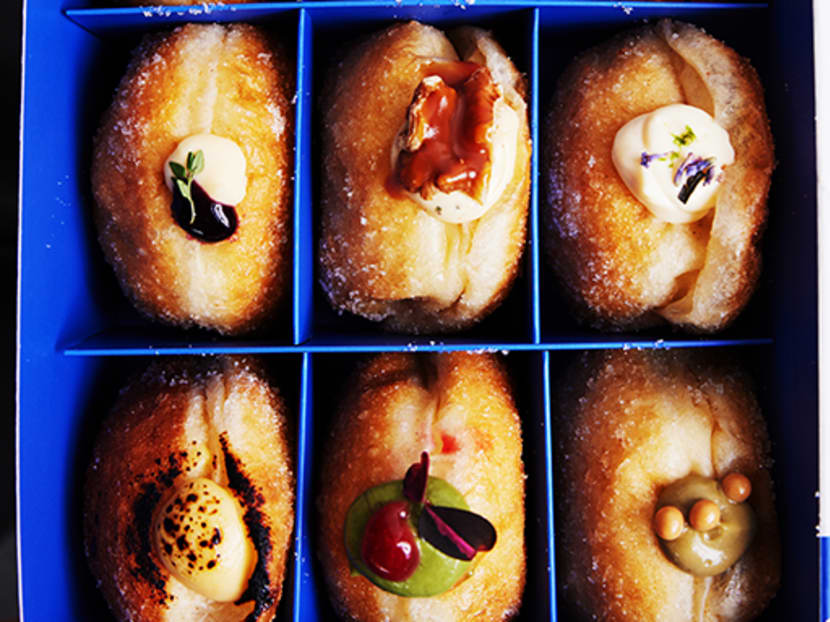 If you prefer islandwide home delivery, Sourbombe now has three slots a week on Tuesdays, Thursdays and Sundays for their boxes. Pre-ordering starts on the first day of the month at the stroke of midnight. "The July pre-orders are already half-filled," says Chun Rong. He shares that the "five-year plan" for Sourbombe is to open "three to four outlets", and there are already plans to set up a second branch "in the West".

Check out the flavours below, and read our review here: