Redeployed As Supermarket Stocker, Swissotel Pastry Chef Sells Bakes Online To Stay Inspired
Her first locally-inspired pastry box sold out in two days.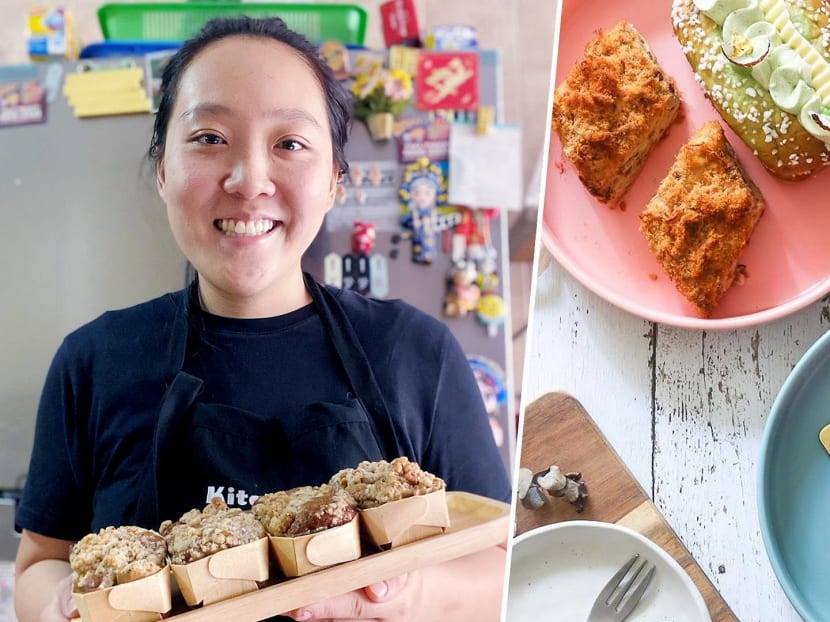 As chef de partie (line cook) in the pastry team of Swissotel The Stamford, Carina Tan, 26, is involved in making elegant pastries for all the hotel's outlets — including the petit fours for one-Michelin-starred contemporary European restaurant, Jaan. But with tourism and the F&B scene grinding to a halt with the onslaught of the Covid-19 pandemic, she found herself being redeployed out of the pastry kitchen — and into a supermarket. "It's a government scheme that allows us to remain under employment of the hotel and continue to draw our full salary, while working in essential services," shares Carina. Her responsibilities, however, could not be more different from the work she used to do as a chef. Since April, she's been working at Cold Storage supermarket six days a week from 8am to 3pm, stocking goods and replenishing items on the shelves. "Working in a completely different job was tough initially," says Carina, who had to face some irate panic-shoppers during the lockdown. "But I am also grateful for it as many people started losing their jobs or had to take a pay cut,"

"The time at the supermarket has been short, but I now have an even better appreciation of being in a job where I get to do what I enjoy and love — it is a luxury that not many people have," says Carina, who is happy about returning to the kitchen this week.
Starved of creative work, she decided to team up with a friend running online bakery Edibles Bake Shop ( www.ediblesbakeshop.net) to sell her bakes online. In this collaboration, Carina conceptualises the bakes to go into the pastry box, and the two friends execute the items together from the kitchen of her friend's HDB flat in West Coast. The collab is called Carina X Ediblesbakeshop and offers twice-monthly sales.

Since the graduate from At-Sunrice Global Chef Academy found great satisfaction in conjuring fancy bakes for six years at Swissotel, such as themed collections for festive seasons, she "thought it'd be nice to bring what I did at the hotel to the public — good quality sweets that bring a smile to people with the innovative surprise behind them."

Pictured: Carina representing Swissotel with her fancy chocolate creation at a pastry competition.
Carina was inspired to sell her baked goods online after observing a surge of home-based baking businesses emerging in the past few months. "There are a lot of home bakers, but they are generally selling the same type of bakes, such as cookies and brownies," says Carina. So, she leverages on her training and professional experience (check out this "hamburger" of almond sponge "bun", green tea sponge "lettuce", mango passionfruit jelly "cheese" and baked cheesecake "burger patty", which she made for a competition last year) to create pastries that are "not what you'd get from the usual home bakers".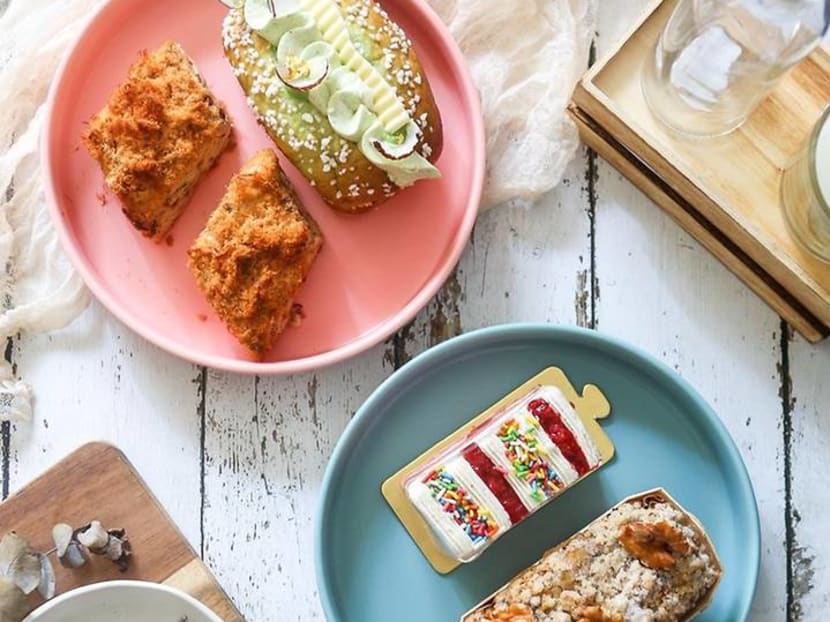 Her first pastry box, which went out on 8 August and was sold out within two days, was a local-inspired collection. She's planning to release a second collection on 22 August, and might increase quantities from the current 30 boxes.

Each box retails at $38 and contains a fixed mix of four different goodies. These are all completely new creations that she has not done at the hotel before. For this collaboration, customers can order Carina creations along with the cupcakes from Edibles Bake Shop, the latter priced at $35 for a box of six, as a bundle.
The Hokkaido milk bun with homemade pandan kaya, salted butter, and pandan kaya buttercream, garnished with little curls of shaved coconut and gold flakes, is pretty as a picture. The kaya — which we wished there was more of rather than the buttercream — had a very fine texture, and the salted butter had just the right hit of briny flavour. The bun, however, is rather dense and not as fluffy as expected of milk bread, and the usual milky sweetness is also lacking.

Think of this as the baby of an English scone and a Chinese scallion pancake, complete with little bak kwa bits. Carina is very generous with the floss, and the scone is chockfull of bacon bits and spring onion. This, however, might have interfered with the texture of the scone rendering it more bready than crumbly.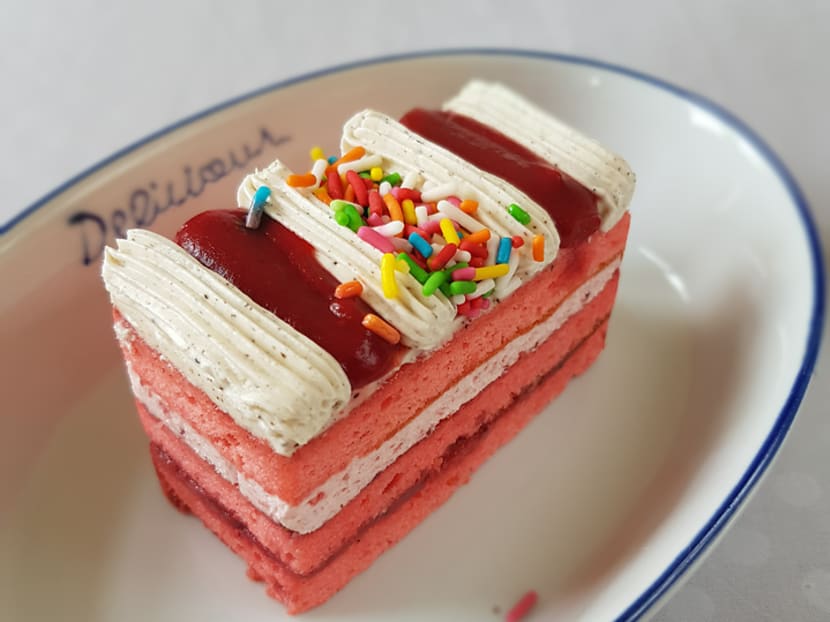 A fun strawberry sponge cake with homemade strawberry jam and vanilla strawberry buttercream, fashioned to look like a retro offering from an old school HDB-neighbourhood bakery. The homemade strawberry jam gave this cake intense, natural flavours that we enjoyed, but we wished that the sponge layers had more bounce.

Carina says this is just a simple, satisfying sweet that everybody likes (we also see it as an ode to the item most Circuit Bakers love to make). But instead of oil, she uses browned hazelnut butter to give the cake deeper flavours. And for texture, she adds hazelnut crumble and chopped walnut. However, the brown butter did not make much of a discernible flavour difference, and the cake, while decent, was rather forgettable.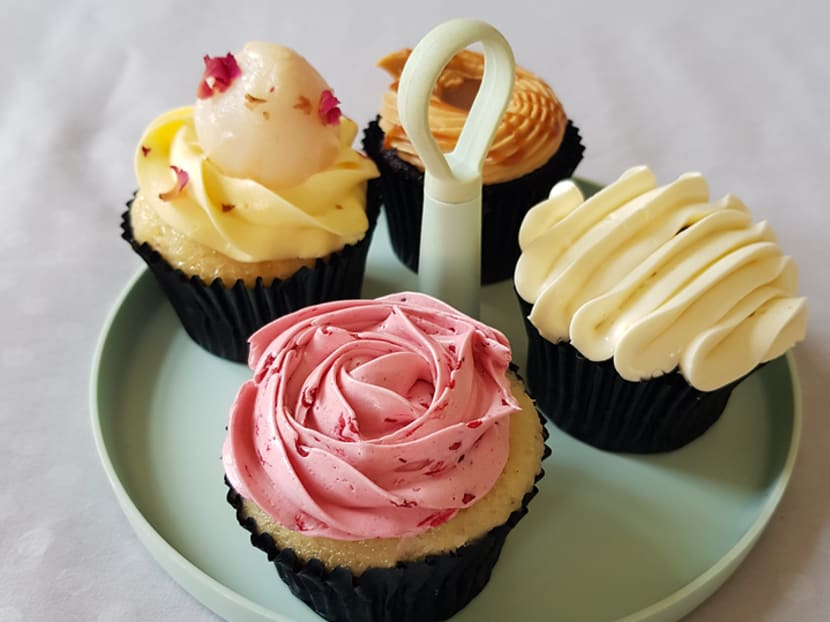 The cupcake bundle box comes with two lychee rose cupcakes, two peanut butter and salted caramel cupcakes, and one each of the raspberry vanilla and classic chocolate cupcakes. While peanut butter fans will love the super rich, almost sticky peanut butter buttercream, the flavour that left the biggest impression was the lychee rose. The mix of rose crème patisserie and rose mousseline cream had a beautifully heady perfume and the lychee scented cake was light with a good springiness to it.

"We don't use artificial flavourings or anything ready-made," says Carina. "I like to know what is inside every component of my sweets, so I make everything from scratch, from the kaya to the strawberry jam." She also highlights that the pandan leaves and spring onions she uses are harvested from the community garden that her father tends. "I am not sure how much of them he will have left after I sell my bakes!" she says with a laugh.
Carina shares that the prep work is done as close to the delivery date as possible so that all the components are at their freshest. "Compared to the home kitchen, the professional kitchen that I am used to working in at the hotel has better equipment that can help speed things up. We try to keep things simple, since we are baking from home, but it still takes about three full days of work from start to finish. That said, with proper planning, it's mangeable — 'cos we are professional!"
Now that Singapore is well into Phase 2, Carina will be returning to the hotel kitchen soon, working 10-hour shifts, five days a week. It's physically taxing work, but Carina is still happy to bake even more at home. To fulfil her online orders, she will bake on her off-days and weekends.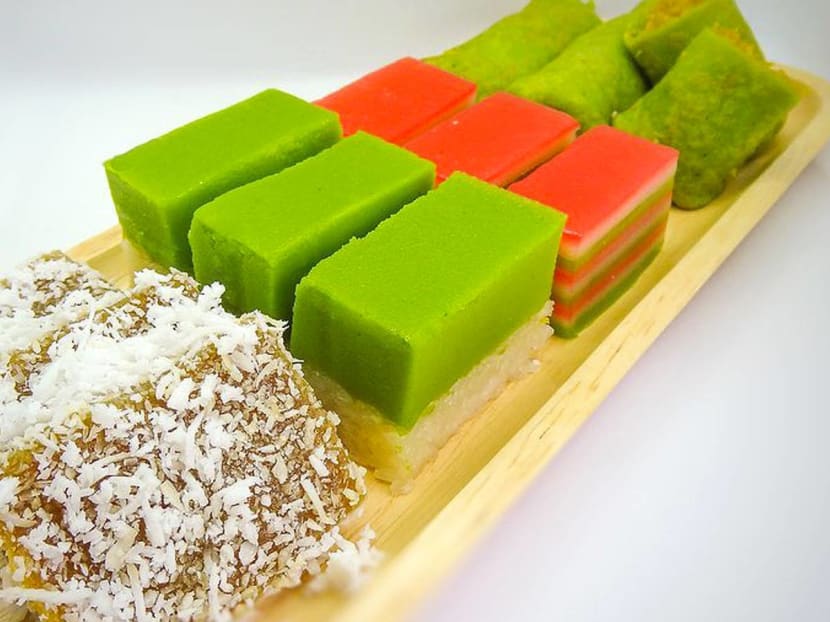 Earlier in June, Carina actually tried selling kueh kuehs on her own. However they are a lot more tedious to make than western-style sweets, and she feels that there's room for improvement. "I am still looking at how to streamline the process and maintain the quality of the kuehs. It is not something that I am ready to produce in big quantities right now, but we will work on it and perhaps reintroduce it in the coming months," she says.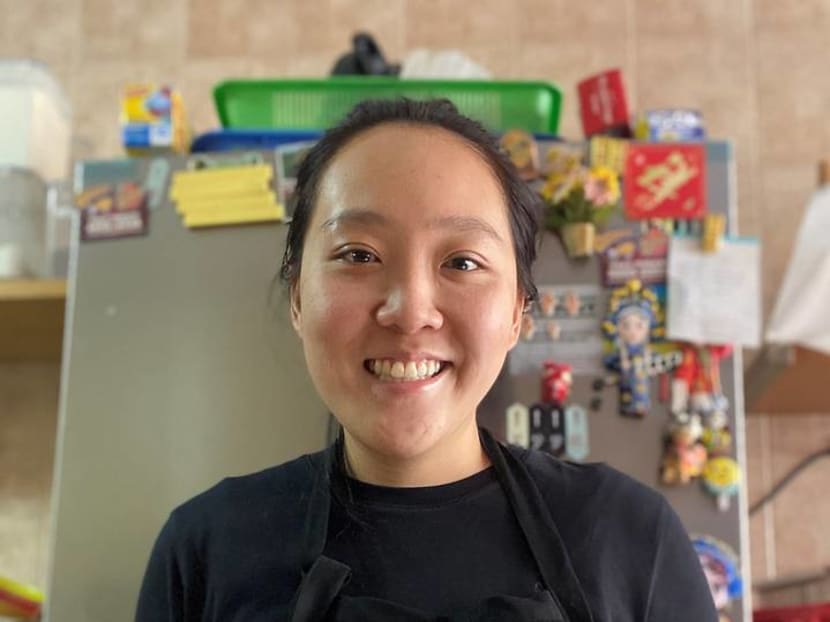 That the first bake sale for 8 August went so well was a pleasant surprise for Carina, and she is eager for feedback so as to update the items in the next bake sale. "We might look to increase the frequency or number of boxes we produce, depending on the response," shares Carina.
We felt that the items we sampled were a little bit on the heavy side, which meant the effort she put into giving her bakes a unique flavour dimension was somehow lost. However, one can definitely see that the items are crafted with a lot of care and attention to detail, and we applaud her courage to venture out on her own as a young line cook.
And Carina is ambitious as well. The online shop is just a testing of waters: Carina's goal is to open a physical pastry shop together with her friend operating EdiblesBakeShop. "If business goes well, and we find a right shop space with the right rental rate then yes, I would quit my job at the hotel to start my own shop," says Carina candidly. "We are already looking into this now."
To order the pastry boxes by Carina X Ediblebakeshop pastry boxes, visit
https://carina-tan.com/bakesale and follow @curryyna for updates on new collection dates.