Retrenched RWS Chef's New Zi Char Shop On Brink Of Closure After Dine-In Ban
Just as things picked up at the 8-month-old kiosk he helms solo, he suffered an 80% dip in biz with P2HA.
It has been almost a year since the pandemic threw Kelvin Lim's life into the air like confetti. Last July, he was retrenched by Resorts World Singapore, where he spent two years as chef de cuisine of Hard Rock Hotel's Sessions restaurant, which is temporarily closed. To make ends meet, the 41-year-old started working part-time at various hawker stalls and restaurants before he was approached by an ex-RWS colleague about setting up an eatery.

"He found this unit and asked if I'm interested in running an eatery with him," Kelvin tells us in mandarin, referring to his current location in the sleepy City Plaza mall, Geylang. "I thought I'd give it a shot, and we signed a one-year rental lease last October." They each invested $15k into the modest 30-seater kiosk named Chiderful (loosely translated from its Chinese name, which means "it's a blessing to eat") that sells Ipoh-style chicken rice and zi char dishes.

Three months later, his "good friend" and partner bailed on him. "Business was not good at the beginning. It was impossible to pay ourselves any salary and we were making a loss every month. My partner decided to pull out of the biz in January."

After recovering from the shock of this curveball, Kelvin decided to press on. "I took over the lease and viewed it as a challenge: Am I able to run a restaurant all by myself?"
All photos cannot be reproduced without permission from 8days.sg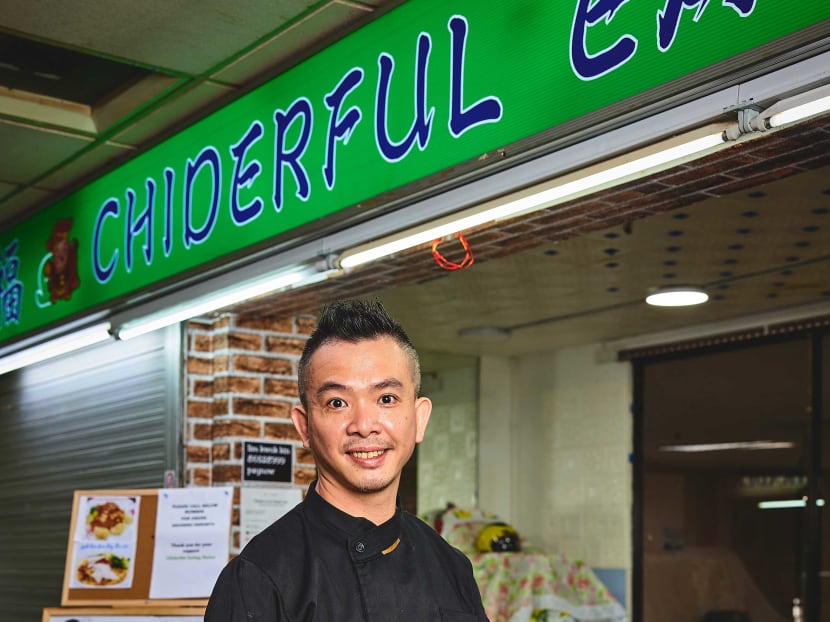 Through sheer determination and hard work, Kelvin was able to slowly and steadily attract a loyal customer base – the eatery was fully booked throughout Chinese New Year and he was able to hire a couple of part-time assistants to help with service.

Just as things were looking up, the recent dine-in ban has been a devastating blow for Chiderful. "It's been rough," Kelvin admits grimly. "My menu is not really takeaway-friendly, so we've suffered from an immediate 80% dip since Phase 2 (Heightened Alert) started. Right now, I'm not earning enough to cover rental costs."

Kelvin, who is married and has a five-year-old daughter, declined to disclose the amount in his RWS retrenchment package, but reveals that most of it has already been poured into the biz. "I'm just trying to hold on until the dine-in ban ends. Hopefully the biz will pick up again after that."
It doesn't get any more hole-in-the-wall than this: the nondescript shop is tucked away in a quiet corner of the secluded mall, facing a massage shop. Half of the space is taken up by the kitchen – and rightly so, considering that's where the action is. From the tinted windows that look out to the busy road below to the use of wooden tables and stools, the eatery has a nostalgic, stuck-in-the-80s vibe that we really like.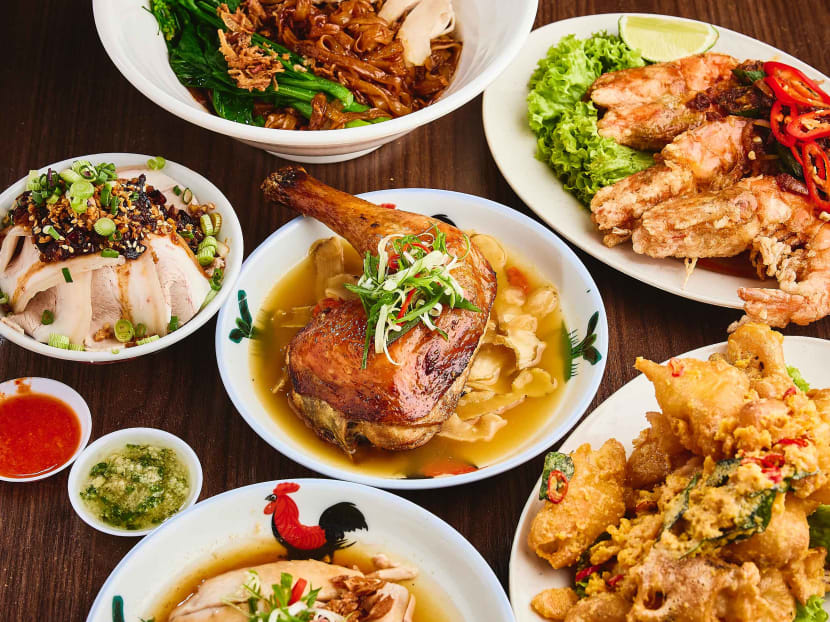 You can tell Chiderful is not your regular zi char shop from its menu alone. The expansive list resembles that of a fancy Cantonese restaurant, thanks to specialties like Steamed Tiger Garoupa, Lotus Leaf Fried Rice and Drunken Chicken Soup.

Interestingly, Kelvin tells us the items are "for reference" – the truth is, Chiderful does not have a fixed menu. "I've been a hotel chef for over 20 years [he has worked at Beaufort Hotel (now Sofitel Singapore Sentosa Resort & Spa) and the now-defunct Bay Hotel] and there are a lot of dishes in my repertoire – I want to share them with my customers," he explains. "Like a private kitchen, where customers can order special dishes."

The veteran chef shares that he has introduced over 150 dishes in total so far – all created, amazingly, from his induction stoves (the mall does not allow gas stoves) in the kitchen. To overcome the restriction, Kelvin cleverly avoids stir-fried dishes that need wok hei, and focuses on items that are braised, deep-fried and cooked instead.

Signature dishes from his hometown, Ipoh, are staples. These include steamed chicken, hor fun and curry chee cheong fun (steamed rice rolls), which is only sold on Tuesdays.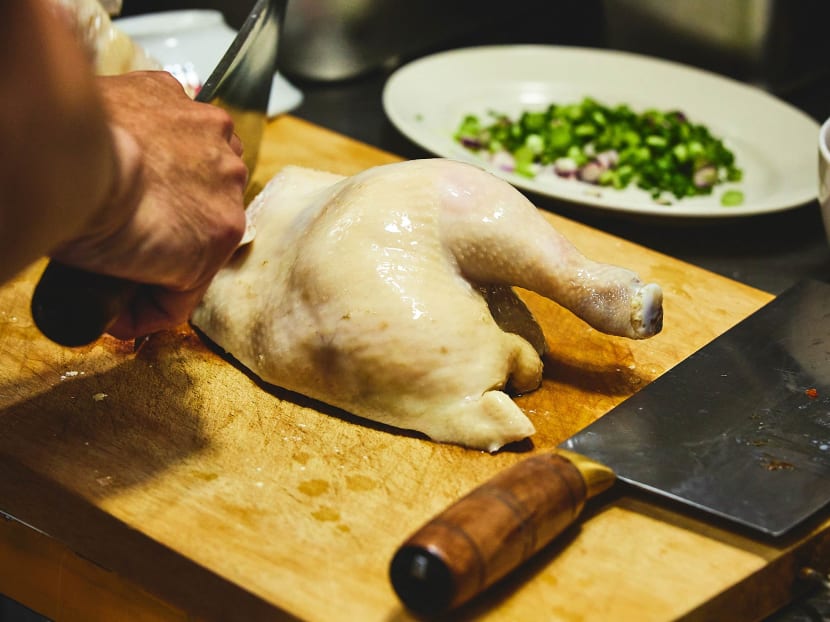 Kelvin believes that small details can go a long way, which explains his insistence on preparing everything from condiments to marinades from scratch. "I want the eatery to have a family vibe, so the dishes have to come from the heart. It's like eating in your own home."

The chef does not compromise his standards, even when it comes to the seemingly simple ginger condiment, a must-have with chicken rice. "I cook the ginger paste over low heat to temper its spiciness. The sauce will have the fragrance of ginger without an overpowering spicy kick. This is a Cantonese technique I picked up from my apprentice days."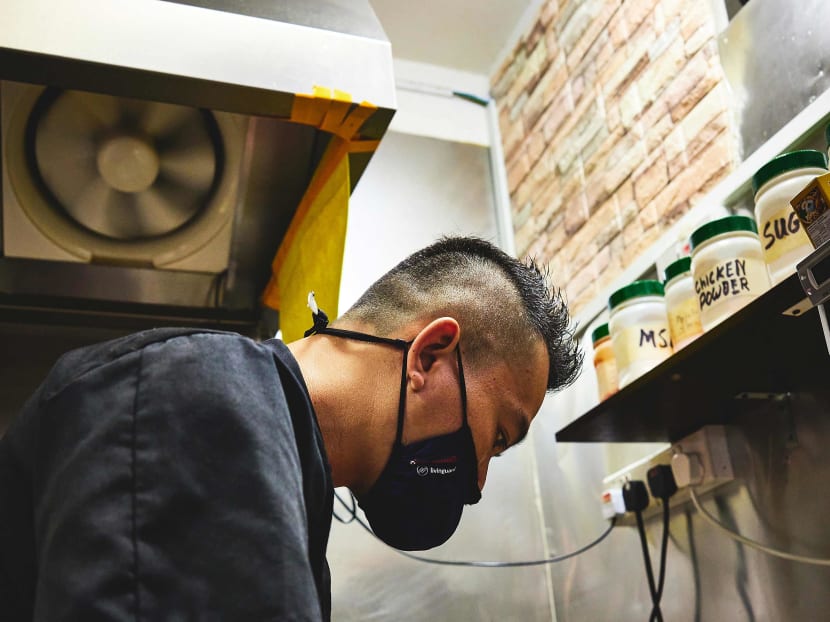 The key to survival is adaptability, which Kelvin embraces wholeheartedly. "I've never washed a bowl in my 20 plus years as a chef, now I have to do everything on my own." This means he cooks, serves, and washes up.

At his previous hotel chef job, Kelvin's daily routine was inundated with meetings and paperwork. He hardly cooked in the kitchen – an experience that he relishes now. "People suspected my culinary skills as I rarely stepped into the kitchen. This year has given me a great sense of achievement knowing that I can cook everything and run a restaurant on my own. The constant cooking has elevated my skills as well."

His genuine can-do spirit extends beyond the kitchen, too. Kelvin tells us proudly that he renovated the kiosk by himself, which included wallpapering the unit and fixing the piping and lights.
A couple of months ago, Kelvin's landlord asked if he wanted to let go of the lease, as there was a new tenant who was interested in the unit. After the emotional rollercoaster of running Chiderful, the weary chef was ready to throw in the towel.

"I told my customers in May that it was my last month of operation. Some came by to have all three meals here! I was very, very touched," shares Kelvin, with tears welling up in his eyes. "My regular customers have done a lot for me over the past year. They took photos of my dishes and helped me create the menu board (pictured). They recommended my restaurant on Facebook and through word-of-mouth. I'm really very thankful for them."

The early termination plan was shelved after the announcement of Phase 2 HA. "I think the new tenant was no longer keen, so I will hold on to the remaining lease until October."
As of now, Kelvin is uncertain about renewing the lease. "It's 50-50 right now. If my biz does better, it'll be much easier to hire help. Then I can concentrate on cooking, so it's less tiring. I have to support my family, so if it doesn't work out, I'll have to look for a restaurant job again."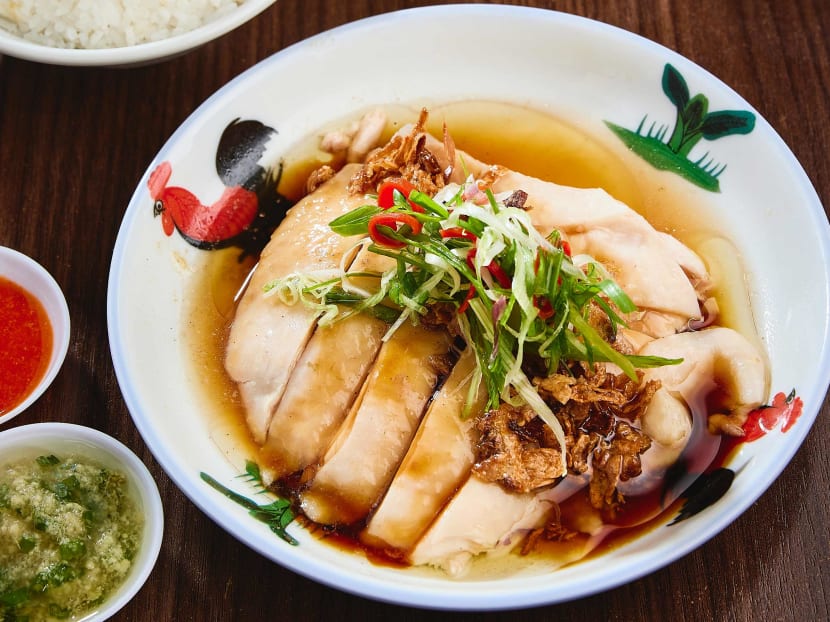 Kelvin employs a Cantonese-style technique here – the poached chicken is left to rest in the pot for an hour, with the heat switched off, to give the meat a super tender texture comparable to the likes of Boon Tong Kee.

Of course, it wouldn't be Ipoh-style chicken rice if the meat isn't swimming in a savoury-sweet puddle of sesame oil, soy sauce and fragrant shallot oil – perfect for drizzling over white rice. We love the homemade ginger paste, an aromatic suspension of minced ginger and spring onion in sunflower oil. The chilli sauce is spicy but a little too sweet for our liking and could do with more lime juice.

Sadly, Kelvin doesn't serve his version with bean sprouts (an essential component in Ipoh chicken rice). Ipoh's bean sprouts are known to be fatter, sweeter and more crisp than what we can commonly find in Singapore, so we don't fault him for not being able to secure a good supplier. After all, he's not running a chicken rice joint, even if his version can rival the top guns.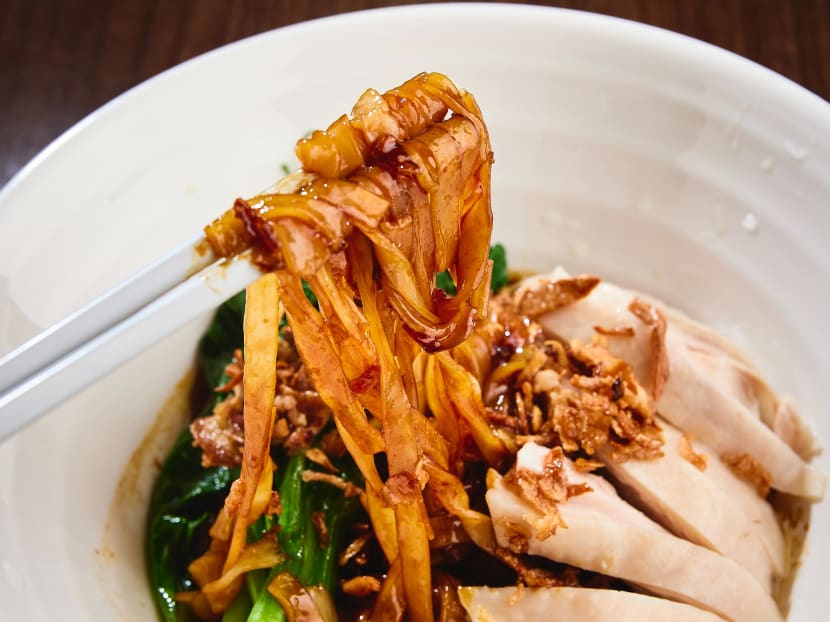 If you enjoy the heavy-handed seasoning of Malaysian noodle dishes, you're going to like this dish. Savoury, dry-tossed hor fun is slicked with plenty of dark soy sauce and oyster sauce and heaped with fried shallots – providing enough richness for pairing with the plain poached chicken.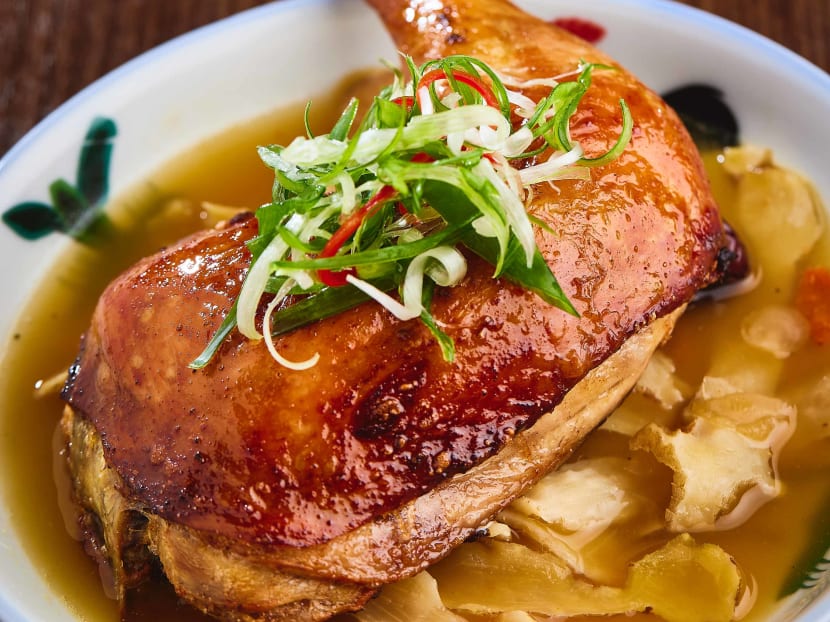 This innovative dish impressed us from the get-go: beautifully browned and crisp-skinned chicken leg sits in delicious herbal broth made from angelica root, dang shen (codonopsis root), goji berries, red dates and bay leaves (an unorthodox addition that according to Kelvin brings a harmonious, fragrant lift to the broth – we concur).

The deep flavours are a result of an overnight marination using blended herbs, while the roasting (instead of the usual boiling over long hours, which can cause the meat to become limp and mushy) ensures the chicken stays succulent.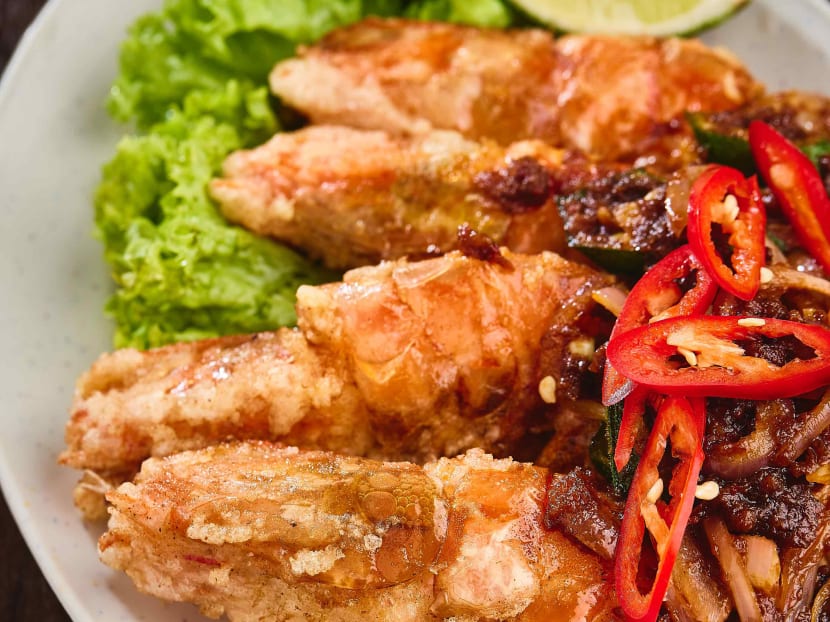 A remarkable showcase of sambal prawn, with hotel-chef finesse: four large, lightly battered sea prawns are deep-fried separately and assembled with a redolent made-from-scratch sambal belacan mixture with generous heaps of onion and okra. An almost-perfect dish, if not for the too-tough and stringy okra slices.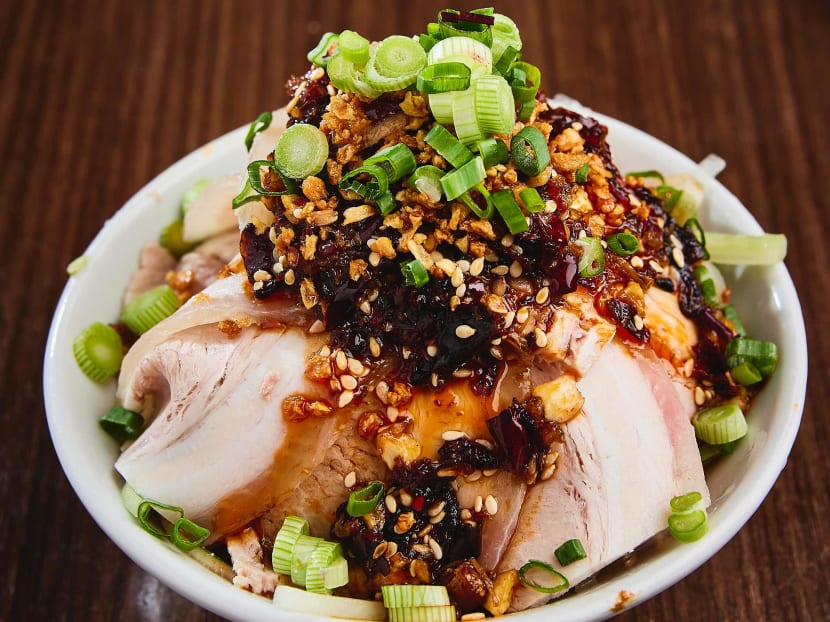 Yummy, thick slices of tender poached pork belly are doused with a mildly spicy chilli-garlic dressing, countered with a refreshing bed of thinly sliced cucumber. We wish the garlic flavours were more pronounced, though.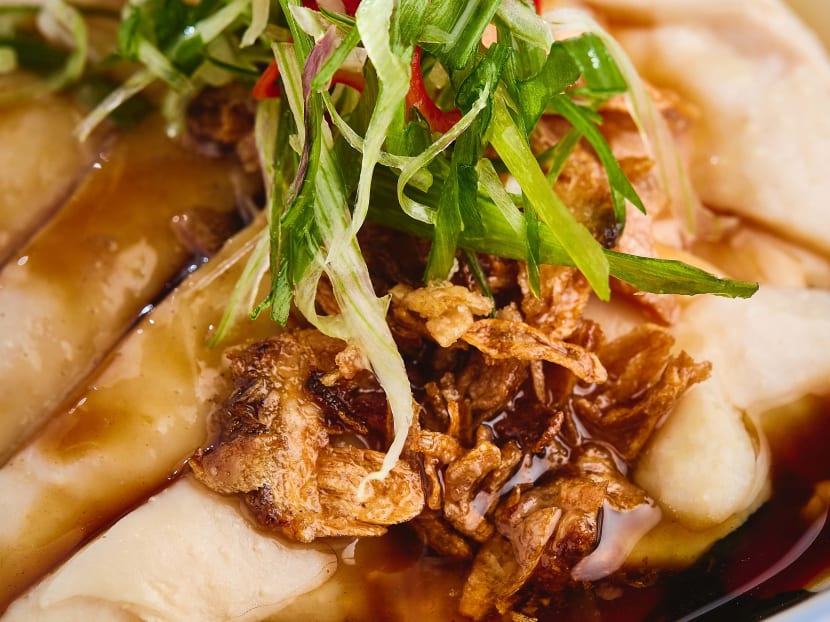 Great value for money, quality zi char dishes cooked by a veteran hotel chef in a no-frills setting. The tasty chicken dishes are worth a revisit on their own. Call a day in advance to order – you can request for special dishes or check out Chiderful's FB page for the menu. Only pick-up orders are available right now. We look forward to trying the more atas restaurant-standard offerings when the dine-in ban is lifted — and we sure hope biz improves enough to keep this gem of a place going.
Chiderful is at #02-73 City Plaza, 810 Geylang Rd, S409286. Open daily except Mon noon to 7.30pm. Call 86528999 or 98959972 to place order. www.facebook.com/CHIDERFUL
All photos cannot be reproduced without permission from 8days.sg
Photos: Alvin Teo