SIT Students Sell Made-From-Scratch Japanese Sandos, Available Only On Sundays
Even the bread is home-baked.
Ever since Covid-19 started, we've seen a bumper crop of new home-based F&B businesses by airline workers, designers, wedding planners, and even influencers. Now, even students are hopping on the bandwagon.

University undergrads Ryan Tai and Thaddeus Loei, both 25, are in their final year of studies at the Singapore Institute of Technology. The duo are currently enrolled in a two-year Business Administration in Food Business Management programme under the Culinary Institute of America.

Looking to apply what they have learnt in school, the enterprising pals decided to create their own F&B brand before they graduate this September. They came up with the home-based online business 三-DÖ (pronounced "san-doh", a reference to the Japanese word for sandwiches), which specialises in Japanese-style sarnies.
Ryan and Thaddeus launched 三-DÖ in December 2020. With their new biz, they planned to utilise the concepts taught to them in their first year, like marketing and quality assurance. While they're first in their cohort to start their own online business, two or three schoolmates in a sister programme for Baking and Pastry Arts have also done so, they say.

"The online business environment we have now is like a playground," Ryan says. "There's no need to wait for the day we can finally open a physical restaurant to put into practice what we've learnt."

But for all their efforts, this is not a money-making endeavour. Ryan explains, "We just want to test ourselves and the food we make. We're not aiming for a lot of exposure, just looking for a forgiving environment in which we can work out kinks in our operations and processes."
The pair decided on selling the "versatile and underappreciated" sandwich as Ryan, an avid baker, loves baking bread. They were also fascinated by how 'sandos' are being sold in Japan – stacked high and cut to show off a cross-section of ingredients – and noticed that few home-based food businesses in Singapore were offering such an item.

To hone their culinary skills, the pair decided to make their sarnies from scratch. This includes baking loaves of preservative-free, Japanese-style shokupan (Japanese milk bread) weekly, and whipping up an assortment of homemade sauces and garnishes, including kimchi, apple compote, sriracha mayo, cucumber pickles, and smoked honey butter.

They duo have also recently branched out into making homemade coffees too. It took them a month to calibrate custom blends using beans from Sumatra, Ryan says.
With the new semester in full swing, the classmates spend weekdays in school and weekends on running their biz. Saturday is spent preparing ingredients and baking bread, and Sunday on cooking and packing sandwiches and coffees for delivery.

According to Ryan, the response has been "positive": 三-DÖ scored about 25 orders by its third week. "Ideally we want to see this grow and blossom," he says, adding that their business experiment's lifespan "depends on the economy". But the business will be on hiatus when Ryan and Thaddeus are doing their internships from May to September this year.

Check out their sandos below: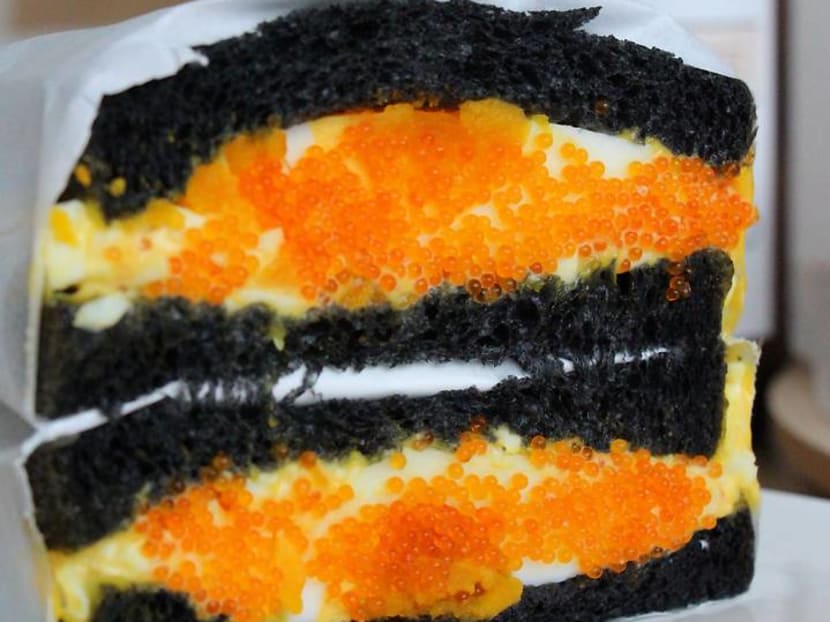 This is one Instagrammable sandwich: The jet-black charcoal bread sets off the bright orange tobiko (flying fish roe) and daffodil-yellow egg filling beautifully. The star is the masterfully elevated egg mayonnaise, which is made with eggs cooked two ways: hard and soft-boiled. The egg mayo is then drizzled with white truffle oil and topped with fish roe.

As we chew, the jammy, golden yolks and rich, creamy mayo are punctuated with pops of umami saltiness from the bursting roe, while the truffle aroma adds some dimension to the flavour. It's a luxe mix – like the sort of sandwich you'd expect to find in a five star hotel's high tea set. Yet it still tastes familiar and comforting because, well, it's egg mayo on bread.

Unfortunately, the homemade bread needs a bit more work; compared to traditional shokupan, it could do with more milk fragrance and a bouncier, fluffier texture that Japanese milk breads are famous for. Each sandwich order comes with two sides: miso-charred corn salsa and cornbread. The salsa is overly dominated by the sting of raw onions, while the small but sinfully dense cornbread tastes almost like cake. There's also a small pot of honey butter to slather on it. Definitely not for dieters.

While it's delish and pretty gourmet, we must say this sarnie is priced a little too high (almost comparable to established dine-in eateries like Park Bench Deli, although not as refined). The ingredients are fancier than the standard issue egg mayo sandwich, but not filling enough for a full meal.
We try our best, but the bulky slab of fried chook and two pieces of toast won't all fit in our mouth, so we end up eating it semi-deconstructed. The chicken, which is decently tender, is marinated for 24 hours in spiced buttermilk to keep it moist during frying.

But the freshly-made sandwiches took an hour to reach us. This means both bread and fried chicken are soggy when they arrive, and even a stint in the airfryer can't quite restore them. The thin cucumber pickles are a nice touch, though, and balances out the oil with a nice acidity, while the sneaky Sriracha mayo sears our tongue only after we swallow our bite.

Sadly, for all the effort, the sandwich bread tastes like a more pillowy, slightly better version of supermarket white bread. But practice makes perfect, and we say kudos to this 25-year-old's commendable attempt.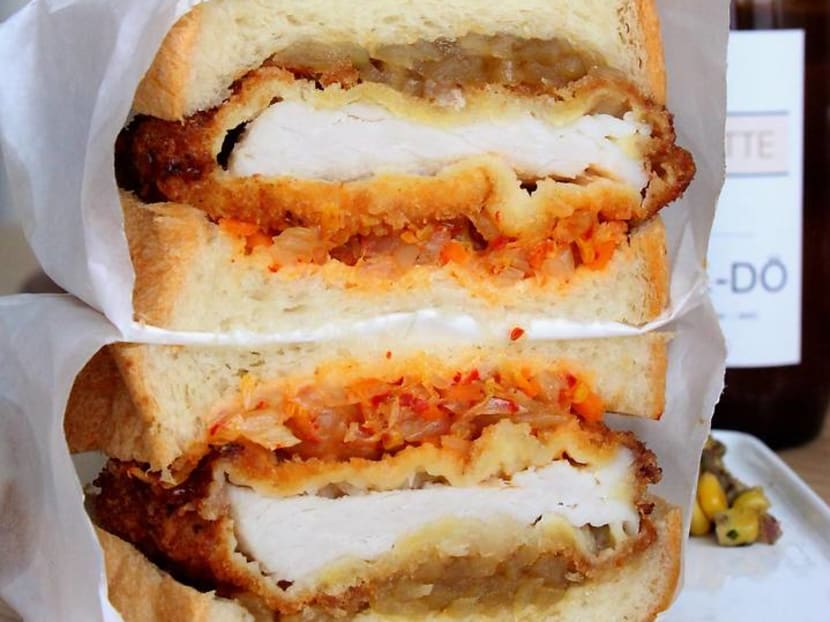 Japanese-style pork chops are brined for 24 hours in a salt-and-sugar solution before being coated in panko (Japanese breadcrumbs) and deep-fried. The result is a meaty cutlet jazzed up with piquant homemade kimchi and spiced apple compote (the latter's flavour too muted, pity.) The apple and cabbage chunks in the dressings taste fresh and retain some crunch.

Unfortunately, much like the chicken, the pork sandwich is soggy after an hour in transit. Maybe packing the filling and bread separately and having customers assemble the final product might be a solution.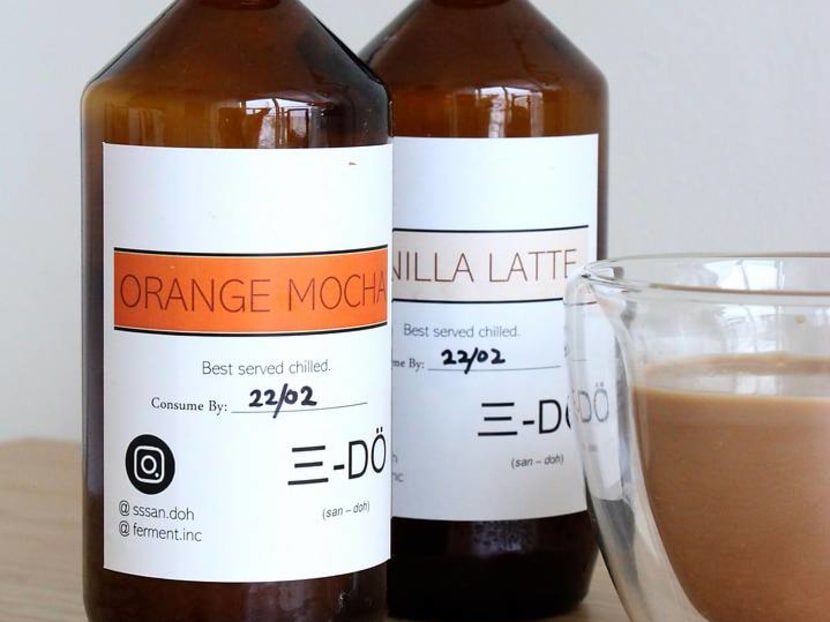 三-DÖ's coffees come in bottles that look like they might contain cough syrup. We're pleasantly surprised by the flavourful, full-bodied Vanilla Latte, which boasts robust vanilla flavour and strong bitter undertones. Made by combining espresso, cold brew concentrate, vanilla syrup and full-cream milk, it's not as sweet as we expect.

On the other hand, the Orange Mocha tastes too much like iced chocolate, with only a weak hint of its infused orange zest and mildly bitter cold brew blend. Ryan and Thaddeus make it by roasting their own Callebaut dark cocoa powder, lacing it with fresh orange zest, then dousing it in their signature cold brew blend.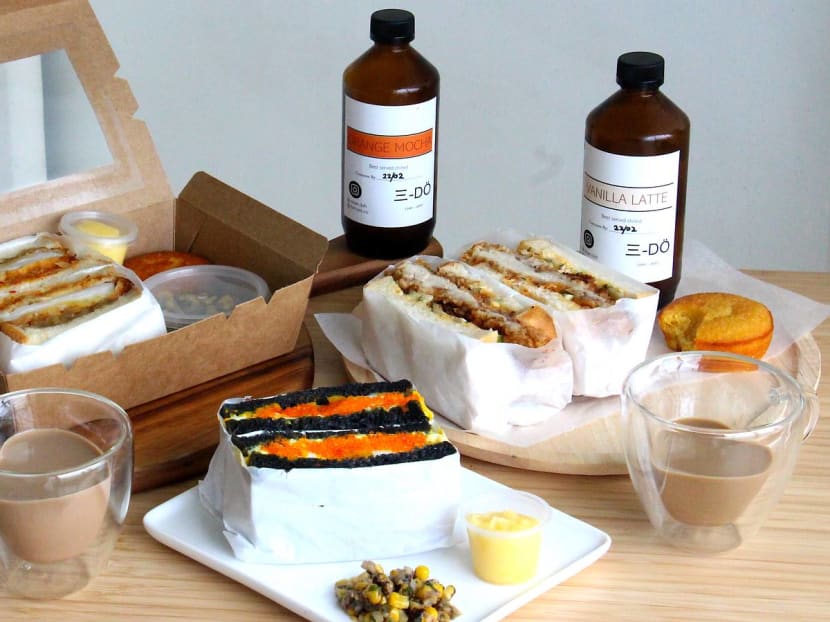 If we were to choose a sarnie for repeat order, we'd get the luxurious egg mayo sandwich. It travels well and looks pretty enough for the 'gram. But skip the meat sandos unless you live close to a collection point, as both the chicken and pork options need tweaking to ensure they make it through the delivery unscathed.

At about $15 a pop, 三-DÖ's sandwiches cost almost the same as sarnies from eateries like Two Men Bagel House and Park Bench Deli. But they pack less punch in the flavour department (it's a new biz run by young students, after all). Still, we're impressed by Ryan and Thaddeus's commitment to making everything from scratch, and keen to watch this fledgling business grow alongside its founders.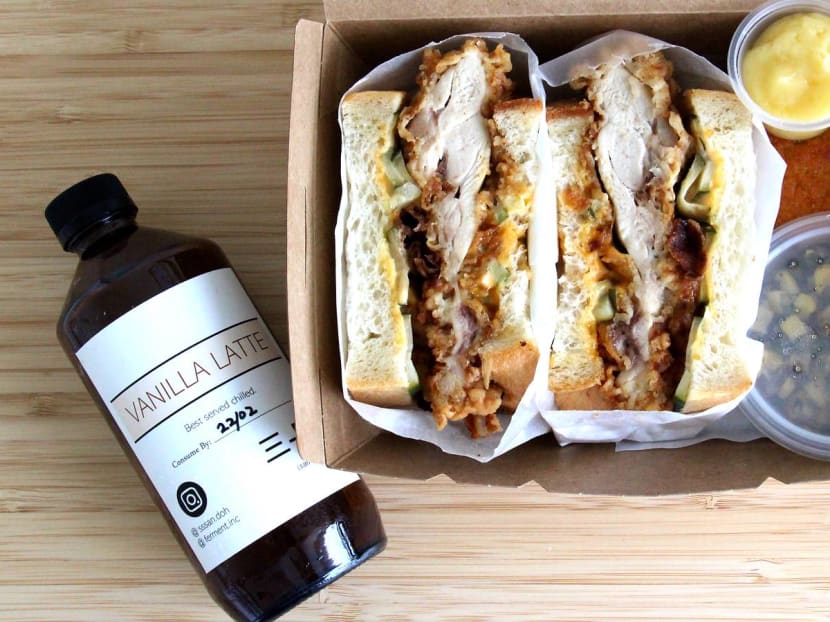 Place orders in advance here or via Instagram. 三-DÖ delivers every Sunday. Deliveries for just coffee available only for six bottles and above. www.instagram.com/sssan.doh.

Delivery fees vary depending on distance. Self-collection available at Sengkang MRT, Tongkang LRT, or 310A Anchorvale Road, #05-29.

Photos: 三-DÖ, Rachel Chia